My Ultimate Mashed Potatoes
---
November 11, 2021
---
These mashed potatoes are so good, they should be the MAIN DISH! In my opinion, the sides are the best part of Thanksgiving… and that includes my Ultimate Mashed Potatoes!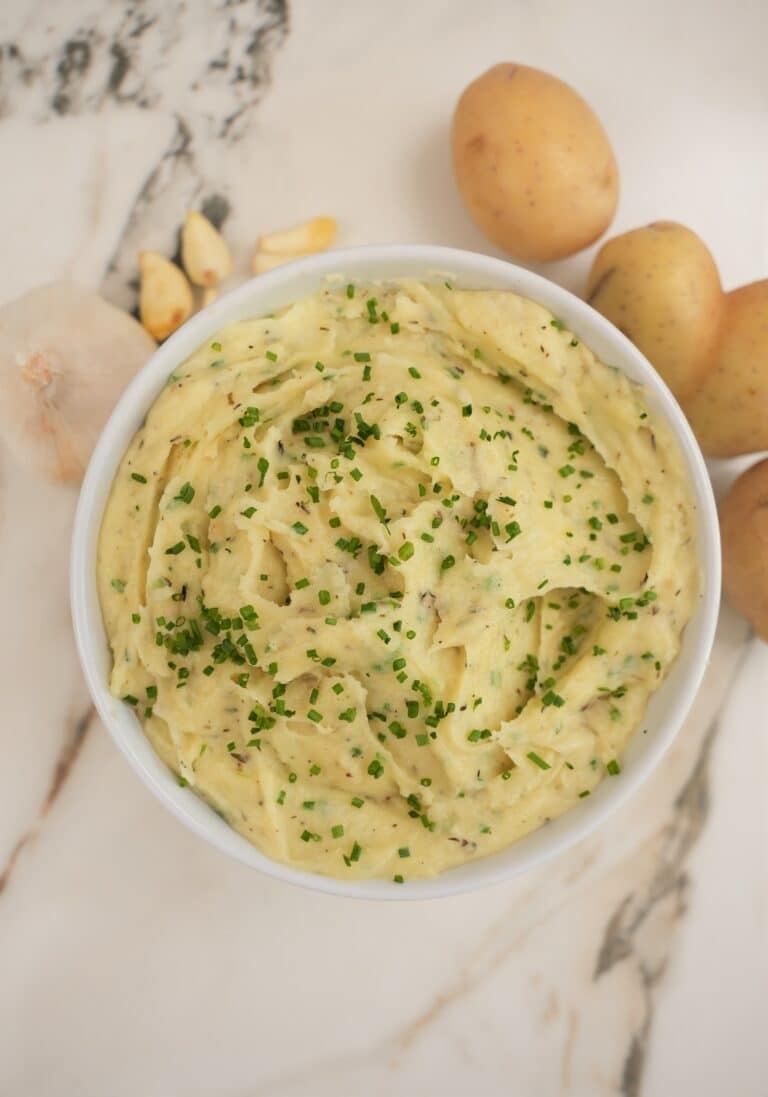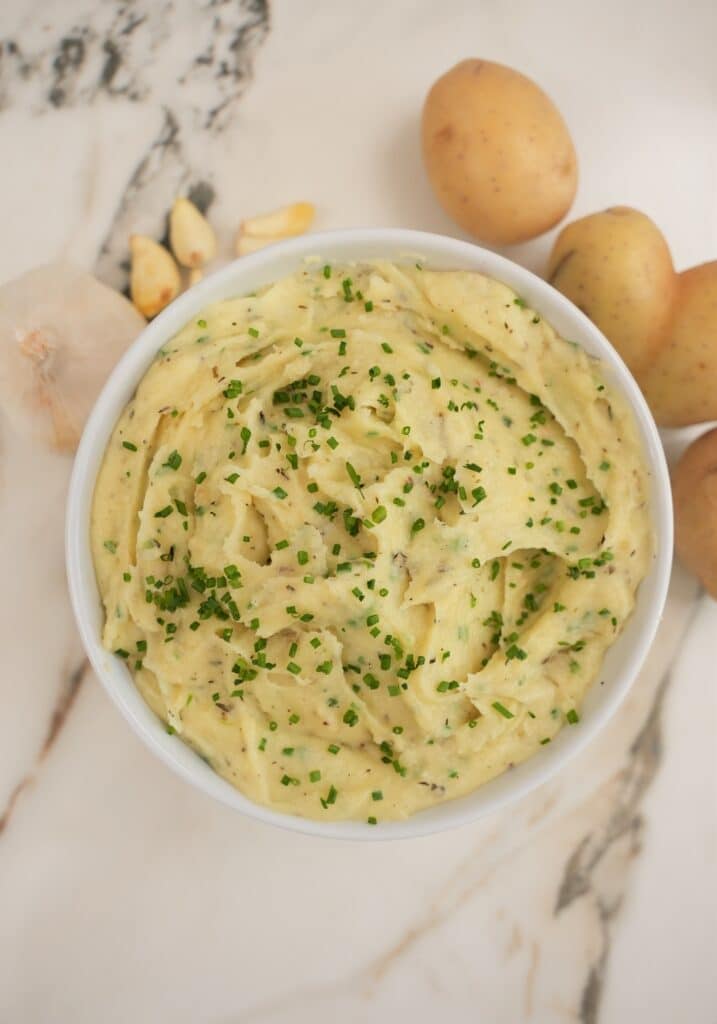 INGREDIENTS TIPS
POTATOES
I like to use Yukon Gold potatoes, as I find them to be the fluffiest and have an almost butter-y taste that lends itself really well to the dish! You can sub with a different potato of your choice.
HERBS
I like using dried herbs because the flavor is more intense, so you can use less. If you want to sub with fresh herbs, a good rule of thumb is 2-3x the amount of dried.
BUTTER
Good quality un-salted butter is a staple in my kitchen – my favorite brand is Kerrygold! I buy mine in bulk from Costco, as butter keeps in the freezer up to 5 months.
CHIVES
This is an optional garnish – but I think it adds beautiful color and texture to the dish!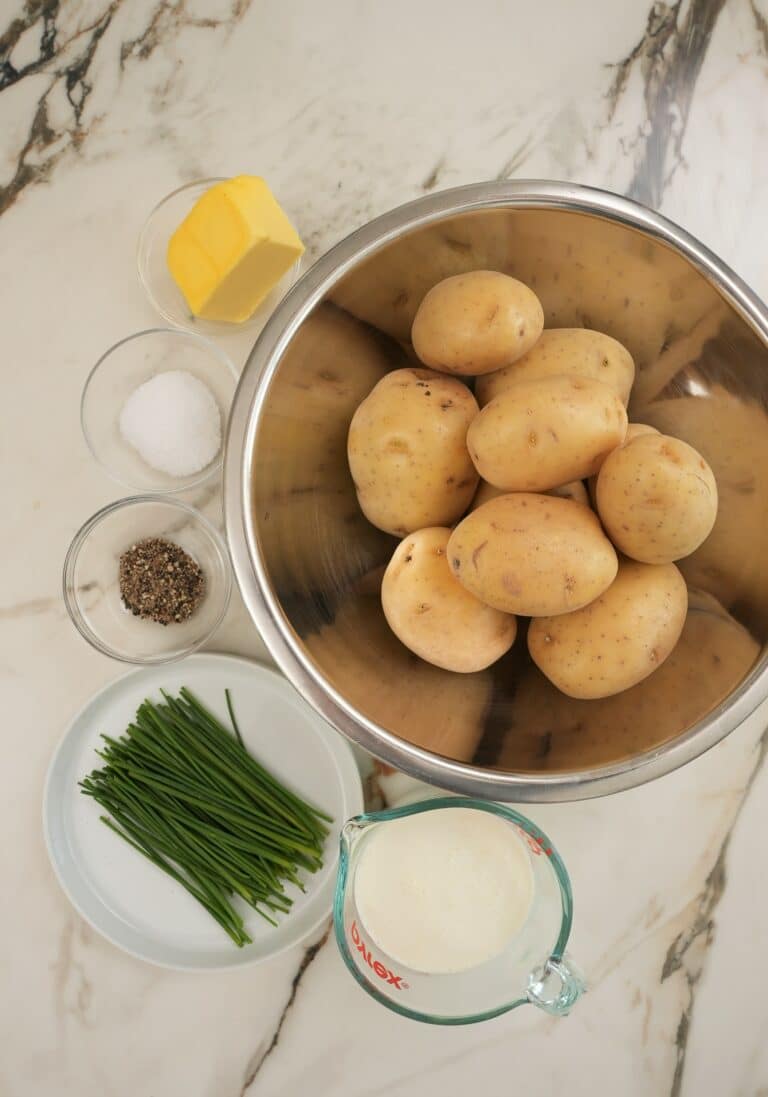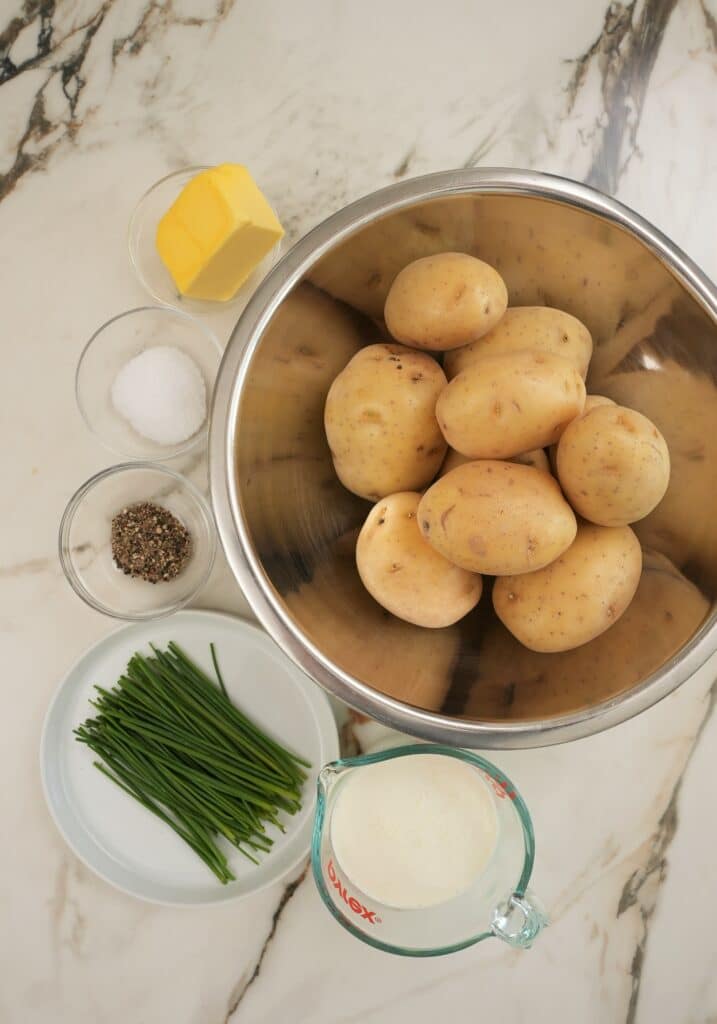 RECIPE TIPS
WHAT SHOULD I USE TO MASH THE POTATOES?
POTATO RICER – You do NOT need to purchase one if you do not have one – but if you DO, I highly recommend you use it! I find that the potato ricer is the easiest way to get your potatoes nice & fluffy. And they're super fun to use, too!
If you don't have a potato ricer, I would recommend mashing the potatoes by

hand

. DO NOT USE A MIXER OR FOOD PROCESSOR. While these tools are helpful, I think you run the risk of over-mixing or over-mashing, which will lead to gumminess or glue-y potatoes. Mashing by hand allows you to control for the perfect texture!
My Ultimate Mashed Potatoes
Ingredients
2

lbs

yukon gold potatoes

peeled and cut into 2" pieces

4

tbsp

unsalted butter

I like Kerrygold

8

cloves

garlic

minced

1/2

tbsp

dried thyme

1/2

tbsp

dried rosemary

1/2

tsp

freshly cracked black pepper

1

cup

heavy cream

kosher salt

to taste

1

bunch

fresh chives

chopped, optional topping
Instructions
Peel your yukon gold potatoes and cut them into equal size 2" pieces (I cut them lengthwise then 3 times width wise for 6 pieces per potato, for reference)

Fill a large pot of COLD water and add your potatoes, covering them fully with water. Add kosher salt and heat covered over high heat. Boil for 20 minutes or until fork tender and drain. *KEY TIP* It's important to start them off in cold water so as the water boils, the potatoes cook evenly throughout. Starting them off in boiling water will cook the outside of the potato faster than the inside, which you do not want.

While your potatoes are boiling, melt butter over medium heat and add chopped garlic, dried thyme & rosemary, and freshly cracked black pepper and let infuse for 5 minutes.

Run your potatoes through a potato ricer back into the same pot (the residual heat will help evaporate any excess moisture). Then over low heat add your infused butter and heavy cream and mix until smooth.

Add salt to taste and finish with freshly chopped chives. Enjoy!