Crispy Hong Kong Chow Mein
---
September 7, 2021
---
Crispy Hong Kong Chow Mein was a staple at Chinese banquet dinners growing up and the dish that my family would fight over (until we finally learned to order a double serving)! I love my recipe for it and it's one of my favorite things to make for family & friends!
Watch the Crispy Hong Kong Chow Mein recipe video below!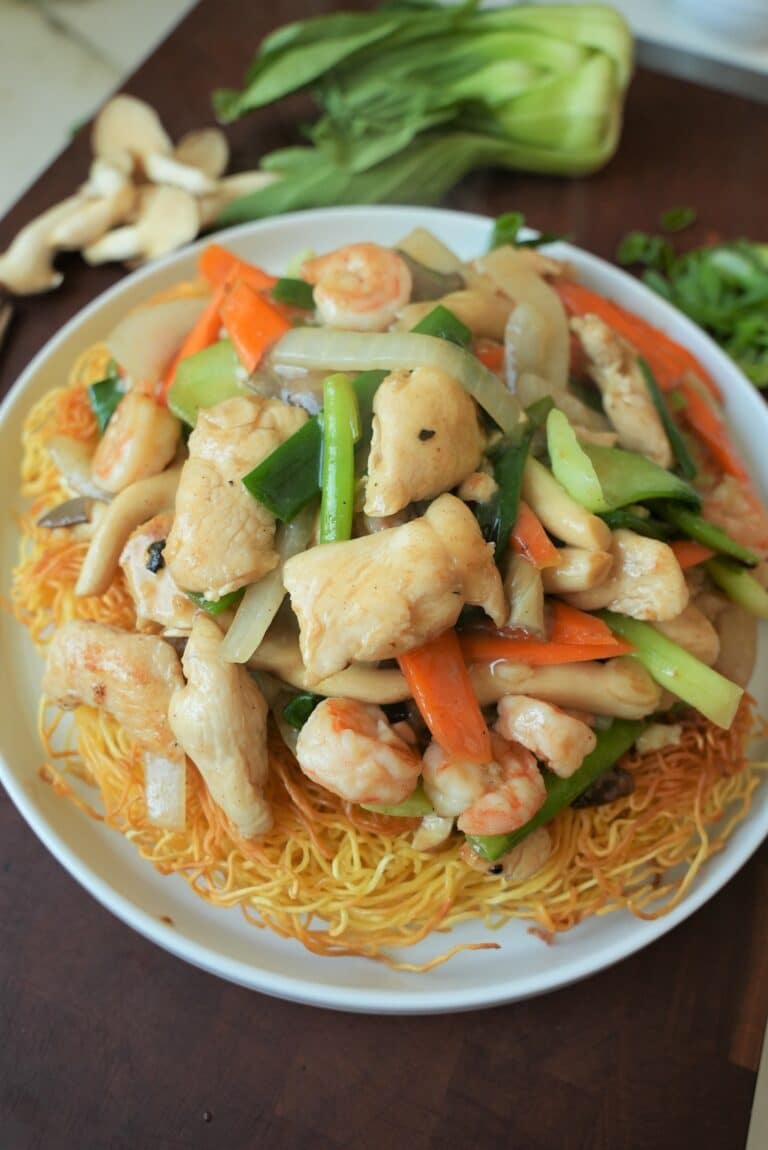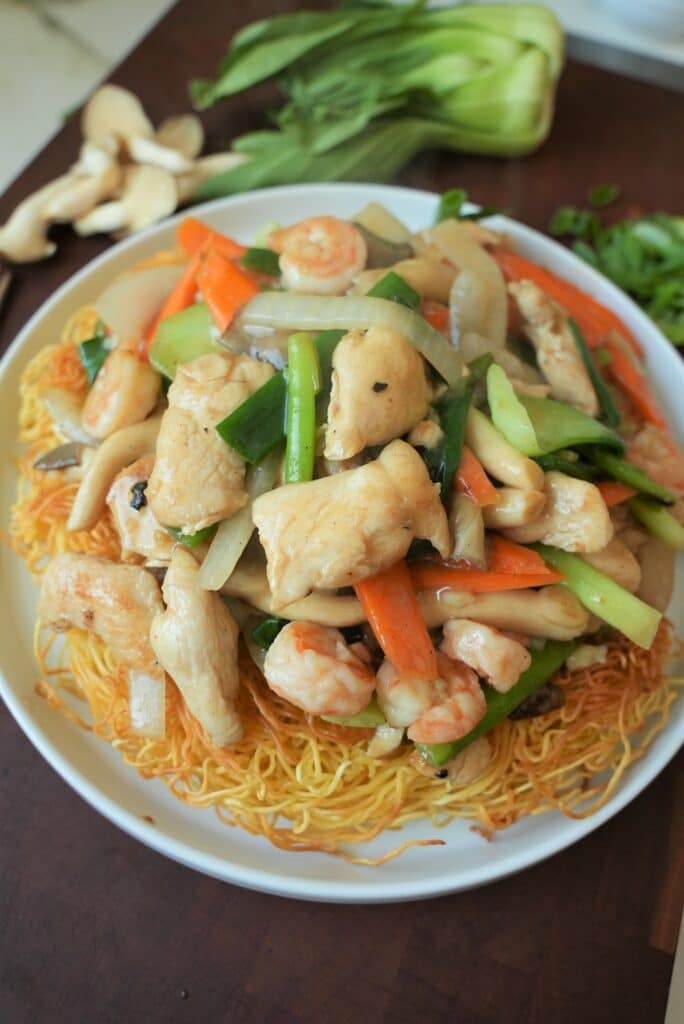 My Key Recipe Tips for Hong Kong Chow Mein
RECIPE TIPS
PROTEIN
I would recommend either chicken or shrimp as the protein in this dish. If you are using shrimp, make sure to skip the oyster sauce in the marinade!
WHITE PEPPER
I get asked all the time if you can sub black pepper for white pepper – and my answer is, it depends BUT you need to watch the ratio. White pepper has a milder flavor profile than black pepper, so it's a 1-1 substitute. I would start with less black pepper and add as you go. (But really, you should have white pepper in your pantry! It's a staple in mine!)
NOODLES
I like to use fresh chow mein noodles, which I find in the refrigerated section of 99 Ranch (a Chinese grocery chain).
SHAOXING WINE
If you cannot or do not want to use wine, you can sub with sherry, mirin, or chicken stock!
NEUTRAL OIL
My favorite neutral oil is avocado oil, but you can also use canola or vegetable oil! I don't use olive oil when cooking Chinese food for two reasons: 1. It has a low burning point and 2. I find that the flavor profile does not usually go with the dish.
MSG
As always, this is optional 🙂
CORNSTARCH SLURRY
A cornstarch slurry is a mixture of cornstarch and water that is used in cooking to thicken WITHOUT powdery lumps or additional flavors/colors! This is the secret to so many of your favorite Chinese dishes. My #1 tip is make sure your cornstarch slurry has not separated before adding it in – I always try to re-stir right before!
My Top Ingredient Tips for Hong Kong Chow Mein
INGREDIENTS TIPS
BLANCH YOUR NOODLES
You will want to blanch your noodles for a maximum of 30 seconds before removing and draining/drying on a paper towel. This is because they will continue to cook when placed in the hot wok or pan!
CRISPY ON THE OUTSIDE, SOFT ON THE INSIDE
When pan-frying your noodles, you'll want to pan fry until the outside is crispy and has taken on a golden color. However, the inside should still be soft. As these noodles are very thin, I've found that they fry very quickly. I recommend monitoring them closely on the pan!
CUT YOUR VEGETABLES!
I always recommend cutting your vegetables into similar sized pieces so they cook evenly – this little step makes a huge difference!
SUCCESS IS IN THE PREP!
Once you start cooking, this recipe will come together very quickly. The key to pulling this off successfully is having all of your ingredients prepped and in bowls right next to your wok or pan! Have your premixed sauce, noodles, and vegetables ready and easily accessible during the cooking process.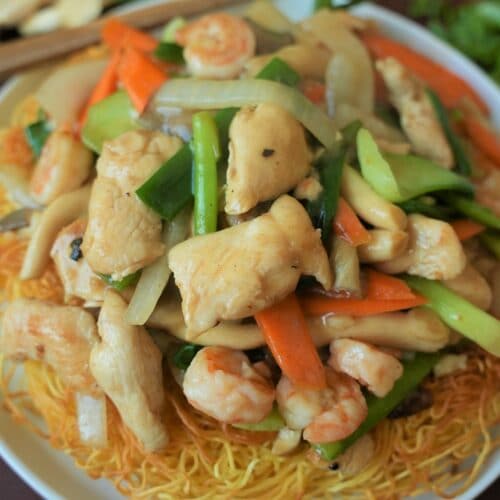 Hong Kong Chow Mein
This crispy Hong Kong Chow Mein is just as good as the restaurant! Use the protein of your choice or leave it vegetarian!
Ingredients
Remaining Ingredients
2

cups

baby bok choy

1

cup

oyster mushrooms

1/4

cup

onion

sliced

2

scallions

cut into 2" pieces

1/4

cup

carrot

cut into 1" discs

2

cloves

garlic

chopped

10

oz

chow mein noodles

I used fresh

3

cups

chicken stock

2

tsp

white pepper

1/2

tsp

msg

optional

1

tsp

sugar

2

tbsp

shaoxing wine
Instructions
Slice onions, cut 2 scallions into 2" pieces, slice carrots, and chop garlic. Separate garlic, onion, and scallion and set aside.

Take protein and marinate with soy sauce, oyster sauce, white pepper, sesame oil, and salt. Set aside for 15 minutes.

Mix together 1 tbsp cornstarch + 1/4 cup water to create a cornstarch slurry. Set aside.

Bring pot of salted water to boil and blanch fresh chow mein noodles for 30 seconds. Immediately drain and dry on paper towel to remove excess moisture.

Take pan and heat 1/2 cup of neutral oil over medium high heat. Pan fry blanched noodles until one side is crispy and takes on slight color (2-3 minutes). Flip and pan fry the other side, adding more oil if necessary and pan fry for another 2 minutes until both sides are crispy and the inside is soft.

To a hot wok or pan, add 1 tbsp of oil and cook marinated chicken over high heat until 75% cooked through. Add shrimp and cook through. Set aside cooked chicken and shrimp.

Add 2 tbsp of oil and sauté garlic, onion, and scallion over high heat for 30 seconds. Add in carrots and baby bok choy and cook for another minute (or until you get a nice color).

Add back cooked protein to cooked vegetables. Add in 3 cups of chicken stock, 2 tsp white pepper, 1/2 tsp msg, 1 tsp sugar, and 2 tbsp Shaoxing wine. Stir over high heat and reduce slightly, then add in the corn starch slurry to thicken for 2 minutes.

Immediately top vegetables, protein, and sauce directly over pan fried noodles.