The ULTIMATE Queso Dip Recipe!
---
September 20, 2023
---
If there's one irresistible party appetizer that can unite a diverse crowd and elevate any gathering, it's the beloved Queso Dip. This creamy, cheesy concoction has transcended culinary boundaries, becoming a symbol of indulgence and togetherness.
Whether you're in need of a crowd pleasing dip for your next party, or if you want a dip that is truly comfort in a bowl, continue reading as we cover my ultimate Queso Dip recipe – it's guaranteed to be a hit!
Watch the Queso Dip Recipe Video Below!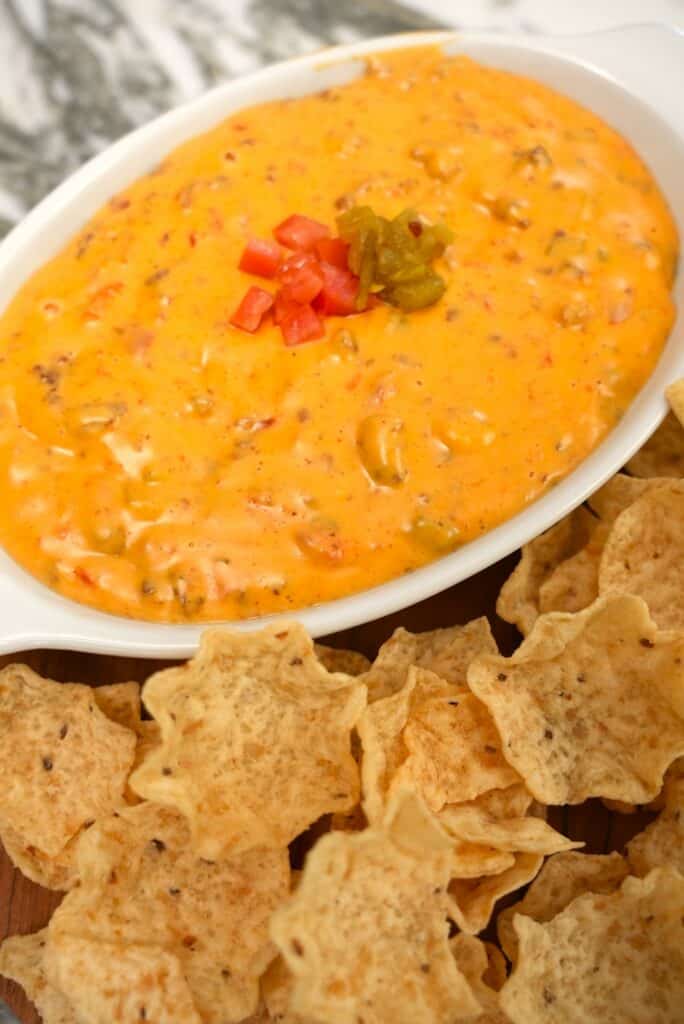 Ingredients
This cheesy, delectable dip is incredibly easy to make and it only requires a few ingredients and seasonings! Here is what you'll need to make this cheesy, irresistible Queso Dip!
1 lb pork sausage
32 oz Velveeta cut into 4″ chunks
8 oz Monterey Jack cubed
10 oz can diced tomatoes drained (I used Rotel diced tomatoes & green chilies)
2 cup whole milk
4 oz green chilies (can omit if using Rotel)
1 tsp paprika
1 tsp ground cumin
1 tsp onion powder
1 tsp garlic powder
1 tsp chili powder
½ tsp cayenne
½ tsp black pepper
Garnish
Diced tomato
Diced green chilies
Key Tips for the best Queso Dip!
Heat Management:

If you like a spicier dip, feel free to add diced jalapenos and their juice to spice things up!

Low and Slow Heat:

Melt the cheese on medium heat prevent scorching or burning. Stir constantly to ensure even melting. Don't use high heat here!

Serve Immediately:

A cheese dip is best when served right away while it's hot and gooey. It can start to thicken as it cools, so consider using a fondue pot or a slow cooker to keep it warm for extended periods during gatherings.

Pair with Dipping Items:

Serve your queso dip with a variety of dipping options such as tortilla chips, pretzel bites, toasted bread, or even vegetables like celery and bell peppers.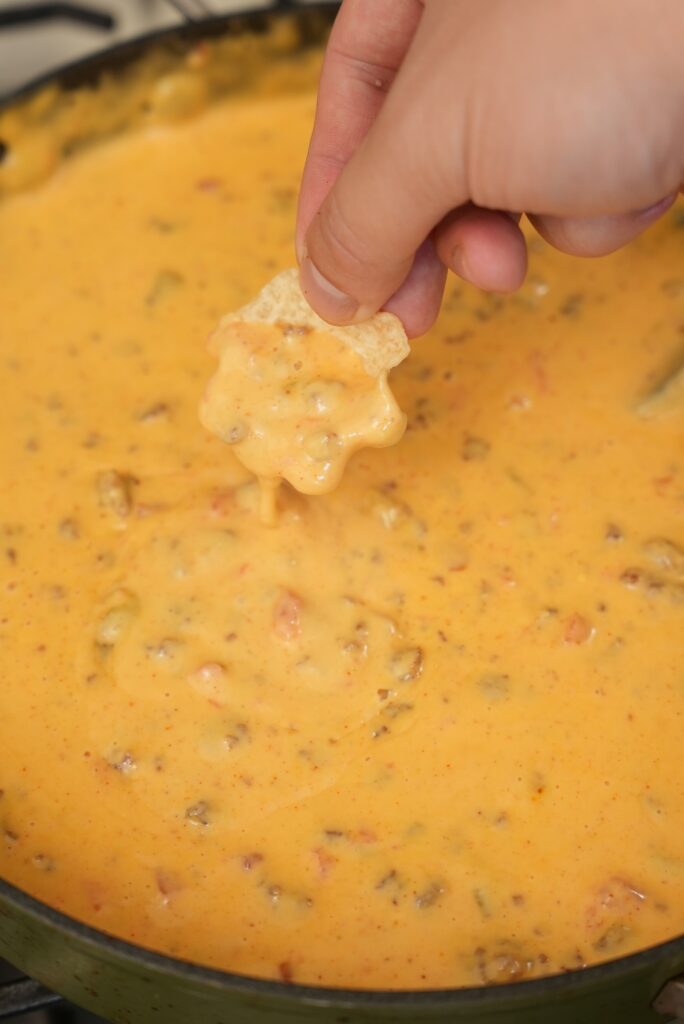 What Ground Meat to Use?
I opt for ground sausage here, but you could easily swap this out for ground beef or ground turkey! You want the ground meat to have a decent amount of fat so that the meat can crisp up in the pan and absorb all of the delicious seasonings during the browning process! This will create a more flavorful Queso dip!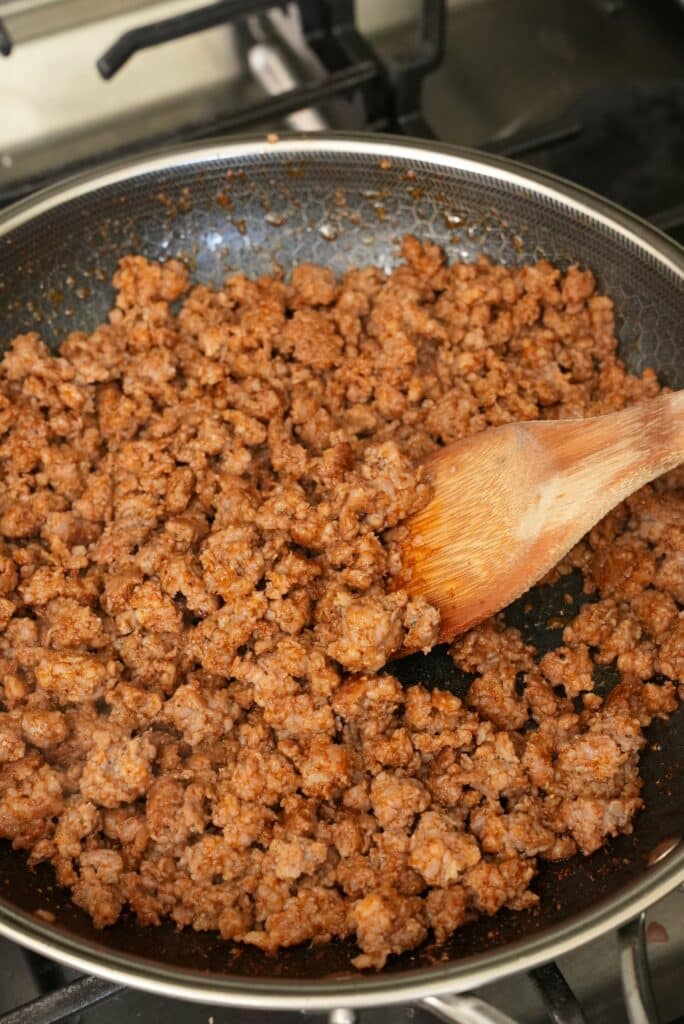 If you liked this Queso Dip recipe, check out some of the most appetizer and dips on the blog for your next party or game day!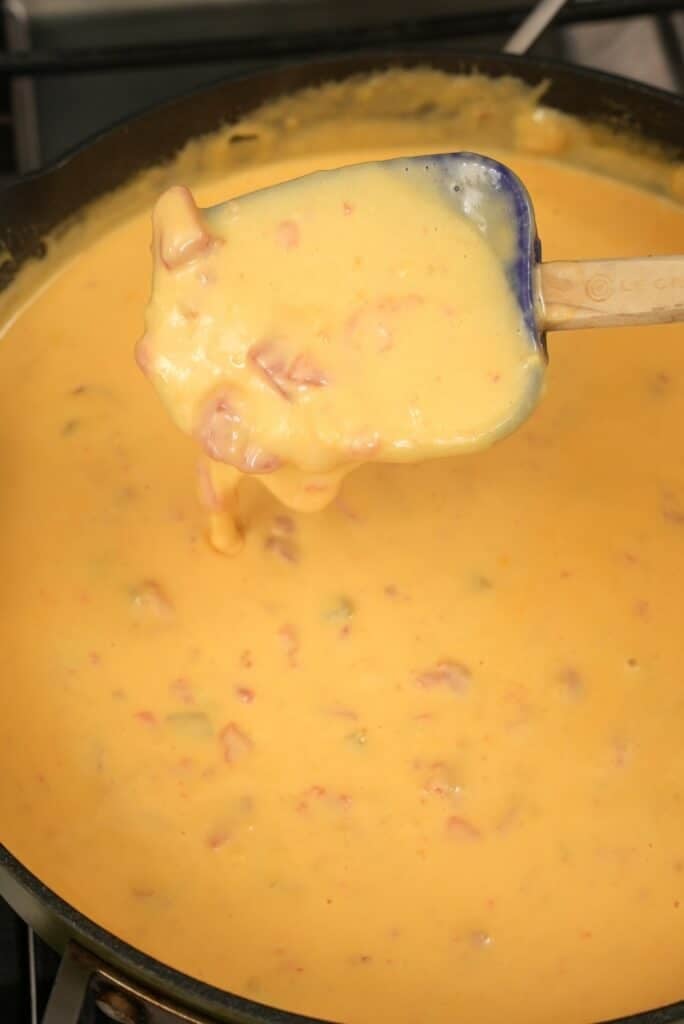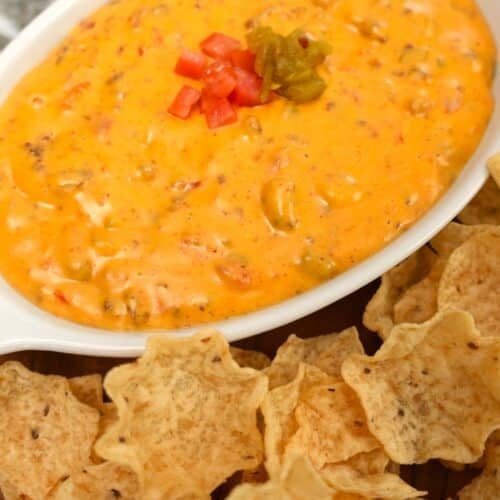 The ULTIMATE Queso Dip
My ULTIMATE Queso dip recipe is cheesy, melty, and meaty. It's loaded the perfect blend of spices and will be a hit at your next party!
Ingredients
1

lb

pork sausage

32

oz

Velveeta

cut into 4" chunks

8

oz

Monterey Jack

cubed

10

oz

can diced tomatoes

drained (I used Rotel diced tomatoes & green chilies)

2

cups

whole milk

4

oz

green chilies

can omit if using Rotel

1

tsp

paprika

1

tsp

ground cumin

1

tsp

onion powder

1

tsp

garlic powder

1

tsp

chili powder

½

tsp

cayenne

½

tsp

black pepper
Garnish
Diced tomato

Diced green chilies
Instructions
In a pan, add pork sausage and break it up into pieces with a spatula. Break the sausage into fine pieces and begin to brown over medium high heat allowing some of the fat to render, then season with paprika, ground cumin, onion powder, garlic powder, chili powder, cayenne, and black pepper. Stir to combine and continue cooking for 2 minutes until browned and set aside.

In a wide nonstick or pot, add Velveeta, Monterey Jack cheese, diced tomatoes (or Rotel), diced green chilies and whole milk. Turn the heat to medium and stir occasionally until the cheese has melted and mixture has thickened slightly, about 10-15 minutes.

Once the cheese mixture has reached the correct consistency (refer to video – the dip should slowly slide off a spatula without being too runny), add the seasoned sausage and stir into the cheese mixture. If the mixture is too thick, add whole milk ¼ cup at a time until the correct consistency is achieved. Note: the mixture will thicken upon sitting!

Turn the heat to low and let sit for 5 minutes for the flavors to incorporate.

Top with chopped tomato and diced green chiles, serve with chips or toasted bread and enjoy!