Gochujang Honey Wings
---
March 10, 2022
---
The first time I made these Gochujang Honey Wings, my wife said they were the best wings I've ever made! The chicken wings are juicy on the inside and crispy on the outside, and the sauce is a wonderful balance of sweet, spicy, and tangy!
Check out the video recipe below!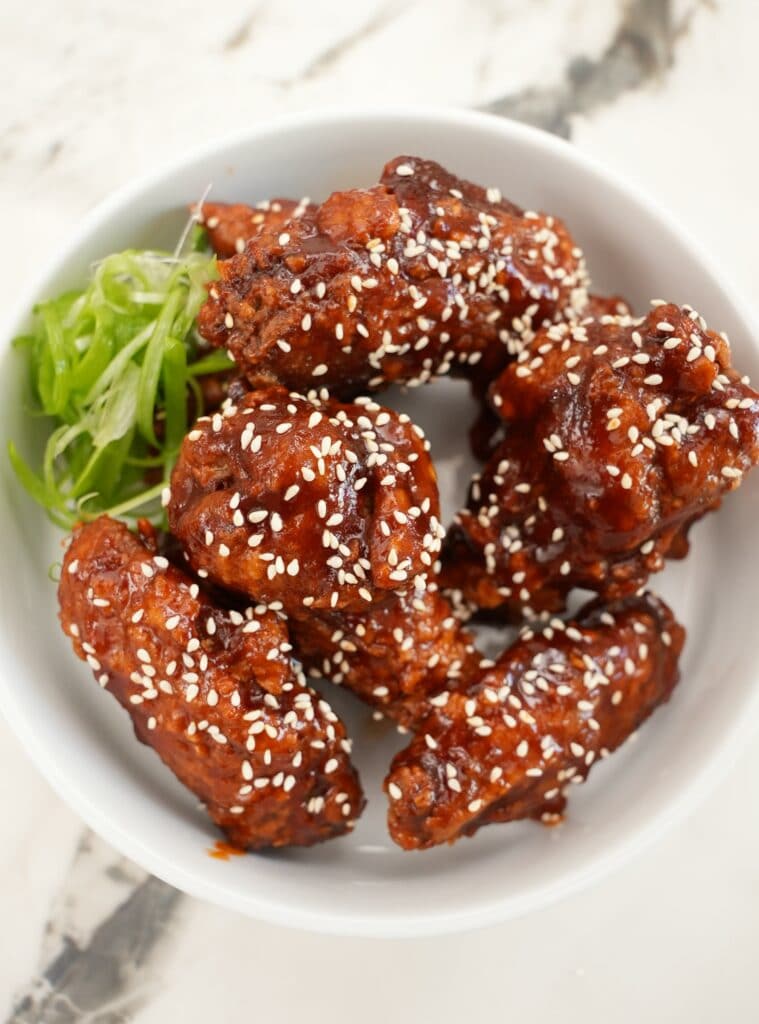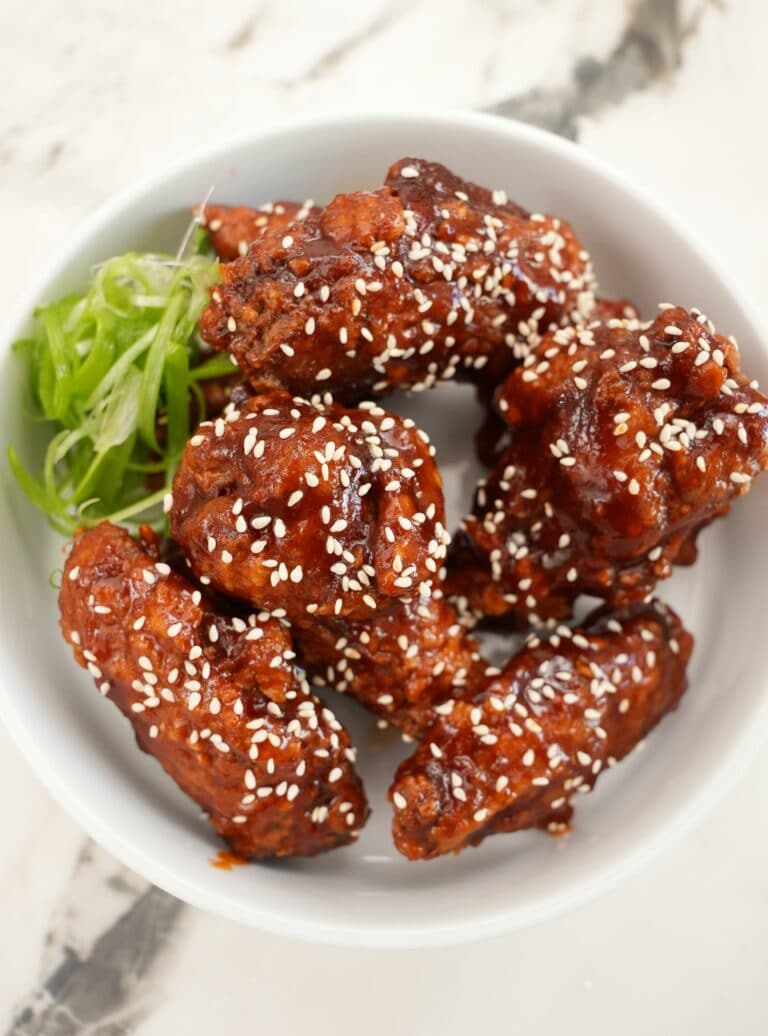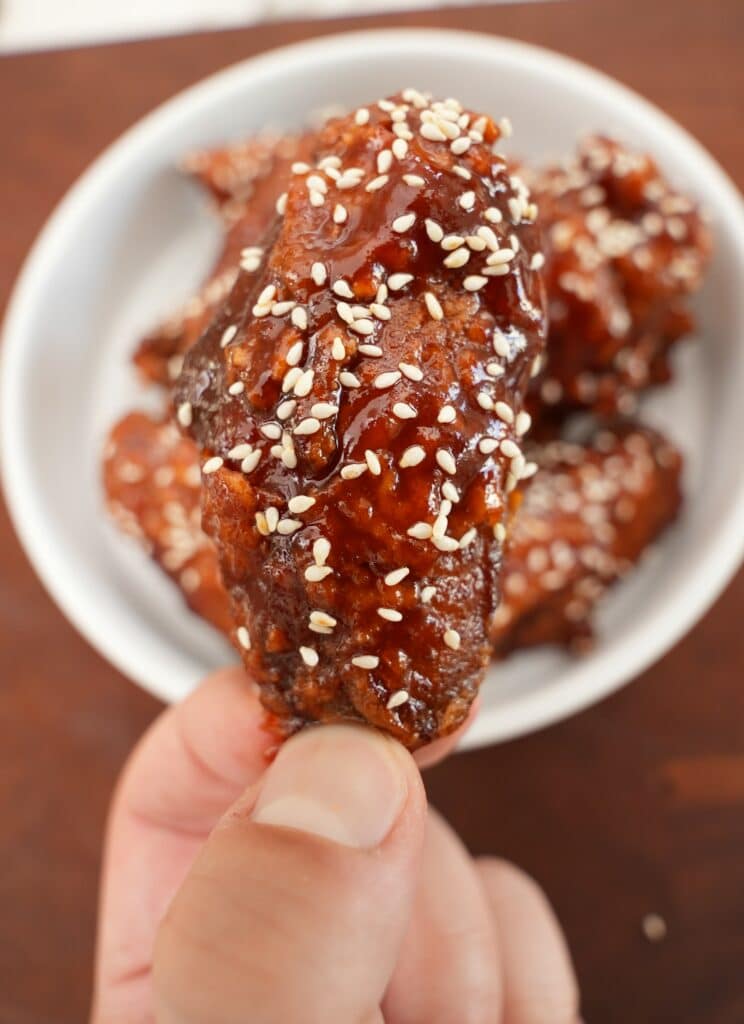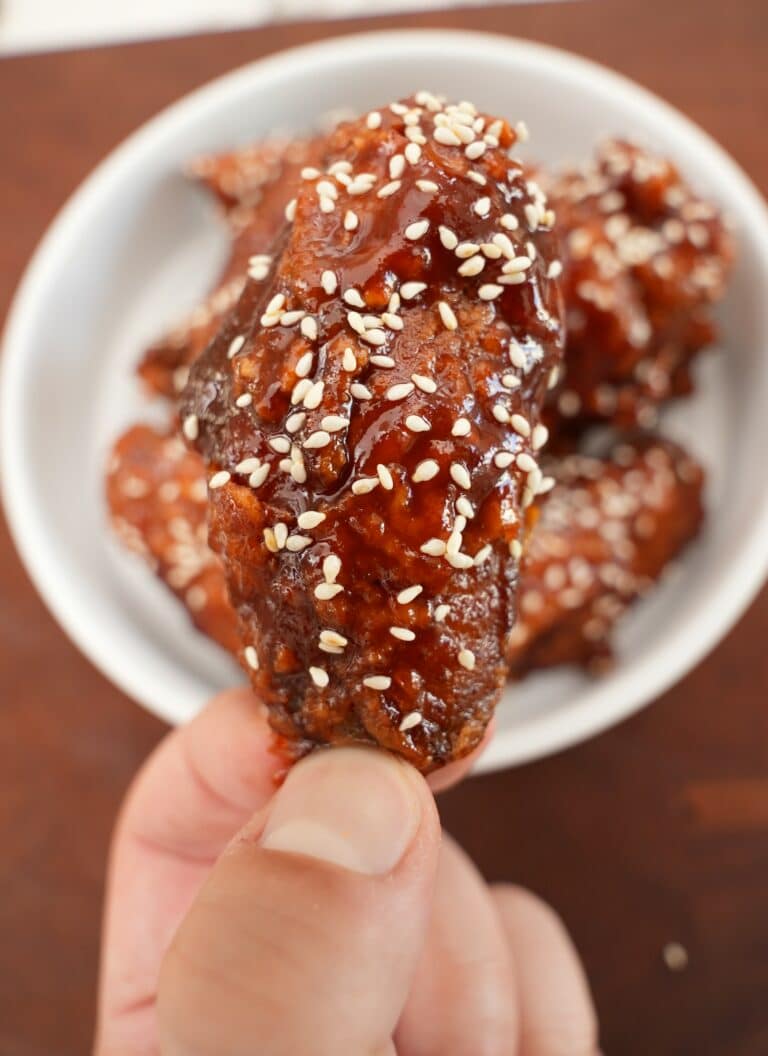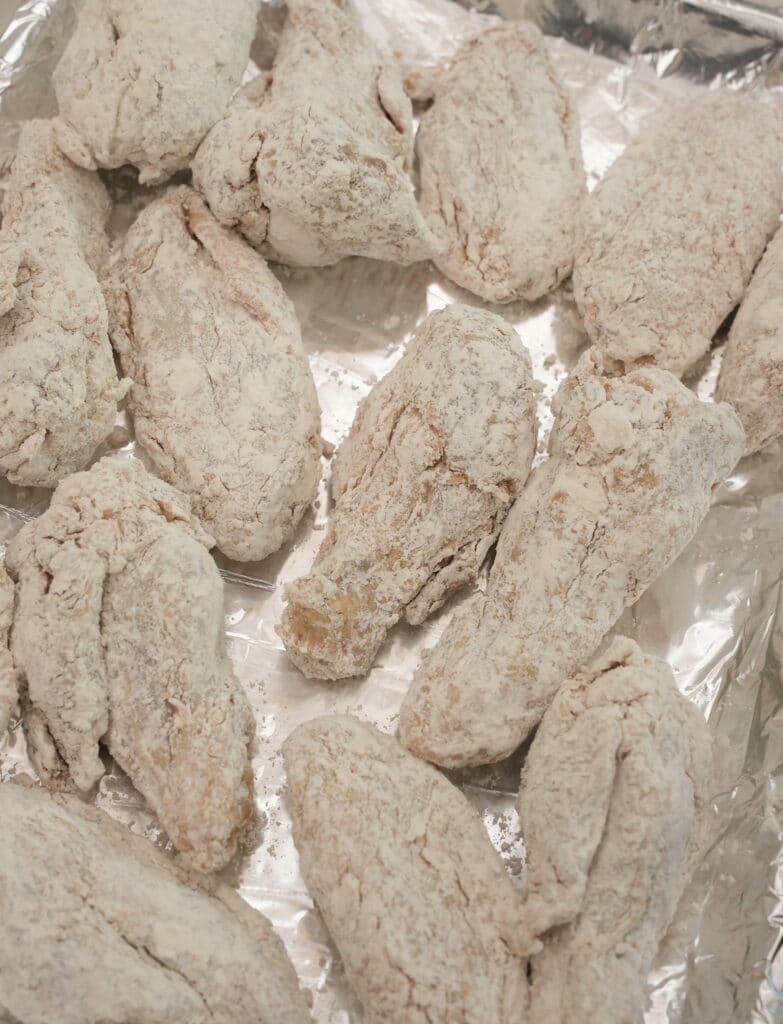 INGREDIENTS TIPS
WHITE PEPPER
I get asked all the time if you can sub black pepper for white pepper – and my answer is, it depends BUT you need to watch the ratio. White pepper has a milder flavor profile than black pepper, so it's a 1-1 substitute. I would start with less black pepper and add as you go. (But really, you should have white pepper in your pantry! It's a staple in mine!)
FLOUR + CORNSTARCH + BAKING POWDER
My favorite combination is FLOUR, CORNSTARCH, and BAKING POWDER for wings! When mixed with the flour, the cornstarch makes the flour coating crispier and gives it that golden brown color! (It has to do with prevention of gluten development.) The baking powder reacts with the oil and creates tiny air bubbles, which also helps form a crispy coating.
NEUTRAL OIL
My favorite neutral oil is avocado oil, but you can also use canola or vegetable oil! I don't use olive oil when cooking Chinese food for two reasons: 1. It has a low burning point and 2. The flavor profile does not go.
GOCHUJANG
Gochujang is a Korean pepper paste that is spicy, sweet, with a hint of umami. It has a STRONG flavor, so you only need a little to go a long way. I would adjust this to your spice preference – if you are new to the flavor or don't enjoy spice as much, I would even start with 1/2 of what the recipe calls for!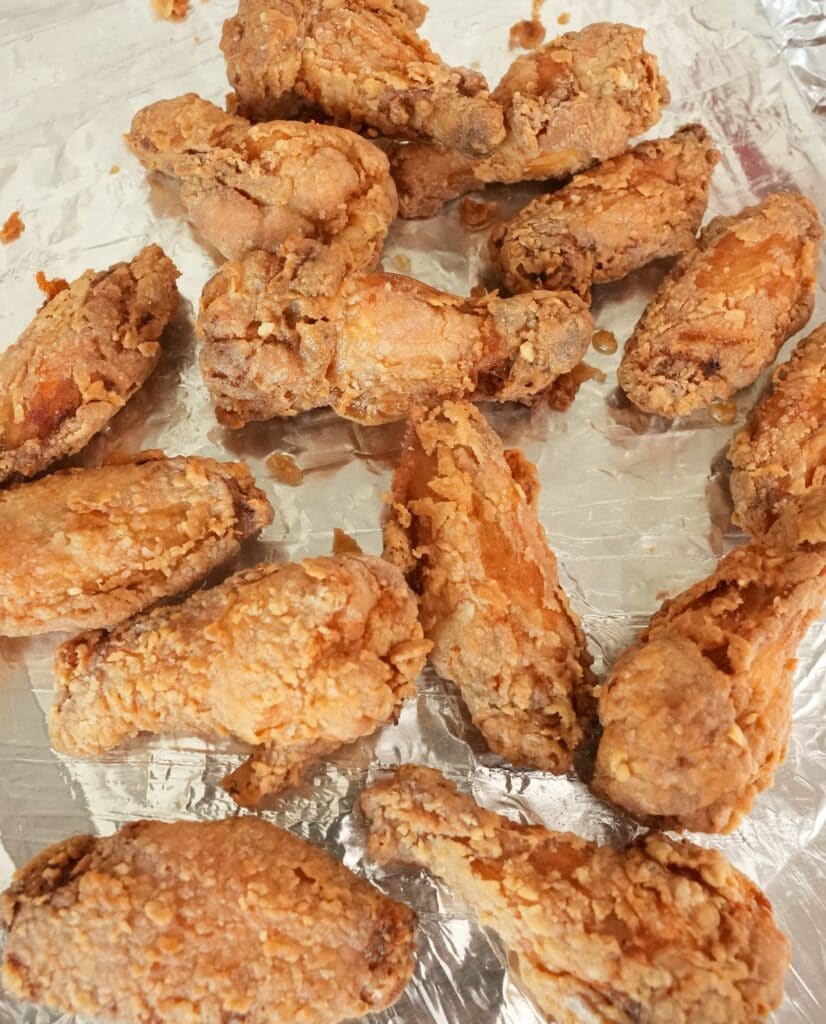 Double-frying the chicken is one of my top tips for achieving super crispy chicken wings!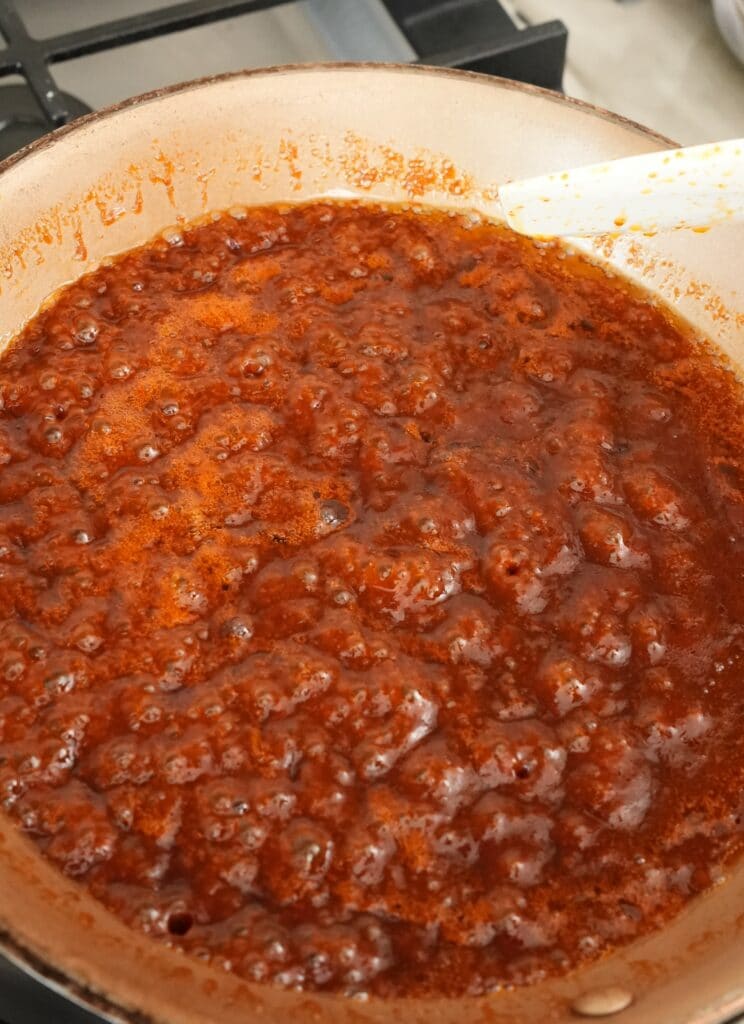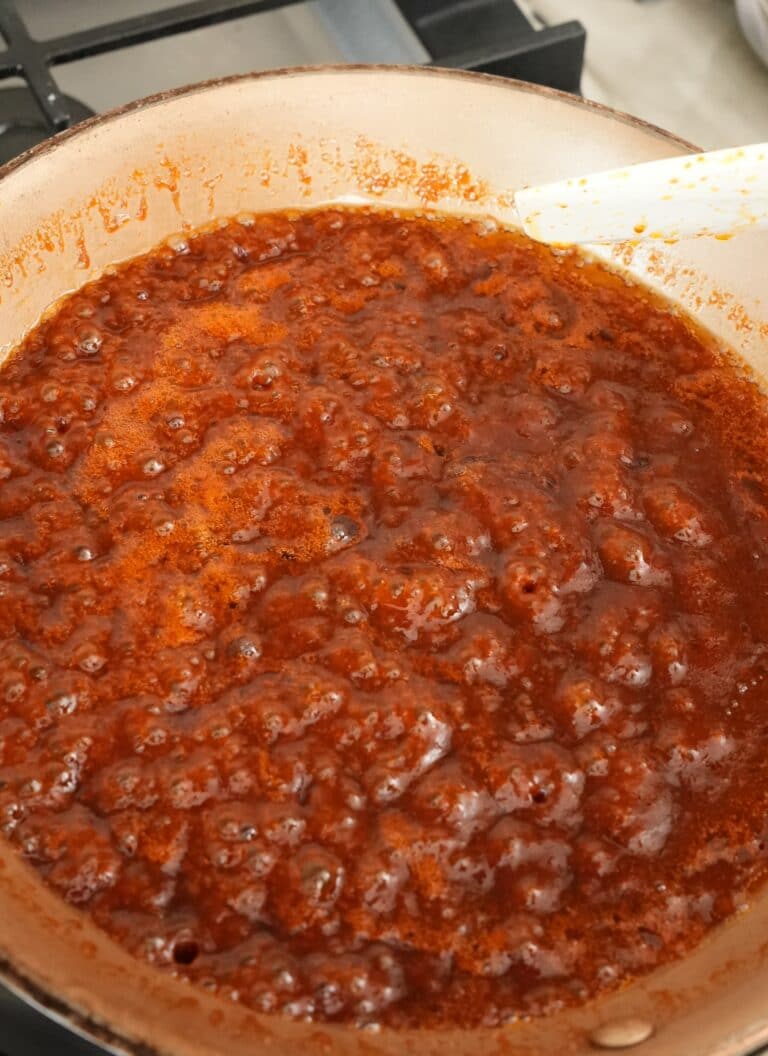 RECIPE TIPS
CRAGGILY BITS
Add any leftover marinade (or 1-2 tbsp of water) to your seasoning mix (flour/cornstarch/baking powder) and rub them together to create the craggily bits we all love!
REST AFTER DREDGING
Once the wings are dredged in the seasoning mix, let them rest for 10-15 minutes. This helps the batter stick to the chicken when frying!
OIL TEMPERATURE
Do not let your frying oil drop below 325F when frying! I highly recommend you use a thermometer to keep an eye on the temperature. If you see it dropping below 325F, fry your wings in batches. Frying at a low temperature will result in too much moisture (AKA SOGGY!)
DOUBLE FRY
I love to double fry my wings, as this ensures my wings are both well-crisped AND cooked thoroughly. I know it's a little bit extra work but I guarantee it's worth it! If excess batter pieces are floating in the oil, strain them out with a strainer to prevent them from burning during the 2nd fry.
Honey Gochujang Wings
Ingredients
Chicken Wings
2

lbs

chicken wings

1

tsp

salt

1/2

tsp

white pepper

4

cloves

garlic

grated

1

inch

ginger

grated

2

tbsp

soy sauce

1

tsp

sesame oil
Seasoning Mix
1

cup

flour

1

cup

cornstarch

1/2

tbsp

kosher salt

1/2

tbsp

white pepper

1/2

tbsp

baking powder
Sauce
2

tbsp

oil

1/4

cup

honey

1/4

cup

gochujang

2

tbsp

brown sugar

2

tbsp

soy sauce

3

cloves

garlic

grated

1/2

tbsp

ginger

grated

2

tbsp

rice vinegar

2

tbsp

water
Instructions
Marinate chicken wings in salt, white pepper, garlic, ginger, soy sauce, and sesame oil for 1-2 hours or overnight for best results.

In a large bowl, add flour, cornstarch, kosher salt, white pepper, and baking powder. Mix together until combined, then add any leftover marinade (or 1-2 tbsp of water) into the seasoning mix. With your hands, rub the mix together with the liquid to create craggily bits in the seasoning mix.

Coat your wings into the seasoning mix, and pack in the dredge well making sure to leave no dry spots. Shake off any excess and let rest on a sheet pan for 5-10 minutes while you heat up your frying oil.

Fry the wings in batches at 350F for 6-8 minutes. Remove and set on a rack or paper towel to drain while you fry the rest of your wings.

Fry the wings a 2nd time at 350F for 1-2 minutes. This will get the exterior super crispy.

In a large wide pan, heat 2 tbsp of neutral oil over medium heat. Add your garlic, ginger, and gochujang and fry for 30-45 seconds until fragrant. Add soy sauce, brown sugar, honey, and water. Stir until the sauce bubbles and the sugar is dissolved, about 2-3 minutes.

Add the wings to the sauce and toss to coat. Serve immediately & enjoy!