Spicy Pork Bulgogi
---
May 25, 2023
---
Spicy Pork Bulgogi (Dwaejibulgogi) is a Korean dish of marinated pork belly that is so easy to prep and cook up whenever you need a quick meal that comes together in less than 30 minutes! My wife first introduced me to this meal, as I had never heard of it before – and I've been hooked ever since. It's so easy to marinate and keeps great in the fridge for a quick meal during the week!
Watch the Spicy Pork Bulgogi Recipe Video Below!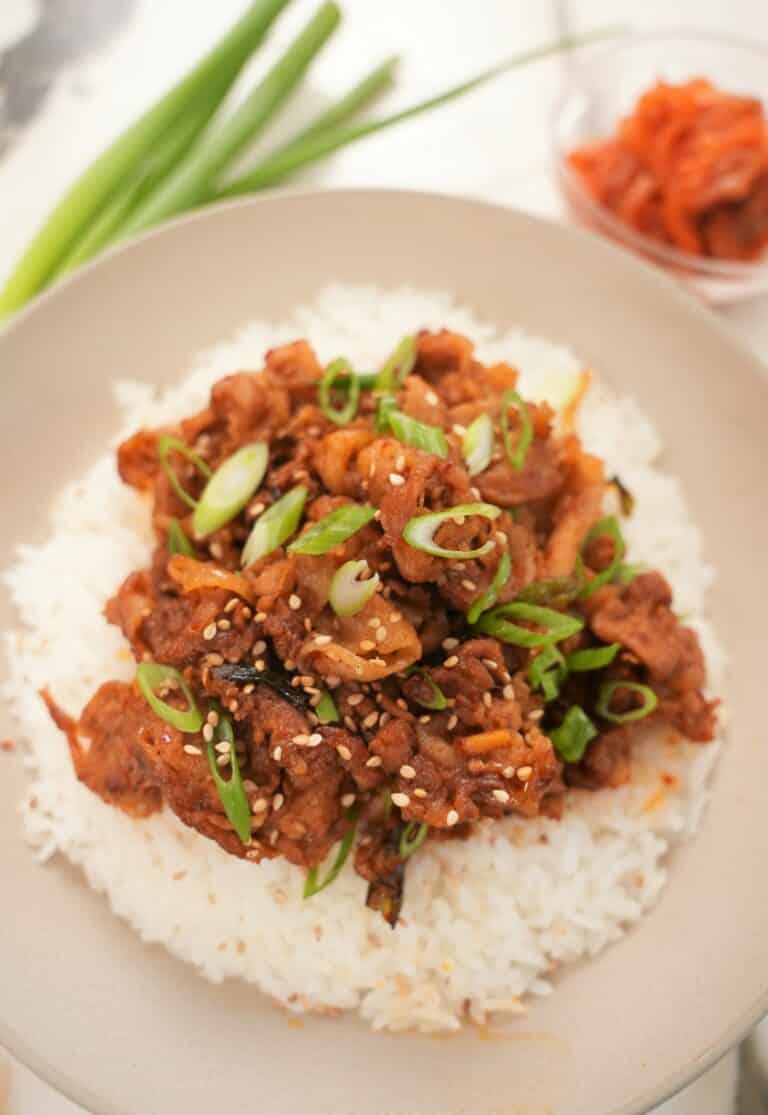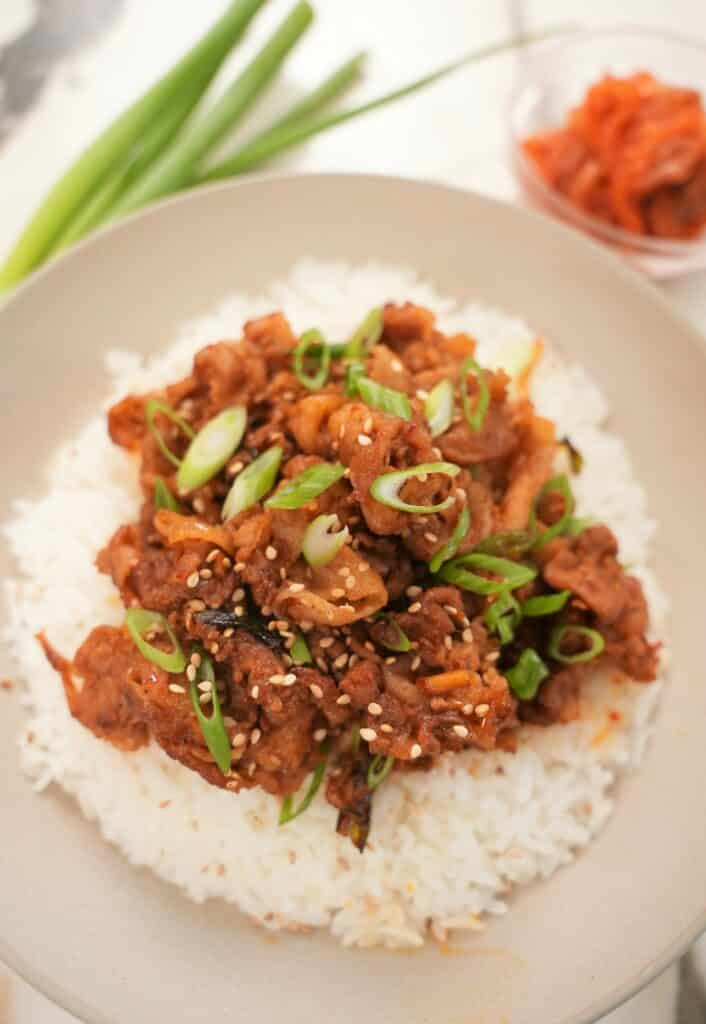 Ingredients for Spicy Pork Bulgogi
I love this spicy pork bulgogi recipe because it comes together so quickly without much marinating time. Here are the ingredients you will need!
Pork Belly (I opt for the thinly sliced cut here, but you could also buy thicker cuts from your Asian supermarket)
Gochujang
Light Soy Sauce
Sugar
Gochugaru
Black Pepper
Garlic
Ginger
Sesame Oil
White Onion
Scallion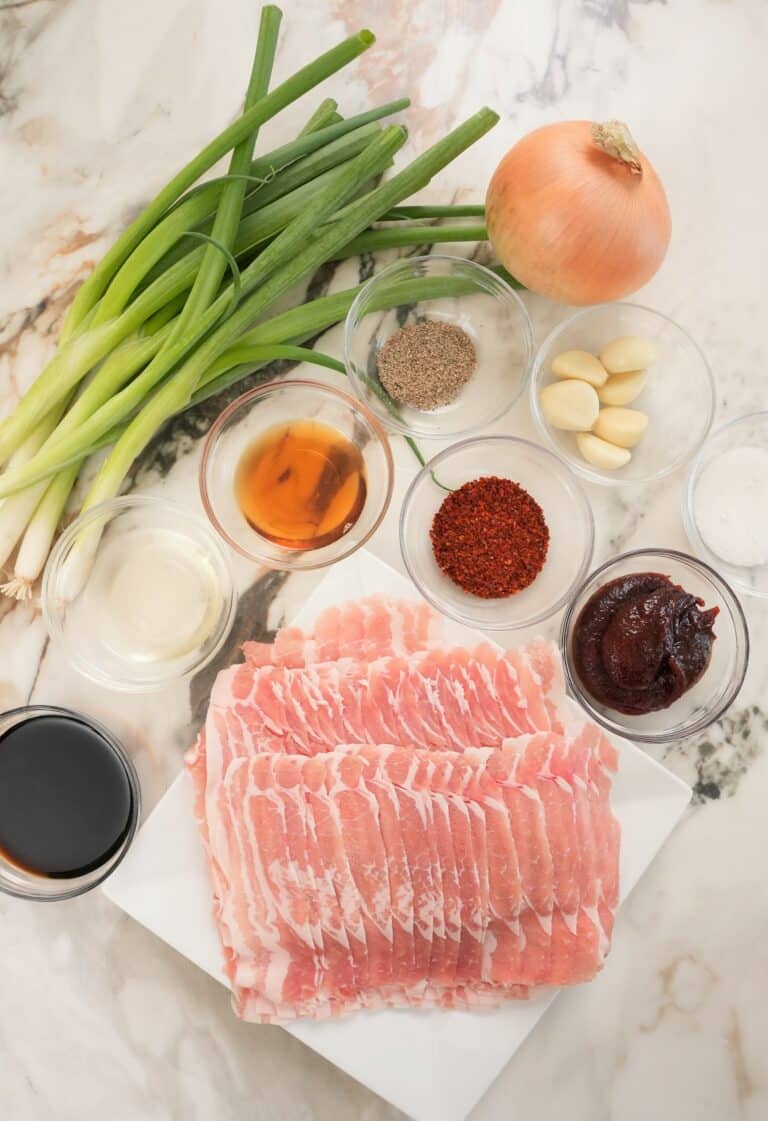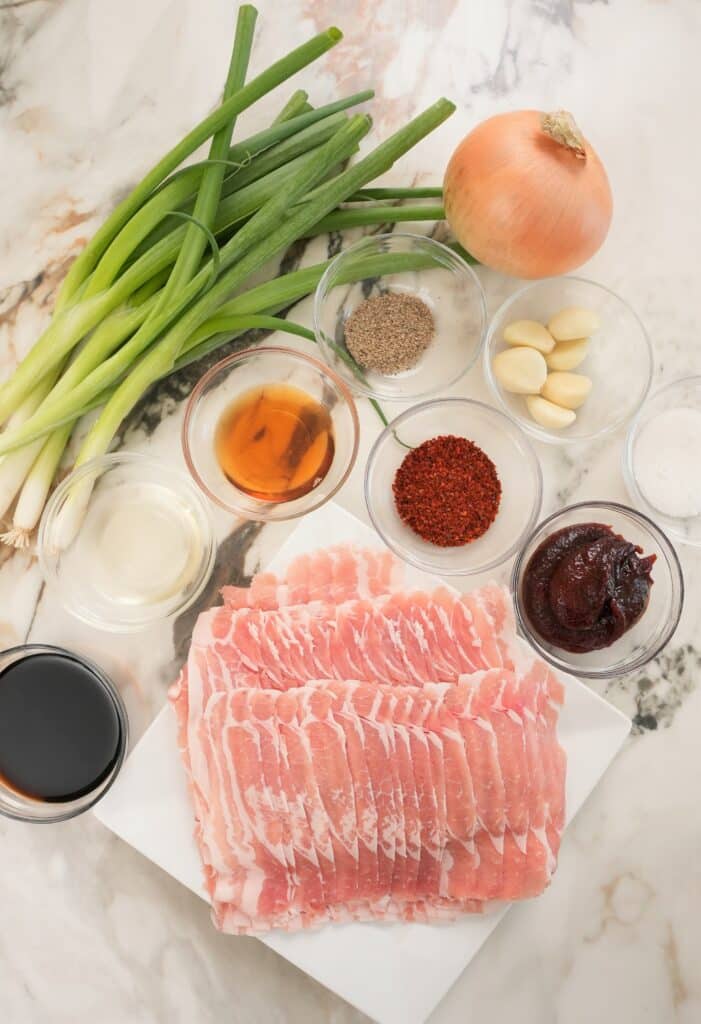 INGREDIENTS TIPS
PORK BELLY
I buy mine from the Asian grocery store (usually H Mart or 99 Ranch) pre-sliced – the slices are usually about 1/4″ thin. If you can't buy it pre-sliced and want to slice it at home, I recommend you FREEZE the pork belly for 10 minutes before slicing. It'll make the slicing a lot easier.
SUB WITH CHICKEN
If you want to eat this but need to sub for a different protein, chicken thighs would be great! Just cut the meat into thin strips.
GOCHUGARU
Gochugaru is Korean chili flakes or chili powder – for this recipe, you want to use the CHILI FLAKES. Gochugaru is spicy and intense in flavor – if you are sensitive to spice, I would recommend you use less.
WHITE PEPPER
I get asked all the time if you can sub black pepper for white pepper – and my answer is, it depends BUT you need to watch the ratio. White pepper has a milder flavor profile than black pepper, so it's a 1-1 substitute. I would start with less black pepper and add as you go. (But really, you should have white pepper in your pantry! It's a staple in mine!
Pork Belly – which kind to buy
To make spicy pork bulgogi, make sure you buy the thinly sliced pork belly. Any Asian grocery store will sell pork belly this way. I prefer the pork belly thinly sliced because it will not only marinate faster, but it will also cook faster and crisp up easier in the pan.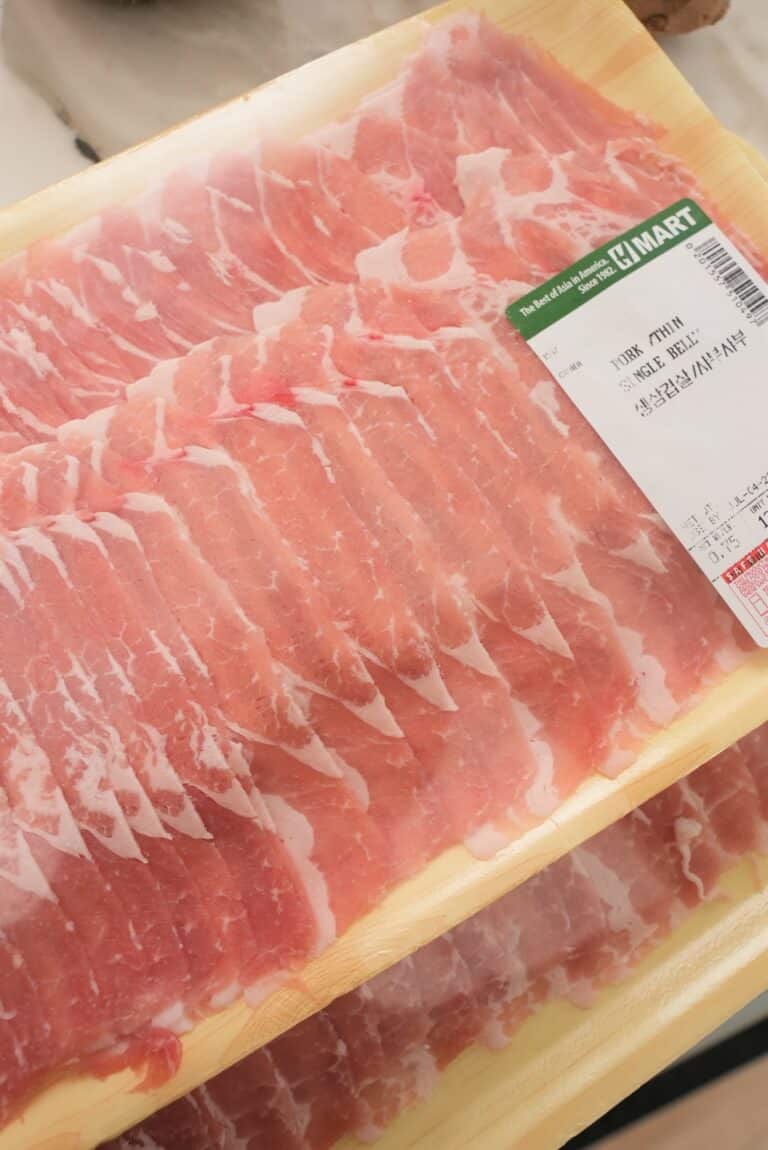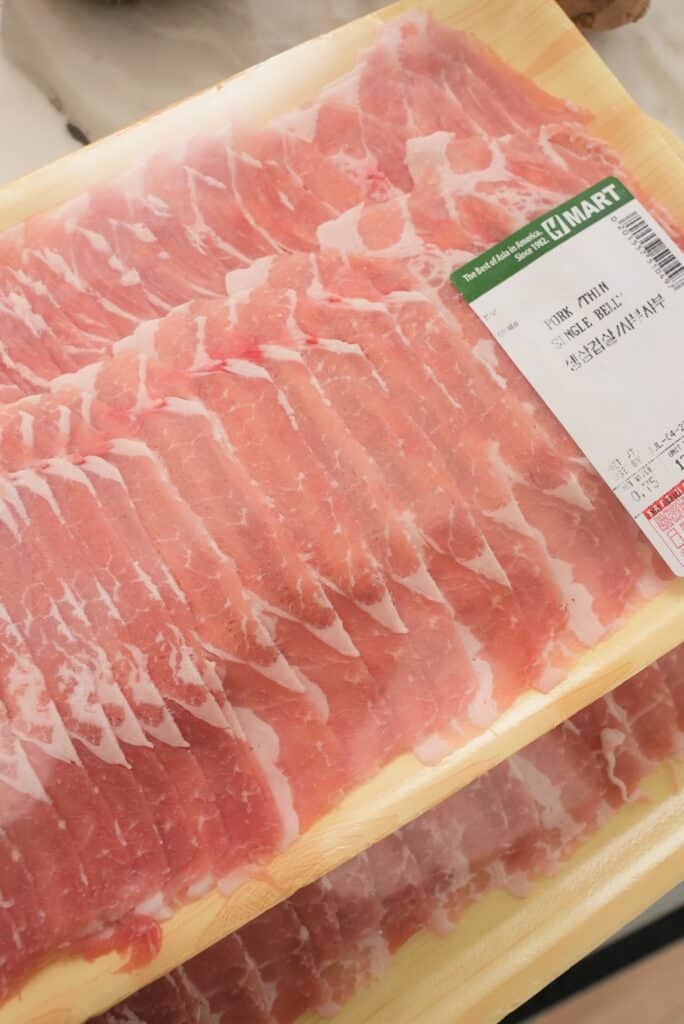 Spicy Pork Bulgogi: Recipe Instructions
Mix Together the Marinade
The first step in making this recipe is mixing together the marinade. In a medium to large mixing bowl, add gochujang, light soy sauce, sugar, gochugaru, sesame oil, black pepper, chopped garlic & ginger.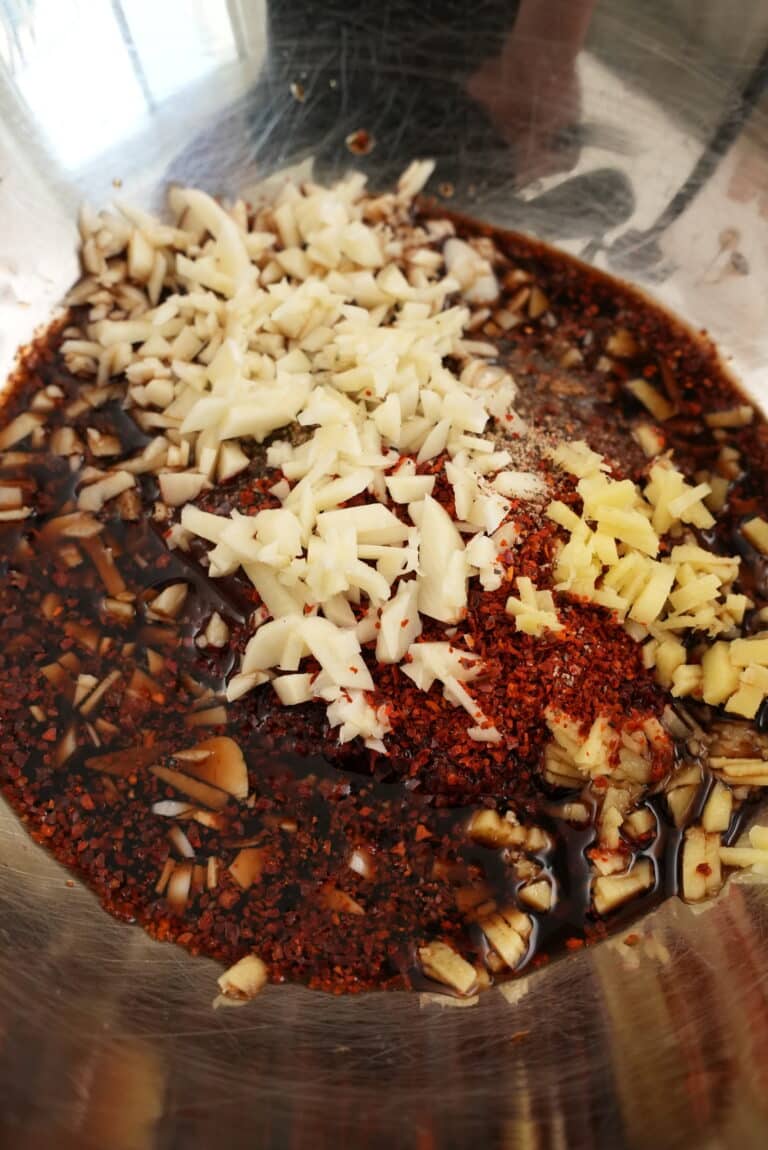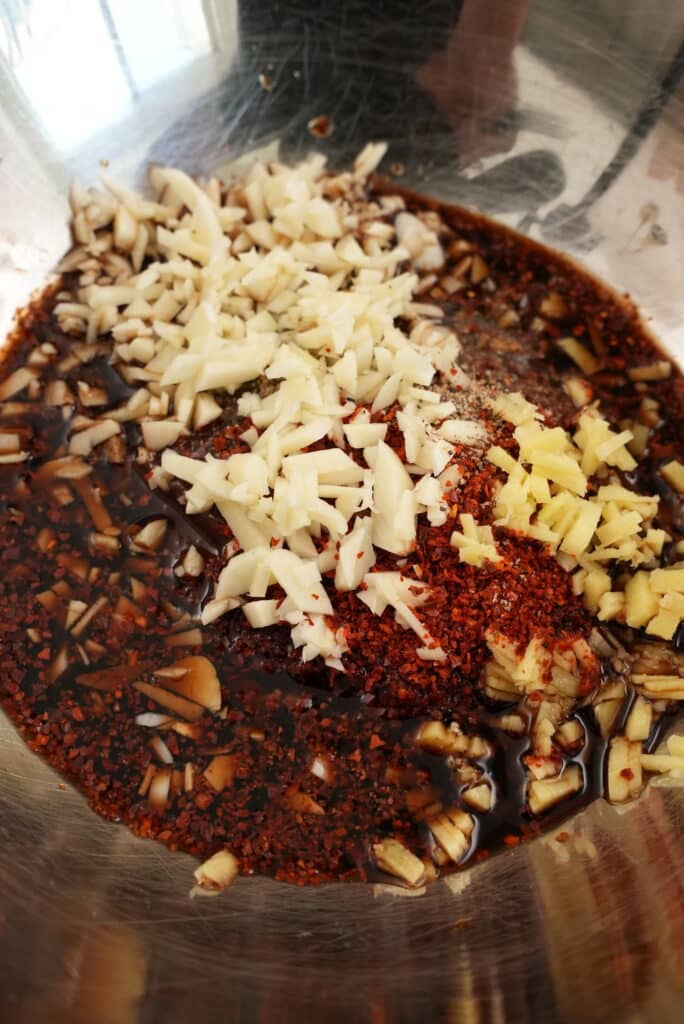 Mix together the ingredients in a bowl until you get a loose paste, similar to the photo below. You don't want the marinade too thick, otherwise it will be difficult to mix it in with the pork belly.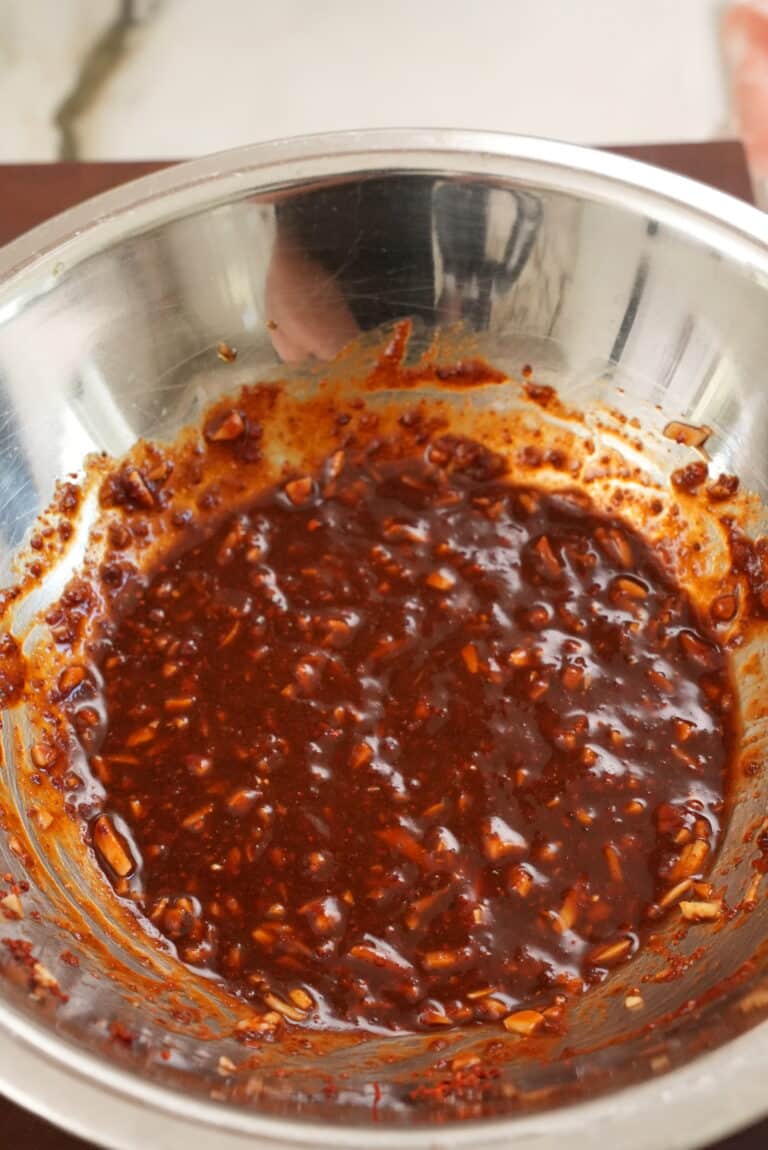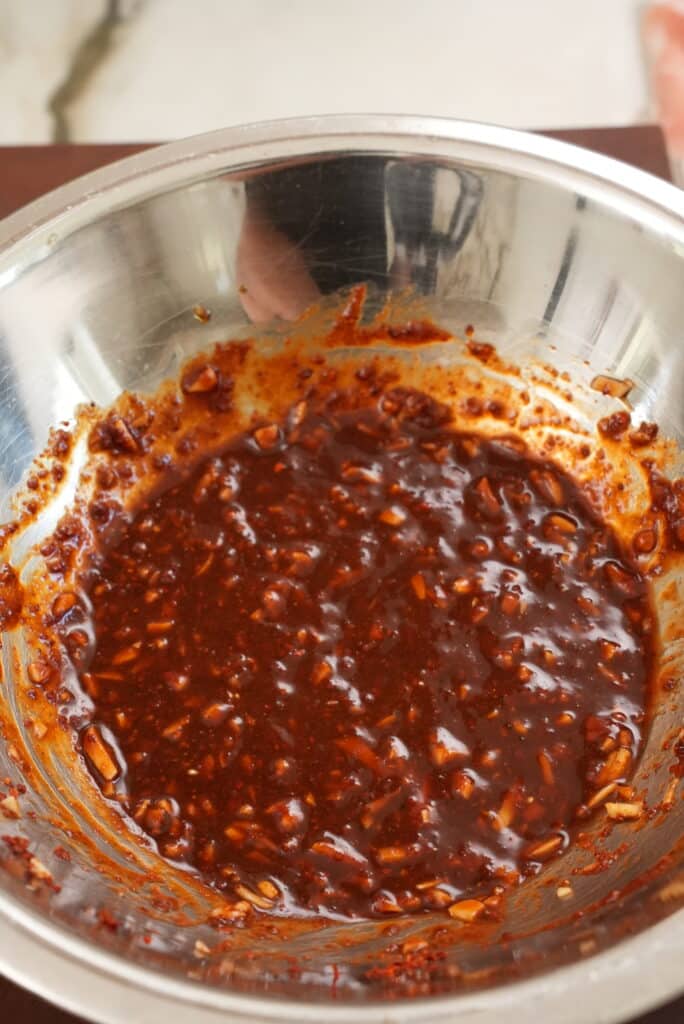 Add In The Pork
Once the marinade is thoroughly mixed, add in the thinly sliced pork belly along with the thinly sliced onions and scallions. Using your hand (I recommend using a glove here), mix all the ingredients together until the pork is thoroughly coated in the marinade. Let this marinate for about 15 minutes.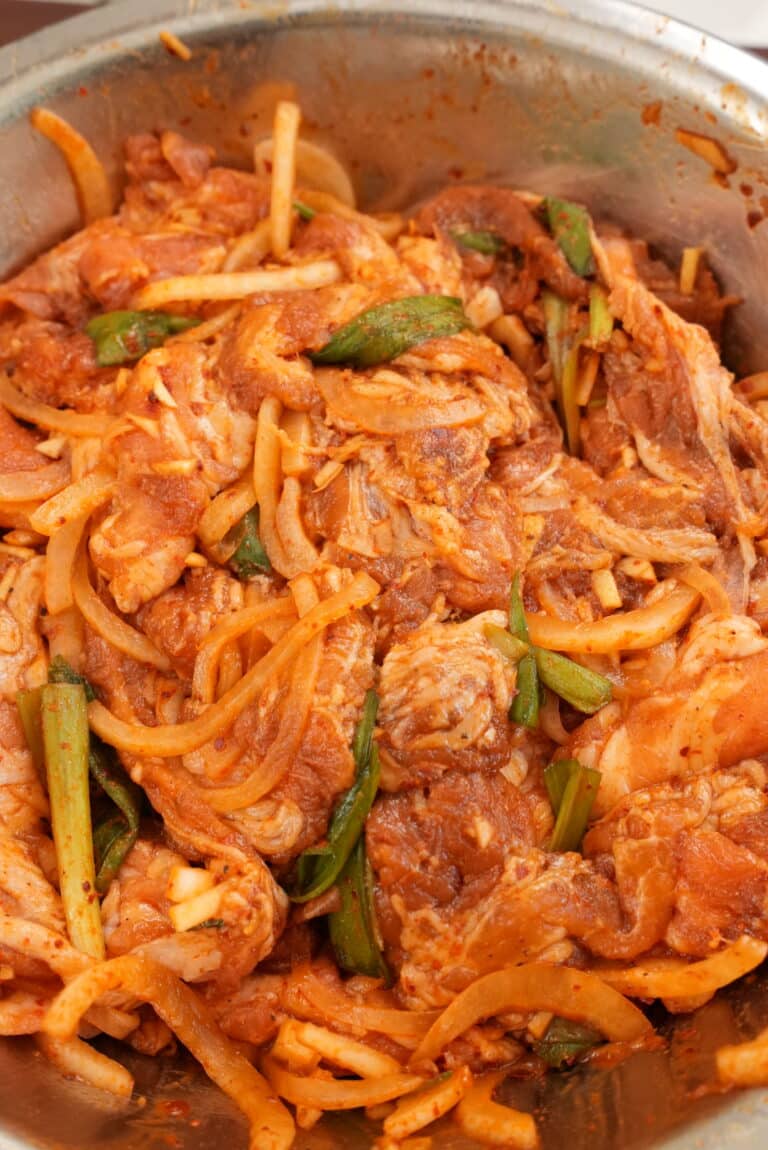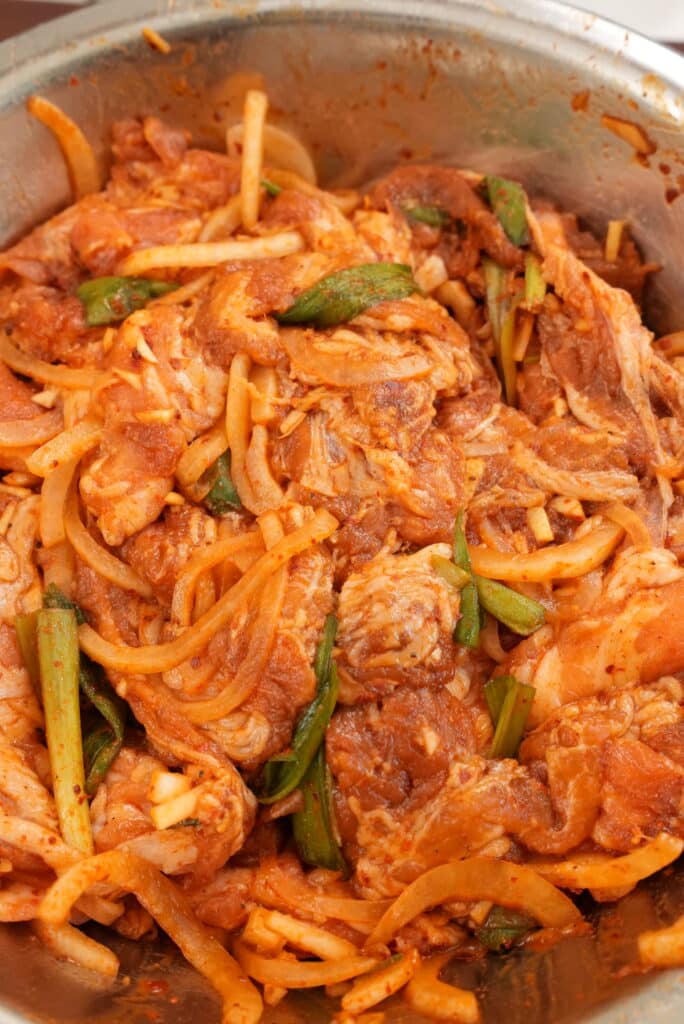 Cook The Pork
Cook the pork in a nonstick skillet or over a grill on medium high heat for about 4-5 minutes or until the pork is fully cooked through. I enjoy my spicy pork bulgogi extra crispy so I like to make sure the fat is rendered out and the pork is able to crisp up before serving over a bed of rice.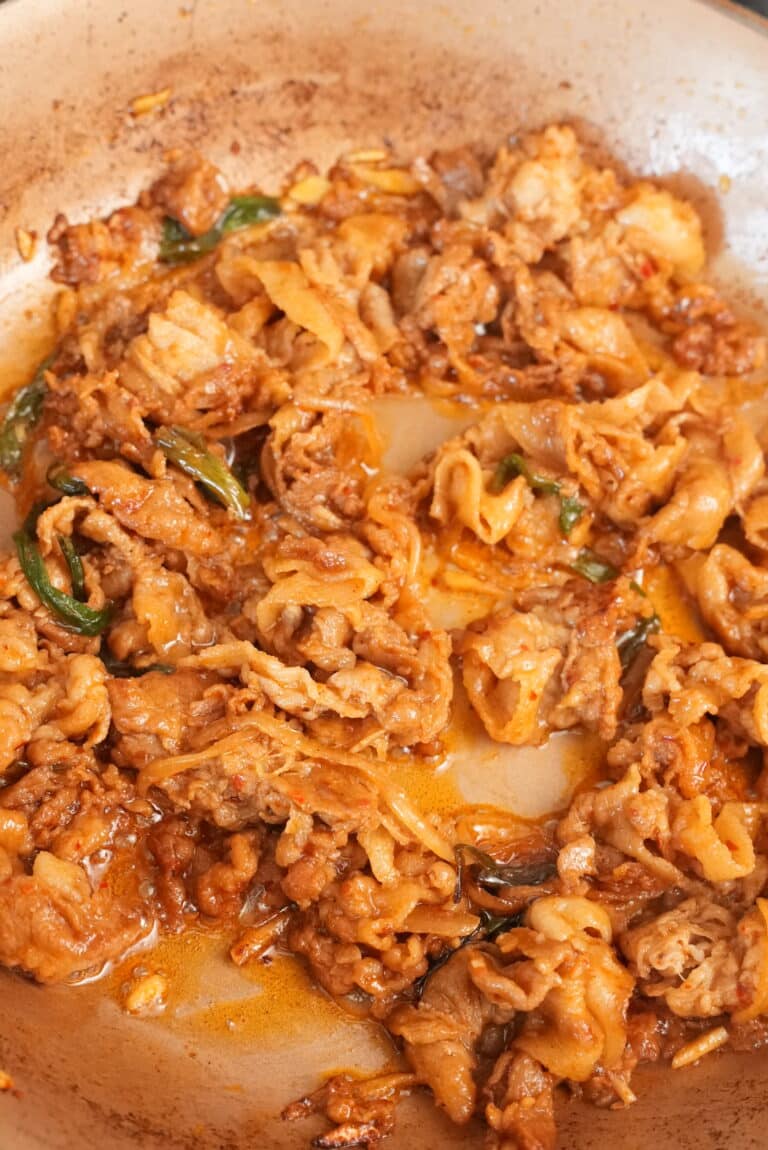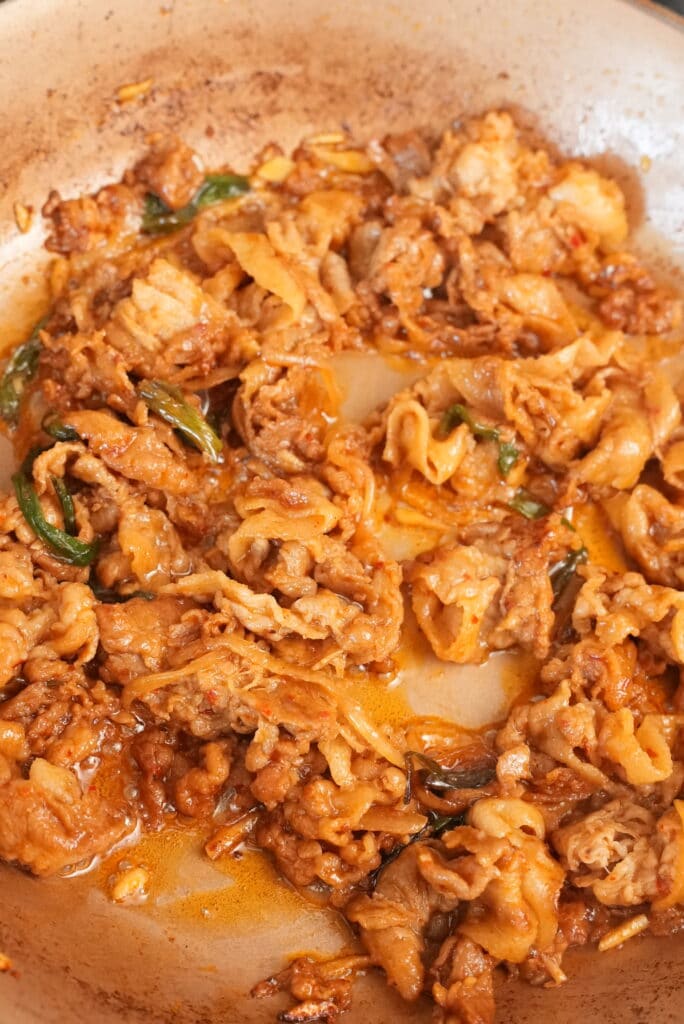 I like this dish best over a freshly steamed bowl of rice! To garnish, top it with chopped scallions and sesame seeds for a quick and easy meal in about 20 minutes!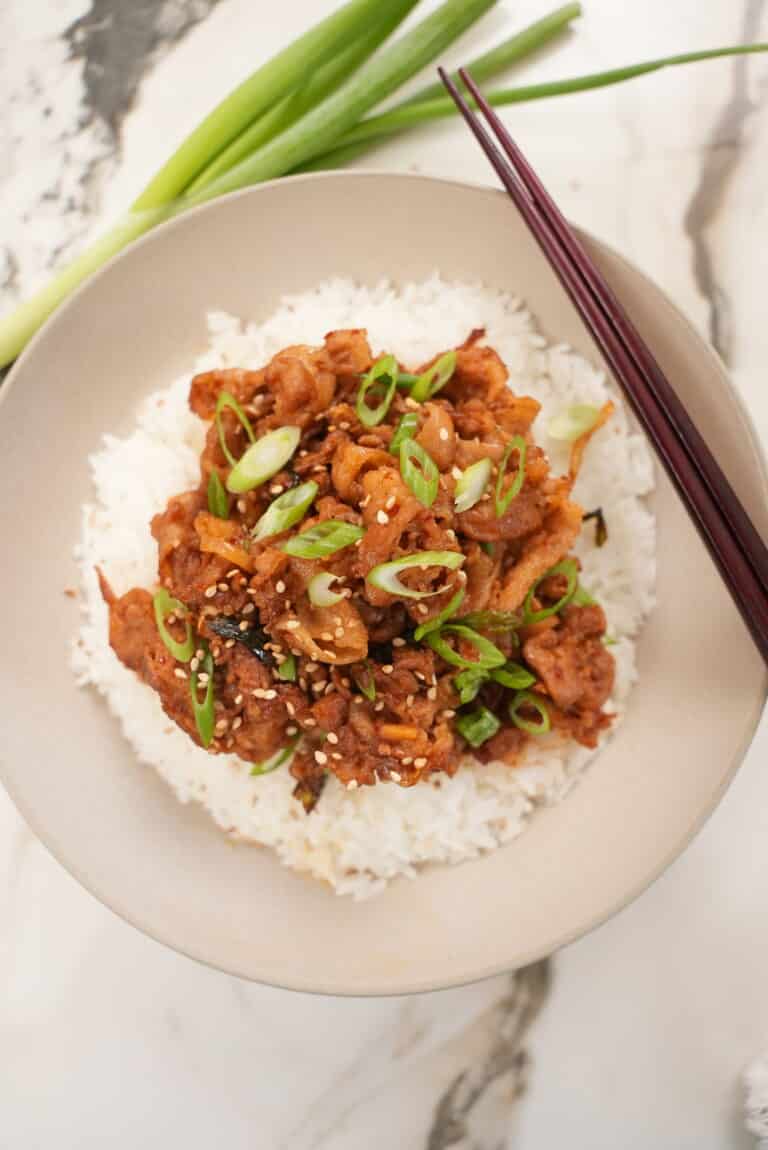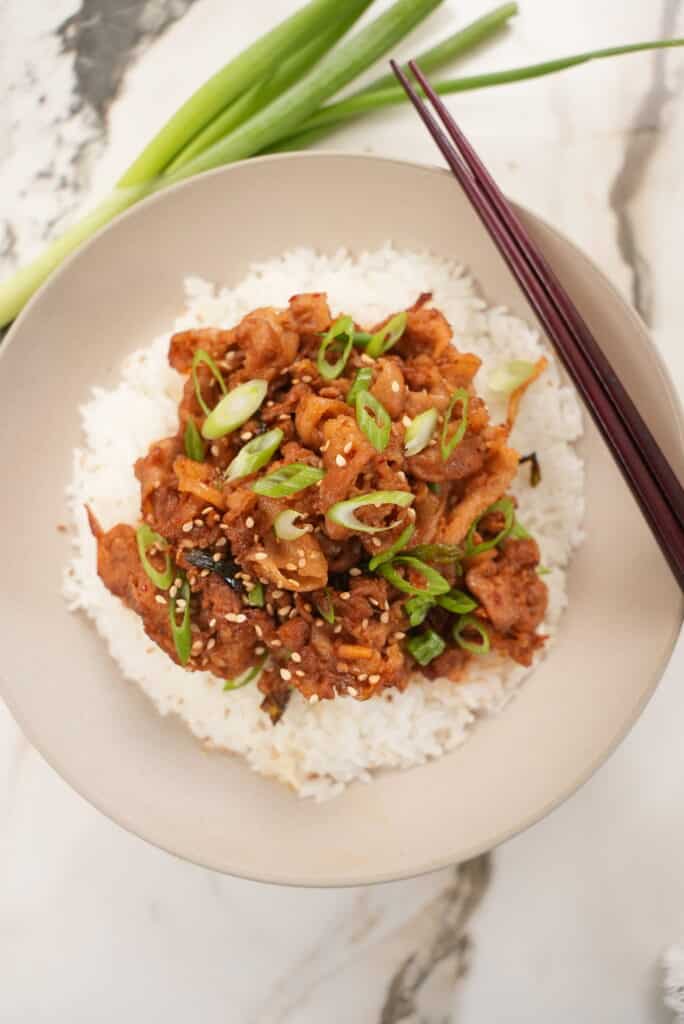 RECIPE TIPS
HOW LONG SHOULD I COOK THIS FOR?
Due to the color of the marinade, it can be difficult to gauge when the meat is properly cooked. If using 1/4″ thin slices, it should cook in about 5 MINUTES. Over medium high heat, you should also see the sugar in the marinade start to caramelize (which will add to the delicious flavors)!
HOW LONG CAN I KEEP THE MARINATED MEAT IN THE REFRIGERATOR?
You can keep the meat marinated in the refrigerator in an airtight container for up to 3 days.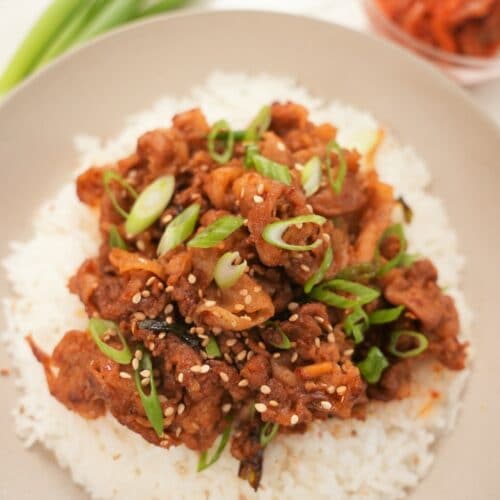 Spicy Pork Bulgogi
This Spicy Pork Bulgogi only takes about 20 minutes to make and is such an easy and delicious way to make Korean BBQ at home!
Ingredients
1.5

lbs

pork belly

thinly sliced

1/4

cup

gochujang

2

tbsp

light soy sauce

1

tbsp

sugar

1.5

tbsp

gochugaru

1/2

tsp

black pepper

6

cloves

garlic

chopped

1

tbsp

ginger

chopped

1

tbsp

sesame oil

1/2

white onion

thinly sliced

4

scallions

sliced into 2" pieces
Instructions
In a large bowl, place your thinly sliced pork belly and separate if pre-cut. If cutting yourself, freeze for 15-20 minutes to firm up which will make the cutting process easier.

To the pork belly, add gochujang, light soy sauce, sugar, gochugaru, black pepper, salt, chopped garlic & ginger, sesame oil. Mix until this becomes a loose paste.

Add in the pork belly along with thinly sliced onions and scallions. Mix well until the pork is thoroughly coating in the marinade. Marinate for at least 15 minutes.

Over medium high to high heat, add 1 tbsp of oil and add your pork. Cook for 4-5 minutes until the fat from the pork has rendered and crisped up. Serve over freshly steamed rice and enjoy!