Beef Bulgogi
---
July 10, 2022
---
Beef Bulgogi is an extremely popular type of grilled meat dish that you can find in almost every Korean BBQ restaurant. Bulgogi translates to "fire meat" in Korean, and is typically used with beef, chicken or pork.
This recipe is so easy to prep and cook up whenever you need a quick meal! I like having marinated beef or pork bulgogi in the fridge during the week.
The meat cooks so quickly in a well seasoned cast iron or carbon steel pan. If you have access to a charcoal grill, even better! The sweet and savory beef is so delicious served with freshly steamed rice, kimchi, or red leaf lettuce.
Watch the Beef Bulgogi Recipe Video Below!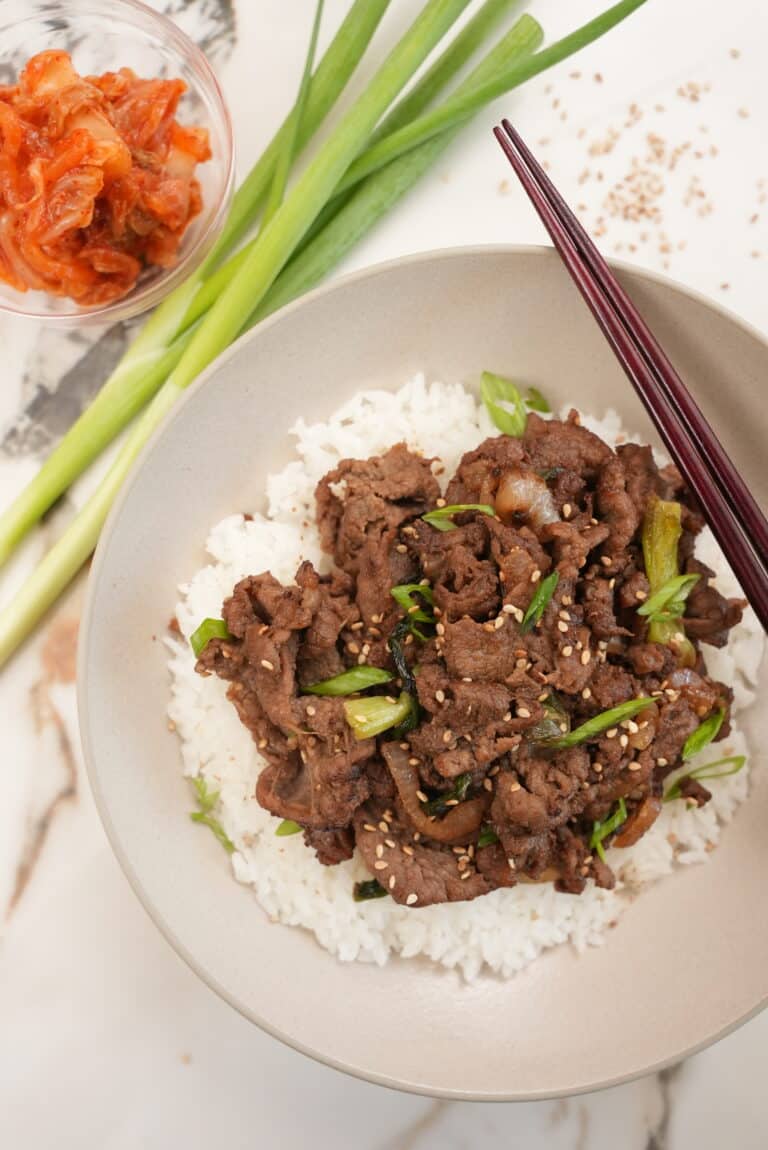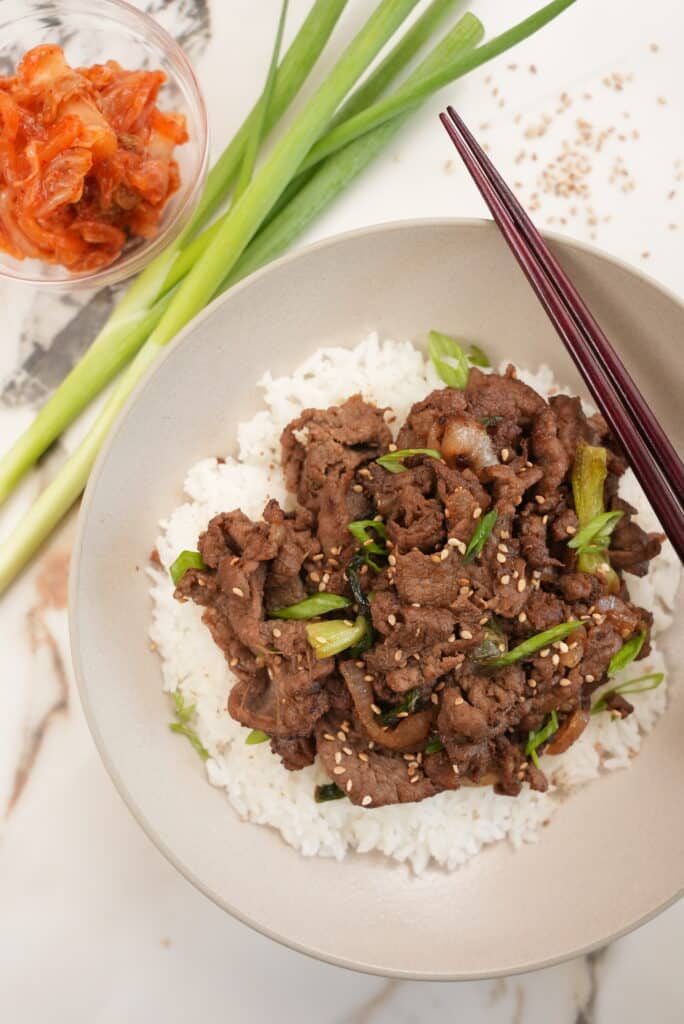 Ingredients for Beef Bulgogi
I love this beef bulgogi recipe because it comes together so quickly without much marinating time. Firstly, here are the ingredients you will need!
Thinly Sliced Beef (here I am using thinly sliced ribeye I picked up in the frozen section of my local H Mart, but I've also seen this sold as a "Spencer Cut")
Light Soy Sauce
Mirin
Brown Sugar
Sesame Oil
Black Pepper
Garlic
Ginger
Korean Pear
White Onion
Scallion
Water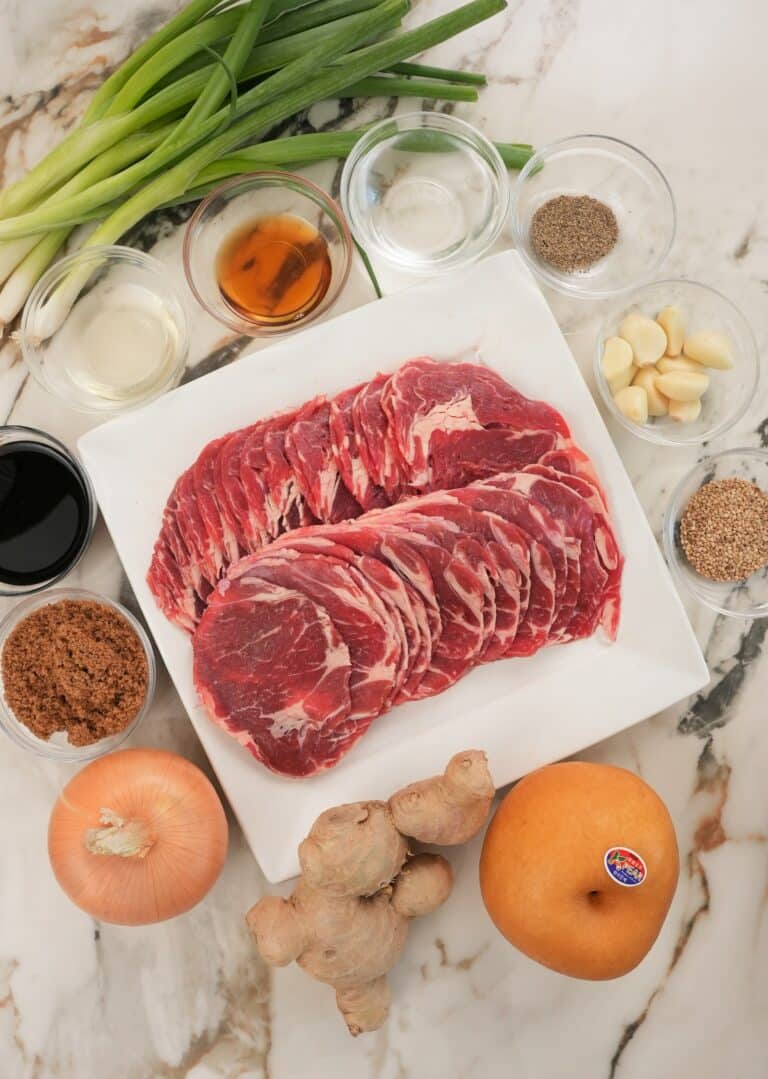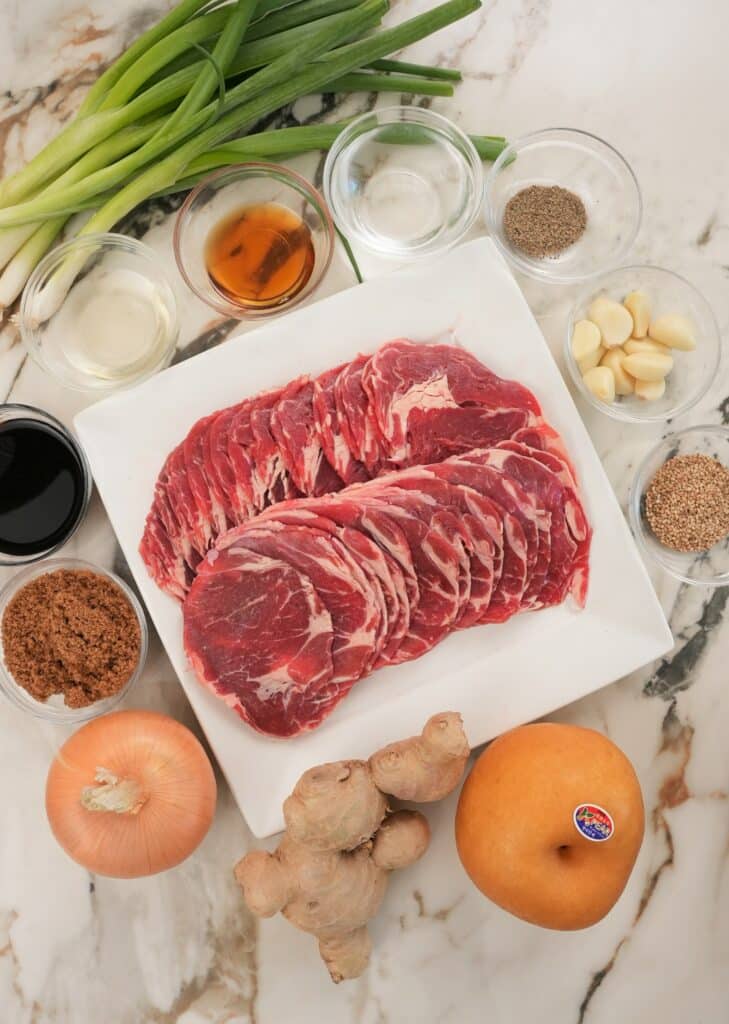 INGREDIENTS TIPS
BEEF
I buy mine from the Asian grocery store (usually H Mart or 99 Ranch) pre-sliced – the slices are usually about 1/8″ thin, or 2 to 3mm. If you can't buy it pre-sliced and want to slice it at home, I recommend you FREEZE ribeye for 10 minutes before slicing. It'll make the slicing a lot easier.
SUB WITH CHICKEN
If you want to eat this but need to sub for a different protein, chicken thighs would be great! Just cut the meat into thin strips.
KOREAN PEAR
If you have trouble accessing a Korean or Asian pear, you can substitute this with apple or kiwi! These fruits will have similar effects.
Sliced Beef – which kind to buy
To make beef bulgogi, make sure you buy the thinly sliced beef. Any Asian grocery store will sell beef this way. When you are at the grocery store, look for "Spencer cut" or "thinly sliced" which is usually in the hotpot or fresh beef section. Ultimately, you will want beef that is cut to about 1/8″ thick or 2-3mm.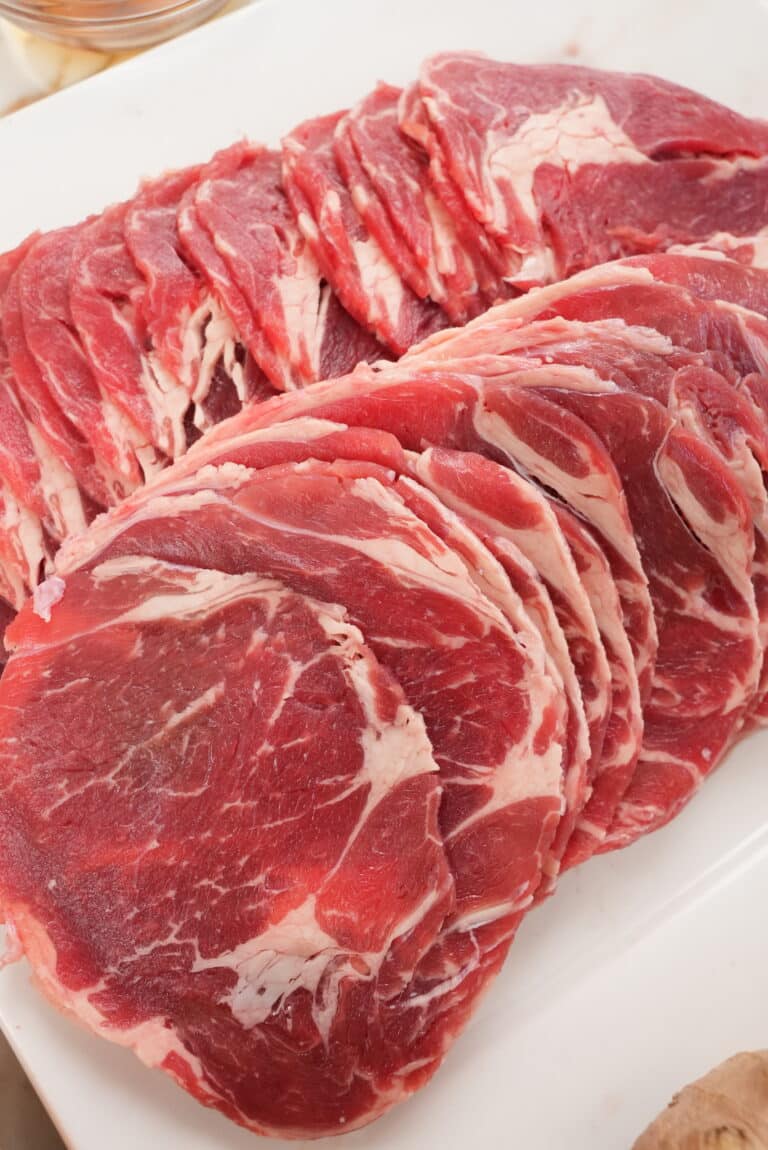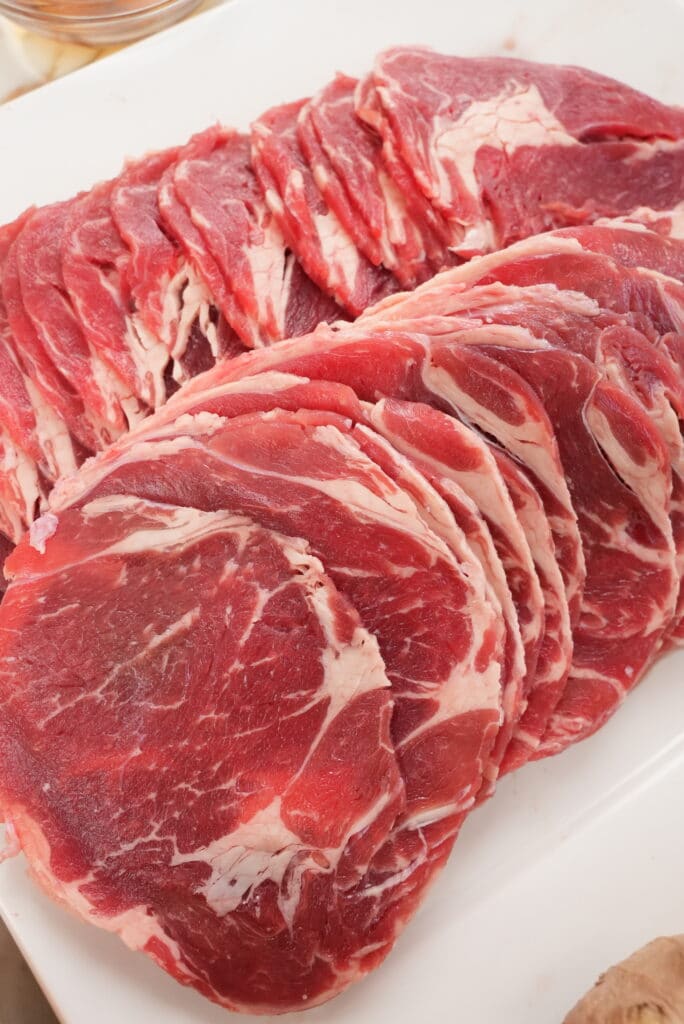 Beef Bulgogi: Recipe Instructions
Mix Together the Marinade
The first step in making this recipe is mixing together the marinade. In a blender or food processor, add the Korean pear, onion, garlic, ginger, and water and blend until smooth. I use a blender for convenience, but you can also grate these as well.
Korean pear has a tenderizing enzyme called Calpain. This is what is going to tenderize our beef and one of the secrets to great Korean BBQ!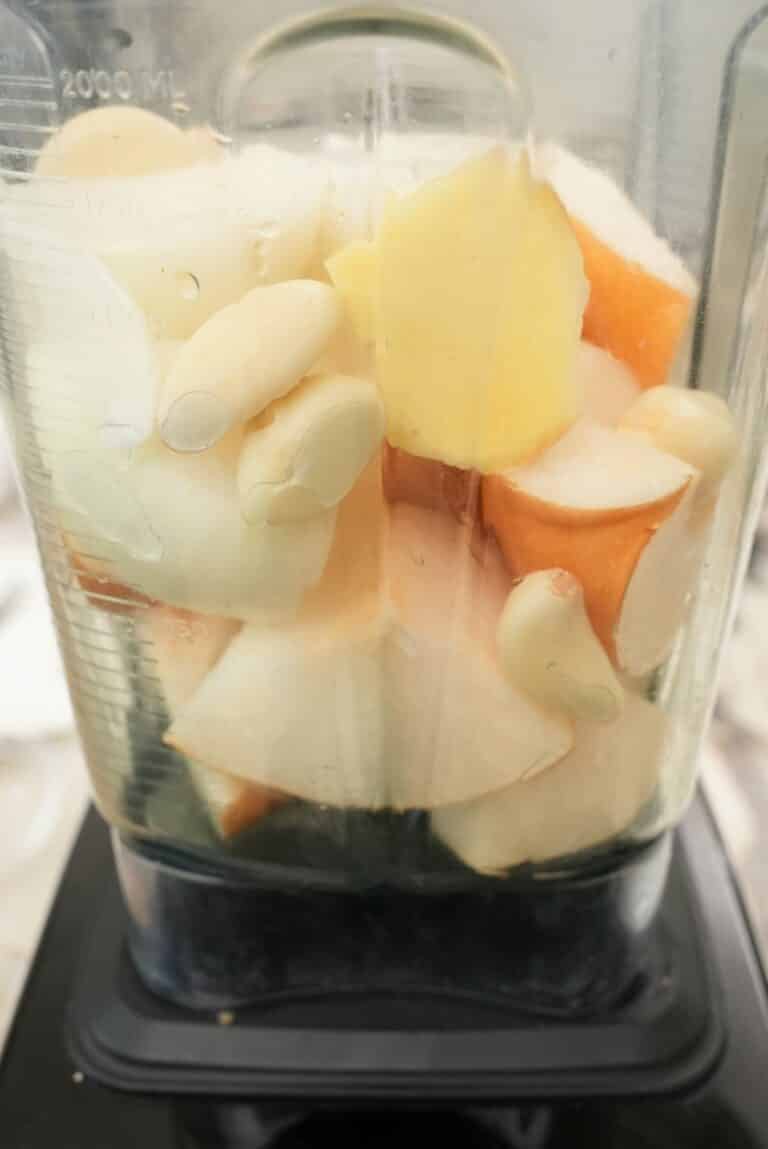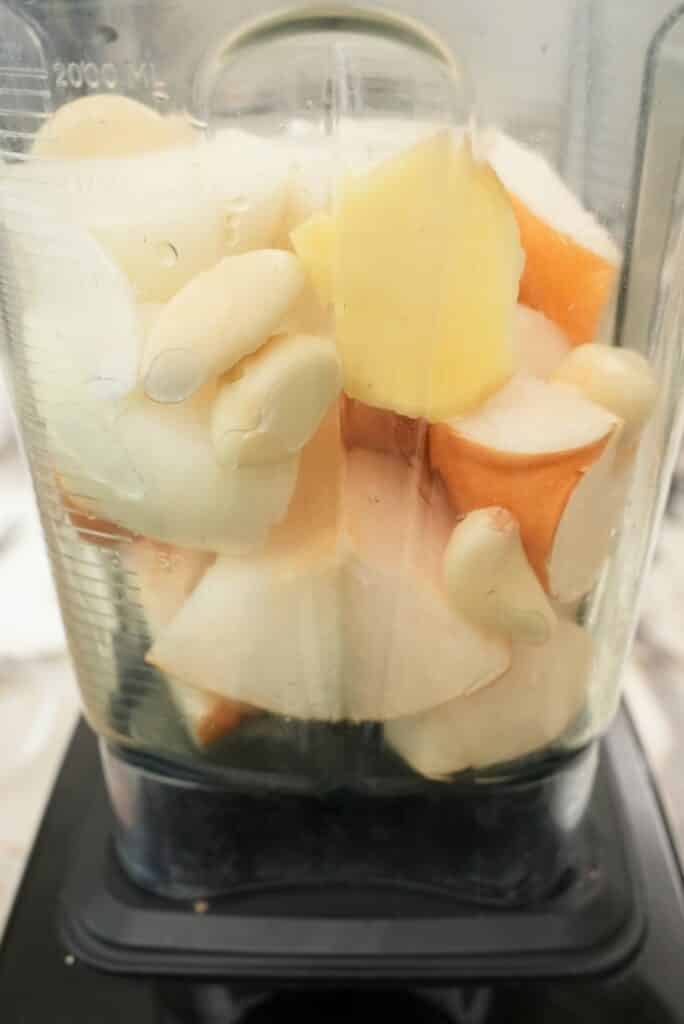 Blend the ingredients in a blender or a food processor until smooth. Next, use a cheese cloth or fine mesh strainer to strain the pulp into a large bowl, leaving only the juice.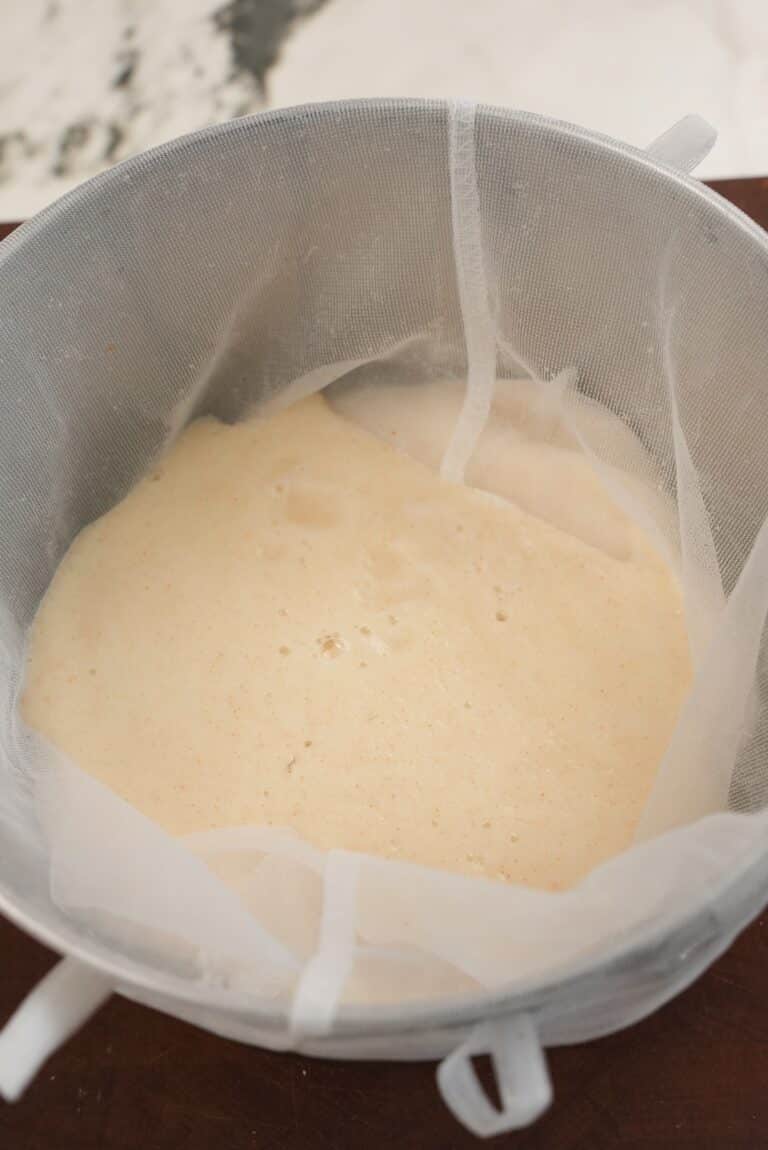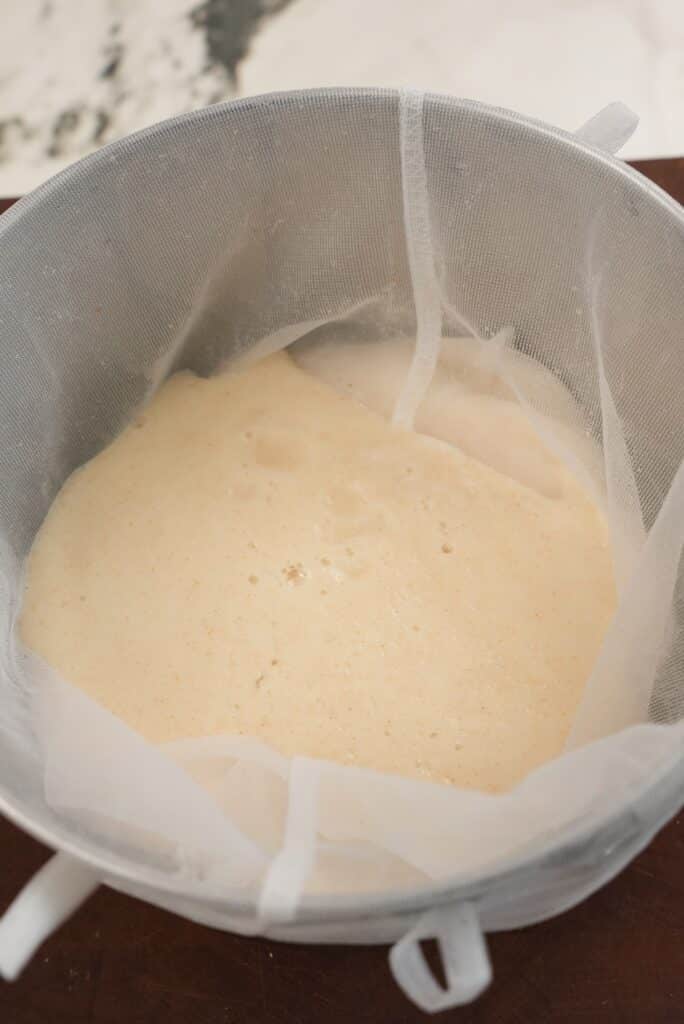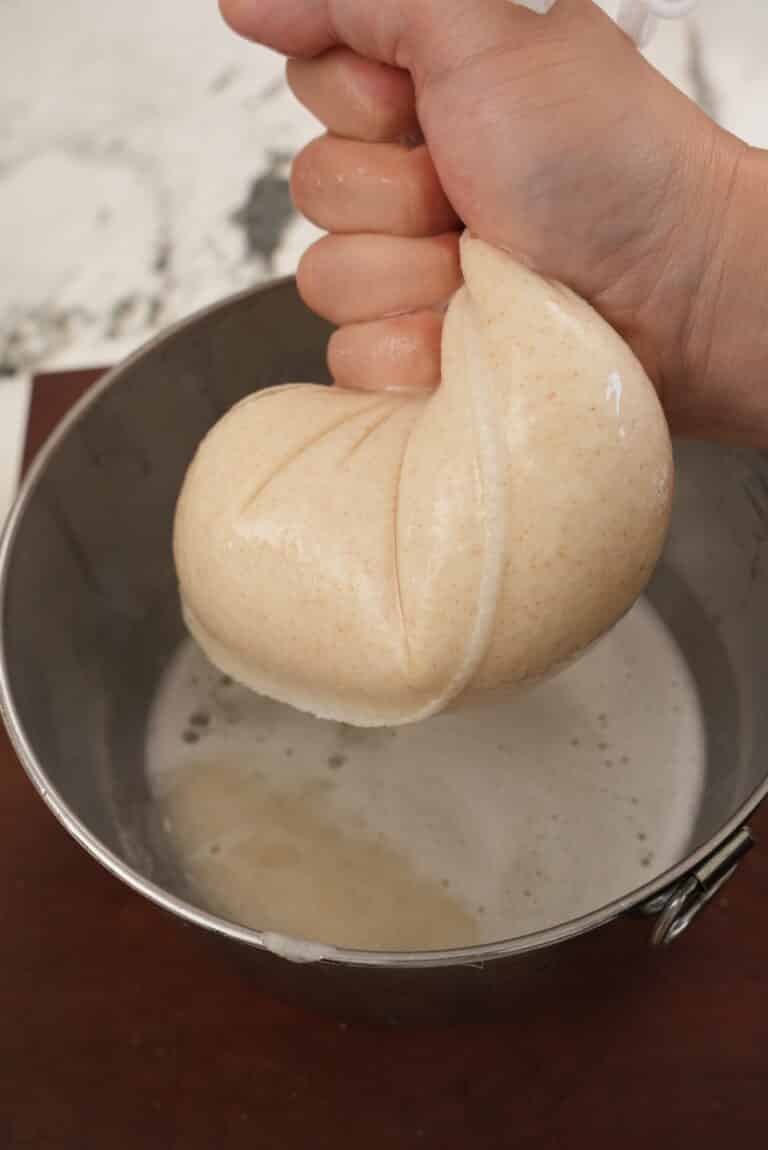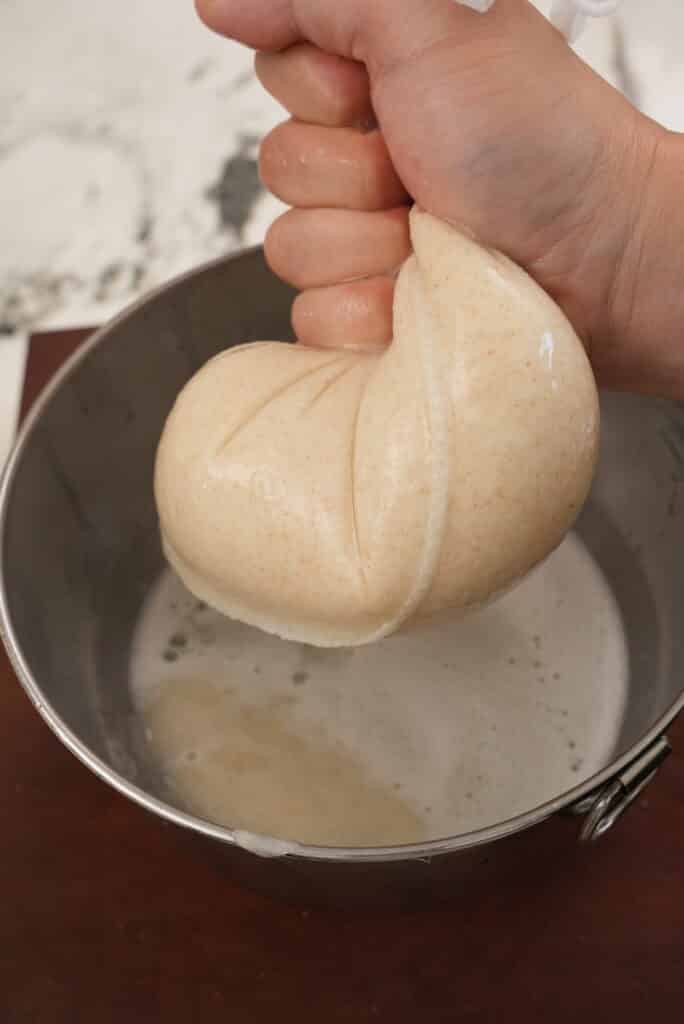 Add In The Seasonings and Beef
Next, add light soy sauce, brown sugar, mirin, sesame oil, and black pepper to the strained juice. Once the marinade is thoroughly mixed, add in the thinly sliced beef along with the thinly sliced onions and scallions. Using your hand, mix all the ingredients together until the beef is thoroughly coated in the marinade. Let this marinate in the refrigerator for 4 hours or overnight for best flavor.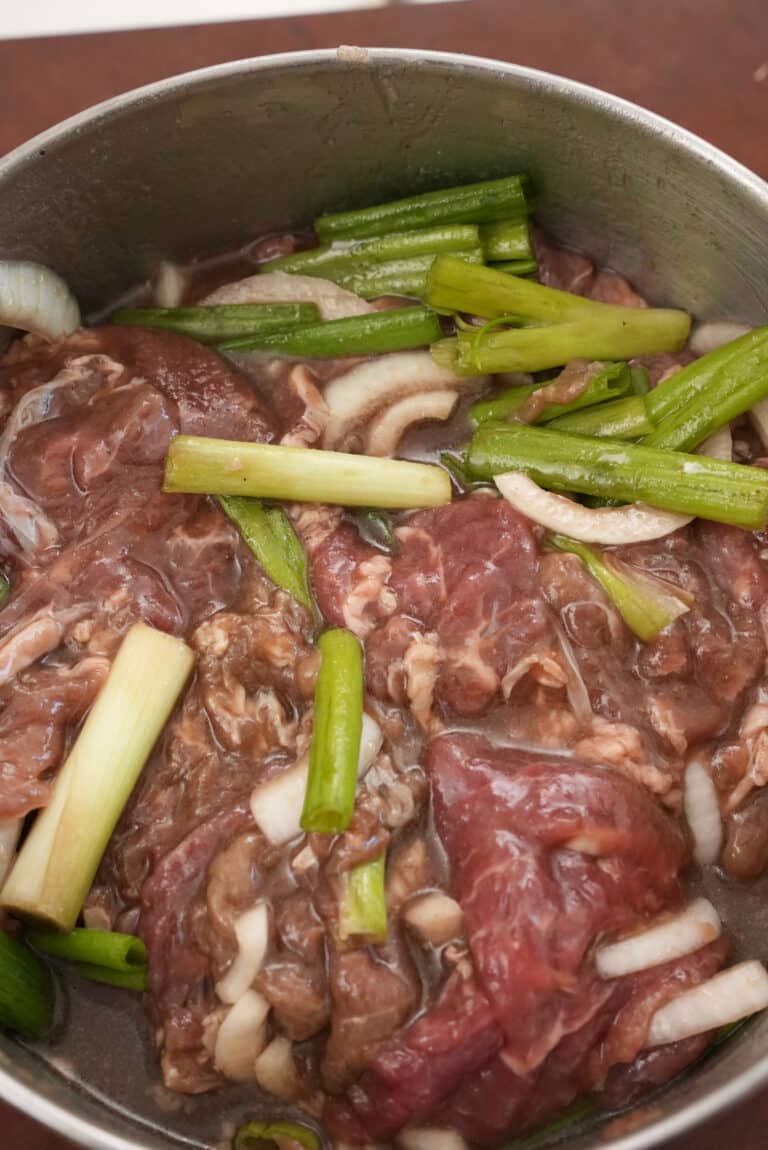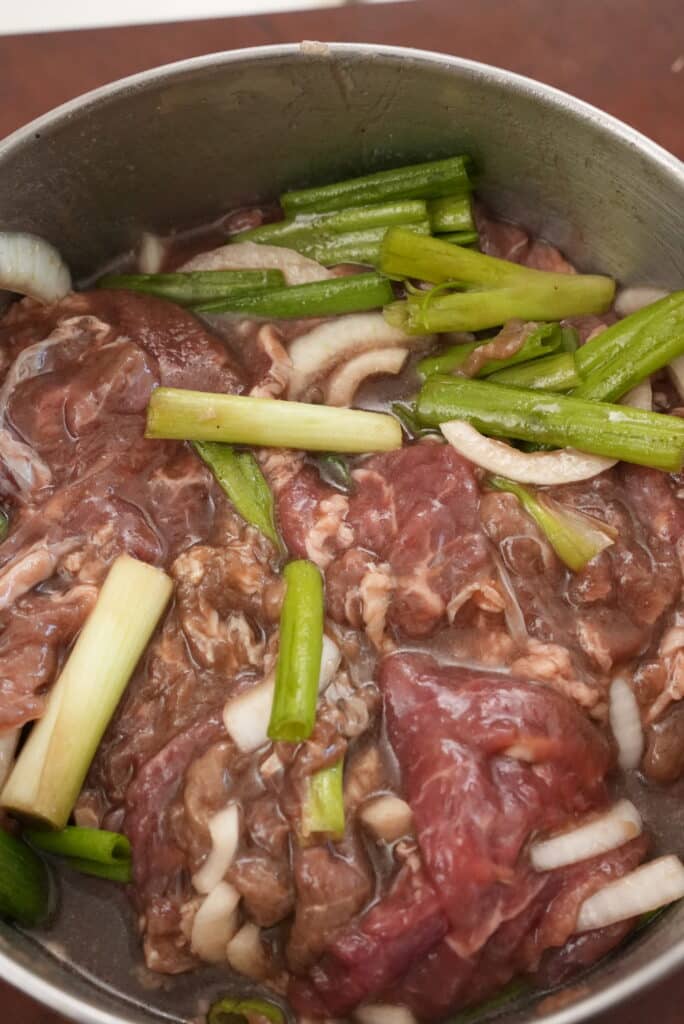 Cook The Beef
Cook the beef in a heavy bottomed carbon steel or cast iron pan (a charcoal grill works great too!) on high heat for about 4-5 minutes or until the beef is fully cooked through. A lot of water will be cooked out during the cooking process – this is completely normal.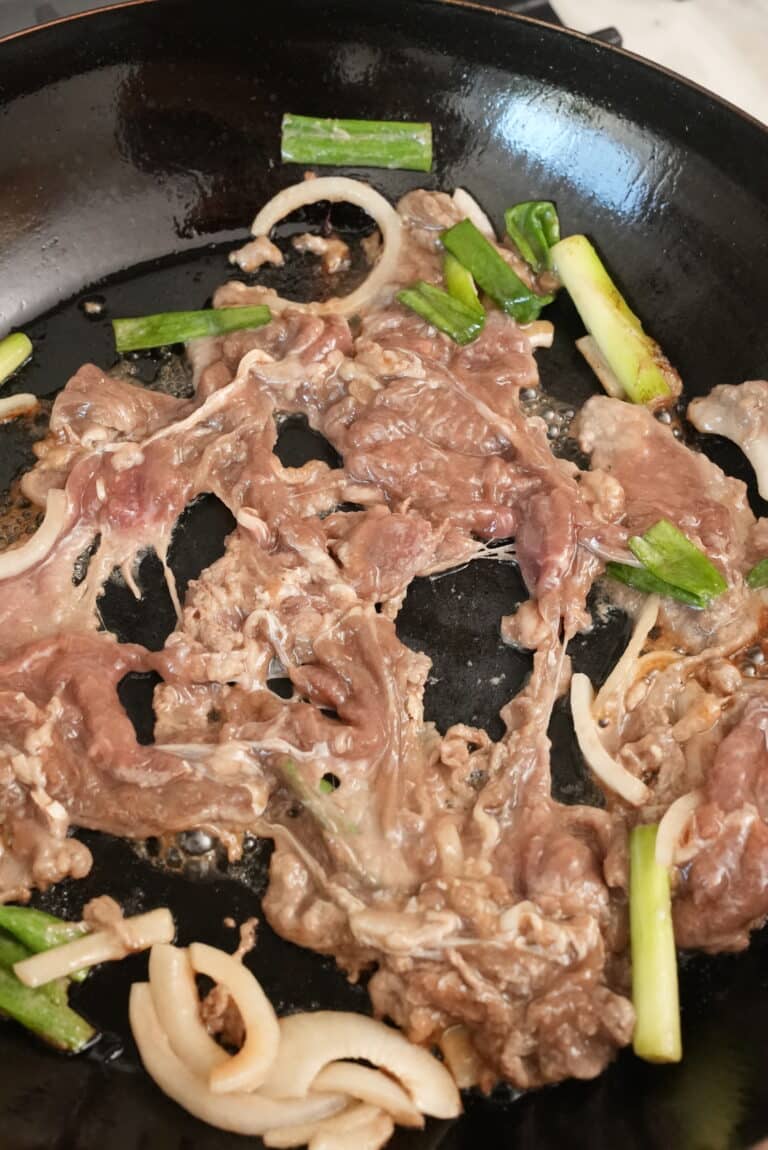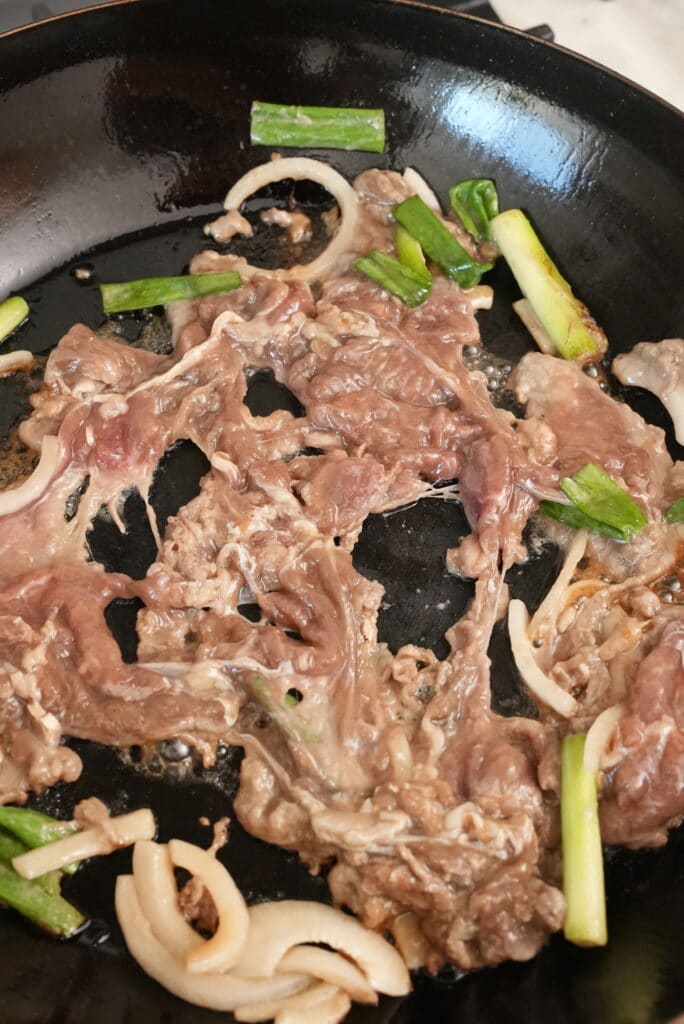 Make sure to cook them in smaller batches to maintain the heat in your pan. Otherwise, you could be boiling your beef instead of getting the beautiful crispy, caramelized edges of the beef bulgogi.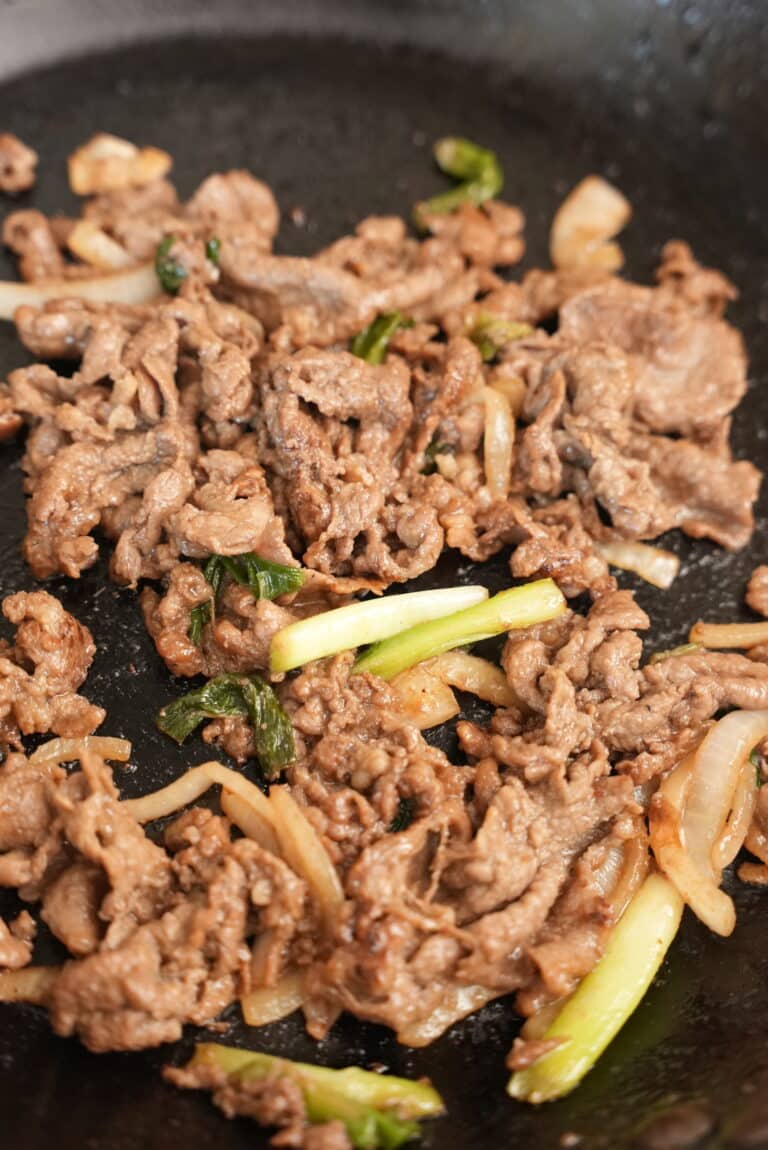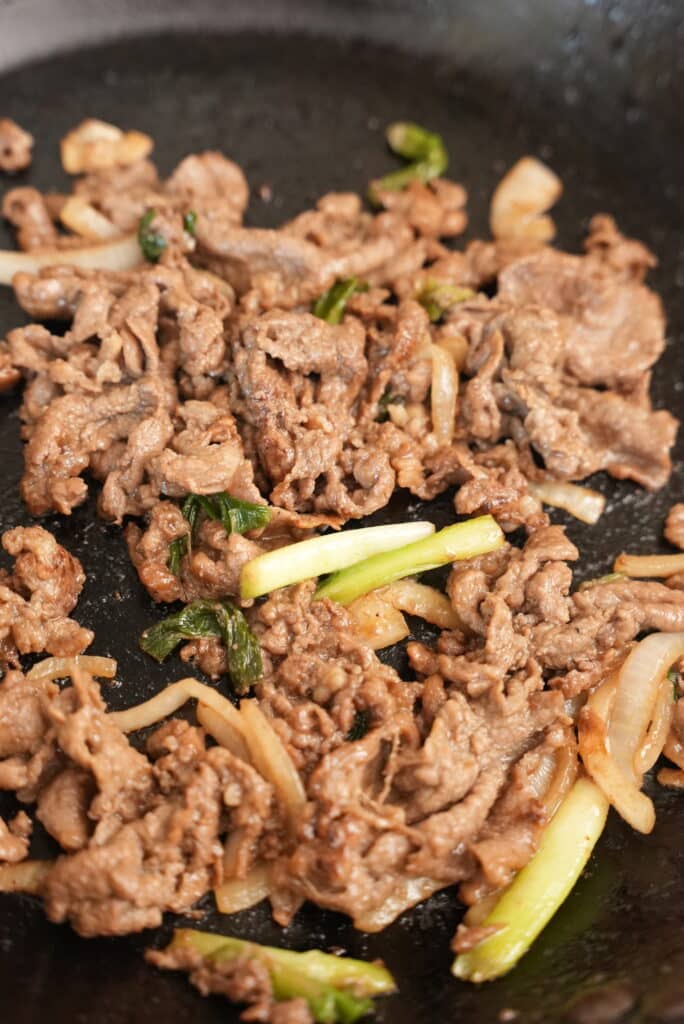 I enjoy my beef bulgogi extra over a freshly steamed bowl of rice with some chopped scallions and sesame seeds!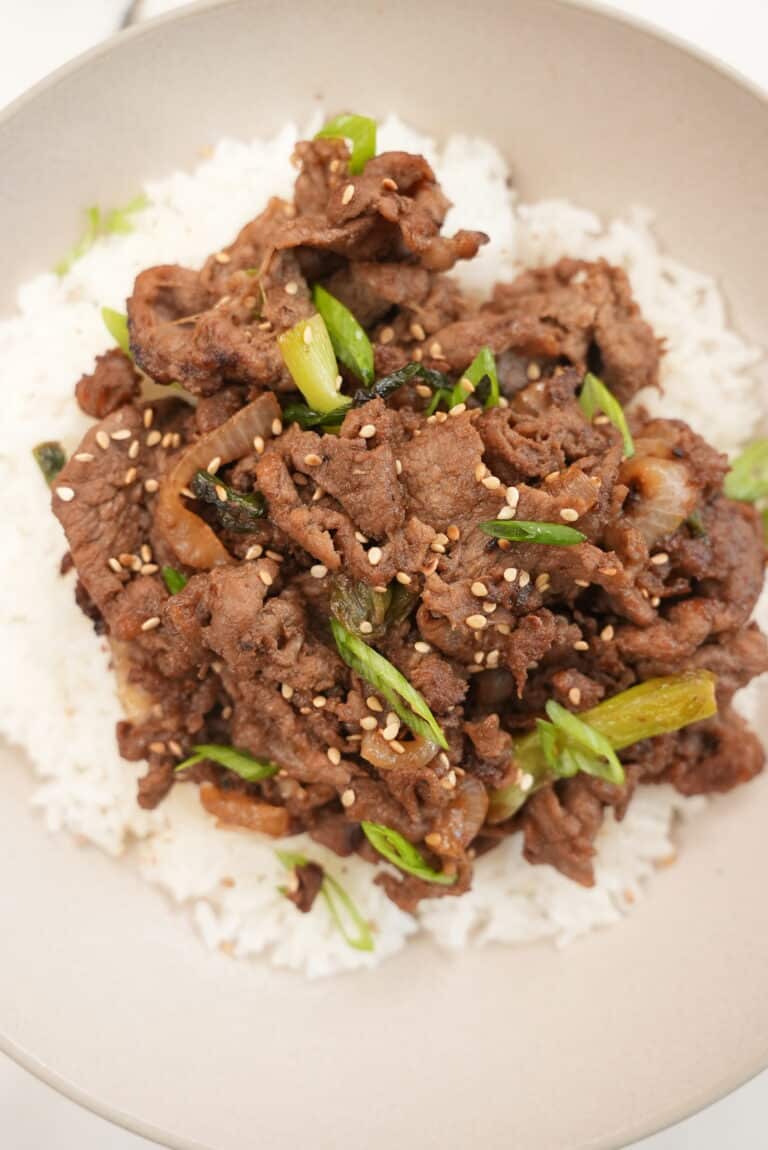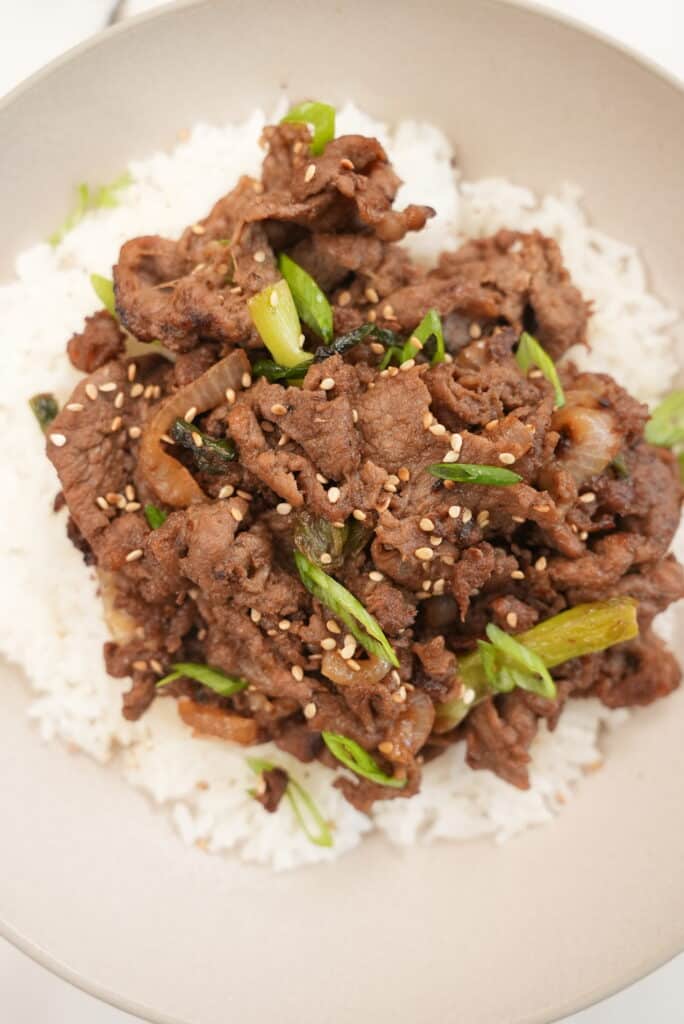 If you liked this Beef Bulgogi recipe, check out some of the most popular recipes on the blog!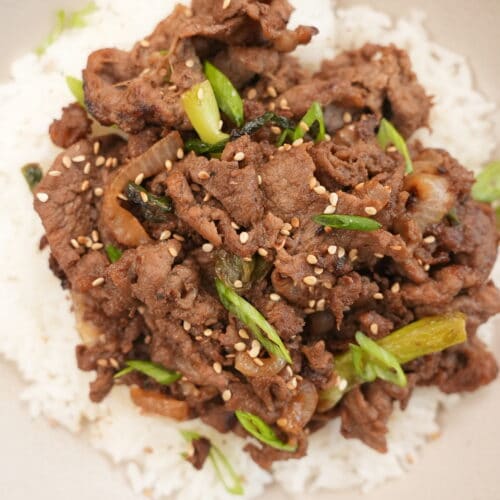 Beef Bulgogi
This quick and easy Beef Bulgogi is a great way to make authentic Korean BBQ at home!
Ingredients
2

lb

thinly sliced steak

I used ribeye; you can also ask your butcher for Spencer cut
Marinade
1

Korean pear

cut into large chunks

1

medium onion

cut into large chunks

8

cloves

garlic

1

inch

ginger

1/4

cup

water

1/2

cup

light soy sauce

2

tbsp

mirin

1/4

cup

brown sugar

1

tbsp

sesame oil

1/2

tsp

black pepper
Ingredients to marinate with beef
3

green onions

cut into 2" pieces

1

white onion

thinly sliced

sesame seeds

optional garnish
Instructions
To a blender or food processor, add cubed Korean pear, onion, garlic and ginger. Blend until smooth.

Optionally, use a cheese cloth to strain out the pulp and leave the juice in a large mixing bowl. To the juice, add light soy sauce, mirin, brown sugar, sesame oil, and black pepper. Add the thinly sliced beef, thinly sliced onions, and green onions. Mix and marinate for at least 8 hours or up to 24 hours.

Over high heat, add a tbsp of oil to a pan. Cook the beef bulgogi in batches until the water cooks out and the beef and onions are nicely caramelized, about 4-5 minutes.

Serve with freshly steamed rice and garnish with sesame seeds and chopped scallions.