Korean Cucumber Salad (Oi Muchim)
---
August 27, 2023
---
Every family has their own recipe for a Korean Cucumber Salad, also known in Korean as Oi Muchim. For those of you who don't know, my wife is Korean and this a recipe she swears by – it's so delicious!
The cucumbers are crisp and refreshing, seasoned with a wonderful soy-based sauce that's spicy, sweet, with a touch of garlic and onion to create a perfect side dish to go with any recipe or to enjoy as a snack!
Watch the Korean Cucumber Salad Recipe Video Below!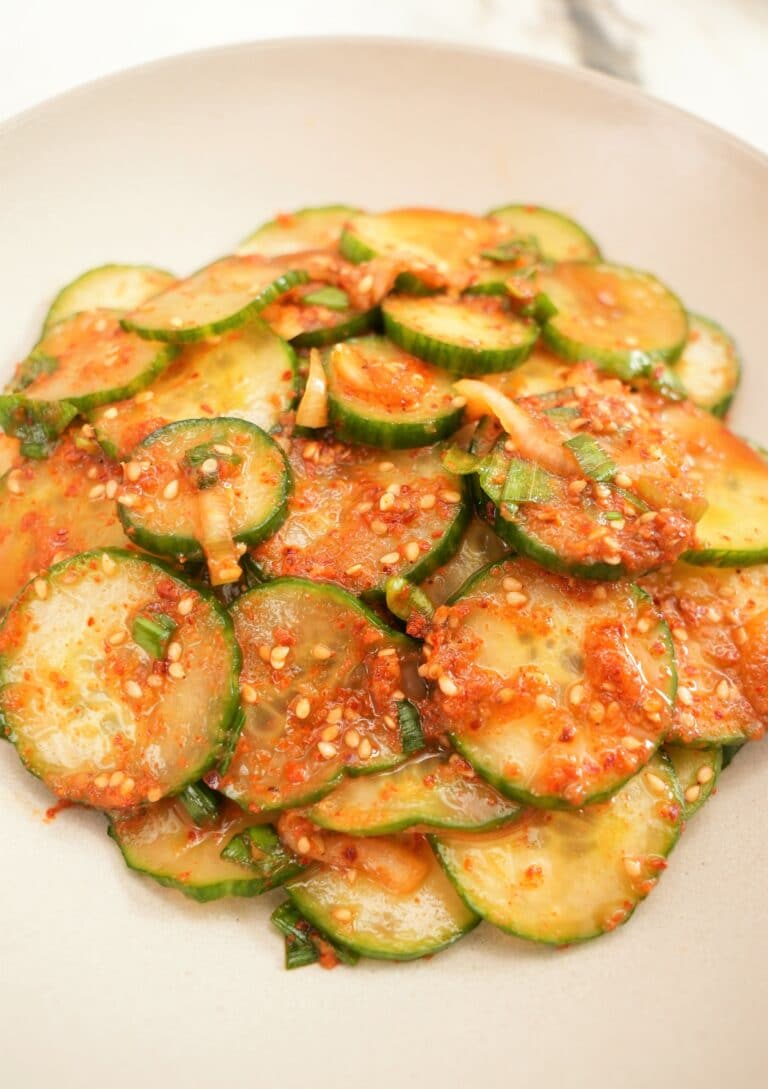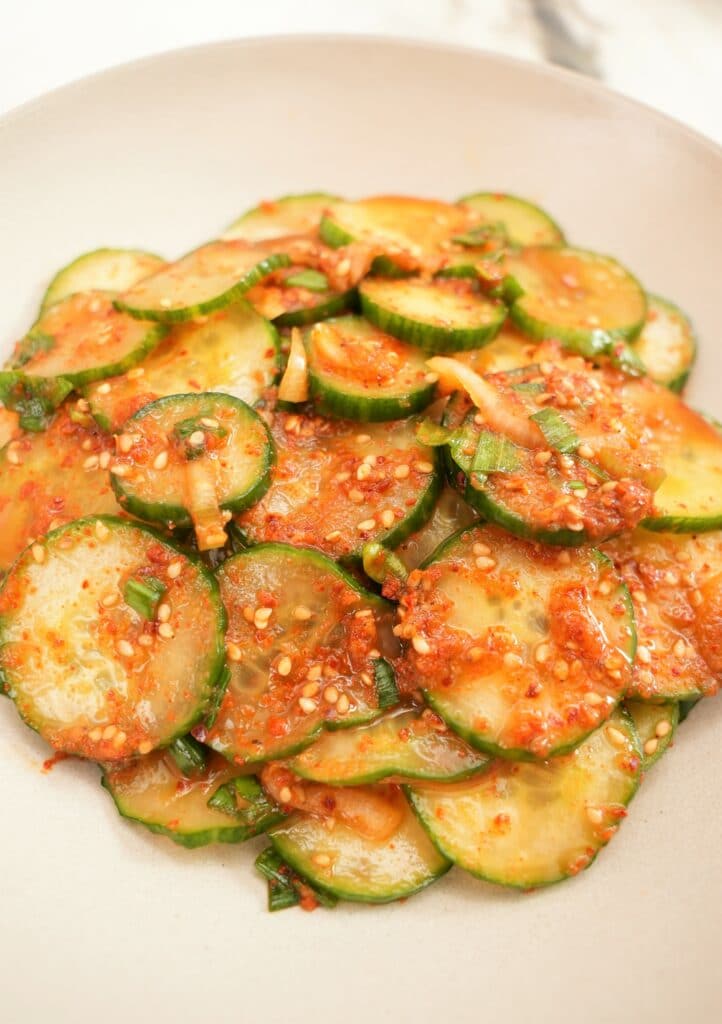 Ingredients for Korean Cucumber Salad
This quick and delicious cucumber salad only requires a few ingredients to bring together. Here are the ingredients you'll need:
Cucumbers (Seedless variety such as English or Persian)
Light Soy Sauce
Gochugaru (Korean Red Pepper Flakes)
Sesame Oil
Roasted Sesame Seeds
Sugar
Green Onion
Garlic
White Onion
Kosher Salt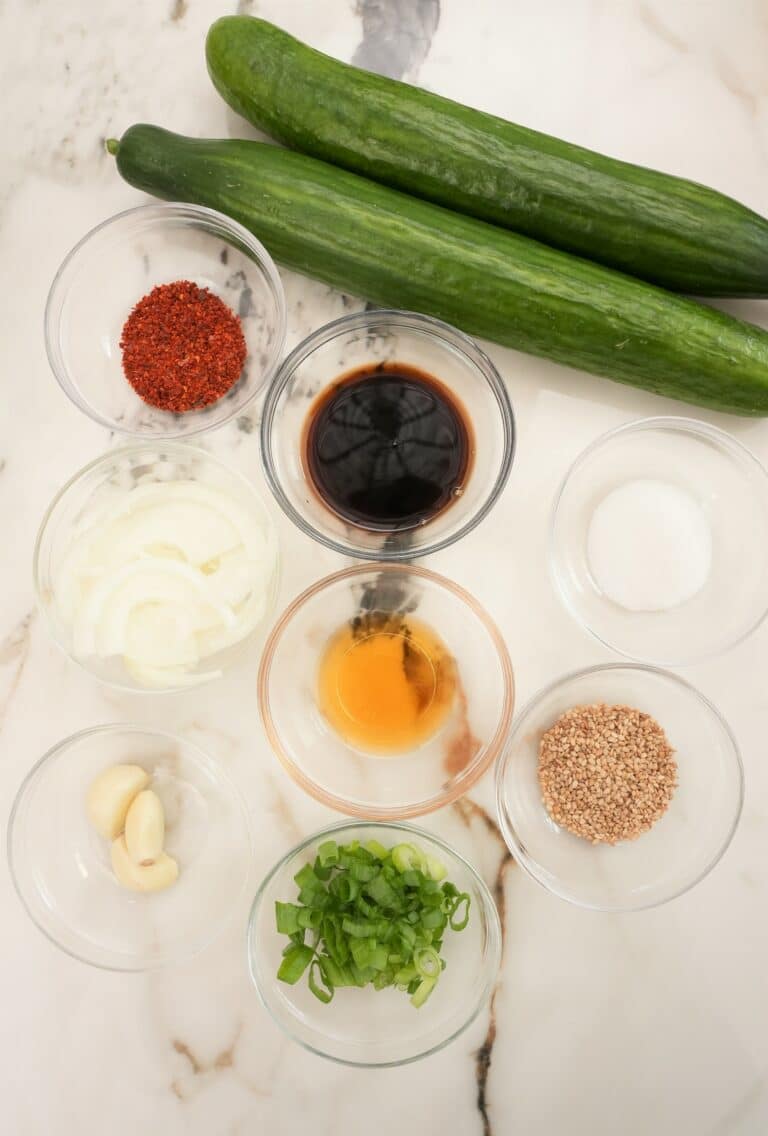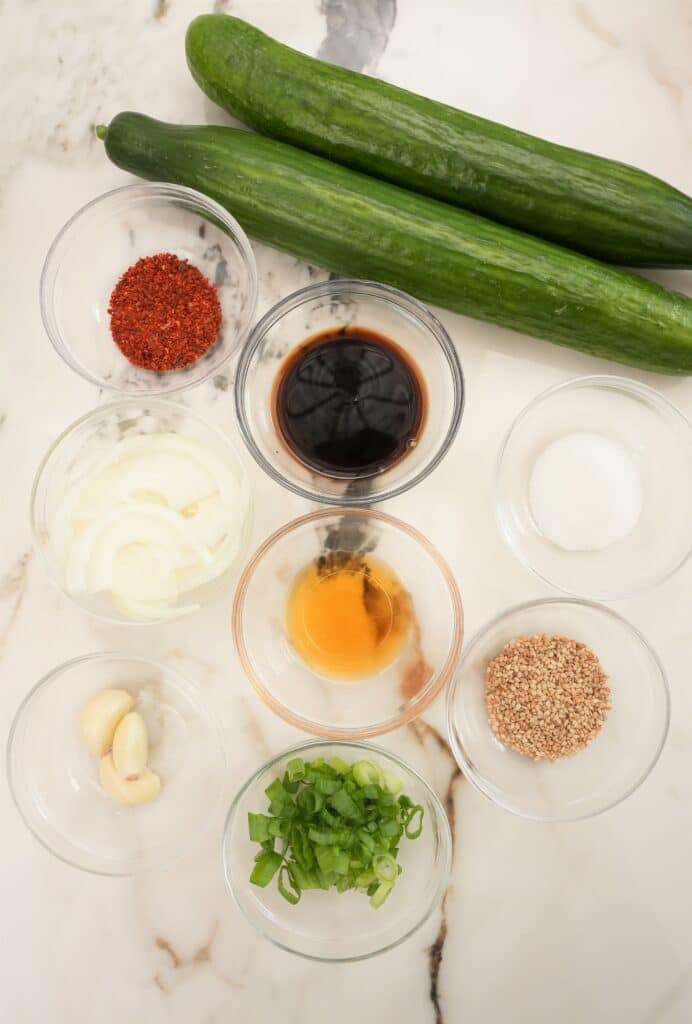 My Top Ingredient Tips for Korean Cucumber Salad
INGREDIENTS TIPS
CUCUMBERS
I used English cucumbers in this recipe but you can also use Persian cucumbers! I typically use them interchangeably in recipes because they are both thin skinned (so no need to peel) and have very few seeds.
GOCHUGARU
Gochugaru is Korean red chili pepper flakes (or powder, depending on which version you purchase). It's vibrant in color and smoky in flavor, and while the heat level varies, it's definitely on the spicy side. I love using this ingredient because of the layers of flavor it adds! I recommend you adjust the amount based on your spice tolerance level.
INGREDIENT SUBS
This recipe calls for only a few ingredients, so I cannot recommend omitting or subbing anything.
Prepare Your Cucumbers
The first step in the recipe will be to prepare the cucumbers. Wash and dry your cucumbers then take a sharp knife and you're ready to begin!
Slice the Cucumbers Thinly
I like to begin by slicing off the ends and then slicing them into thin 1/8 in (2-3mm) disks. You want these thin enough to easily soak up the dressing but thick enough to stay crunchy and not turn mushy! I've found a 2-3 millimeter thick pieces holds up nicely in the final salad.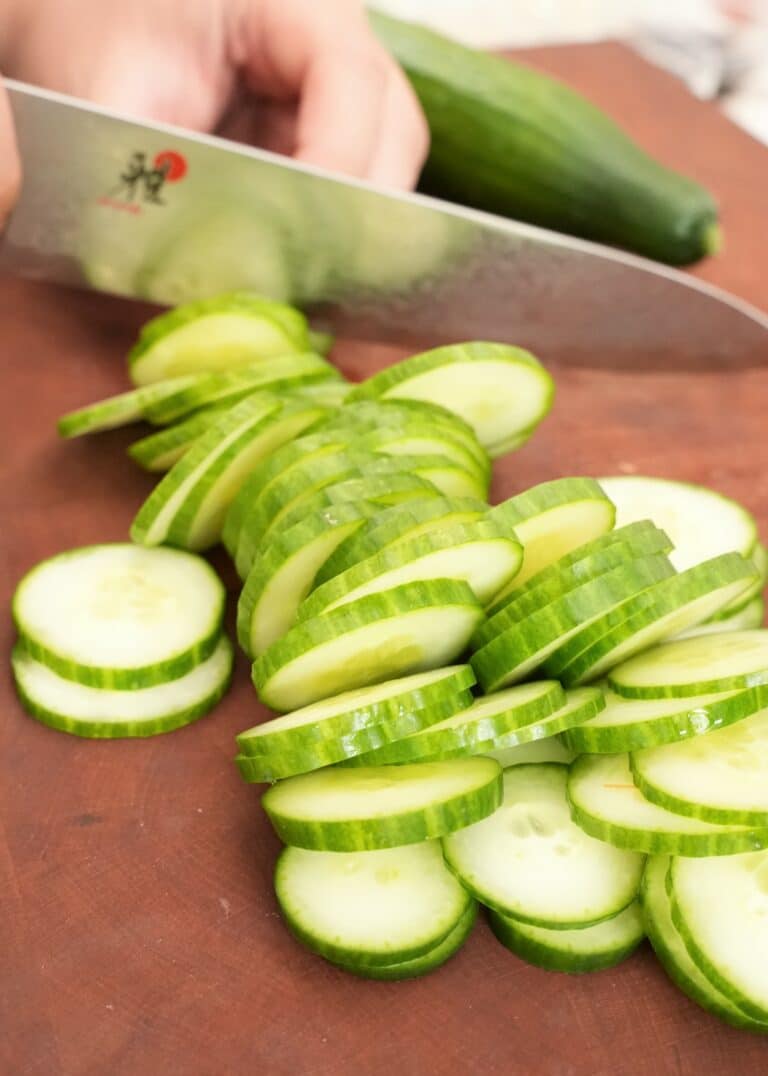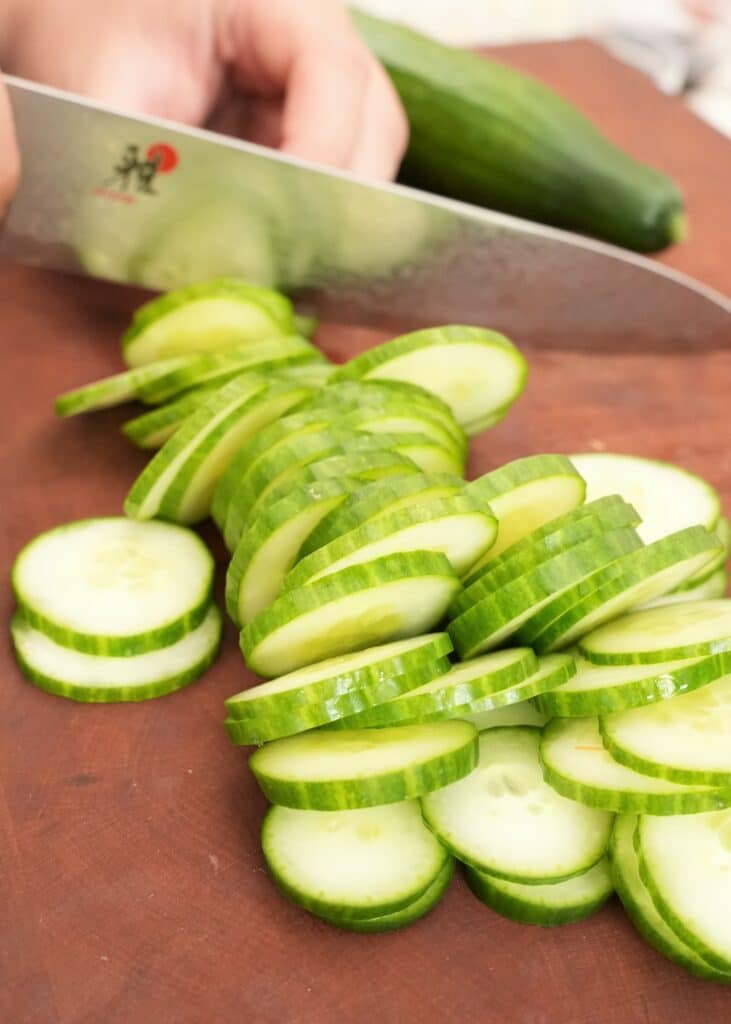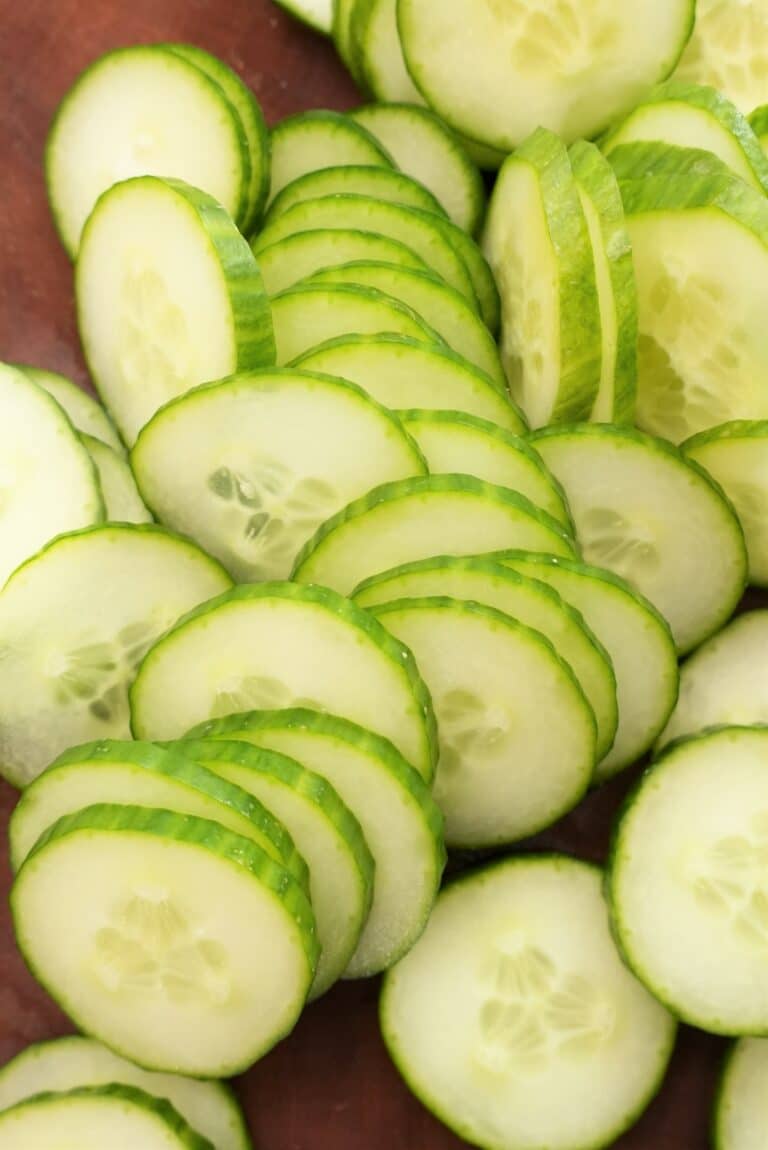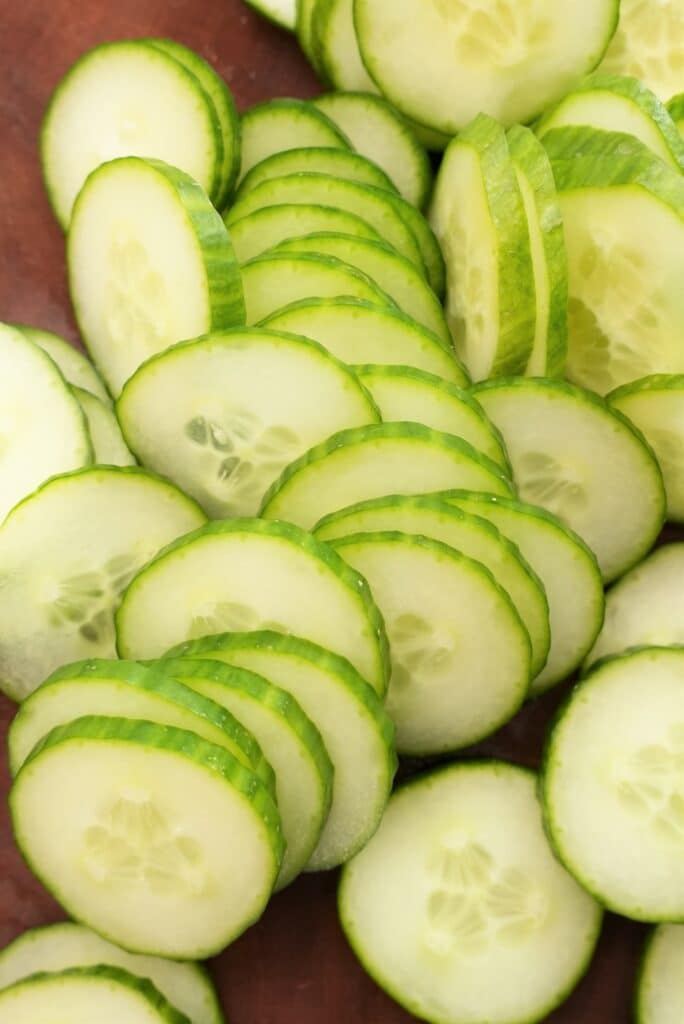 Salt the Cucumbers
Once the cucumbers a nicely sliced, place them in a bowl and add 1/2 tbsp of kosher salt. Using your hands, mix and massage the cucumbers with the salt until the salt is completely absorbed. This will draw out excess moisture from the cucumbers and also keep them crisp in the final salad.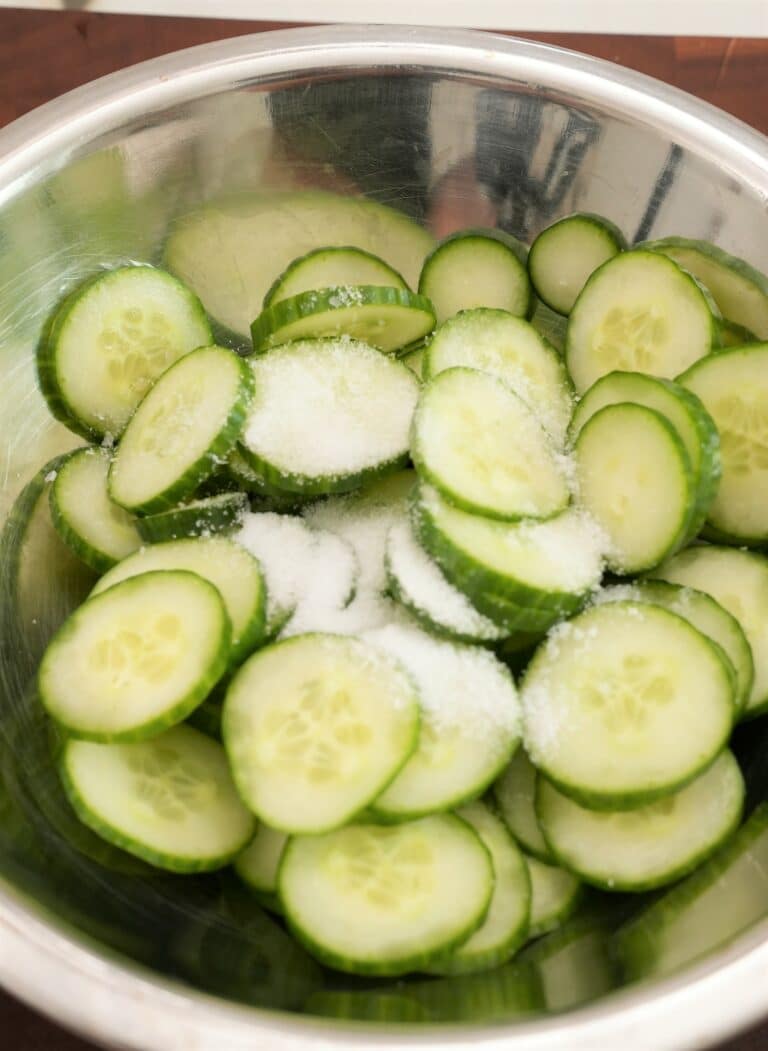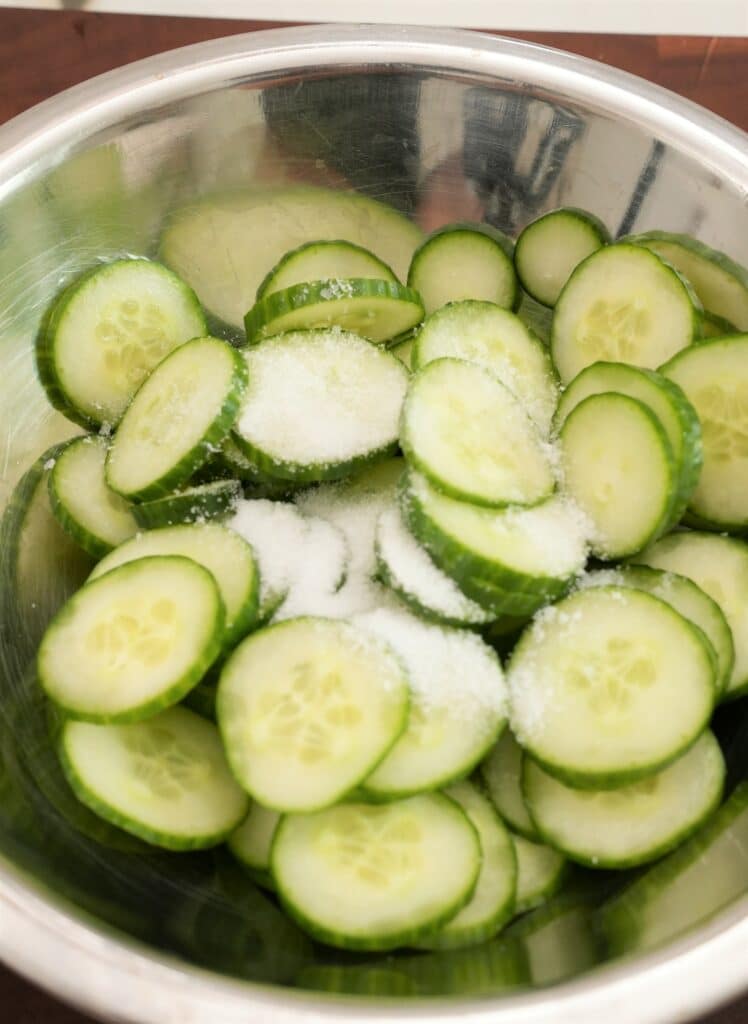 Drain the Excess Moisture from the Cucumbers
After the cucumbers are salted and rested, you'll see excess water pool at the bottom your bowl. Make sure to drain this water so the cucumber salad doesn't become watery and soggy! The salt acts as an agent to draw out excess water from the cucumber as well as keep them crisp in the salad. Don't skip this step!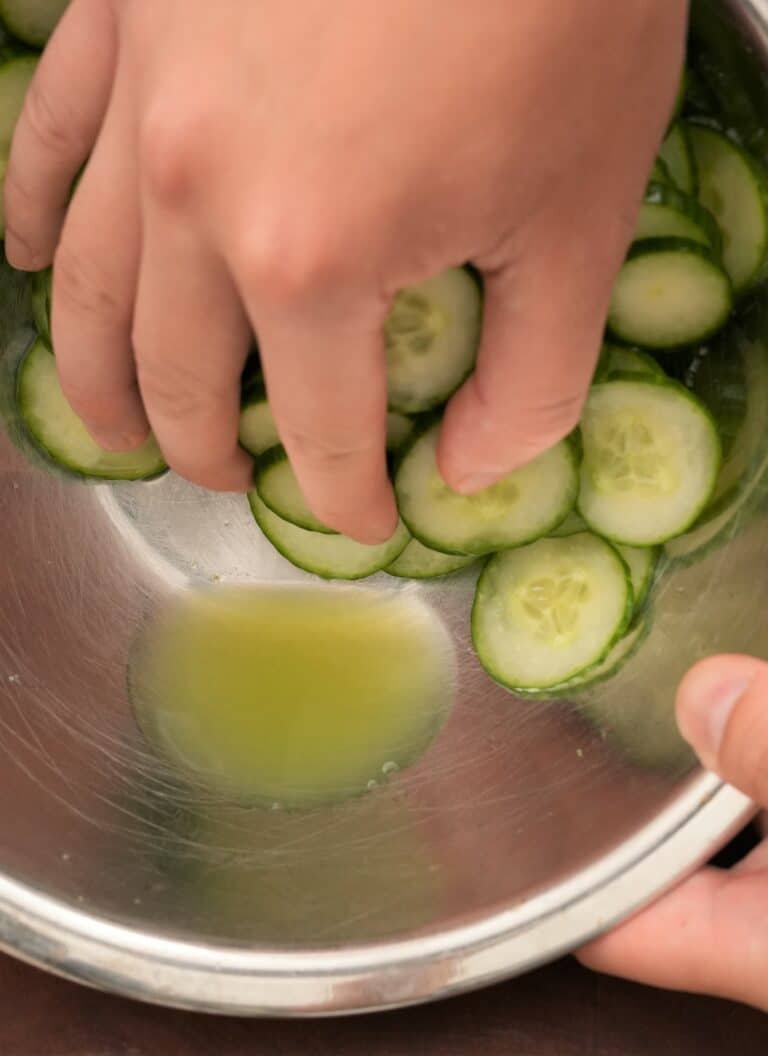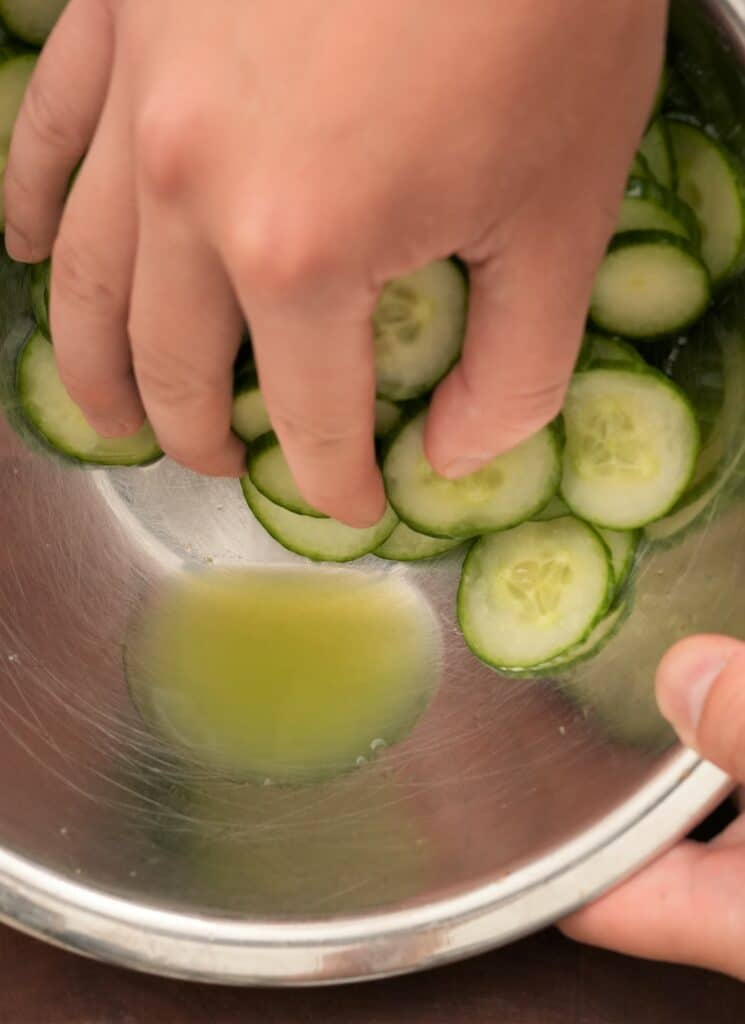 Mix Together the Cucumber Salad
Once the cucumbers are salted and the excess moisture is drained, it's time to add in your remaining ingredients! Add in the light soy sauce, gochugaru, sesame oil, sesame seeds, sugar, onions, garlic, and green onions.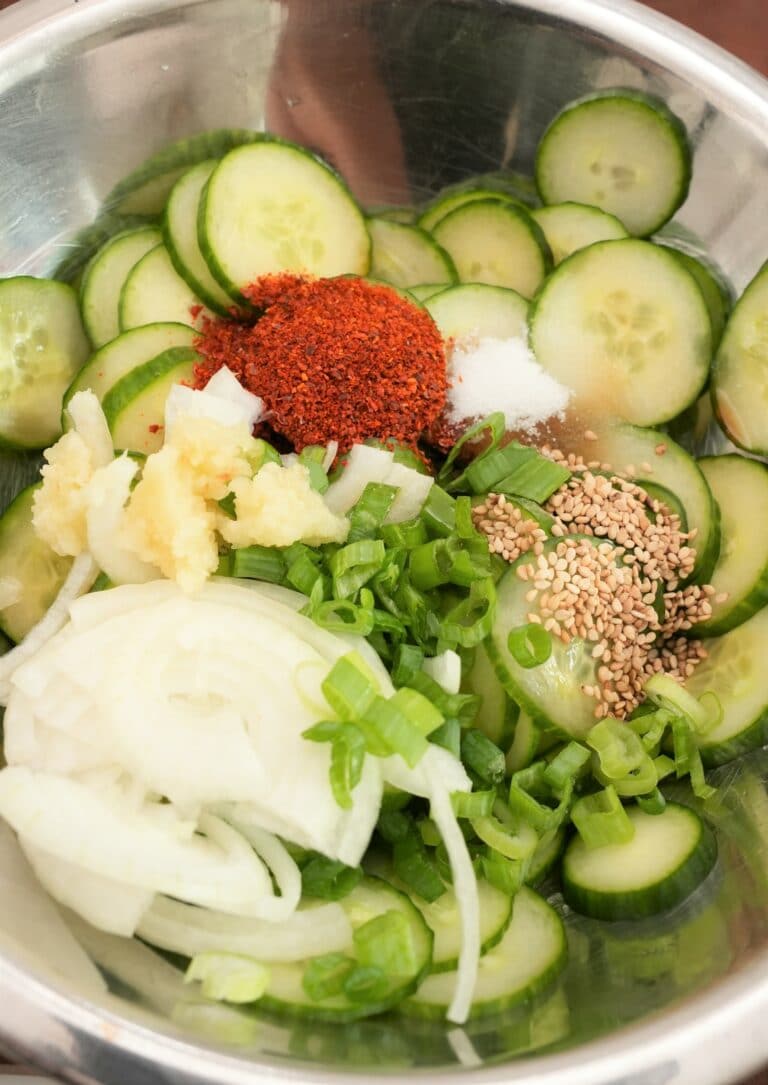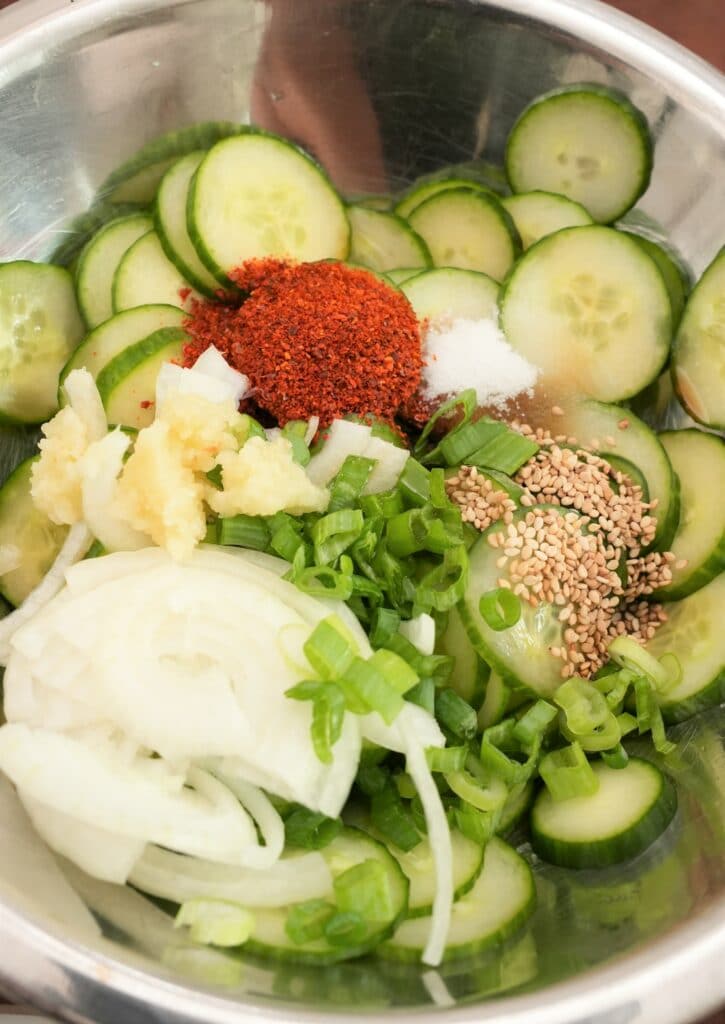 With your hands (I like to use a glove for this step), mix together the salad until the cucumbers turn a deep red color from the red pepper flakes. Let them sit in the dressing for another few minutes to allow them to soak up all that delicious marinade! Plate them up and you're ready to eat!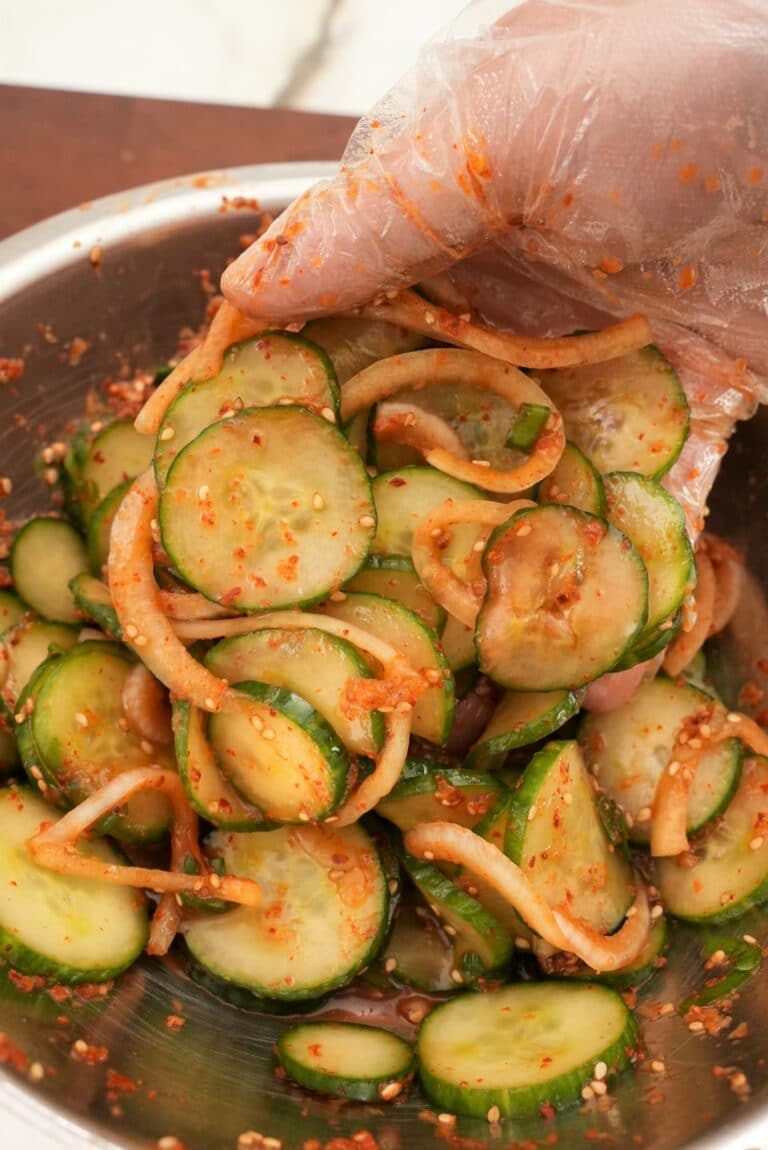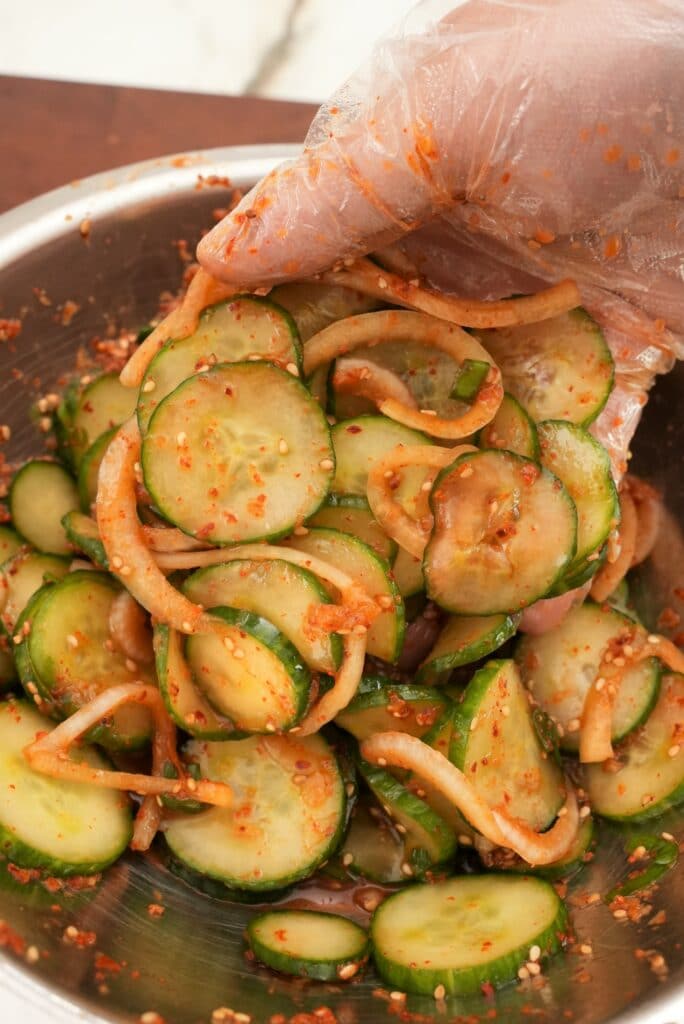 My Key Recipe Tips for Korean Cucumber Salad
RECIPE TIPS
SHAPE/SIZE
I personally like to cut these into thin disks – however, you have probably seen them in many iterations! Some other popular shape/sizes are half moons, thick round slices, and thin diagonal slices. You can cut them into whatever shape you prefer – there is no 'right' or 'wrong' way!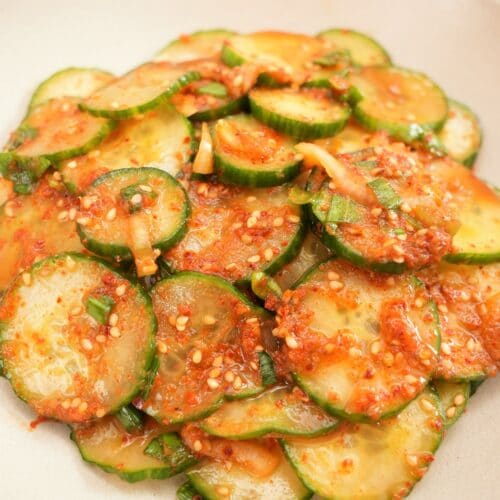 Korean Cucumber Salad
This spicy Korean Cucumber Salad comes together in only a few minutes and is crisp and delicious!
Ingredients
1

lb

cucumber

English or Persian

2

tbsp

light soy sauce

1/2

tbsp

gochugaru

1/2

tbsp

sesame oil

1/2

tbsp

roasted sesame seeds

1/2

tbsp

sugar

2

green onions

chopped

3

cloves

garlic

grated

1/4

white onion

thinly sliced

1/2

tbsp

kosher salt
Instructions
Slice ends off of your cucumber then thinly slice them into 2-3 mm disks.

Add the cucumbers to a bowl, then mix together with salt and let them rest for 10 minutes. Drain out the excess water and taste for seasoning.

In the same bowl, combine with soy sauce, korean red pepper flakes, sugar, sesame seeds, onion, scallion, grated garlic, and sesame oil.

Mix the cucumbers and seasonings until well combined and the cucumbers turn a deep red color.

Marinate the cucumbers for 10 minutes in the dressing before serving and enjoy!