Korean Braised Potatoes
---
February 23, 2023
---
Korean Braised Potatoes (Gamja Jorim) are a quick, easy and delicious way to make simple potatoes taste amazing! These potatoes are diced and sautéed until golden, then braised in a sweet and savory sauce until beautifully glazed.
This Korean side dish (banchan) is extremely popular in Korea and one of my wife's personal favorites! Growing up as a Korean-American in Los Angeles, her grandmother would make these potatoes for her to go with her lunch or as an after school snack, and she swears by this recipe!
Watch the Korean Braised Potatoes Recipe Video Below!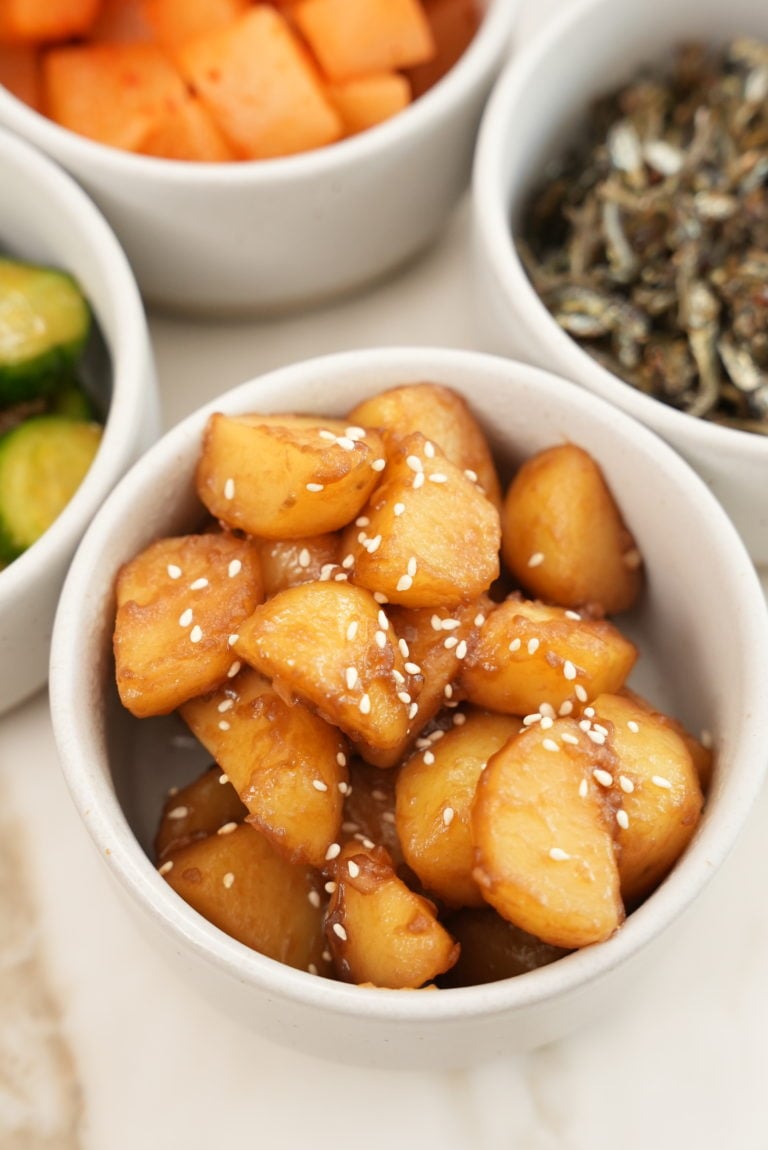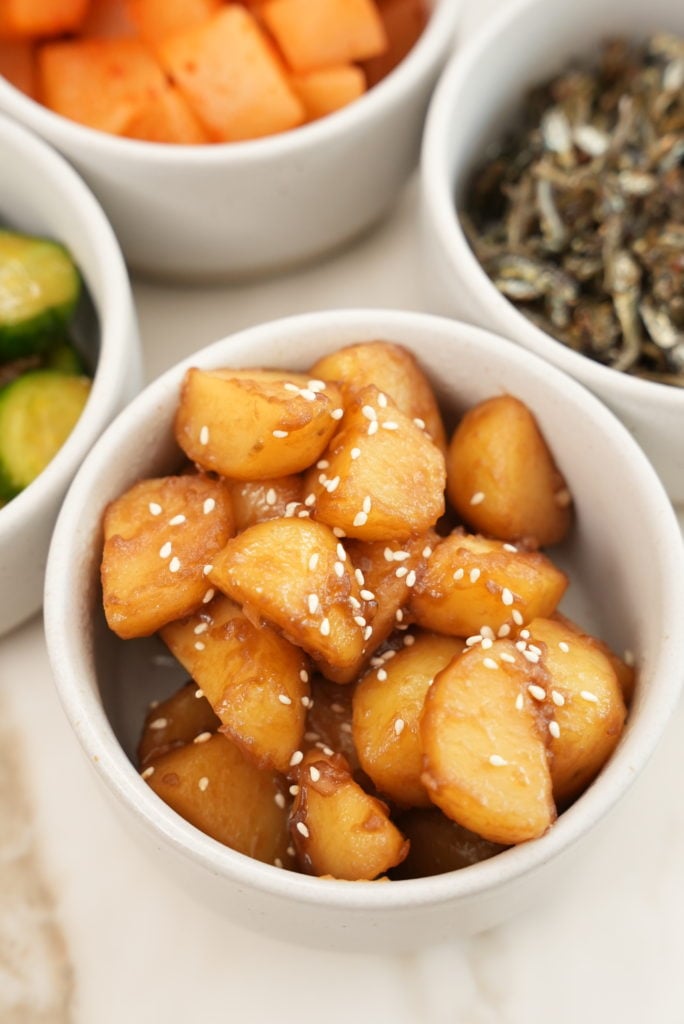 Which Potatoes Are Best To Use?
For this recipe, I recommend using waxier potatoes with less starch. Baby Yellow or Yukon Gold potatoes work well. Using a potato with less starch will allow the potato to hold its shape better during the cooking process.
Ingredients for Korean Braised Potatoes
Here are the ingredients you'll need for this traditional Korean side dish!
1 lb potato washed and peeled
1 tbsp neutral oil
1/4 cup light soy sauce
2 tbsp mirin
1 tbsp sugar
2 cloves garlic minced
2/3 cup water
1 tsp sesame oil
1 tbsp sesame seeds
My Top Ingredient Tips for Korean Braised Potatoes
INGREDIENTS TIPS
TYPE OF POTATOES
As far as potatoes go, I recommend waxier potatoes like baby yellow or yukon gold potatoes which will hold their shape better. I would try to avoid the starchier potatoes like russets for Korean Braised Potatoes.
MIRIN
If you don't have Mirin readily available, you can substitute for equal parts sugar or corn syrup.
NEUTRAL OIL
My favorite neutral oil is avocado oil, but you can also use canola or vegetable oil! I don't use olive oil due to the strong flavor profile here.
Dice Your Potatoes
Begin by washing and peeling your potatoes. For the next step, you'll want to cut your potatoes into 2-3″ pieces. My potatoes were small enough so that quartering them created these sections below. Cut them into equal size pieces (as best you can) so that the potatoes cook evenly.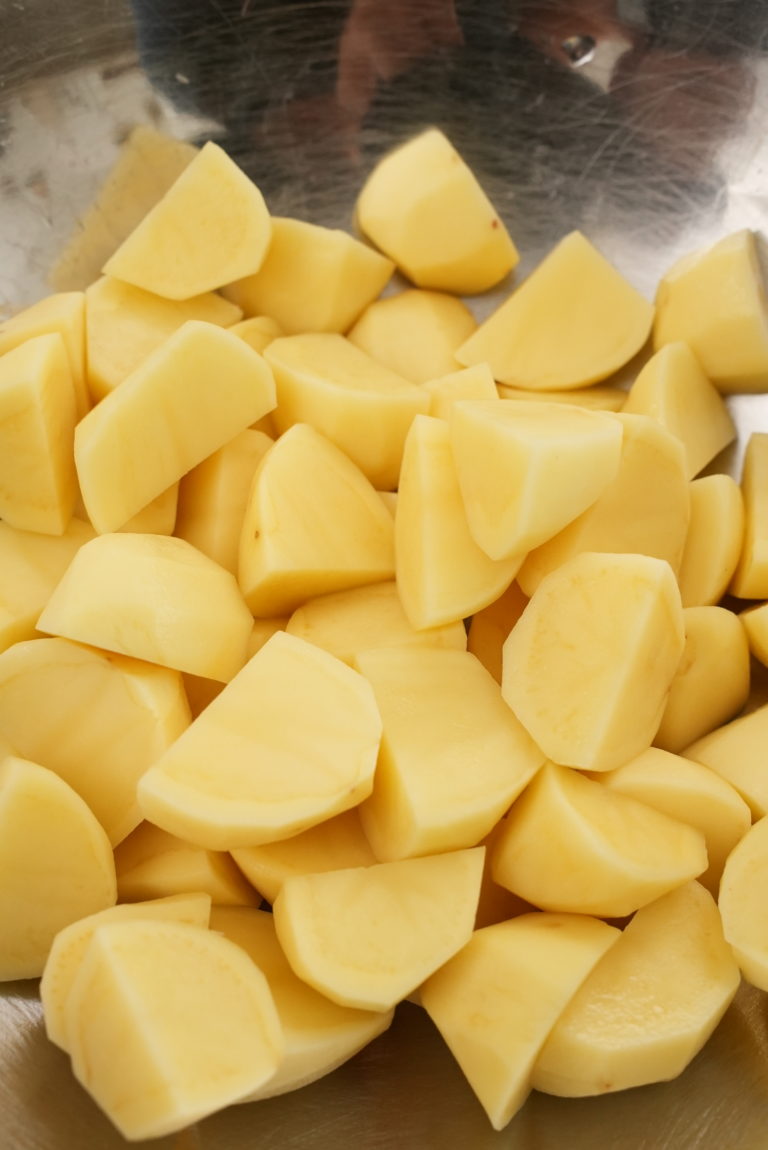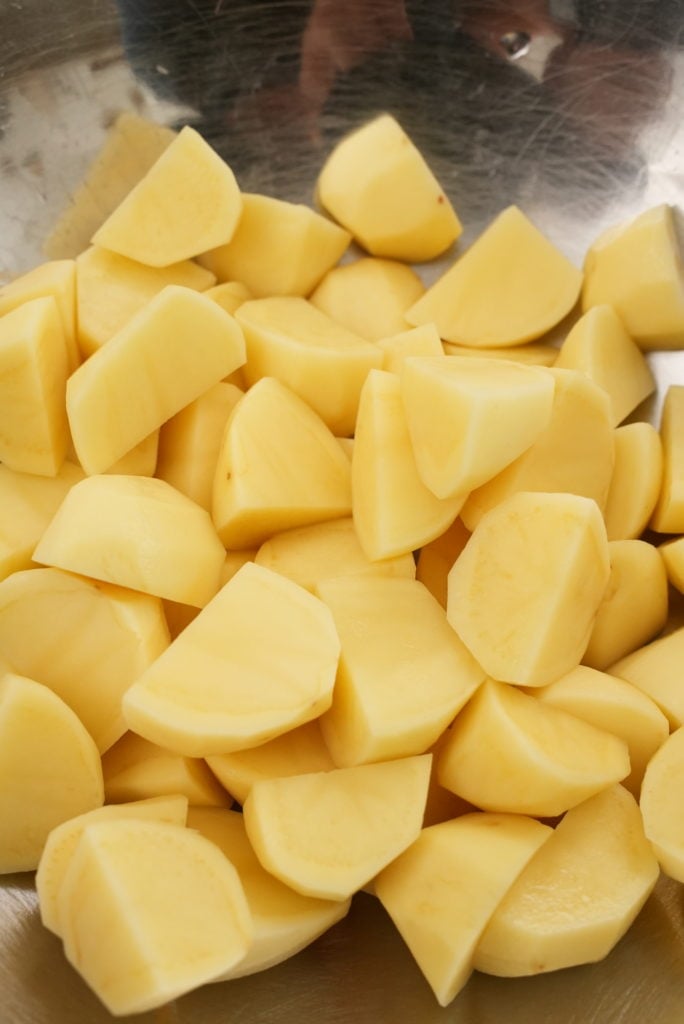 My Top Recipe Tips for Korean Braised Potatoes
RECIPE TIPS
BRAISING
This recipe uses a technique called braising, which essentially means to cook the ingredients slowly in liquid. Due to the ratio of the sauce to potatoes and cooking over medium high heat, the sauce should thicken up to a glaze just as the potatoes are tender and ready to eat! If you find that there is not enough liquid or it's reducing too quickly, add an additional 1/2 cup of water and continue cooking until the potatoes are to your desired tenderness.
Korean Braised Potatoes: Recipe Instructions
Sauté the Potatoes
Once the potatoes are into equal size pieces, heat 1 tbsp of neutral oil over medium high heat and add your potatoes. Sauté them for 4-5 minutes or they begin to take on a golden brown color.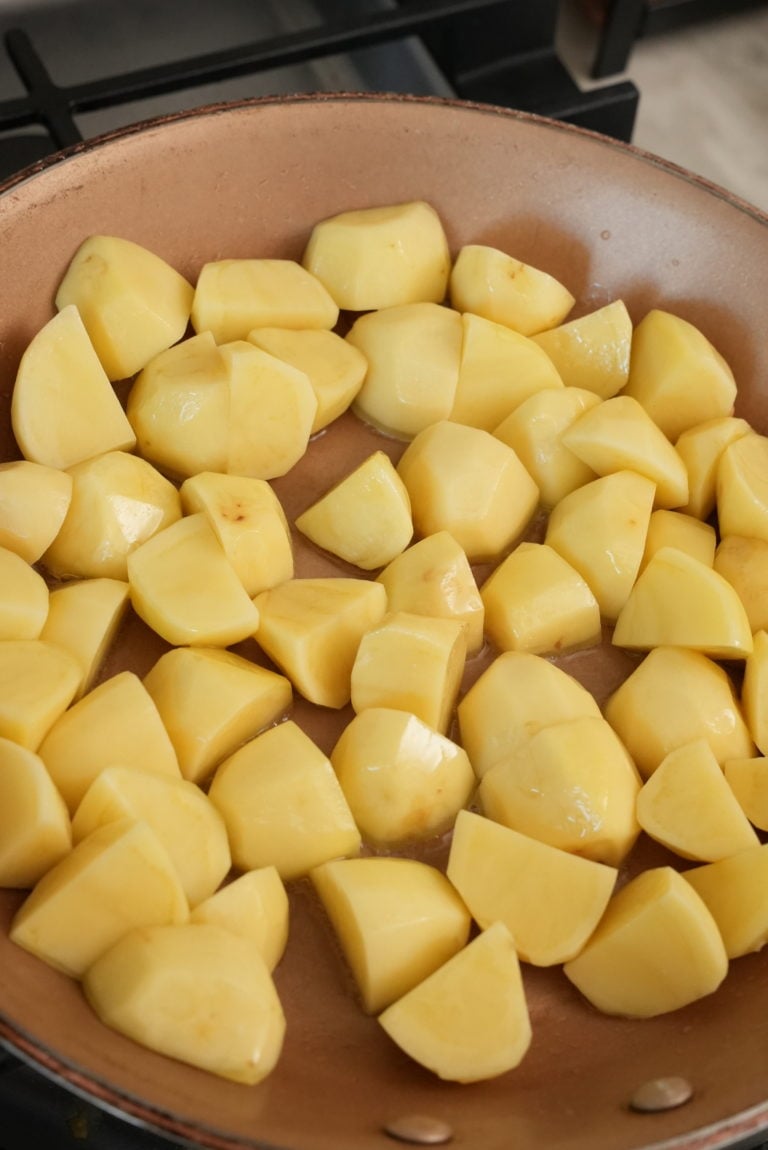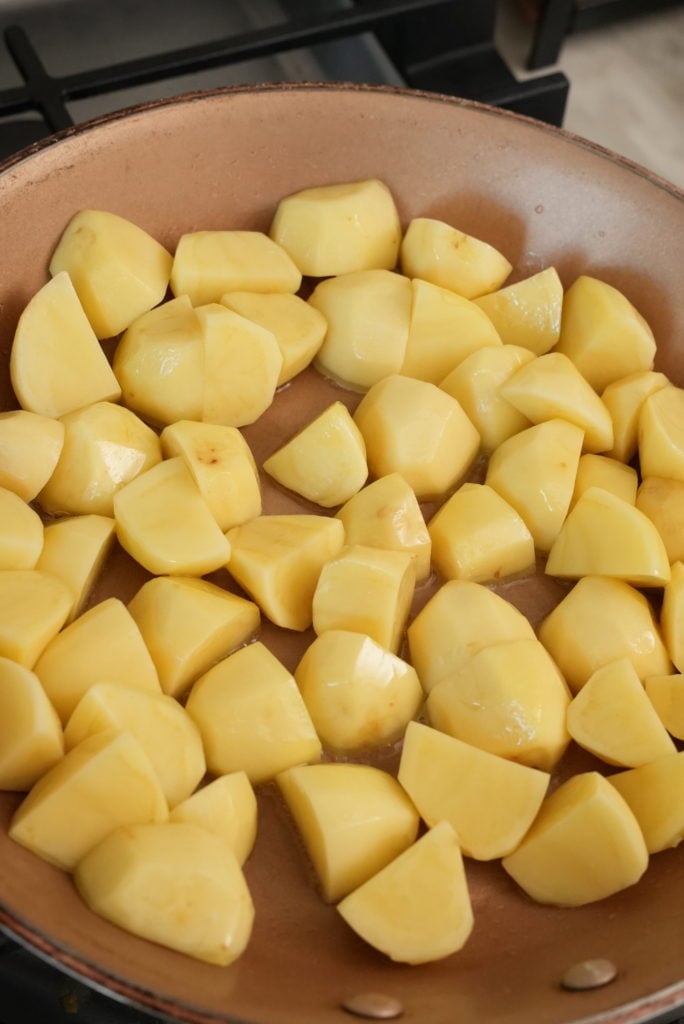 After the potatoes have been sautéing for 4-5 minutes, add your mixture of soy sauce, mirin, sugar, water and garlic. Mix the braising liquid in with the potatoes and continue cooking for another 5-6 minutes. You should begin to see the liquid reduce and thicken, and the potatoes should begin to turn soft and tender. You'll know the potatoes are done when they are fork tender, but don't break apart!
Once they have become tender and the sauce has thoroughly coated each piece of potato, finish with a drizzle of sesame oil and garnish with sesame seeds. Your Korean Braised Potatoes (Gamja Jorim) are done!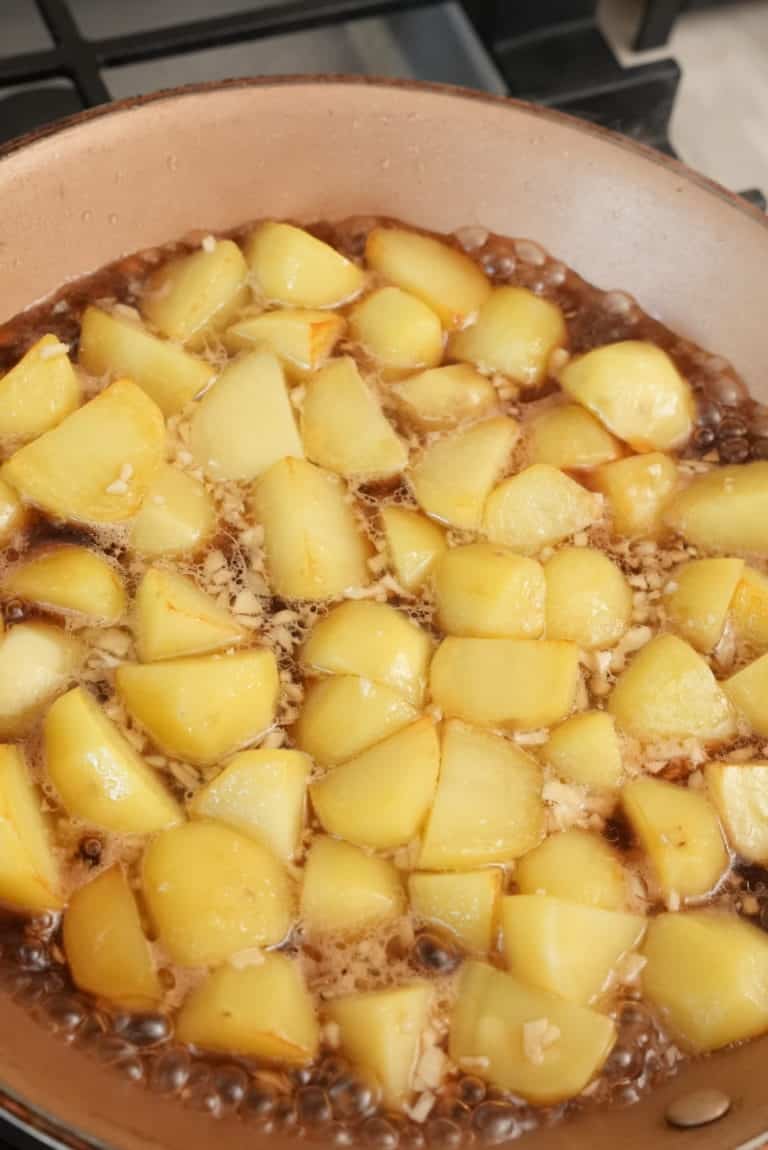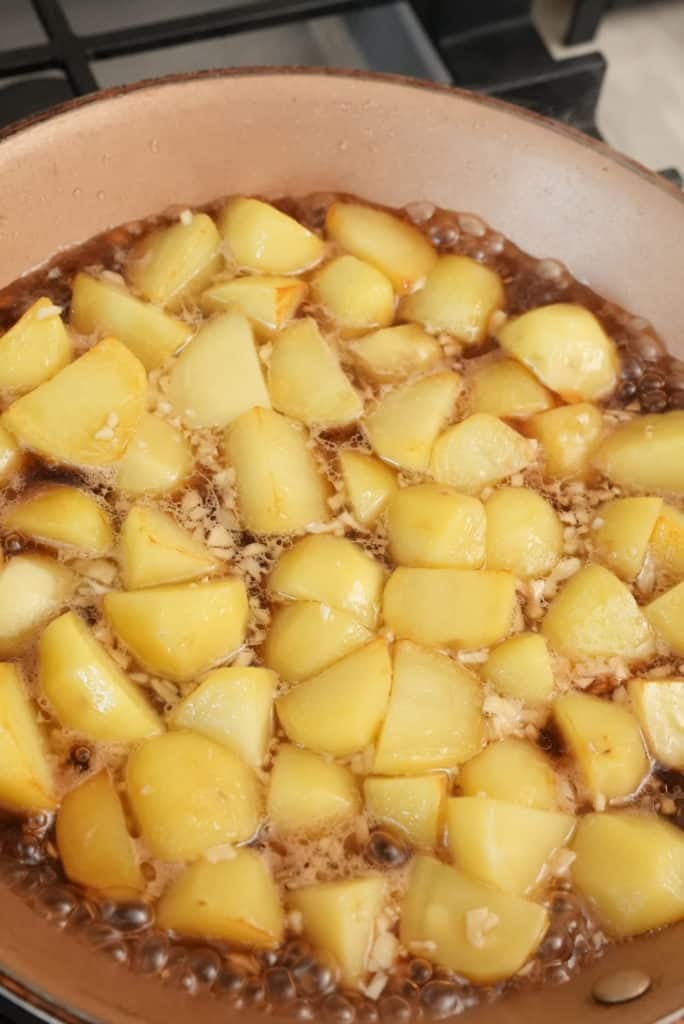 I love serving these potatoes with other Korean side dishes (banchan) along with various meats, vegetables, and freshly steamed rice! If you like Korean food, check out my other Korean recipes on the blog!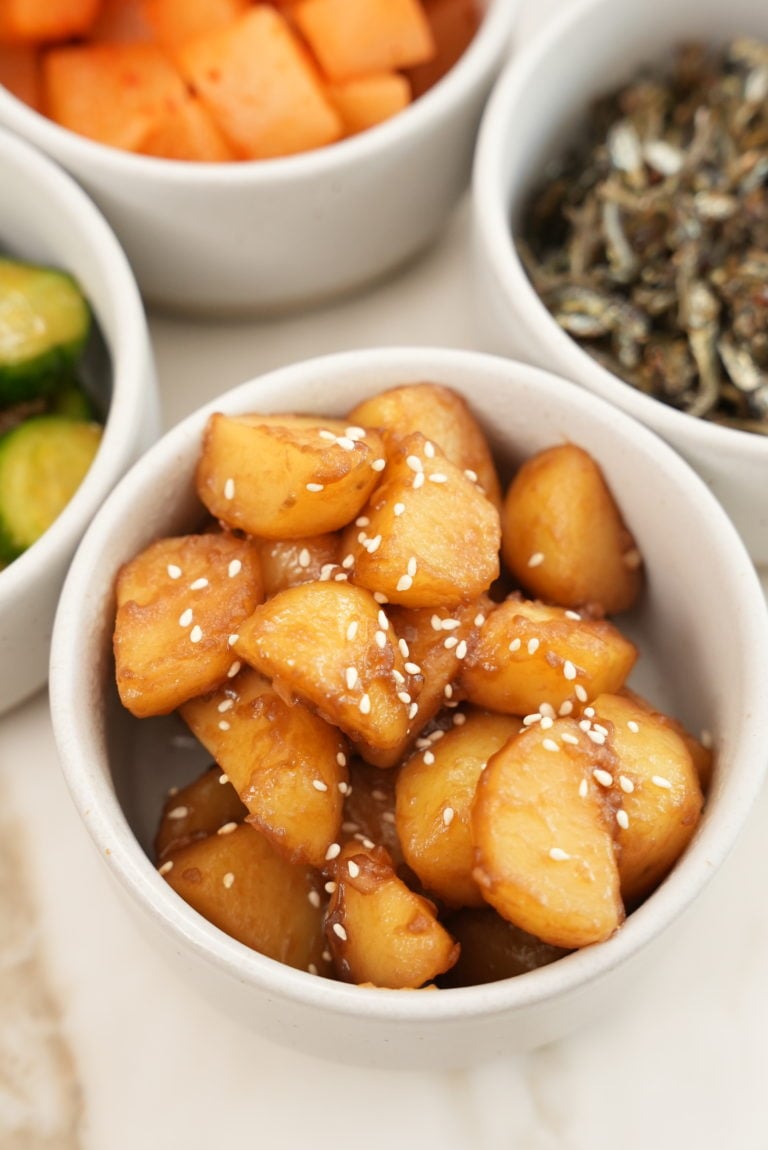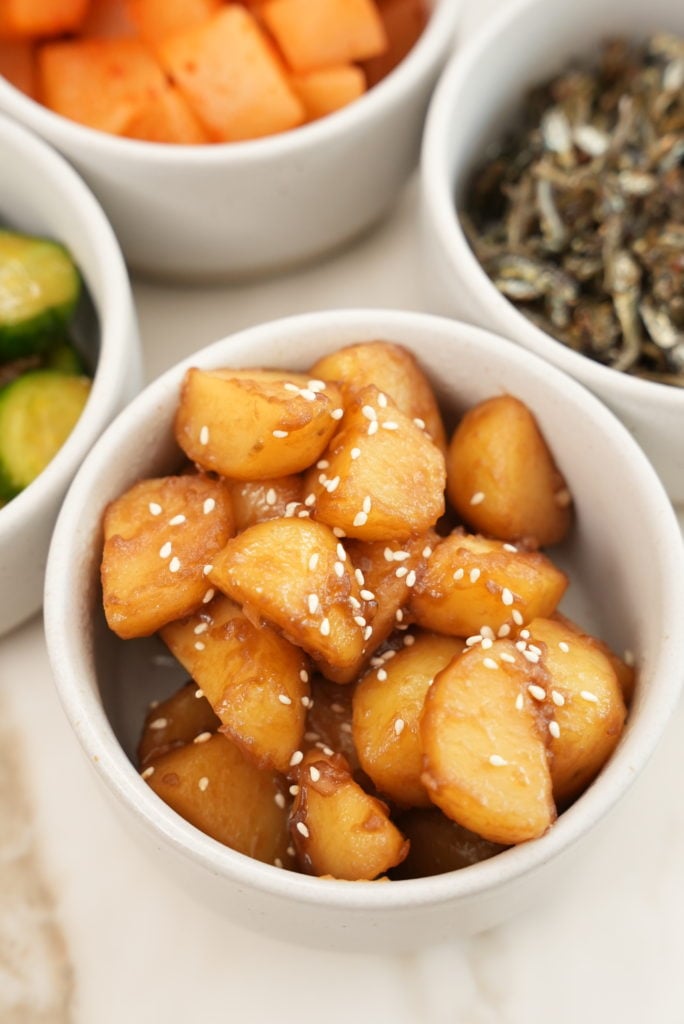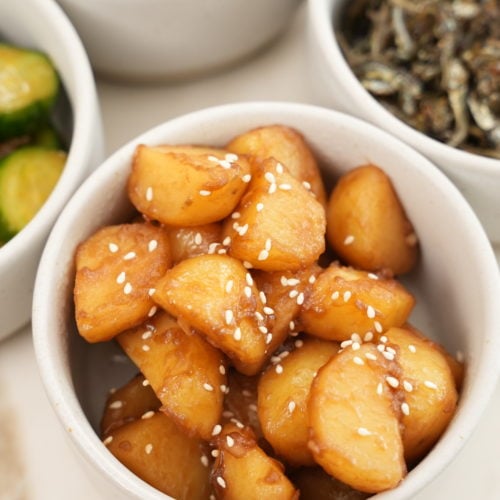 Korean Braised Potatoes
These Korean Braised Potatoes (Gamja Jorim) are easy to make in less that 15 minutes and so delicious!
Ingredients
1

lb

potato

washed and peeled

1

tbsp

neutral oil

1/4

cup

light soy sauce

2

tbsp

mirin

1

tbsp

sugar

2

cloves

garlic

minced

2/3

cup

water

1

tsp

sesame oil

1

tbsp

sesame seeds
Instructions
Wash and peel the potatoes, then cut them into 1" pieces.

In a bowl, mix soy sauce, mirin, garlic, sugar, water until combined.

In a nonstick pan, heat 1 tbsp of neutral oil over medium high heat. Saute potatoes for 4-5 minutes until they begin to turn golden.

Add sauce, simmer 5-6 minutes or until the potatoes are fork tender but not mushy. If the sauce is too watery, turn the heat to high and let the sauce continue to reduce until caramelized.

Finish with sesame oil and sesame seeds and enjoy!