Sweet and Sour Pork (Video)
---
September 7, 2021
---
Sweet and Sour Pork was my favorite "American Chinese" dish growing up and one of the first recipes I perfected when I learned how to cook! I love how the pork is super crispy and the sauce is sweet & tangy, while the vegetables and pineapples give the perfect contrast.
Learn how to make the easiest, crispiest Sweet and Sour Pork that's better than your Chinese takeout restaurant!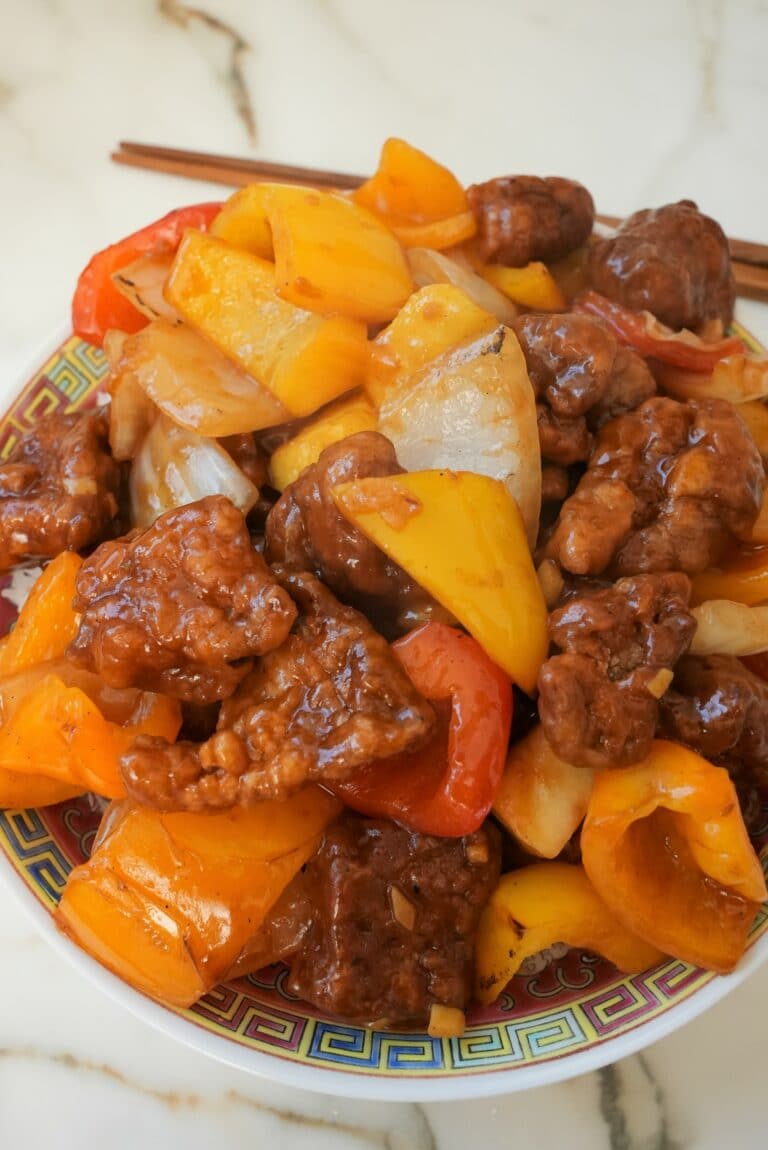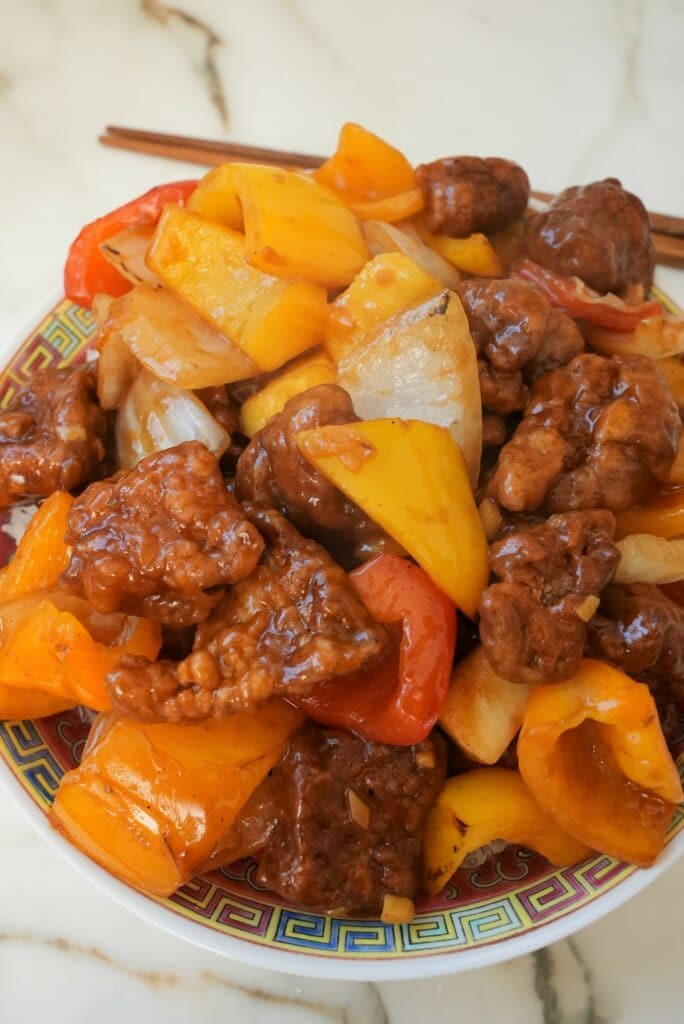 Watch the Sweet and Sour Pork Recipe Video Below!
Ingredients for Sweet and Sour Pork
I love this Sweet and Sour Pork recipe because only a few ingredients will make tender, delicious pork and an irresistible sauce that is better than takeout! Firstly, here are the ingredients you will need!
Pork
Vegetables

1 tbsp ginger chopped
2 cloves garlic chopped
2 cups bell pepper cut into 1″ pieces; any colors work but I used red, yellow & orange
1/2 cup yellow onion cut into 1″ pieces
1/2 cup pineapple cut into 1″ pieces

Sauce

1/4 cup ketchup
1/4 cup brown sugar
2 tbsp white vinegar

Cornstarch Slurry
My Top Ingredient Tips for Sweet and Sour Pork!
INGREDIENTS TIPS
SLICE AGAINST THE GRAIN
Make sure you are slicing against the grain. You'll know which direction the grain is when you look at the meat – the lines will be running in one direction (the lines are the muscle fibers). Slicing against the grain is an easy way to ensure your meat will be tender. (Remember, the lines are the muscle fibers – cutting against the lines means you're cutting the long fibers, so they don't get tough when cooked!)
WHITE PEPPER
I get asked all the time if you can sub black pepper for white pepper – and my answer is, it depends BUT you need to watch the ratio. White pepper has a milder flavor profile than black pepper, so it's a 1-1 substitute. I would start with less black pepper and add as you go. (But really, you should have white pepper in your pantry! It's a staple in mine!)
FLOUR + CORNSTARCH
When mixed with the flour, the cornstarch will make your fried pork crispier and have that beautiful golden color! (It has to do with prevention of gluten development.)
CORNSTARCH SLURRY
A cornstarch slurry is a mixture of cornstarch and water that is used in cooking to thicken WITHOUT powdery lumps or additional flavors/colors! This is the secret to so many of your favorite Chinese dishes. My #1 tip is make sure your cornstarch slurry has not separated before adding it in – I always try to re-stir right before!
Pro Tips for Sweet and Sour Pork!
RECIPE TIPS
CUT YOUR FRUITS & VEGETABLES!
I always recommend cutting your fruits & vegetables into similar sized pieces so they cook evenly – this little step makes a huge difference! In this recipe, I cut the bell peppers, onions, and pineapple into 1″ pieces.
OIL TEMPERATURE
Do not let your frying oil drop below 300-350F when frying the first time around! I highly recommend you use a thermometer to keep an eye on the temperature. If you see it dropping below 300F, fry your pork in batches. Frying at a low temperature will result in too much moisture (AKA SOGGY!)
DOUBLE FRYING
The second fry at 400F will get your pork extra crispy – don't skip this step! Use a thermometer to ensure your oil is at the right temperature.
If you liked this Sweet and Sour Pork recipe, check out some of the most popular Chinese Take-Out recipes on the blog!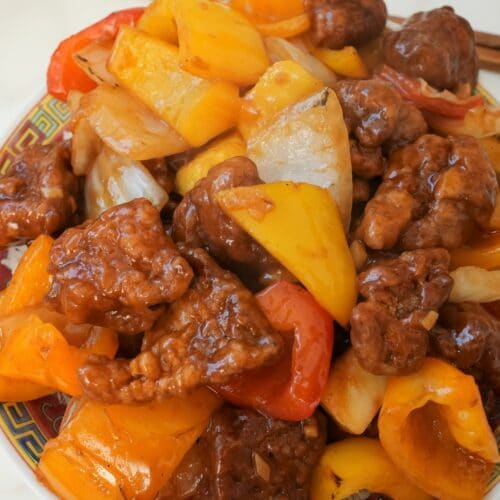 Sweet And Sour Pork (Video)
This classic Chinese dish a full of crispy, flavorful pork tossed with crisp peppers and onions with a sweet & tangy sauce!
Ingredients
Vegetables
1

tbsp

ginger

chopped

2

cloves

garlic

chopped

2

cups

bell pepper

cut into 1" pieces; any colors work but I used red, yellow & orange

1/2

cup

yellow onion

cut into 1" pieces

1/2

cup

pineapple

cut into 1" pieces
Sauce
1/4

cup

ketchup

1/4

cup

brown sugar

2

tbsp

white vinegar
Instructions
Slice pork shoulder on the diagonal across the grain into 1/2" pieces.

Marinate with soy sauce, garlic powder, white pepper, and salt and let rest for at least 20 mintues while you prep the rest of your ingredients.

Chop ginger and garlic and set aside.

Slice bell peppers, onions, and pineapple into 1" pieces. Place in a bowl and set aside.

Mix ketchup, brown sugar, white vinegar, cornstarch, and water for your sauce. Set aside.

Beat 1 egg. Add beaten egg to marinated pork. Slowly add in 2 tbsp of flour to marinated pork and egg mixture. Mix to combine until you get a wet batter consistency.

Coat pork pieces in cornstarch and pack in to get a good coating. Shake off any excess.

Heat neutral oil to 350°F and fry your pork for 4-5 min. Make sure to not overcrowd your pan. If your oil temp drops below 300°F when you add your pork, remove some and fry in smaller batches.

Remove pork. Heat the oil temperature back up to 350°F and fry a second time for 1 min. Set aside.

Sauté vegetables over high heat for 2 minutes in oil to get some color and remove.

Sauté ginger and garlic for 30 seconds. Add in your sauce from earlier and mix. Add in your cornstarch slurry and mix for 5 seconds. Add in your vegetables, pineapple, and pork. Stir to combine for one minute. Serve with freshly steamed rice and enjoy!
Nutrition
Calories:
379
kcal
Carbohydrates:
62
g
Protein:
18
g
Fat:
6
g
Saturated Fat:
2
g
Polyunsaturated Fat:
1
g
Monounsaturated Fat:
3
g
Trans Fat:
0.01
g
Cholesterol:
87
mg
Sodium:
1010
mg
Potassium:
563
mg
Fiber:
3
g
Sugar:
23
g
Vitamin A:
2486
IU
Vitamin C:
108
mg
Calcium:
50
mg
Iron:
2
mg