Sesame Chicken
---
March 17, 2022
---
Sesame Chicken is an incredibly popular takeout dish but you're going to be blown away when you learn how easy and simple it is to make at home! The crispy chicken coated in that sweet and aromatic sesame sauce is a guaranteed crowd pleaser!
Watch the Sesame Chicken Recipe Video Below!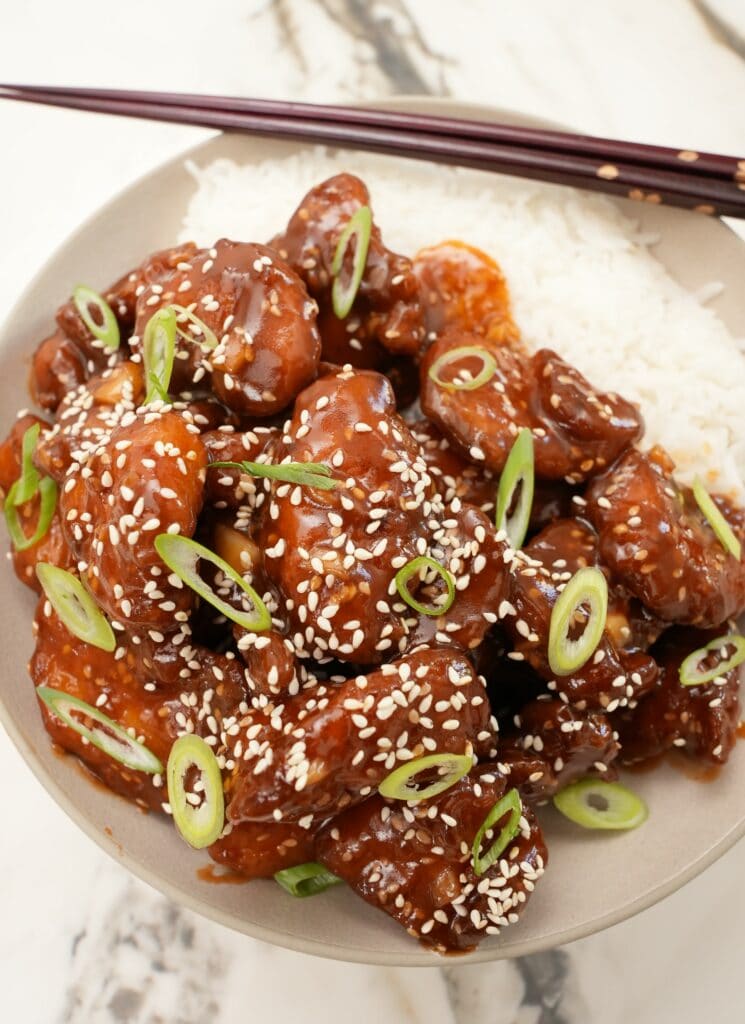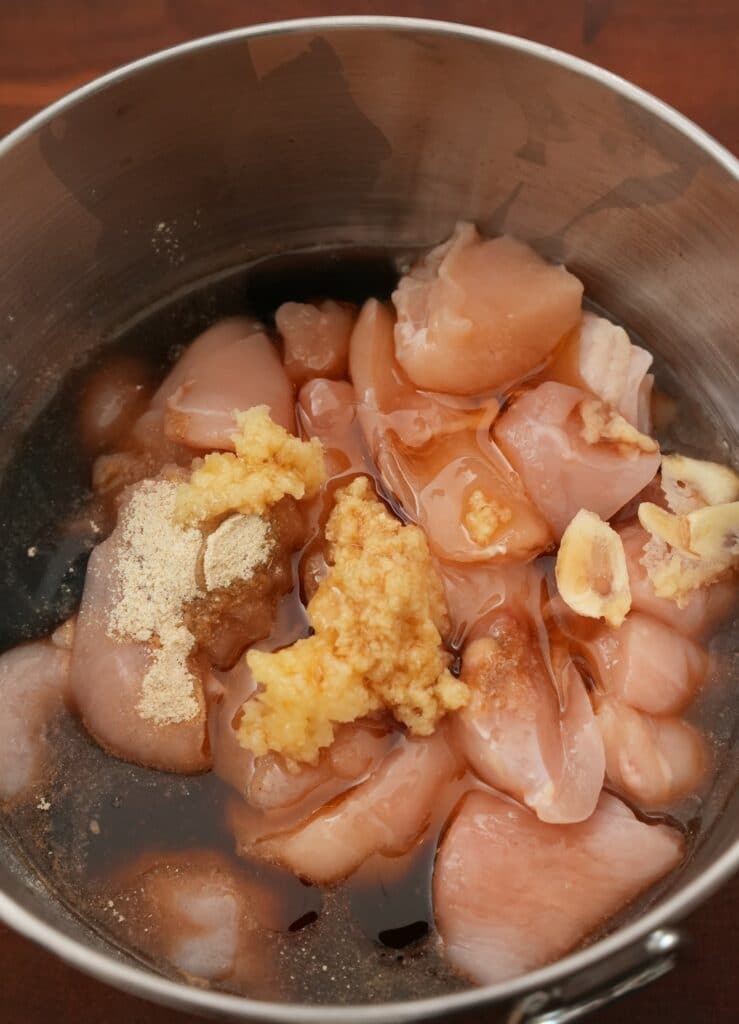 Marinating the chicken with kosher salt, white pepper, soy sauce, Shaoxing wine, grated garlic & ginger, and sesame oil is one of my keys to super flavorful chicken. But even more importantly, this marinade will act as a binder to stick to the dredge before frying!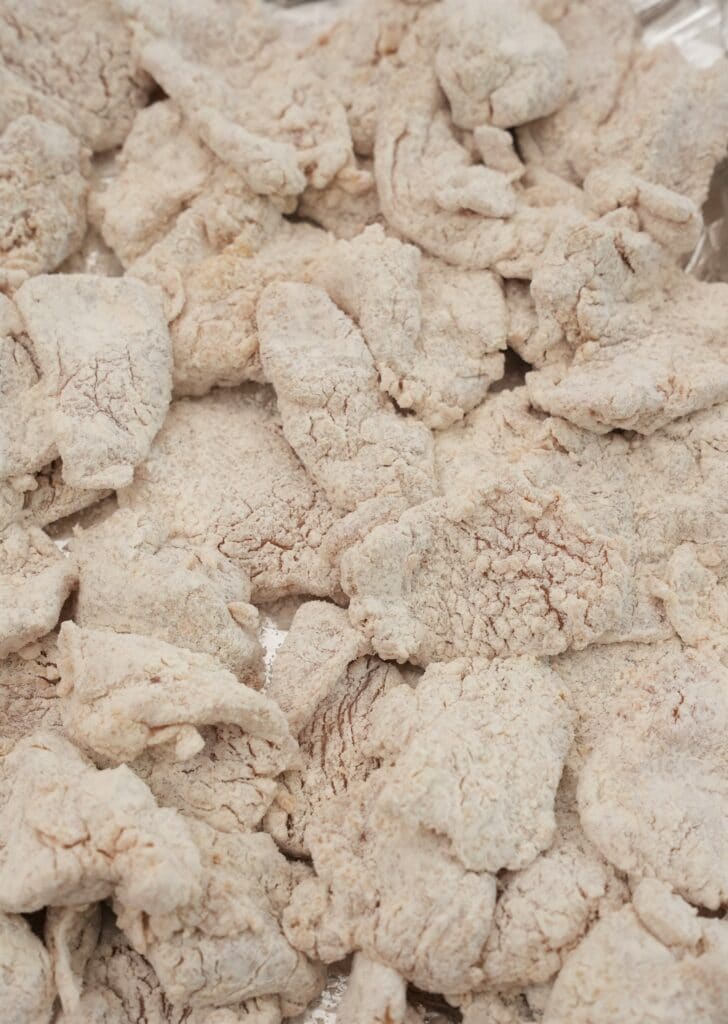 After dredging the chicken, letting the chicken pieces rest on a tray for 10-15 minutes will ensure the batter will stick to the chicken during the frying process.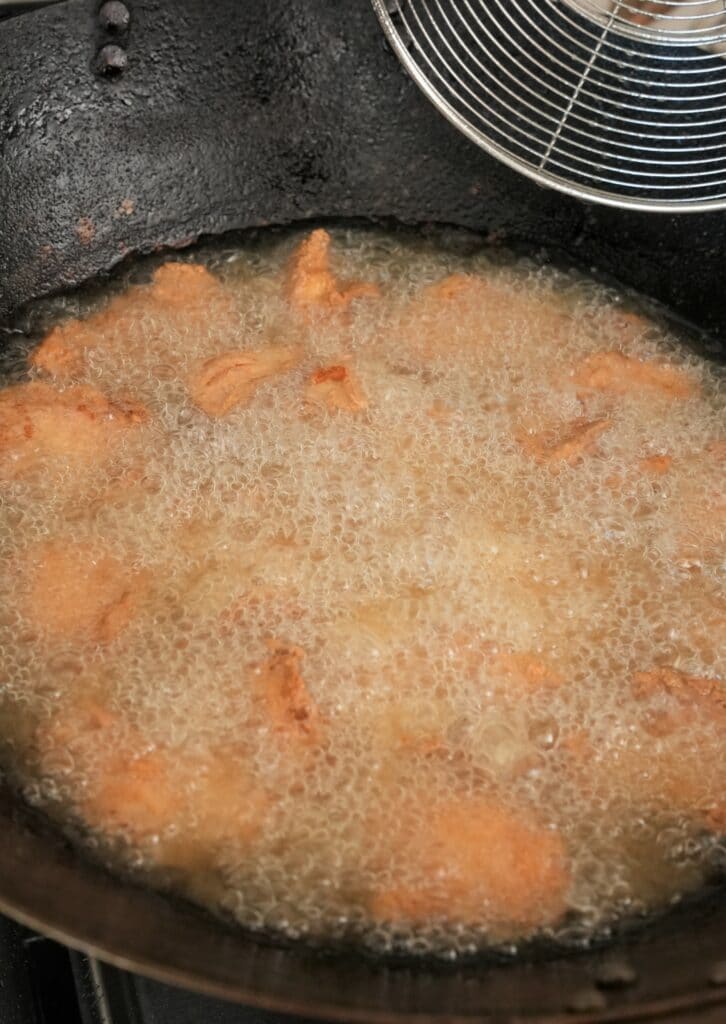 INGREDIENTS TIPS
SHAOXING WINE
If you cannot or do not want to use wine, you can sub with sherry, mirin, or chicken stock!
FLOUR + CORNSTARCH + BAKING POWDER
My favorite combination is FLOUR, CORNSTARCH, and BAKING POWDER for frying chicken! When mixed with the flour, the cornstarch makes the flour coating crispier and gives it that golden brown color! (It has to do with prevention of gluten development.) The baking powder reacts with the oil and creates tiny air bubbles, which also helps form a crispy coating.
WHITE PEPPER
I get asked all the time if you can sub black pepper for white pepper – and my answer is, it depends BUT you need to watch the ratio. White pepper has a milder flavor profile than black pepper, so it's a 1-1 substitute. I would start with less black pepper and add as you go. (But really, you should have white pepper in your pantry! It's a staple in mine!)
CORNSTARCH SLURRY
A cornstarch slurry is a mixture of cornstarch and water that is used in cooking to thicken WITHOUT powdery lumps or additional flavors/colors! This is the secret to so many of your favorite Chinese dishes. My #1 tip is make sure your cornstarch slurry has not separated before adding it in – I always try to re-stir right before!
NEUTRAL OIL
My favorite neutral oil is avocado oil, but you can also use canola or vegetable oil! I don't use olive oil when cooking Chinese food for two reasons: 1. It has a low burning point and 2. The flavor profile does not go.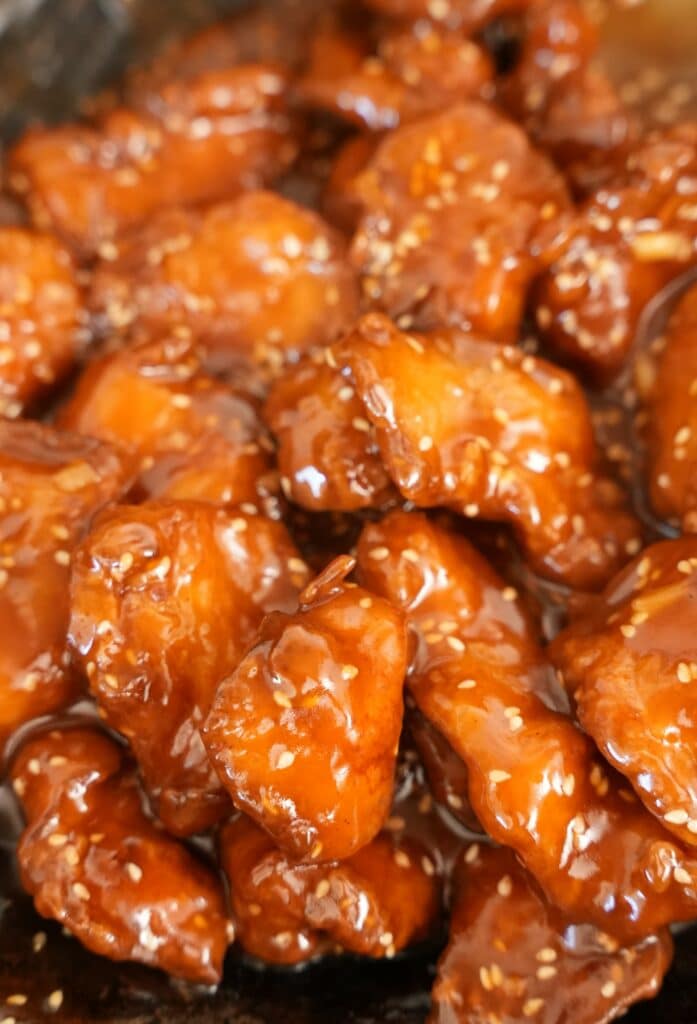 RECIPE TIPS
CRAGGILY BITS
Add any leftover marinade (or 1-2 tbsp of water) to your seasoning mix (flour/cornstarch/baking powder) and rub them together to create the craggily bits we all love!
REST AFTER DREDGING
Once the chicken is dredged in the seasoning mix, let them rest for 10-15 minutes. This helps the batter stick to the chicken when frying!
OIL TEMPERATURE
Do not let your frying oil drop below 325F when frying! I highly recommend you use a thermometer to keep an eye on the temperature. If you see it dropping below 325F, fry your chicken in batches. Frying at a low temperature will result in too much moisture (AKA SOGGY!)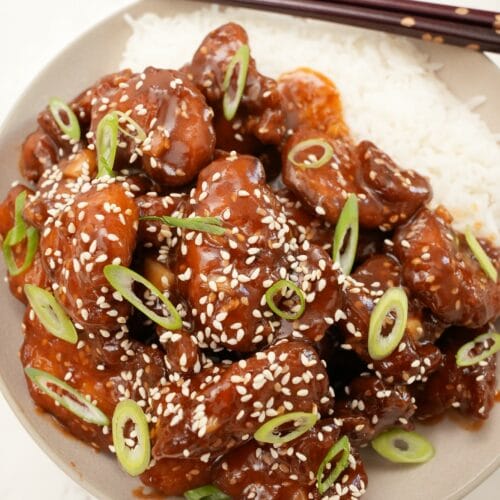 Sesame Chicken
This Sesame Chicken is so much better than takeout! The chicken actually STAYS crispy in that sweet and tangy sesame sauce!
Ingredients
Chicken
1

lb

chicken breast

cut into 1/2" pieces

1

tsp

kosher salt

1/2

tsp

white pepper

2

tbsp

soy sauce

1

tbsp

Shaoxing wine

4

cloves

garlic

grated

1/2

tbsp

ginger

grated

1

tsp

sesame oil
Seasoned Dredge
1

cup

flour

1

cup

cornstarch

1/2

tbsp

kosher salt

1/2

tbsp

white pepper

1/2

tbsp

baking powder
Sauce
1/4

cup

light soy sauce

2

tbsp

ketchup

1/2

cup

chicken stock

2

tbsp

brown sugar

2

tbsp

honey

1

tbsp

sesame oil
Other Ingredients
4

cloves

garlic

1

tbsp

ginger

2

tbsp

vinegar

1

tbsp

sesame seeds

1

tbsp

sesame oil

neutral oil

for frying; I used avocado oil
Cornstarch Slurry
1

tbsp

cornstarch

1/4

cup

water
Instructions
Slice chicken breast into 1/2" pieces and place in a bowl with kosher salt, white pepper, soy sauce, Shaoxing wine, garlic, ginger, and sesame oil. Marinate for at least 1 hour or up to overnight for best results.

In a large bowl, combine flour, cornstarch, kosher slat, white pepper, and baking powder.

In a separate bowl, create your sauce by combining light soy sauce, ketchup, chicken stock, brown sugar, honey, and sesame oil. Mix until well combined and set aside.

Dredge your marinated chicken in the flour & cornstarch mixture (shake off excess). Pack in the dredge to ensure there are no dry spots. Let rest on a rack for 10-15 minutes while you heat your oil. In the meantime, chop garlic and ginger, and prepare vinegar, sesame seeds, sesame oil, and your cornstarch slurry and set next to your pan.

In a heavy bottomed pot or dutch oven, heat oil to 350F and fry the chicken in batches for 2-3 minutes until lightly golden. Remove, then fry a second time at 350F for 1-2 minute until golden and extra crispy. Season with salt to taste.

In a pan or wok over high heat, add 2 tbsp of neutral oil and fry your garlic and ginger for 15 seconds or until fragrant. Immediately add your sauce until it starts to bubble (about 45-60 seconds). Add your cornstarch slurry and your vinegar, and continue stirring until the sauce has thickened. Add your chicken and coat in the sauce and finish with sesame seeds and sesame oil. Enjoy!
Nutrition
Calories:
751
kcal
Carbohydrates:
104
g
Protein:
42
g
Fat:
17
g
Saturated Fat:
3
g
Polyunsaturated Fat:
6
g
Monounsaturated Fat:
6
g
Trans Fat:
1
g
Cholesterol:
98
mg
Sodium:
4235
mg
Potassium:
822
mg
Fiber:
3
g
Sugar:
23
g
Vitamin A:
99
IU
Vitamin C:
5
mg
Calcium:
196
mg
Iron:
5
mg