Shrimp Fried Rice
---
January 12, 2023
---
This Shrimp Fried Rice recipe is an easy at-home meal that will taste better than takeout! I have a couple key tips to make a restaurant quality fried rice, while still keeping it quick, delicious and easily adjustable to your preferences!
Watch the Shrimp Fried Rice Recipe Video Below!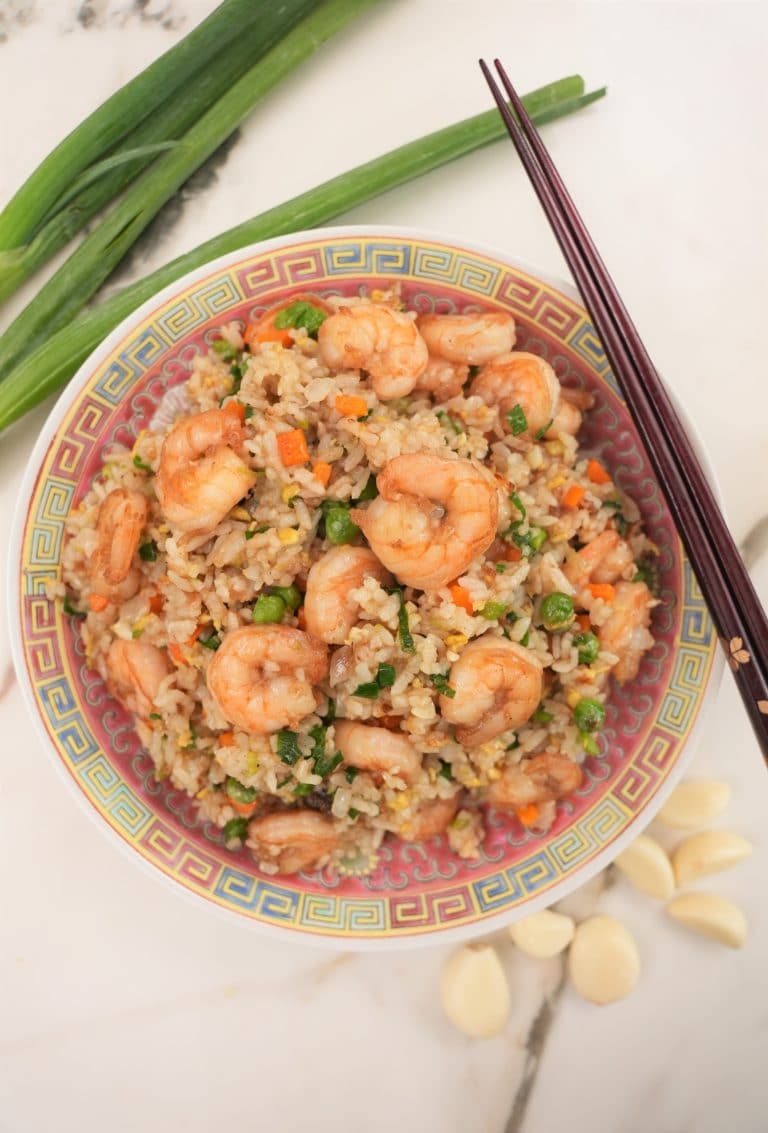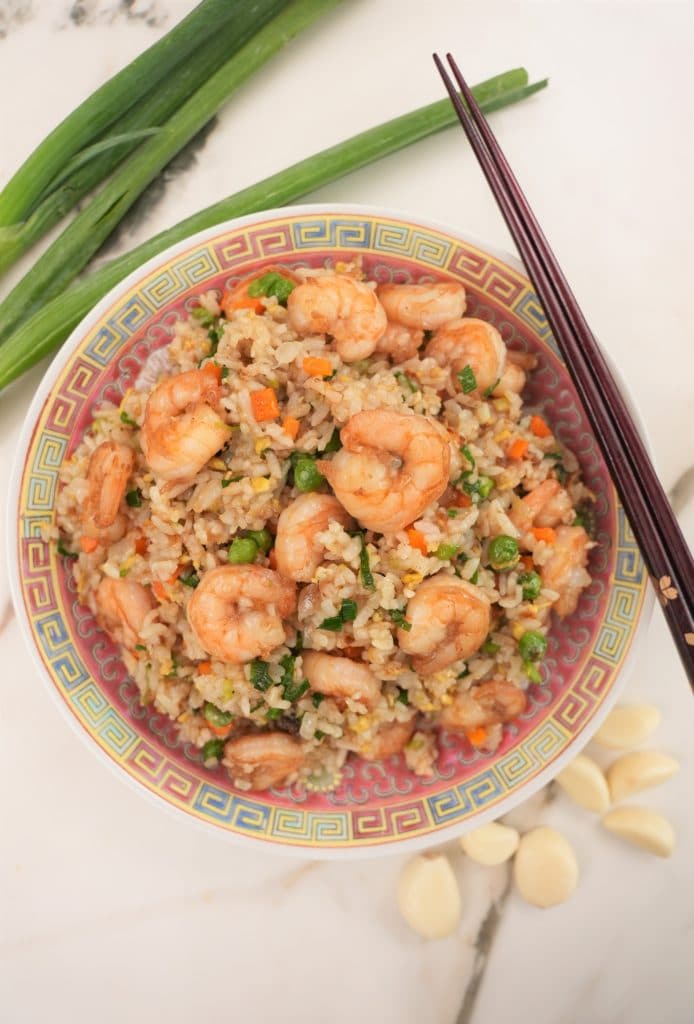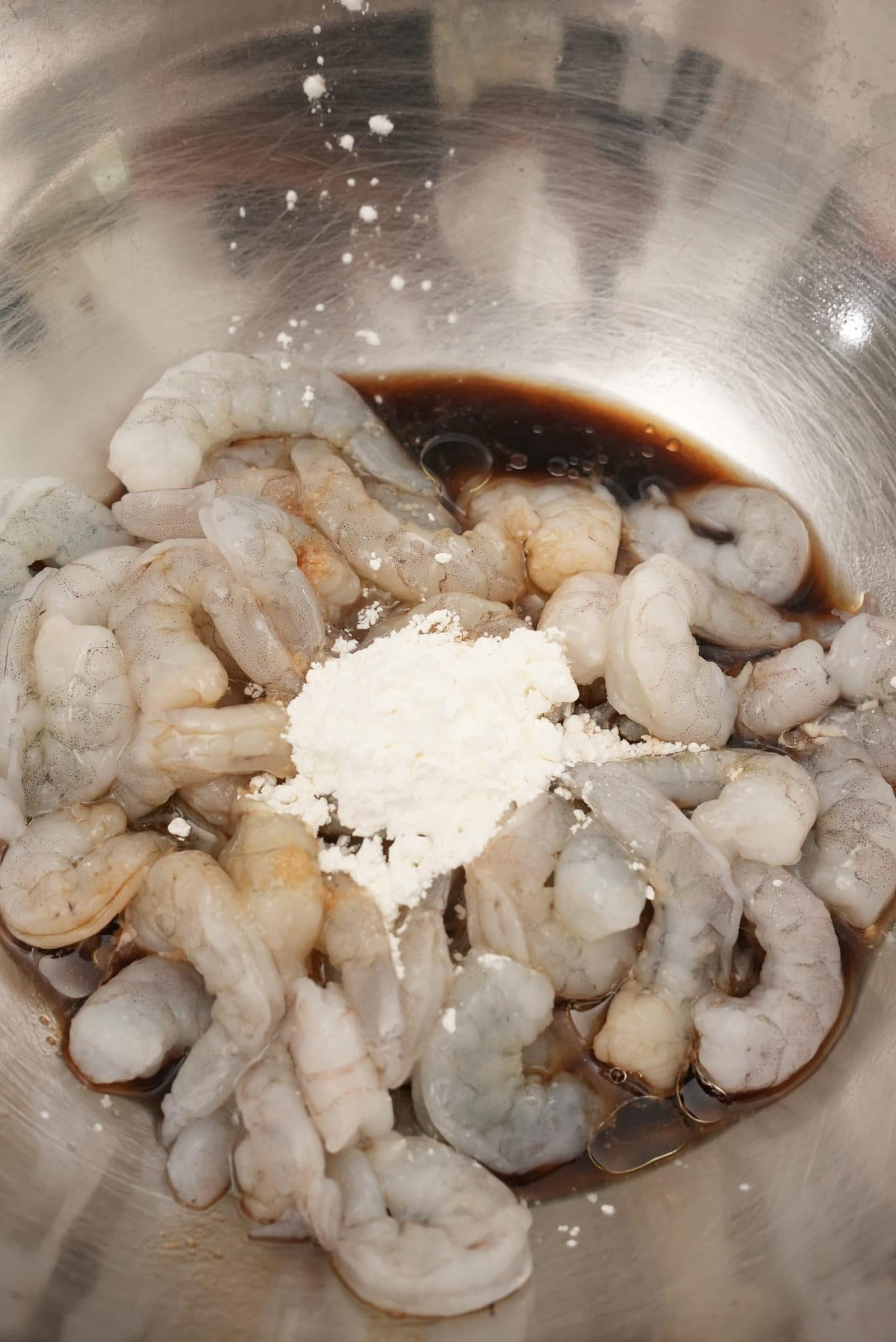 Marinating The Shrimp
I love this shrimp marinade because it's so simple! your shrimp for at least 10 minutes will ensure they turn out succulent and delicious! Here is what you'll need for the marinade:
1 lb shrimp (I like using smaller U50-60 shrimp so I get some shrimp in every bite!)
white pepper
kosher salt
light soy sauce
baking soda
neutral oil (I prefer Avocado oil)
cornstarch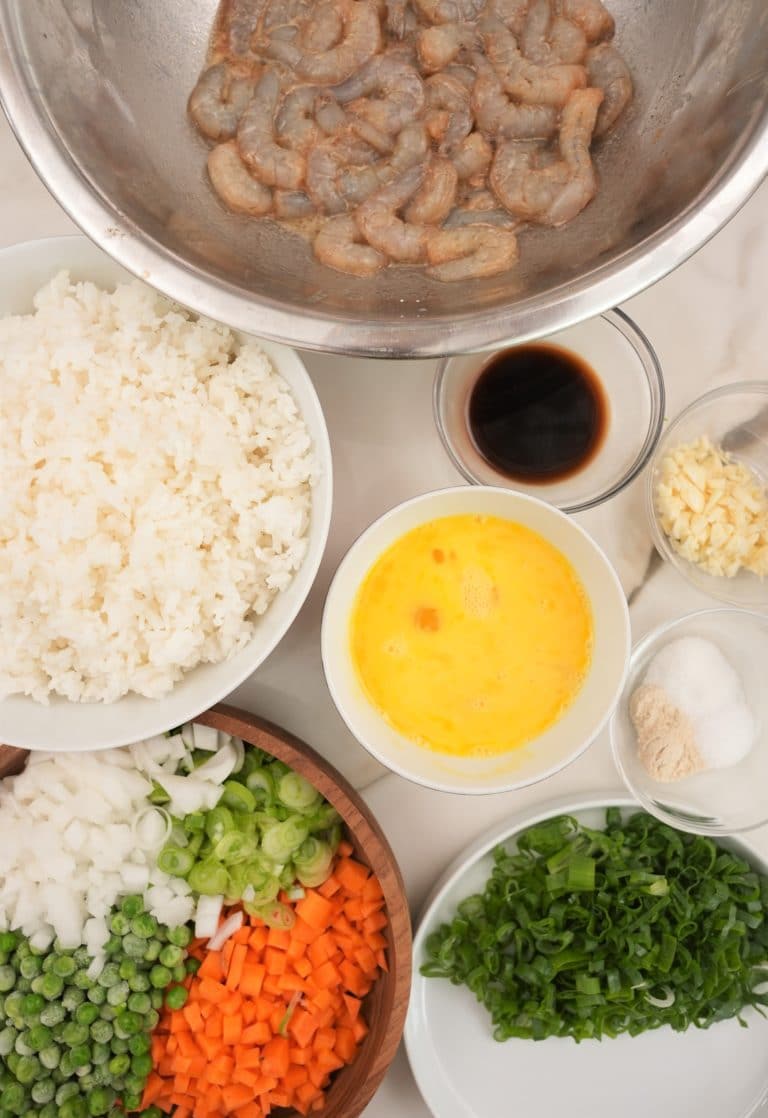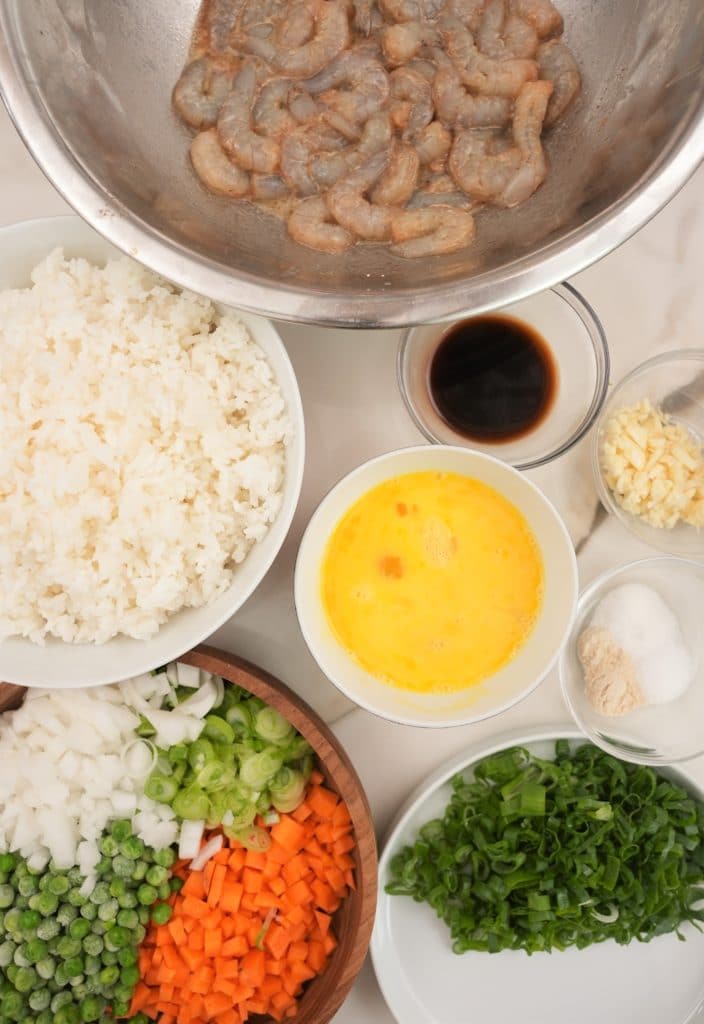 Tips for Restaurant Quality Shrimp Fried Rice
Key Tip: Ensure all your ingredients are prepped ahead of time BEFORE you begin cooking. This dish comes together fast, so preparing your ingredients in bowls right next to your pan will ensure the dish comes together smoothly and nothing is overcooked.
INGREDIENTS TIPS
RICE
Do not use freshly steamed rice! The rice should be at least one day old to avoid having too much moisture; too much moisture in the rice will make your fried rice soggy and mushy.
WHAT VEGGIES CAN I USE?
The beauty of this dish is that you can use any vegetable you like! I mix it up based on what is in my refrigerator and what I am feeling like. Here are some vegetables I've used in the past:
-Mushrooms
-Broccoli
-Asparagus
-Corn
MSG
This is always optional 🙂
NEUTRAL OIL
My favorite neutral oil is avocado oil, but you can also use canola or vegetable oil! I don't use olive oil when cooking Chinese food for two reasons: 1. It has a low burning point and 2. The flavor profile does not go.
Searing The Shrimp
You want to sear your shrimp in about 4 tablespoons of neutral oil over high heat for 2-3 minutes or until just cooked through. I purposely like to re-use the oil the shrimp was cooked in to fry my aromatics, vegetables, eggs, and rice to reinforce them with more of that delicious shrimp flavor!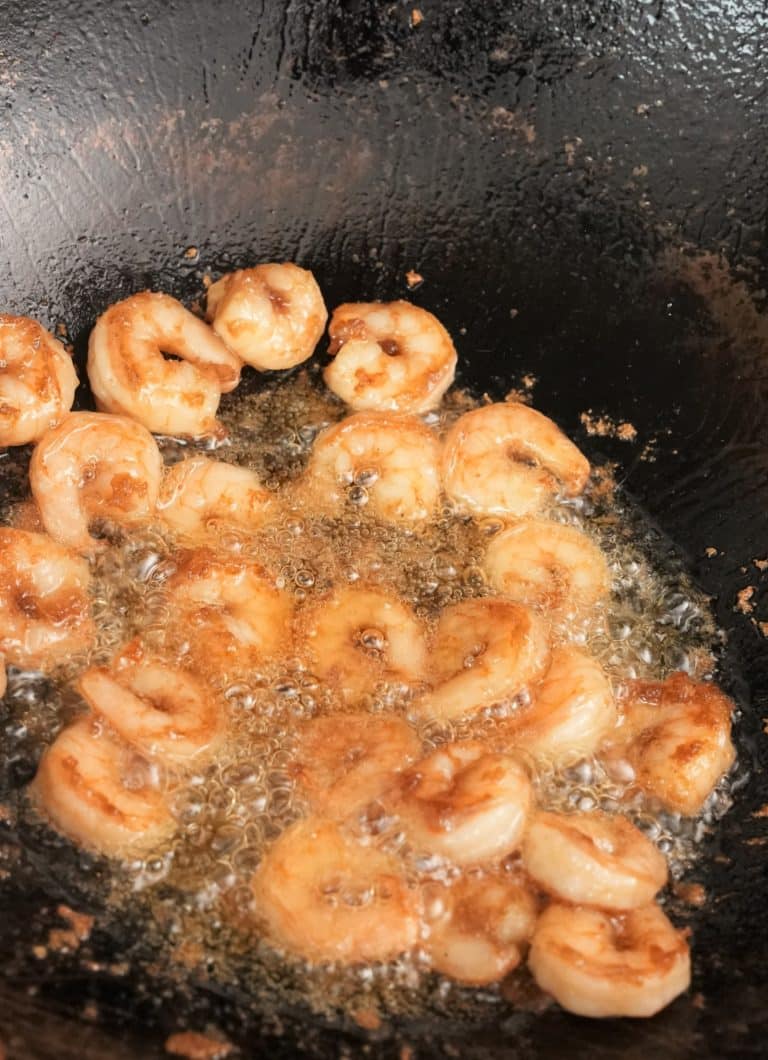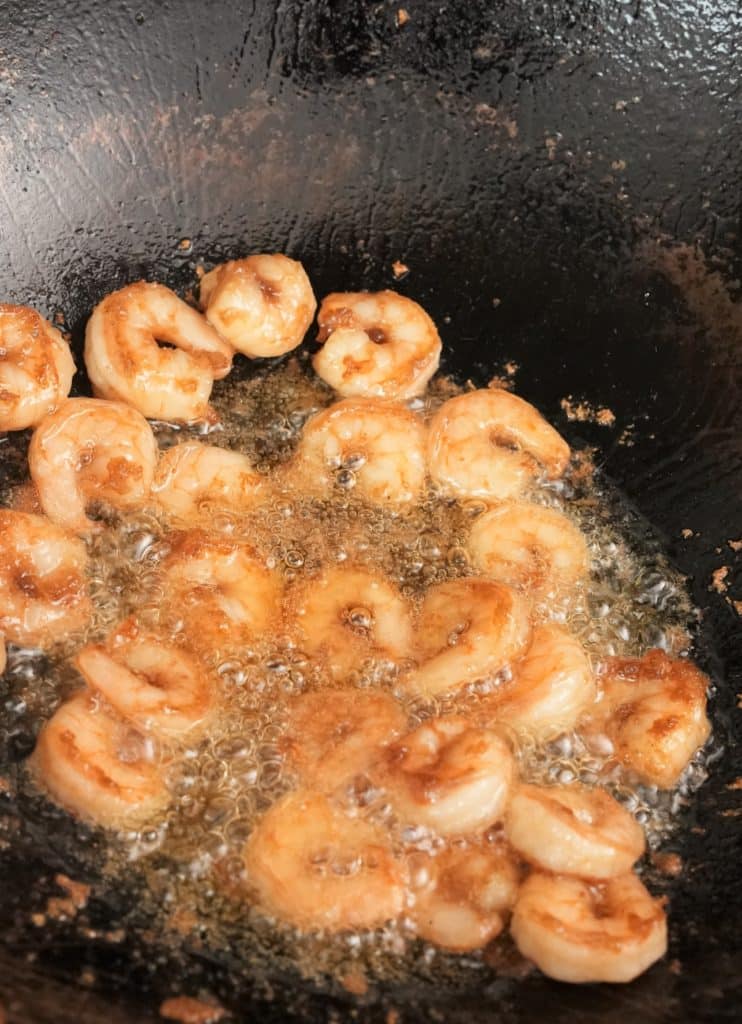 Why I Suggest Cooking in a Wok
Cooking in a wok will give your dish that signature "wok hei" or "breath of the wok", which is a beautiful smoky flavor profile to your dish. The best part is, the wok will only get more seasoned with time, adding more flavor to your food!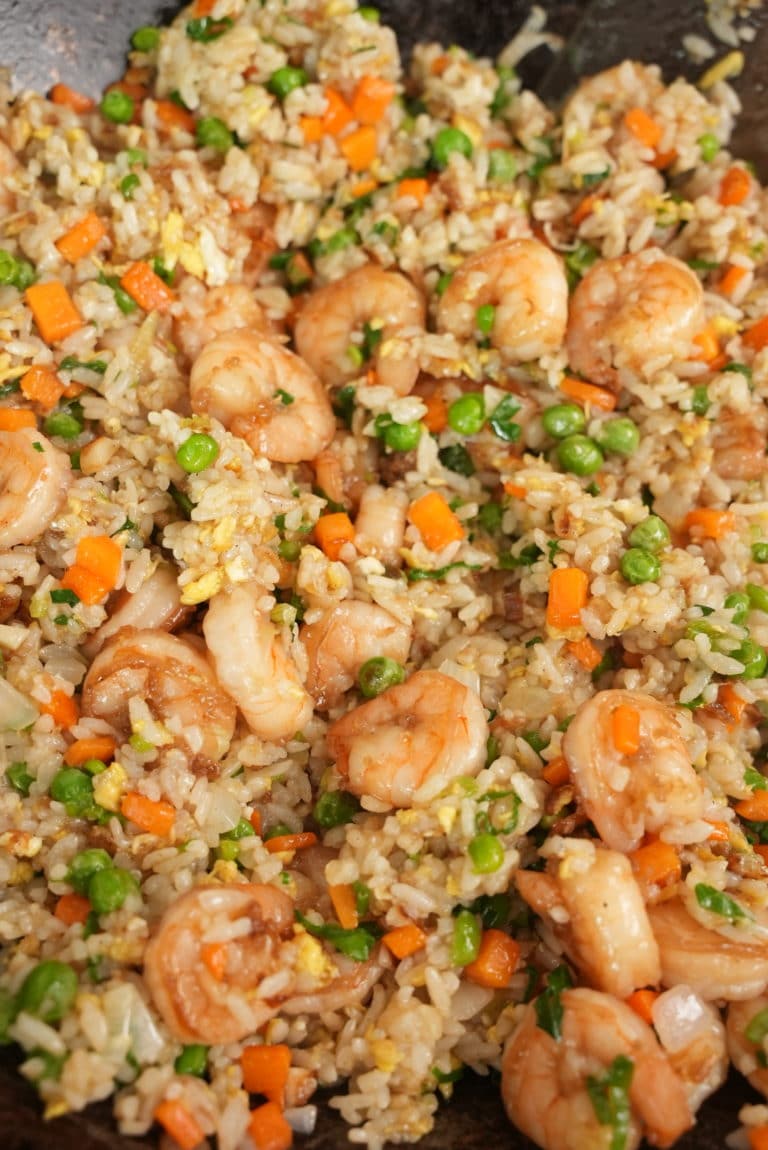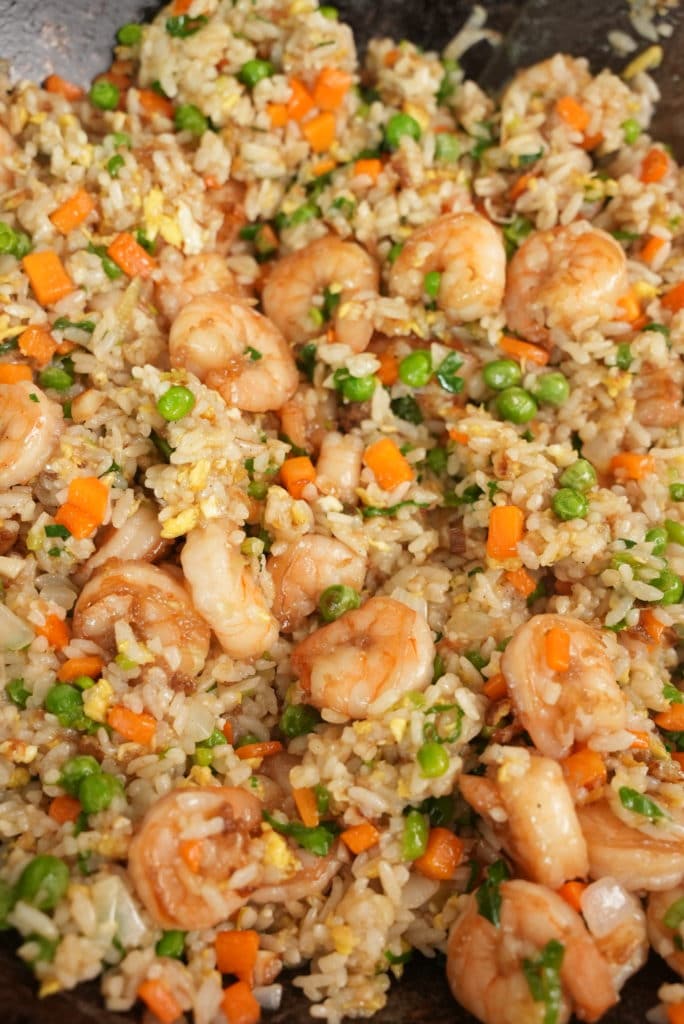 Key Recipe Tips for Shrimp Fried Rice
RECIPE TIPS
MARINATE YOUR SHRIMP!
If you can spare the extra 10 minutes, I highly recommend you marinate your shrimp. This extra step will take your fried rice to the next level! It gives the shrimp a delicious flavor and texture that mimics the quality of restaurant fried rice! The baking soda is a key ingredient that changes the pH level of the shrimp, making them crispier and more plump. Do not skip this step!
CUT YOUR VEGETABLES!
I always recommend cutting your vegetables into similar sized pieces so they cook evenly – this little step makes a huge difference! In this recipe, I cut the carrots into small cubes so they would cook evenly with the peas!
CRUMBLE YOUR OLD RICE
I like to crumble my rice (I've found that dried out rice gets clumpy) – this helps each rice grain get cooked and coated in all of the delicious flavors!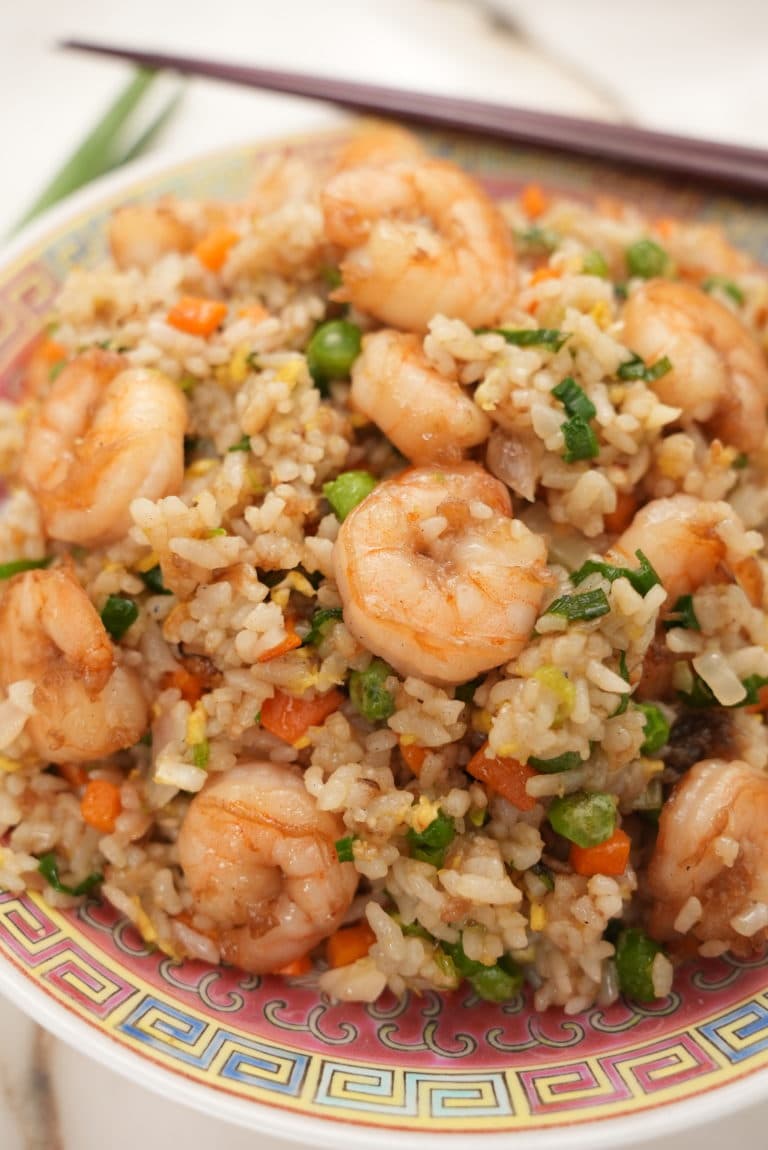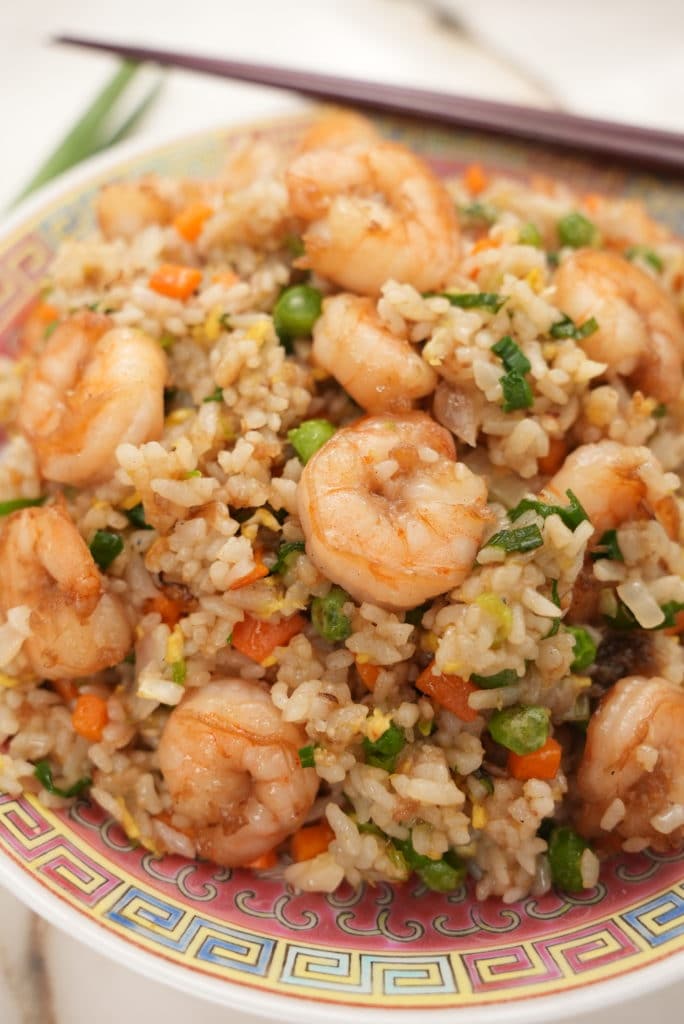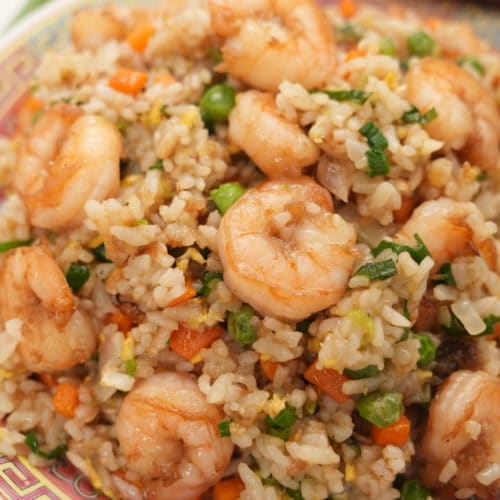 Shrimp Fried Rice
My ultimate shrimp fried rice! This is such a quick and easy recipe that makes a large amount of food and is always a crowd pleaser. I hope you enjoy it!
Ingredients
Shrimp Marinade
1

lb

shrimp

U50-60

1/4

tsp

white pepper

1/2

tsp

kosher salt

2

tbsp

light soy sauce

1/4

tsp

baking soda

1/2

tbsp

neutral oil

1/2

tbsp

cornstarch
Other Ingredients
2

cups

day old white rice

uncooked rice measurement

1/2

cup

white onion

chopped

4

cloves

garlic

chopped

1/2

cup

carrot

chopped

1/2

cup

peas

frozen or fresh

4

scallions

chopped, greens and whites separated

2

large eggs

1

tbsp

light soy sauce

1/2

tsp

white pepper

1/2

tsp

sugar

1

tsp

sesame oil

1/4

tsp

msg
Instructions
In a bowl, marinate the shrimp with salt, white pepper, soy sauce, baking soda, neutral oil and cornstarch for 10 minutes.

Chop your vegetables and beat eggs and set aside along with your rice. Prepare soy sauce, sesame oil, white pepper, salt, and msg next to your pan for easy access.

Over high heat, add 4 tbsp of oil until shimmering and cook your shrimp for 2-3 minutes until just cooked through. Remove and set aside.

In the remaining oil, fry garlic, onion, and scallion whites for 1 minute, followed by your carrots and peas for another 1-2 minutes.

Push the vegetables to the side, add additional oil if needed, and fry your eggs until 75% cooked through. Fold the eggs into the vegetables.

Immediately add your day-old rice, soy sauce, sesame oil, white pepper, sugar, msg, and salt to taste. Fry over high heat for 3-4 minutes or until everything is well incorporated and the rice is relatively dry.

Add back the shrimp and scallion greens and cook for another minute. Finish with sesame oil and enjoy!