Chicken Fried Rice
---
February 28, 2022
---
Chicken Fried Rice is a takeout classic that never disappoints – and you're going to LOVE how easy it is to make at home. I have a couple key tips to make a restaurant quality fried rice, while still keeping it quick, delicious and easily adjustable to your preferences!
Watch the Chicken Fried Rice Recipe Video Below!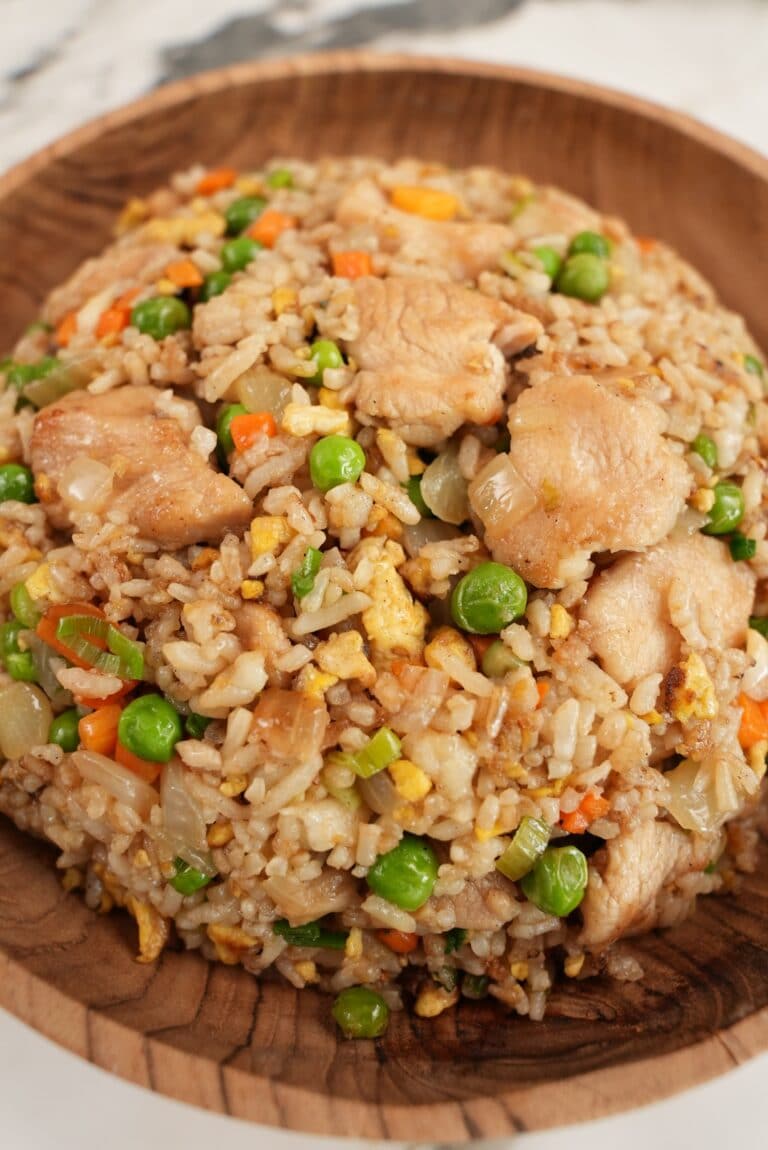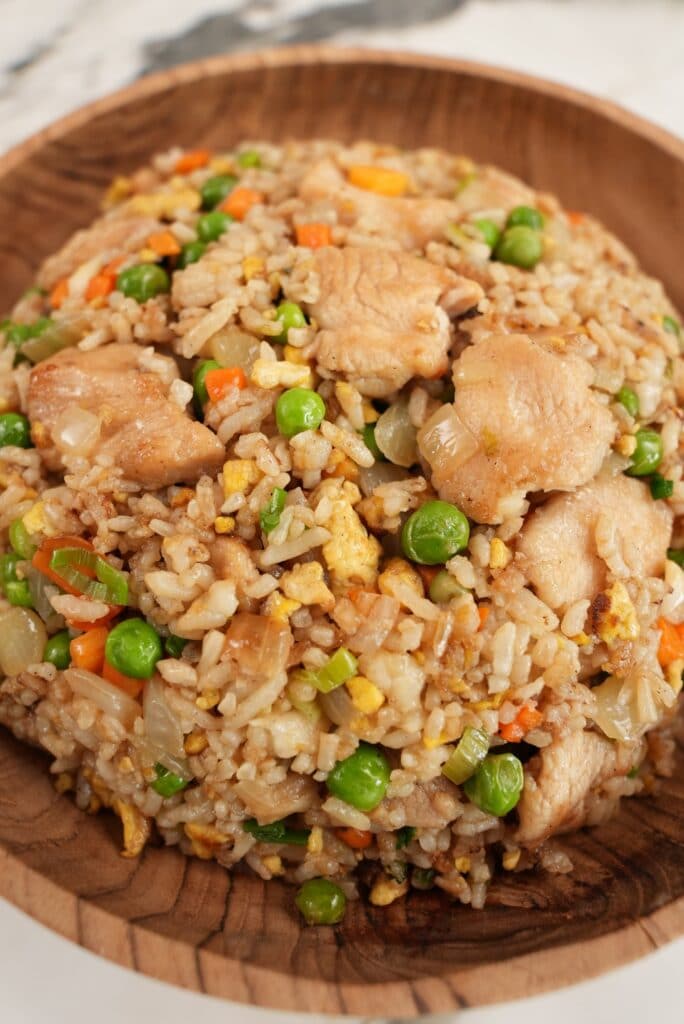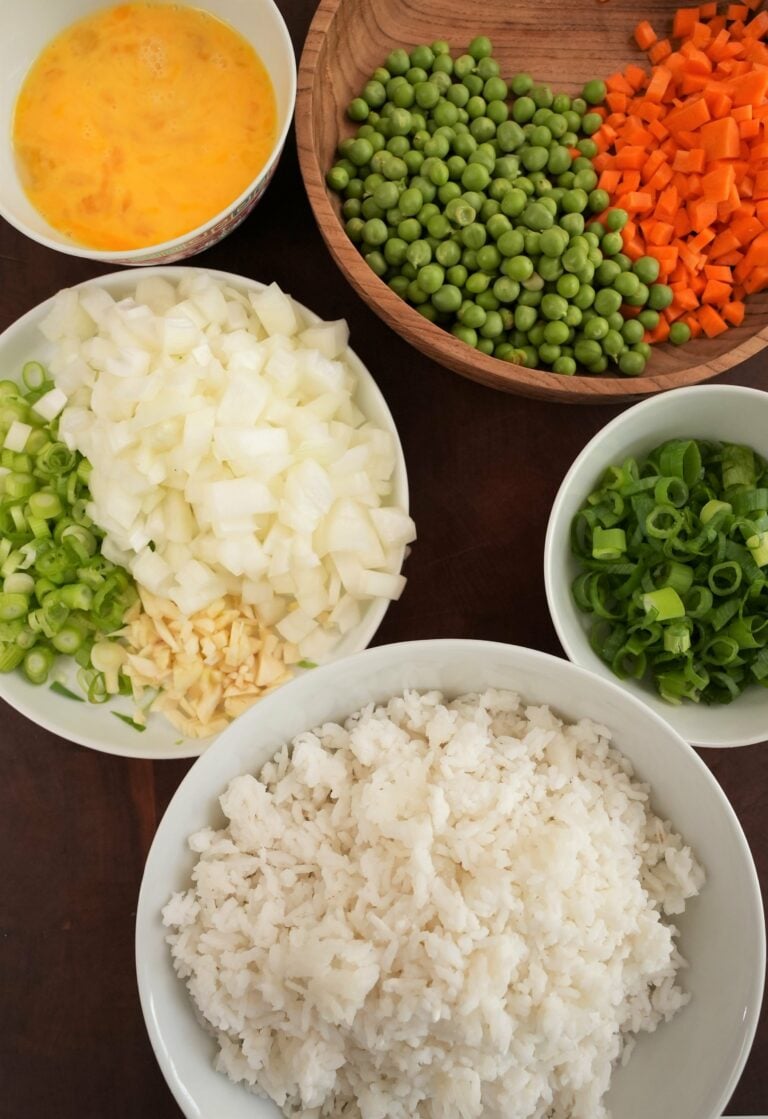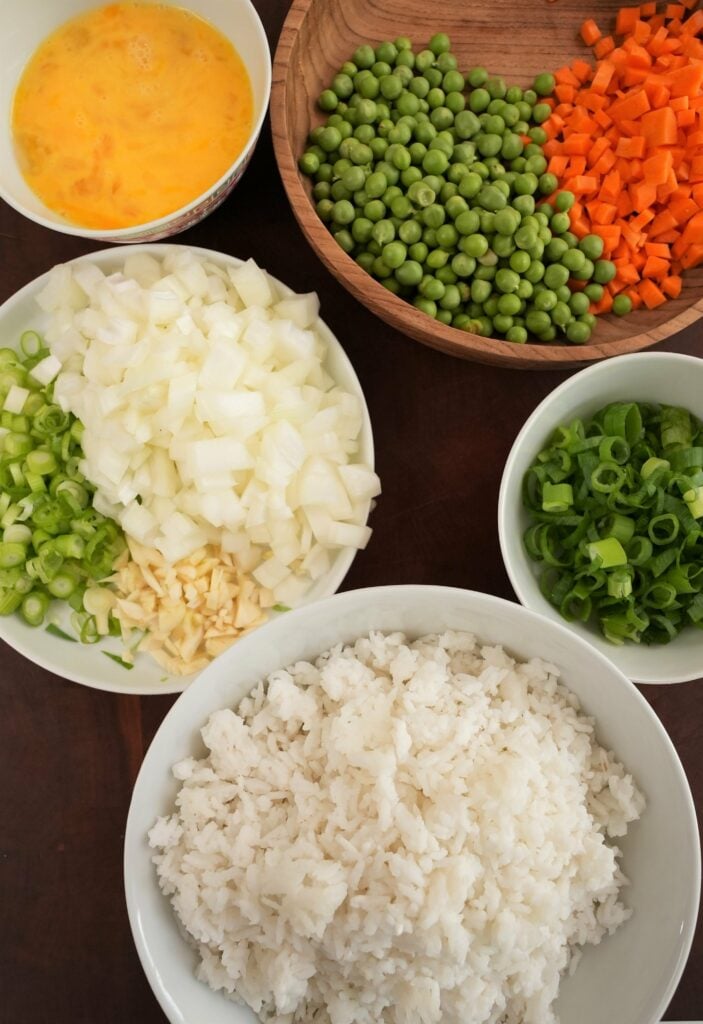 INGREDIENTS TIPS
RICE
Do not use freshly steamed rice! The rice should be at least one day old to avoid having too much moisture; too much moisture in the rice will make your fried rice soggy and mushy.
WHAT VEGGIES CAN I USE?
The beauty of this dish is that you can use any vegetable you like! I mix it up based on what is in my refrigerator and what I am feeling like. Here are some vegetables I've used in the past:
* Mushrooms
* Broccoli
* Asparagus
* Corn
SHAOXING WINE
If you cannot or do not want to use wine, you can sub with sherry, mirin, or chicken stock!
MSG
This is always optional 🙂
NEUTRAL OIL
My favorite neutral oil is avocado oil, but you can also use canola or vegetable oil! I don't use olive oil when cooking Chinese food for two reasons: 1. It has a low burning point and 2. The flavor profile does not go.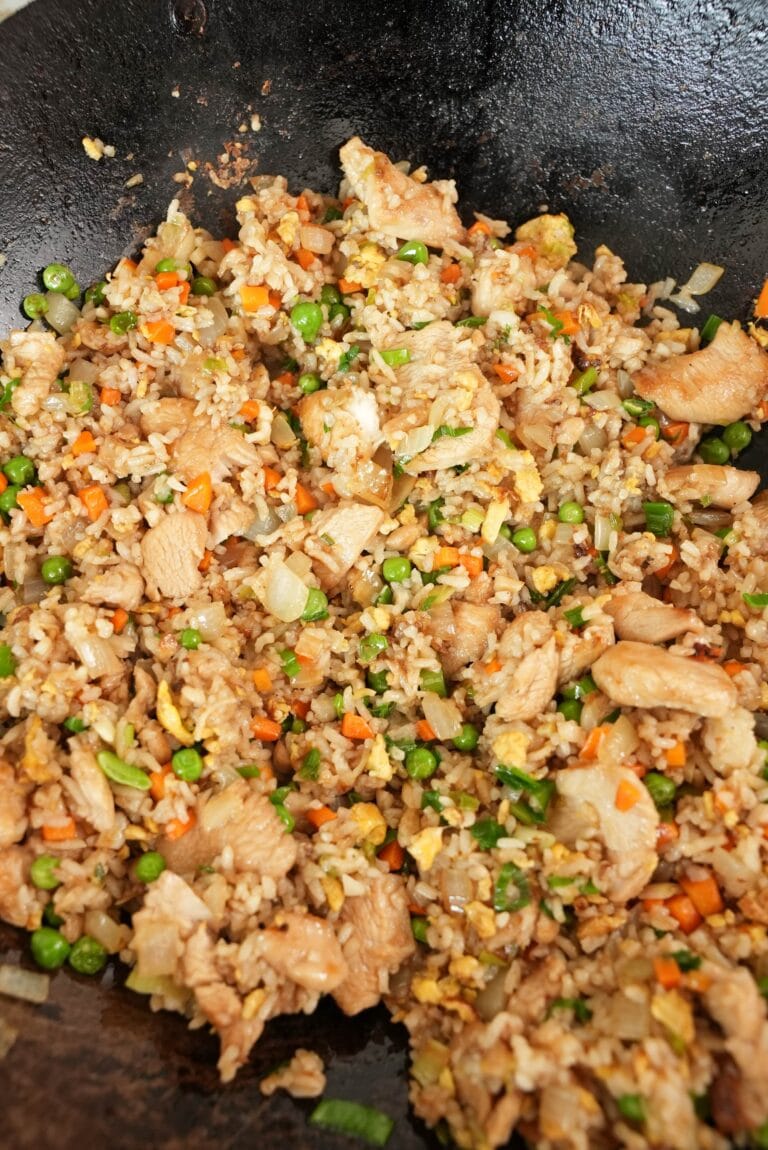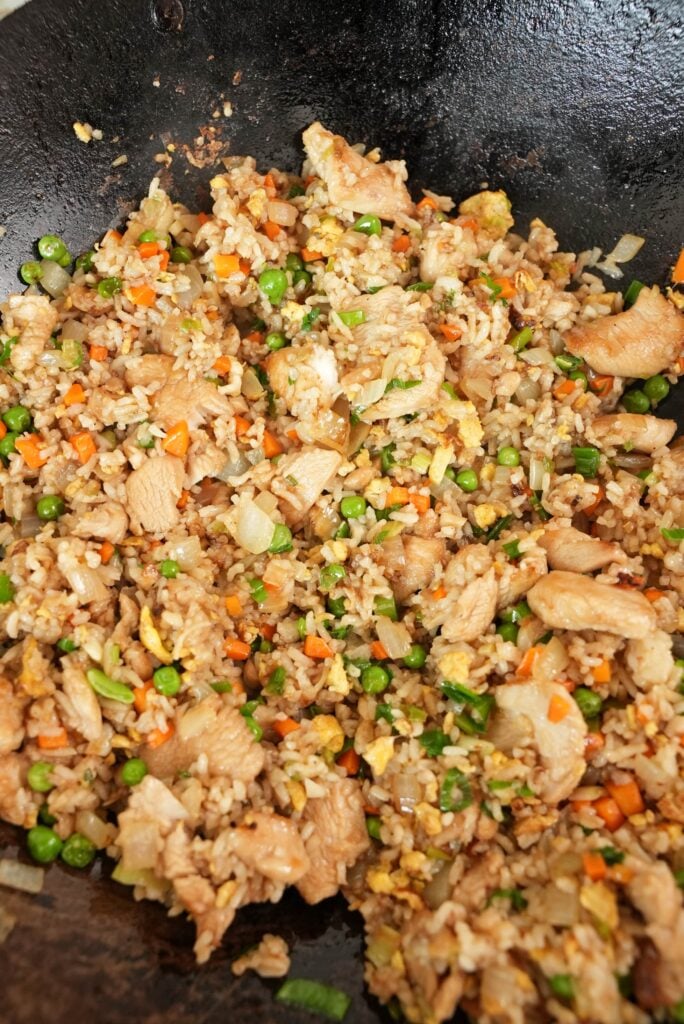 RECIPE TIPS
MARINATE YOUR CHICKEN!
If you can spare the extra 15-20 minutes, I highly recommend you marinate your chicken. This extra step will take your fried rice to the next level! It gives the chicken a delicious flavor and texture that mimics the quality of restaurant fried rice!
CUT YOUR VEGETABLES!
I always recommend cutting your vegetables into similar sized pieces so they cook evenly – this little step makes a difference!
CRUMBLE YOUR OLD RICE
I like to crumble my rice (I've found that dried out rice gets clumpy) – this helps each rice grain get cooked and coated in all of the delicious flavors!
Chicken Fried Rice
Ingredients
Chicken
1/2

lb

chicken breast

cubed

1

tbsp

soy sauce

1

tbsp

Shaoxing wine

1/2

tsp

white pepper

1/2

tbsp

sesame oil

1/2

tsp

salt

1

tbsp

cornstarch
Rice & Vegetables
2

cups

white rice

at least one day old

1

onion

small, chopped

4

cloves

garlic

chopped

2

eggs

2

carrots

medium, chopped

1/2

cup

peas

4

scallions

chopped, with greens & white separated

2

tbsp

soy sauce

1/2

tsp

white pepper

1/2

tsp

sugar

1

tbsp

sesame oil

1/4

tsp

msg

optional

salt

to taste

neutral oil

avocado, canola, or vegetable
Instructions
Slice chicken breast into thin 1/2" pieces and place in a bowl. Marinate with soy sauce, shaoxing wine, white pepper, sesame oil, salt and cornstarch for 15-20 minutes.

Chop your vegetables and beat eggs and set aside. Prepare soy sauce, sesame oil, white pepper, salt, and msg next to your pan for easy access.

Over high heat, add 2 tbsp of oil until shimmering and cook your chicken breast for 2-3 minutes until just cooked through. Remove and set aside.

Add more oil if needed, then fry garlic, onion, and scallion whites for 1 minute, followed by your carrots and peas for another 1-2 minutes.

Push the vegetables to the side, then add 1/2 tbsp of oil and fry your eggs until 80% cooked through. Fold the eggs into the vegetables.

Immediately add your day-old rice, soy sauce, sesame oil, white pepper, sugar, msg, and salt to taste. Fry over high heat for 3-4 minutes or until everything is well incorporated and the rice is relatively dry.

Add back the chicken and scallion greens and cook for another minute. Finish with sesame oil and enjoy!