Garlic Fried Rice
---
August 5, 2022
---
Garlic Fried Rice is a wonderful side dish you can make in just a few minutes with very few ingredients. You can add protein to this dish for a main course!
On top of that, it comes together in about 20 minutes, so it's perfect for a weeknight meal!
Watch the Garlic Fried Rice Fried Rice Recipe Video Below!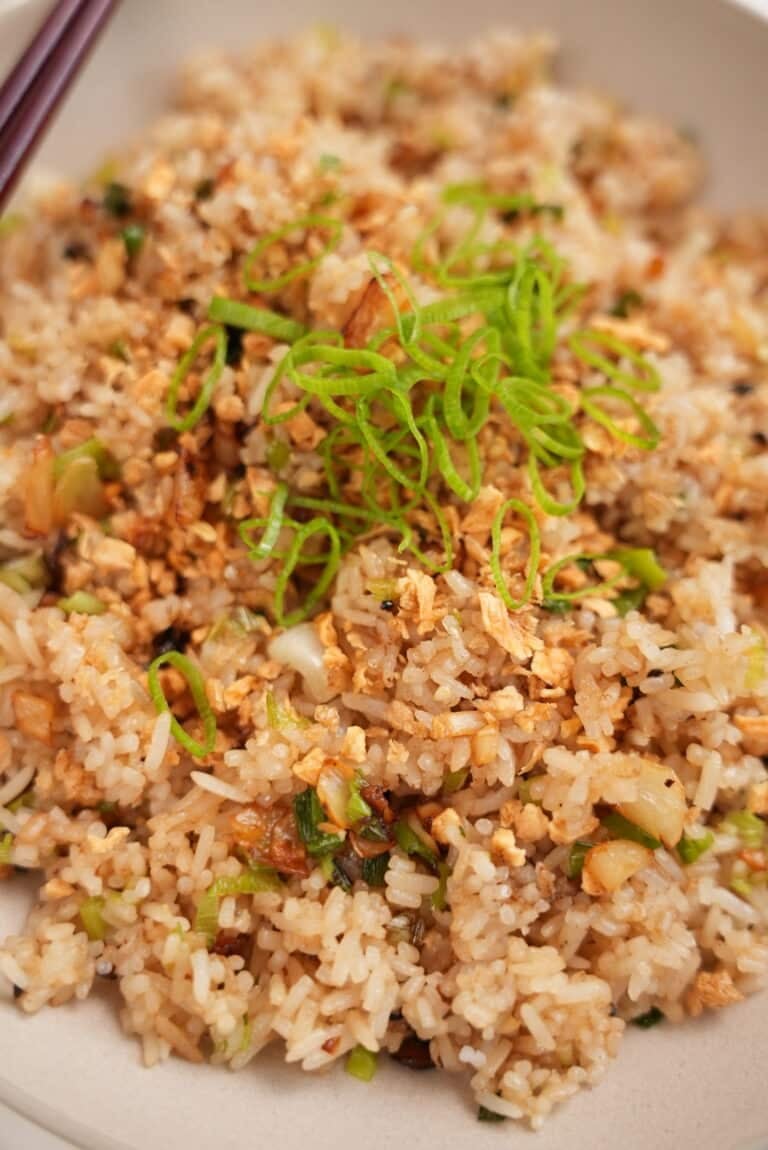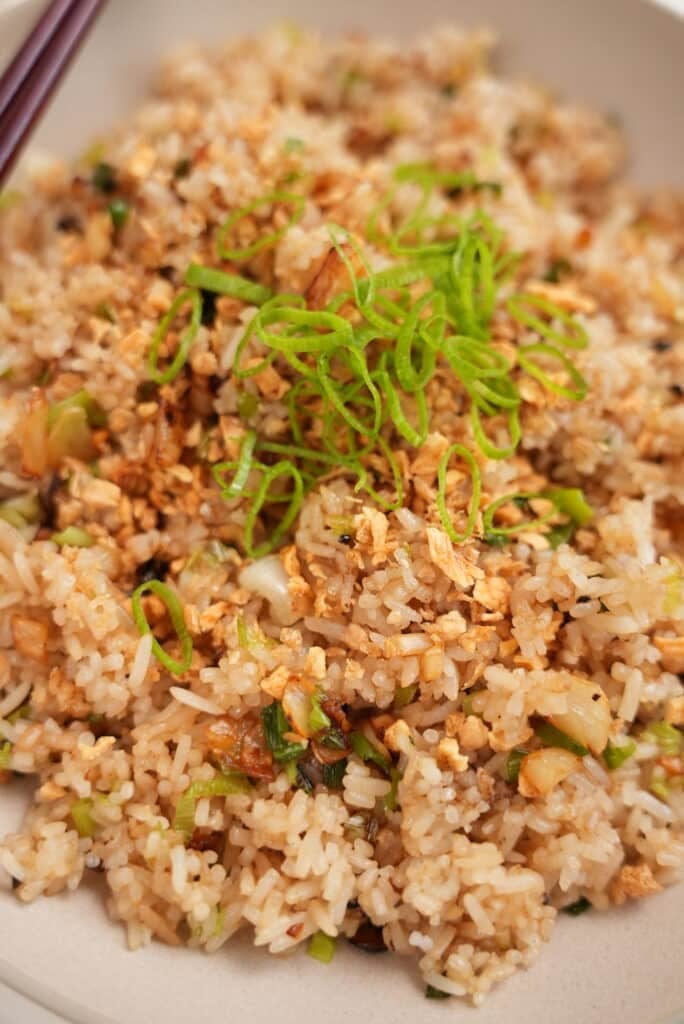 Ingredients for Garlic Fried Rice
Making Garlic Fried Rice is extremely easy and doesn't require a lot of ingredients, but it brings a ton of flavor! Here is what you'll need:
White Rice – I prefer

long grain

white rice that has been dried out uncovered in the fridge for this recipe (such as jasmine) due to the lower moisture content of the rice compared to short grain rice. On home stoves, this will result in fried rice that isn't mushy!
Fresh Garlic
Kosher Salt
White Pepper
Sugar
MSG (optional)
Light soy sauce (I opt for low sodium)
Neutral Oil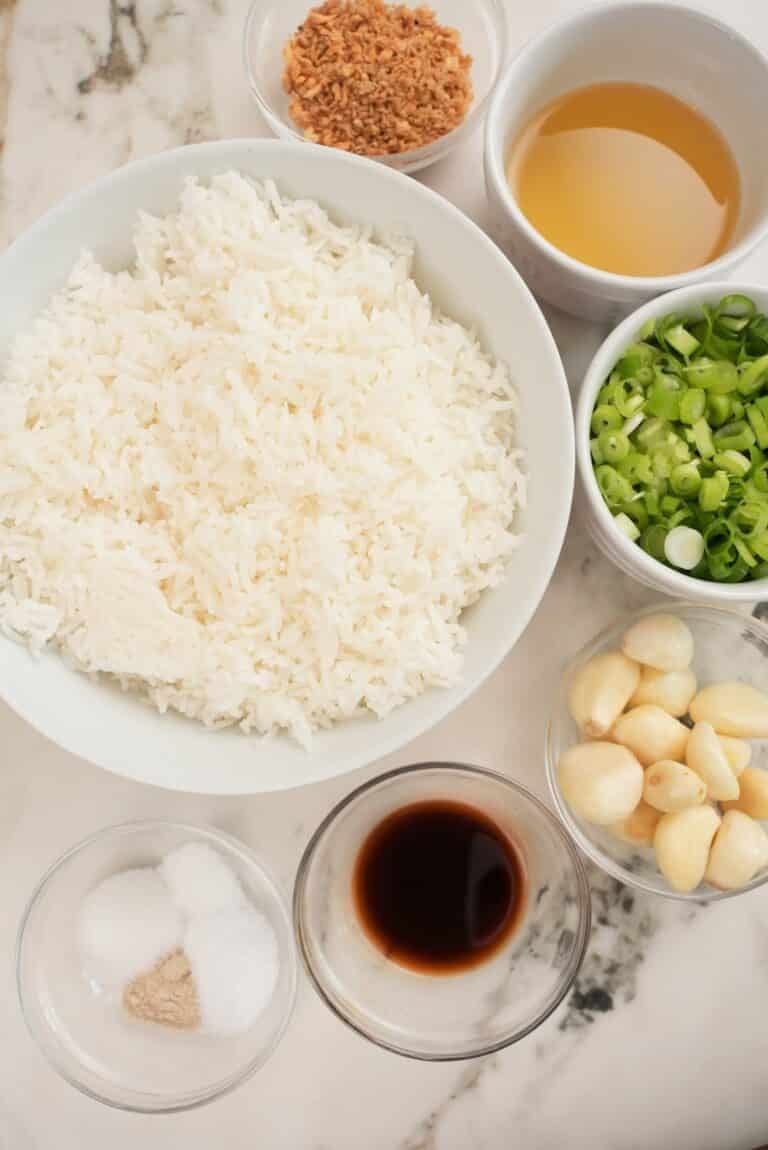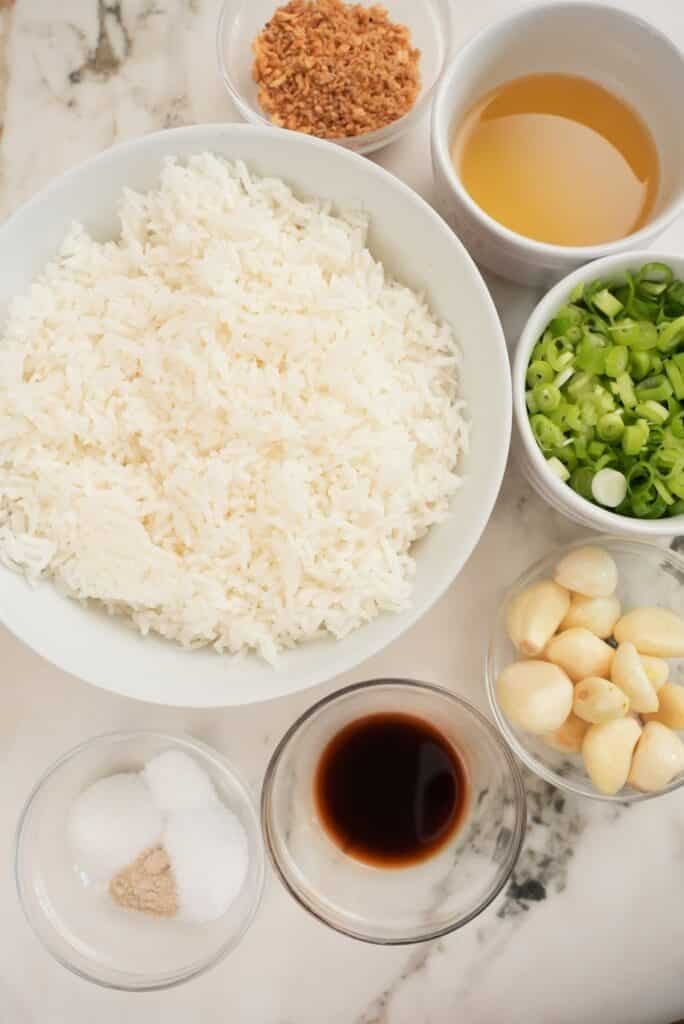 INGREDIENTS TIPS
USE DAY OLD LONG GRAIN WHITE RICE
I've made fried rice many times (some amazing, some very mushy), but drying out the rice uncovered in the fridge for a least a day will help reduce the moisture content in the rice. Using long grain rice helps even more, as long grain rice has less moisture content than short grain rice.
MSG
As always, this is optional 🙂
NEUTRAL OIL
My favorite neutral oil is avocado oil, but you can also use canola or vegetable oil! I don't use olive oil when cooking Chinese food for two reasons: 1. It has a low burning point and 2. I find that the flavor profile does not usually go with the dish.
GARLIC
Fresh garlic is ESSENTIAL! 15-20 cloves is just a guideline, but feel free to use more if you like for that extra garlic flavor!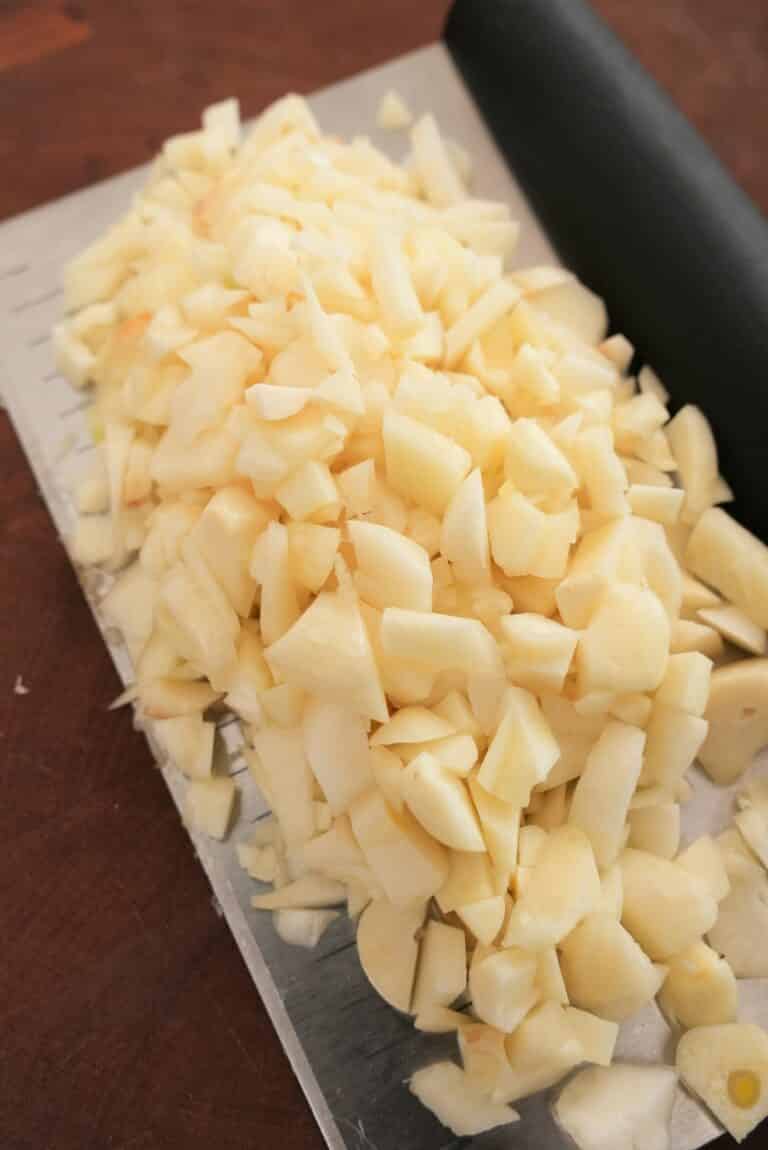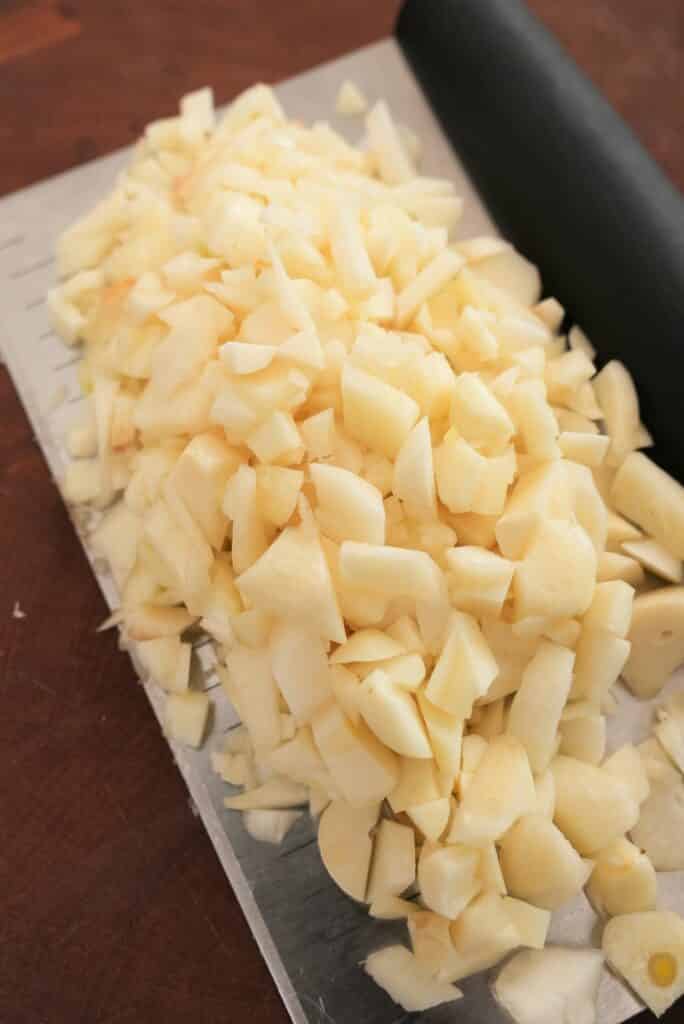 Cooking Garlic Fried Rice: Recipe Instructions
This Garlic Fried Rice is incredibly easy to make and comes together in about 20 minutes! It doesn't require a lot of ingredients and I love how simple but delicious the end result is.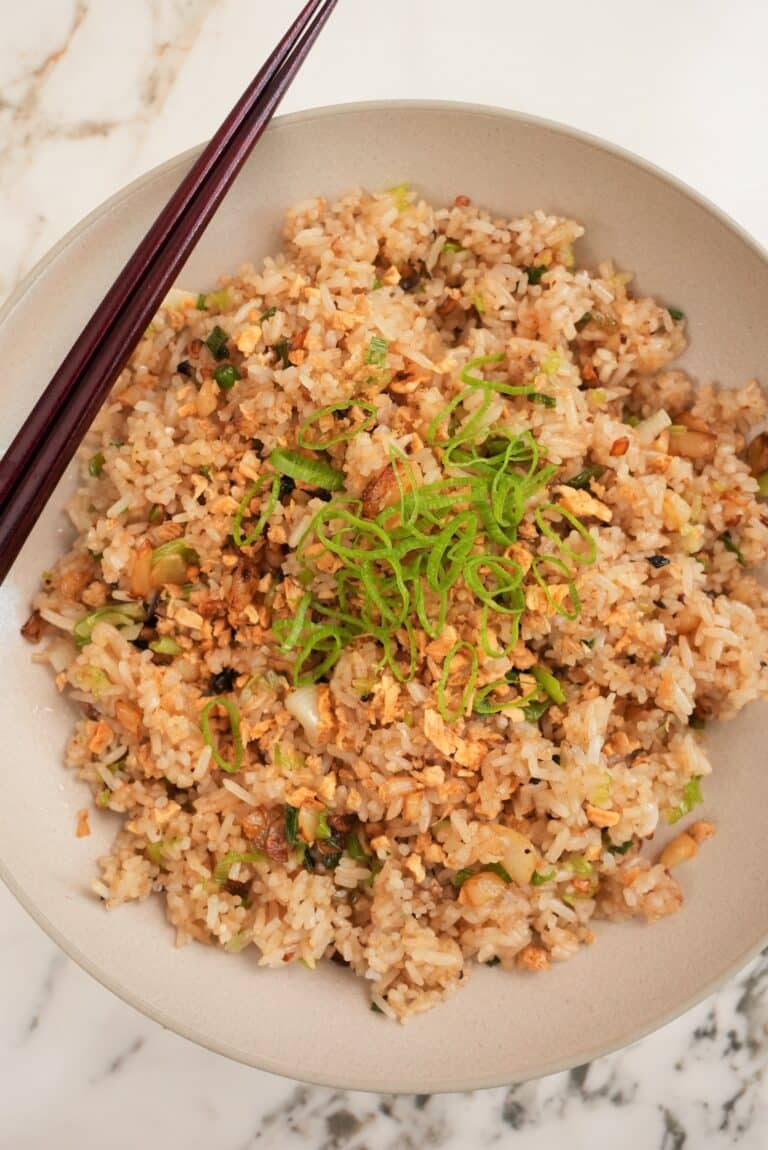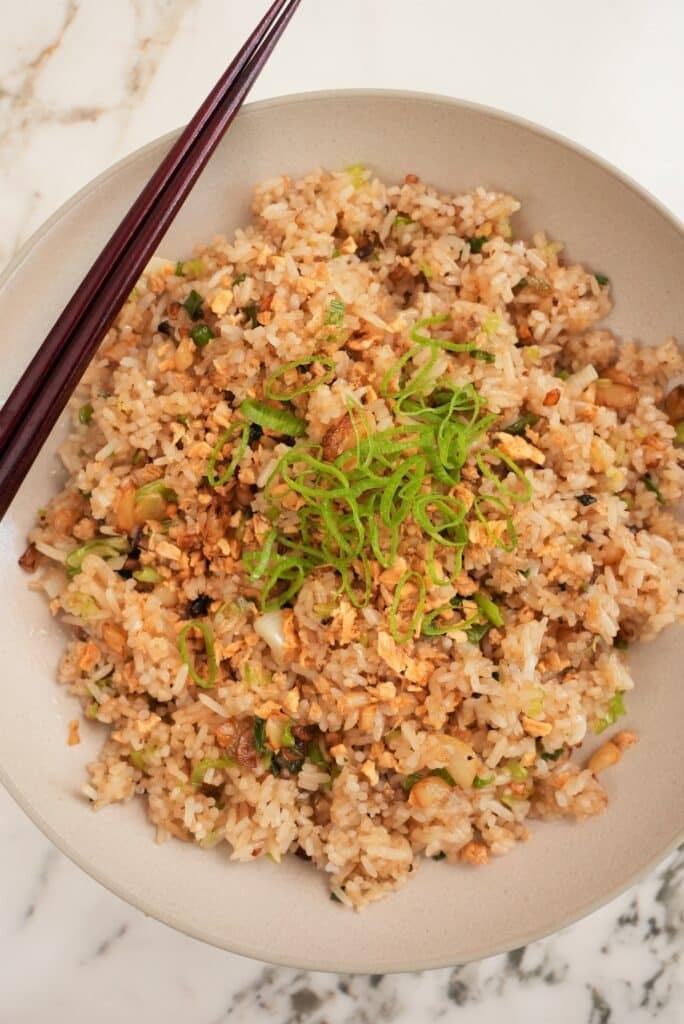 Fry the Garlic
The first step in this recipe is to chop and fry your garlic. Once your cloves are minced, heat 3 tablespoons of neutral oil in a large pan or wok over medium high heat, then fry your garlic for about 1 minute until they are golden brown and remove. Our goal is to infuse the oil with the fresh garlic flavor and reserve those crispy pieces for the final dish.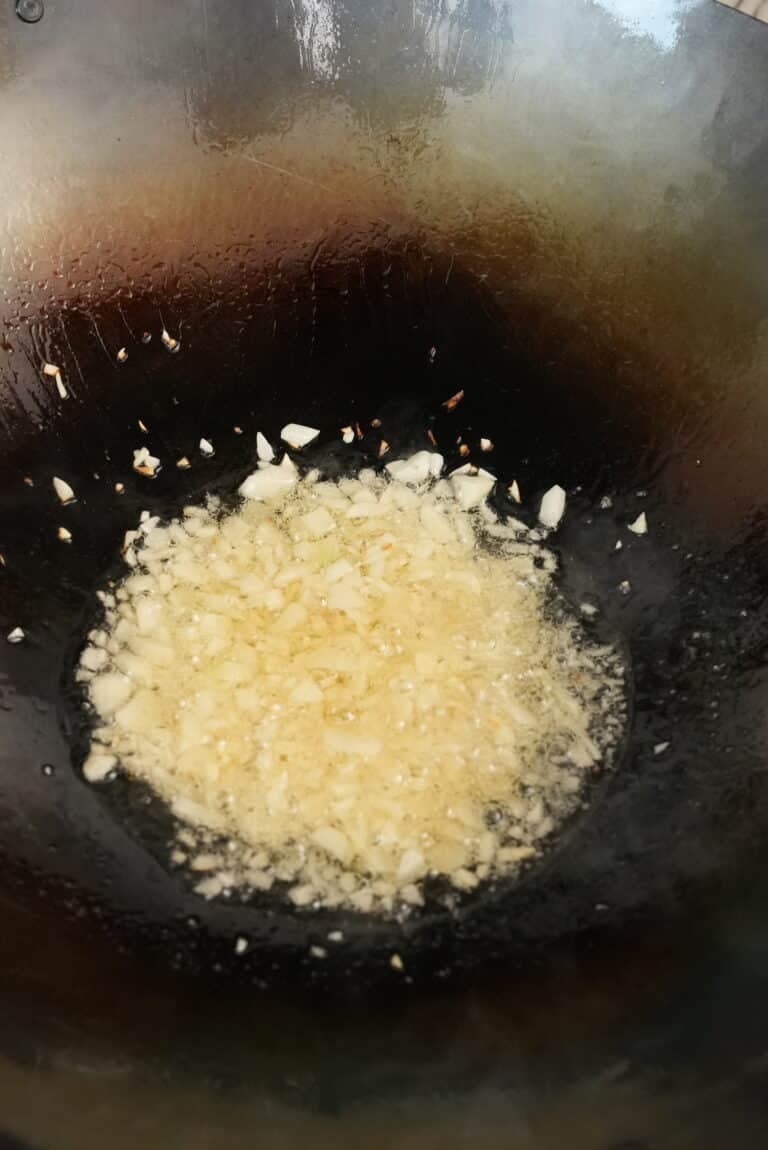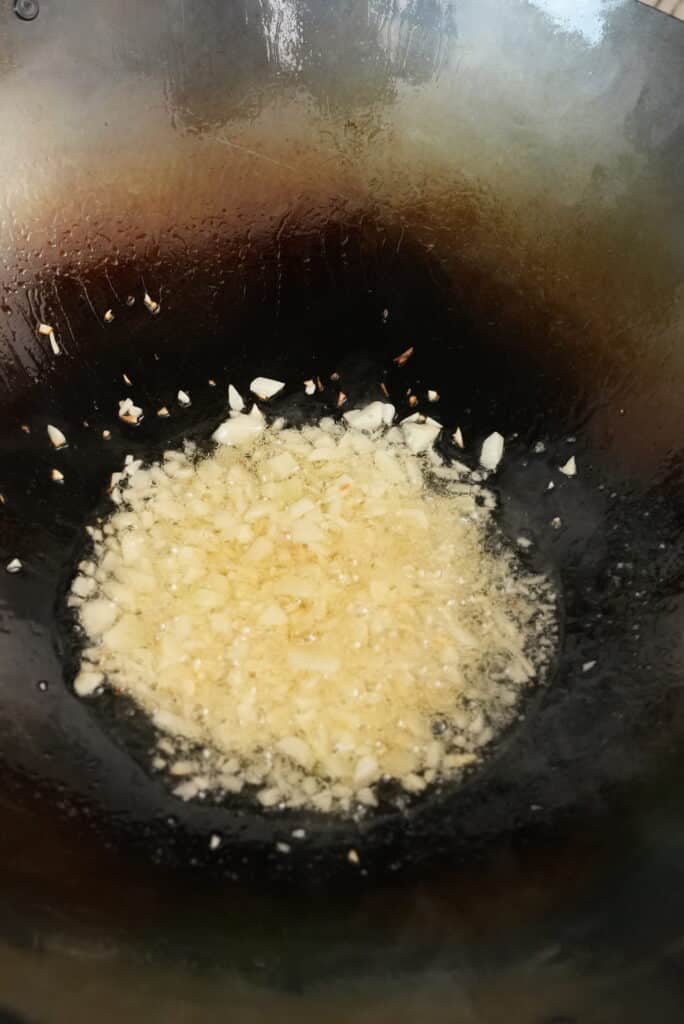 Sauté Scallions
After the garlic is removed, sauté the scallions for a few seconds in the garlic infused oil until fragrant for 15-30 seconds.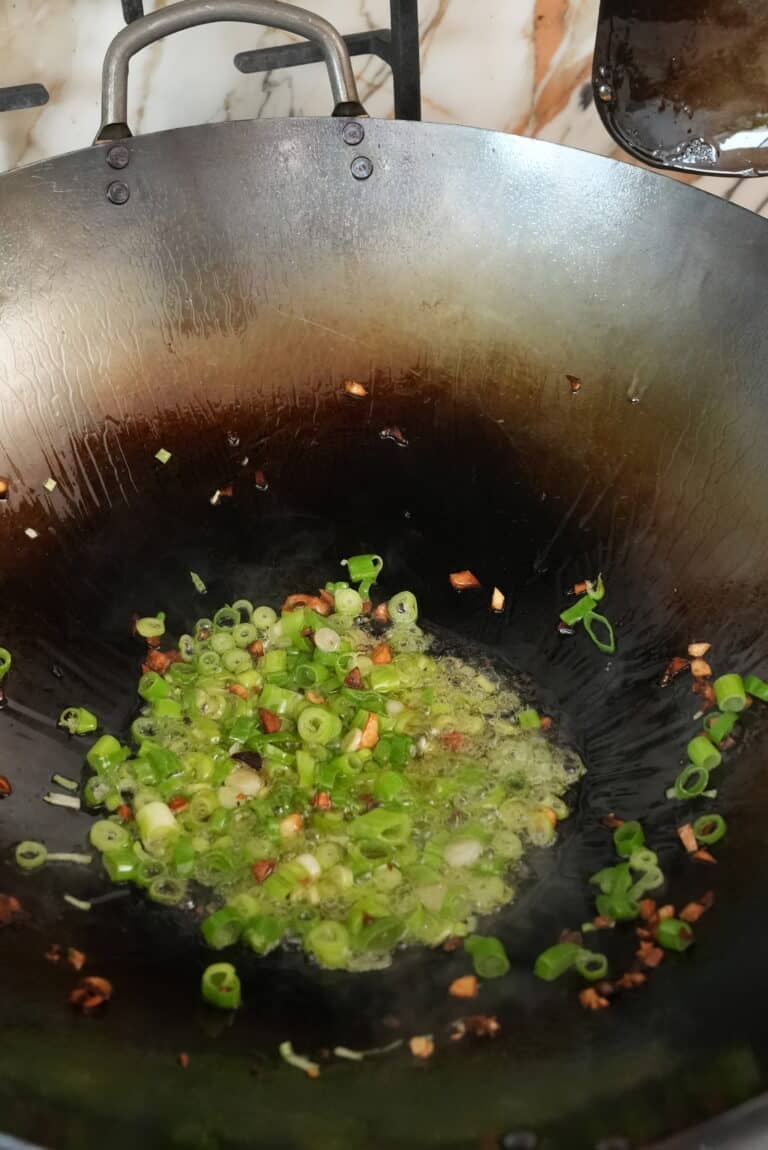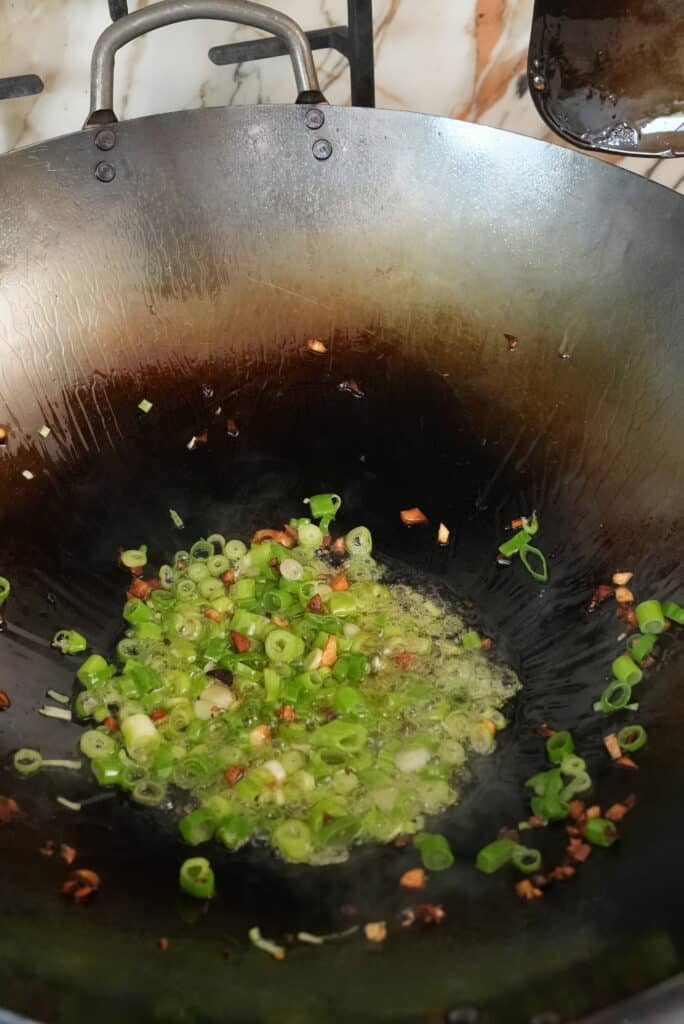 Add the White Rice
Immediately add the day old white rice and mix thoroughly until the scallion is mixed in with the rice. Continue cooking over high heat until the rice is relatively dry and you are able to see the rice grains separating in the pan. This can take anywhere from 3-4 minutes depending on the heat of your stove. Add the dry seasonings and light soy sauce and give it another good mix.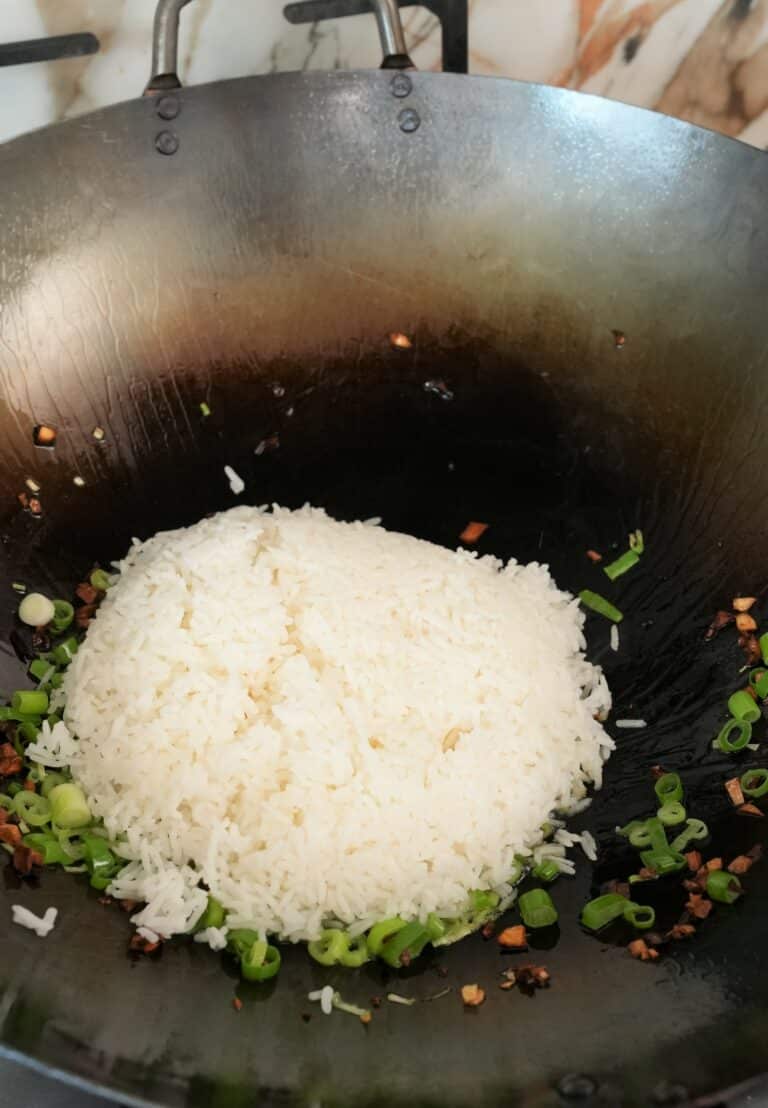 Add back Fried Garlic
Once the fried rice is nicely seasoned and dry (always taste and season according to your preference), add back your fried garlic. Give it another good mix to incorporate and your Garlic Fried Rice is done! The garlic aroma should be fragrant throughout the rice thanks to that garlic infused oil and smell so delicious!
I love garnishing my Garlic Fried Rice with additional fried garlic chips and freshly chopped scallions! Serve immediately with and enjoy!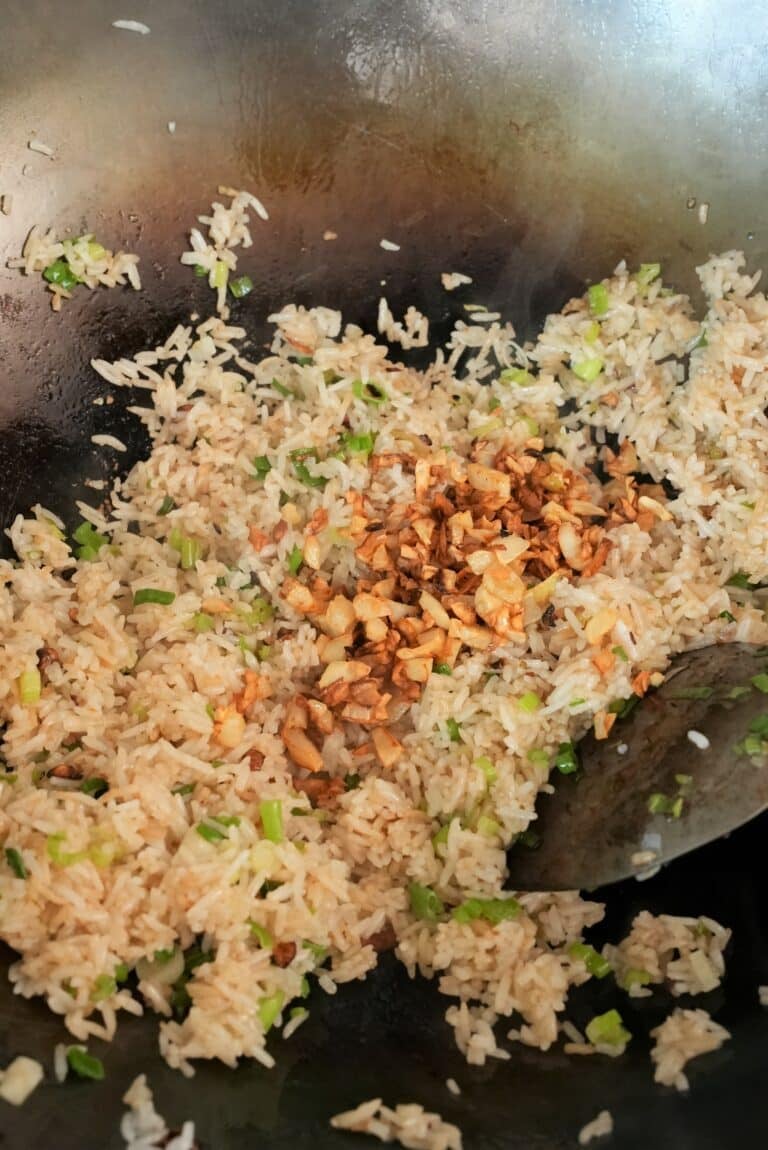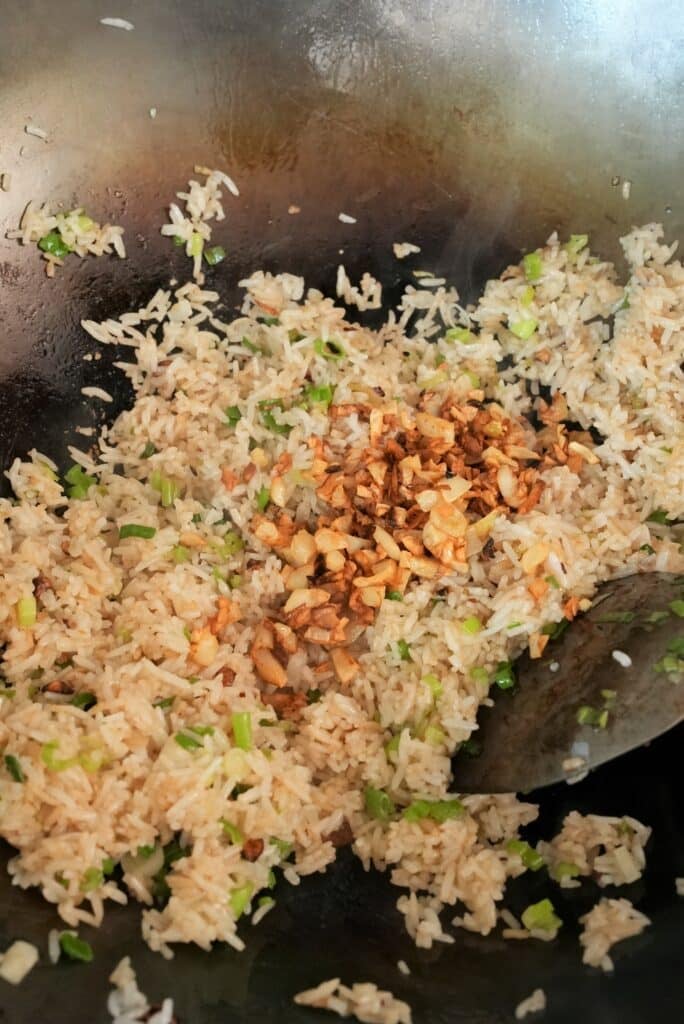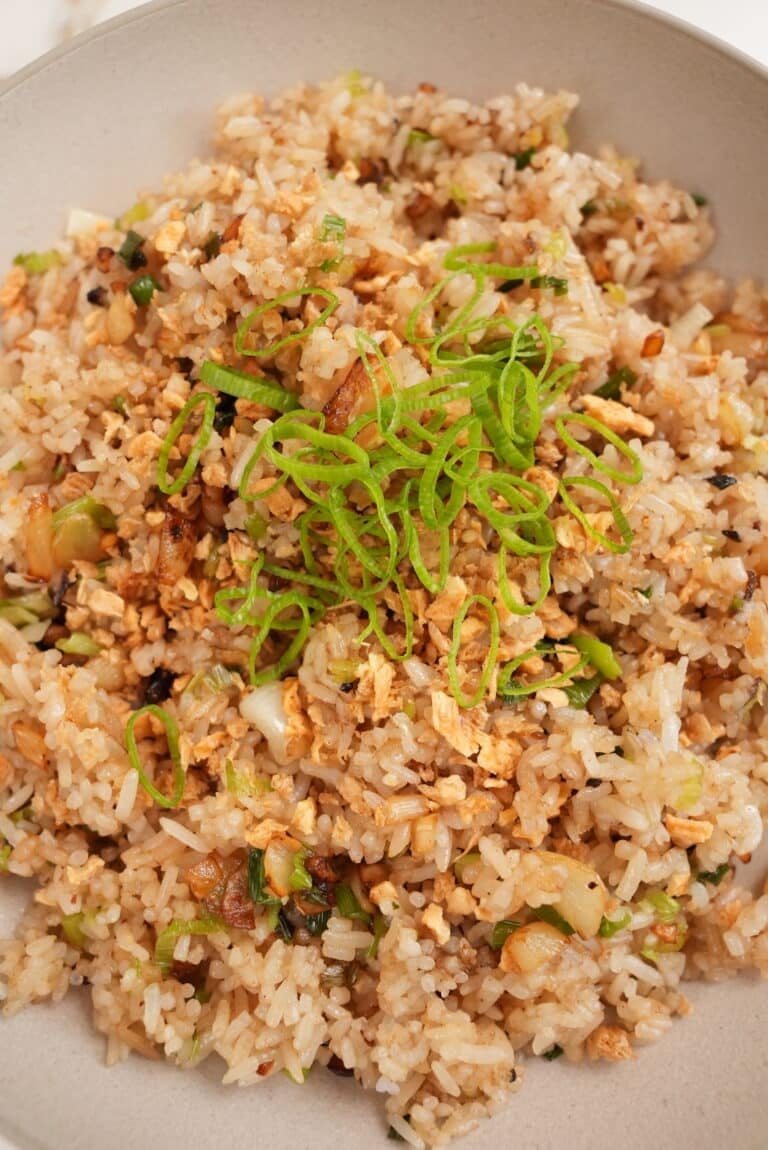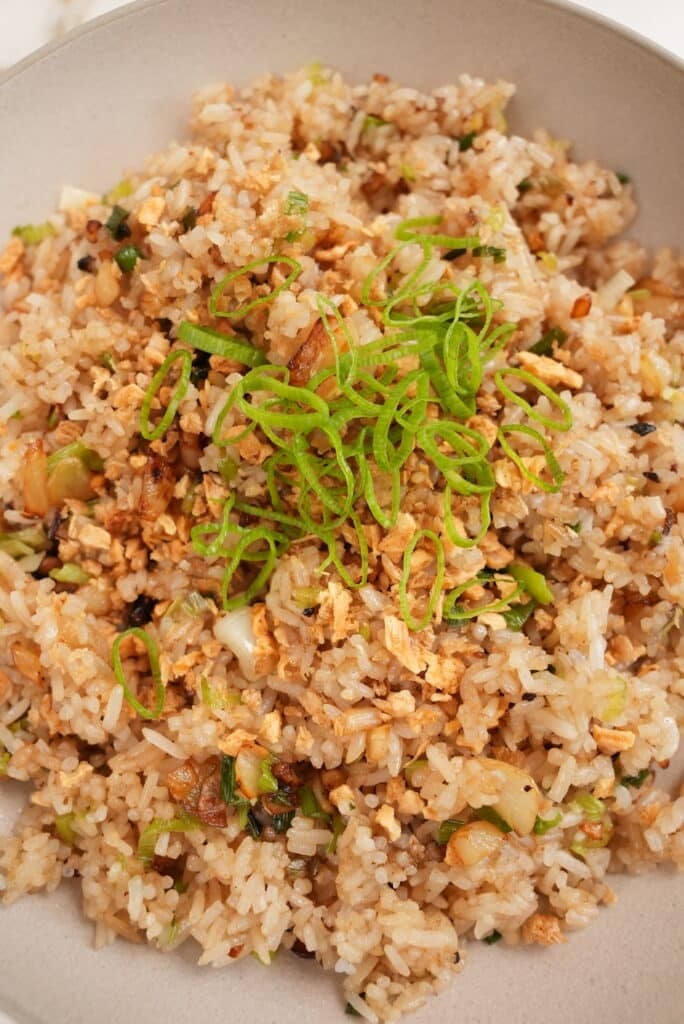 If you liked this Garlic Fried Rice recipe, check out some of the most popular Chinese Take-Out recipes on the blog!
RECIPE TIPS
SUCCESS IS IN THE PREP!
For a recipe that comes together extremely quickly, the key to pulling this recipe off successfully is having your ingredients prepped and in bowls right next to your wok or pan! Have your rice, shrimp, seasonings, and aromatics ready and easily accessible during the cooking process.
ADJUST THE PROTEIN TO YOUR LIKING!
This recipe is super customizable! You can add shrimp, chicken, or steak for a heartier main course!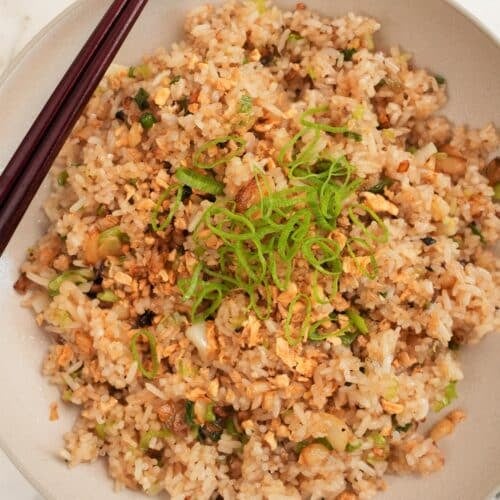 Garlic Fried Rice
This Garlic Fried Rice is SUPER fragrant with all of the fresh garlic and scallions. It's perfect as a side or with protein for a main course!
Ingredients
2

cups

long grain white rice (uncooked measurement)

dried out uncovered in fridge for at least overnight

15

cloves

garlic

chopped

1

tsp

kosher salt

to taste

1

tsp

sugar

1/2

tsp

white pepper

1/4

tsp

MSG

optional

1

tbsp

light soy sauce

2

scallions

chopped

3

tbsp

neutral oil
Instructions
In a large pan or wok, heat neutral oil over medium high heat and add chopped garlic. Cook for 1-2 minutes until the garlic has turned golden brown and remove, leaving the garlic-infused oil in the pan.

Add scallions and sauté for 15-30 seconds until fragrant.

Turn the heat to high, then add the day old long grain white rice and mix thoroughly until the grains are separated and relatively dry (about 3-4 minutes depending on the heat of your stove).

Season with kosher salt, white pepper, sugar, msg, and light soy sauce. Mix to combine.

Add back the reserved fried garlic and mix. Garnish with additional chopped scallions and fried garlic and enjoy!