Bok Choy with Garlic Sauce
---
March 30, 2022
---
Bok Choy is one of my favorite vegetables and this garlic sauce is inspired by the many Chinese banquet dinners I ate with my family! The bok choy is crisp, tender, and tastes so good with the savory sauce. It's a quick and easy side dish that is super versatile!
Watch the Bok Choy with Garlic Sauce Recipe Video Below!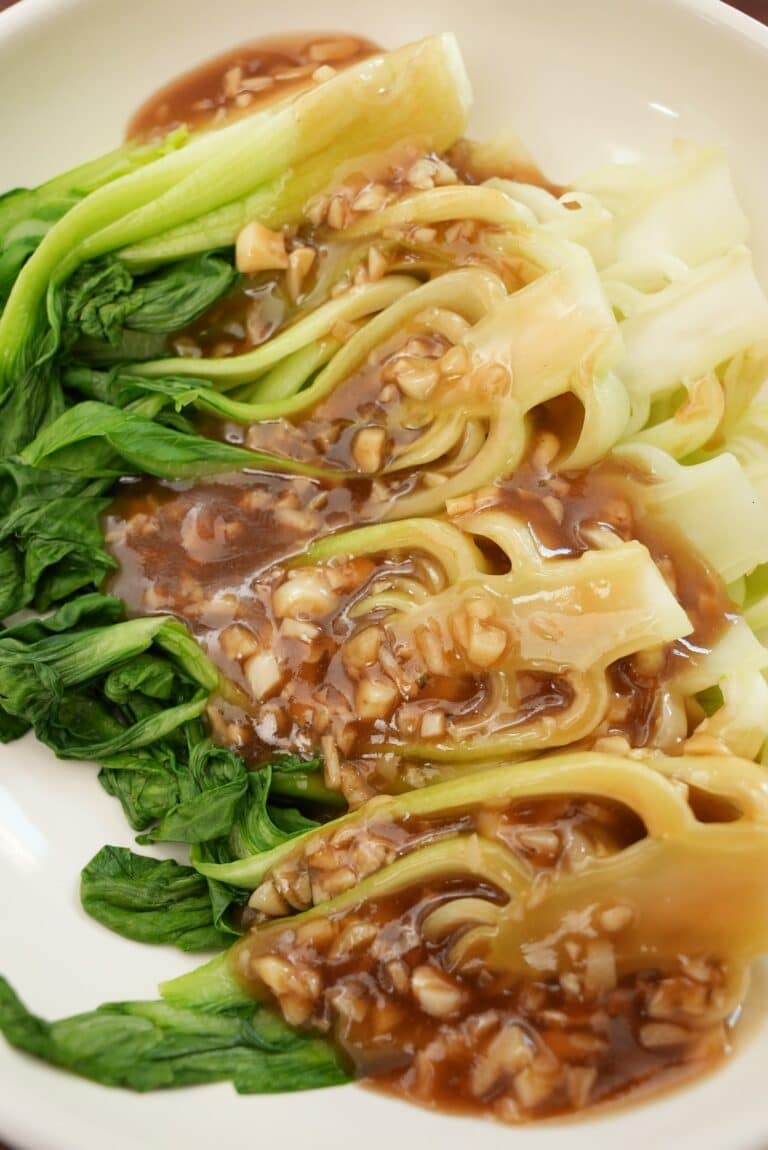 INGREDIENTS TIPS
NEUTRAL OIL
My favorite neutral oil is avocado oil, but you can also use canola or vegetable oil! I don't use olive oil when cooking Chinese food for two reasons: 1. It has a low burning point and 2. The flavor profile does not go.
SHAOXING WINE
If you cannot or do not want to use wine, you can sub with sherry, mirin, or chicken stock!
WHITE PEPPER
I get asked all the time if you can sub black pepper for white pepper – and my answer is, it depends BUT you need to watch the ratio. White pepper has a milder flavor profile than black pepper, so it's a 1-1 substitute. I would start with less black pepper and add as you go. (But really, you should have white pepper in your pantry! It's a staple in mine!)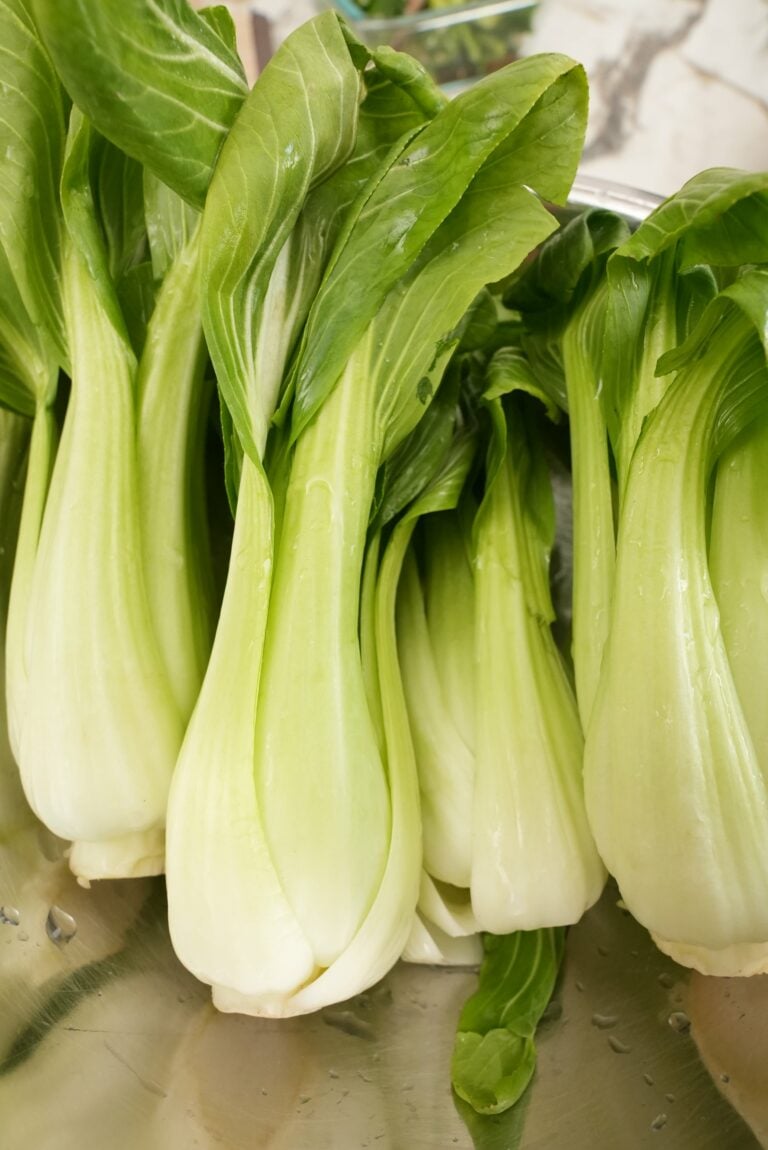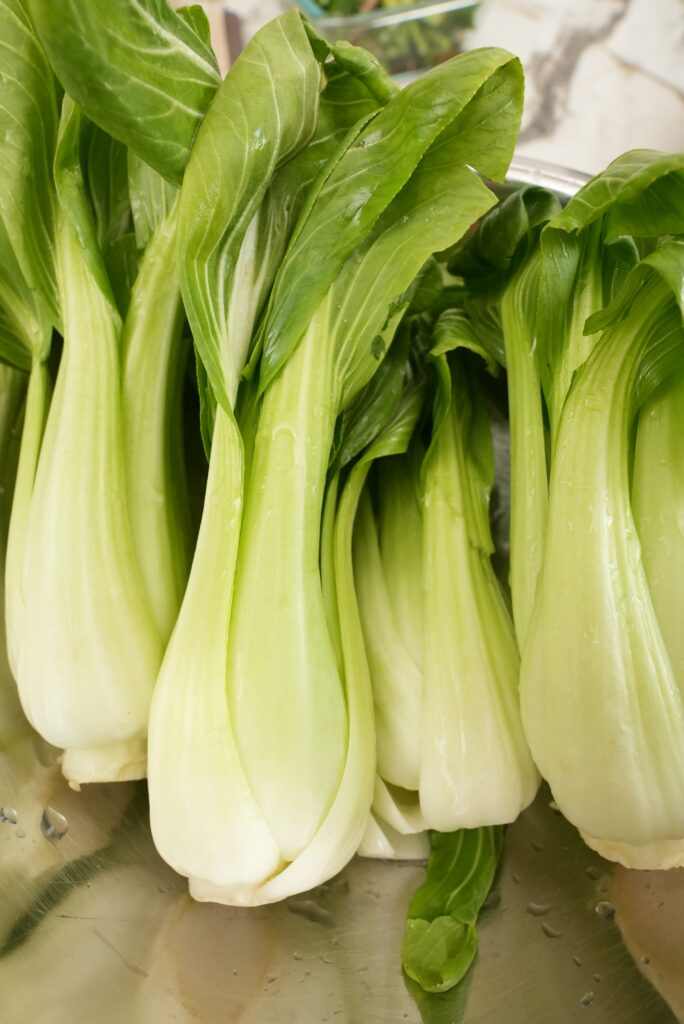 RECIPE TIPS
WASH & TRIM
Be sure to wash and trim your bok choy, especially if the larger variety. You want the pieces to be bite size and not too big.
CAREFUL NOT TO BURN YOUR GARLIC
The garlic only needs to be fried for a FEW SECONDS to get color, so be careful not to burn the garlic over too high heat.
PREMIX YOUR SAUCE
The cooking process for the sauce is FAST so it's a great idea to premix your sauce together, then add it straight into the pan! The corn starch will help thicken the sauce into that velvety texture that Chinese restaurants made so famous.
Bok Choy with Garlic Sauce
Ingredients
1.5

lb

bok choy

1/2

tbsp

salt

10

cloves

garlic

minced

1

tsp

avocado oil

2

tbsp

oyster sauce

2

tbsp

soy sauce

1

tbsp

Shaoxing wine

1

tsp

sugar

1/4

tsp

white pepper

1/2

tbsp

sesame oil

1/2

cup

chicken stock

1/2

tbsp

corn starch
Instructions
Clean, wash and trim your bok choy. If the bok choy are larger, cut in half lengthwise and blanch in salted water for 1-2 minutes until bright green.

Mix together oyster sauce, soy sauce, shaoxing wine, sugar, white pepper, sesame oil, chicken stock & corn starch.

In a pan, fry garlic for 15 seconds until fragrant; then add your sauce. Simmer over medium high heat for 2-3 minutes until thickened. Immediately spoon over bok choy & enjoy!