Creamy Mashed Potatoes
---
November 18, 2022
---
These are hands down the best Mashed Potatoes that you can make – and they're so easy! This is one of my key holiday recipes that I make EVERY YEAR – and it is always a hit! The mashed potatoes are full of flavor (with my secret ingredient that I'll touch on later) from the herbs, butter, and half and half.
There's a reason why everyone loves mashed potatoes! They're easy to eat and so comforting paired with a nice roast or turkey – perfect for the holidays or anytime! I hope you enjoy this recipe!
Watch the Mashed Potatoes Recipe Video Below!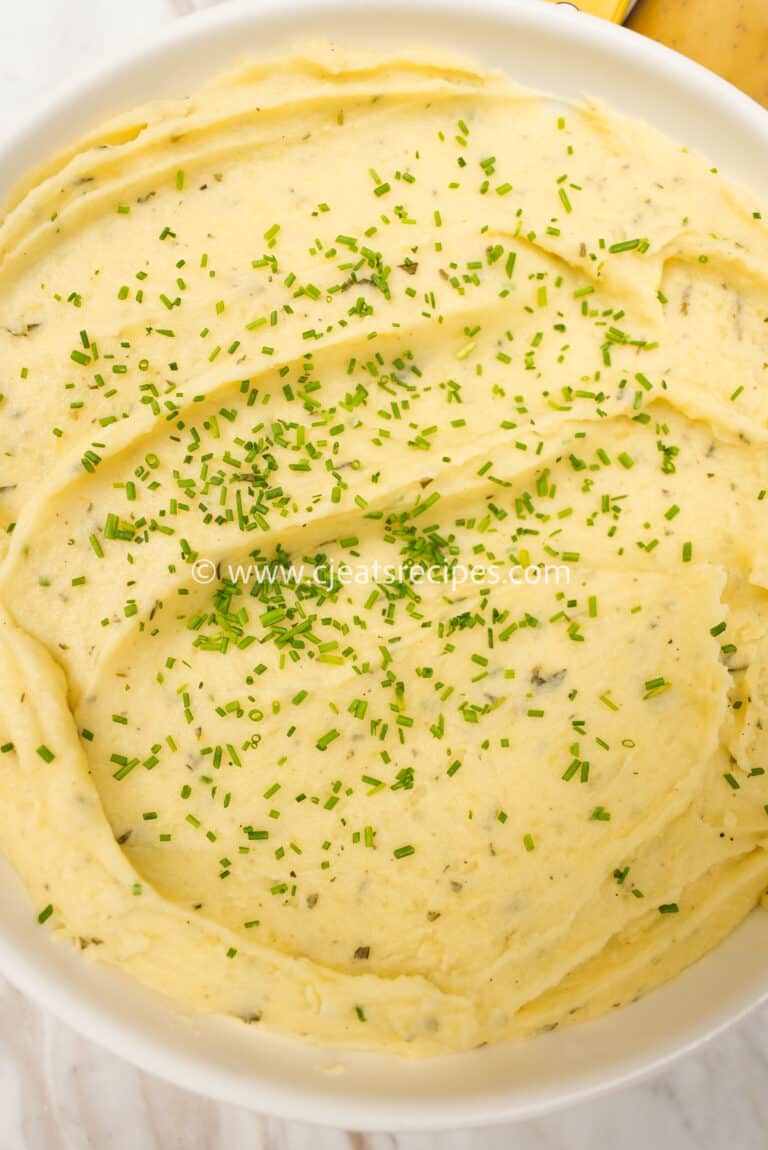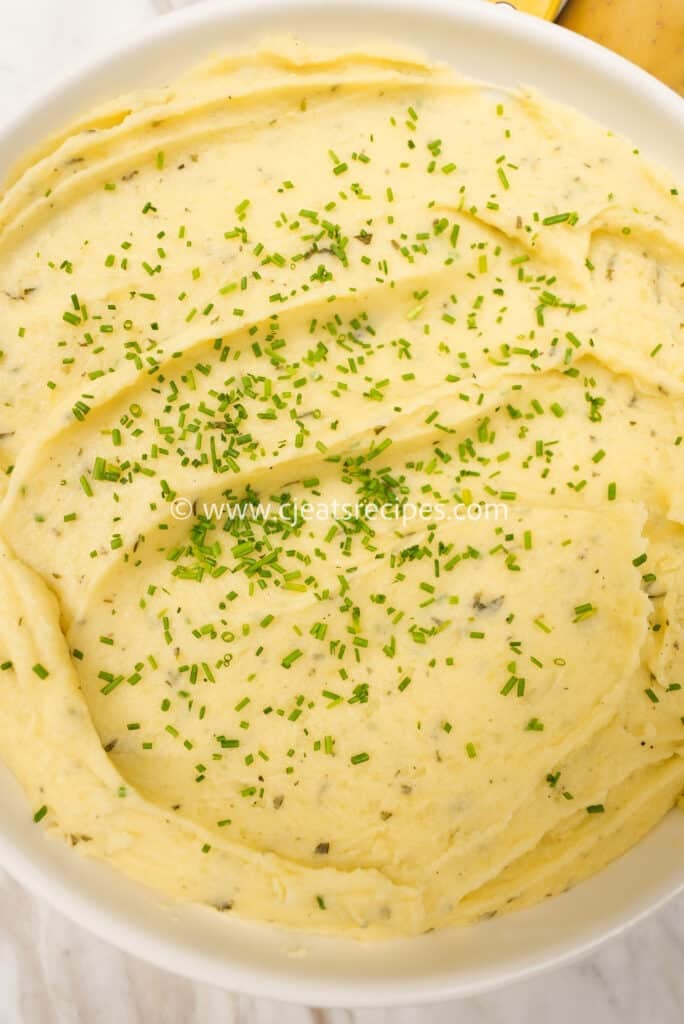 Ingredients for my Creamy Mashed Potatoes:
Yukon Gold Potatoes
Chicken Broth (I personally love Kettle & Fire – use my code CJPINS for 20% off your order!)
Unsalted Butter
Garlic
Fresh Thyme
Fresh Rosemary
Freshly Cracked Black Pepper
Kosher Salt
Half and Half (Half Cream/Half Milk)
Parmesan Cheese
Fresh Chives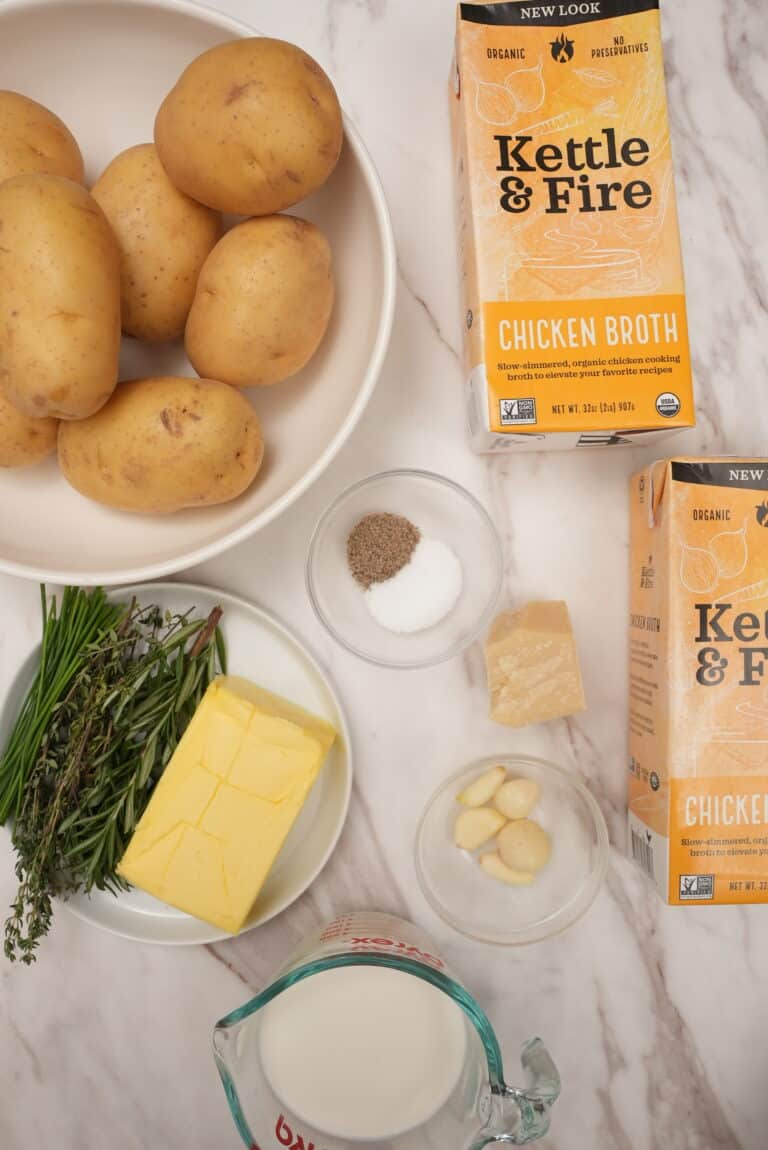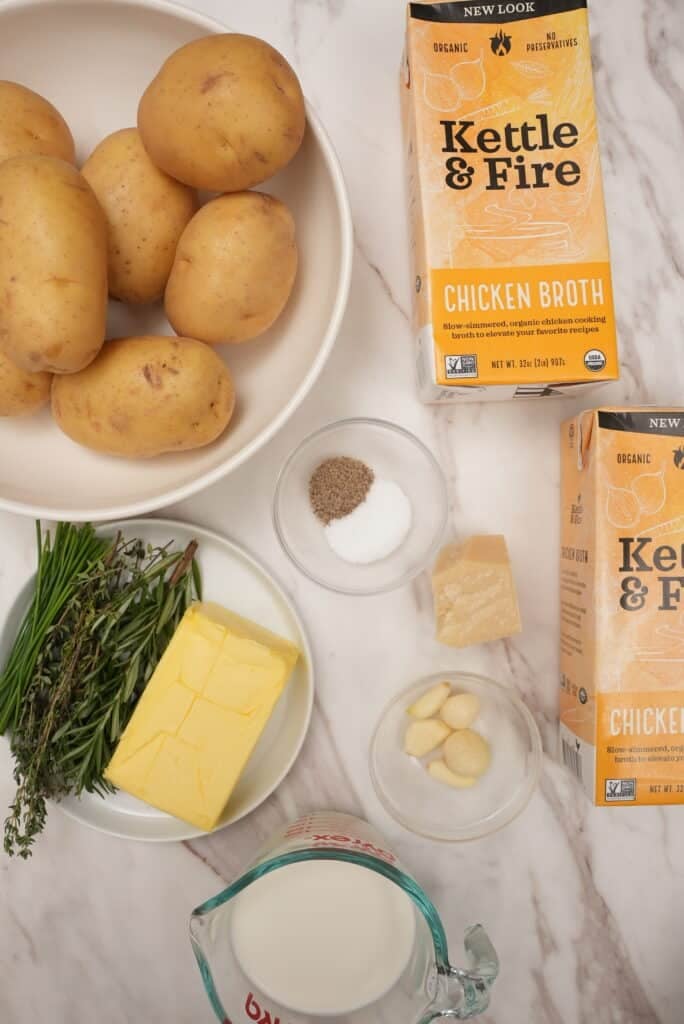 INGREDIENTS TIPS
SELECTING THE RIGHT POTATO
Potato, Patato – right!? Selecting the right potato is really up to personal preference! But in my opinion, you can't go with a slightly waxy, smooth yukon gold potato. Russets or creamer red potatoes also work well!
QUALITY IS KEY
This recipe doesn't use many ingredients so high quality is KEY! Use a high quality, chicken broth, butter and half & half if you can – it really does make a difference!
HERBS
If at all possible, I would highly recommend using fresh herbs for the herb butter in this recipe – there's just nothing like it! If dried is the only option available, just reduce the measurement by half.
My Creamy Mashed Potatoes: Recipe Instructions
This recipe is pretty straightforward but there are a few key steps to make the best mashed potatoes, so let's get started!
Peel the potatoes
Wash and peel your potatoes in a bowl and rinse them with cold water to remove any excess starch. I prefer no skins in my mashed potatoes, but if you do like skins, feel free to skip this step!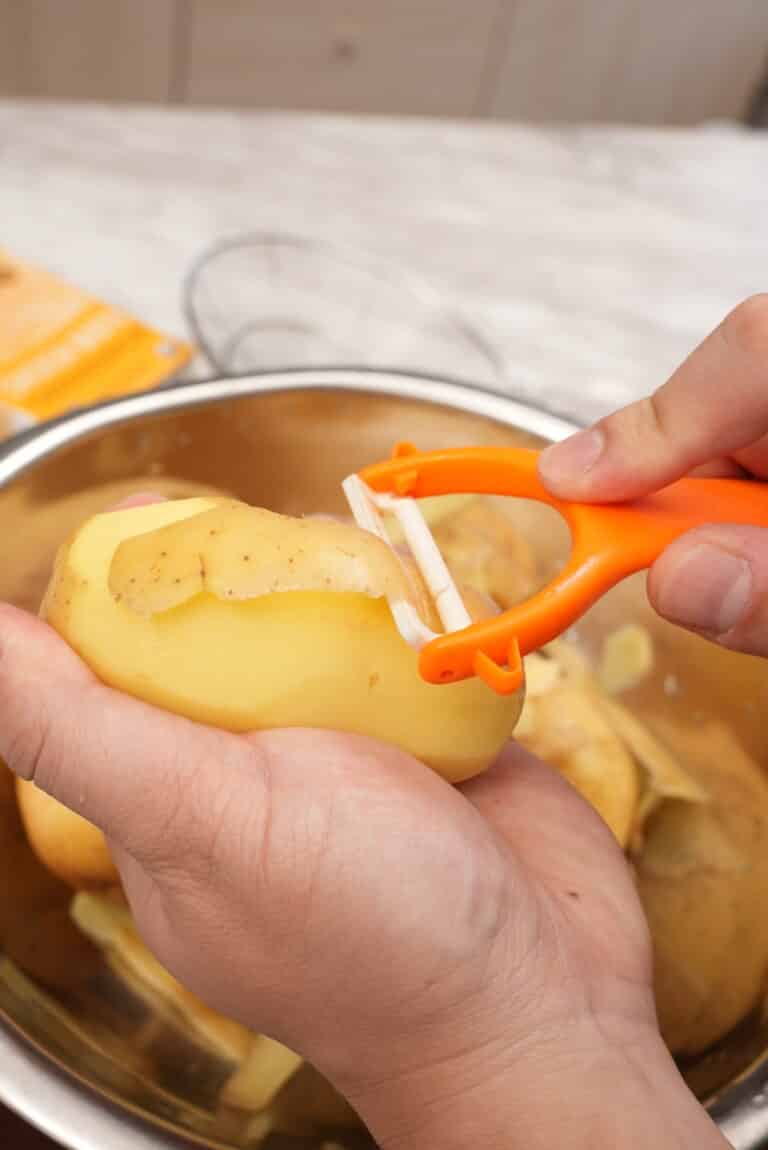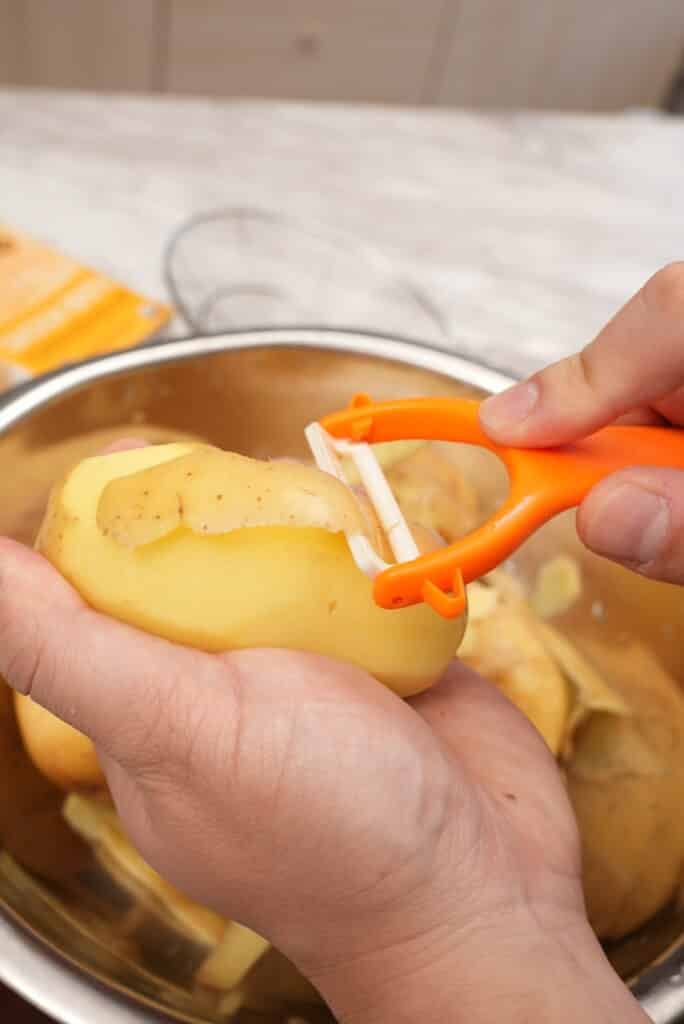 Dice the potatoes into 2″ pieces
Next, dice the potatoes into 2″ pieces and place them in a heavy bottomed pot or dutch oven. You want to cut them in uniform pieces so they cook evenly in the broth. Otherwise, you'll end up with some potatoes that are too done versus others that are undercooked.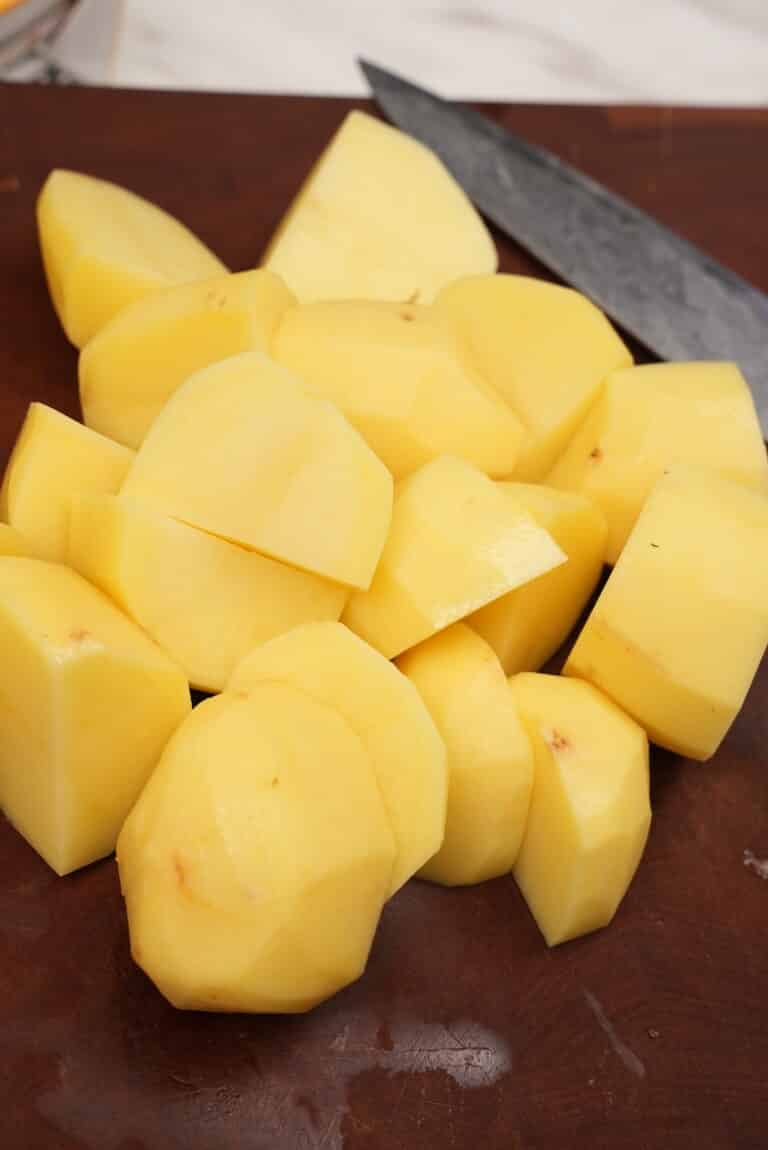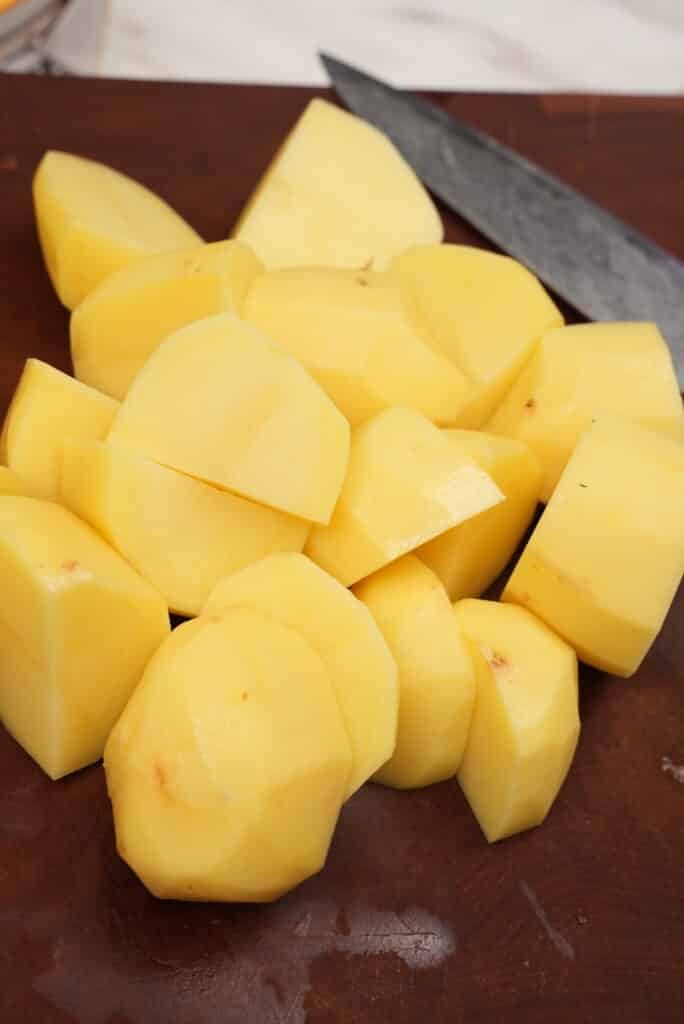 Simmer the potatoes in chicken broth
This is my KEY secret for the best mashed potatoes! Start with a cold pot and bring them to a simmer in a high quality chicken broth like Kettle & Fire! Using a high quality chicken broth will allow your potatoes to soak up all that flavor from the broth and transfer them right into your mashed potatoes!
If you want to stock up on high quality broth, you can use my code CJPINS for 20% your entire order at www.kettleandfire.com
Bring the pot to a simmer over medium high heat then low simmer for about 20 minutes or until the potatoes are fork tender. Then immediately strain them and bring them back to the pot. Reserve that starchy broth to thicken up gravy or use for soups!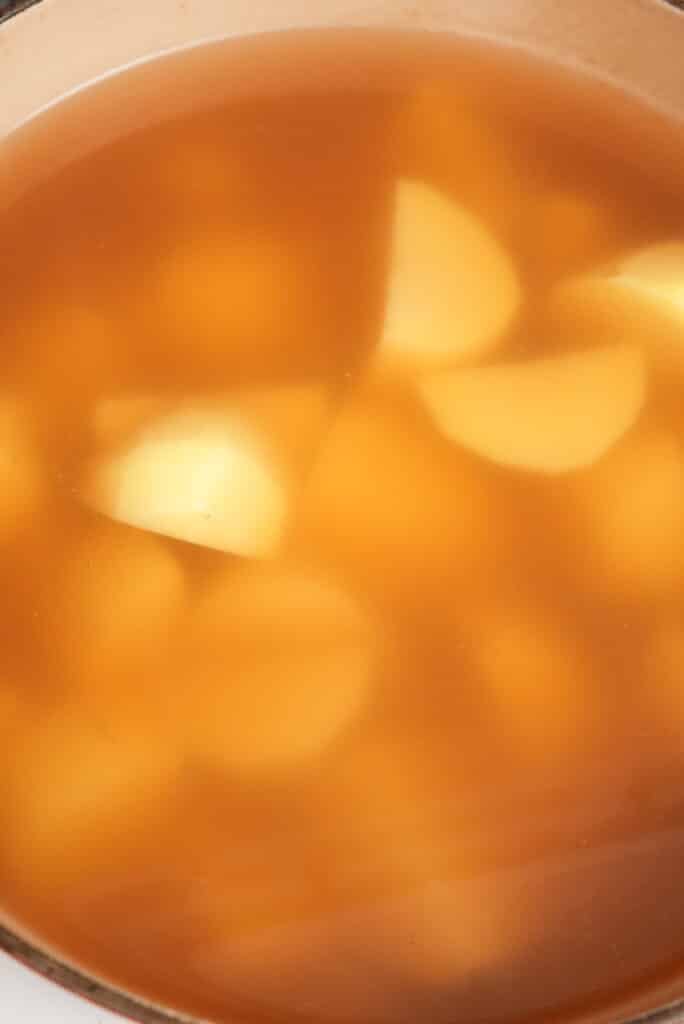 Make the herb butter
To make the herb butter, melt butter over medium heat and then add kosher salt, black pepper, chopped rosemary and thyme, and grated garlic. Infuse the spices into the butter over medium low for about 5 minutes, stirring occasionally. Once finished, skim the solids off the top to create a clarified herb butter for your mashed potatoes (this is optional but recommended).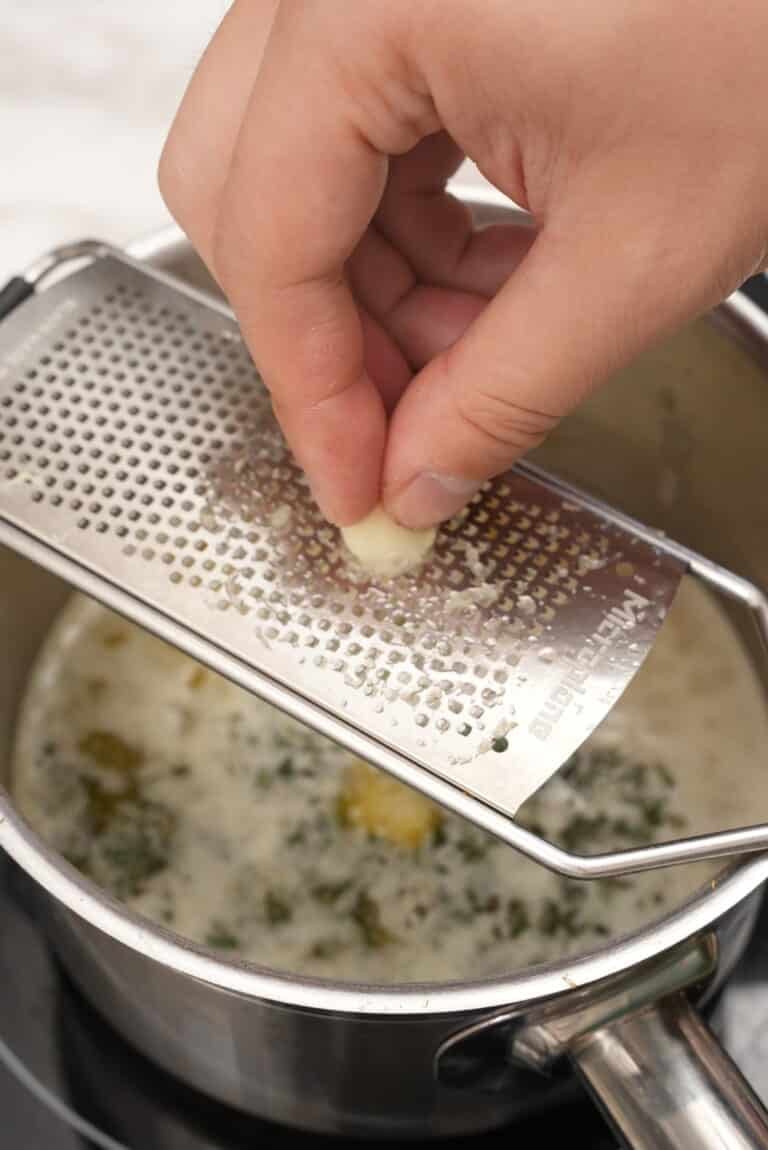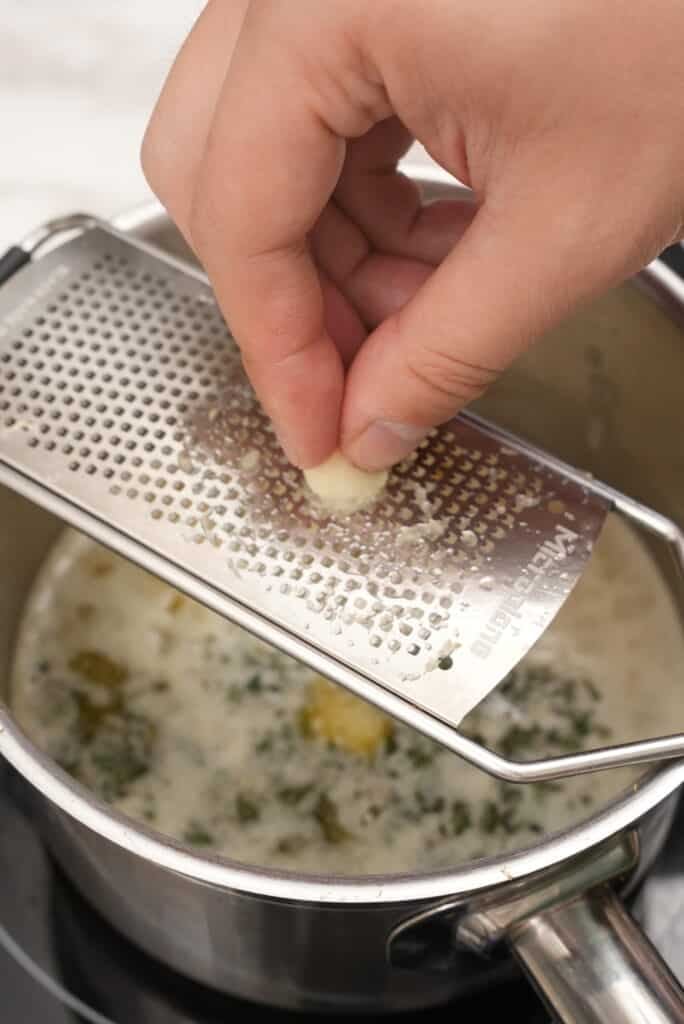 Rice the potatoes
After draining the potatoes, run them through a potato ricer back into the warm pot. The heat from the pot will help evaporate any excess moisture from the potato. Don't skip this step!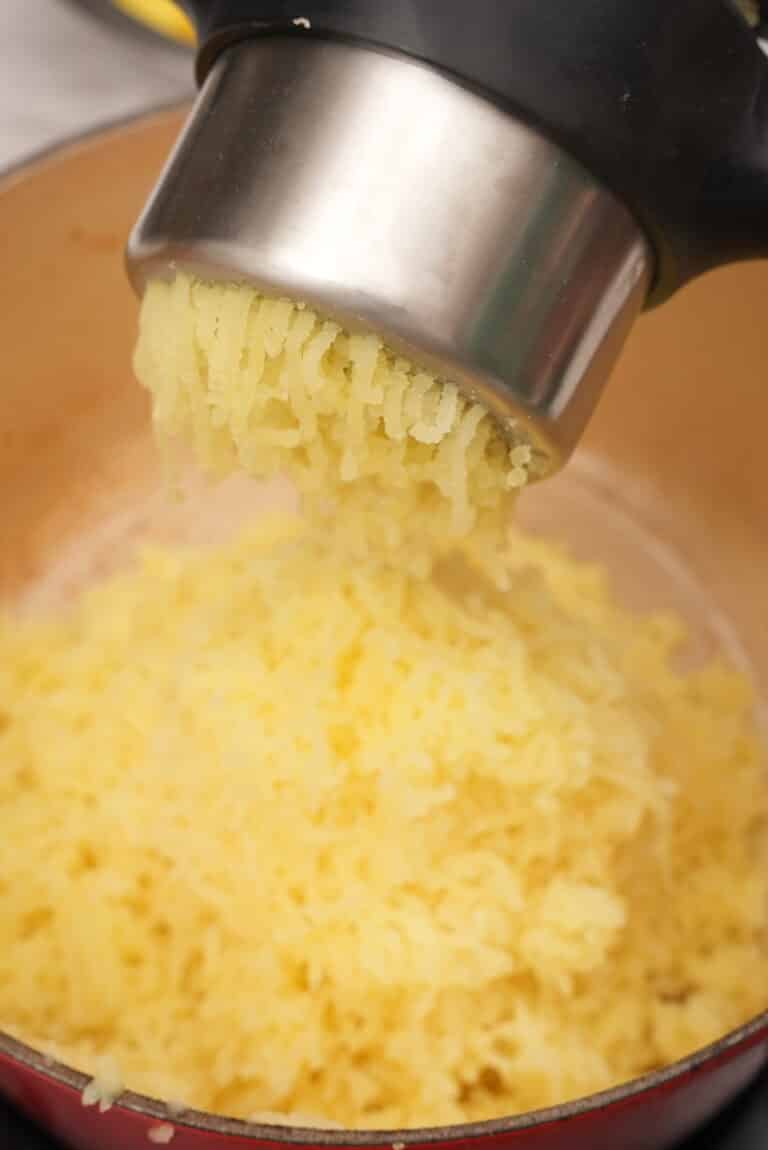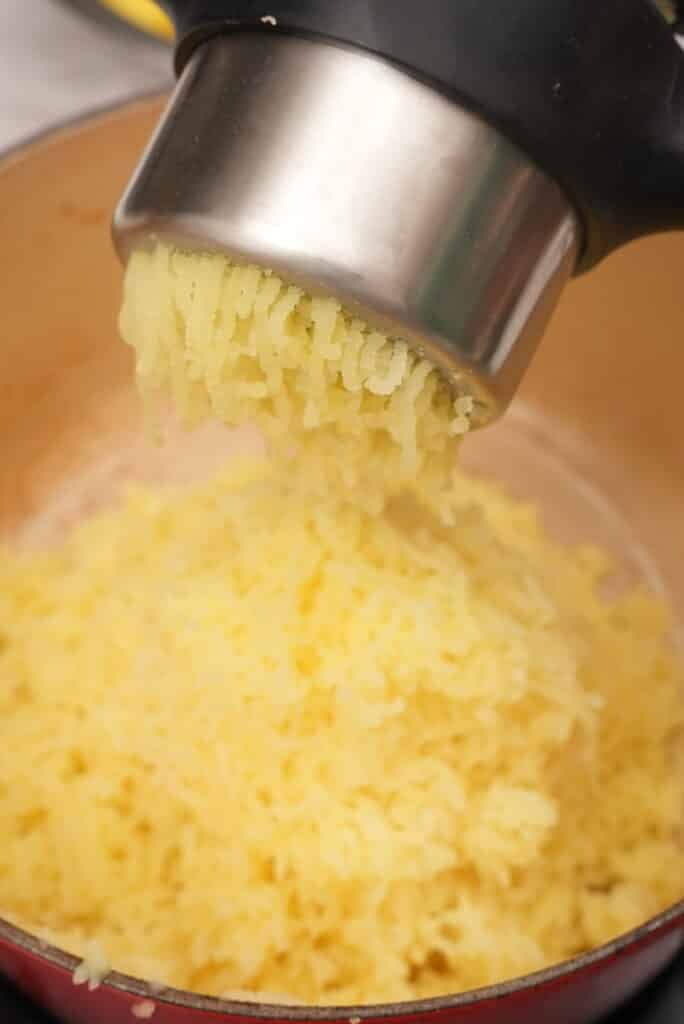 Fold in the seasonings to finish the mashed potatoes
Make sure the heat is off, then add your clarified herb butter, half & half, and freshly grated parmesan cheese. Fold and mix until thoroughly incorporated, and add salt to taste.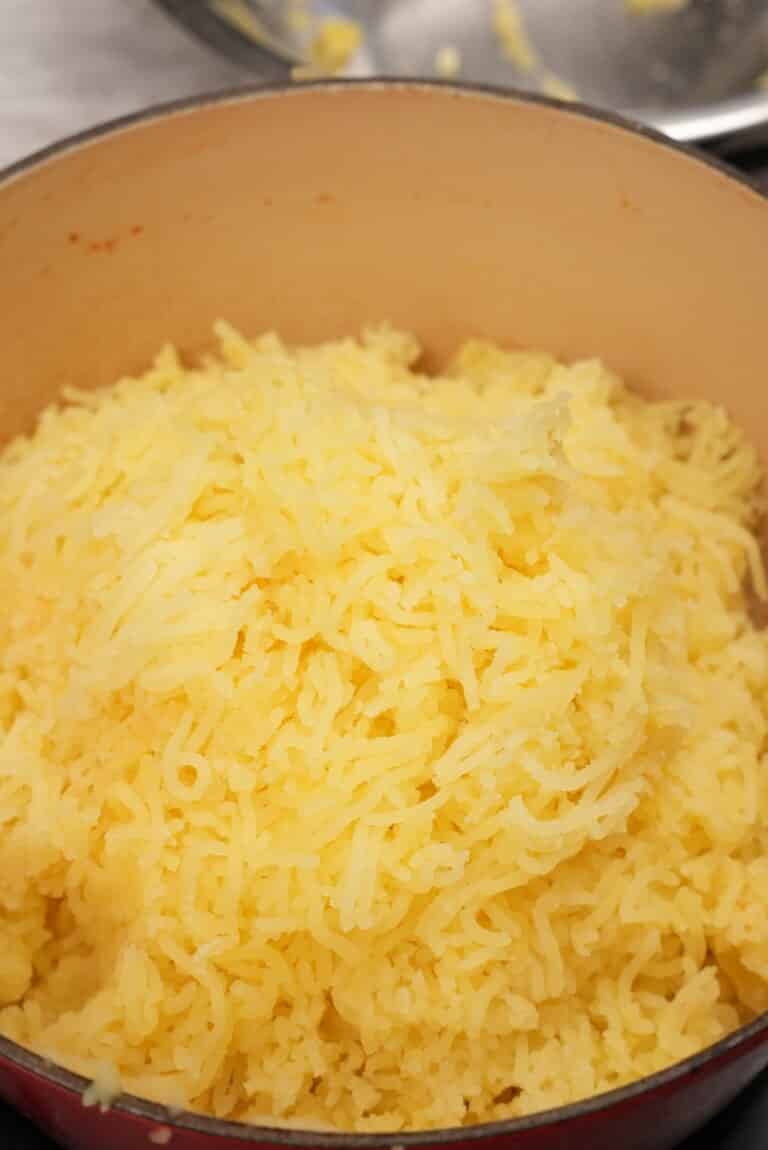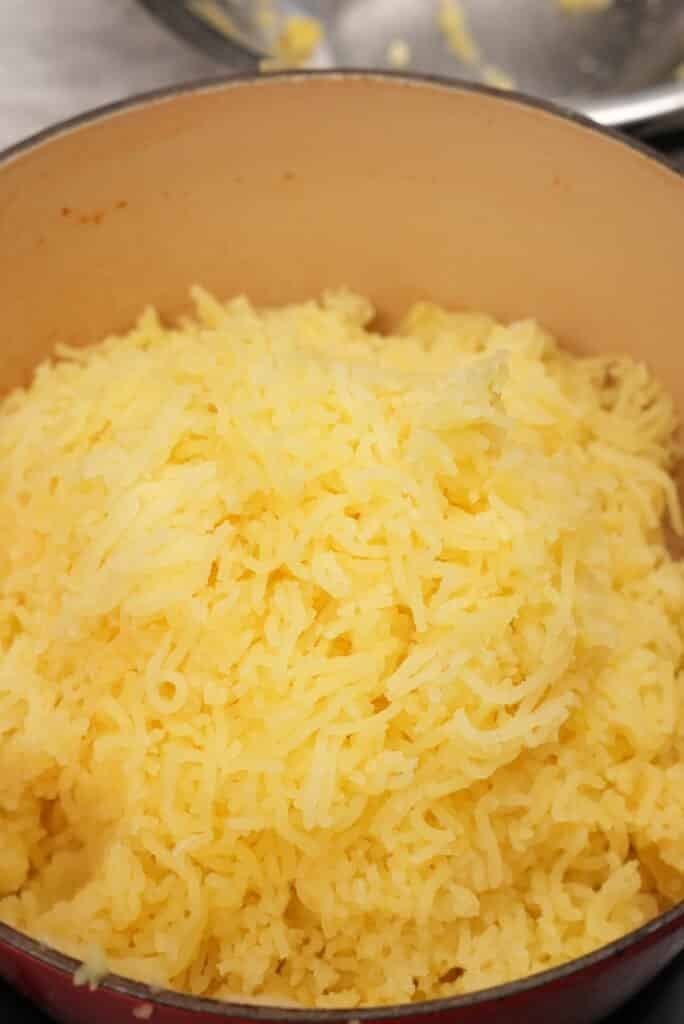 Serve with freshly chopped chives for an elevated garnish!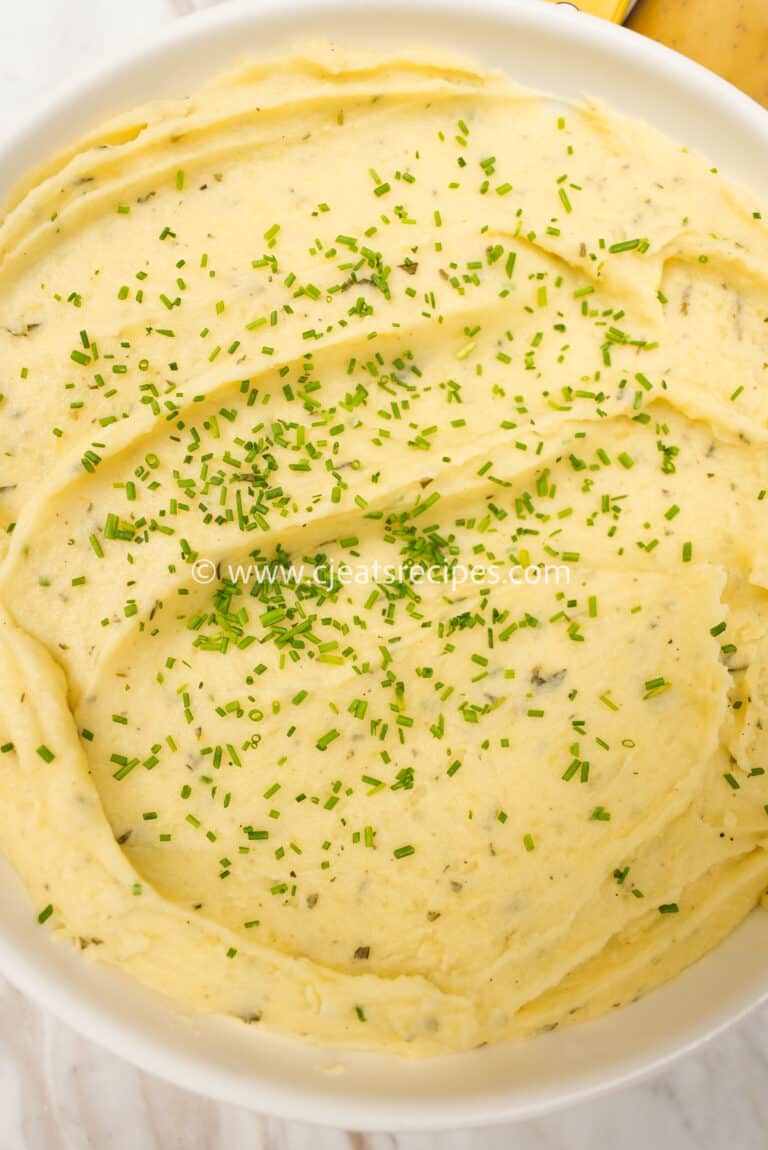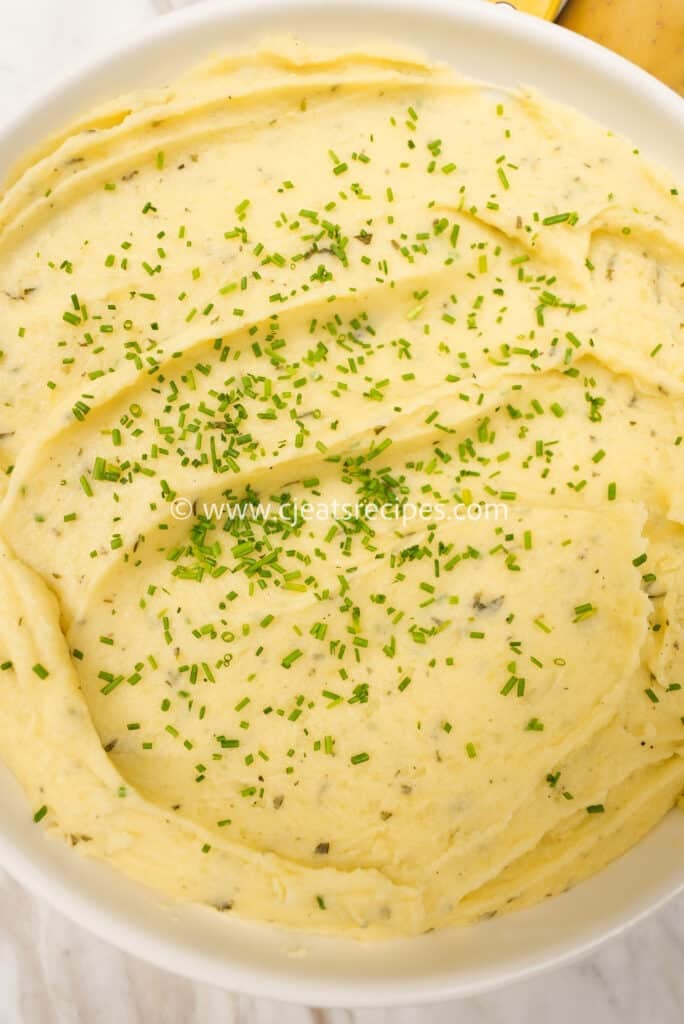 If you liked this Creamy Mashed Potatoes recipe, check out some of the most popular holiday recipes on the blog!
RECIPE TIPS
USE A POTATO RICER!
A good potato ricer makes all the difference! It allows you to easily rice your potatoes through the ricer and ensures that there are no lumps. I'll link the one I use here!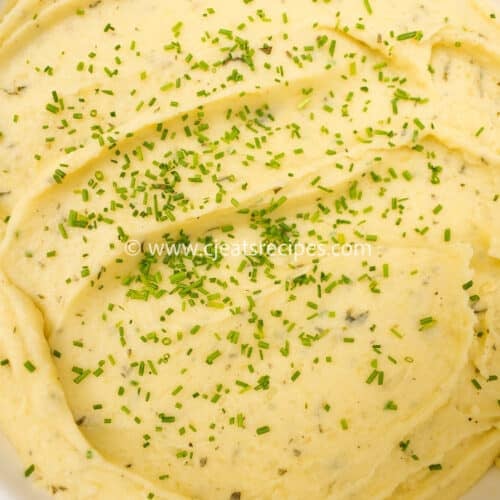 Creamy Mashed Potatoes
These mashed potatoes are the ultimate side dish to go with any roast or other protein. This creamy, luxurious mashed potatoes are the perfect holiday sides!
Ingredients
3

lbs

yukon gold potatoes

cut into 2" pieces

8

cups

chicken broth

8

tbsp

unsalted butter

5

cloves

garlic

1

tbsp

fresh thyme

minced, if using dried cut measurement in half

1

tbsp

fresh rosemary

minced, if using dried cut measurement in half

1

tsp

black pepper

1/2

tbsp

kosher salt

1

cup

half & half

1/2

cup

parmesan cheese

freshly grated

1

tbsp

fresh chives

for garnish
Instructions
Peel your yukon gold potatoes and cut them into equal size 2" pieces (I cut them lengthwise then 3 times width wise for 6 pieces per potato, for reference)

Fill a large pot of Kettle and Fire Chicken broth and add your potatoes, covering them fully with the broth. Heat covered over high heat. Boil for 20 minutes or until fork tender and drain, reserving the broth for gravy or soup. *KEY TIP* It's important to start them off in cold broth so as the broth boils, the potatoes cook evenly throughout.

While your potatoes are boiling, melt butter over medium heat until it "sings". Then add grated garlic, fresh chopped thyme & rosemary, kosher salt, and freshly cracked black pepper and let infuse for 5 minutes over low heat.

Strain the potatoes from the pot and reserve broth for soup, gravy, etc. Run your potatoes through a potato ricer back into the same pot (the residual heat will help evaporate any excess moisture). Then over low heat add your infused butter, heavy cream, and freshly grated parmesan and mix until smooth.

Add salt to taste and finish with freshly chopped chives. Enjoy!