Baked Mac and Cheese (CRISPY TOPPING!)
---
November 10, 2023
---
This is my tried and true Baked Mac and Cheese recipe I make for the holidays EVERY YEAR – and it is always a hit! It has a super crispy panko topping, combined with the sharp cheddar and melty gruyere cheeses filling every inch of the al dente pasta. Every time I make this dish, I always get asked for the recipe, and I've finally perfected it! I've learned some key tips to make it the best Mac and Cheese recipe ever, which I'll cover below so you can impress your friends and family with the ultimate comfort food!
The textural combination of the crispy panko and cheesy béchamel sauce is a flavor party in your mouth – when you make it, you'll never go back to another macaroni & cheese recipe!
Watch the Baked Mac and Cheese Recipe Video Below!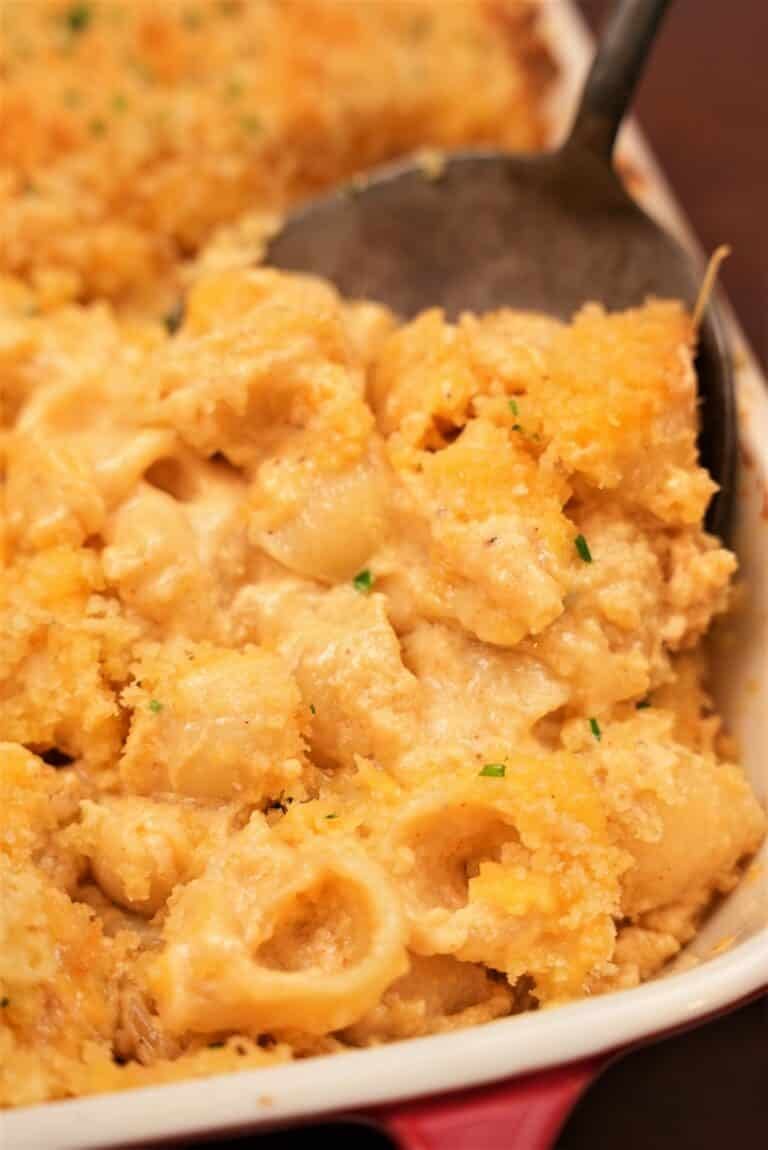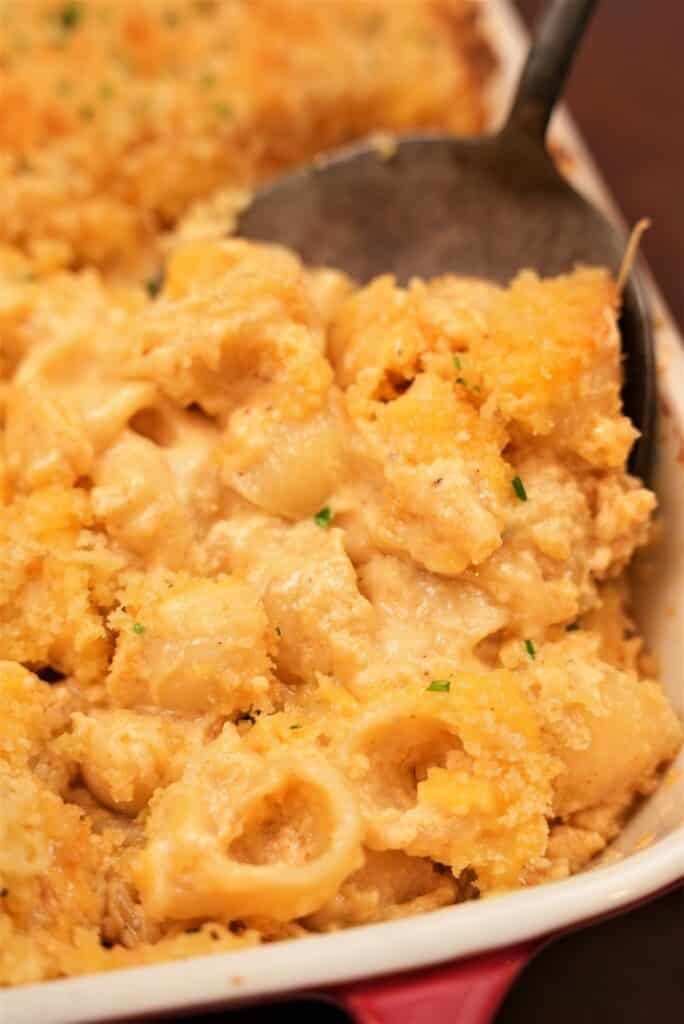 Ingredients for my Baked Mac and Cheese:
Short Cut Pasta (I like elbow macaroni, pipe rigate, or medium shells!)
Flour
Butter
Ground Mustard
Half and Half
Bay Leaves
Paprika
Kosher Salt
Egg
Sharp Cheddar
Gruyere
Panko Breadcrumbs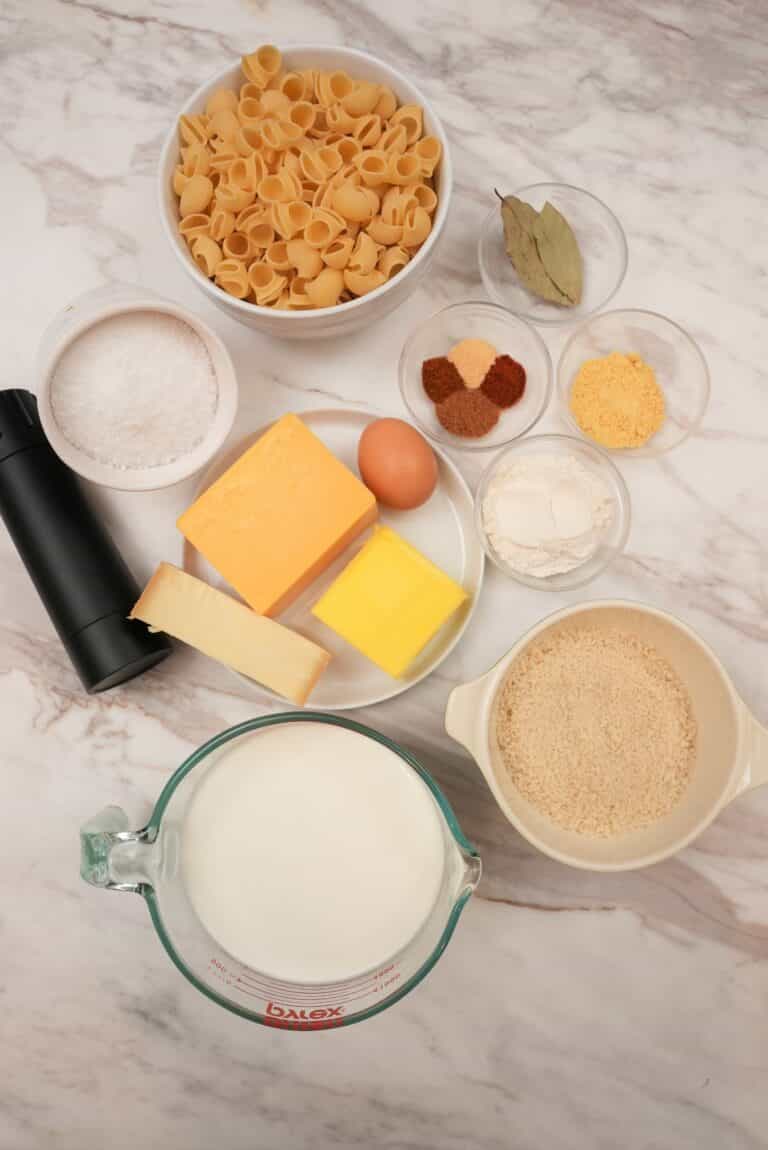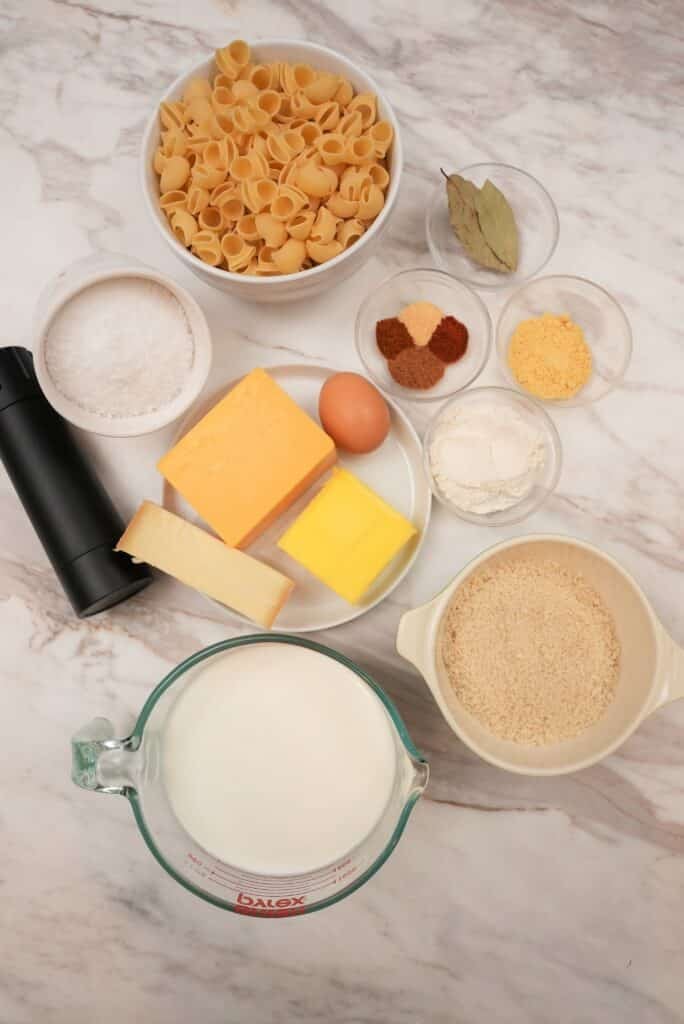 INGREDIENTS TIPS
MACARONI vs. SHELLS
I know, I know – the dish is macaroni & cheese. While traditional recipes use macaroni, I like to use shells in my version. My main reason is because shells allow for more cheese to get captured within the fold when baked – this gives each mouthful a more even ratio of pasta to cheese! But you are more than welcome to use macaroni (or whatever short pasta of your choice) for this recipe!
PANKO BREADCRUMBS
Panko breadcrumbs are drier and flakier than regular breadcrumbs, so they absorb less oil and creates a light & crunchier crust when baked. This provides an incredible contrast to the rich and creamy pasta + cheese mixture. I do not recommend subbing these, as this is a key ingredient in this dish!
DON'T USE PRE-GRATED CHEESE
If at all possible, I would highly recommend not using pre-grated cheese! Pre-grated cheese contain preservatives to keep the cheese shreds from clumping and I find they don't melt together as well. You can also taste the grainy texture from the additives. I like to keep a couple wedges of high quality cheese at home and my favorite place to buy them from is Costco! The quality and price is unbeatable.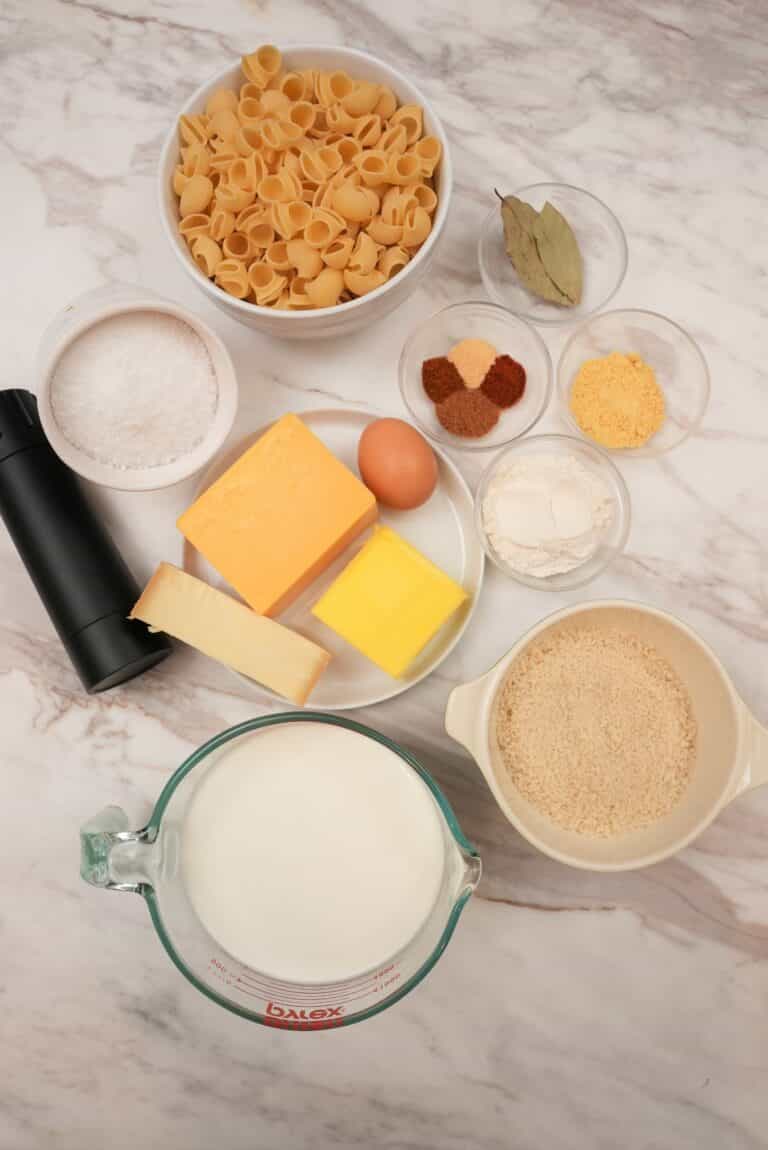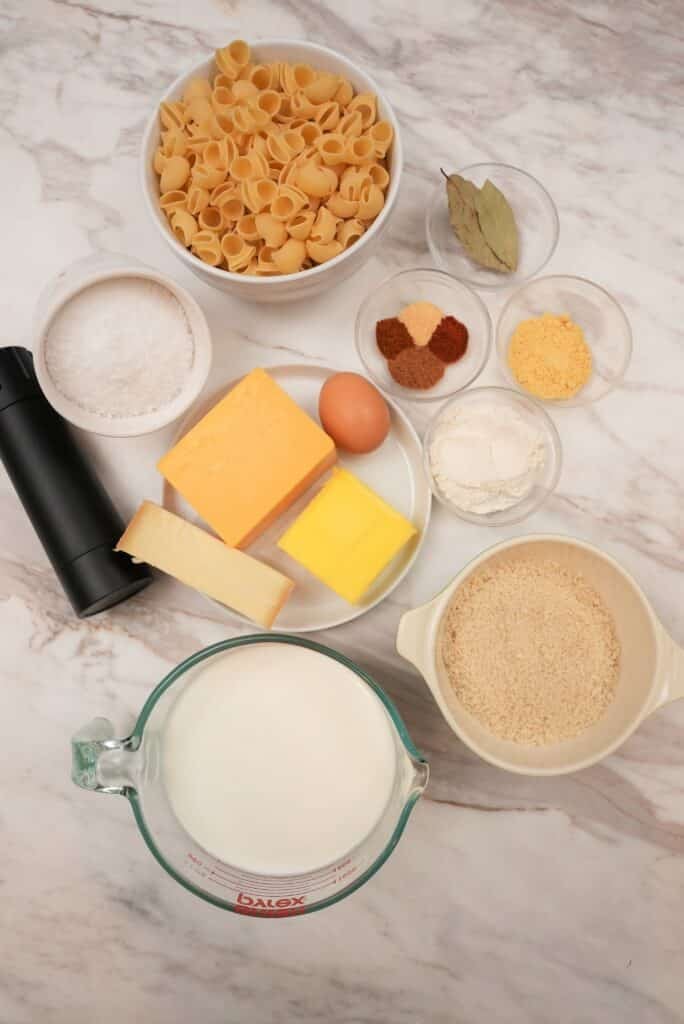 Baked Mac and Cheese: Recipe Instructions
This recipe is pretty straightforward but there are a few key steps to make the best macaroni and cheese, so let's get started!
Choosing your baking dish for the baked mac and cheese
Having made macaroni and cheese too many times to count, I cannot stress how important the size of your baking vessel is! I'm using 12 oz of pasta here, with about 3 cups of half & half as the base of the béchamel sauce. This was a 2.5 quart baking dish or casserole dish which was perfect for holding the pasta and all the sauce after cooking.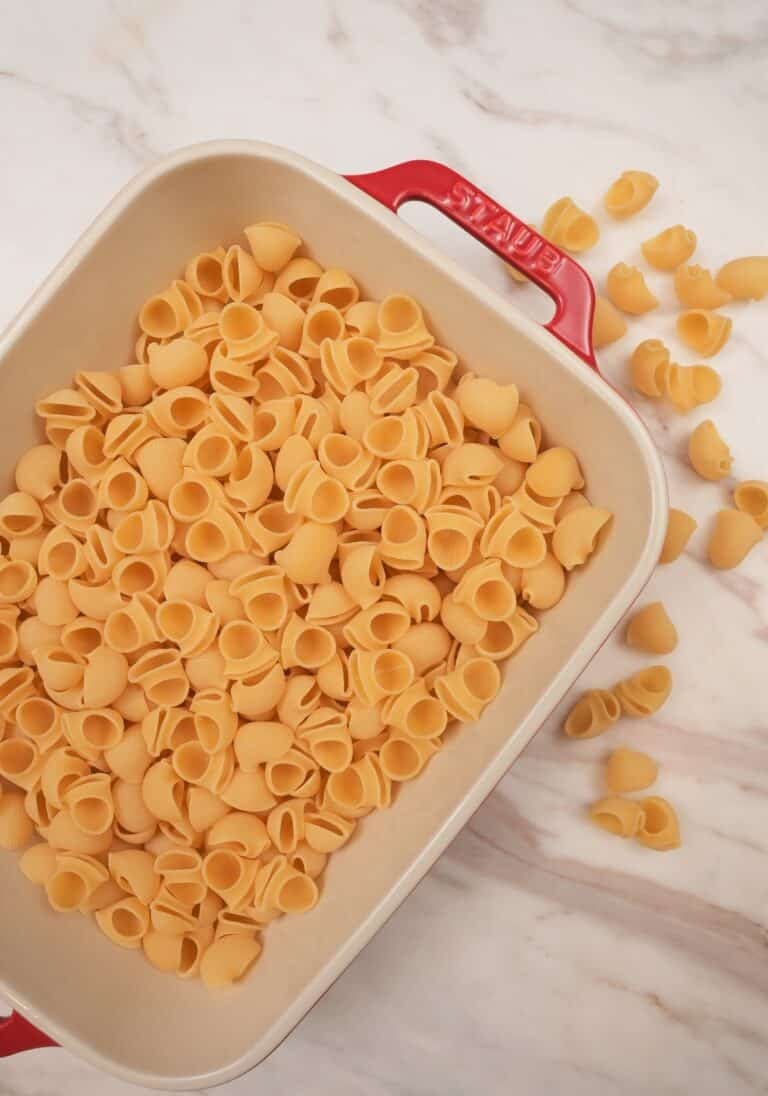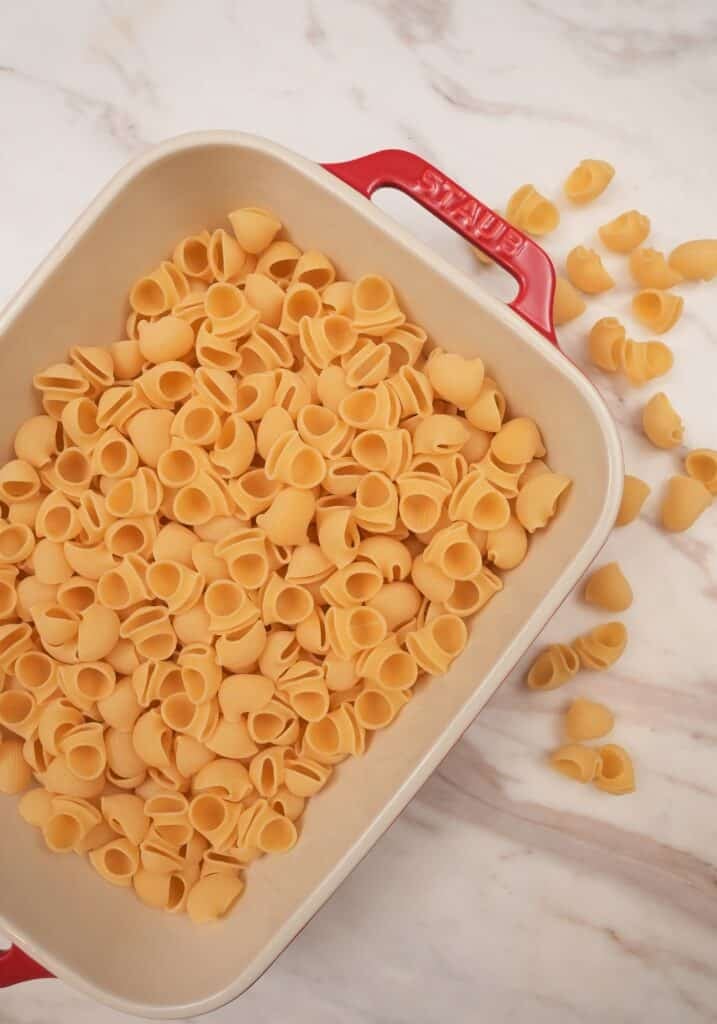 Grate the Sharp Cheddar Cheese and Gruyere Cheese
I highly recommend grating your cheese from the block using a cheese grater! Pre-shredded cheese is oftentimes coated with anti-clumping agents to prevent sticking, which results in less melting and sometimes a grainy texture. Here I'm using both sharp cheddar and gruyere cheeses. Set aside about 1 cup of the cheddar cheese aside for the cheese topping at the end!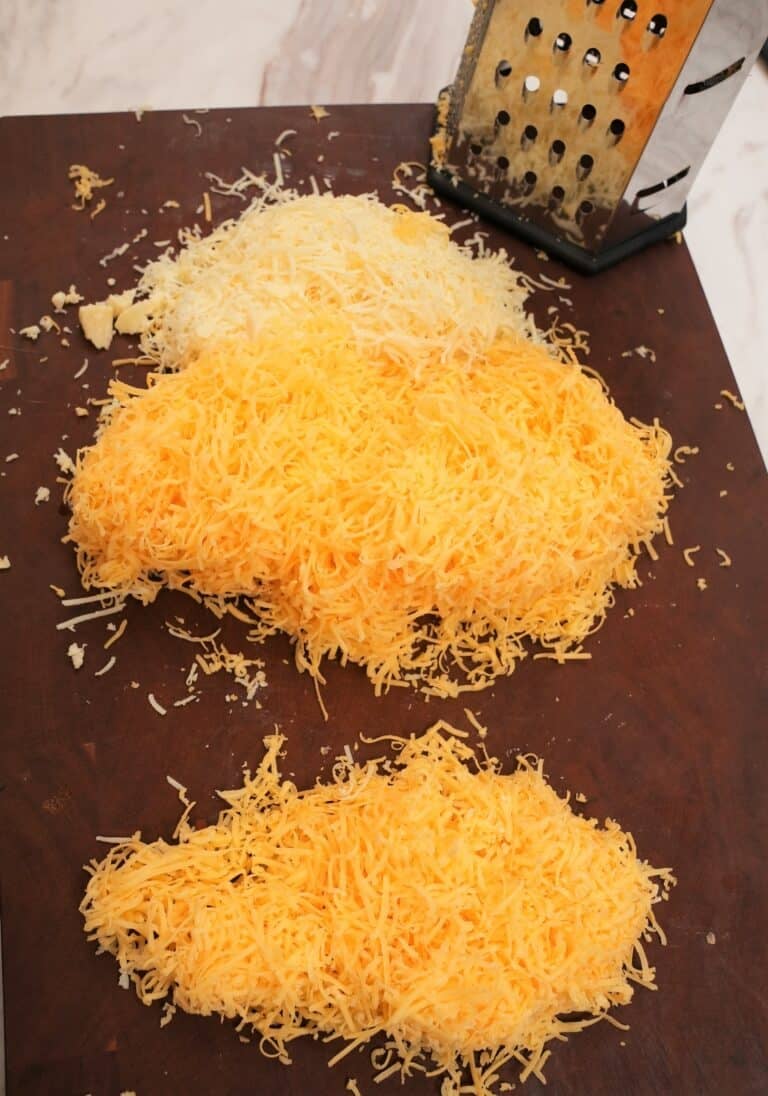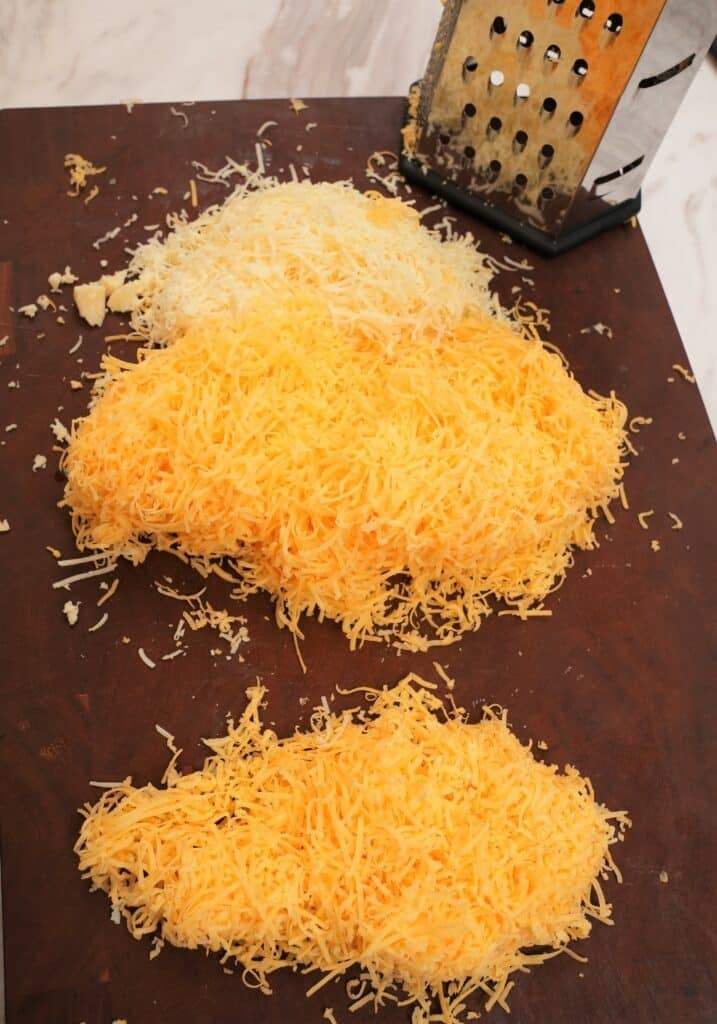 Boil and drain the pasta
This step is KEY – when boiling your pasta (in salted boiling water), drain the pasta a good FOUR MINUTES sooner than the package directions say. We are going for extra al dente pasta here – the reason is the pasta will continue cooking in the hot cheese sauce and while being baked in the oven for about 20 minutes. Under-cooking when boiling your pasta will ensure your finished dish isn't a disintegrated mess by the end and you actually get al dente pasta!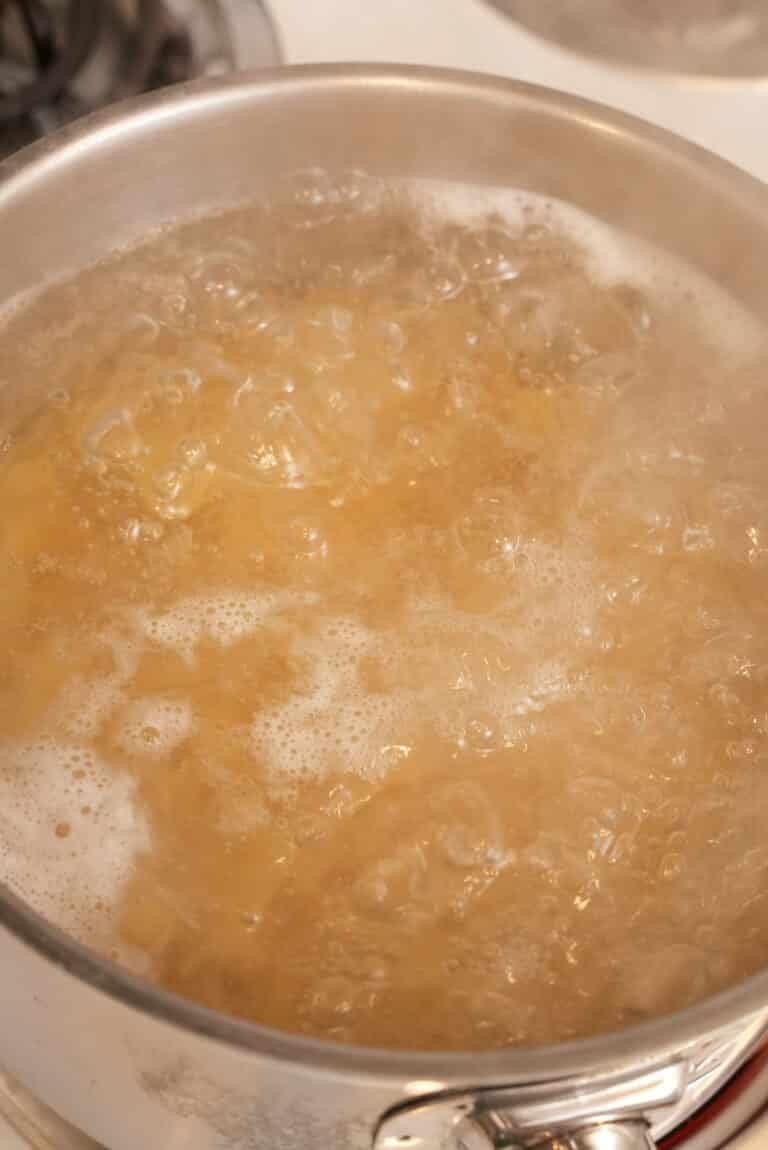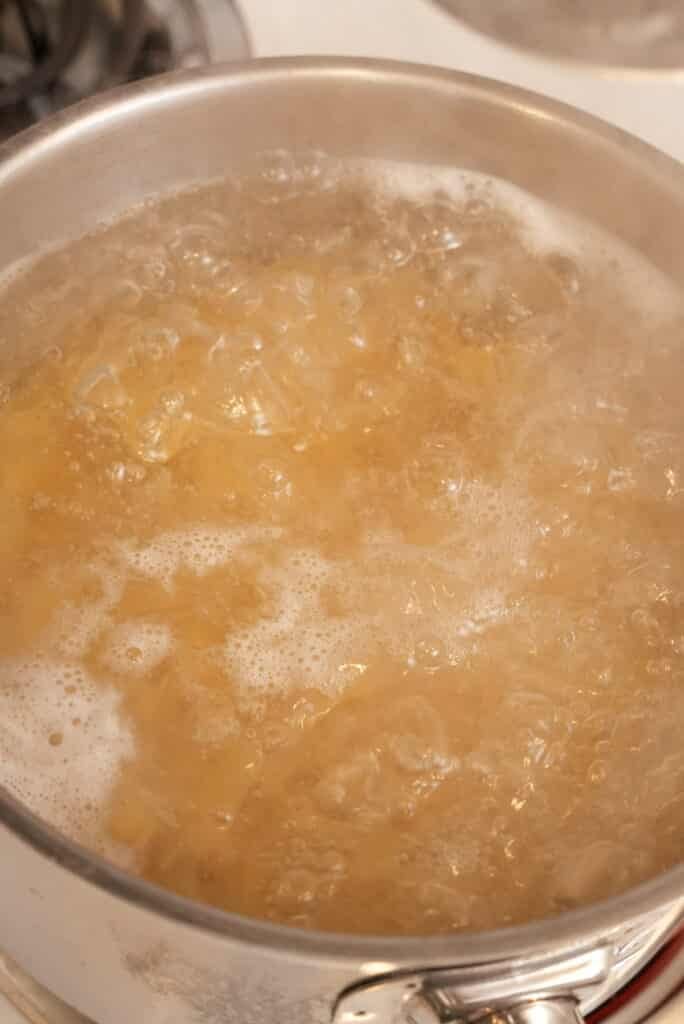 Make the Béchamel Sauce
To make your cheese sauce, start by melting butter over medium heat until it "sings" and crackles. Add the flour and whisk until smooth and no lumps remain, then add your ground mustard and do the same. Let this cook for about 5 minutes stirring occasionally to cook out the flour while preventing burning. Adjust the heat if necessary.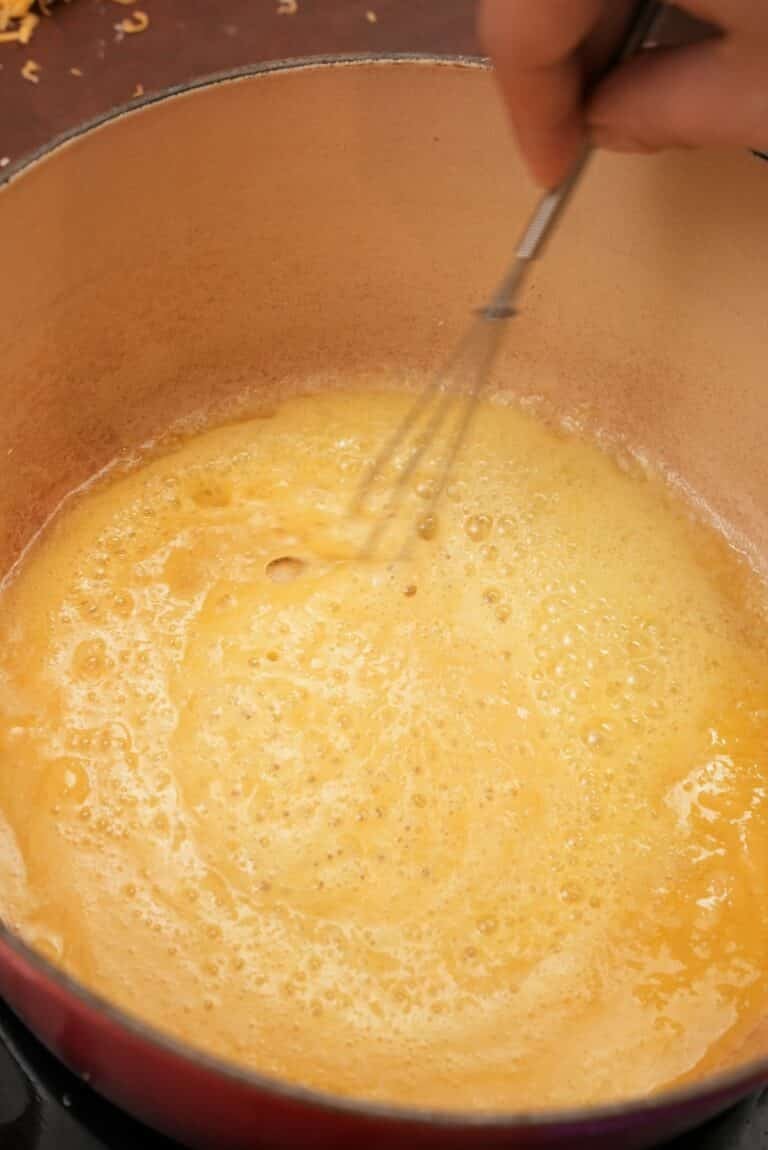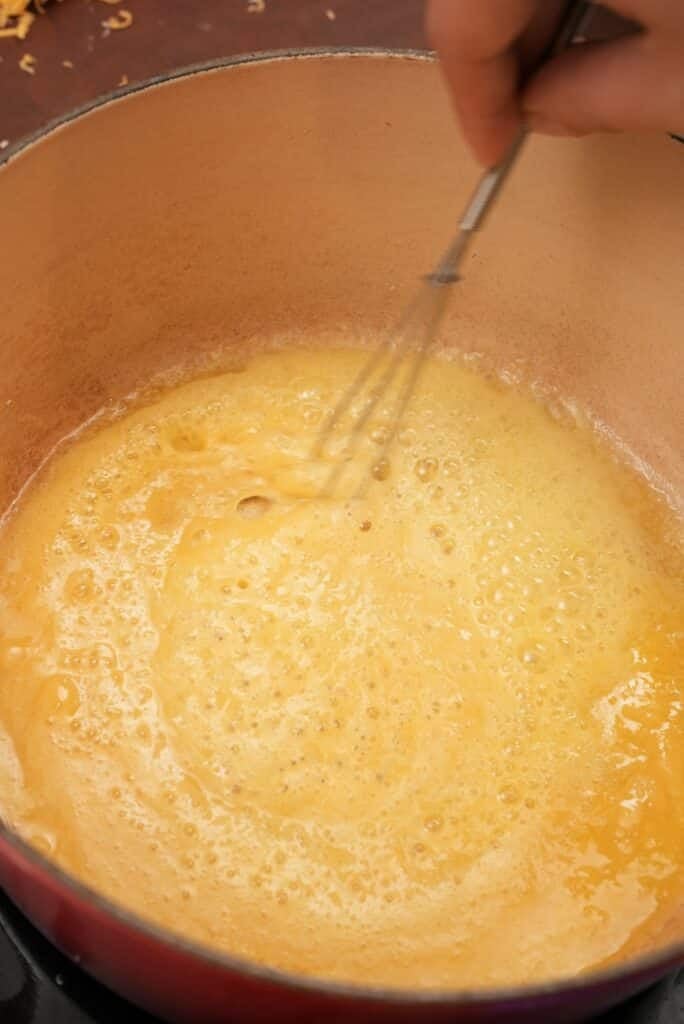 Add the liquid and seasonings
Once the flour has been cooked out, add the cold half & half along with bay leaves, salt, pepper, garlic powder, paprika, cayenne, and ground nutmeg. Stir until thoroughly combined and bring to a low boil. The sauce will begin to thicken – which is exactly what we want!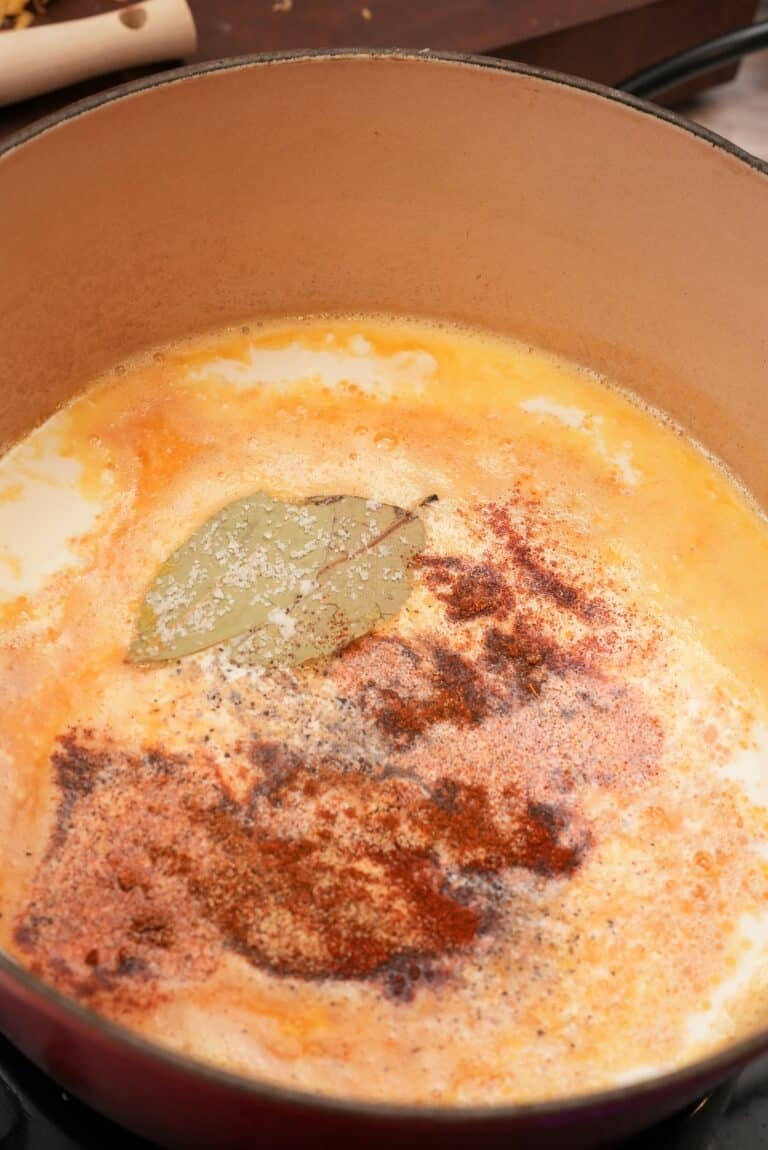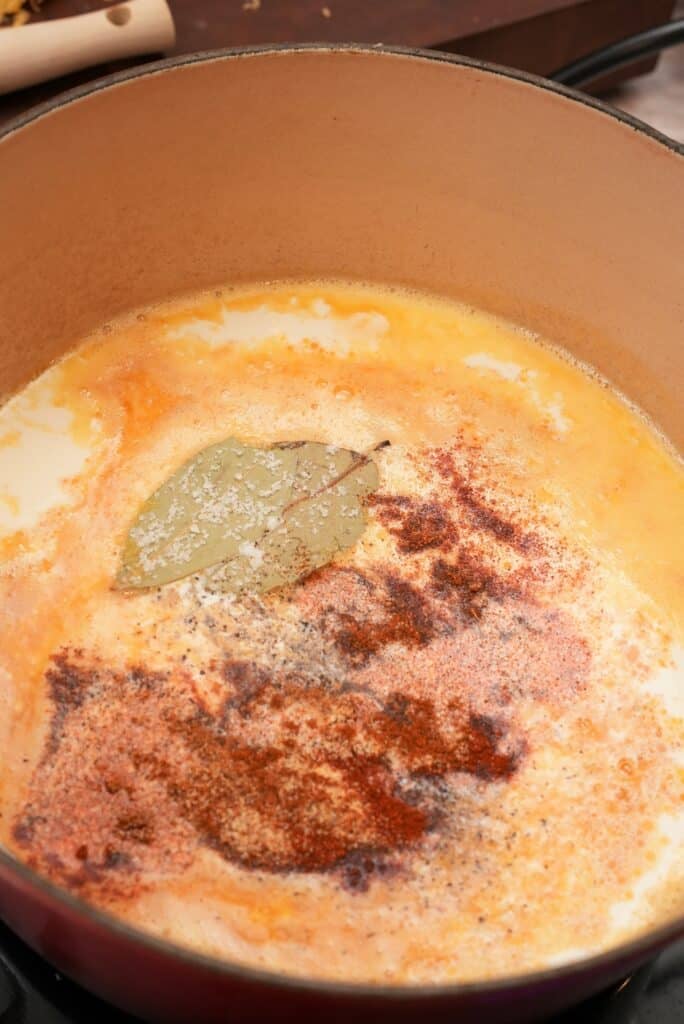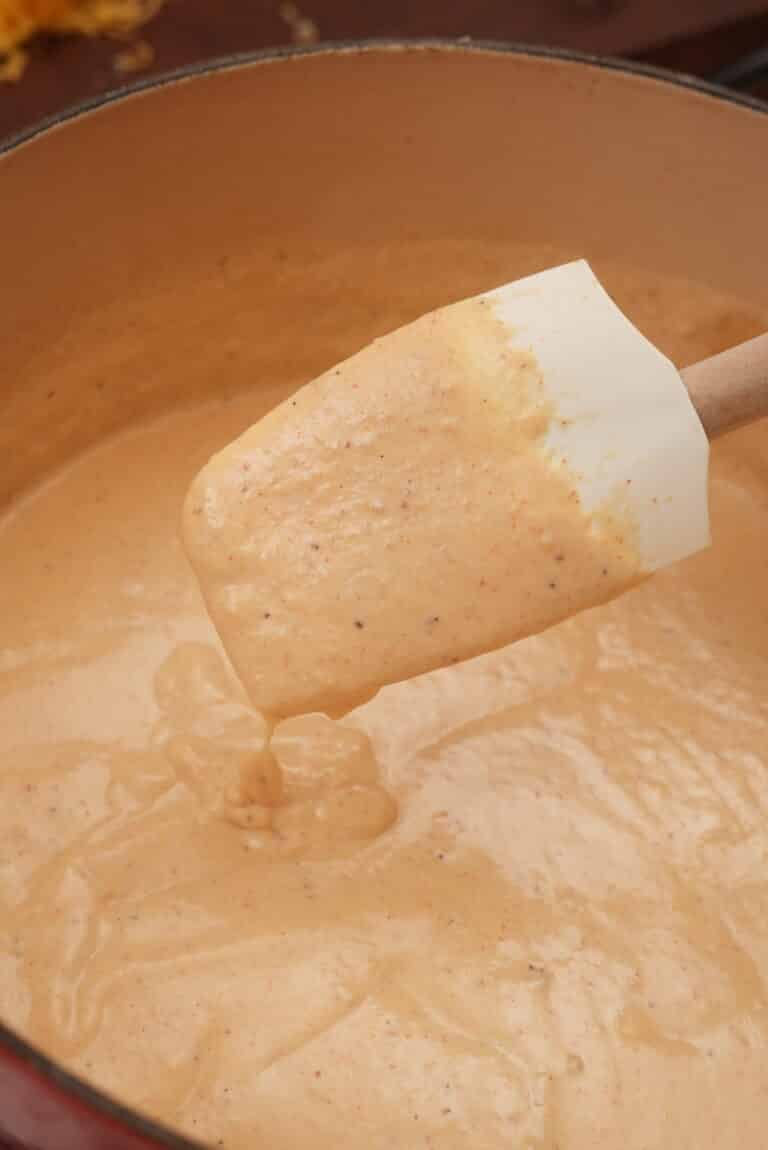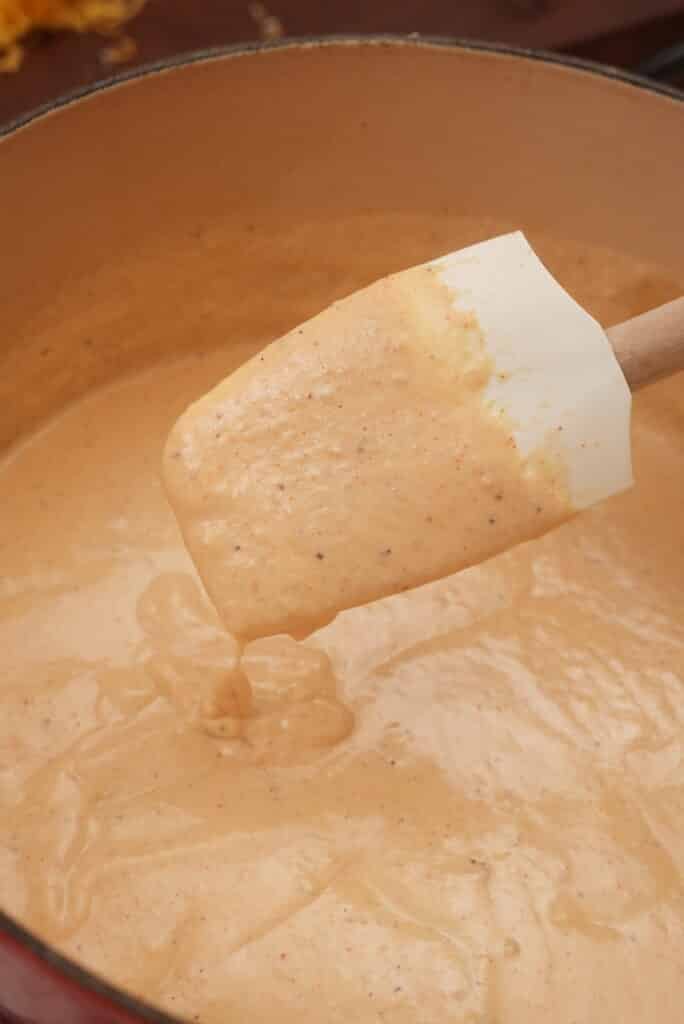 Temper in the egg
The egg will add some body and creaminess to the macaroni and cheese. Crack an egg into a small bowl and add a small amount of the hot liquid to the egg. This will prevent the egg from scrambling and slowly raise the temperature of the egg to the temperature of the sauce. Once it's mixed, pour the egg/sauce mixture into your pot and stir to combine.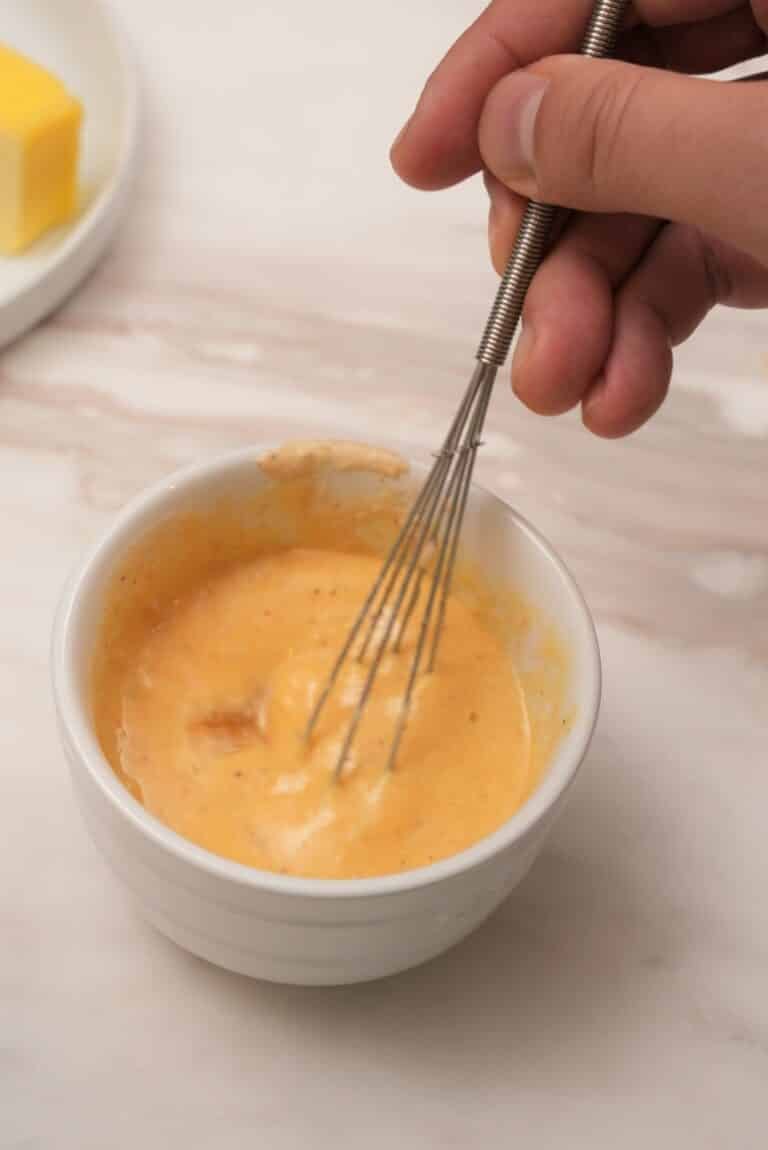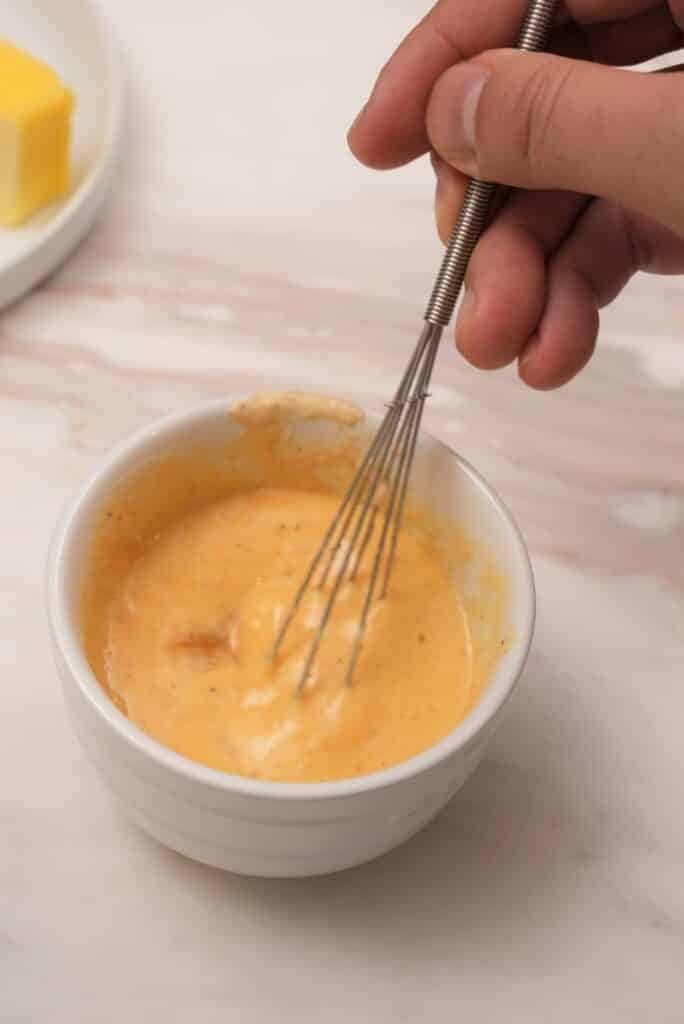 Fold in the cheese and pasta
Turn the heat off, then fold in your cheese and stir until no remaining lumps are in the sauce. Then add your pasta, mixture thoroughly, and spread evenly in the baking dish.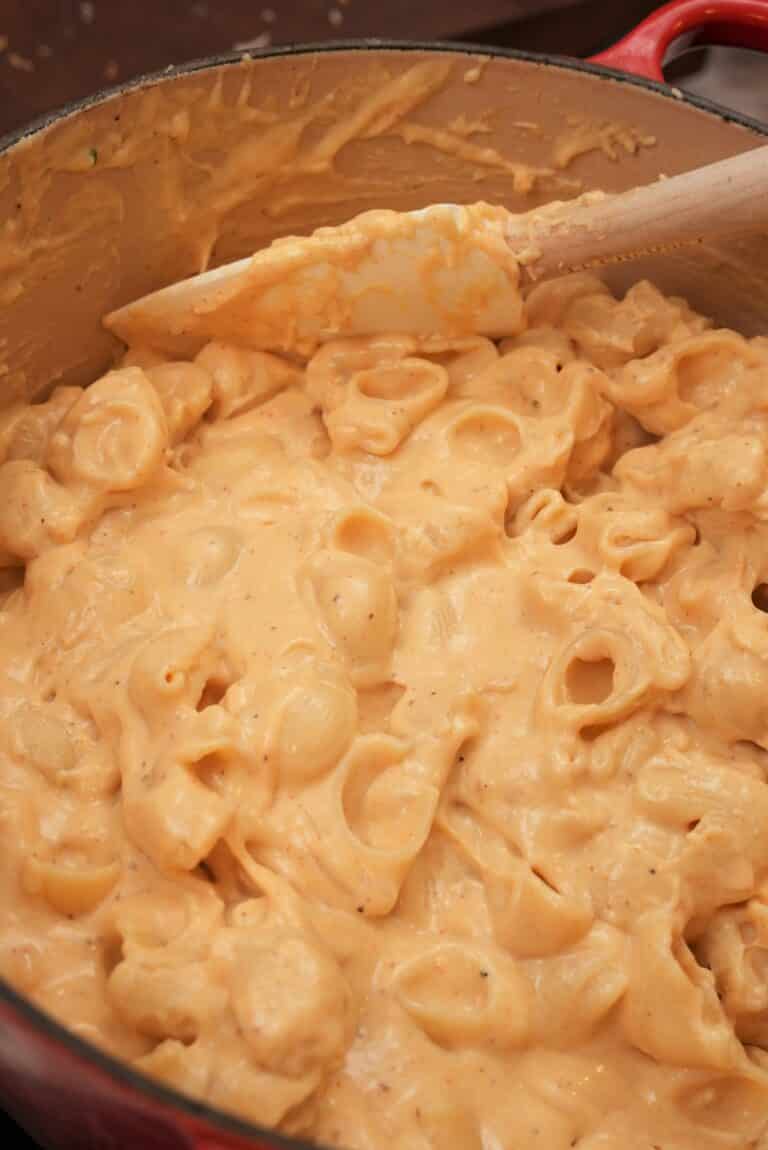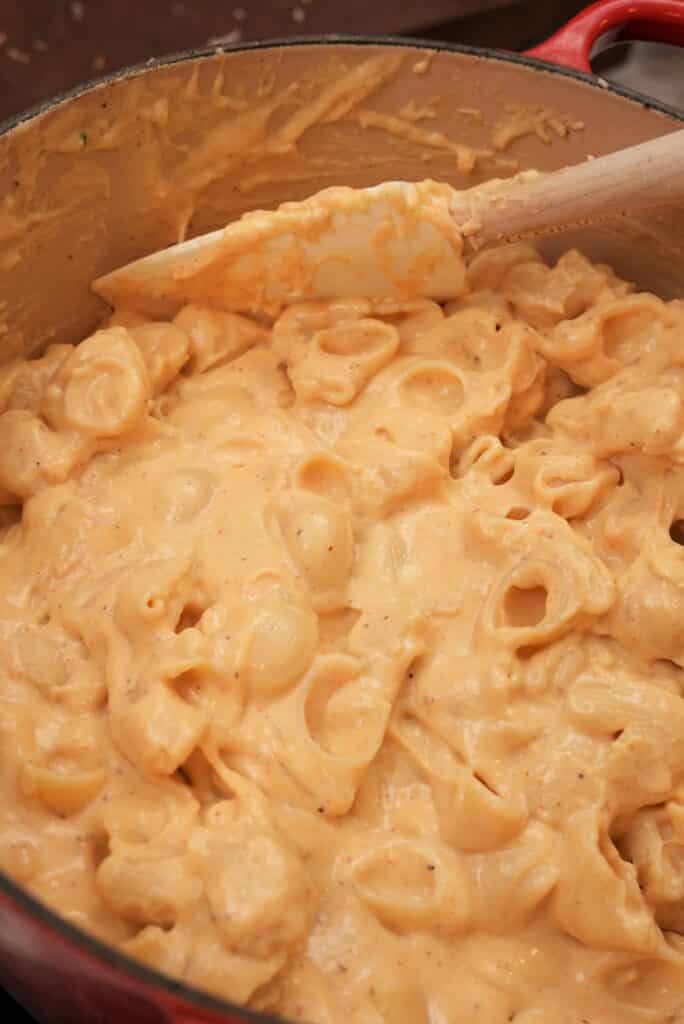 Top with more cheese. Mix your panko breadcrumbs with butter and finish the dish by topping it with the breadcrumb mixture. Bake at 375F for about 20 minutes; then broil for an additional 2-3 minutes until the top is a beautiful golden brown!
Some people choose to use crushed ritz crackers as their topping, but panko breadcrumbs are so much better in my opinion! They are crispy and add a nice textural crunch to the rich mac and cheese.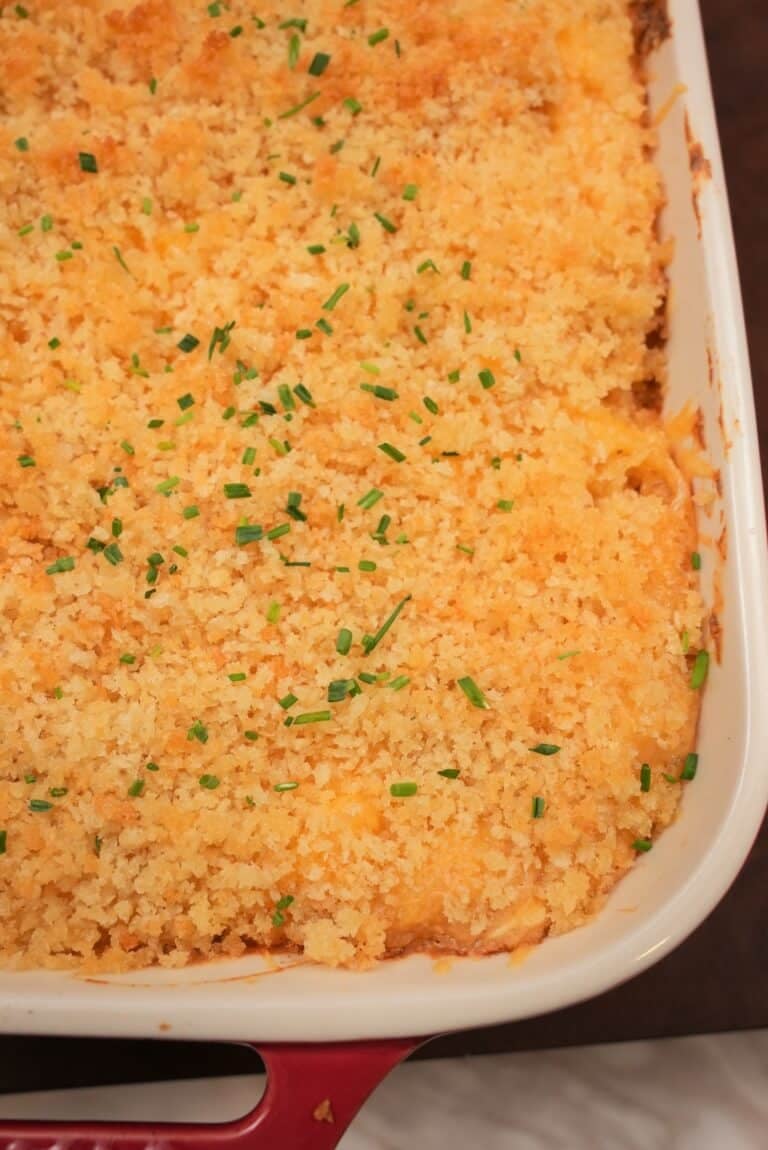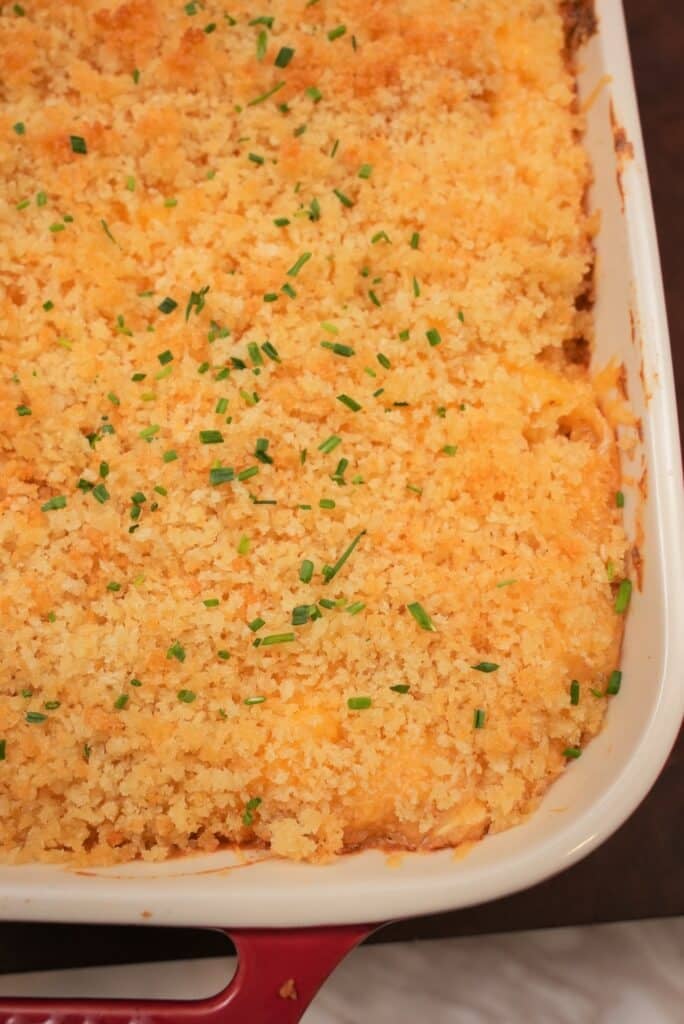 If you liked this Macaroni and Cheese recipe, check out some of the most popular pasta recipes on the blog!
RECIPE TIPS
#1 KEY TIP – TEMPER YOUR EGG
Eggs are an awesome thickening ingredient but in heat, they will cook, leaving scrambled eggs in your mixture! You must temper your egg before adding it in. Tempering is where you combine two ingredients that are at different temperatures (in this case – the cold eggs and the hot mixture). You're going to whisk a little bit of the hot mixture into the egg but it's crucial that you keep whisking constantly, as the movement helps raise the temperature of the eggs slowly so you prevent them from cooking. Once mixed, you can add this to the hot mixture! (And no scrambled eggs in your mac & cheese :))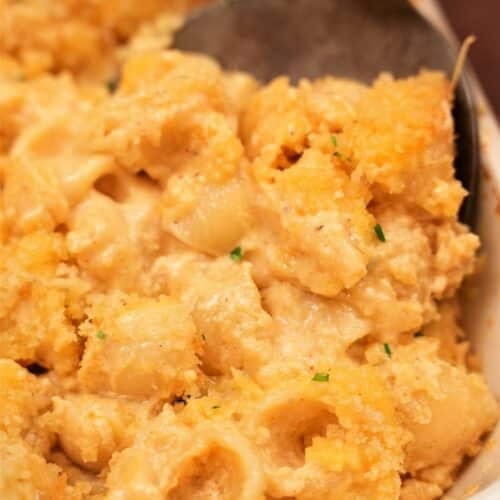 Baked Mac and Cheese (CRISPY TOPPING!)
This baked Mac and Cheese with an ultra crispy topping is the ULTIMATE side dish for any occasion, but especially around the holidays! The crispy panko topping and cheesy sauce fill every nook and cranny of the pasta!
Instructions
Shred your sharp cheddar and gruyere, reserving 2oz of your sharp cheddar to use for the topping.

Cook your shells in salted boiling water for 4 minutes less than package directions, then immediately drain.

Over medium heat, melt 8 tbsp of butter, then add 4 tbsp of flour, whisk to combine, then add 1/2 tbsp of ground mustard and whisk until no lumps remain. Cook for about 5 minutes, stirring occasionally until slightly thickened.

Add 3 cups of half and half followed by the bay leaves, nutmeg, garlic powder, paprika, cayenne, black pepper, and salt to taste. Stir to combine and bring to a low simmer until slightly thickened, about 5 minutes. Temper in one egg and mix for another minute to incorporate.

Turn off the heat, then add your cheese and mix until smooth, then add your pasta and mix until combined.

Add your pasta to a baking dish, then top with your reserved cheese. Melt butter and combine with your Panko breadcrumbs and top over the cheese.

Bake at 375F for 20 minutes, then broil for 3-4 minutes to get the topping super crisp and golden brown. Enjoy!
Notes
TIP: If you are making this dish ahead of time, add the mac and cheese to the casserole dish but do not bake it. Once you are ready to serve, add the panko breadcrumb topping and bake the mac and cheese so it's as fresh as possible! Alternatively, you could keep the mac and cheese warm in a slow cooker or crock pot on low heat, then bake the mac and cheese with the panko breadcrumb topping. 
Nutrition
Calories:
516
kcal
Carbohydrates:
14
g
Protein:
18
g
Fat:
44
g
Saturated Fat:
26
g
Polyunsaturated Fat:
2
g
Monounsaturated Fat:
12
g
Trans Fat:
1
g
Cholesterol:
145
mg
Sodium:
579
mg
Potassium:
202
mg
Fiber:
1
g
Sugar:
5
g
Vitamin A:
1408
IU
Vitamin C:
1
mg
Calcium:
537
mg
Iron:
1
mg