Cacio e Pepe: One of the Four Roman Pastas
---
February 14, 2023
---
Cacio e Pepe: this traditional Roman pasta (one of the classic four!) is so simple (literally the name means CHEESE & PEPPER) and comes together in under 20 minutes – making it the ideal pasta night dish!
Watch the Cacio e Pepe Recipe Video Below!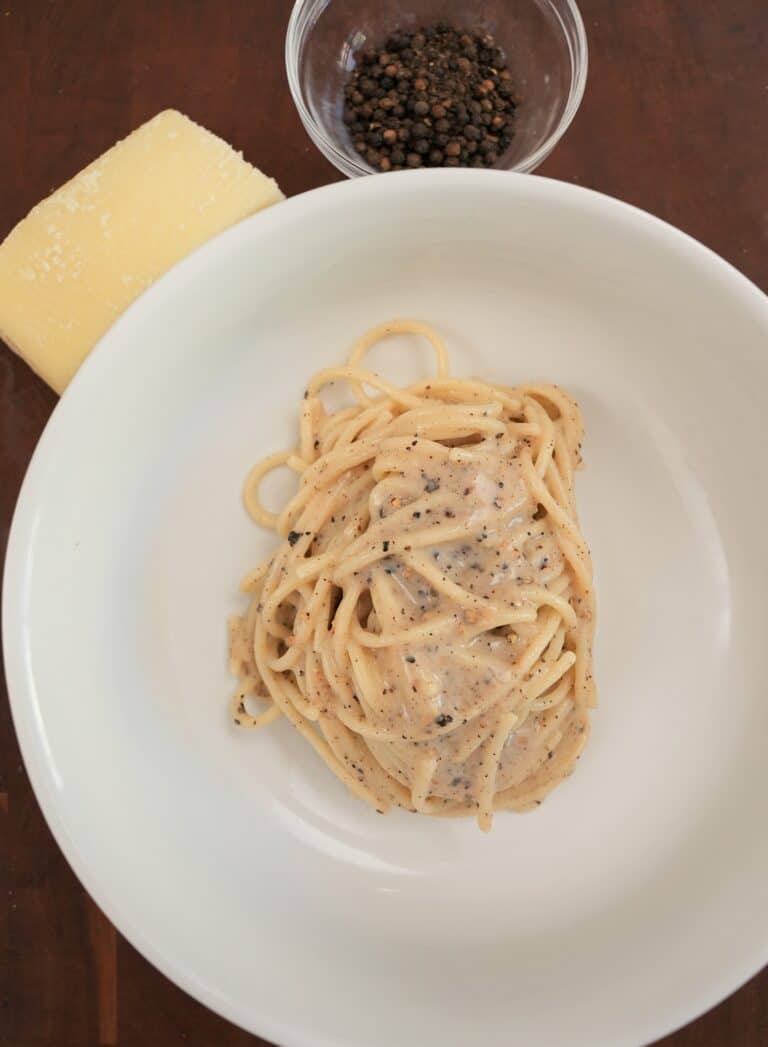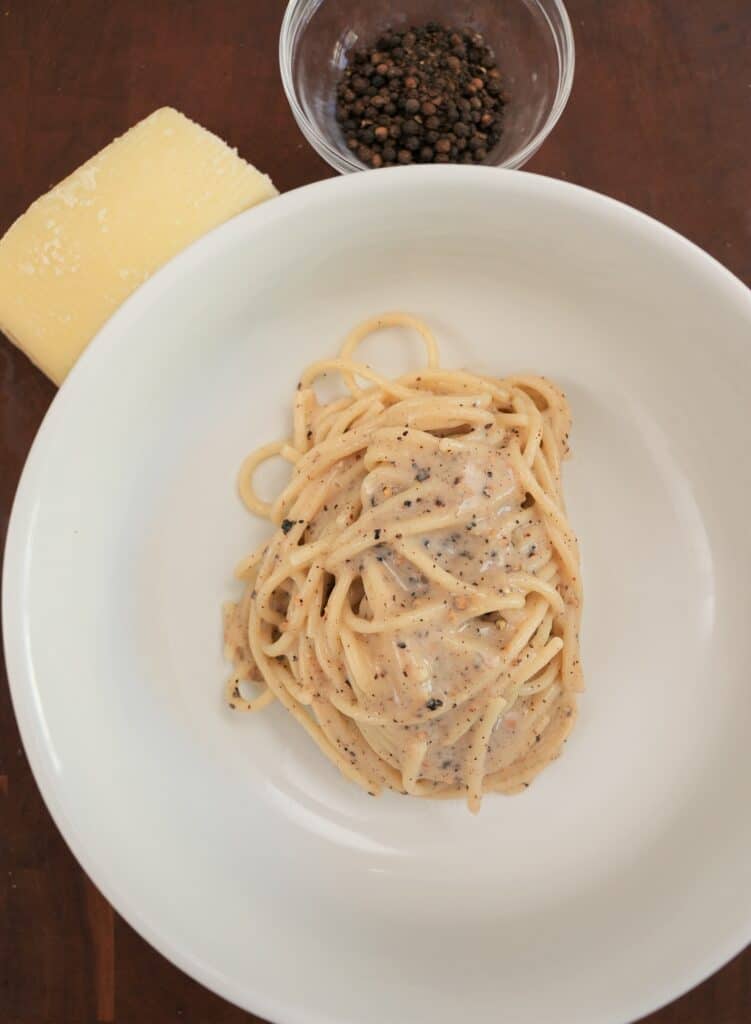 Ingredients for Cacio e Pepe
Here are the ingredients you'll need for the Roman classic, Cacio e Pepe! While it is a simple dish (in terms of ingredients), there is some technique involved which I'll explain below to make sure you don't end up with a clumpy mess!
6 oz spaghetti
2 oz pecorino cheese grated
1 cup reserved pasta water cooled to 150F (70C)
1/2 tbsp whole black peppercorns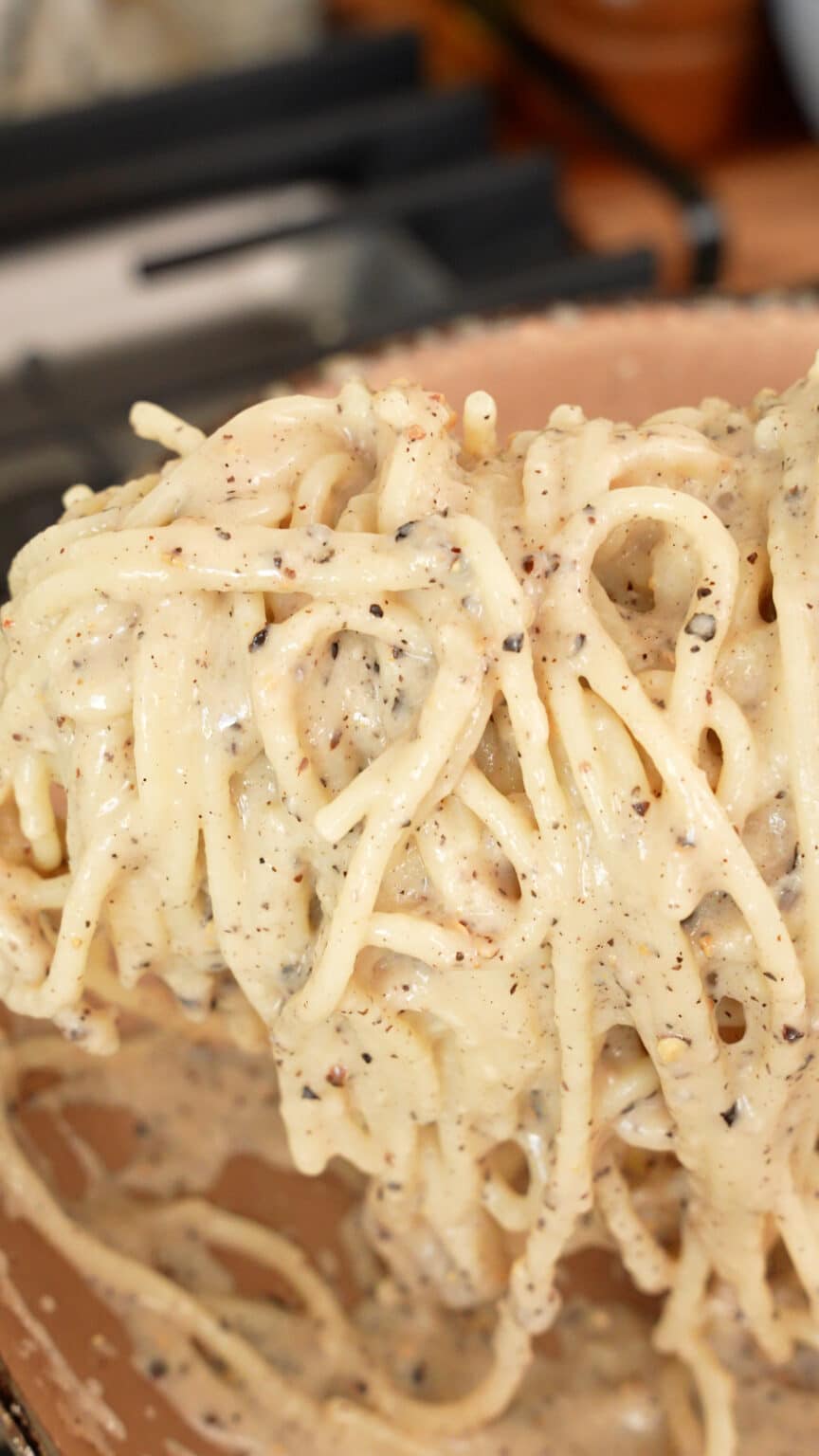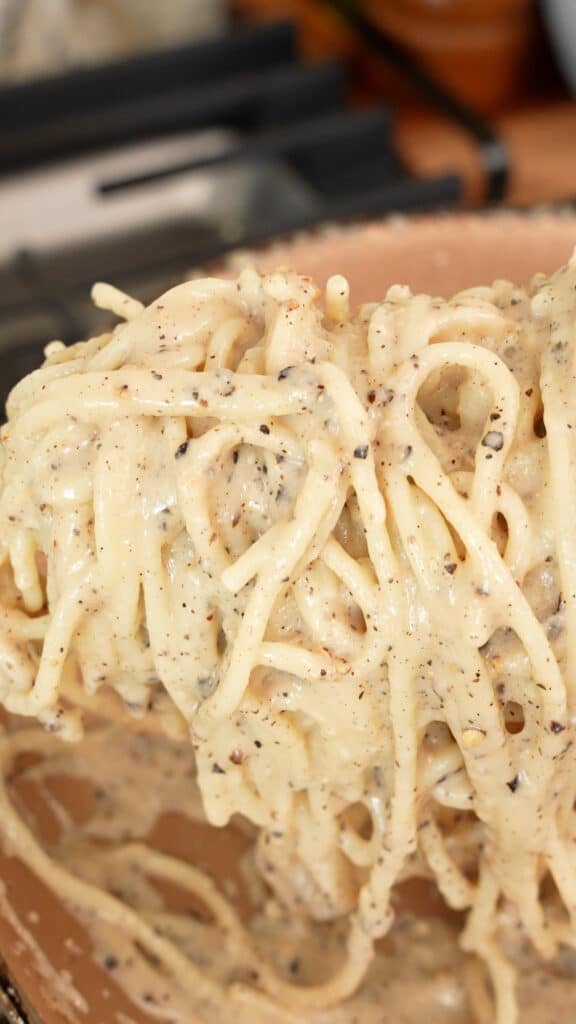 INGREDIENTS TIPS
THIS RECIPE ONLY HAS A FEW INGREDIENTS… so every ingredient should be the highest quality so they can shine!
PEPPERCORNS

Dry toast your peppercorns before grinding – this really enriches the aroma and brings out an extra layer of smokiness and spiciness that will enhance your dish.
Use whole peppercorns and grinding them so they are FRESH! This makes a world of different in flavor.

PASTA

I personally used spaghetti in this dish but you can sub with any long pasta (for ex: fettuccine, linguine, bucatini, tagliatelle). You can use either fresh or dried pasta; my only recommendation is to use the highest quality stuff you can find! I like bronze-cut pasta because the surface of the pasta allows for more sauce to cling to it.

PECORINO CHEESE

I like to always have a wedge of high quality cheese in my refrigerator – I don't like using pre-grated cheese because they contain preservatives to keep the shreds from clumping. I get my pecorino cheese from Costco!

PASTA WATER

Reserve 1 cup of your pasta water for your sauce and let it COOL to 150F or 70C before mixing it with your sauce. I have made this dish countless number of times and when you mix the hot pasta water straight from the pot, the sauce always turns out clumpy.
Cacio e Pepe: Recipe Instructions
Toasting Black Peppercorns
Begin by toasting the whole, black peppercorns in a pan over medium heat for 2-3 minutes until toasted and fragrant. You'll know they are toasted when you can see the oils appear on the peppercorn. Remove them and then coarsely grind in a mortar and pestle.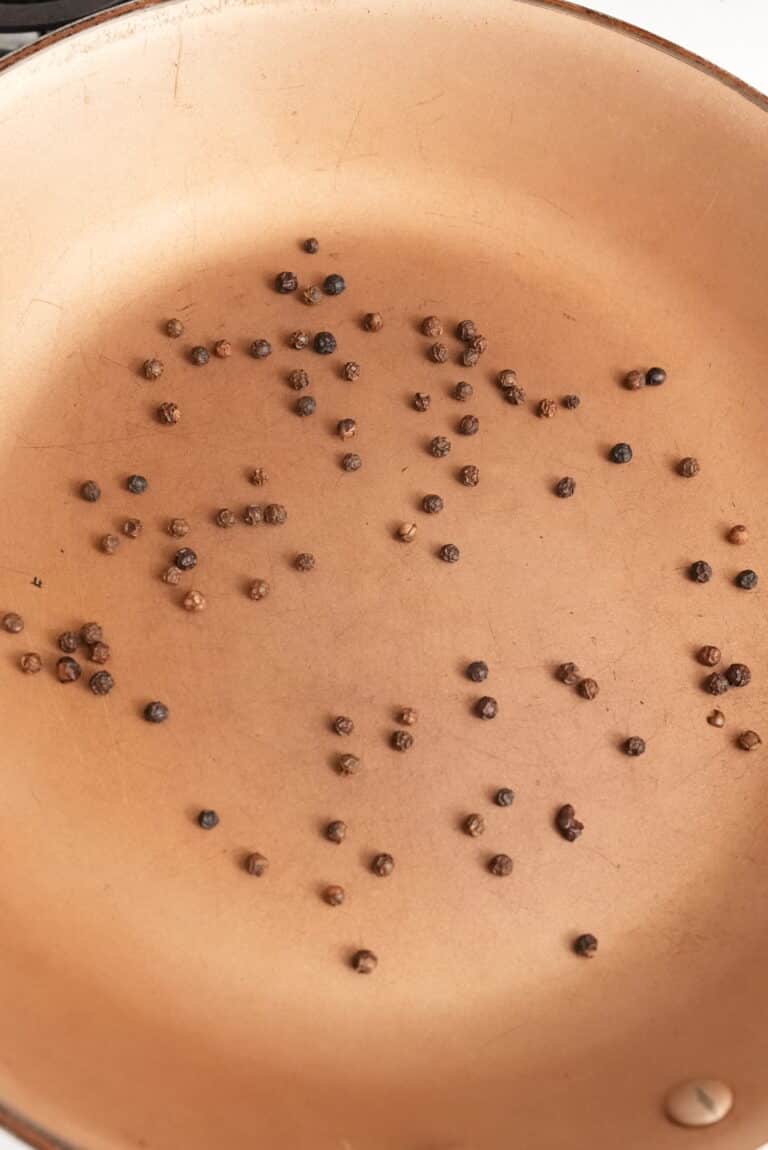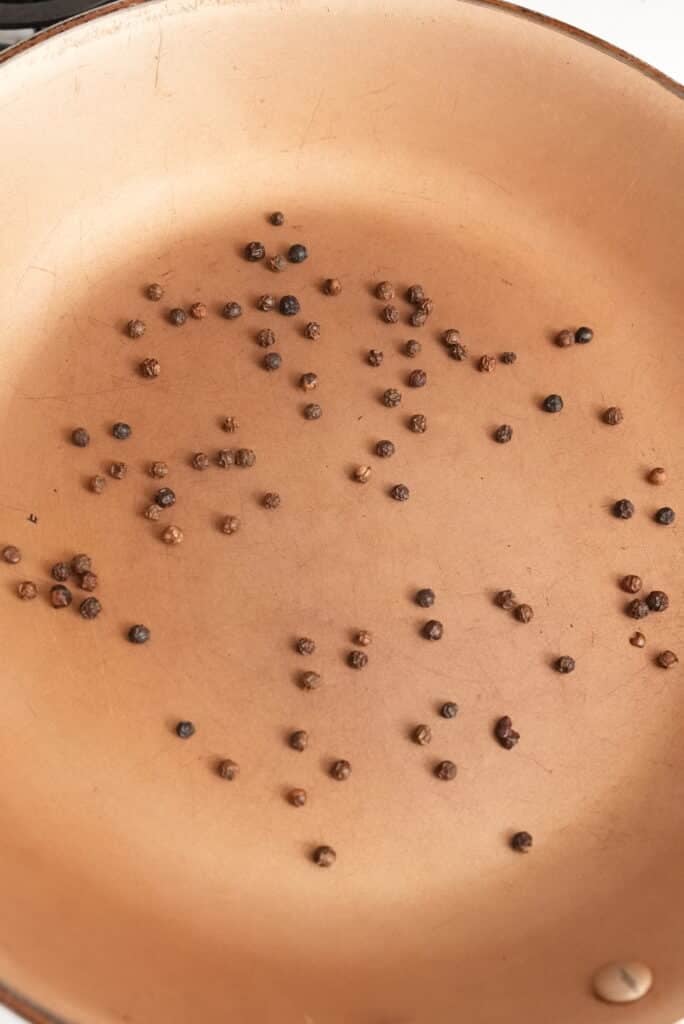 Grate Pecorino Cheese
For the cheese, I'm using finely grated fresh Pecorino Romano cheese, which is the traditional cheese used in Cacio e Pepe. Add the grated cheese to the coarse ground black pepper with the heat OFF.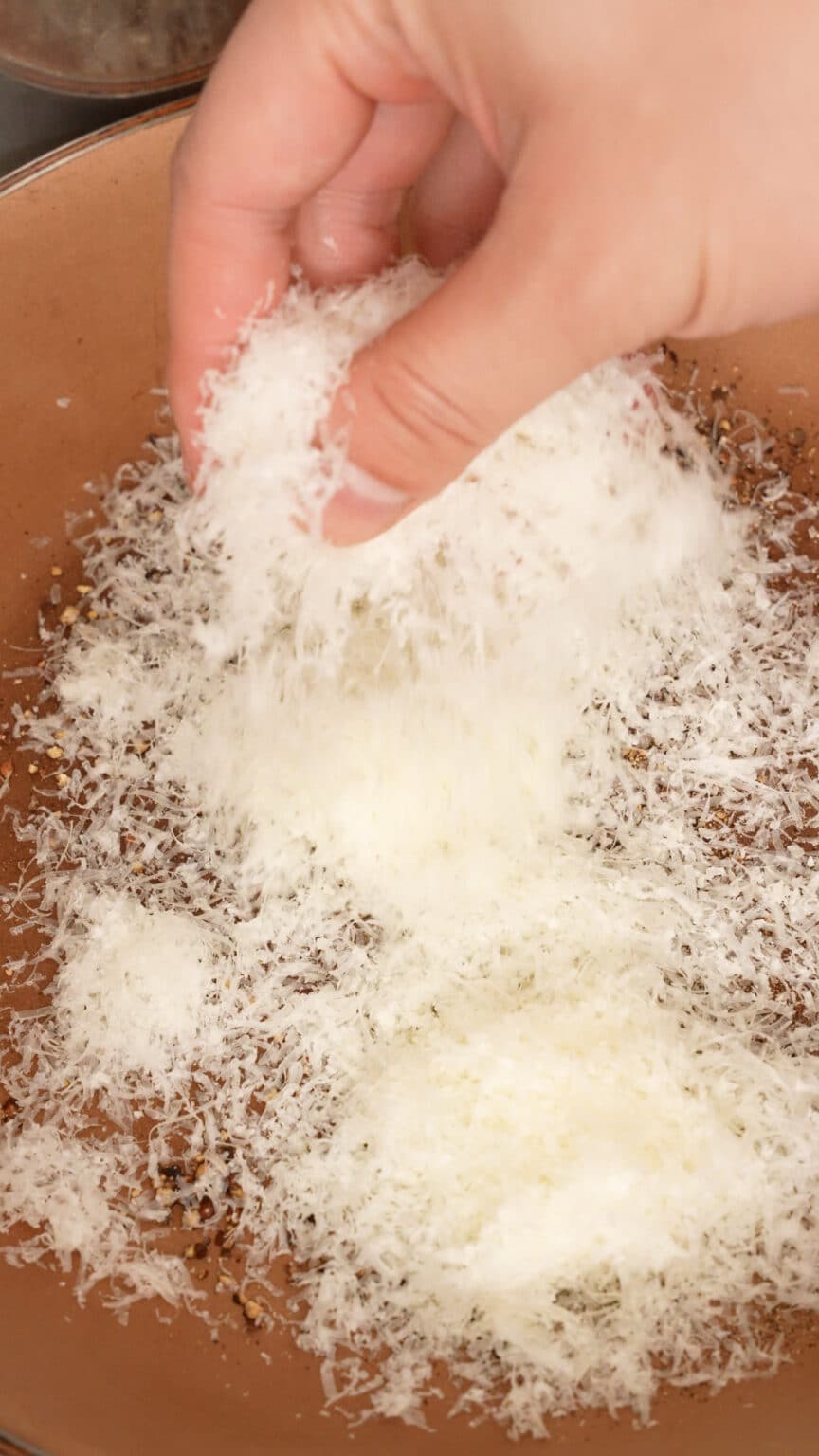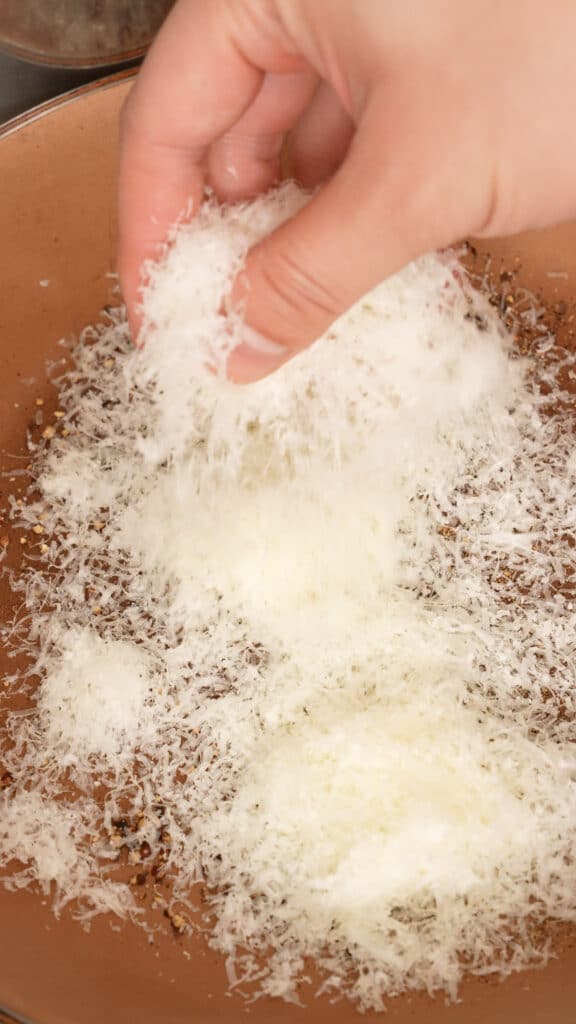 Reserve the pasta water!
Cook the pasta of choice (spaghetti, rigatoni, mezzi rigatoni, bucatini are all great choices) to al dente. About half way through the cooking process, reserve a cup of the starchy pasta water. Then, set the water on the counter to cool for at least 3-4 minutes. If you have a thermometer, you want to let the water cool to around 150F (70C).
The biggest mistake I've seen people make (I have done this many times), is add the pasta water to the cheese and pepper when the water is too hot (boiling). At these temperatures, the water will turn the cheese clumpy and oily, which is counterintuitive to the silky, emulsified sauce we are going for. The water temperature is a key step in this recipe!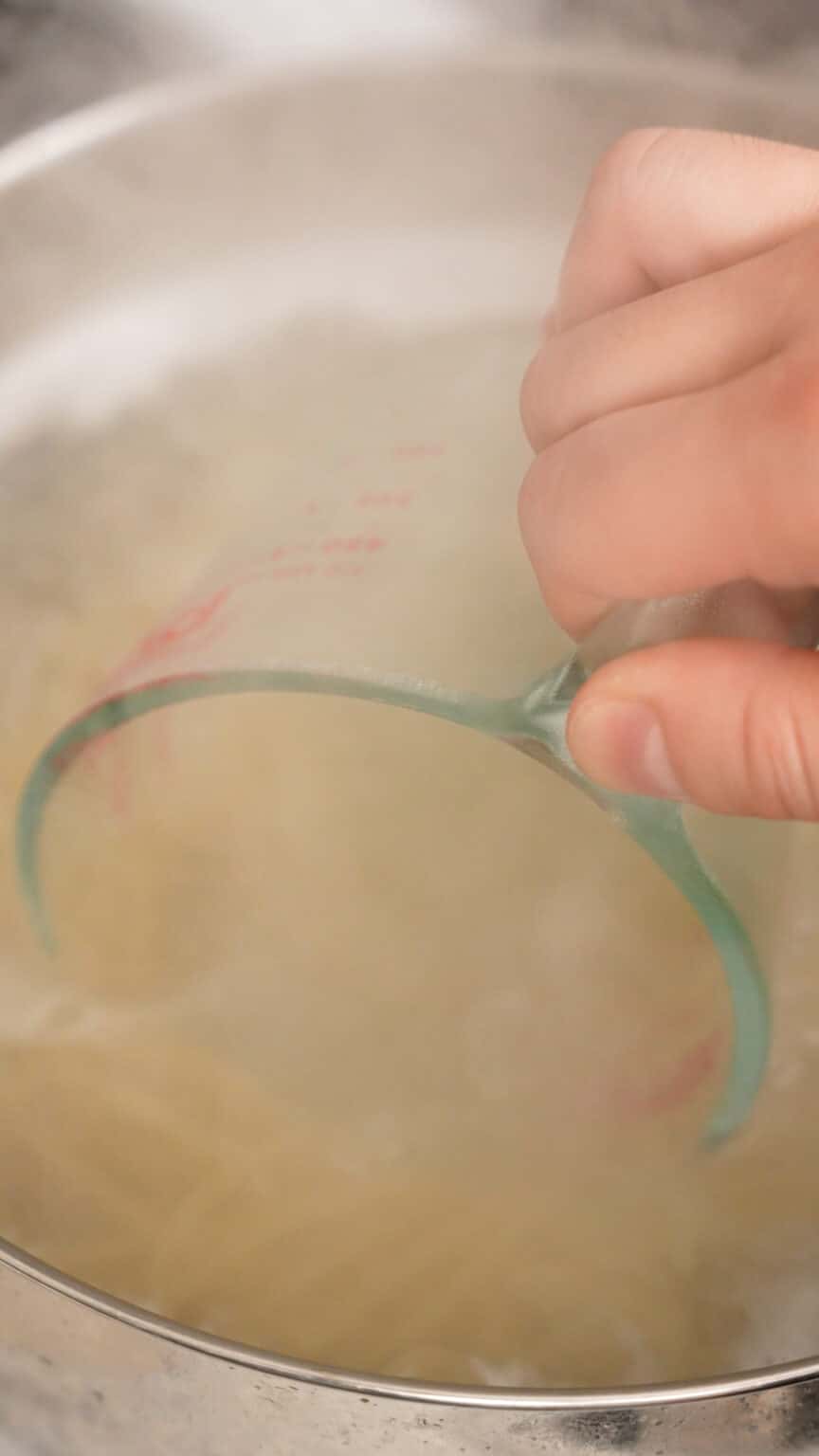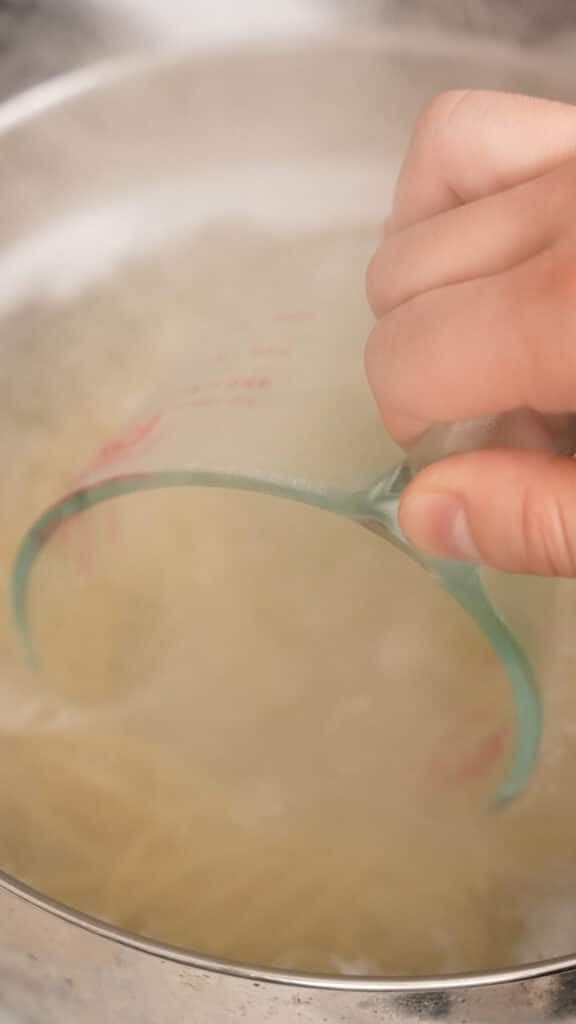 Form the Cacio e Pepe sauce
Once the water has cooled, add 1/4 cup of pasta water to the sauce at a time until a smooth, emulsified sauce is achieved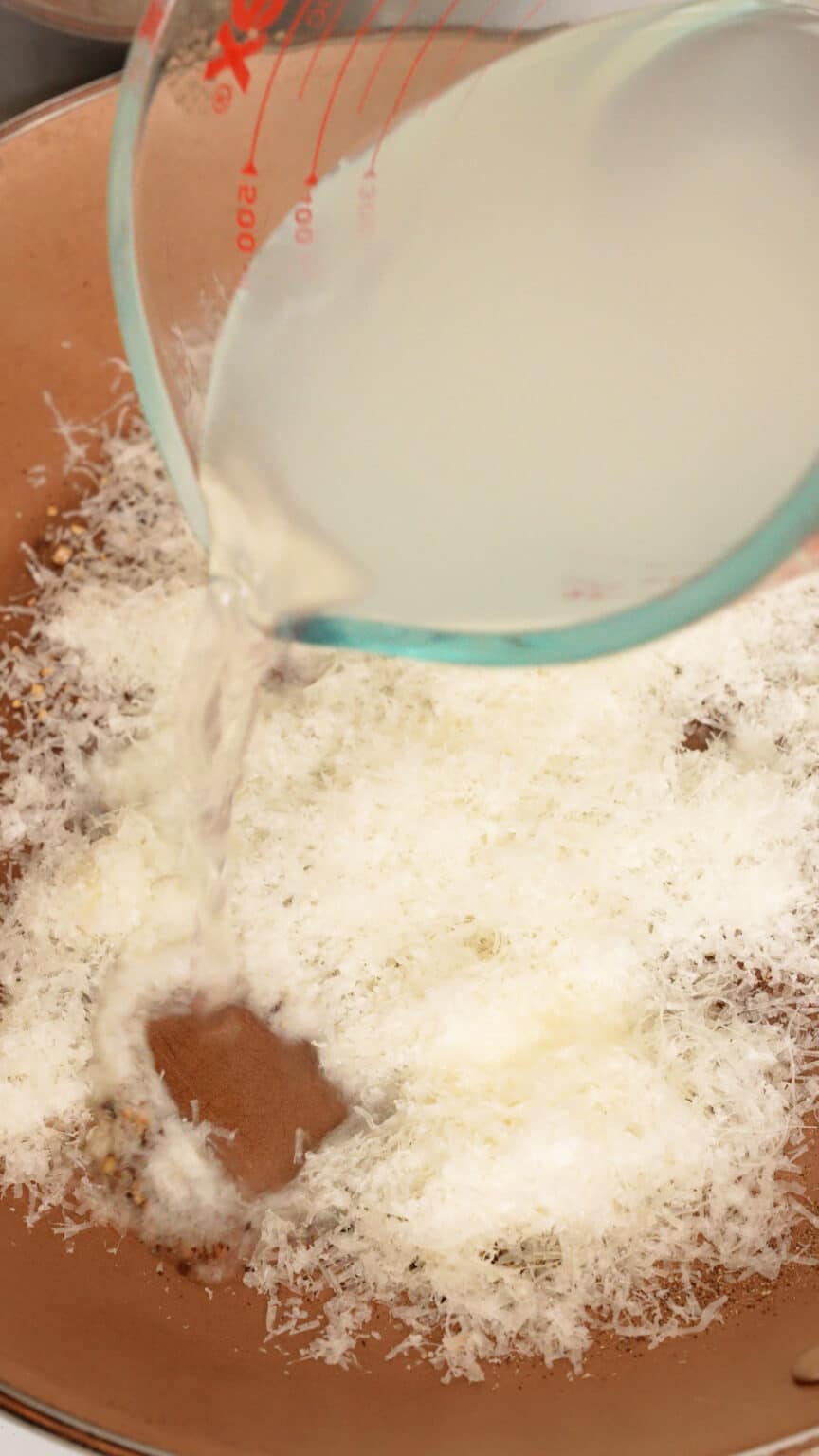 Mix and emulsify
Using a spatula (still off the heat), mix vigorously until you've created a smooth sauce that is free of clumps. If you are seeing clumps in the sauce, then unfortunately the water was too hot. I would suggest removing the clumpy cheese at this point, adding more cheese and cooled pasta water until the sauce is achieved.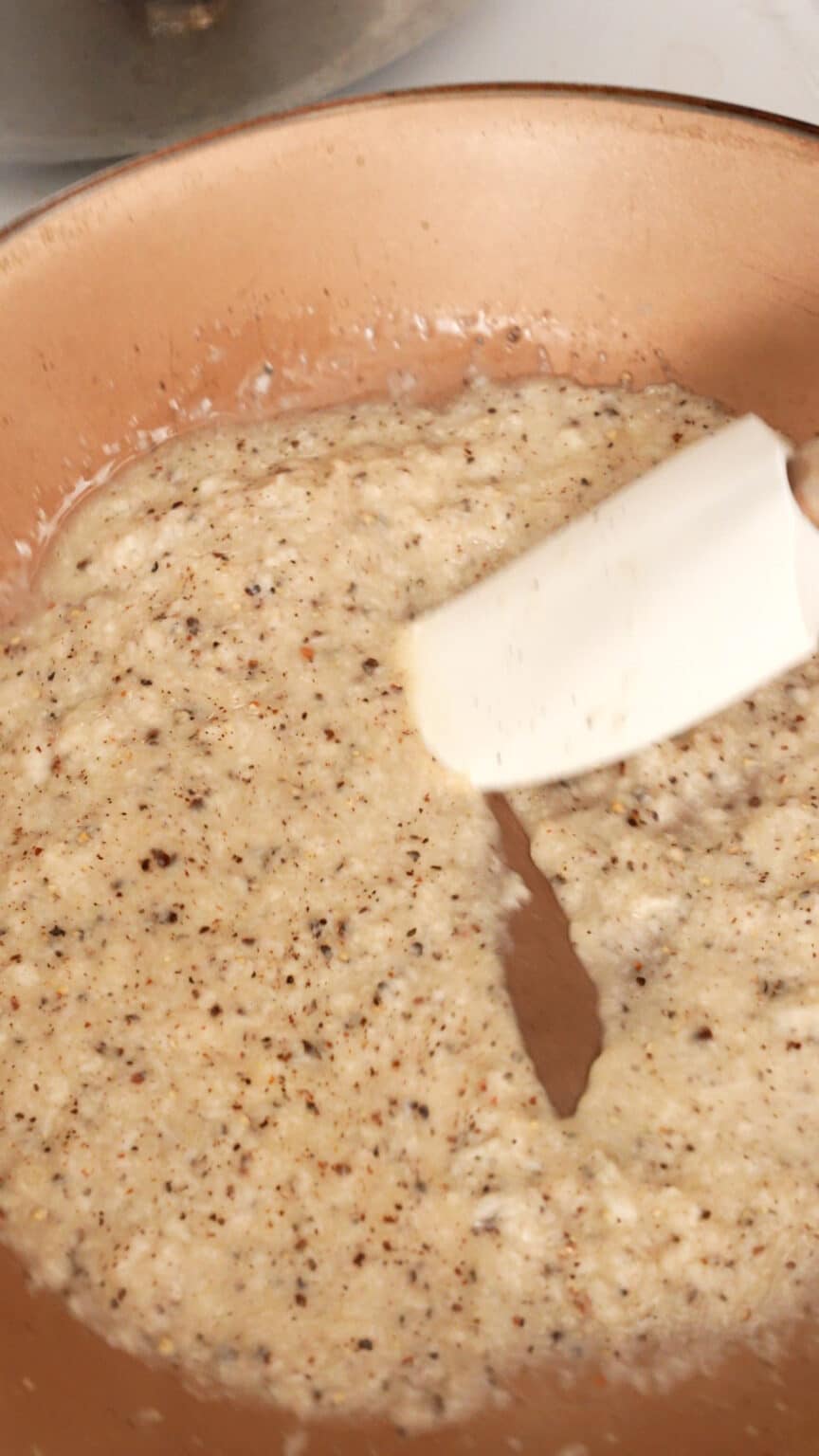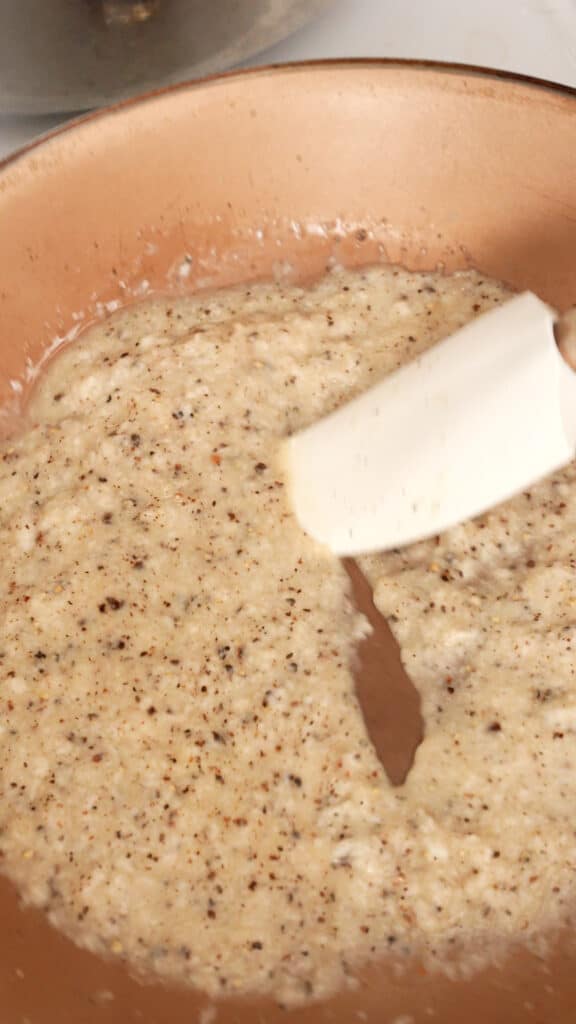 Add pasta and combine
Once the sauce is finished, the pasta should be done cooking and ready to combine with the sauce. Finally, drain the pasta, let it cool for a few seconds and add it to the sauce. I've also created a perfect sauce but then added pasta that was too hot and it ended up clumping my sauce! Let it cool for a few seconds to avoid this, then add the pasta and mix well with the sauce.
At this point, if the sauce is too thick, add a couple tablespoons of pasta water to thin out the sauce and continue mixing until you achieve the correct consistency. Plate it up into some warmed bowls and enjoy!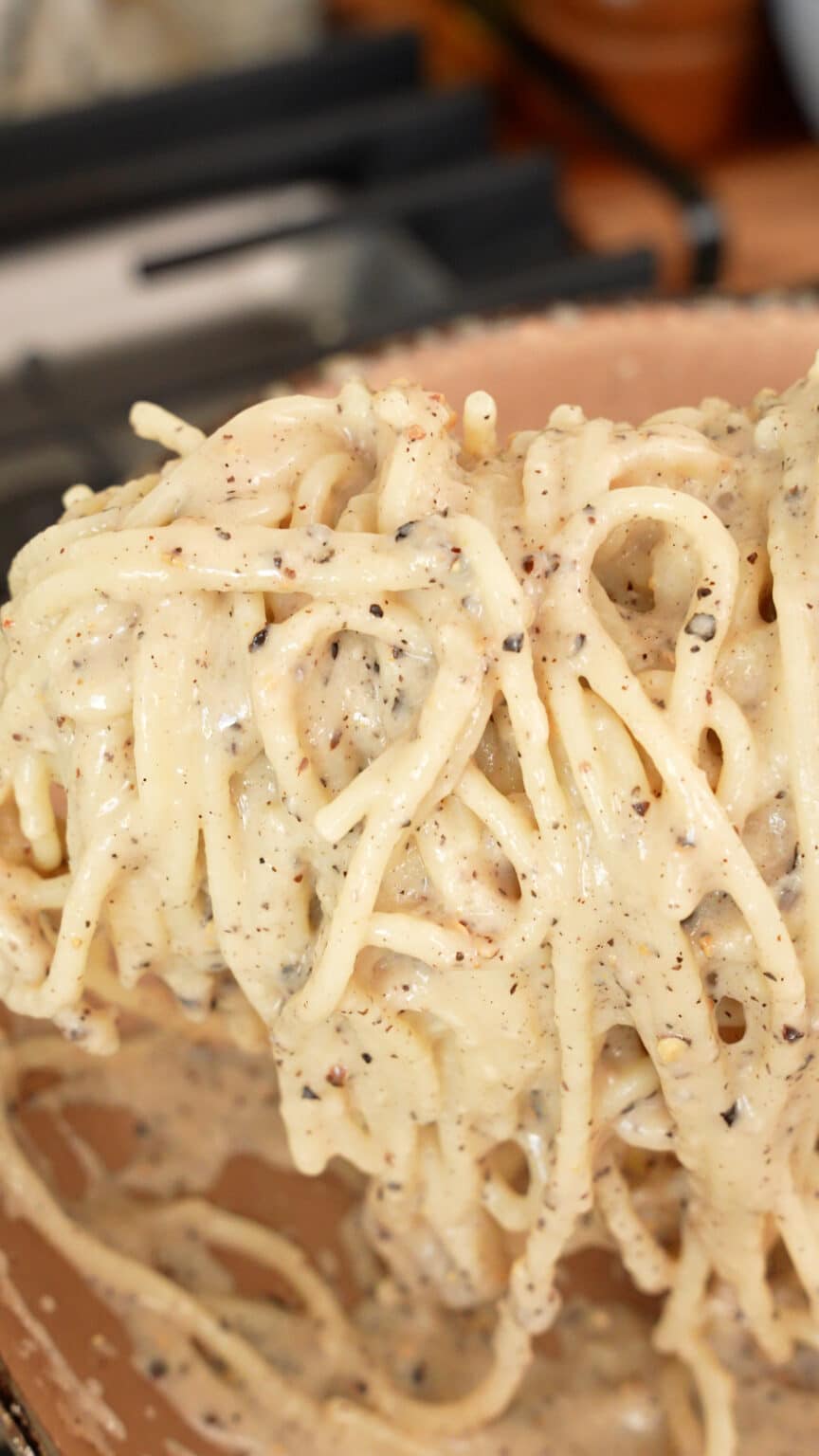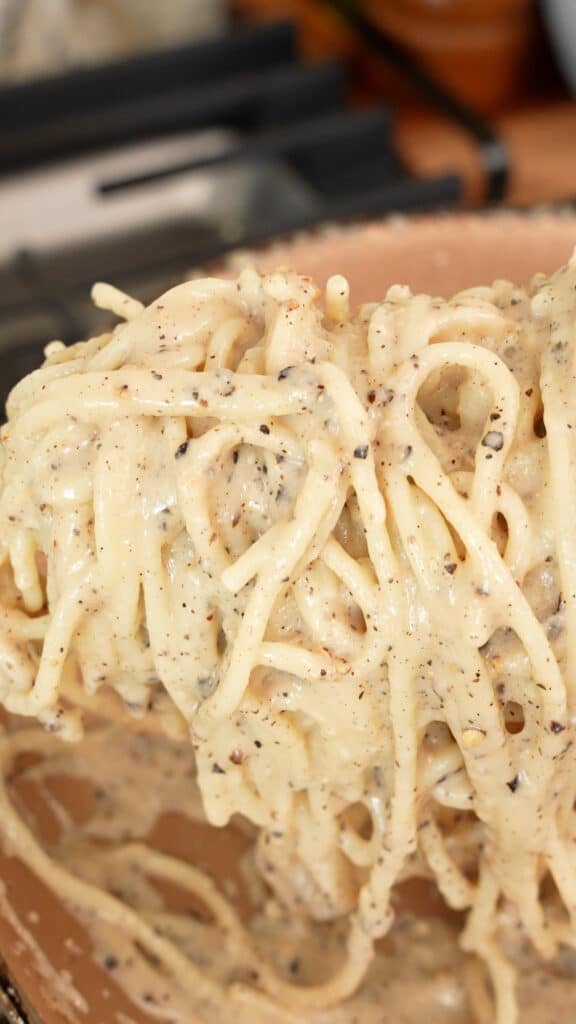 If you liked this recipe, check out some of the most popular pasta recipes on the blog! Please consider giving a rating and commenting down below what you thought of the recipe! It really helps out the blog!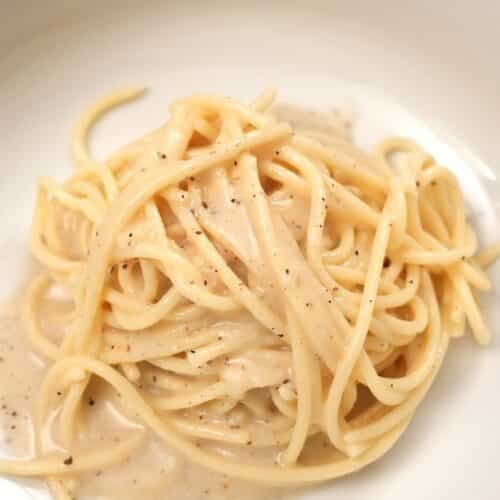 Cacio e Pepe
Cacio e Pepe: this traditional Roman pasta (one of the classic four!) is so simple (literally the name means CHEESE & PEPPER) and comes together in under 20 minutes – making it the ideal pasta night dish!
Ingredients
6

oz

spaghetti

2

oz

pecorino cheese

grated

1

cup

reserved pasta water

cooled to 150F (70C)

1/2

tbsp

whole black peppercorns
Instructions
Toast whole peppercorns over medium high heat for 2-3 minutes to extract the oils. Transfer to a pepper grinder or mortar and pestle and grind to a medium coarse grind. Add back to your pan with the heat off.

Cook your spaghetti (or pasta of choice) in lightly salted water. 2 minutes before the pasta is done, reserve 1 cup of pasta water and set on the counter to let cool to about 150F or 70C – this is the key to avoiding lumpy cheese! Adding pasta water straight from the pot is much too hot.

Still of the heat, add 3/4 of your grated cheese to your peppercorns along with a 1/4 cup of pasta water at a time, stirring until you get a loose but emulsified sauce.

Add your drained pasta and mix vigorously. At this point your pasta should start to absorb the sauce, but add additional pasta water and mix if the sauce is too thick. Continue mixing until you achieve the correct consistency (refer to video). Serve immediately and enjoy!