Fettuccine Alfredo
---
July 9, 2023
---
Simple and delicious, Fettucine Alfredo is one of my favorite comfort foods! You only need a few ingredients and technique to make this ultra creamy dish at home. It comes together in minutes and you don't need to use heavy cream!
Watch the Fettucine Alfredo Recipe Video Below!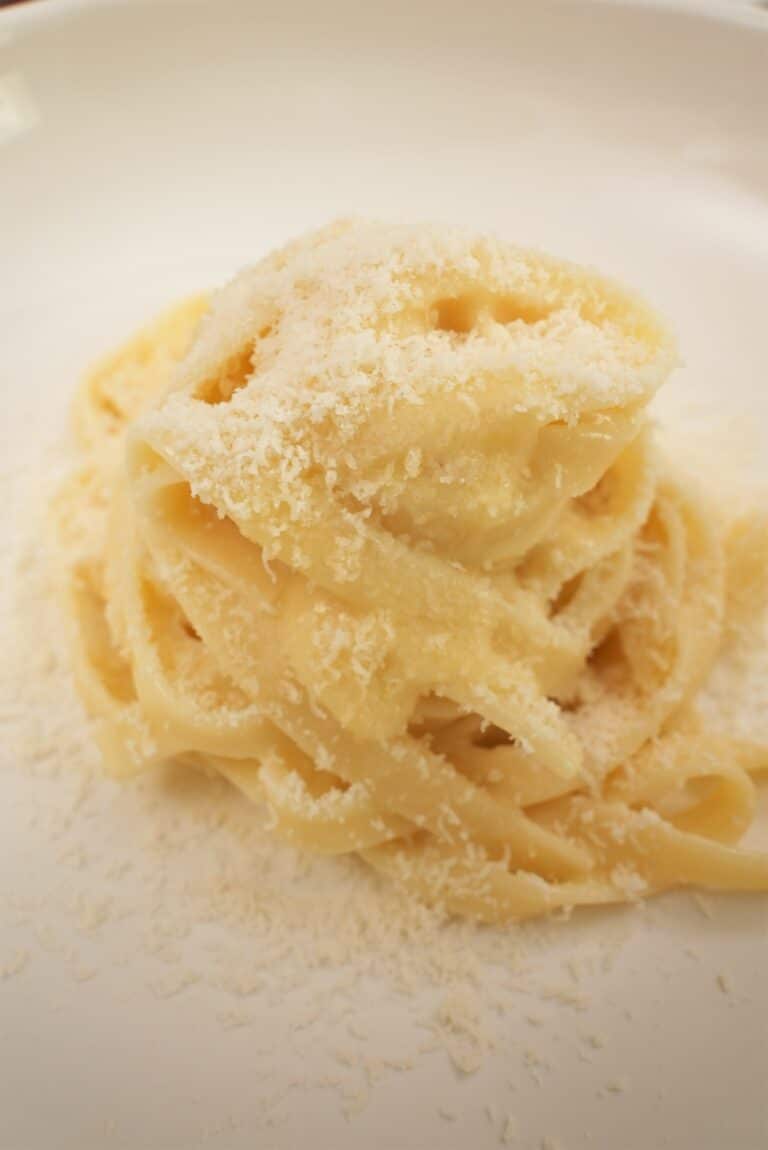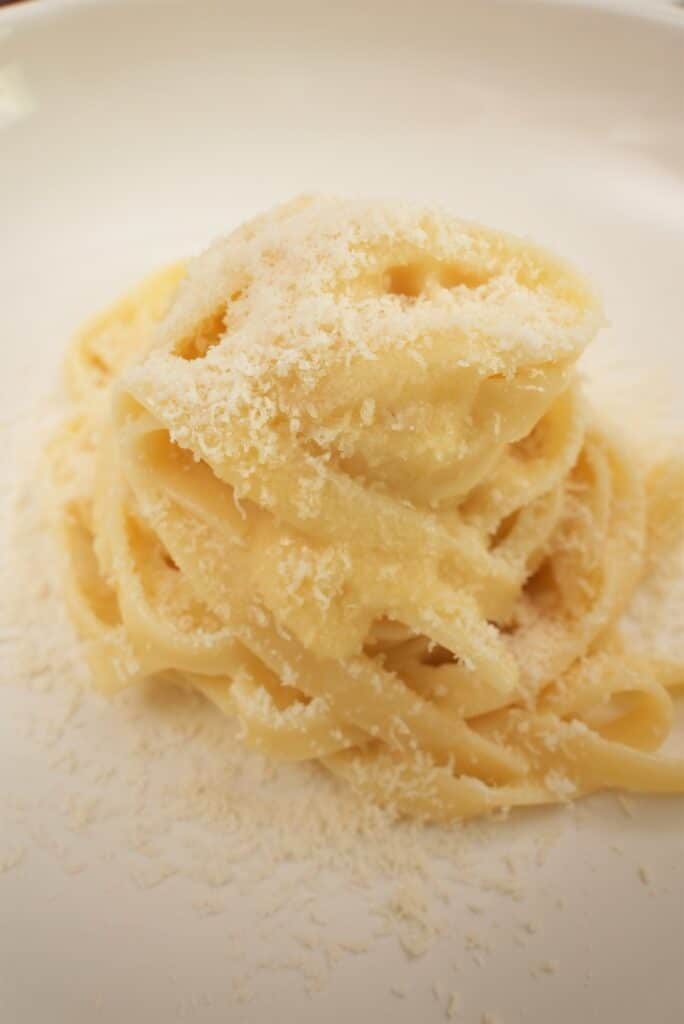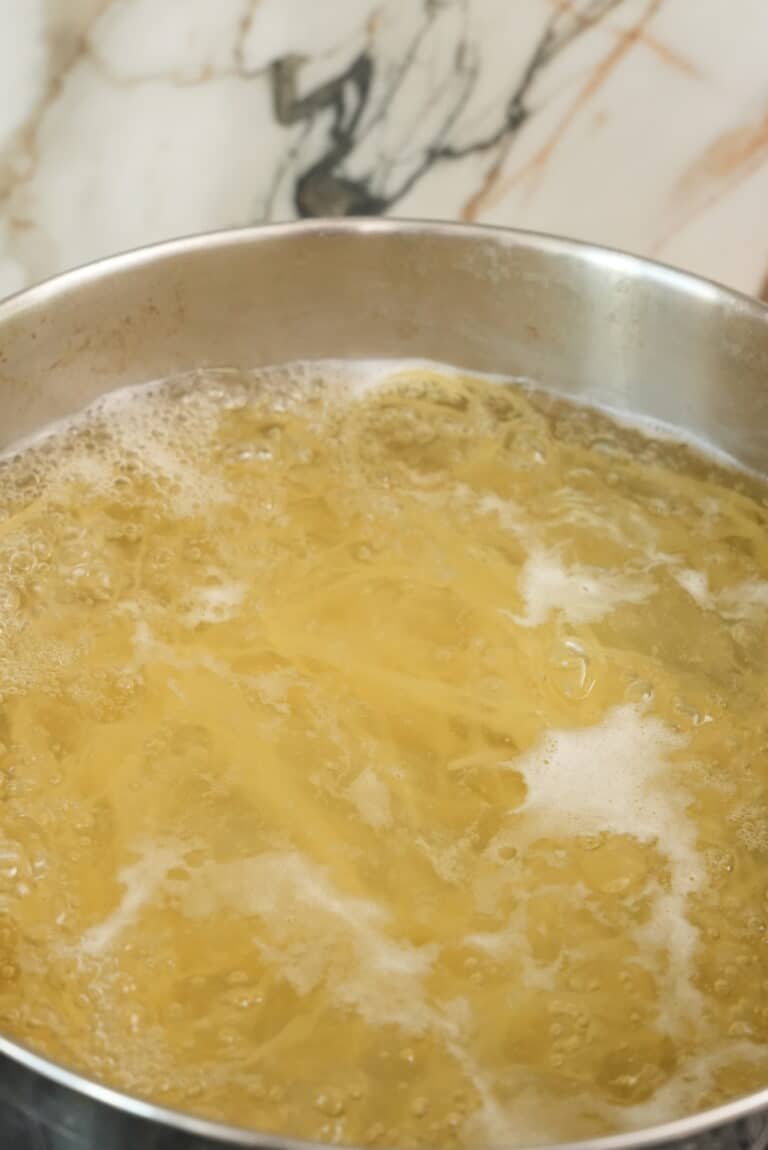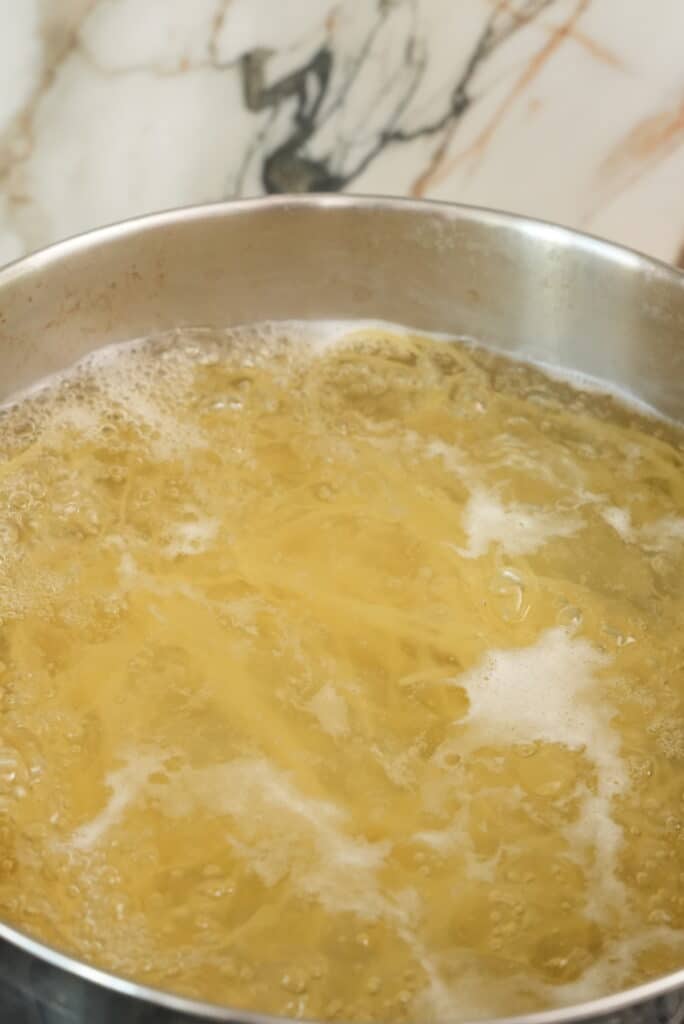 INGREDIENTS TIPS
HIGH QUALITY INGREDIENTS ARE KEY
This recipe doesn't have a lot of ingredients, so it's important to use the highest quality you can find so they can really shine! For me, this means the best pasta (or my favorite pasta), freshly grated cheese, and great butter!
Pasta: My two go-to brands for dried pasta are Dececco or Seggiano.
Butter: My favorite butter is Kerrygold unsalted butter. The quality is phenomenal! I like to buy mine from Costco and freeze what I won't need (butter lasts in the freezer for 5 months).
Cheese: I like to always have a wedge of high quality cheese in my refrigerator – I don't like using pre-grated cheese because they contain preservatives to keep the shreds from clumping. For this recipe, I used the 24 month aged parmesan cheese from Costco.
PASTA WATER
Pasta water is the secret ingredient to the best pastas. When you cook your pasta in salted water, what's left over is the salty, starchy water. This water (which Bon Appetit calls "LIQUID GOLD") is what emulsifies with the fat in your sauce (oil, butter, cheese, etc) and creates that incredibly smooth sauce.
My #1 tip with pasta water is DO NOT ADD IT DIRECTLY FROM THE POT. It's going to be too hot – the higher temperature of the water will melt the cheese too fast and create a clumpy sauce! Reserve your pasta water in a separate measuring cup and aim to have it at 150-160F or about 70C before adding more to the sauce (1-2 minutes of resting).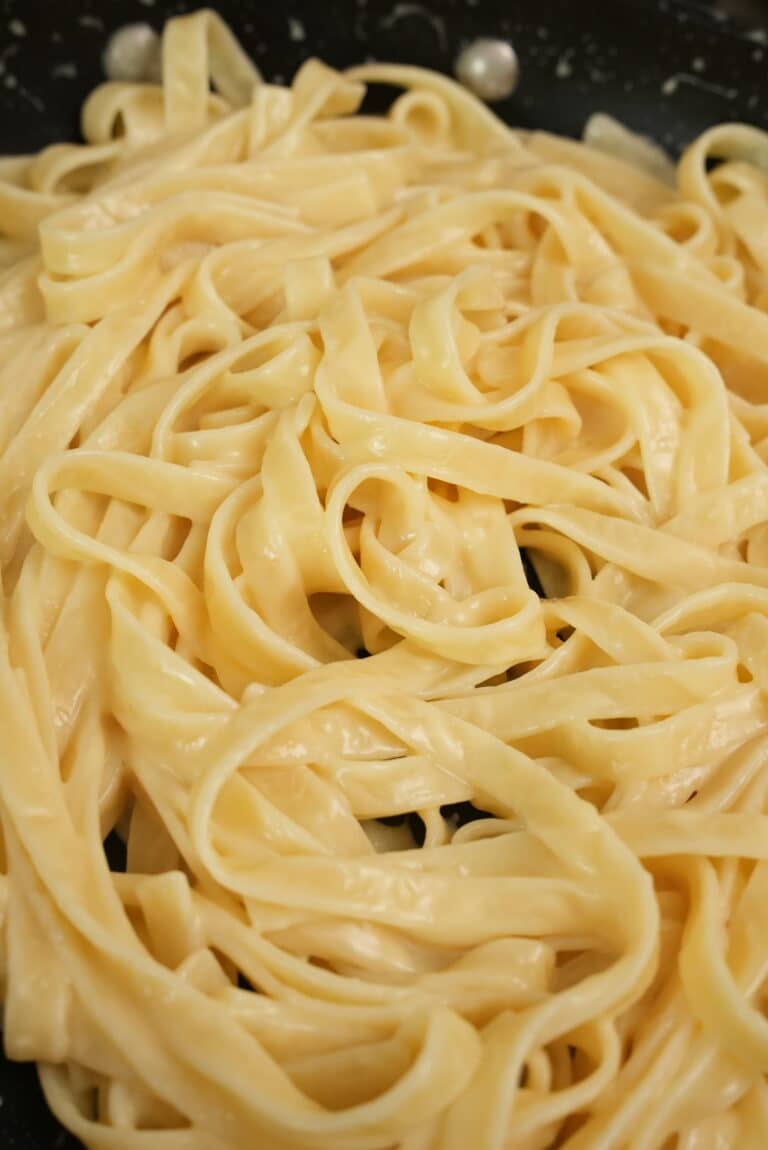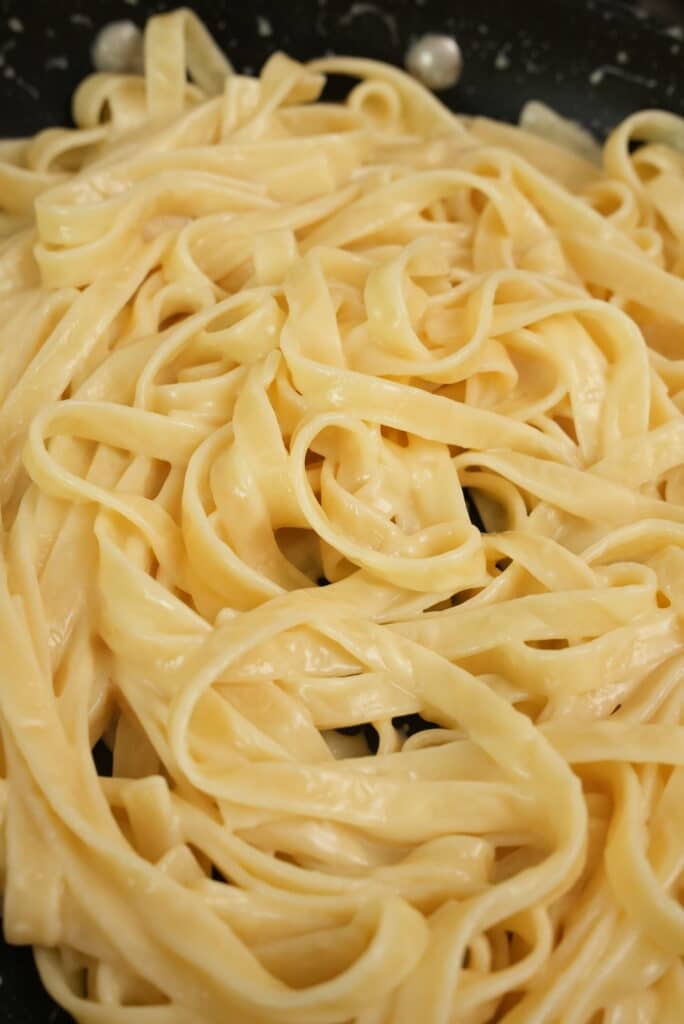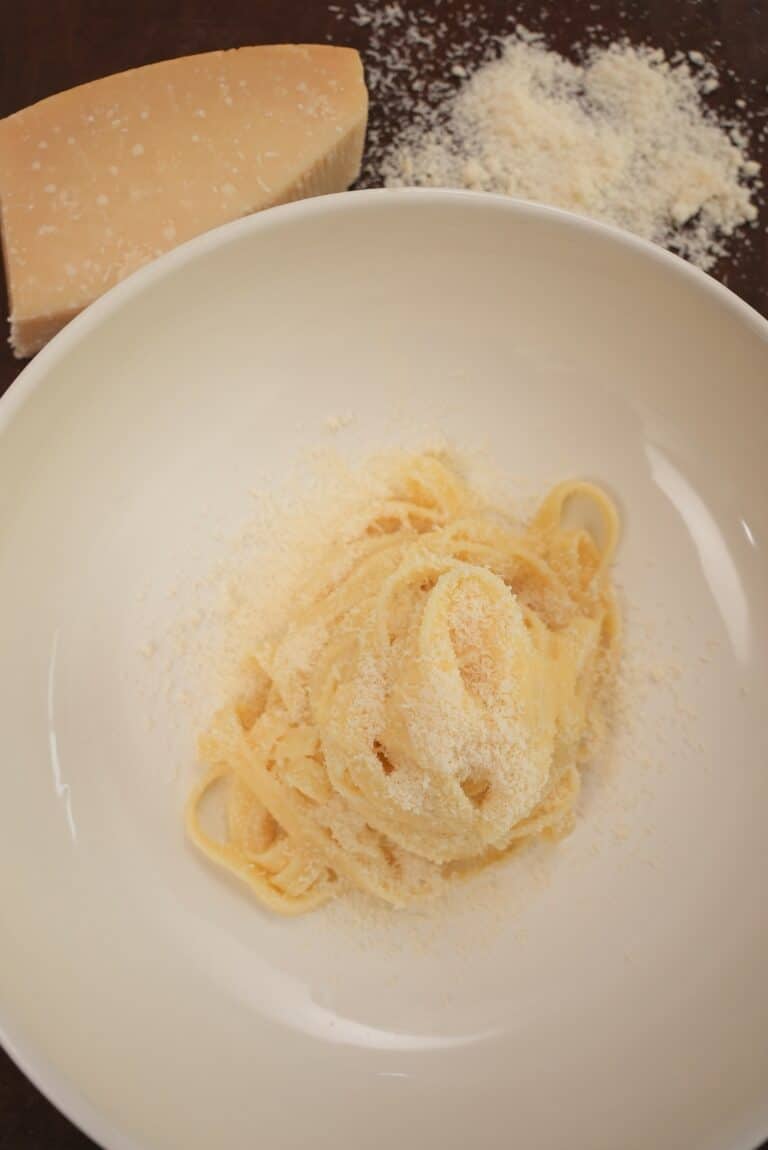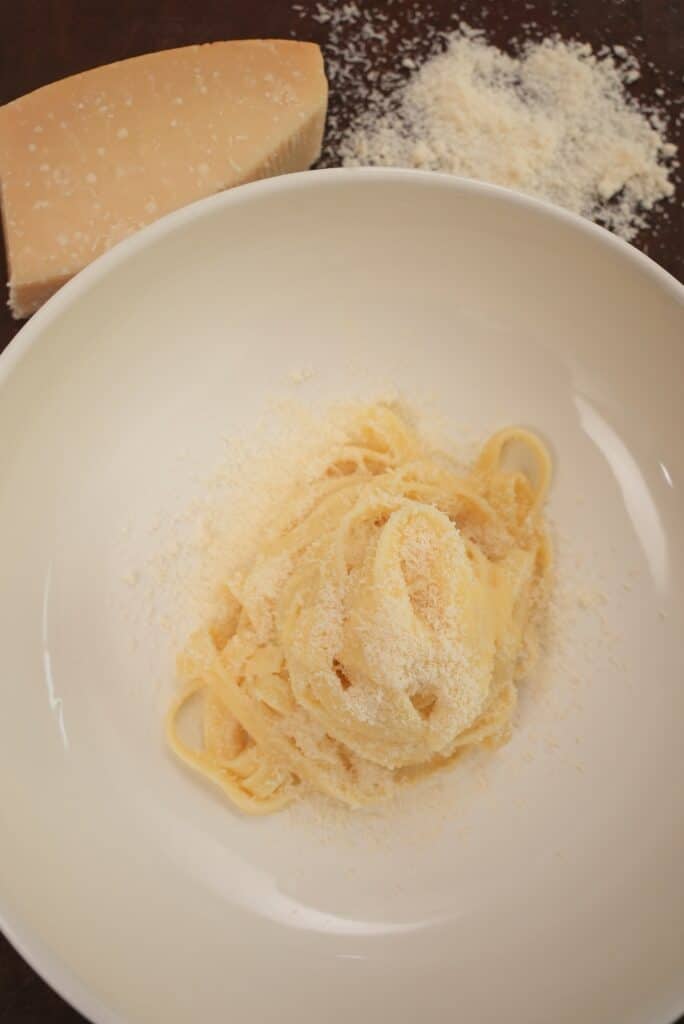 If you liked this recipe, check out some of the most popular pasta recipes on the blog! Please consider giving a rating and commenting down below what you thought of the recipe! It really helps out the blog!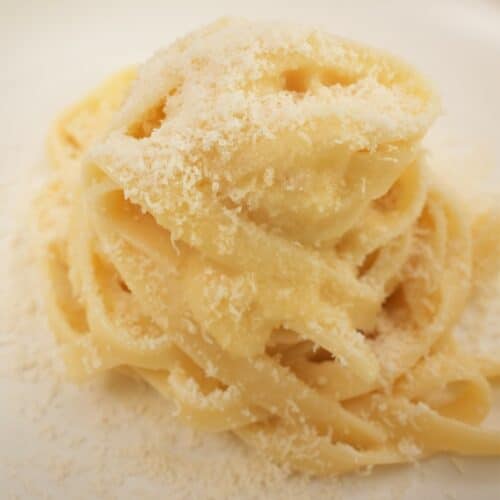 Fettuccine Alfredo
Simple and delicious, FETTUCCINE ALFREDO is one of my favorite comfort foods! You only need a few ingredients and technique to make this ultra creamy dish at home.
Ingredients
8

oz

fettuccine noodles

3

oz

aged parmesan cheese

finely grated

salt

for the pasta water

5

tbsp

butter

1

cup

pasta water

reserved after cooking the noodles
Instructions
In a large pan, melt butter over medium heat until fully melted, then immediately turn off the heat.

In a large pot of salted boiling water, cook your fettuccine to al dente or until desired doneness.

1-2 minutes before the pasta is done, reserve a cup of pasta water and set aside to cool. Ideally, you want the temperature of this water to be around 150-160F or 70F (use a thermometer for better accuracy).

Once the pasta is cooked to your desired doneness, immediately transfer to the butter and add 1/3 cup pasta water and your cheese. Stir vigorously (still off the heat), adding pasta water as needed, until a creamy sauce is achieved. Adjust seasoning for salt to your preference.

Serve immediately in a warm bowl with additional parmesan and optional freshly cracked black pepper and enjoy!