Authentic 15-Minute Carbonara
---
November 10, 2023
---
Carbonara is a pasta dish that originated in Rome! There are 4 classic Roman pastas: Carbonara, Cacio e Pepe, Amatriciana, and Pasta alla Gricia, but Carbonara is hands down the most famous of them all. The technique used to make this carbonara is basically FOOL-PROOF. Trust me, I've messed up a lot of pasta carbonara in my day to know that this method produces a silky, creamy sauce that doesn't break!
The best part about this authentic Carbonara recipe is that it only takes 15 minutes to make! See below for my fool-proof method that creates a creamy, delicious Carbonara with no cream!
Watch the Carbonara Recipe Video Below!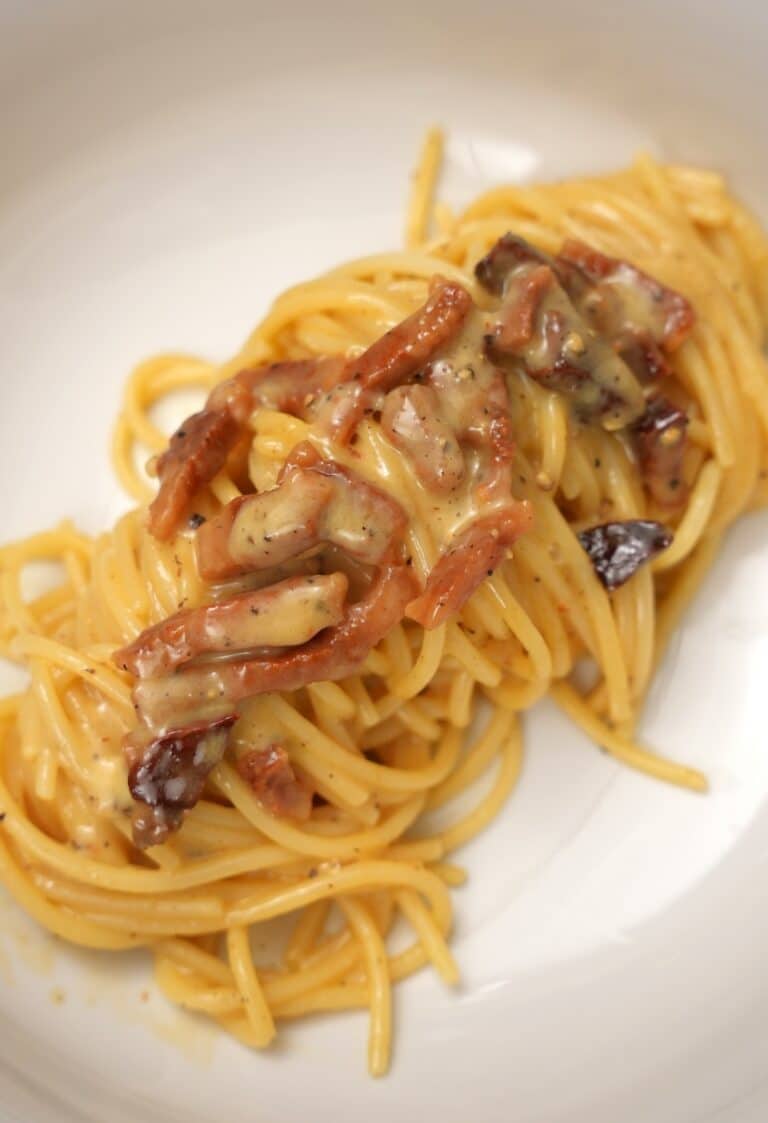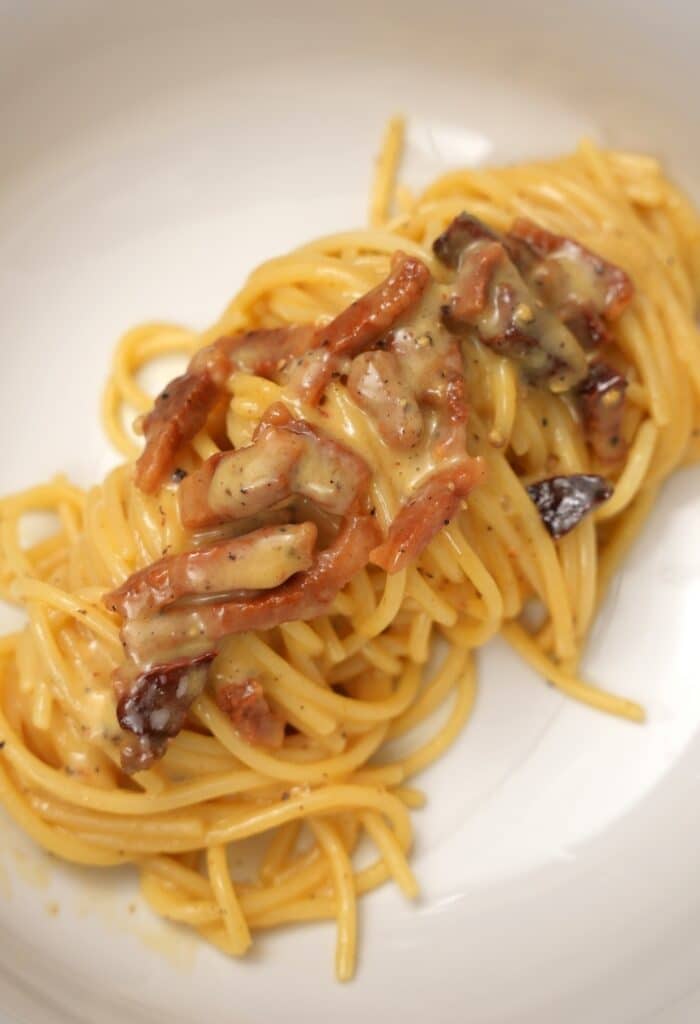 Ingredients for Carbonara
Here are the ingredients you'll need for a true classic Roman Carbonara
8 oz spaghetti
2.5 oz Pecorino Romano, finely grated
1.5 oz Parmigiano Reggiano, finely grated
1 whole egg
3 egg yolks only
6 oz guanciale sub bacon or pancetta
1 tbsp guanciale fat after cooking
1/2 tbsp whole black peppercorn (add more if desired)
Salt (for the pasta water)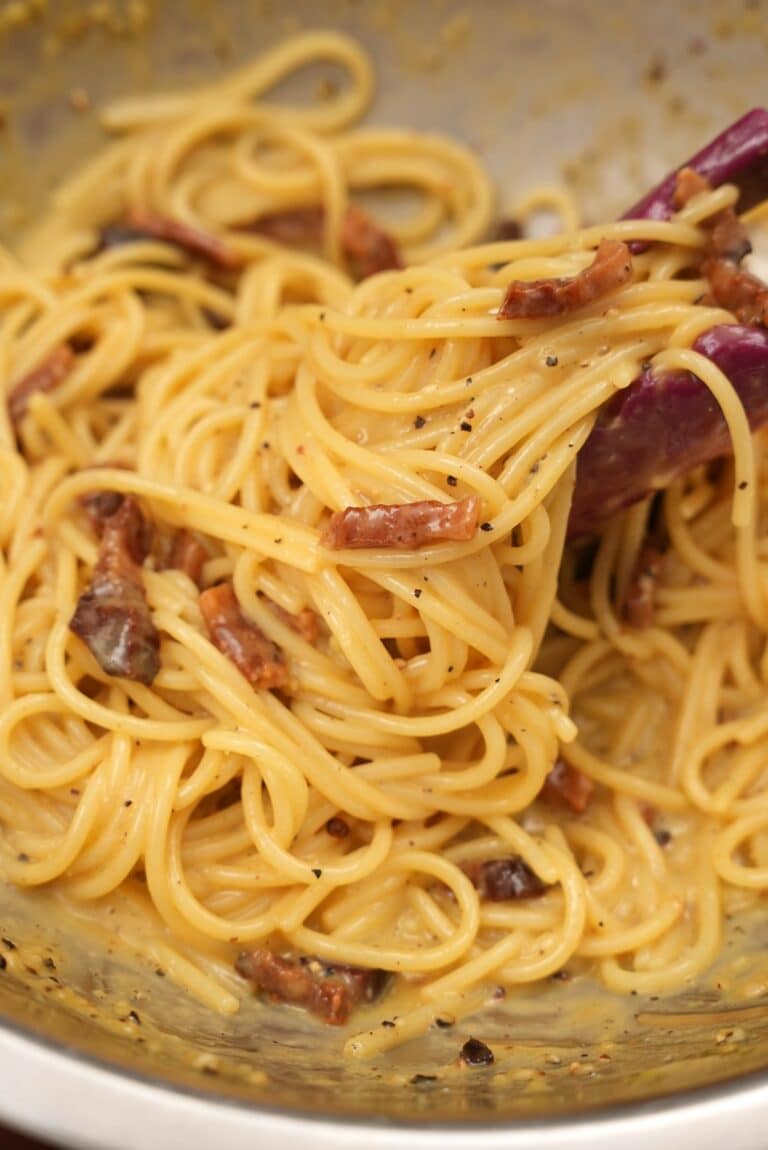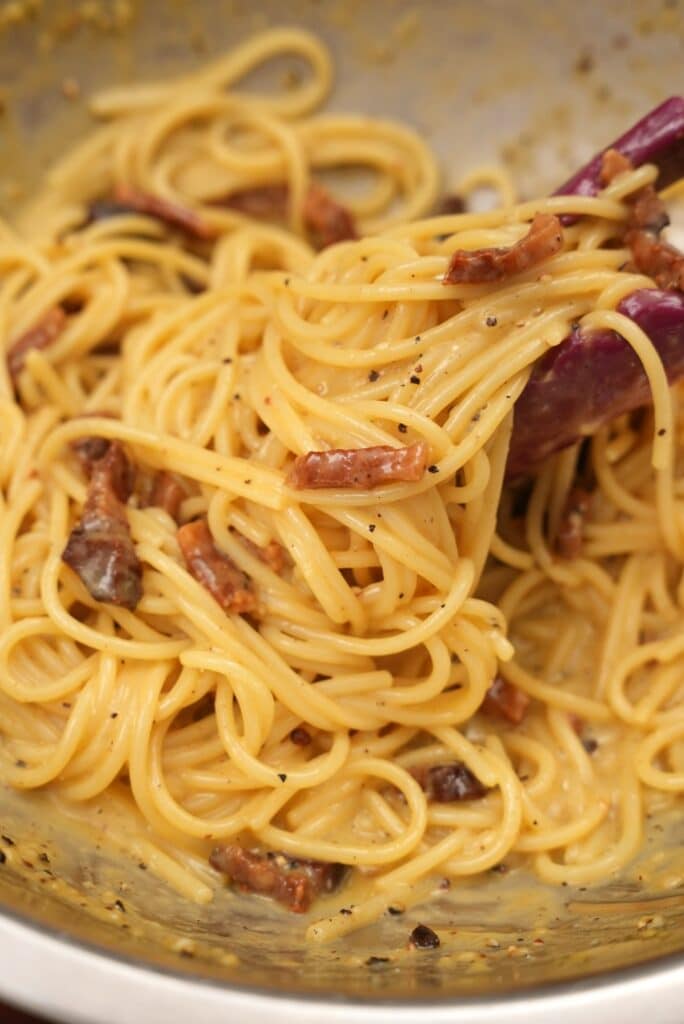 INGREDIENTS TIPS
PECORINO vs. PARMESAN
While these two cheeses ARE similar, I strongly recommend you use BOTH (and not sub one for the other). Pecorino is made from sheep's milk and is saltier than Parmesan, so if you end up subbing one for the other, make sure to adjust the salt accordingly. (I can't give you an exact measurement for a recipe using ONLY Pecorino or ONLY Parmesan, as I haven't tested it myself.)
DON'T USE PRE-GRATED CHEESE
If at all possible, I would highly recommend not using pre-grated cheese! Pre-grated cheese contain preservatives to keep the cheese shreds from clumping and I find they don't melt together as well. You can also taste the grainy texture from the additives. I like to keep a couple wedges of high quality cheese at home and my favorite place to buy them from is Costco! The quality and price is unbeatable.
BLACK PEPPERCORNS
Dry toast your peppercorns before grinding – this really enriches the aroma and brings out an extra layer of smokiness and spiciness that will enhance your dish.
Use whole peppercorns and grinding them so they are FRESH! This makes a world of different in flavor.
PASTA
I personally used spaghetti in this dish but you can sub with any long pasta (for ex: fettuccine, linguine, bucatini, tagliatelle). You can use either fresh or dried pasta; my only recommendation is to use the highest quality stuff you can find! I like bronze-cut pasta because the surface of the pasta allows for more sauce to cling to it.
GUANCIALE
Guanciale is an Italian cured meat that is made from pork jowl or cheeks. I usually purchase it from an Italian grocery store (in Los Angeles, I've bought this from Bay Cities, Eataly, or A Cut Above). I have not seen this in any of my usual grocery stores (Whole Foods, Ralph's, etc), so if you don't have an Italian grocery near you, you can sub with pancetta or bacon. The main difference between guanciale and pancetta or bacon is that guanciale has a more intense flavor and firmer texture.
Carbonara: Recipe Instructions
Preparing the Guanciale
The first step in this recipe is to prepare the guanciale, which is an Italian cured pork jowl. You can find this at any specialty Italian market or butcher, but if you can't find it you can easily sub for pancetta or bacon.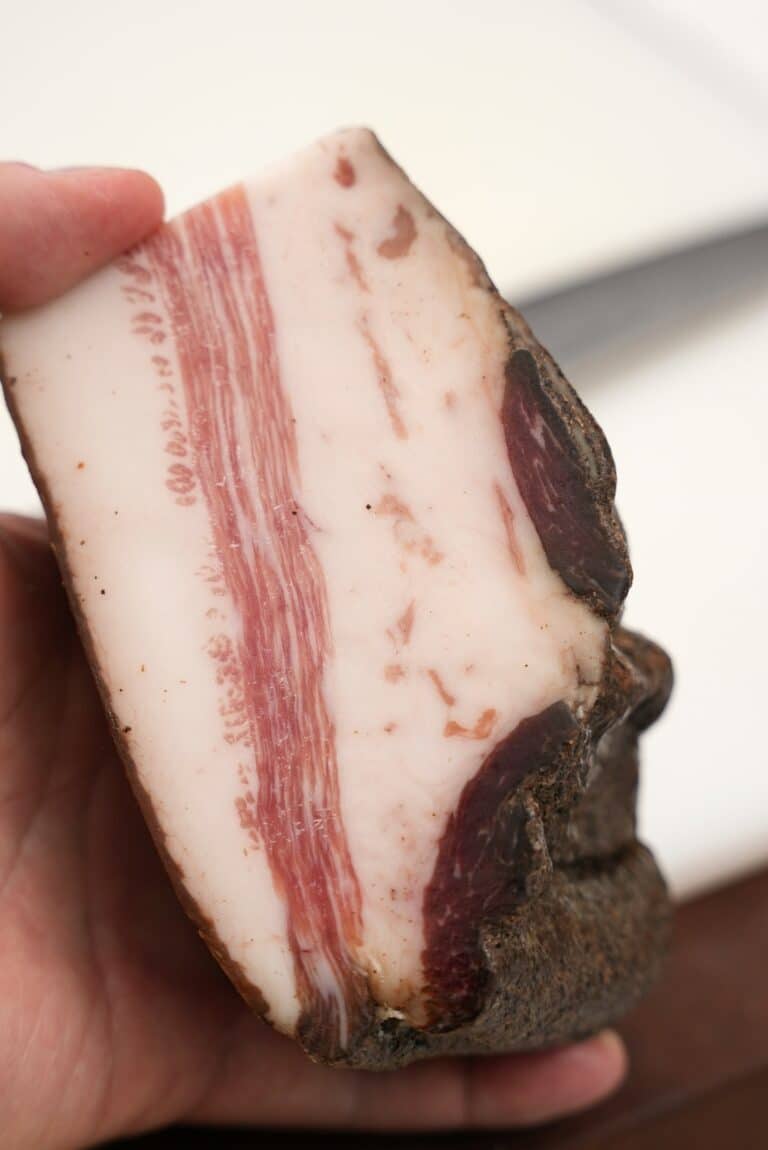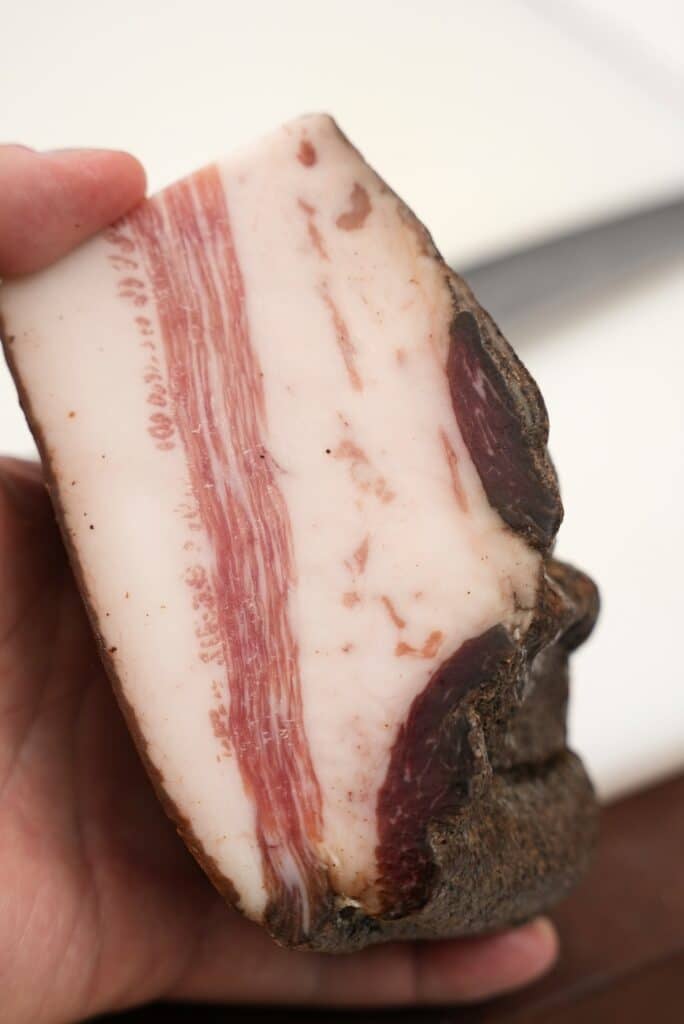 When buying Guanciale, be sure to remove the hard, tough outer layer prior to cutting the meat into even thin strips. You want to cut them as even as possible so they cook in the pan and crisp up evenly.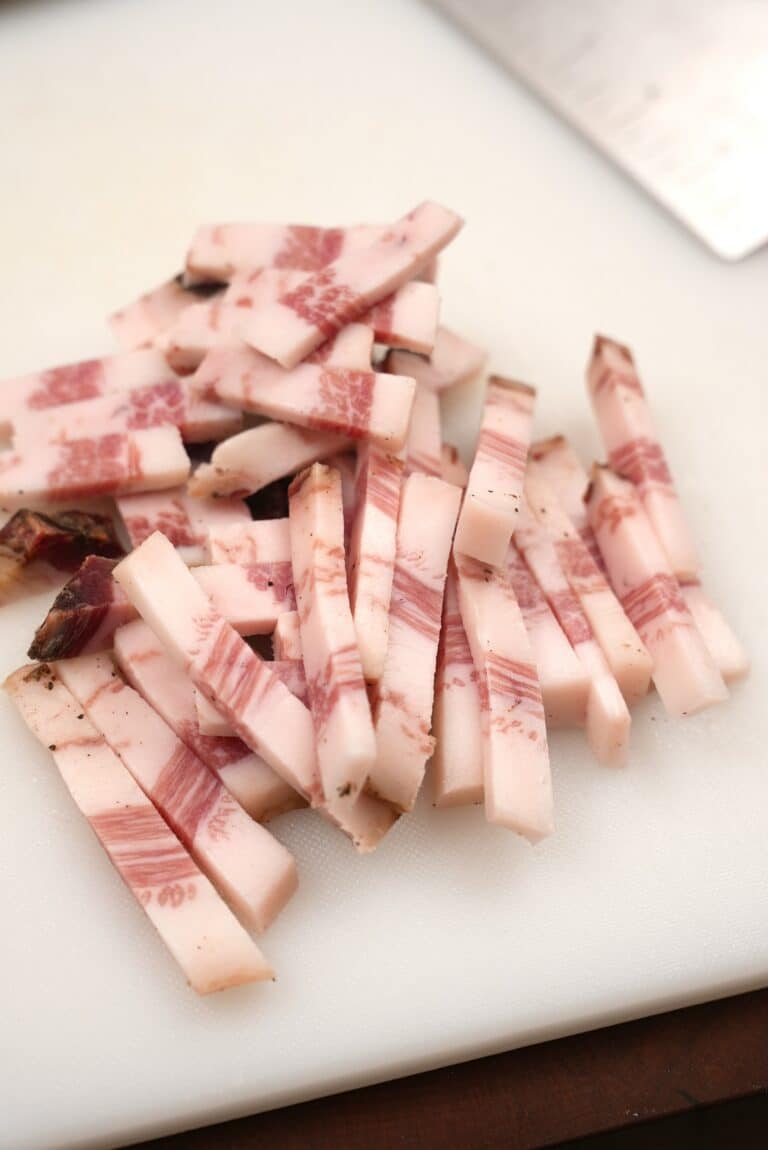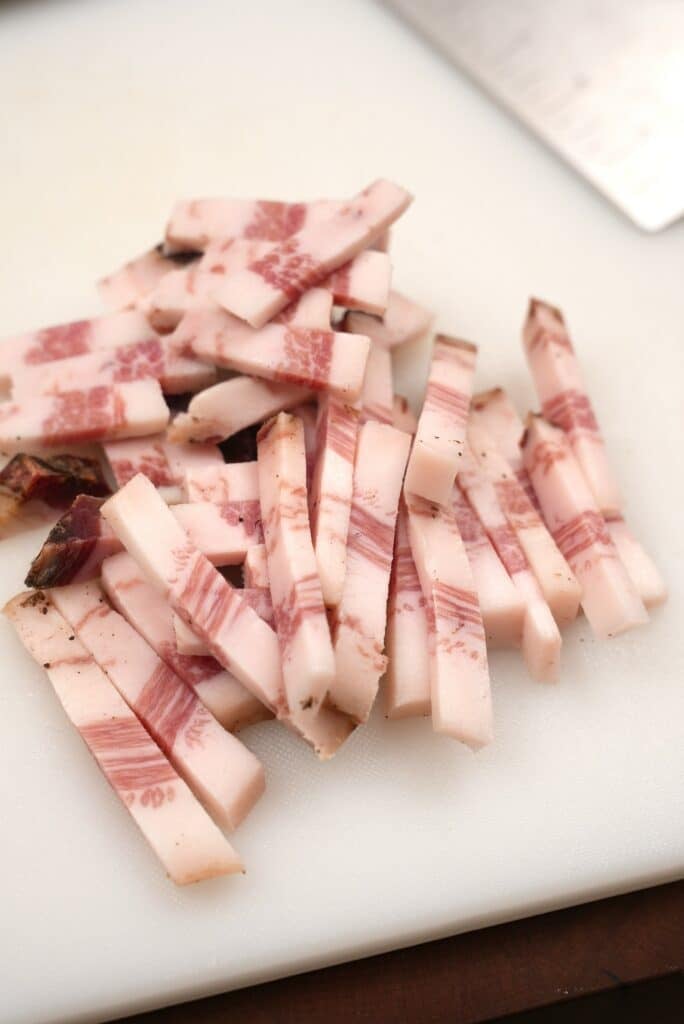 Place the guanciale in a cold pan and turn the heat to medium high. Continue stirring until the fat has rendered and the guanciale are crisp, about 4-5 minutes. Remove from the pan to a paper towel to drain and set aside, keeping the fat in the pan.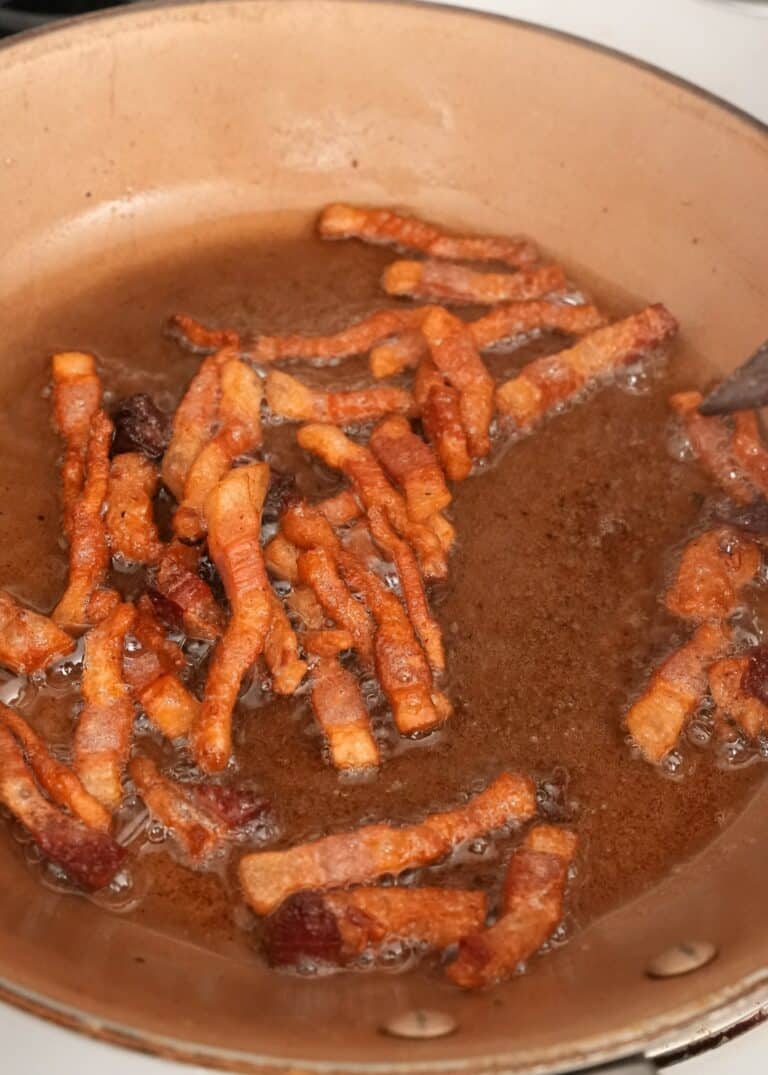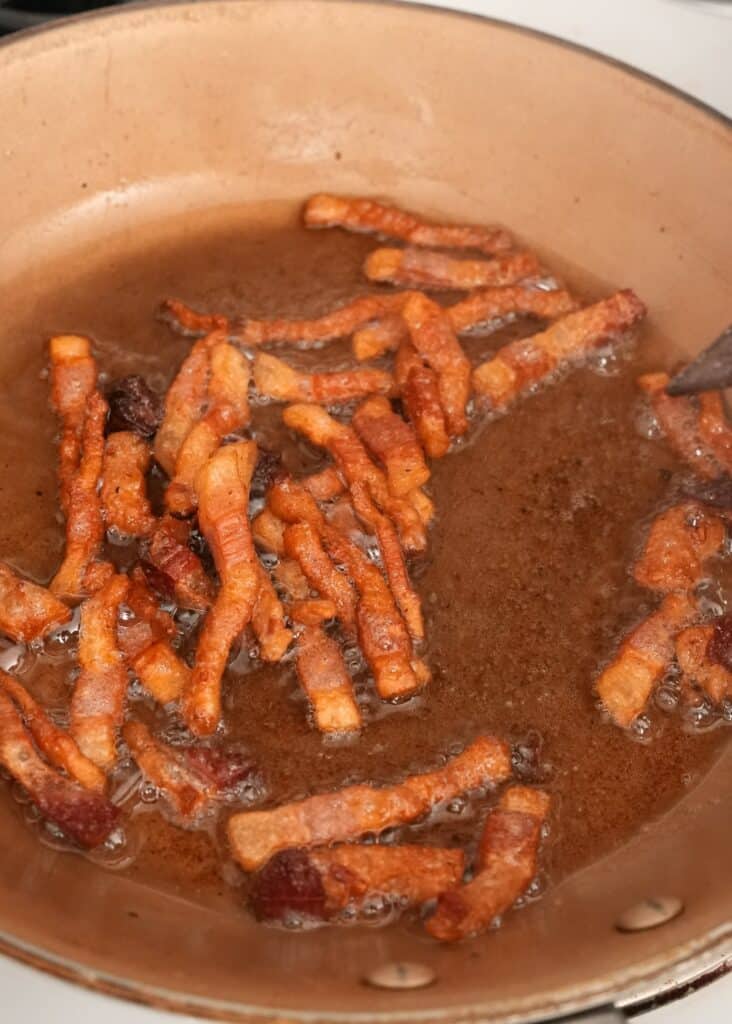 Preparing the eggs, cheese, and pepper
When grating the cheese, be sure to use the finest side of the cheese grater. Trust me, this definitely makes a difference! You want the cheese to be almost snow-like, which will allow the cheese to more easily emulsify into the sauce. I use about a 2:1 ratio of Pecorino Romano cheese to Parmesan cheese for this recipe, which in my opinion provides the most balance of saltiness to the final sauce.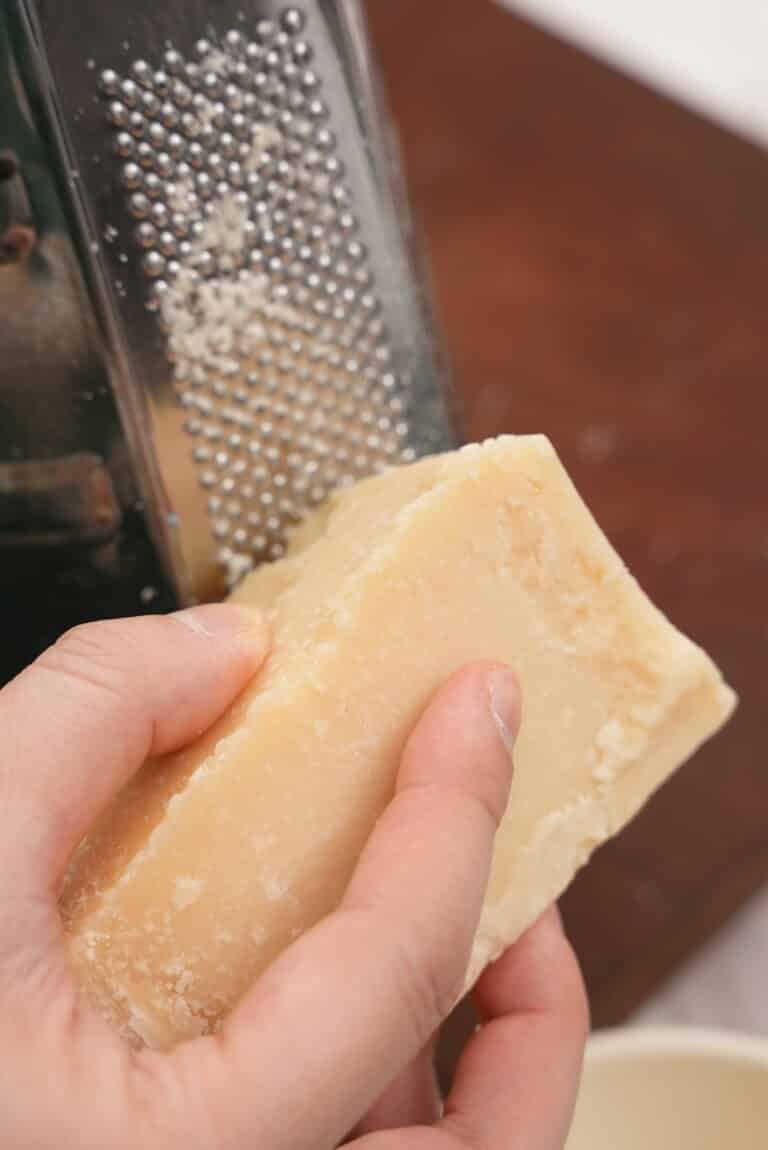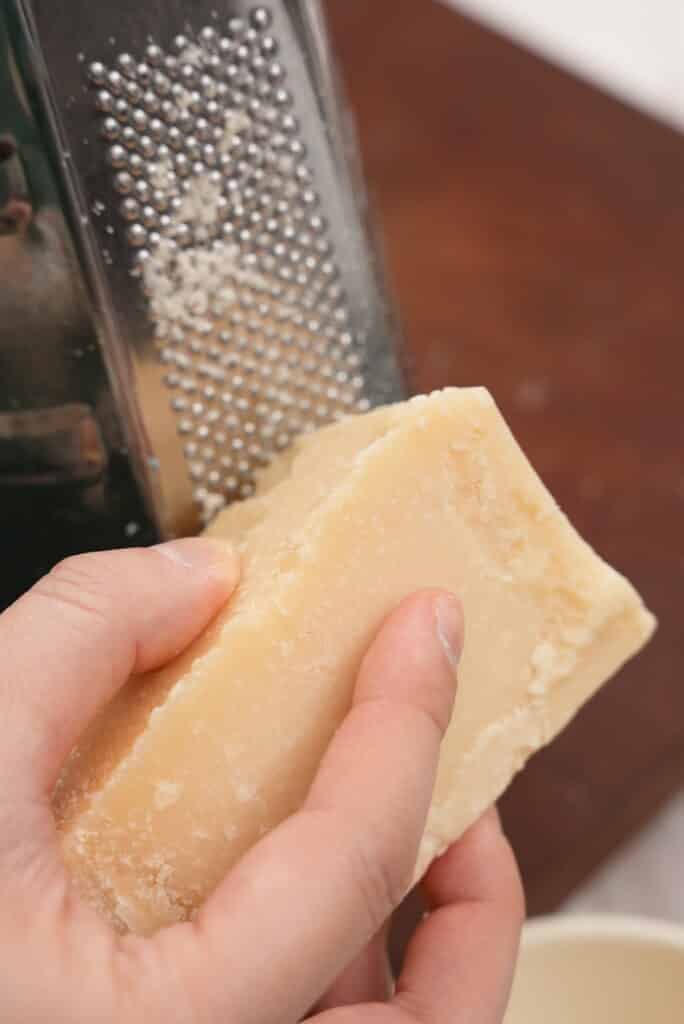 Toast the peppercorns in a pan for about 1-2 minutes over medium heat or until fragrant and grind them in a mortar and pestle. Add those to a bowl with 1 large egg and 3 egg yolks, along with the grated cheese, the crispy guanciale, and 2 tbsp of the guanciale fat that was rendered out from the guanciale. Mix it together until thoroughly combined!
Add the pasta and form the Carbonara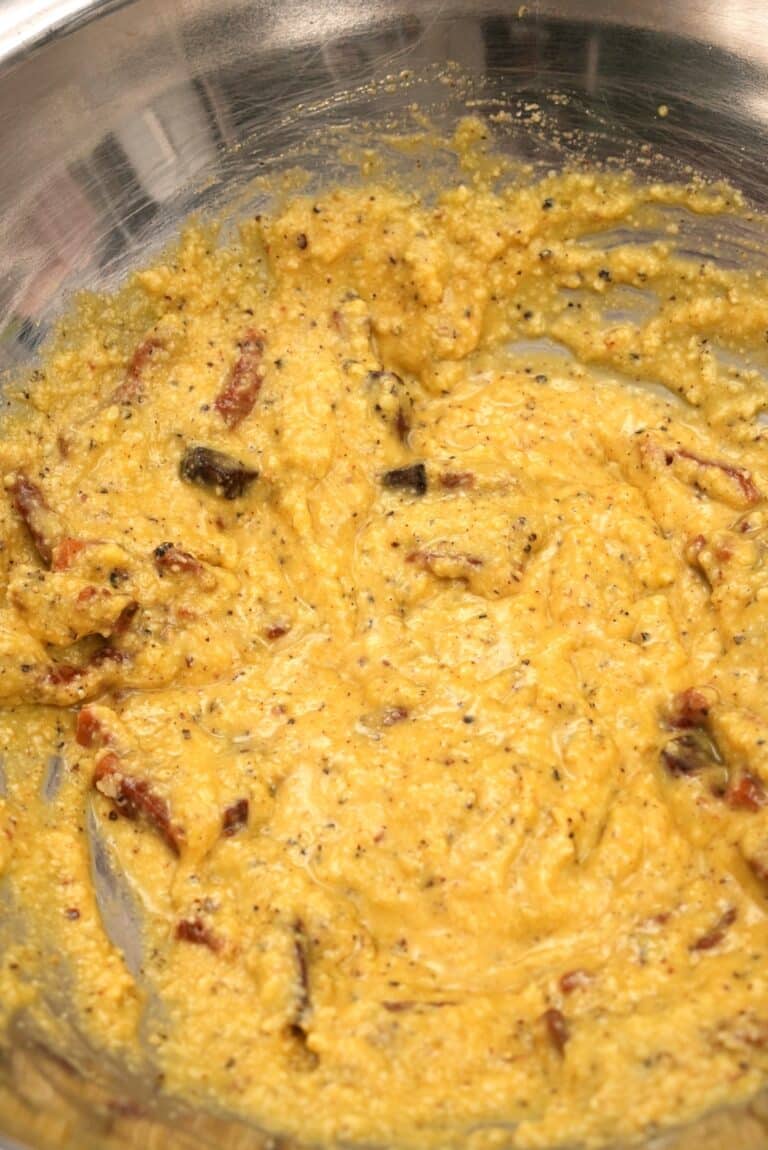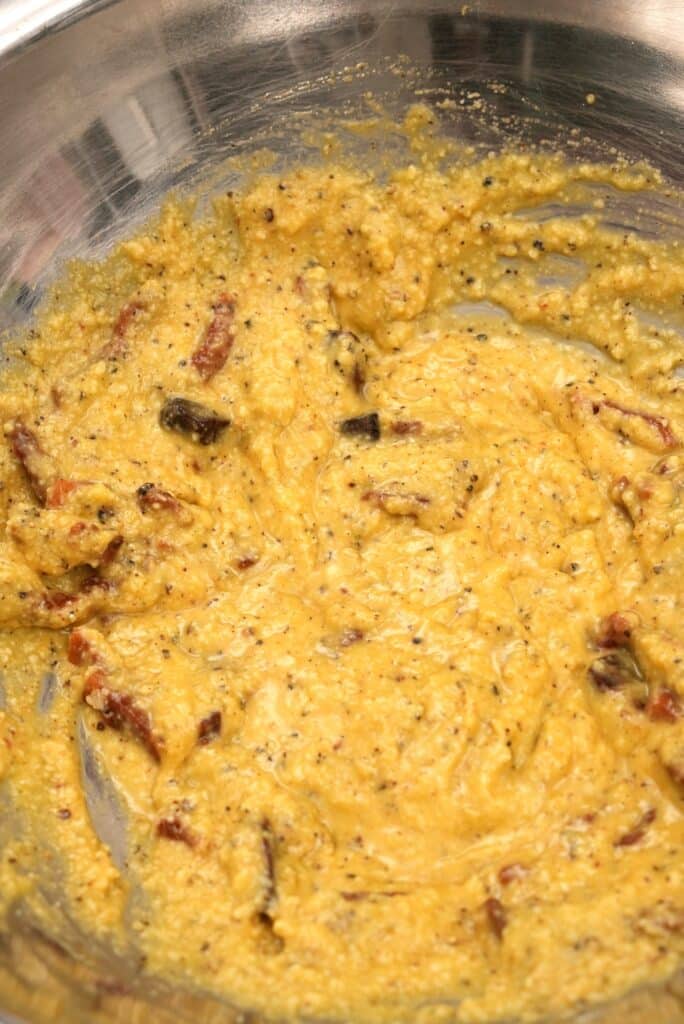 Add your al dente pasta directly into the sauce and stir vigorously to emulsify the sauce. The pasta will generate enough heat to create a rich sauce that will cling to the pasta, which will further thicken upon sitting. If the sauce is too thick, add pasta water 1 tbsp at a time until the sauce consistency is achieved. Watch the recipe video for reference!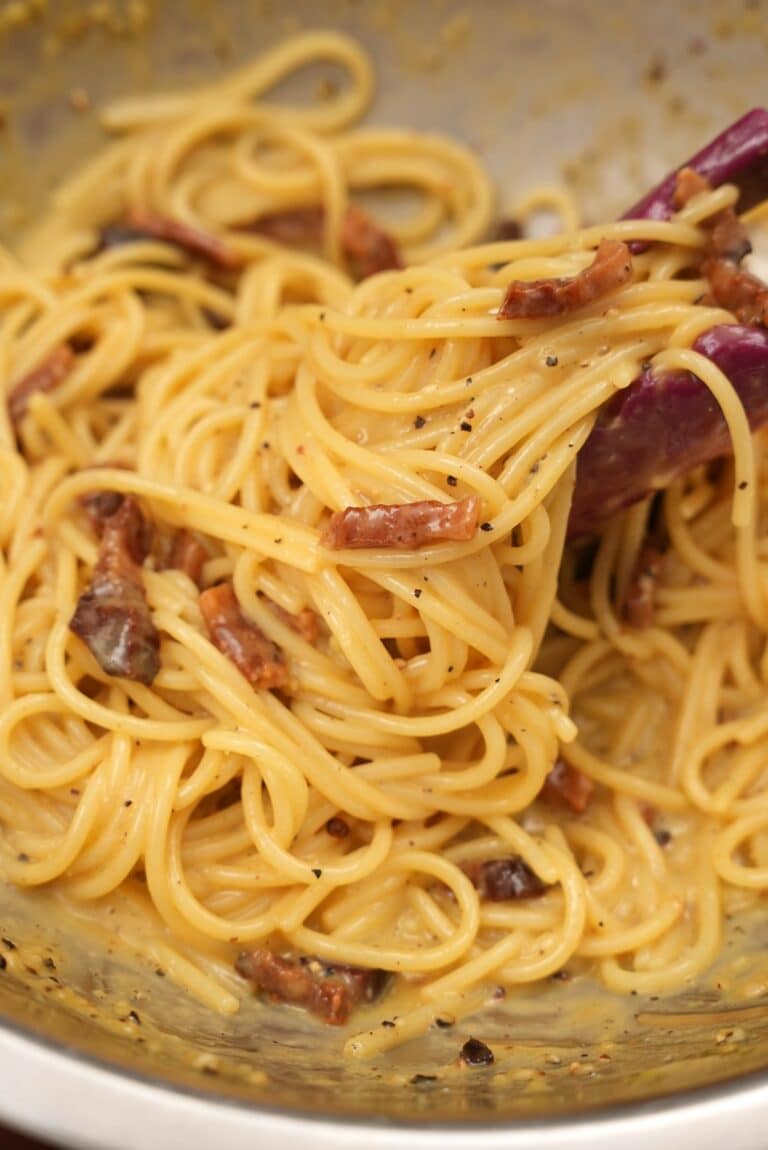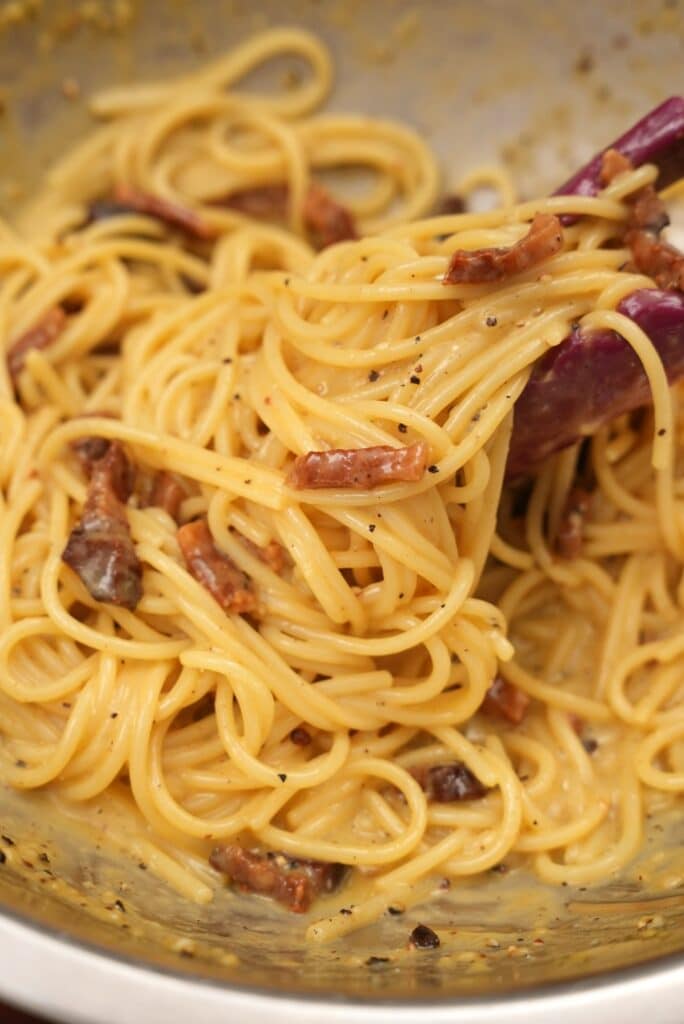 Plate your carbonara and enjoy!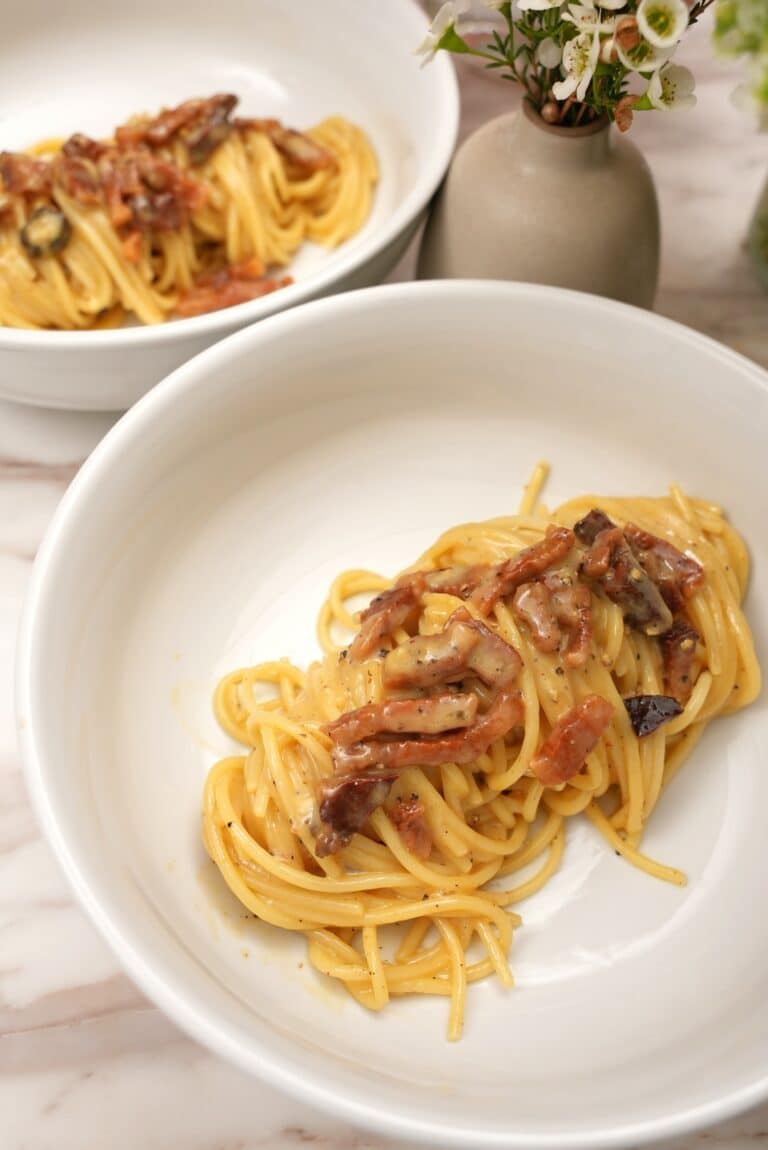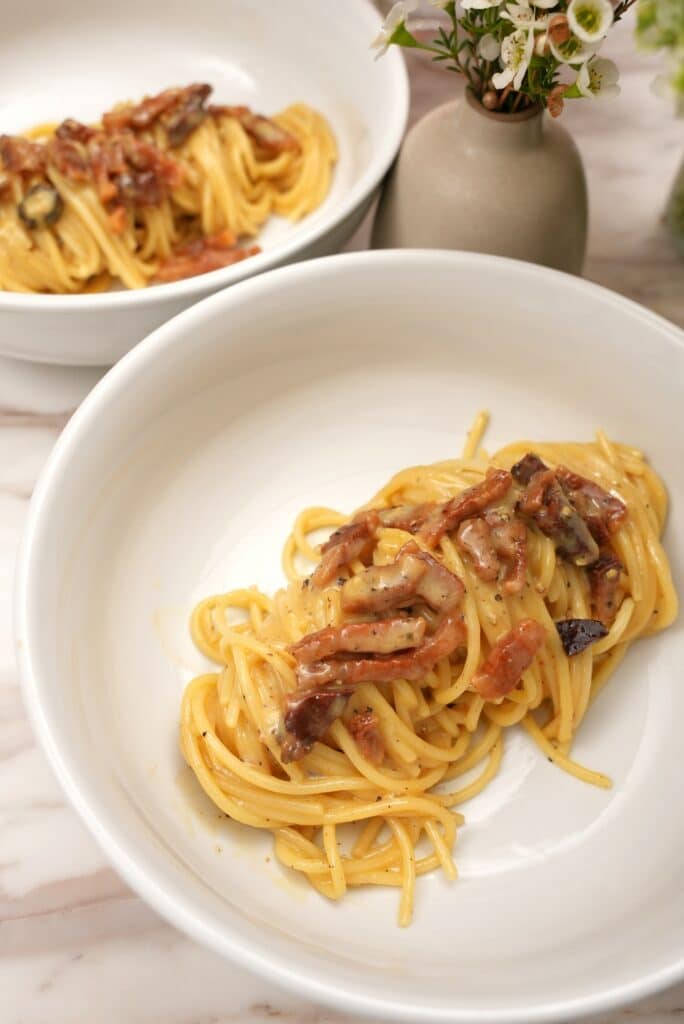 RECIPE TIPS
PASTA WATER

Salt your pasta water! This is the first step in ensuring your dish is properly seasoned. The Italians believed in adding flavor in every step of the cooking process and salting your pasta water can be seen as your 'foundation'. I like my pasta water to be as salty as the sea – briny but not so salty that it's unbearable. I use kosher salt but you can use whatever salt you have on hand.
Save your pasta water! You may find the sauce to be too thick, especially when mixed with the pasta, so save some of the pasta water to loosen as needed and create the creamy consistency you want.
COOK YOUR GUANCIALE IN A COLD PAN
I like to start the guanciale in a cold pan to render out the fat. If you cook it in a hot pan, it'll result in the guanciale being fried. This rendered fat is a key component to how delicious this dish is!
RESERVE YOUR GUANCIALE FAT
You'll want to add 1-2 tbsp of the guanciale fat to add to your sauce. TRUST ME – this fat will help bring the ingredients together to create the creamiest emulsification!
If you liked this recipe, check out some of the most popular pasta recipes on the blog! Please consider giving a rating and commenting down below what you thought of the recipe! It really helps out the blog!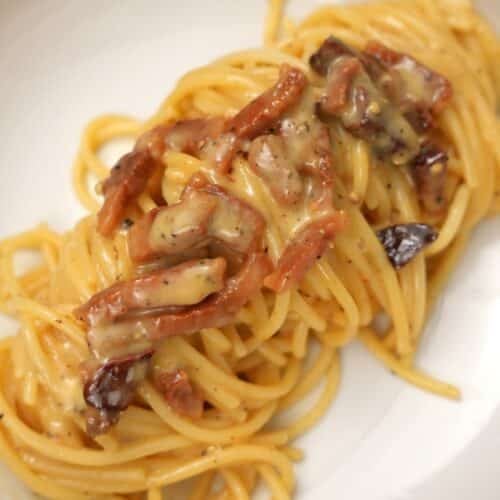 Authentic 15-Minute Carbonara
This authentic Roman carbonara recipe is easy and delicious! My foolproof technique prevents scrambling and creates a perfect sauce!
Ingredients
8

oz

spaghetti

2.5

oz

pecorino romano

finely grated

1.5

oz

parmigiano reggiano

finely grated

1

whole egg

3

egg yolks only

6

oz

guanciale

sub bacon or pancetta

1

tbsp

guanciale fat

after cooking

1/2

tbsp

whole black peppercorn
Instructions
Finely grate your pecorino and parmesan cheese, and slice your guanciale into even 1" cubes and set aside.

Toast your whole black peppercorns for 1-2 min over medium high heat or until fragrant. Coarsely grind with a mortar and pestle or spice ginger.

In a large mixing bowl, crack 1 large egg and 3 egg yolks. Add your grated cheese and pepper and mix to form a paste.

In a cold pan, fry your guanciale for 4-5 minutes over medium high heat or until the fat has mostly rendered and the exterior is crispy but the inside is soft and slightly chewy (taste pieces as you cook to ensure the correct texture). Drain and add to your paste, along with 1-2 tbsp of guanciale fat.

In a pot of salted boiling water, cook your spaghetti until al dente then immediately add to your mixing bowl and stir vigorously until sauce is emulsified and creamy. If too thick, add pasta water 1 tbsp at a time until the correct consistency is achieved, as the sauce will thicken as it sits. Serve in a warmed plate or bowl and enjoy!
Nutrition
Calories:
1286
kcal
Carbohydrates:
88
g
Protein:
46
g
Fat:
83
g
Saturated Fat:
35
g
Polyunsaturated Fat:
1
g
Monounsaturated Fat:
5
g
Trans Fat:
0.01
g
Cholesterol:
224
mg
Sodium:
1533
mg
Potassium:
367
mg
Fiber:
4
g
Sugar:
4
g
Vitamin A:
446
IU
Calcium:
676
mg
Iron:
3
mg