Air Fryer Chicken Wings (SUPER CRISPY)
---
September 27, 2023
---
Who doesn't love chicken wings!? I love making them in the air fryer, which I consider a bit of a shortcut way to make crispy, juicy chicken wings! Air Fryer Chicken Wings have been a highly requested recipe and after a couple of tests this is my favorite way to make them!
These Air Fryer Chicken Wings only take a few minutes to make, but require one KEY ingredient – baking powder! The baking powder reacts with the chicken skin by raising its pH level to create beautiful golden brown and crispy skin. I hope you enjoy this recipe!
Watch the Air Fryer Chicken Wings Recipe Video Below!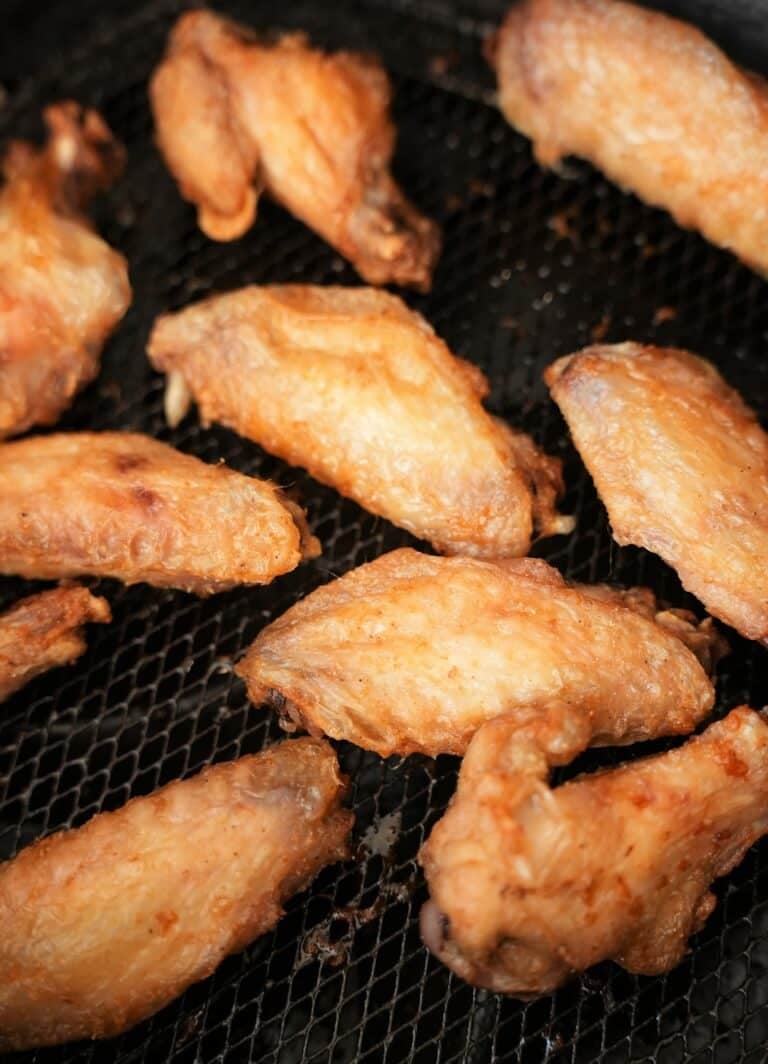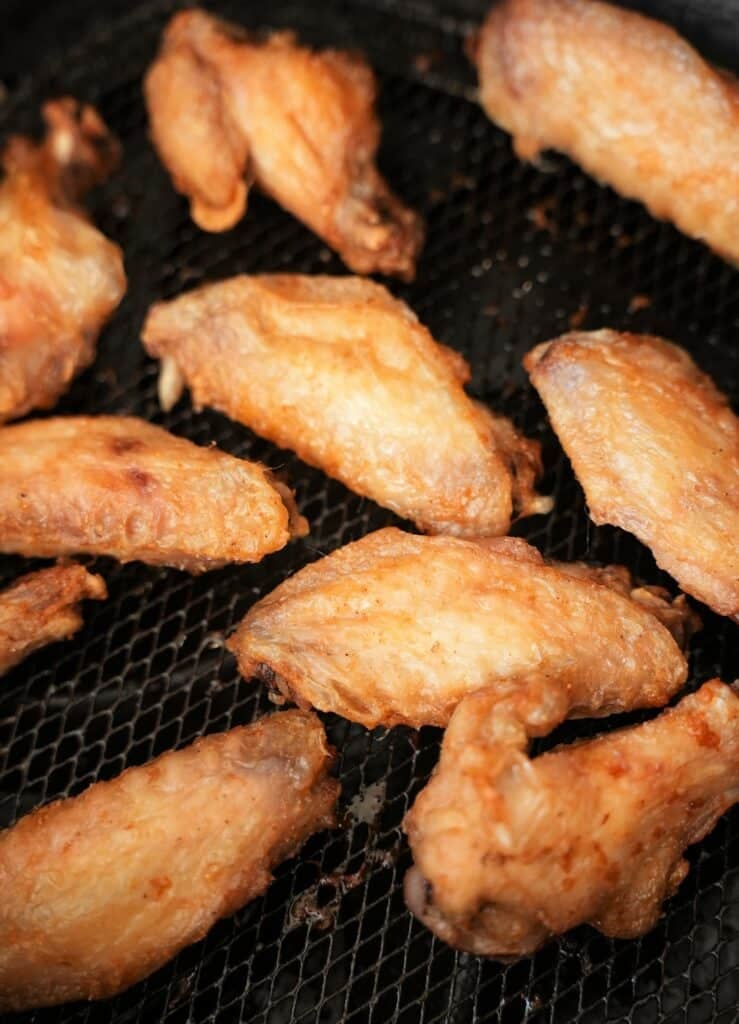 Ingredients for Air Fryer Chicken Wings
I love this air fryer chicken wing recipe because only a few ingredients will make crispy, juicy chicken with less fat than deep frying! Firstly, here are the ingredients you will need!
Chicken Wings
Neutral Oil
Kosher Salt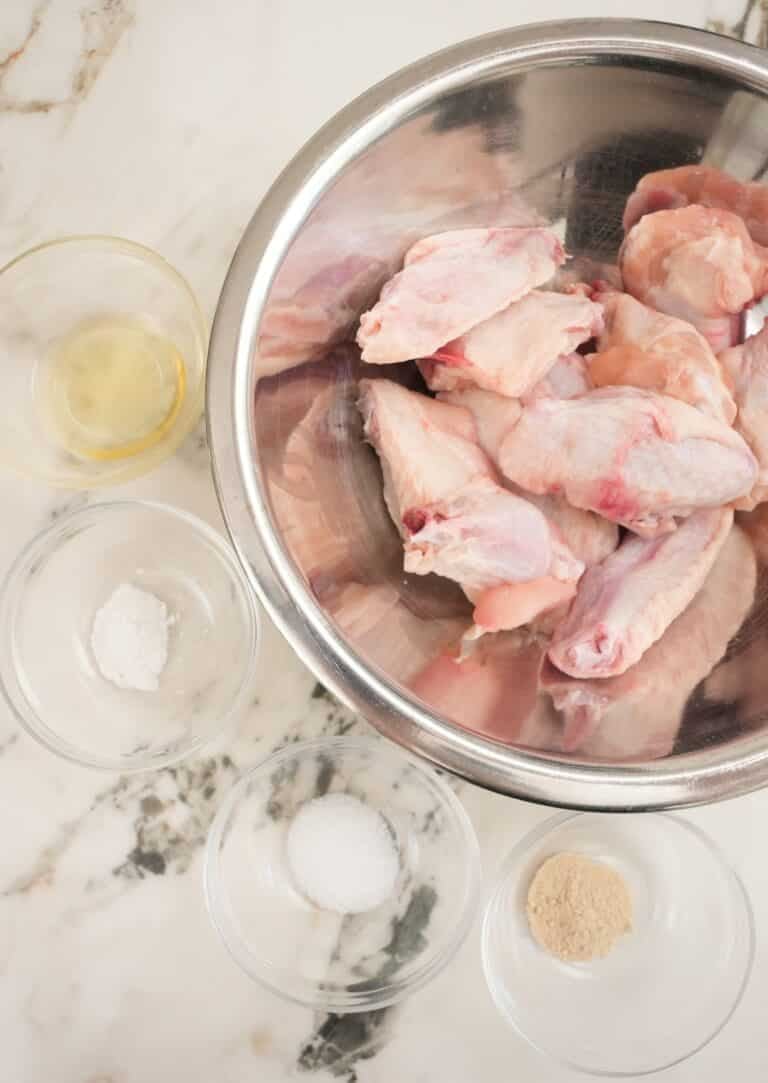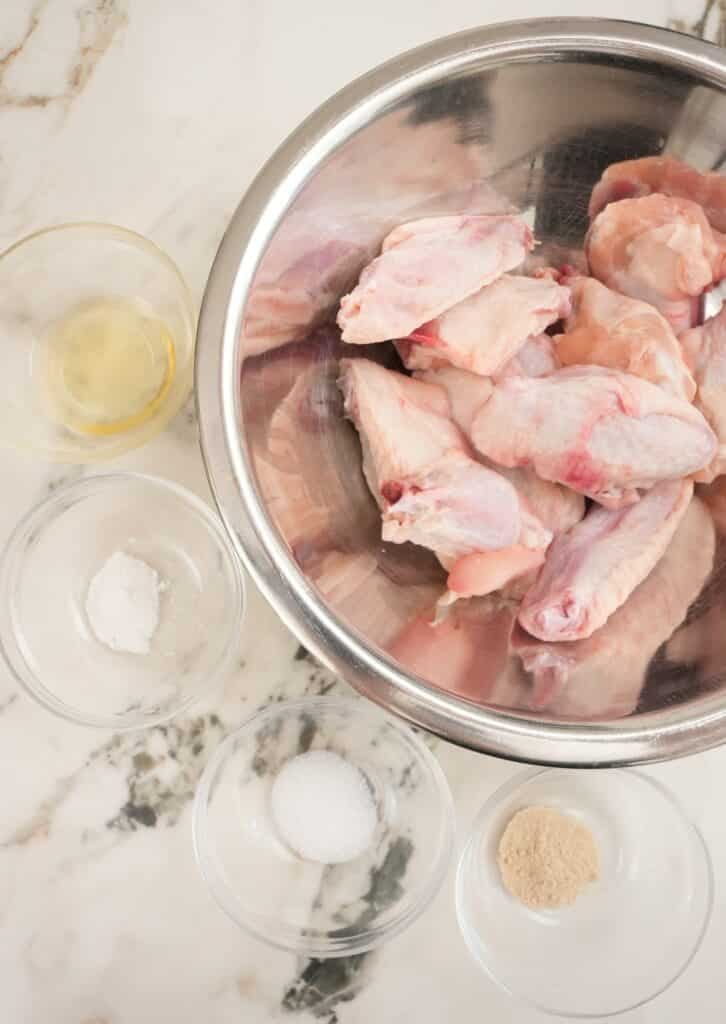 INGREDIENTS TIPS
BAKING POWDER
The baking powder reacts with the chicken skin to raise the pH level and and creates tiny air bubbles, which also helps form a crispy coating.
WHITE PEPPER
I get asked all the time if you can sub black pepper for white pepper – and my answer is, it depends BUT you need to watch the ratio. White pepper has a milder flavor profile than black pepper, so it's a 1-1 substitute. I would start with less black pepper and add as you go. (But really, you should have white pepper in your pantry! It's a staple in mine!)
Air Fryer Chicken Wings: Recipe Instructions
Pat the Chicken Wings Dry
The first step patting the wings with a paper towel to get them as dry as possible. You want to remove any excess moisture from the wings to help them crisp up.
Next, place the cut chicken thigh into a bowl with kosher salt, white pepper, baking powder and neutral oil. Mix well with your hands and head to the air fryer!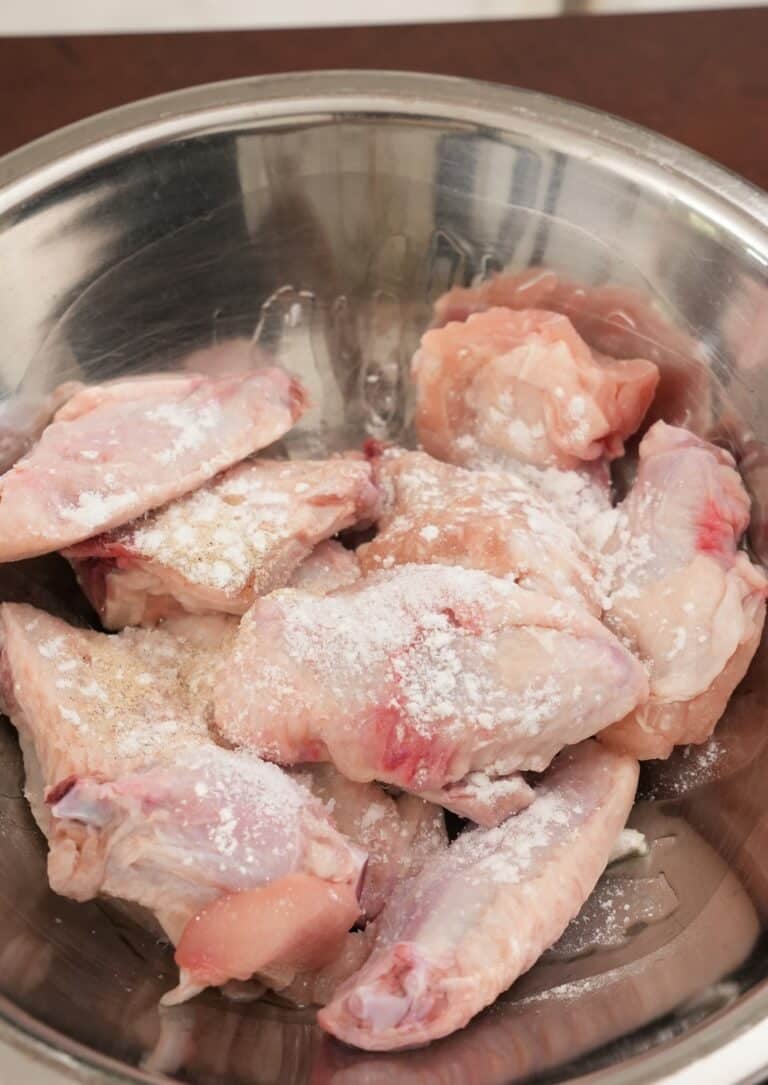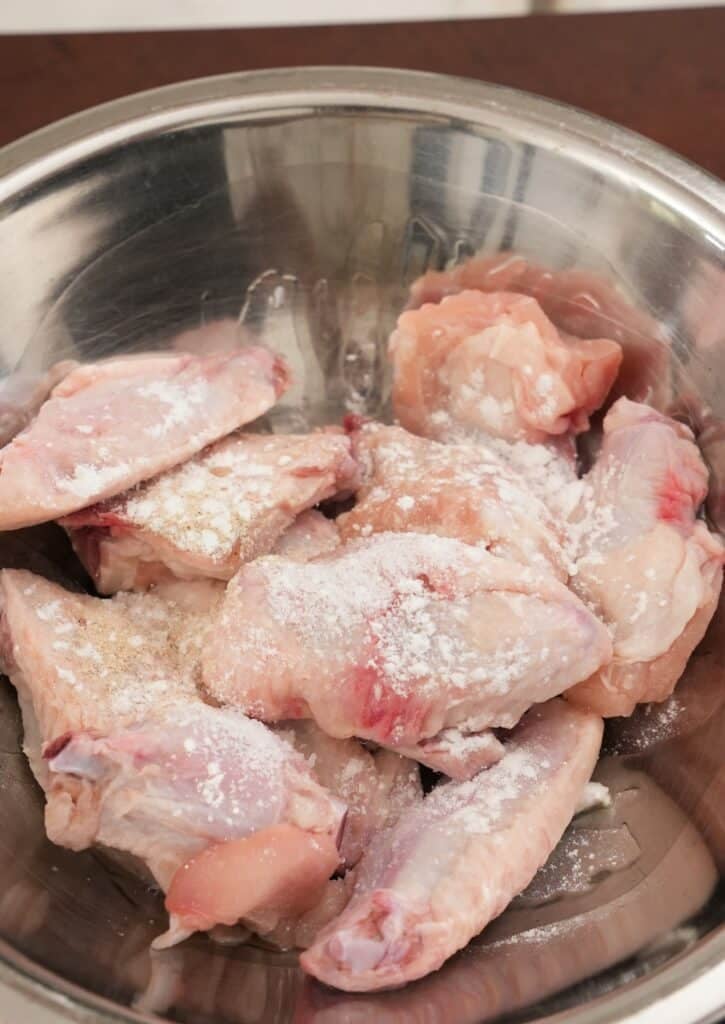 Air Fry the Chicken
Lay your chicken wings in a single layer in your air fryer basket, making sure there is enough space between the wings to allow for air to circulate freely in the basket. Air fry them at 400F (preheat if needed) for 10 minutes!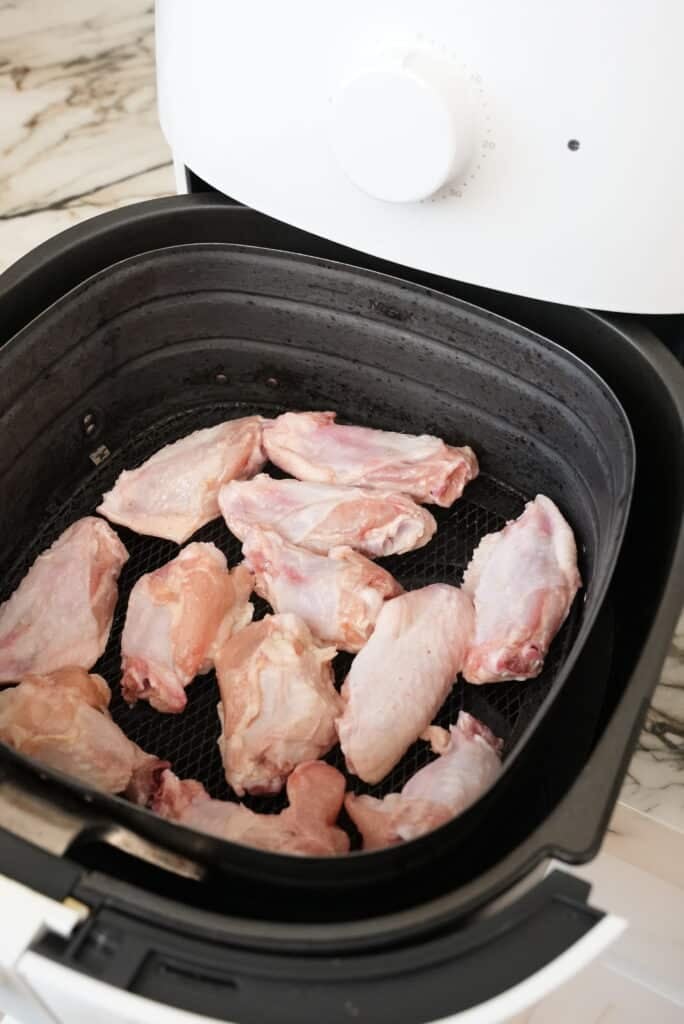 Flip and Air Fry the Chicken Wings
After the first "fry" in the air fryer, the chicken pieces might look a little bland and grey, but don't worry! Give them a flip then air fry a second time at 400F for another 8-12 minutes until they are crispy! This time may vary based on the size of your wings, so adjust the time accordingly.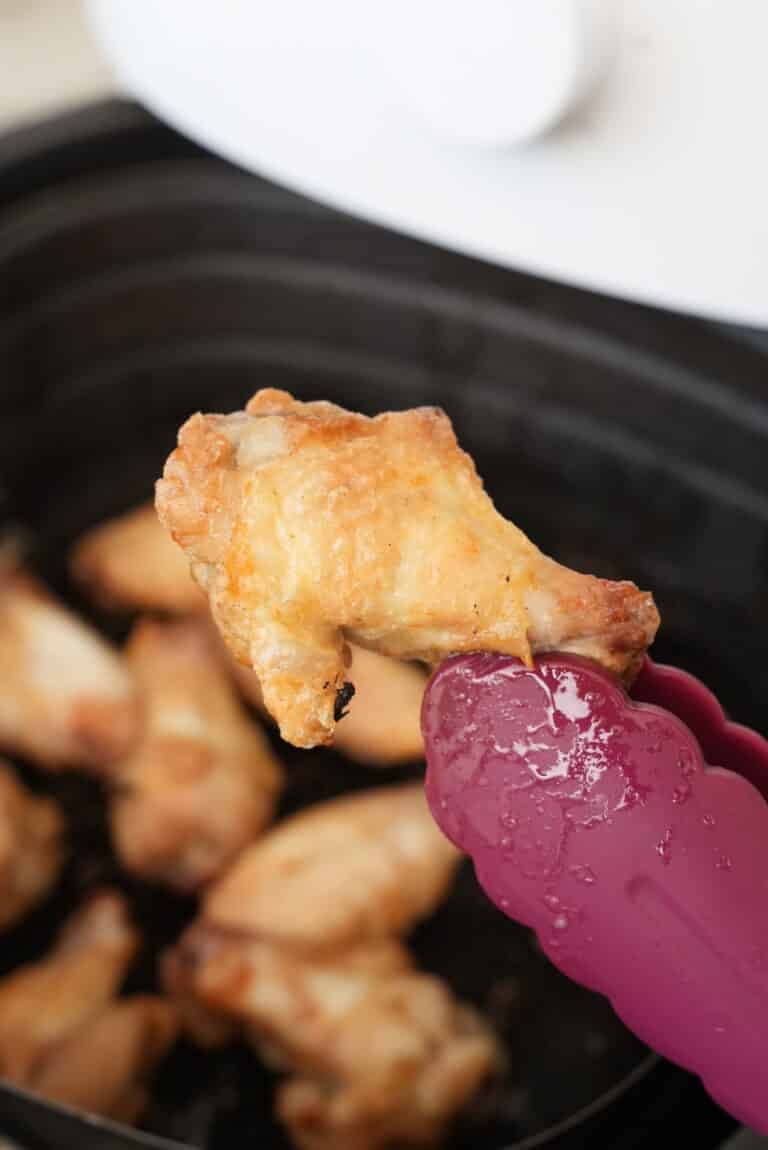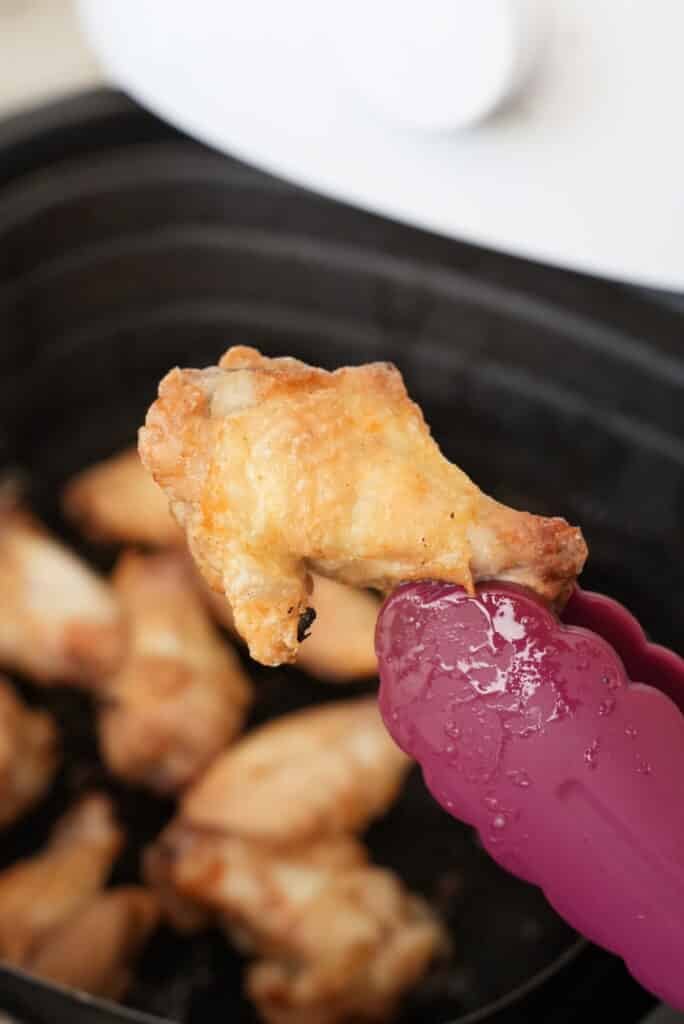 This was the final result – look just how incredibly crispy that chicken is! You can see the puffed skin from the baking powder, which results in a beautiful paper thin and crisp exterior. You can also watch the video for audio evidence as well 🙂
If you liked this Air Fryer Chicken Wing recipe, check out some of the most popular fried chicken recipes on the blog!
RECIPE TIPS
COOKING TIME
The cooking time may vary for the wings depending on their size. If the skin isn't crispy enough, just add a few more minutes until the skin gets to where you want it to be. To ensure doneness, use a thermometer probe to make sure the internal temp reads at least 165F.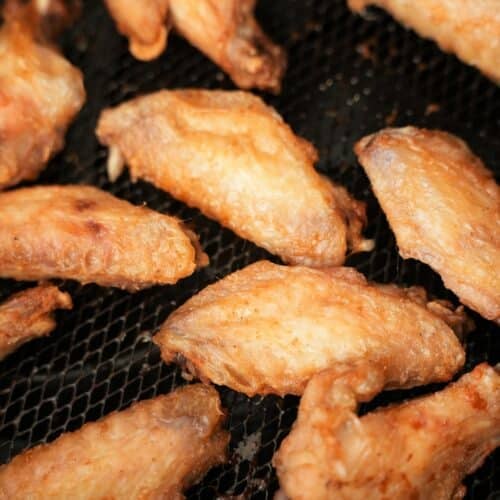 Air Fryer Chicken Wings (SUPER CRISPY)
These Air Fryer Chicken Wings are perfectly juicy and crispy in the air fryer! They come together in minutes and taste so delicious with or without sauce!
Ingredients
Chicken
1

lb

chicken wings

1

tsp

kosher salt

1/2

tsp

white pepper

1/2

tsp

baking powder

1/2

tbsp

neutral oil

I used avocado oil
Instructions
Pat the chicken wings dry with a paper towel to remove excess moisture.

In a bowl, season the chicken wings with salt and white pepper along with baking powder and neutral oil. Mix until the wings are evenly coated.

In a single layer, place the chicken wings in the air fryer and air fry for 10 minutes at 400F.

Flip the chicken wings and air fry again for 8-12 minutes at 400F (depending on the size of the wings) or until the skin is golden brown and crispy.

Serve with your favorite wing sauce or eat dry and enjoy!