Mochiko Fried Chicken
---
March 22, 2023
---
Ever since I went to Hawaii I've been craving this Mochiko Fried Chicken. It's so crispy, juicy, and pairs perfectly with a garlic sriracha aioli and a light sprinkling of furikake. I've been fortunate enough to have been to Hawaii a handful of times, and I'm always amazed by the food, which is always so simple, but mouth wateringly delicious!
Being about halfway in between the US and eastern Asia, I feel like so much of the cuisine there has been influenced by international tastes. It's truly a testament to how cuisine does not have to be limited by borders, and that sometimes a melding pot of different cultures' cuisine can bring together something incredible. I hope you enjoy!
Check out the Mochiko Fried Chicken recipe video below!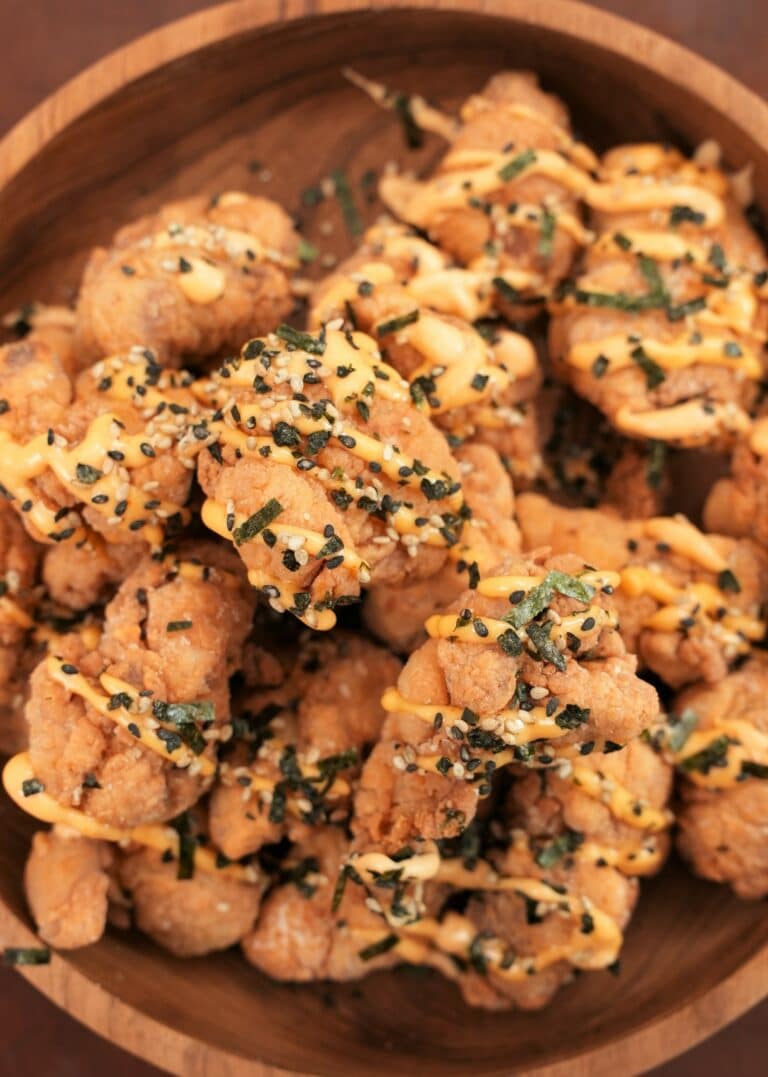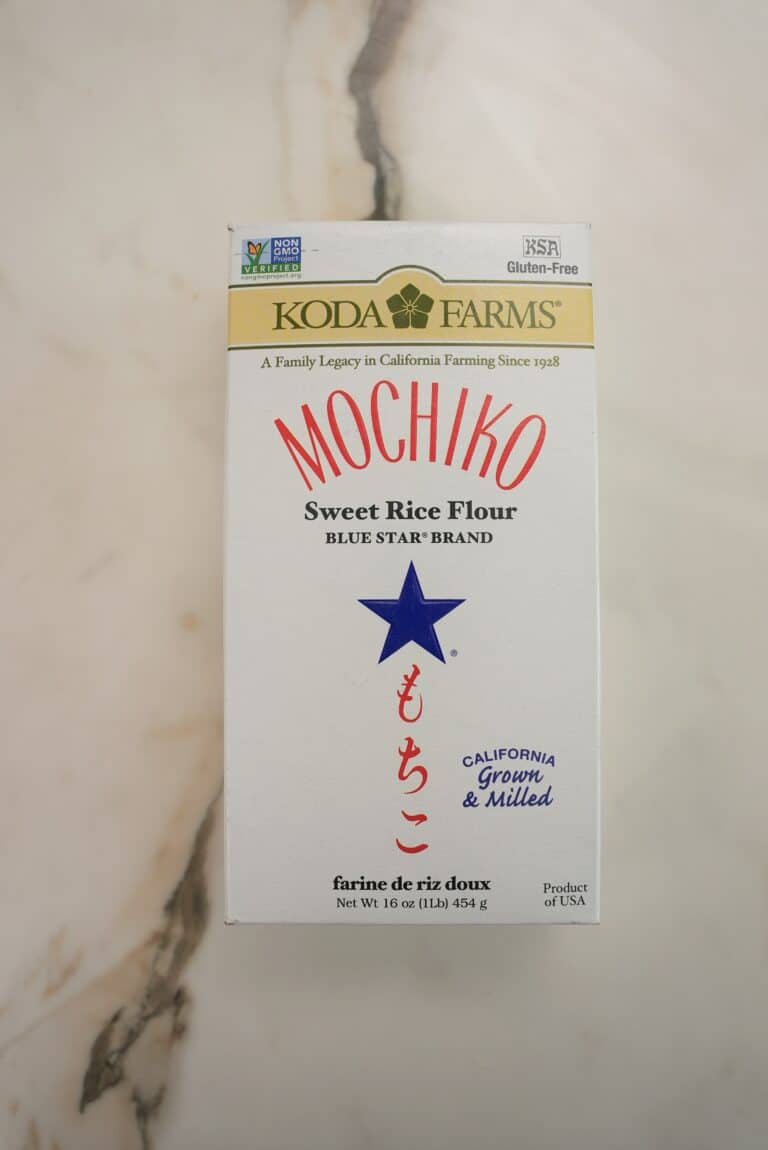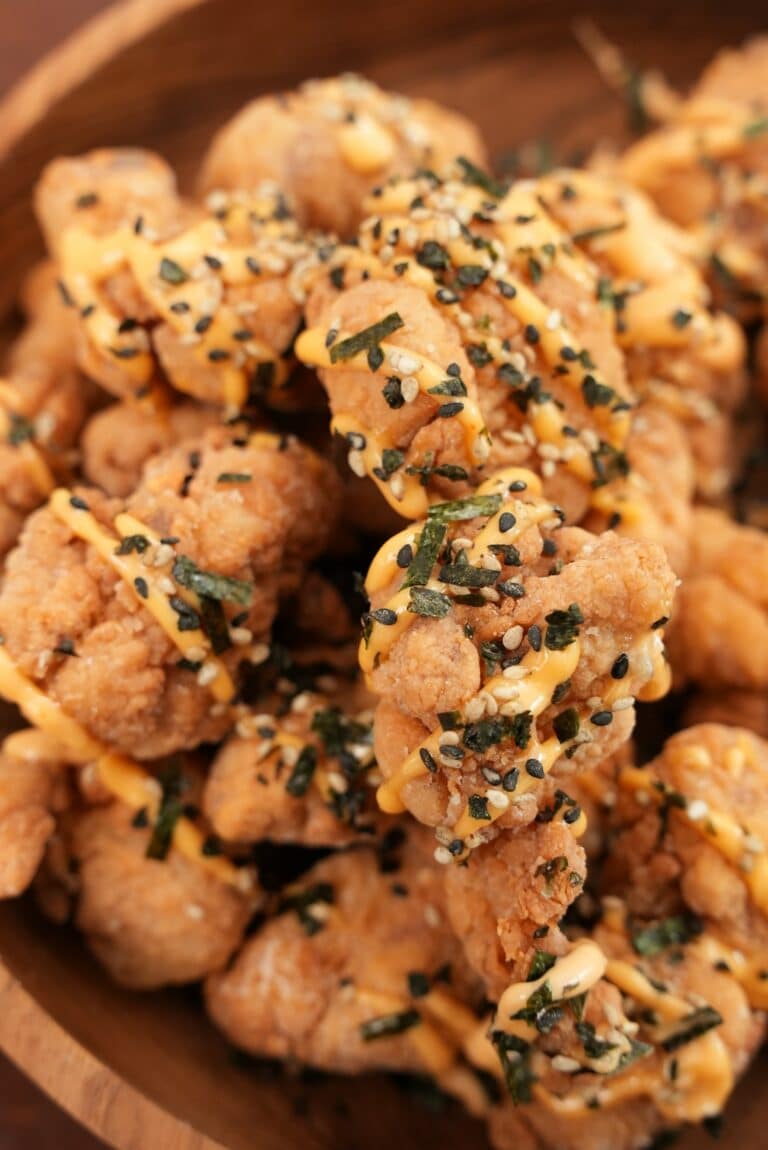 INGREDIENTS TIPS
MOCHIKO FLOUR
What is Mochiko flour, and why does it make great fried chicken? Mochiko flour is a type of sweet rice flour that is often used for making mochi, as a batter for fried chicken, or other Japanese sweets and desserts. In this case, we're using it as a batter to make ultra crispy fried chicken! As this is a KEY ingredient in this dish, there is technically no substitute for it. 🙁
CHICKEN
In this recipe, I used chicken thigh, as it tends to be juicer and does not dry out as easily. If you want to sub with chicken breast, I would recommend brining it to ensure it stays as moist as possible. I included sriracha in the chicken marinade but if you are sensitive to spice, feel free to omit it!
WHITE PEPPER
I get asked all the time if you can sub black pepper for white pepper – and my answer is, it depends BUT you need to watch the ratio. White pepper has a milder flavor profile than black pepper, so it's not a 1-1 substitute. I would start with less black pepper and add as you go. (But really, you should have white pepper in your pantry! It's a staple in mine!)
MSG
As always, this is optional 🙂
NEUTRAL OIL
My favorite neutral oil is avocado oil, but you can also use canola or vegetable oil! I don't use olive oil when cooking Chinese food for two reasons: 1. It has a low burning point and 2. I find that the flavor profile does not usually go with the dish.
SAKE
I haven't found a substitute for sake that I love, as I find that it has a distinct flavor profile that is hard to replace in a recipe. You can try sherry, mirin, shaoxing wine, rice vinegar, or even chicken stock, but I would highly encourage you to use sake if you can.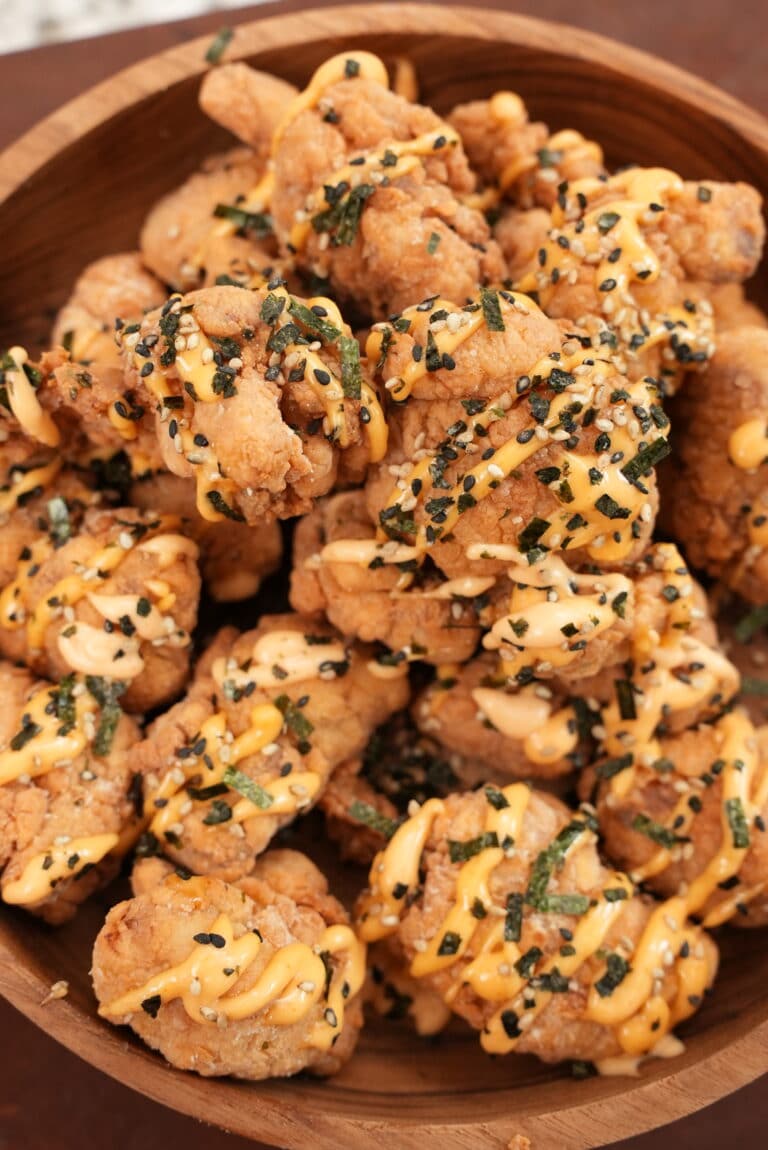 RECIPE TIPS
BATTER CONSISTENCY
Refer to the recipe video at the top of the page to see what the batter consistency should look like!
MARINATE YOUR CHICKEN
I highly recommend you marinate the chicken overnight; if you are crunched for time, marinate for at least 4 hours!
DREDGE, REST, DREDGE
This step is OPTIONAL but if you have the time, let your chicken rest for 30 minutes after being tossed in the dredge. Once 30 minutes is up, toss the chicken in the dredge one more time to add additional batter. This will result in an extra crunchy chicken with awesome texture!
OIL TEMPERATURE
Do not let your frying oil drop below 325F when frying! I highly recommend you use a thermometer to keep an eye on the temperature. If you see it dropping below 325F, fry your chicken in batches. Frying at a low temperature will result in too much moisture (AKA SOGGY!)
If you liked this Mochiko Fried Chicken recipe, check out some of the most popular Chicken recipes on the blog!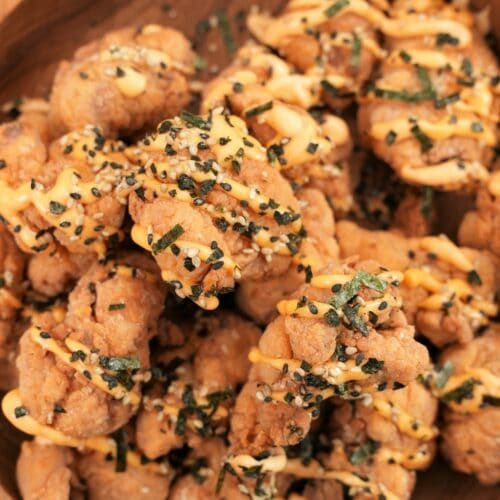 Mochiko Fried Chicken
Ever since I went to Hawaii I've been craving this Mochiko Fried Chicken. It's so crispy, juicy, and pairs perfectly with a garlic sriracha aioli and a light sprinkling of furikake.
Ingredients
Chicken
1

lb

chicken thigh

cut into 2" pieces

1

tbsp

soy sauce

1/2

tbsp

sugar

1/4

tsp

white pepper

1/4

tsp

msg

optional

1/2

tbsp

sriracha

omit if you are sensitive to spice

2

cloves

garlic

grated

1

tbsp

sake

1

tbsp

cornstarch

1/4

cup

mochiko flour

1

egg
Oil
3

cups

neutral oil

for frying; I used avocado oil
Instructions
Trim chicken thighs of any excess fat and cut into 2" pieces and set aside.

In a mixing bowl, combine grated garlic, soy sauce, sugar, white pepper, sriracha, sake, cornstarch, mochiko flour, and egg. Whisk together until thoroughly combined (refer to video for batter consistency).

Add your chicken to the marinade and mix well. Cover and place in the fridge to marinate for at least 4 hours but ideally overnight.

In a large bowl, combine flour, cornstarch, white pepper, and salt. Drop in your chicken and toss in the dredge, coating thoroughly. **Optional for extra crunch** Let the chicken rest for 30 minutes until the batter has absorbed some of the dredge, then toss again in the dredge to add additional batter to the chicken.

In a dutch oven or heavy bottomed pot, heat oil to 350F and fry chicken in batches for 4-5 minutes or until golden brown and crisp. For best results, use a thermometer here to ensure the oil temp does not drop below 325F. If it does, remove chicken and fry in smaller batches.

Remove chicken from oil and immediately season with kosher salt.

To make the garlic-sriracha aioli, combine mayo, sriracha, grated garlic, salt and sugar. Serve with the chicken, top with furikake seasoning, and enjoy!