Spinach Artichoke Dip
---
February 7, 2023
---
As a kid I absolutely hated vegetables, but if you gave me a bowl of Spinach Artichoke dip I would devour it in minutes! My family would always order it as our go-to appetizer when we went out for dinner until I learned how to make it at home. It's incredibly easy and is such a crowd pleaser!
Watch the Spinach Artichoke Dip Recipe Video Below!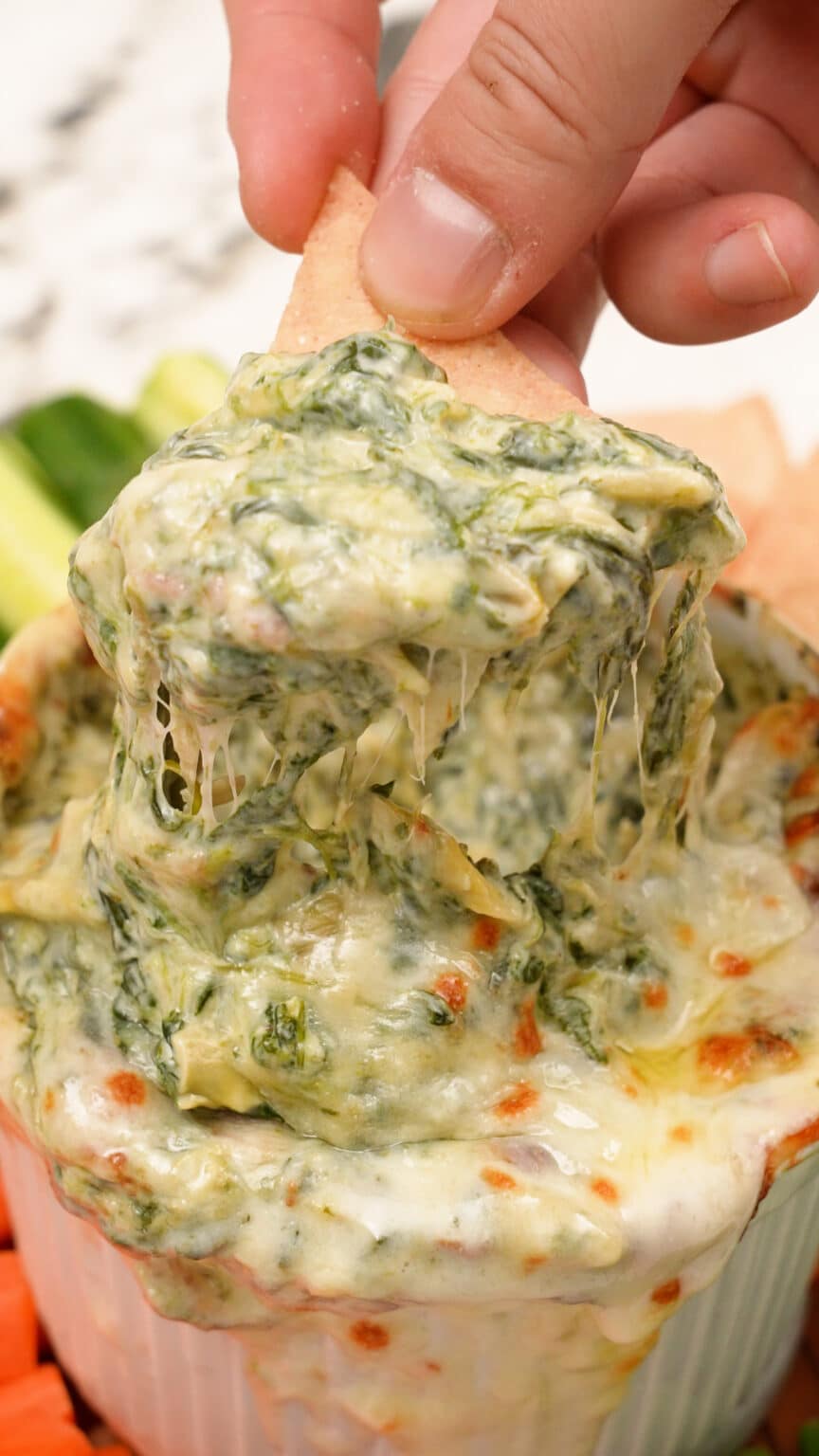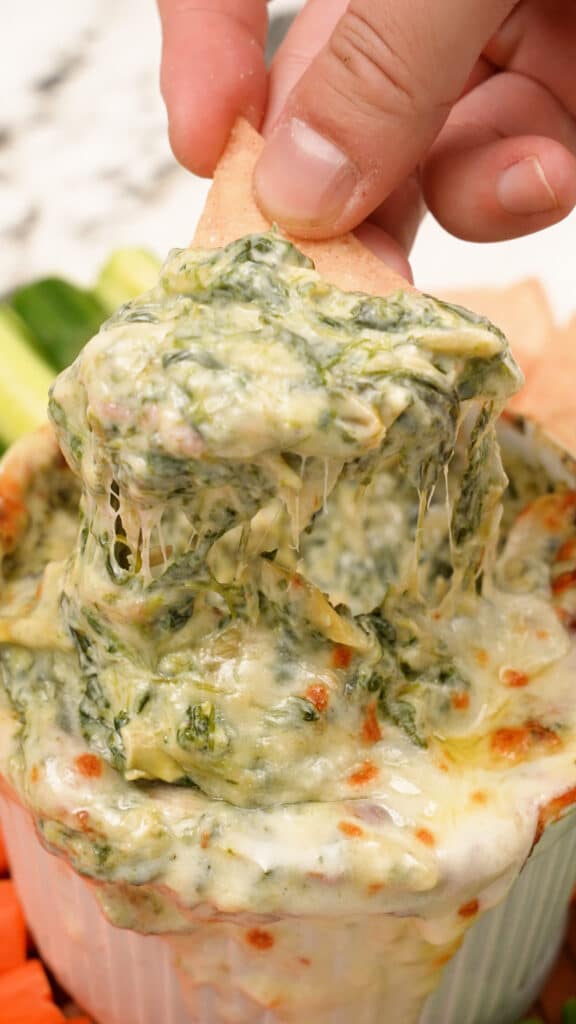 Ingredients for Spinach Artichoke Dip
I love this Spinach Artichoke Dip recipe because only a few ingredients to make the best dip for your next party, game day or appetizer spread! Here are the ingredients you'll need:
14 oz fresh spinach
14 oz artichoke hearts quartered
2 cloves garlic grated
6 oz cream cheese
1/2 cup sour cream
1/2 cup mozzarella cheese grated
1/2 cup parmesan cheese grated
salt & pepper to taste
1 tbsp olive oil
Topping
mozzarella cheese grated, optional
parmesan cheese grated, optional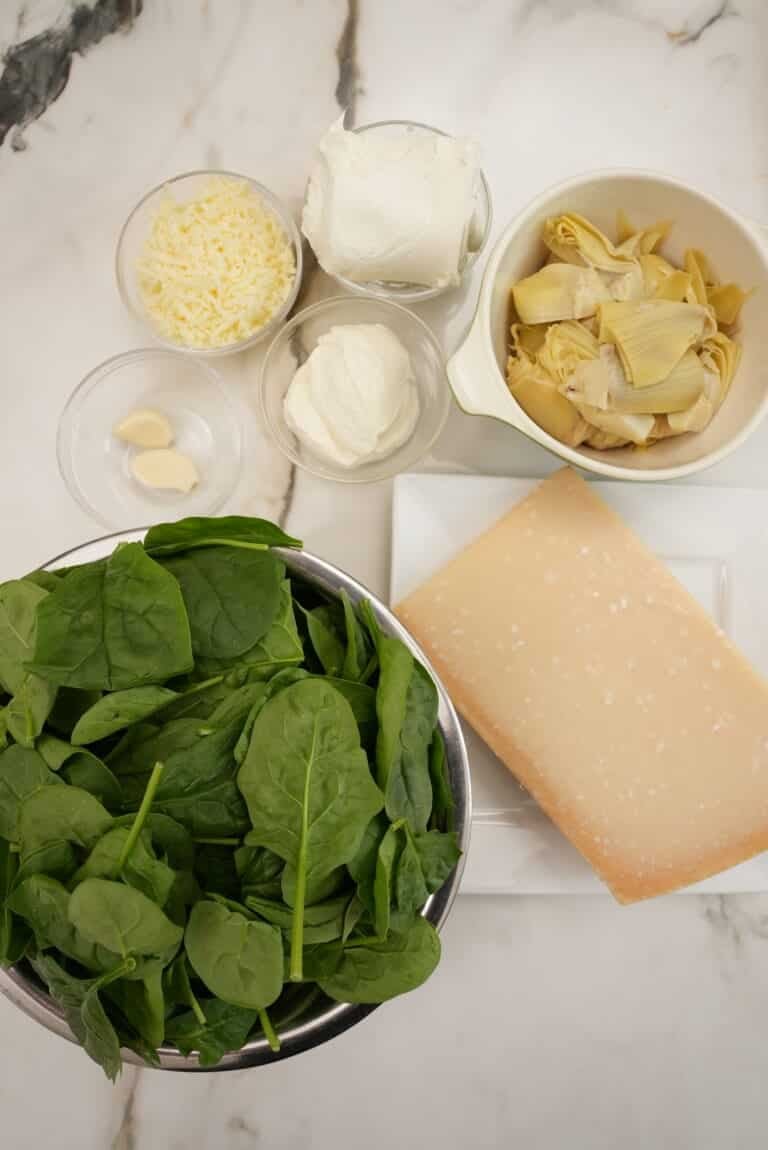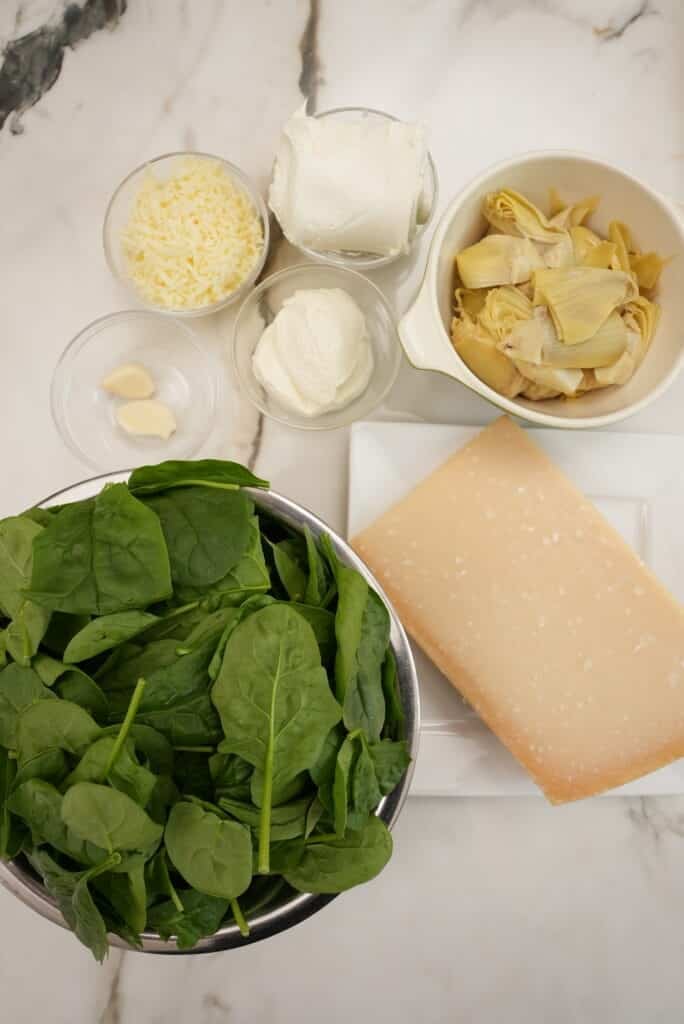 INGREDIENTS TIPS
SPINACH
I used fresh spinach but you can also use frozen! The measurements will remain exactly the same. Spinach has a high water content, so seasoning with salt during the cooking process is a KEY tip. This will help draw out moisture and cooking it until the water is evaporated will ensure you don't end up with a watered down dip!
ARTICHOKES
I prefer using the canned, quartered type. Make sure to drain them thoroughly before chopping and adding it into the mixture!
CREAM CHEESE
Bring your cream cheese to room temperature before mixing your ingredients! This will allow for a creamier mixture.
Spinach Artichoke Dip: Recipe Instructions
Roughly chop Artichoke Hearts
The first step in this recipe is to roughly chopped the artichoke hearts after draining them from the can. Chop them rough enough to that full artichoke petals are still visible.
Cooking the Dip
In a large pot, heat olive oil over medium heat and add grated garlic and cook for 30 seconds until fragrant.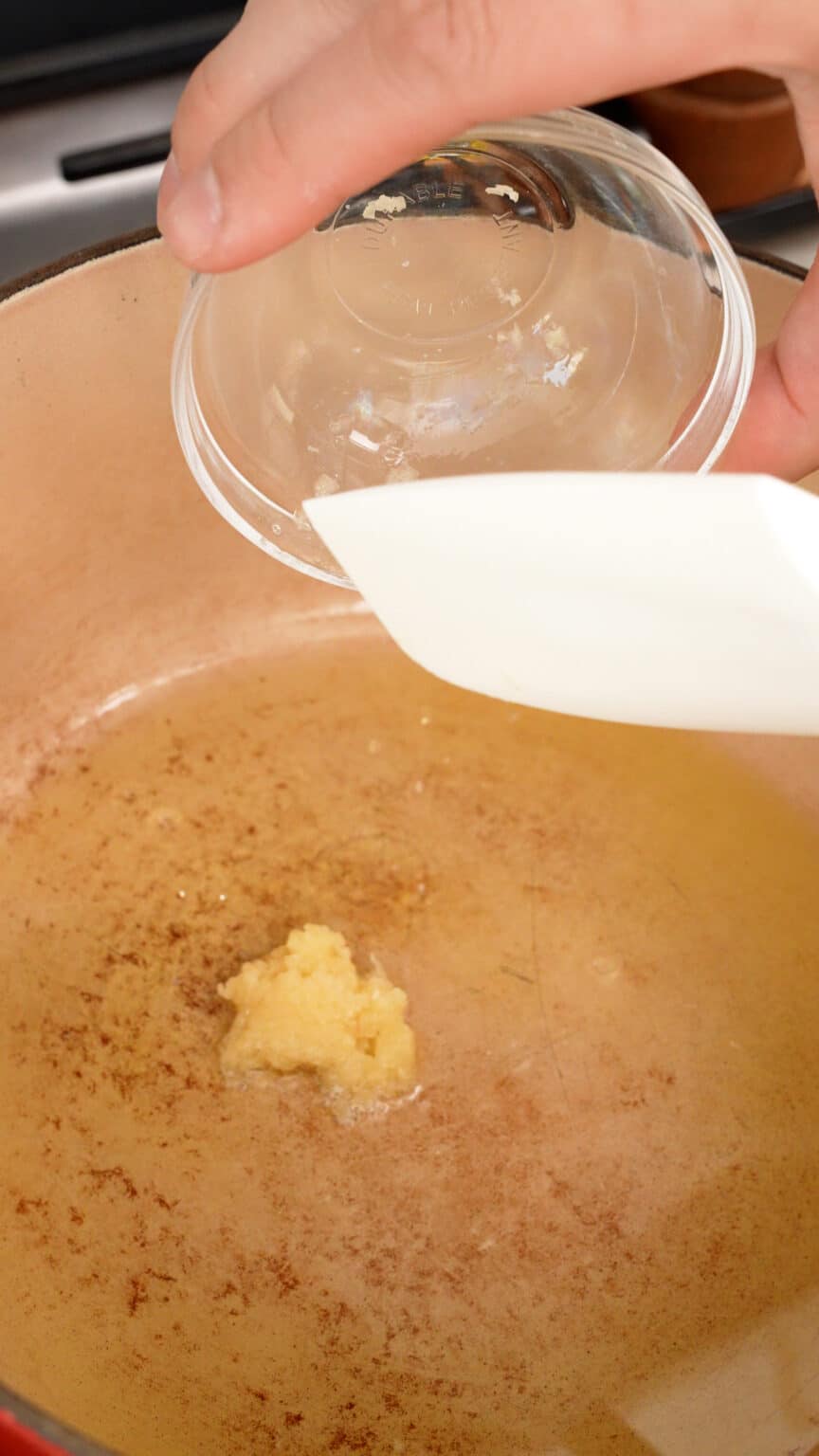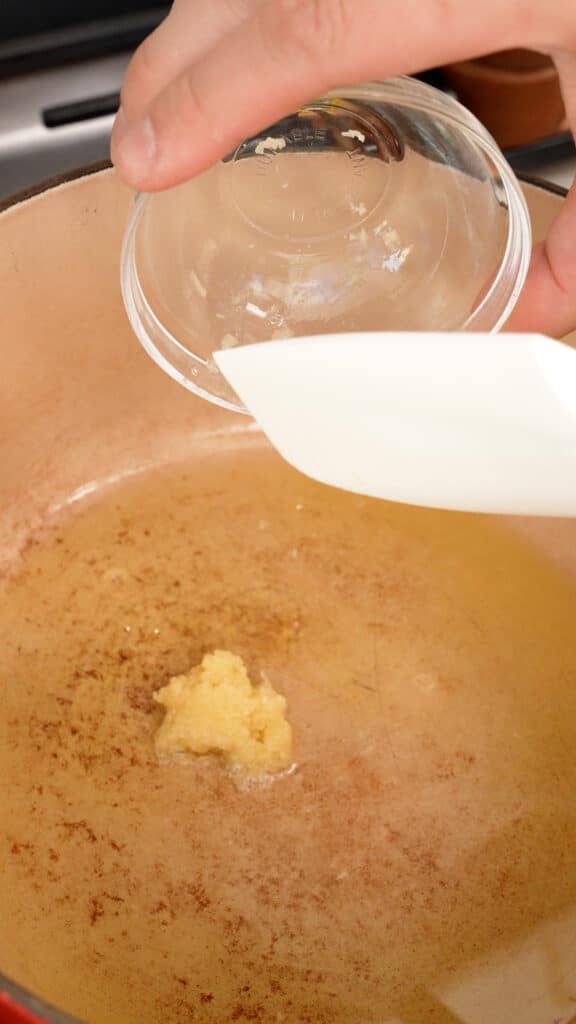 Next, add the spinach in batches and season with salt to help draw out the moisture. At this point, you'll see lots of water release from the spinach in the pot – this is a good thing! Continue cooking until most of the water has evaporated. This step is very important so that the dip doesn't turn out watery by the end.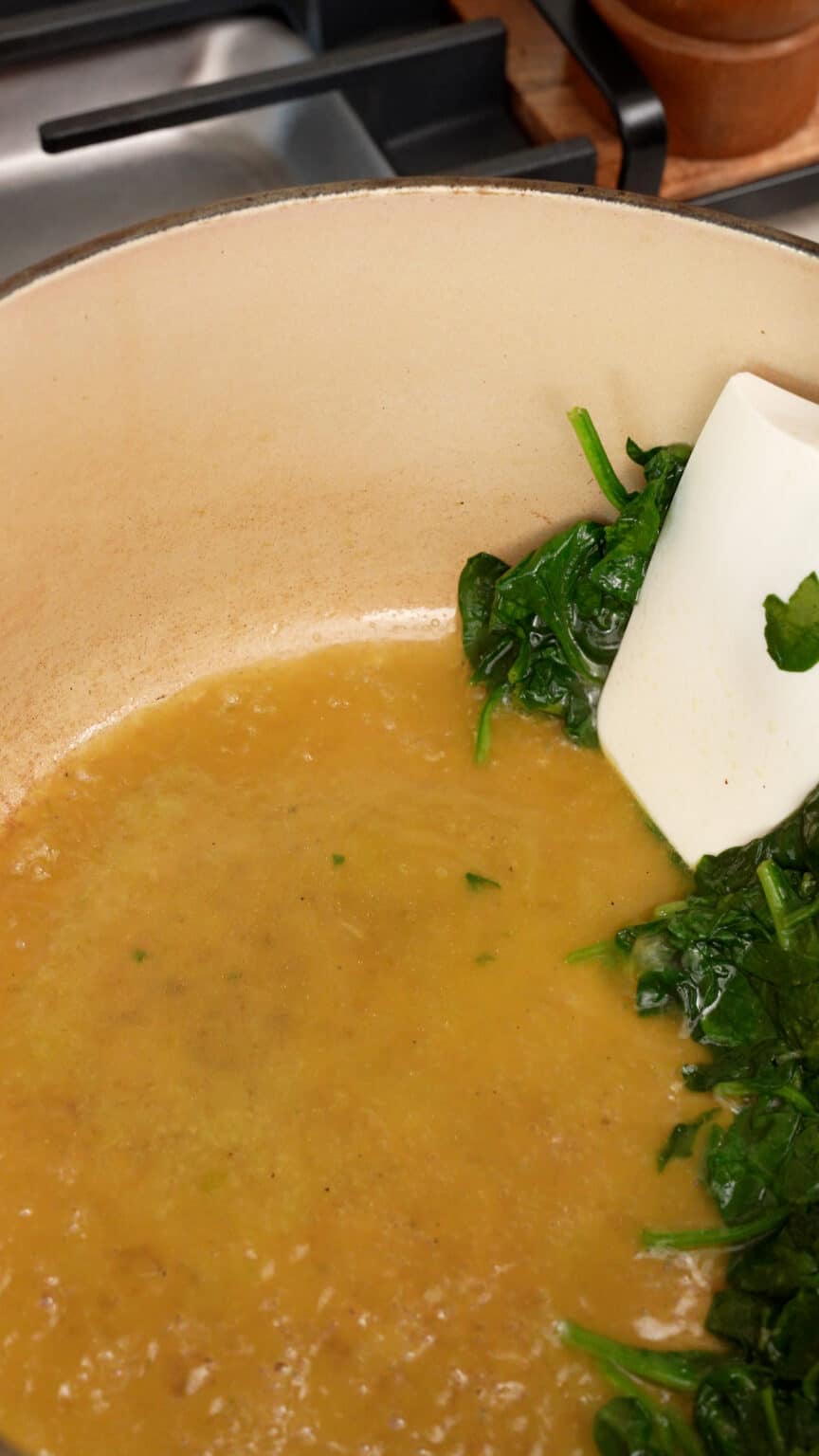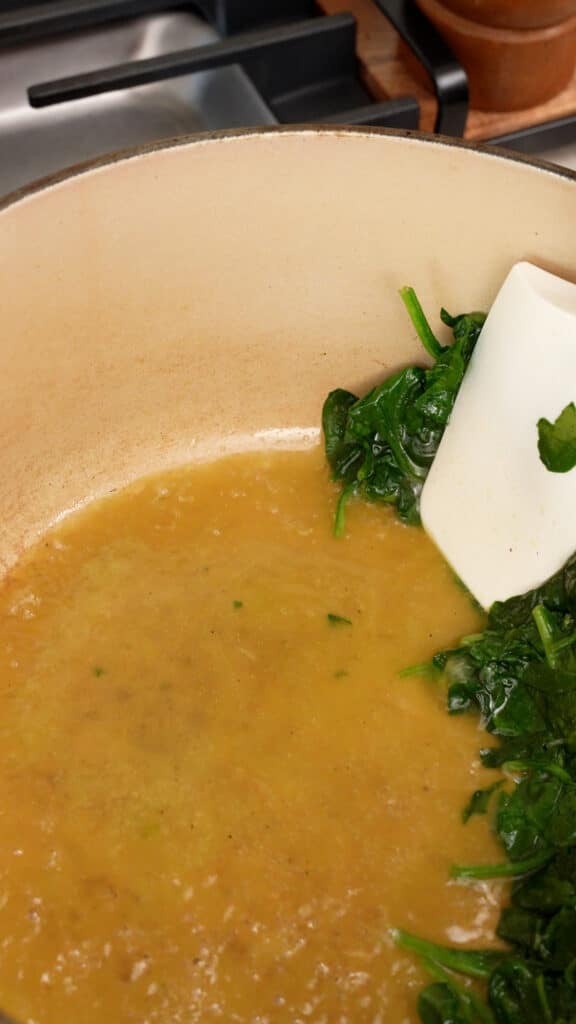 Add Artichoke Hearts
Once the spinach is wilted and the water from the spinach has cooked off, add the artichoke hearts and sauté for another 1-2 minutes over medium high heat to get a little bit of color on the spinach and artichokes.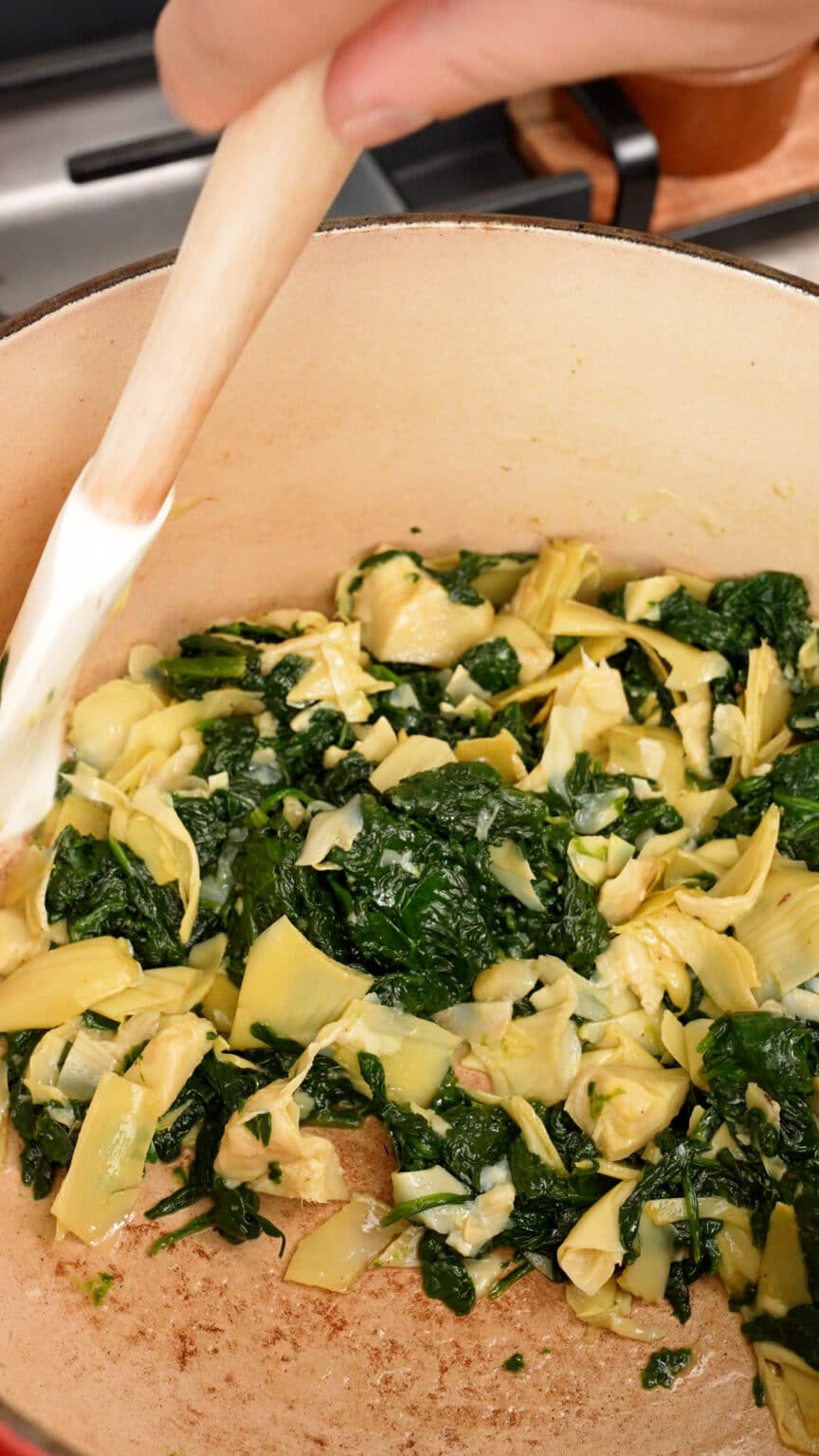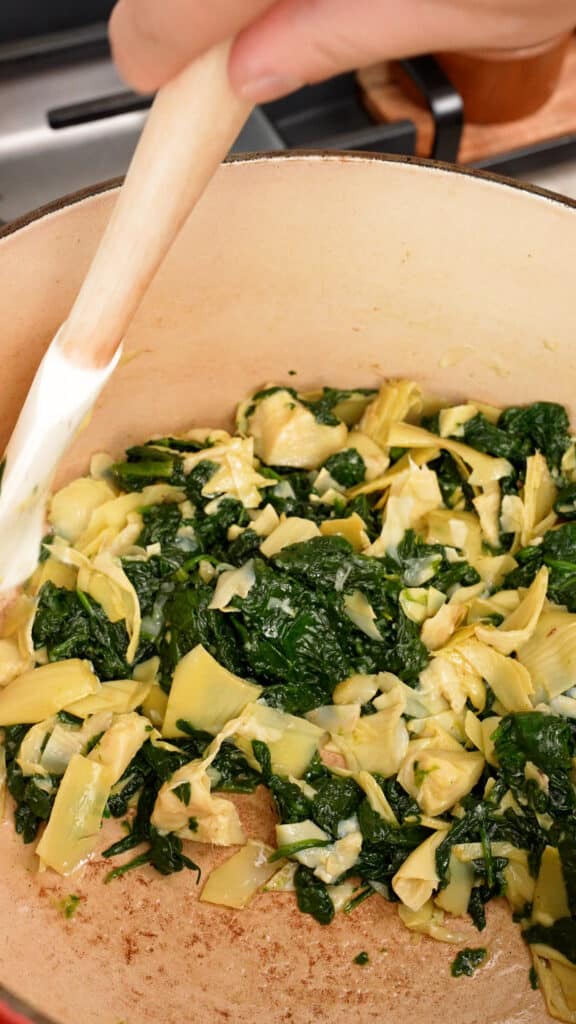 Next add cream cheese, mozzarella cheese, and parmesan cheese and mix thoroughly until combined. Once mixed through, turn the heat off and add in the sour cream and give it another mix until fully incorporated into the Spinach Artichoke Dip. We are now ready to bake!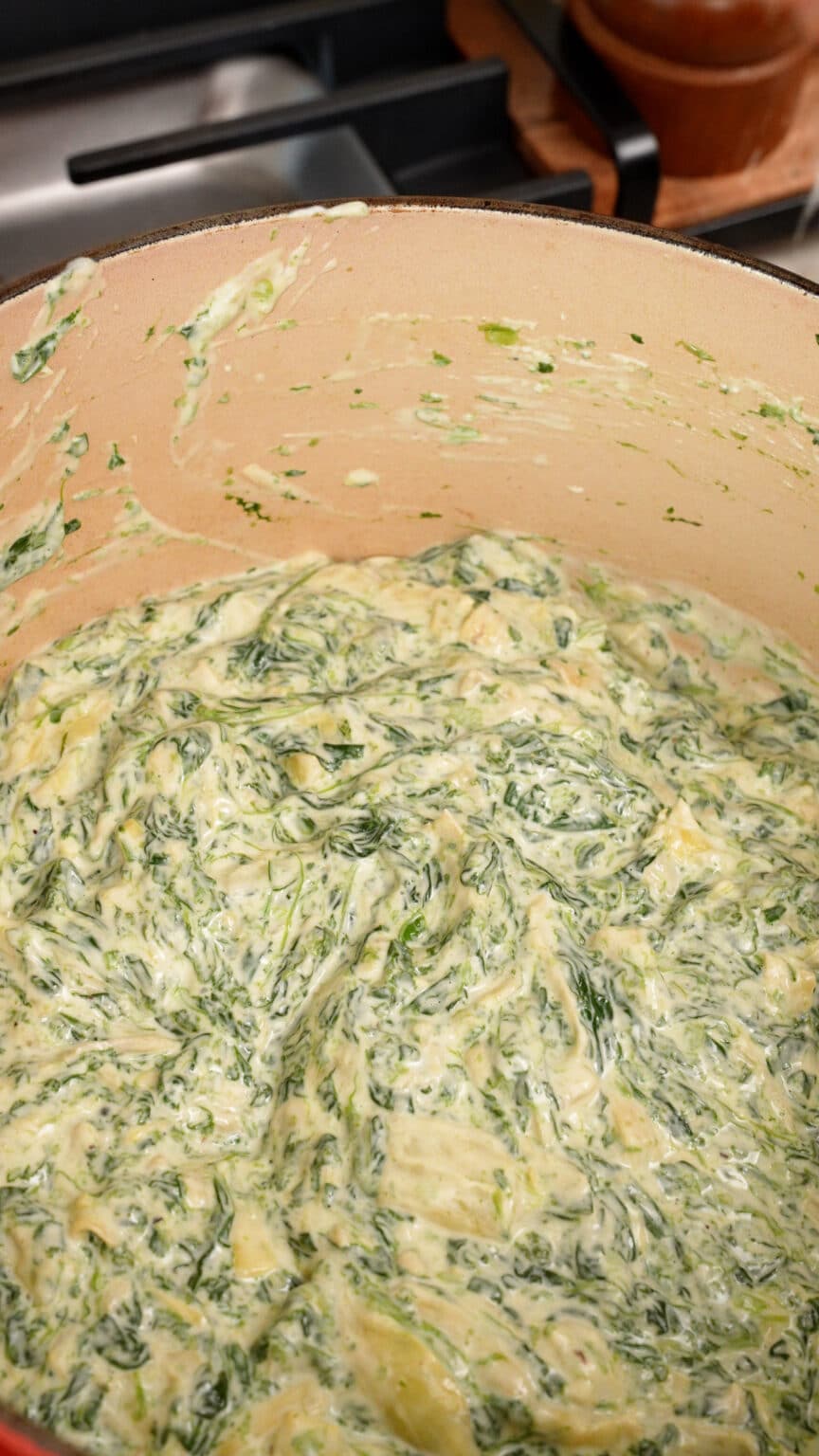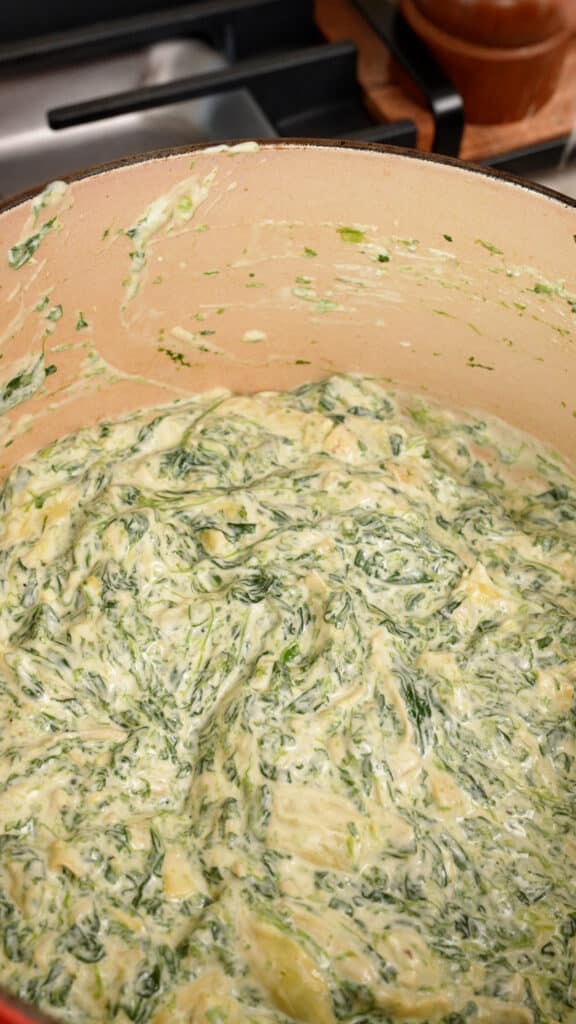 Top with Cheese and Bake until Golden Brown
Top with grated mozzarella and parmesan cheese then bake in a preheated 400F oven for 15-20 minutes until the dip and cheese is bubbling and golden brown.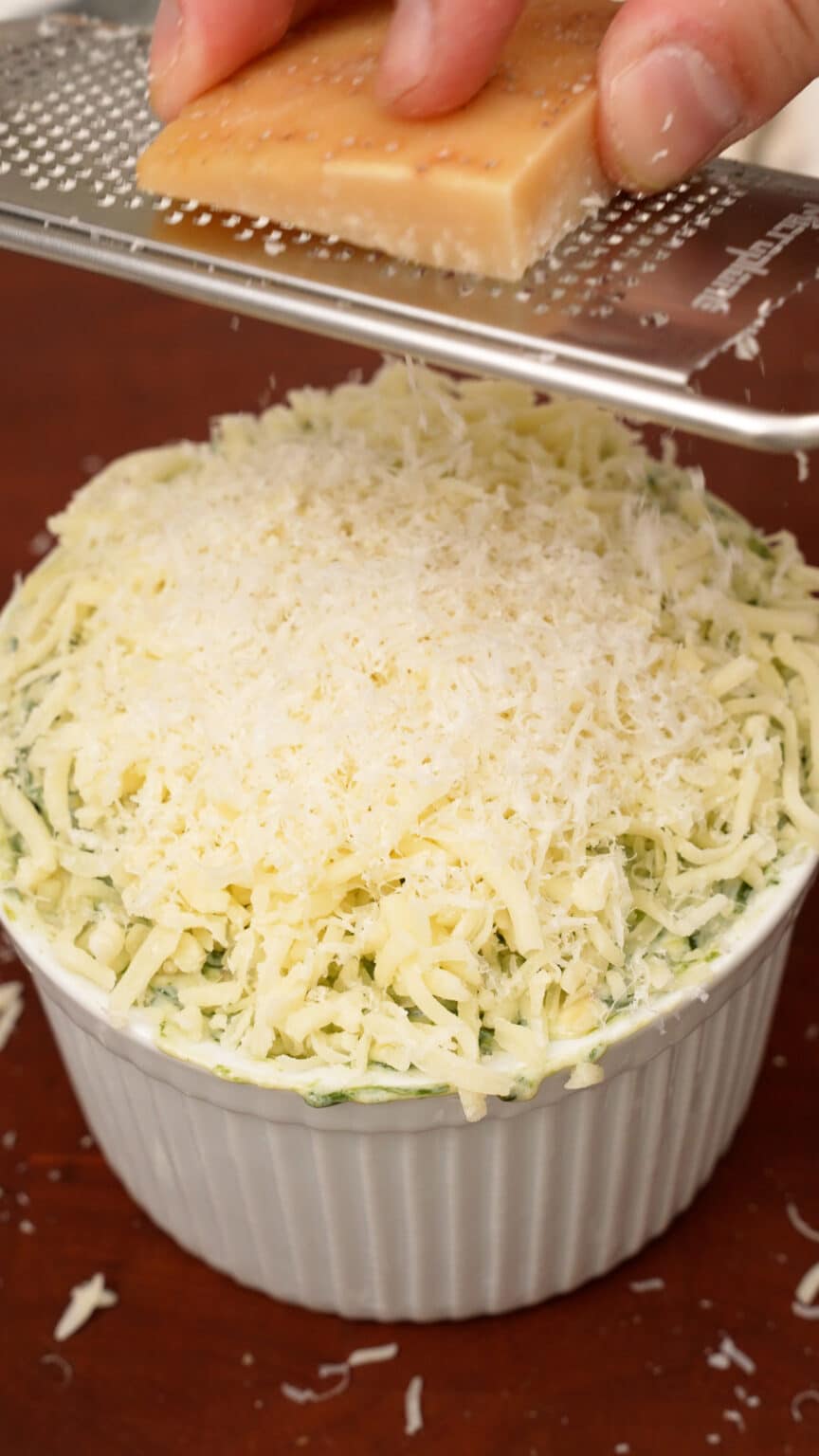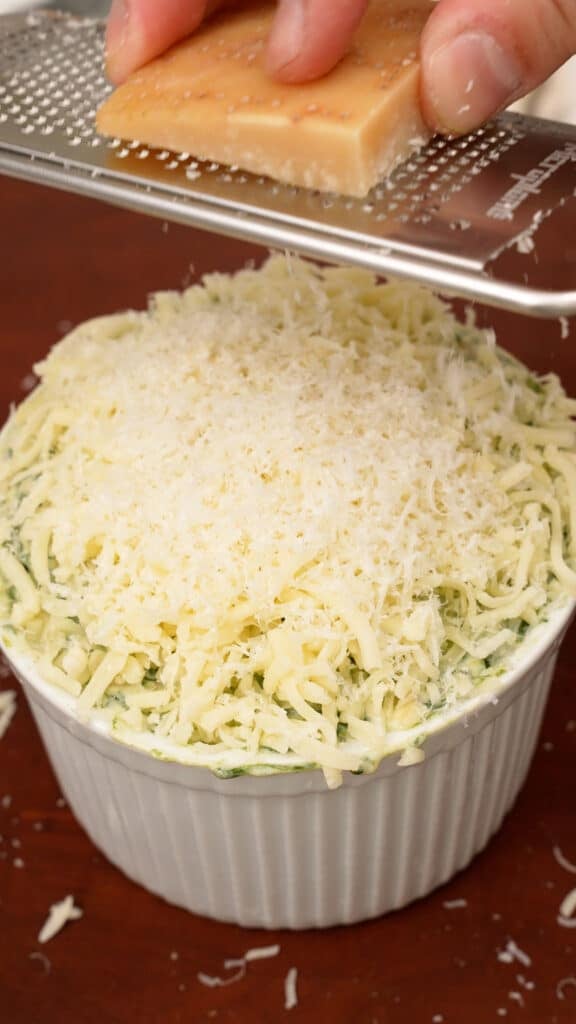 RECIPE TIPS
WHAT SHOULD I SERVE WITH THIS DIP?
This dip is so delicious, I think it goes with almost anything! But in case you need ideas, I usually serve this with any of the following:
Tortilla chips or corn chips
Toasted baguette slices
Carrot sticks
Cucumber spears or sliced cucumbers
Sliced radishes
Sugar snap peas
Serve this Spinach Artichoke dip with toasted crostini, fresh vegetable sticks, chips, and enjoy!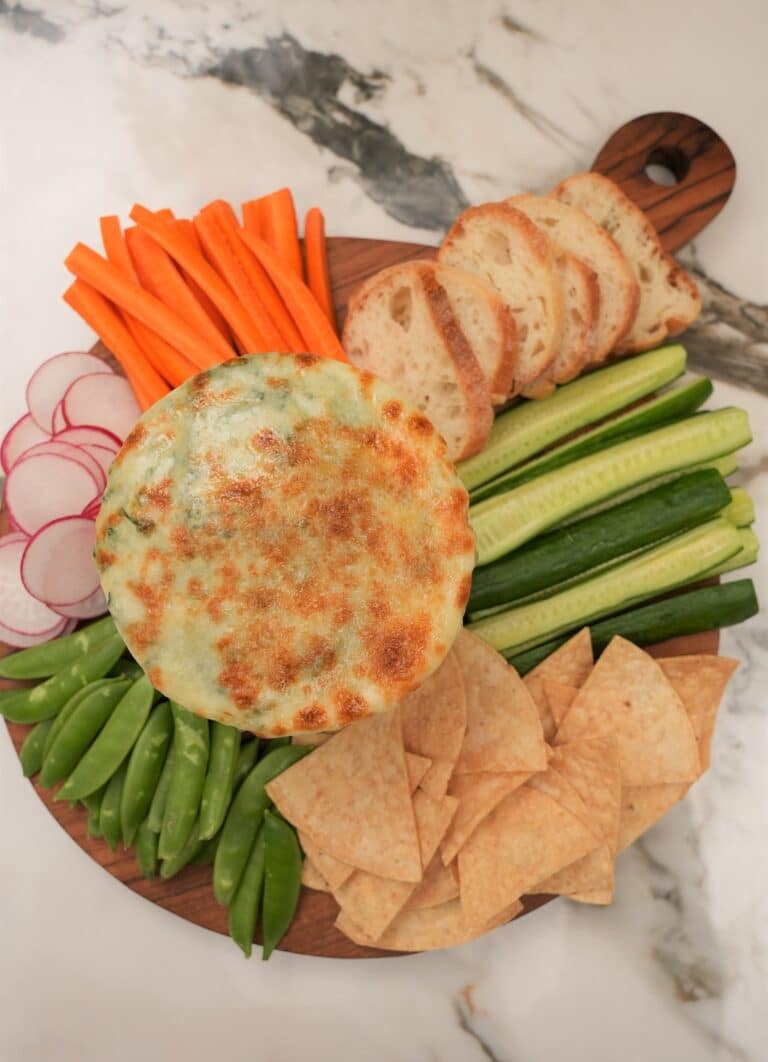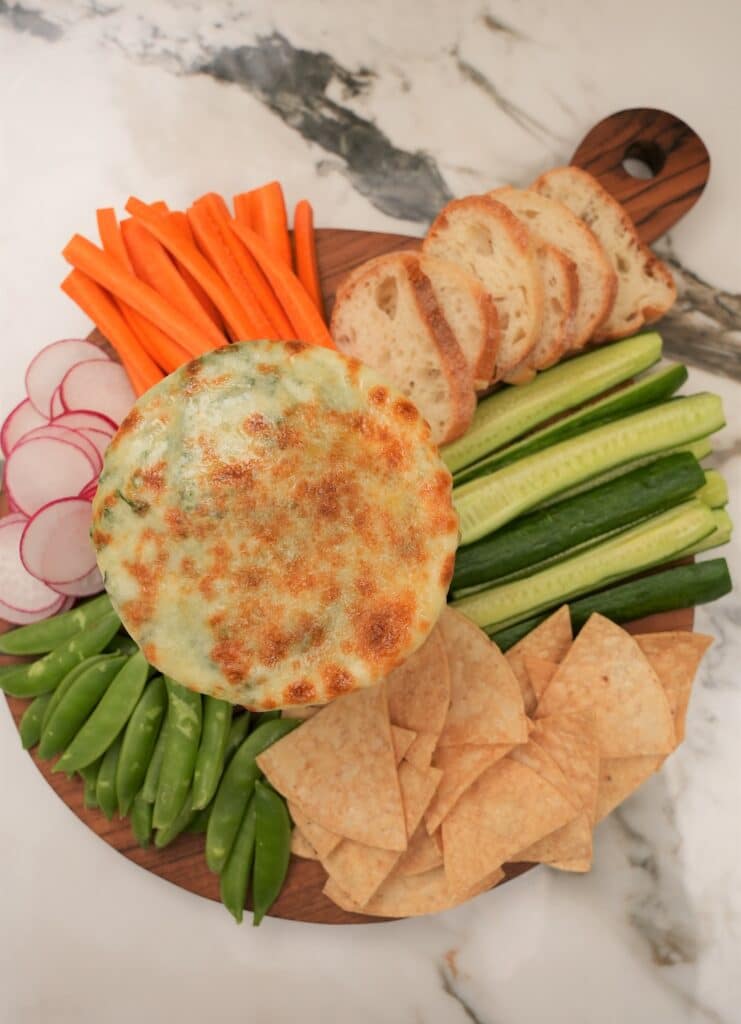 If you liked this recipe, check out some of the most popular appetizer recipes on the blog! Please consider giving a rating and commenting down below what you thought of the recipe! It really helps out the blog!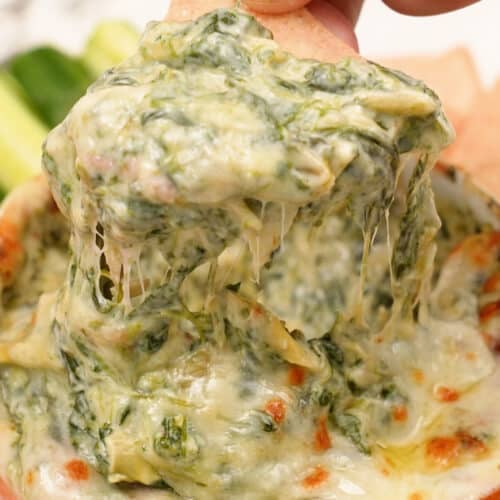 Spinach Artichoke Dip
My 20 minute spinach artichoke dip is a creamy, cheesy crowd favorite and must have for your game day spread or next party! It's the perfect appetizer!
Ingredients
14

oz

fresh spinach

14

oz

artichoke hearts

quartered

2

cloves

garlic

grated

6

oz

cream cheese

1/2

cup

sour cream

1/2

cup

mozzarella cheese

grated

1/2

cup

parmesan cheese

grated

salt & pepper

to taste

1

tbsp

olive oil
Topping
mozzarella cheese

grated, optional

parmesan cheese

grated, optional
Instructions
Drain 1 can of artichoke hearts and roughly chop and set aside in a small bowl.

In a large pot, heat olive oil over medium heat and add grated garlic and cook for 30 seconds until fragrant.

Add spinach a handful at a time, stirring until wilted. Season with salt to draw out the excess moisture and cook over medium high until the water has mostly evaporated, about 3-4 minutes.

Add in the chopped artichokes to the pot and cook for 1-2 minutes to combine with the spinach.

Next add cream cheese, mozzarella cheese, and parmesan cheese and mix thoroughly until combined.

Off the heat, mix in sour cream and season to taste with salt and pepper.

Add the dip to an oven safe baking dish, then top with more mozzarella and parmesan cheese. Broil for 5-6 minutes until the cheese is bubbly and golden and enjoy! Serve with chips, freshly toasted bread, and vegetables!