Bucatini all'Amatriciana
---
November 29, 2021
---
Amatriciana is one of the four CLASSIC Roman pastas that is so delicious, but surprisingly easy to make!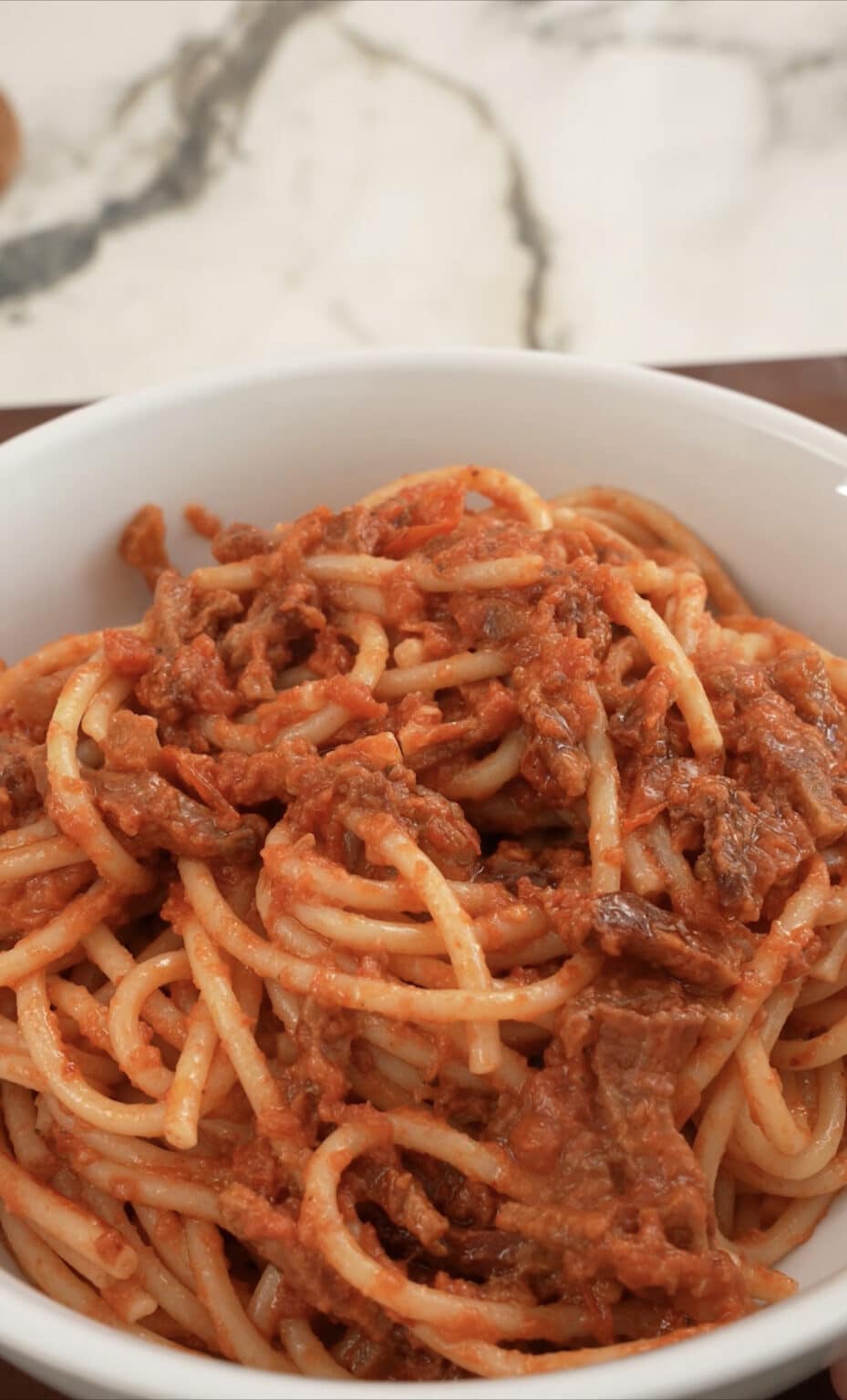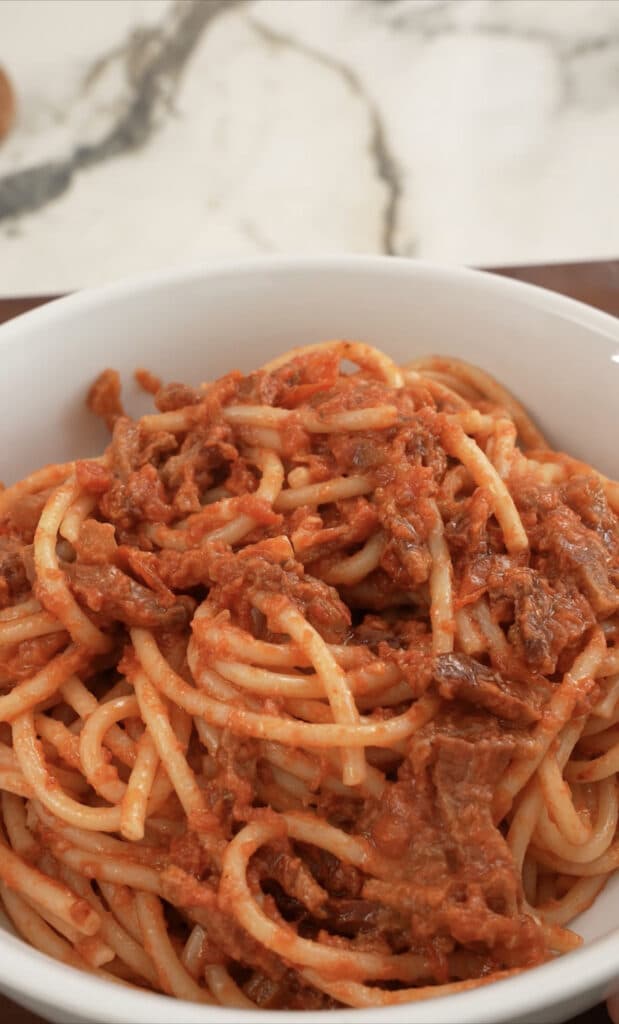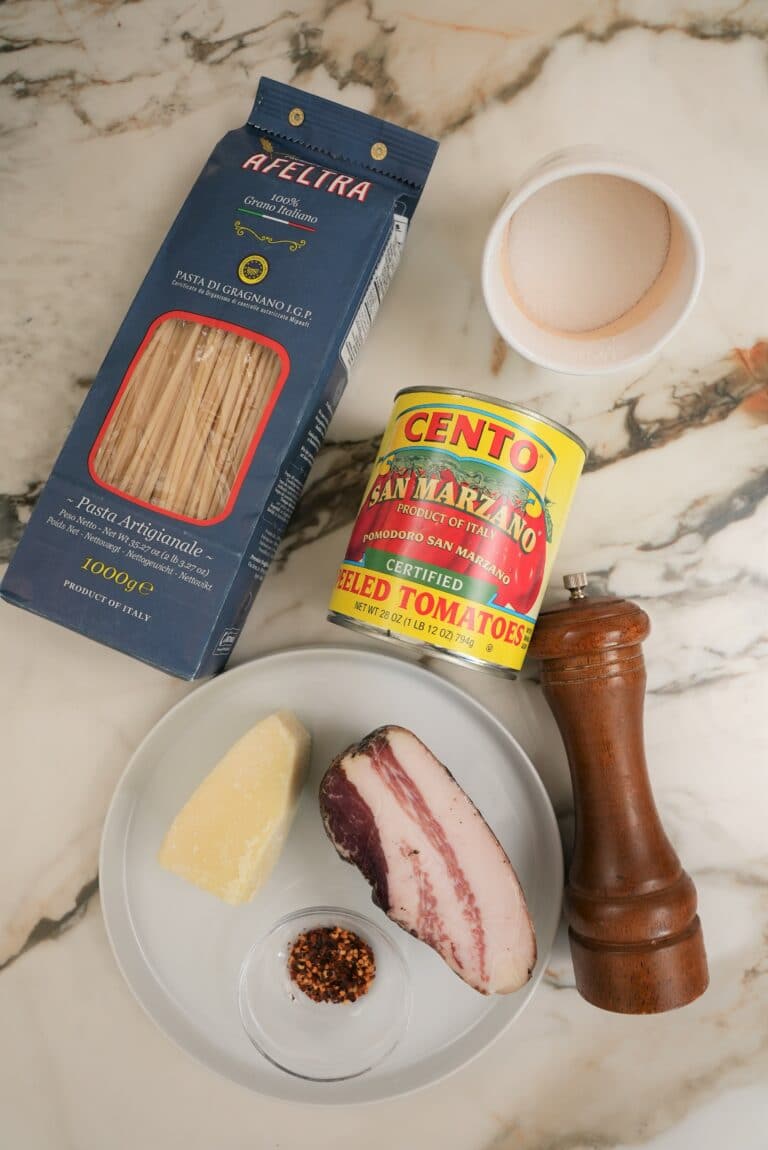 INGREDIENTS TIPS
GUANCIALE
Guanciale is an Italian cured meat that is made from pork jowl or cheeks. I usually purchase it from an Italian grocery store (in Los Angeles, I've bought this from Bay Cities, Eataly, or A Cut Above). I have not seen this in any of my usual grocery stores (Whole Foods, Ralph's, etc), so if you don't have an Italian grocery near you, you can sub with pancetta or bacon. The main difference between guanciale and pancetta or bacon is that guanciale has a more intense flavor and firmer texture.
SAN MARZANO TOMATOES
San Marzano tomatoes are famous for their balanced flavors – I love using them because I find that they are perfectly balanced in their sweetness and acidity, with that distinct tomato flavor! I try to always have a can of San Marzano tomatoes in my pantry – I get them from Trader Joe's or Whole Foods.
PERCORINO
Pecorino cheese is similar to Parmesan cheese but oftentimes at a lower price point. The main difference is that it is made from sheep's milk and is sharper and saltier. If you don't have Pecorino on hand, you can sub with Parmesan cheese at a 1:1 ratio. I get all of my cheeses from Costco, as I find they have the best quality at the most palatable price point.
BUCATINI
Bucatini is a long pasta comparable to spaghetti but with one main difference – it's thicker with a center hole. This allows for the noodle to pick up more sauce (both on the outside and inside of the noodle). If you don't have bucatini on hand, you can sub with spaghetti.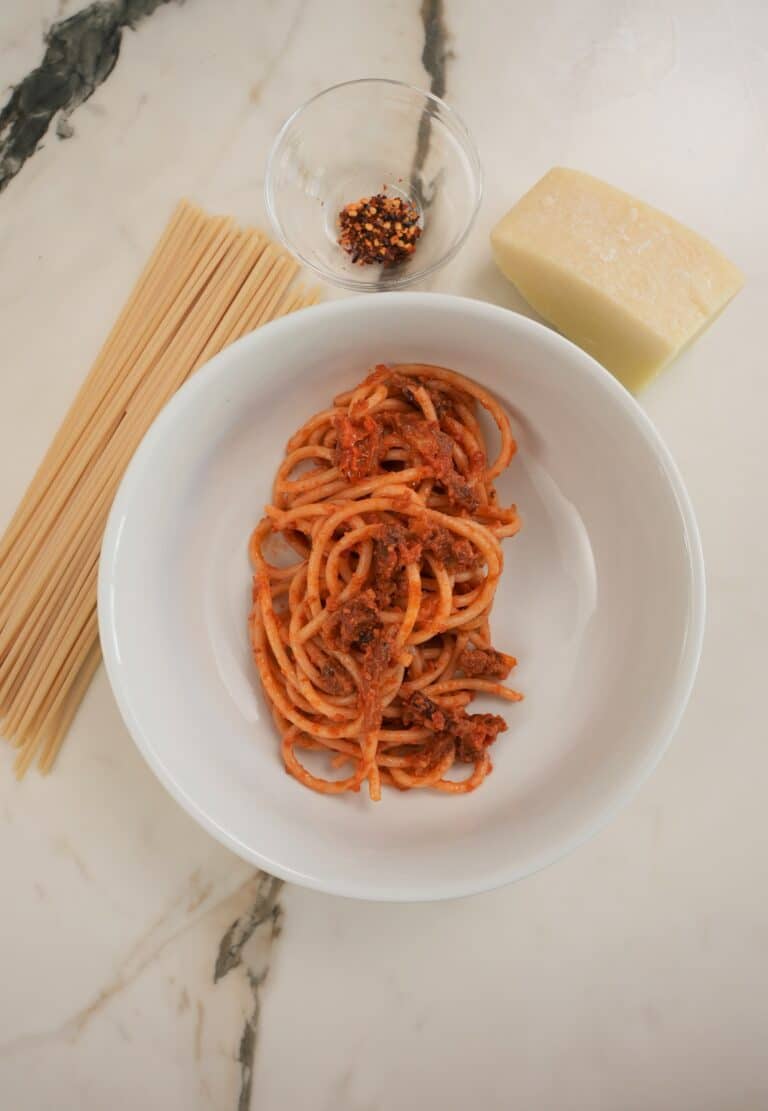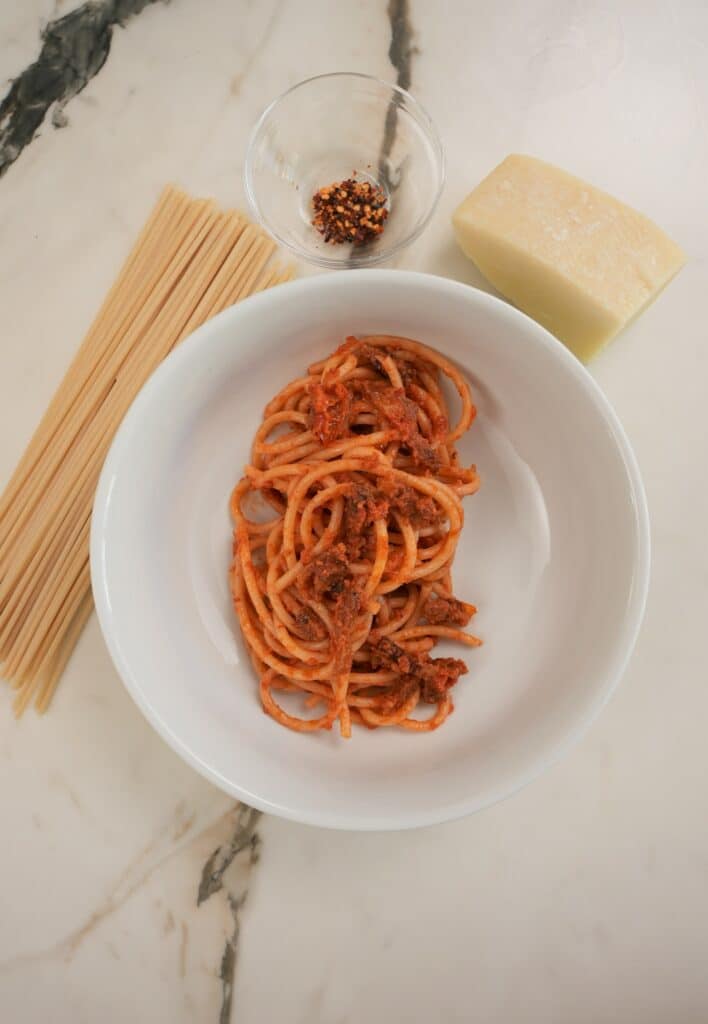 RECIPE TIPS
COOK YOUR GUANCIALE IN A COLD PAN
I like to start the guanciale in a cold pan to render out the fat. If you cook it in a hot pan, it'll result in the guanciale being fried. This rendered fat is a key component to how delicious this dish is!
WHITE WINE OPTIONAL
I like to use a splash of white wine when cooking Italian dishes and this recipe is no different – I find that it adds a dimension of flavor and rounds out the acidity of the tomatoes nicely. However, this is OPTIONAL – even without it, it will still be delicious!
PASTA WATER
Save your pasta water! The sauce will thicken over time, especially when mixed with the pasta, so save some of the pasta water to loosen as needed and create the consistency you want just before serving.
Bucatini all'Amatriciana
Ingredients
5

oz

guanciale

8

oz

pasta

bucatini or spaghetti

2

oz

pecorino cheese

finely grated

1/2

tsp

crushed red pepper

10

oz

peeled San Marzano tomatoes

crushed; can sub with regular tomatoes

white wine

optional

salt & pepper to taste
Instructions
Slice your guanciale into 1/4" thick slabs then 1/4" strips and place in a cold pan. Turn the heat up to high and cook for 3-4 minutes until the fat has rendered out and guanciale is crispy.

Add a splash of white wine to stop the cooking process (optional), then add your crushed tomatoes. Season with crushed red pepper, salt, and pepper to taste, and simmer on low while your pasta cooks.

Cook pasta to al dente in salted boiling water, then add immediately to the sauce and mix to combine.

Add a handful of grated pecorino and continue mixing to thicken up the sauce, adding pasta water if too thick. Top with more freshly grated pecorino and enjoy!