Roasted Green Beans with Bacon
---
November 15, 2022
---
These roasted green beans with bacon are a great one pan side dish you can make in for the holidays or for a side to go with your next weeknight meal! They're perfectly charred and blistered and carry tons of flavor from the rendered, crispy bacon and caramelized onions.
This side dish is so simple, yet so delicious! I hope you enjoy it!
Watch the Roasted Green Beans with Bacon Recipe Video Below!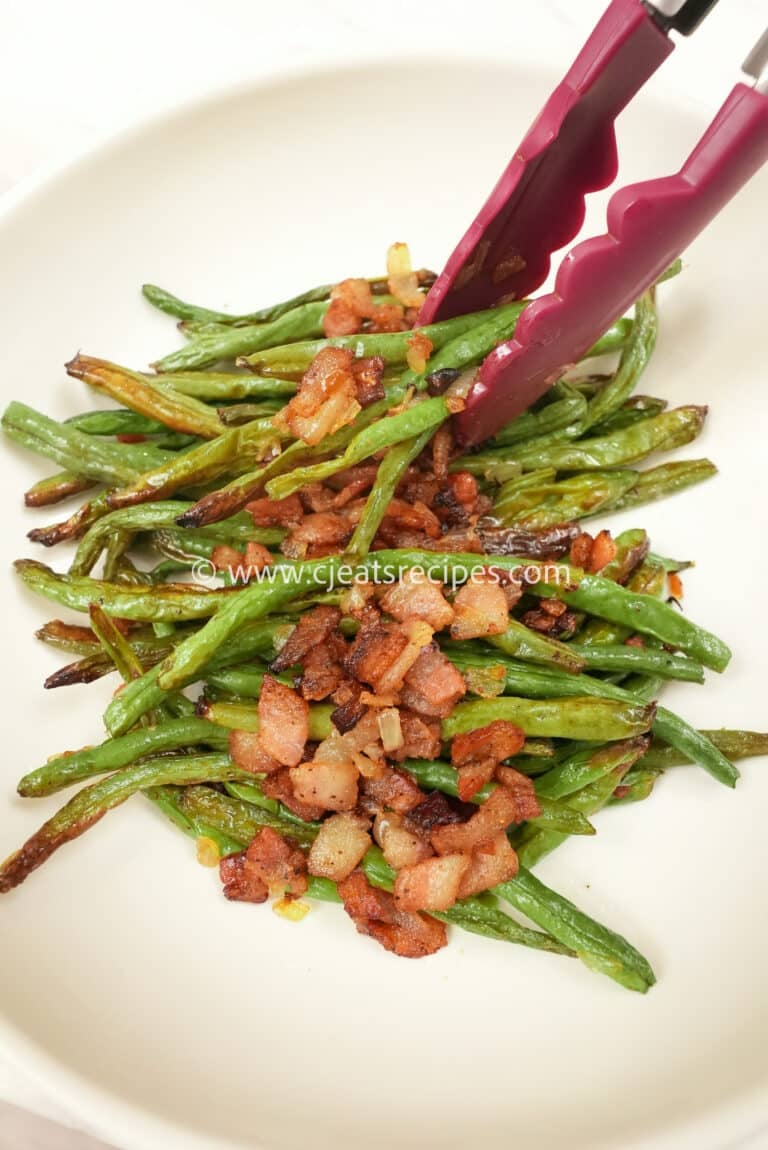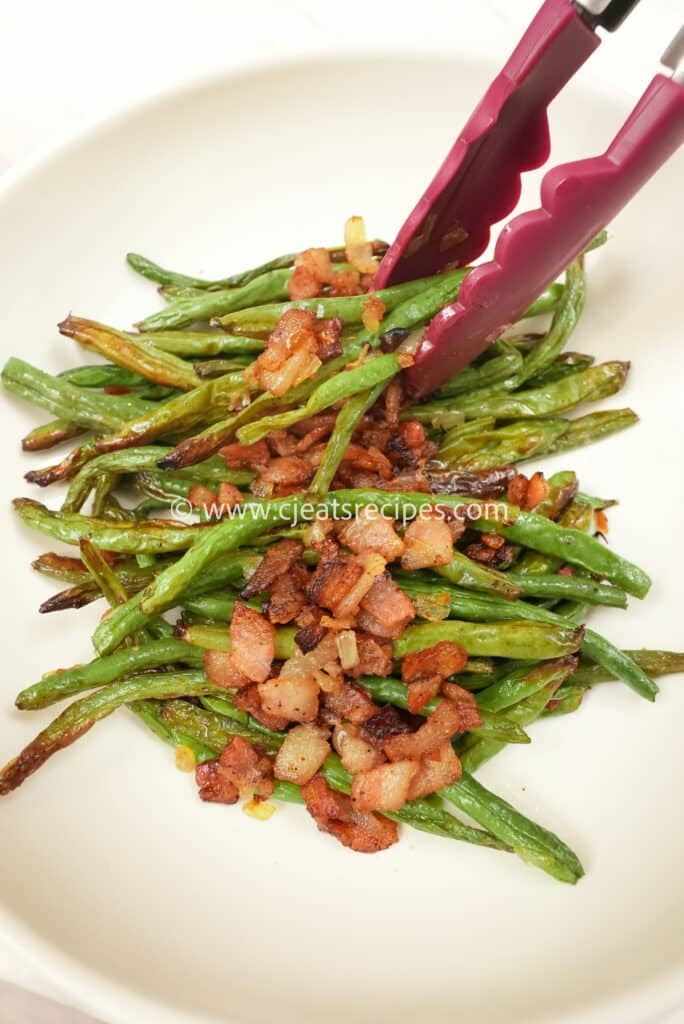 Ingredients for Roasted Green Beans
Here's everything you'll need to make the BEST roasted green beans!
Green Beans
Bacon
1/2 of a large onion
Kosher salt
Black pepper
Garlic powder
Olive oil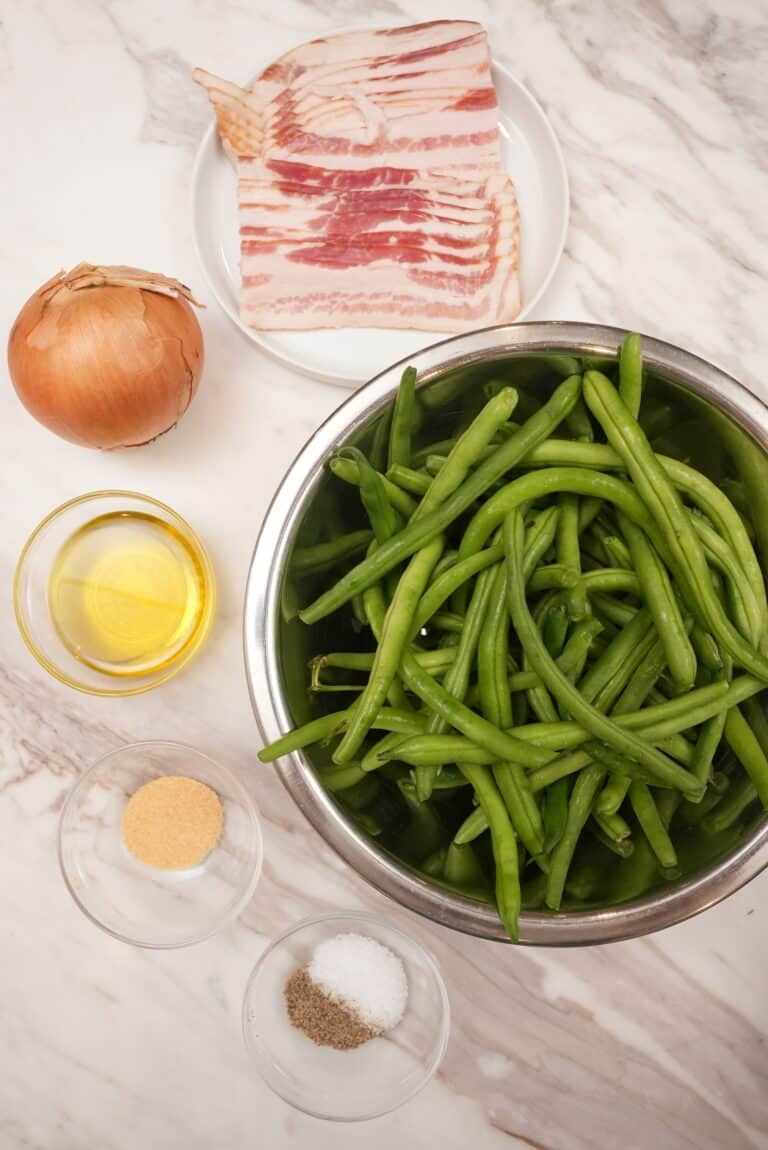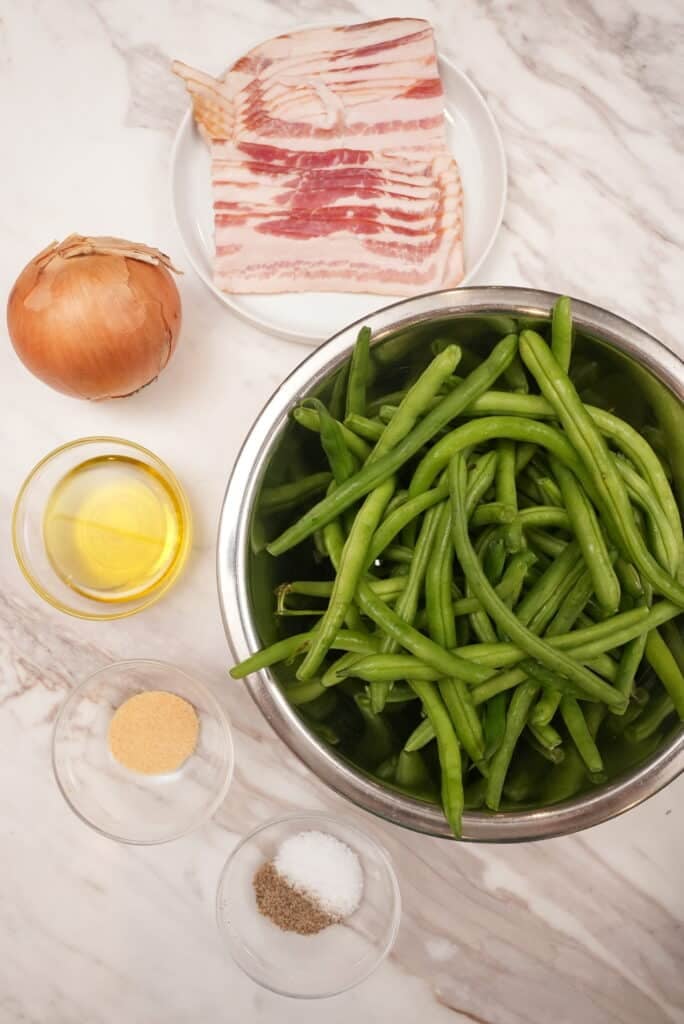 INGREDIENTS TIPS
SEASONING
I used a pretty basic seasoning (kosher salt, black pepper, garlic powder), but if you want to adjust the seasonings you definitely can! Add some red pepper flakes to kick up the heat or some onion powder to really reinforce that onion flavor throughout the dish.
EXTRA VIRGIN OLIVE OIL
I recommend using a high quality extra virgin olive oil for this recipe. Aside from the seasonings, your oil is the key ingredient that will turn your green beans into a showstopper of a side, so you want to use a good quality oil.
Cooking Roasted Green Beans with Bacon: Recipe Instructions
Prepare the ingredients
The first step in this recipe is to wash and trim your green beans of the stems if necessary. Next, dice your onion and the bacon and set them aside.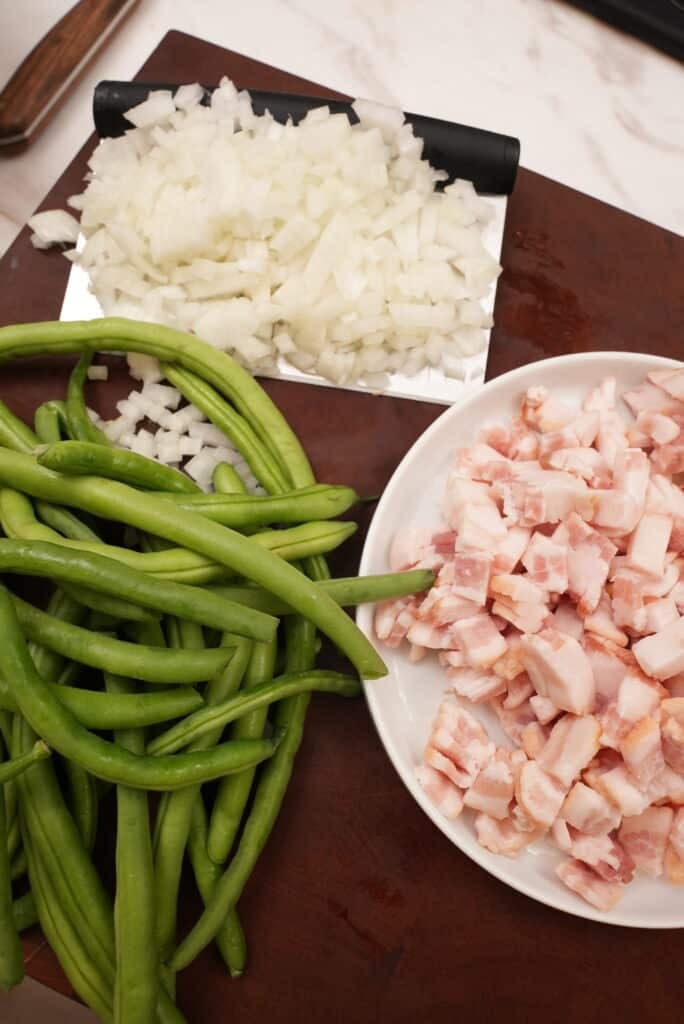 Mix and place on a baking tray
Once the ingredients are prepped, add the green beans to the baking tray followed by the bacon and onions. Season everything with kosher salt, black pepper, garlic powder and olive oil. Mix together thoroughly and spread them out evenly across the baking sheet so the bacon is evenly distributed.
I love this dish because the bacon fat will render and create so much flavor throughout the onions and green beans!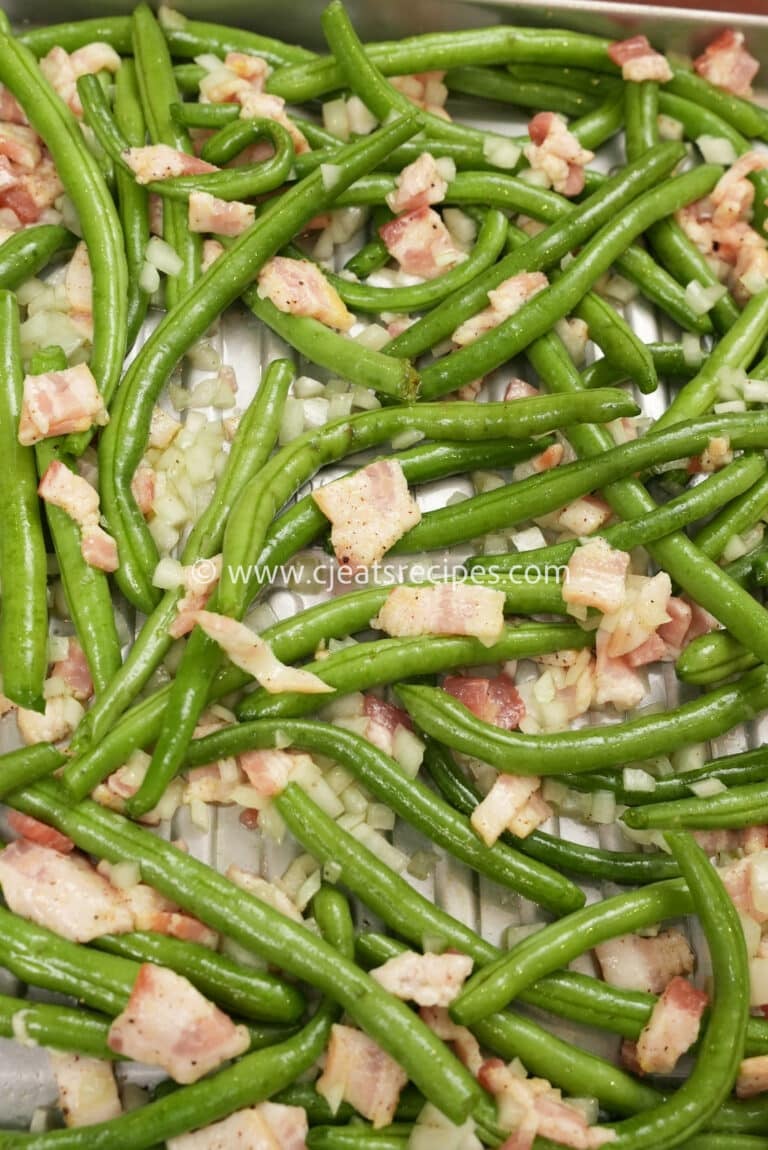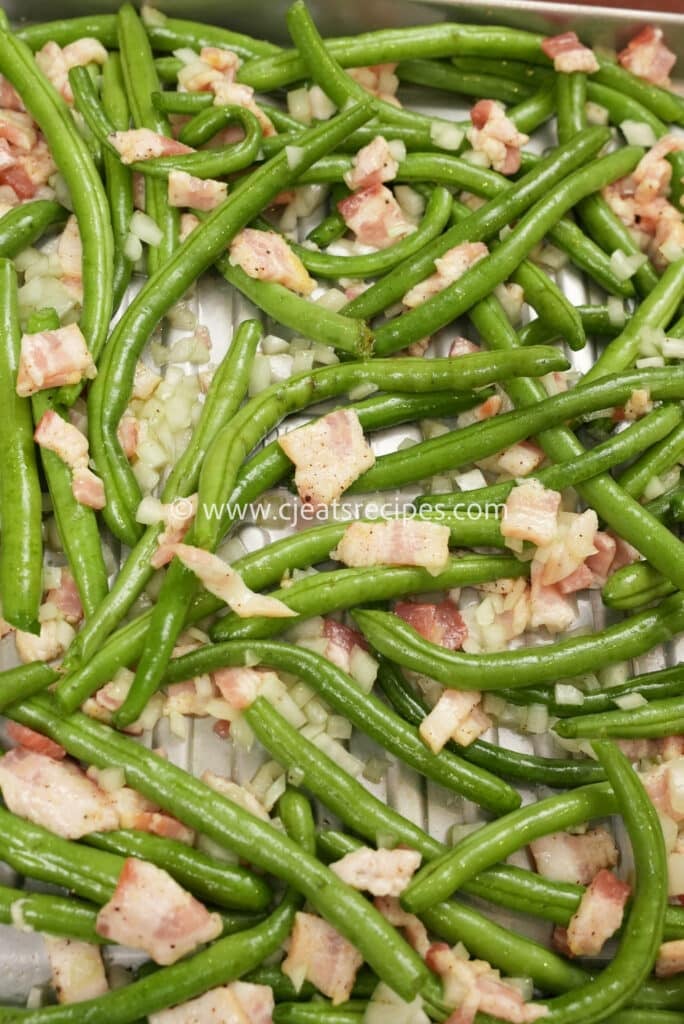 Roast the green beans
Roast the green beans at 425F for about 20-25 minutes or the bacon fat has render and is crispy and the green beans are nicely blistered. That's it!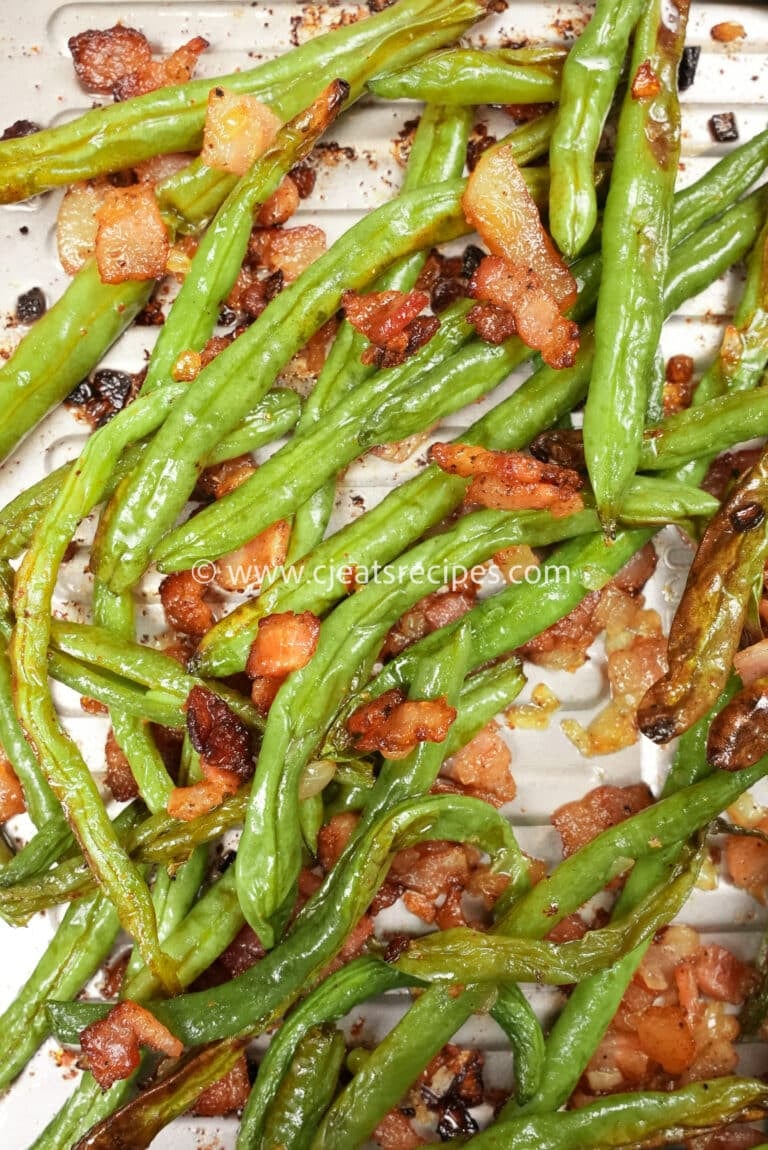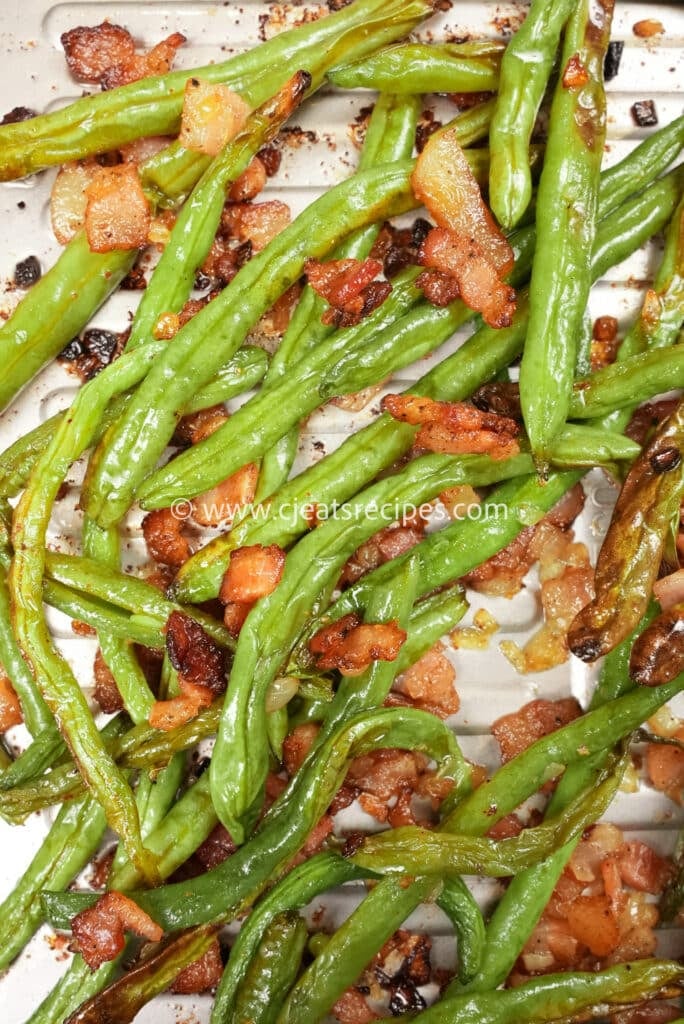 Garnish and serve
Once the green beans are roasted, plate them up and top with your bacon and onions and serve immediately. These are so delicious and go with just about anything, so I hope you enjoy them as much as I do!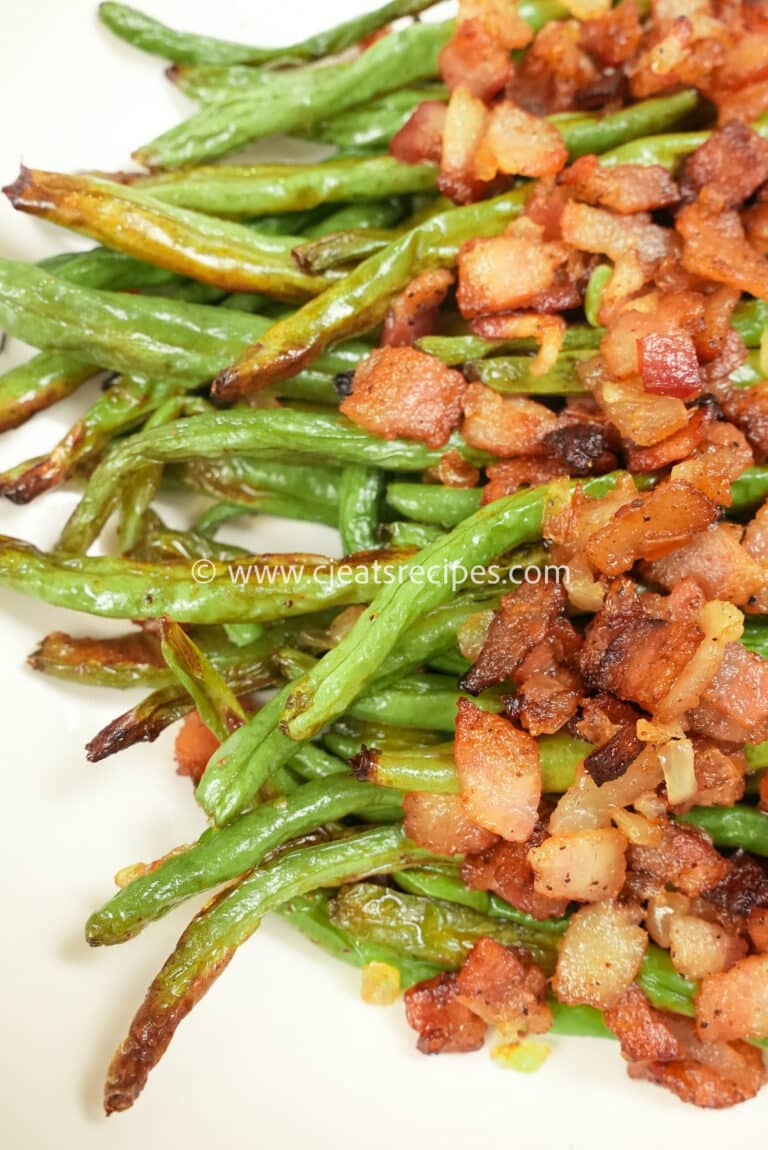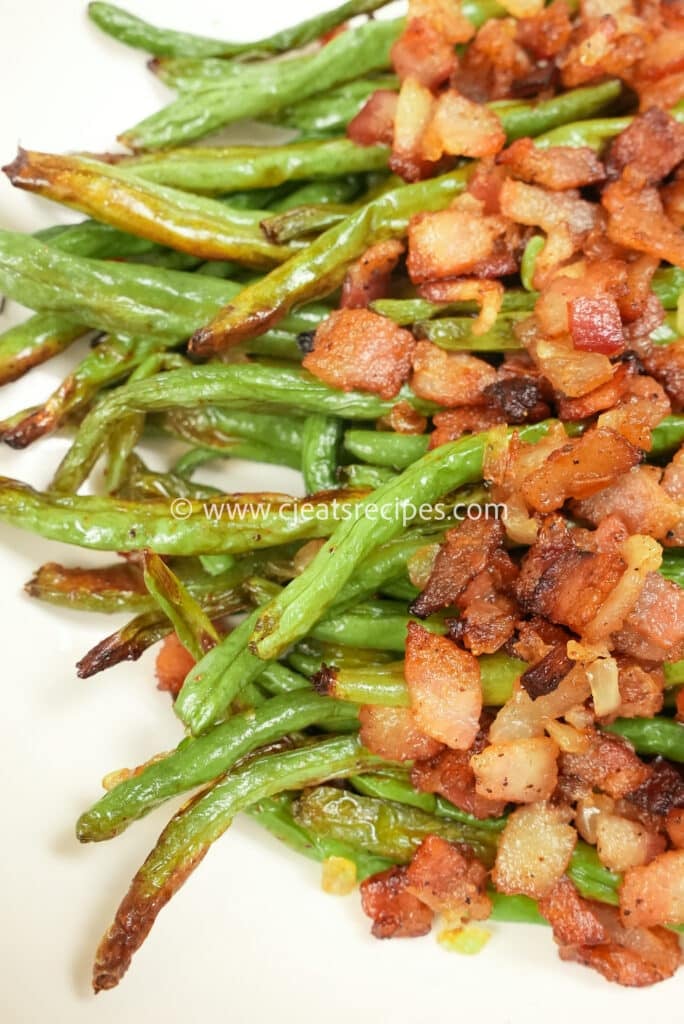 If you liked this Roasted Green Beans recipe, check out some of the most popular side dish recipes on the blog!
RECIPE TIPS
COOKING TIMES MAY VARY!
Depending on your oven and the size of your green beans, cooking times may vary. If possible use similar size green beans to ensure even cooking throughout and check the green beans occasionally until they are crispy to your liking!
SPREAD THE INGREDIENTS EVENLY IN THE PAN!
The key tip here is making sure the ingredients are spread evenly throughout the pan. You want to make sure there are little bits of bacon and onion evenly dispersed throughout so when the bacon fat renders, it will evenly coat the onions and green beans to roasted perfection!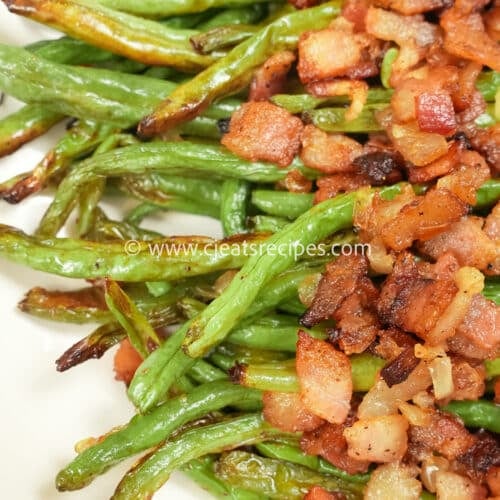 Roasted Green Beans with Bacon
This is a quick and easy roasted green beans with bacon and onion recipe that is a one pan wonder! It's super easy to whip up in just a few minutes for a delicious side dish to pair with anything.
Ingredients
2

lbs

green beans

washed and trimmed

1/2

lb

bacon

about 6 strips, diced into 1/4" pieces

1/2

large onion

finely diced

1/4

cup

olive oil

1/2

tsp

garlic powder

1/2

tbsp

kosher salt

1

tsp

black pepper
Instructions
Dice bacon into 1/4" pieces and finely dice onion. Set aside with the washed and trimmed green beans.

In a baking tray, add the green beans, bacon, and onions combined with olive oil, garlic powder, kosher salt and black pepper. Mix and spread evenly on the tray.

Roast for 20-25 minutes until the bacon is crisp and the green beans are golden brown and blistered.