Garlic Herb Compound Butter
---
November 22, 2022
---
A great compound butter is a wonderful condiment to have in your kitchen arsenal ready to go. You can easily elevate any vegetable, meat, fish, or even a simple slice of bread with this garlic herb compound butter – and it's SO easy to make!
I'll use whatever herbs I have on hand, but for me, fresh garlic is a must! I'm using fresh thyme, rosemary, and chives, but you can definitely use what you have available or even use dried herbs in a pinch.
Watch the Garlic Herb Compound Butter Recipe Video Below!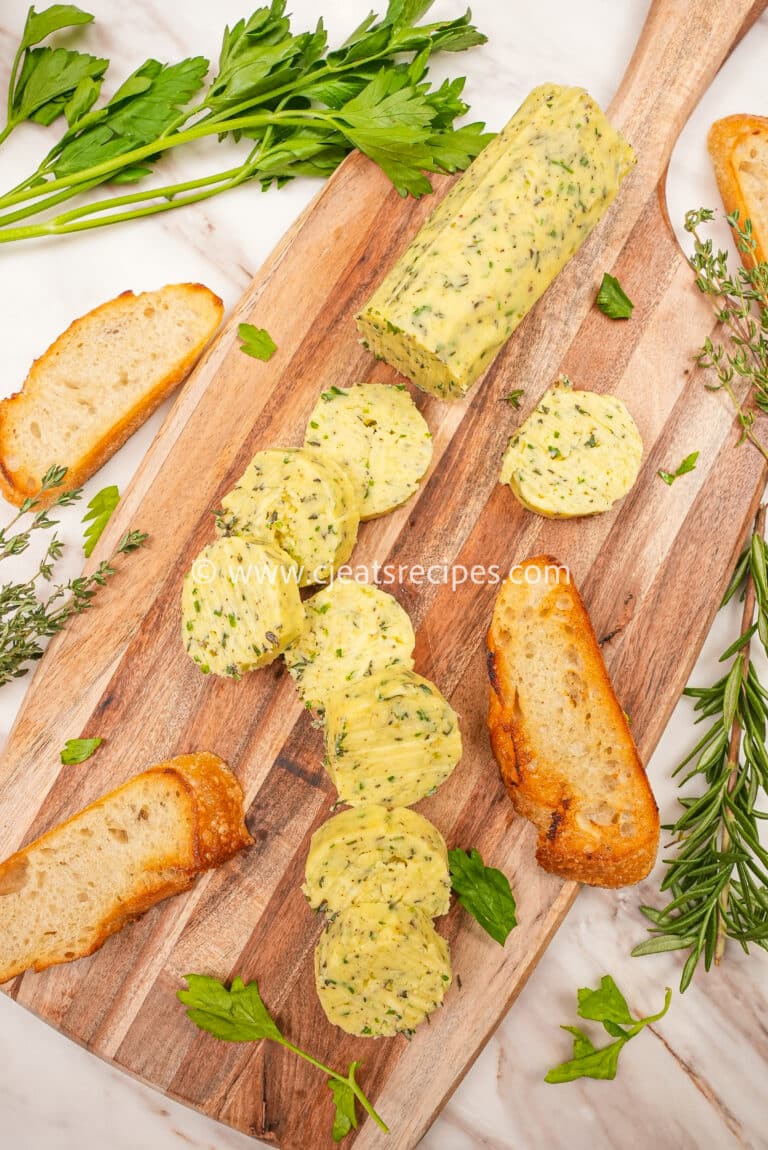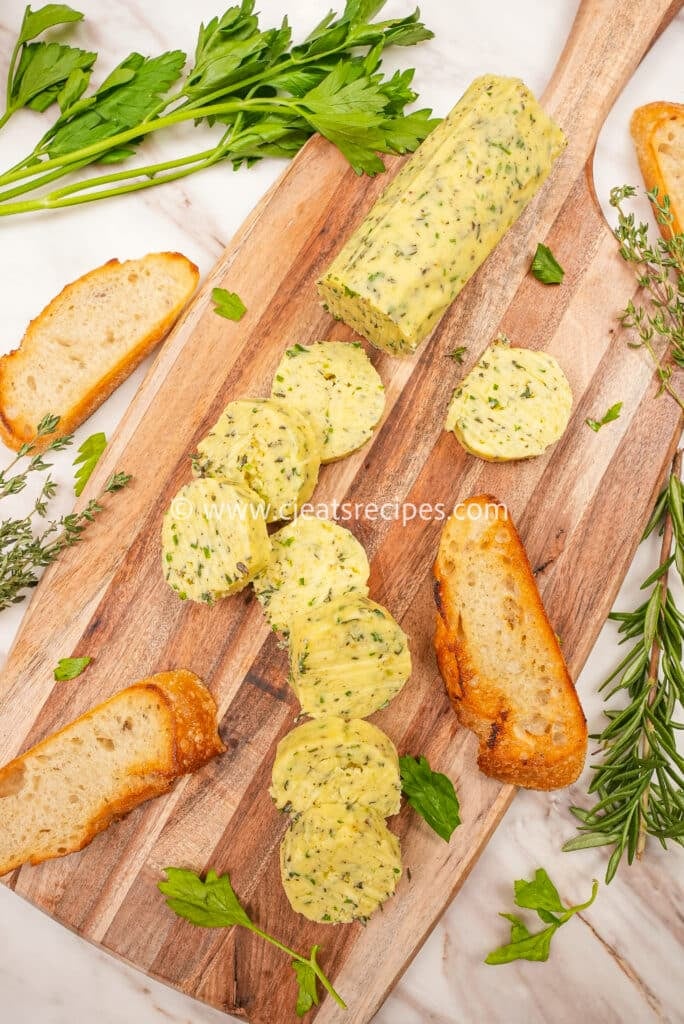 Ingredients for my Garlic Herb Compound Butter:
Unsalted Butter
Fresh Thyme
Fresh Rosemary
Fresh Chives
Garlic
Kosher Salt
Black Pepper
INGREDIENTS TIPS
HERBS
My favorite herbs to use for a great compound butter are rosemary, thyme, and chives. But you can also add in whatever you like! Parsley and dill work well too!
QUALITY IS KEY
This recipe doesn't use many ingredients so high quality is KEY! Use a high quality butter and you can't go wrong!
My Garlic Herb Compound Butter: Recipe Instructions
This recipe is pretty straightforward but there are a few key steps to make the best herb compound butter, so let's get started!
Mince your herbs
First, remove the rosemary and thyme leaves from their branches (using a cheese grater and running them through is a great hack!), then finely chop up the herbs and set them aside.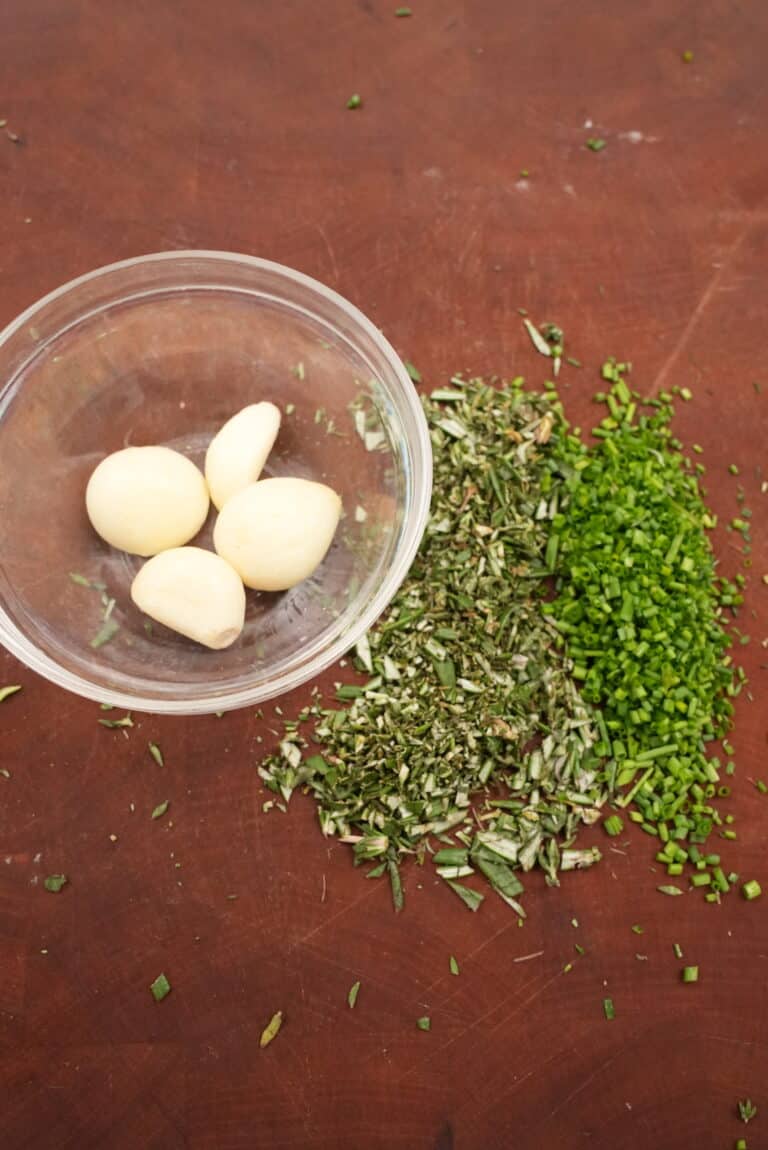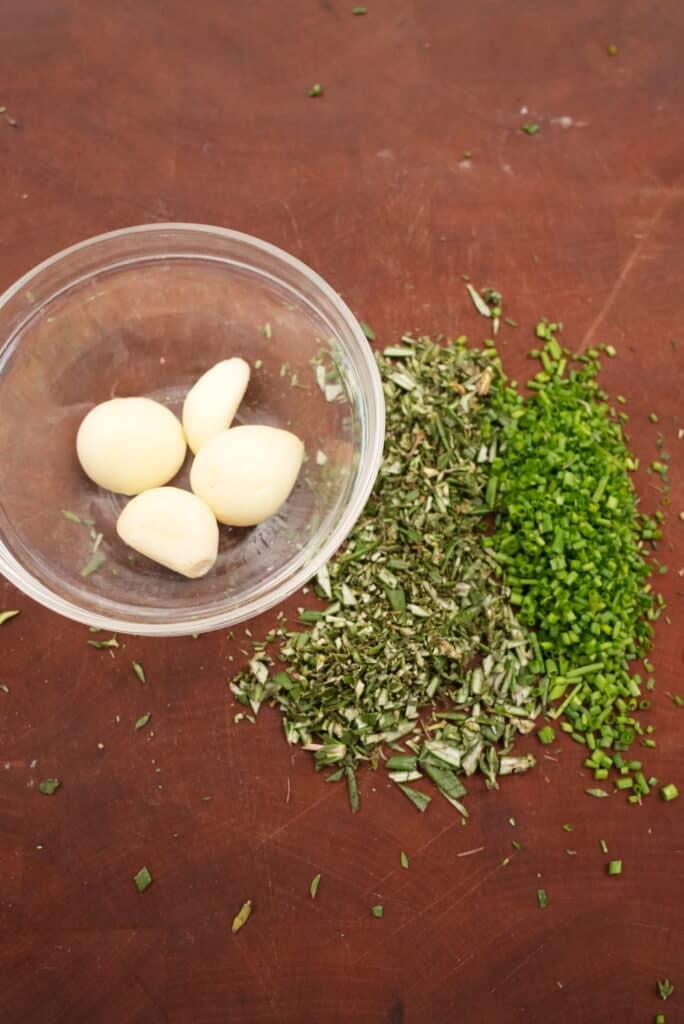 Mix your compound butter
Once your butter has softened in the bowl, add in the minced herbs followed by grated garlic, kosher salt, and freshly cracked black pepper. Mix well until the seasonings and herbs are incorporated and you're basically done!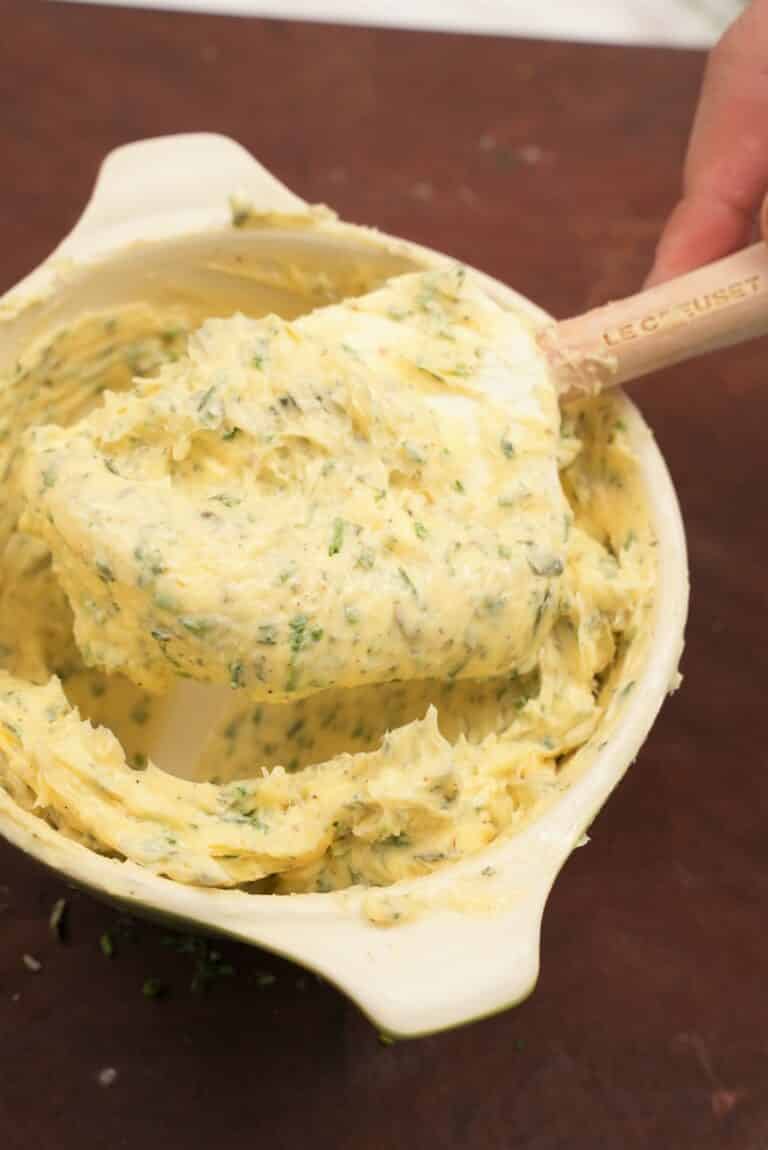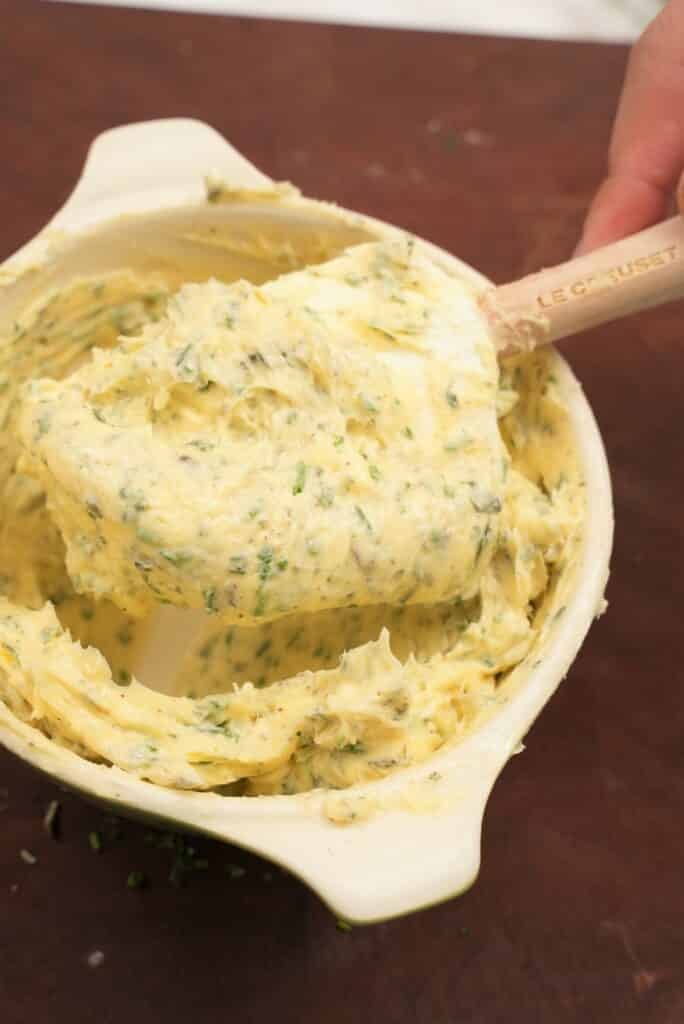 Roll and the butter into a log
At this point, the butter will be very soft and you can definitely use it immediately. If you need to store it, simple take a sheet of plastic wrap or parchment paper and add the butter into the center.
Fold one side over and form a log with your hands. Roll the plastic to cover any exposed ends then twist and tighten the ends in opposite directions to form a tight log.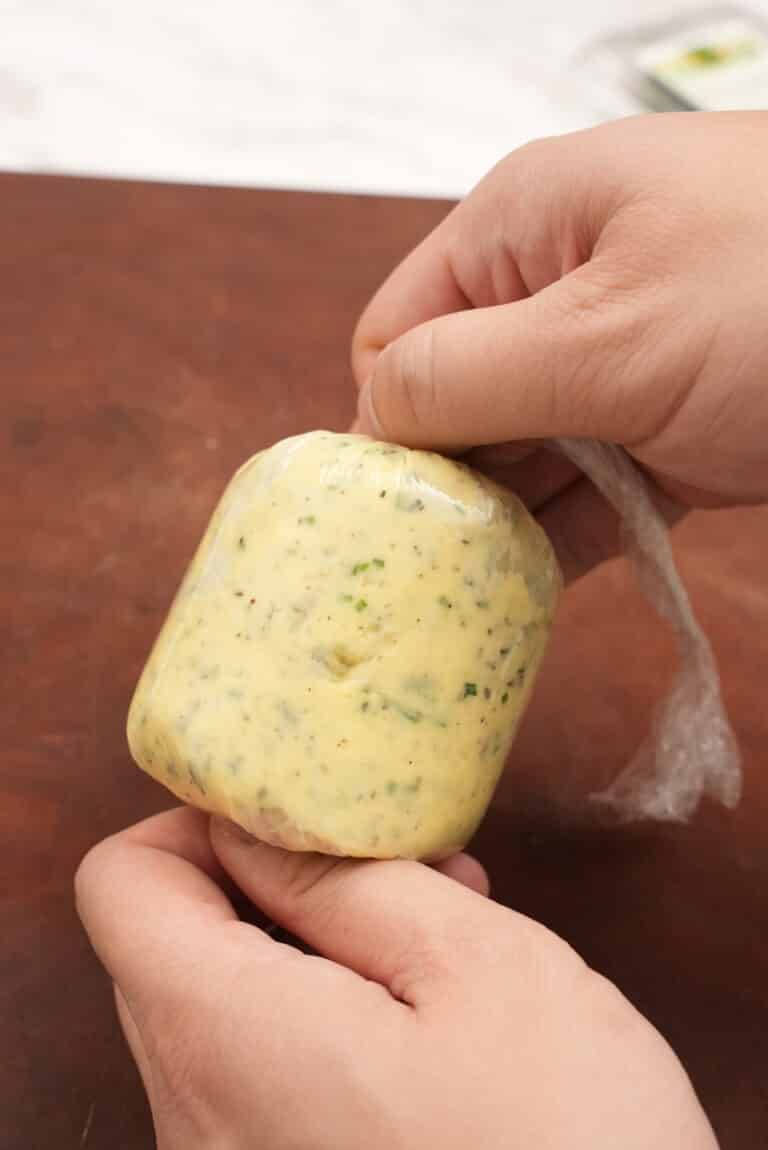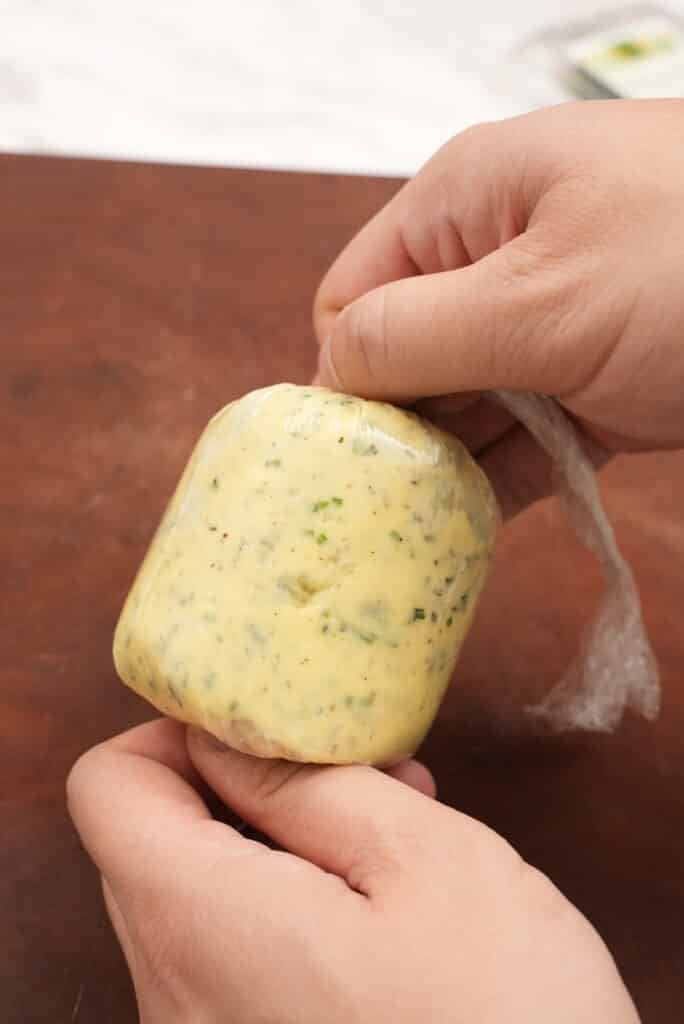 Storing the butter
To store your butter, pop it in the fridge until solid and portion out as need for later! You can store this in your fridge for 1 week or in the freezer for up to 6 months.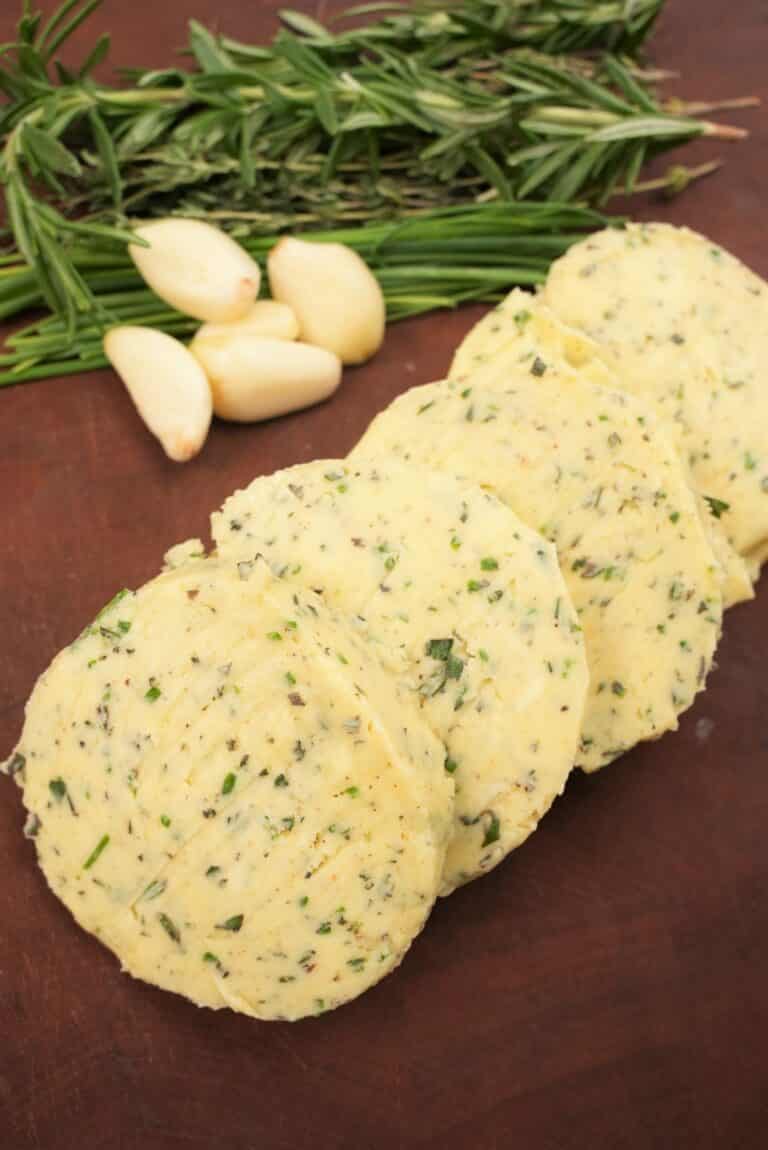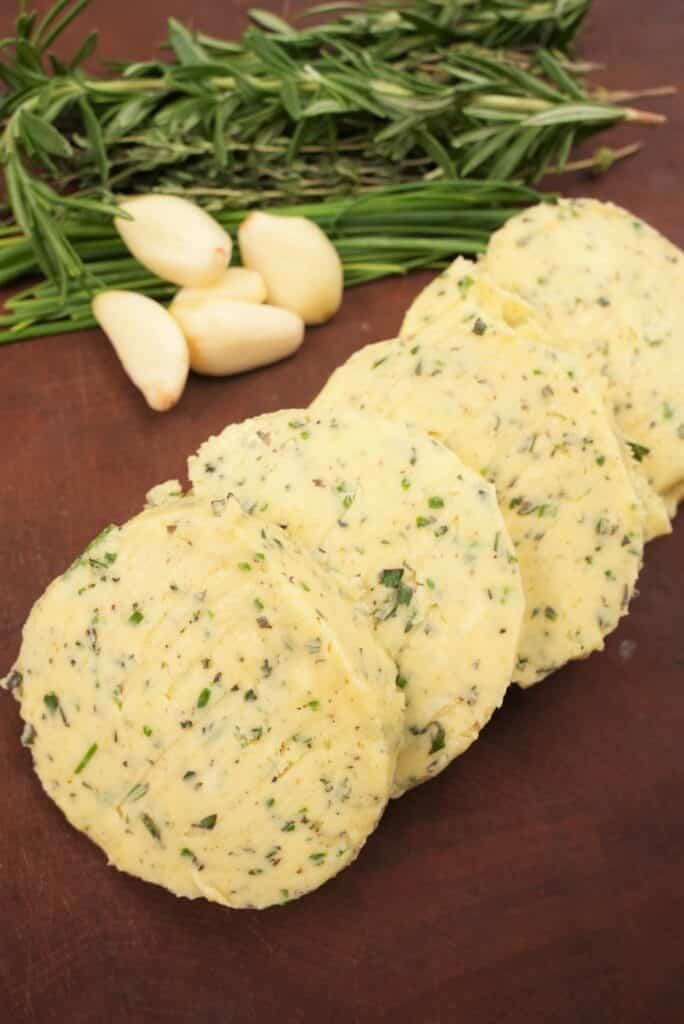 Add the butter to compliment your favorite dishes
I love using this butter to elevate my vegetables, steaks, fish or simply spread it across a piece of toasted bread! It's a super flavorful butter that I always like to have on hand, especially around the holidays when I'm doing a lot of cooking! It will elevate your food to the next level and I hope you enjoy it!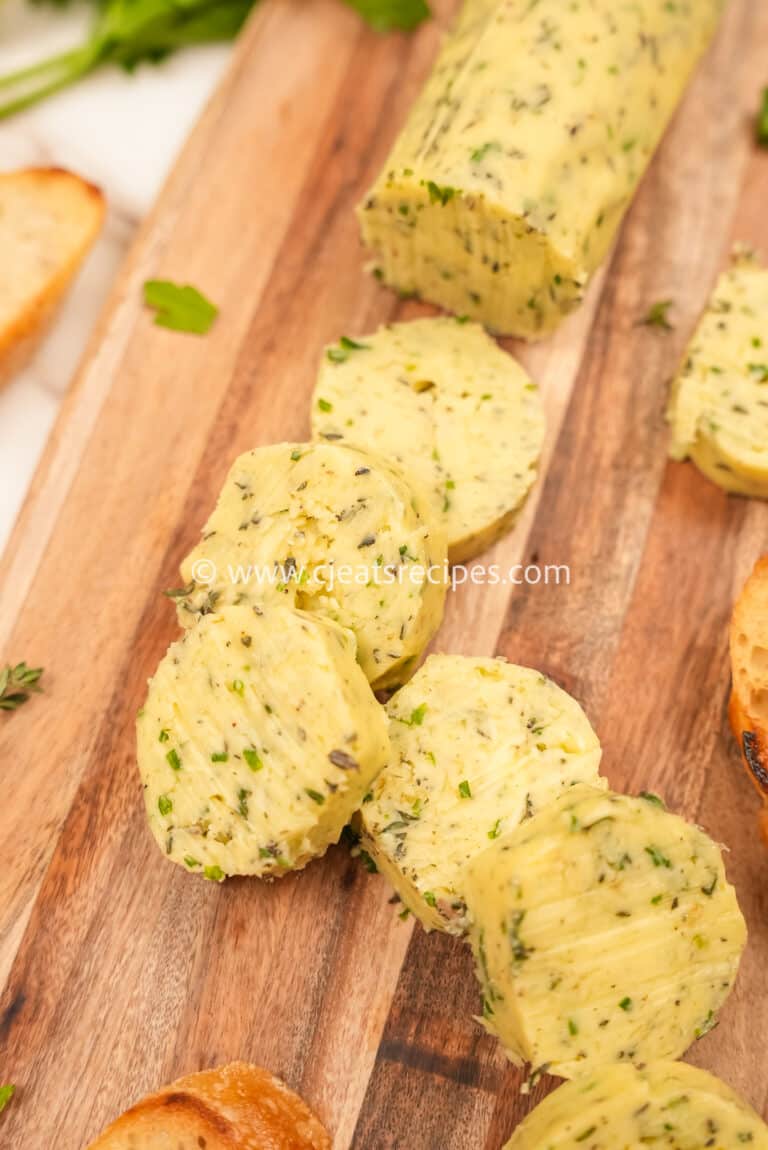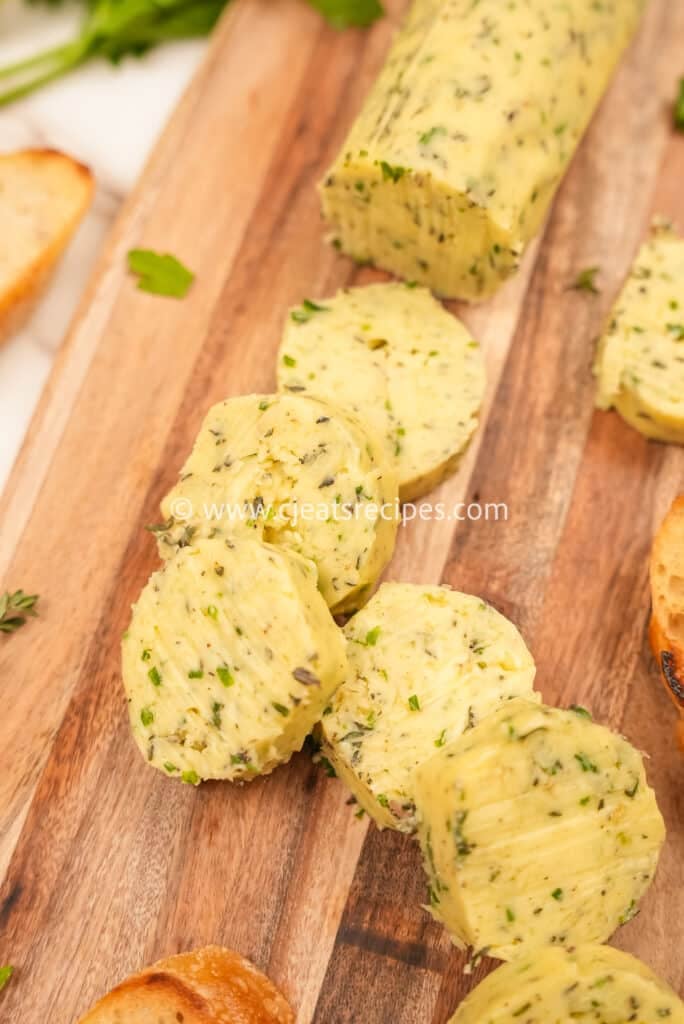 If you liked this Garlic Herb Compound Butter recipe, check out some of the most popular holiday recipes on the blog!
RECIPE TIPS
SOFTEN YOUR BUTTER
Leave your butter on the counter for a few minutes to let it come to room temperature. Trust me, it will be so much easier to mix together than butter straight out of the fridge!
QUALITY IS KEY!
This compound butter only has a few ingredients, so I recommend using the highest quality butter you can find!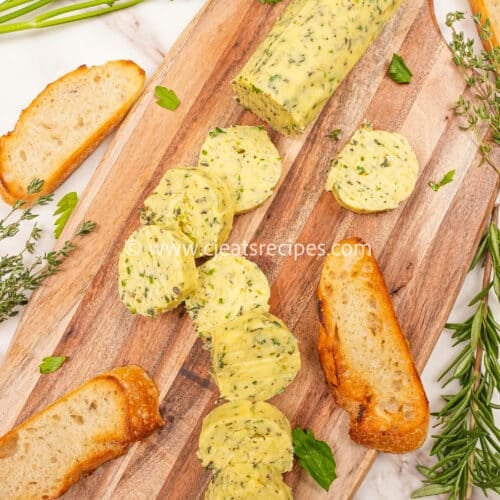 Garlic Herb Compound Butter
This garlic herb compound butter will elevate it with so much flavor! Add it to vegetables, meats, fish, and more!
Ingredients
8

oz

unsalted butter

1

tbsp

fresh thyme

minced

1

tbsp

fresh rosemary

minced

1

tbsp

fresh chives

minced

4

cloves

garlic

grated

1/2

tbsp

kosher salt

2

tsp

black pepper
Instructions
Bring butter to room temperature to soften. Add butter to a bowl.

Mince the fresh thyme, rosemary, and chives and add to the butter. Grate in garlic, then season with kosher salt and freshly cracked black pepper.

Mix until the herbs and seasonings are thoroughly incorporated into the butter.

Take a sheet of plastic wrap or parchment paper and add the butter into the center of the sheet. Fold over one end of the plastic and form a log. Roll and tighten the opposite sides of the plastic around the butter to form a cylinder.

Place in the refrigerator until solid and use within 1 week or store in the freezer for up to 6 months.