Chinese Green Beans With Pork
---
April 27, 2023
---
One of the first dishes I learned to make were these restaurant-style Chinese Green Beans with Pork. To this day, it's still one of my absolute favorite vegetable dish growing up and we would always order it when we went out to eat!
The green beans are crisp and slightly blistered from the heat, and the fatty pork combined with the aromatics makes this an incredibly tasty dish. You can eat this as a side dish or even with a bowl of rice as your main dish!
Watch the Chinese Green Beans with Pork Recipe Video Below!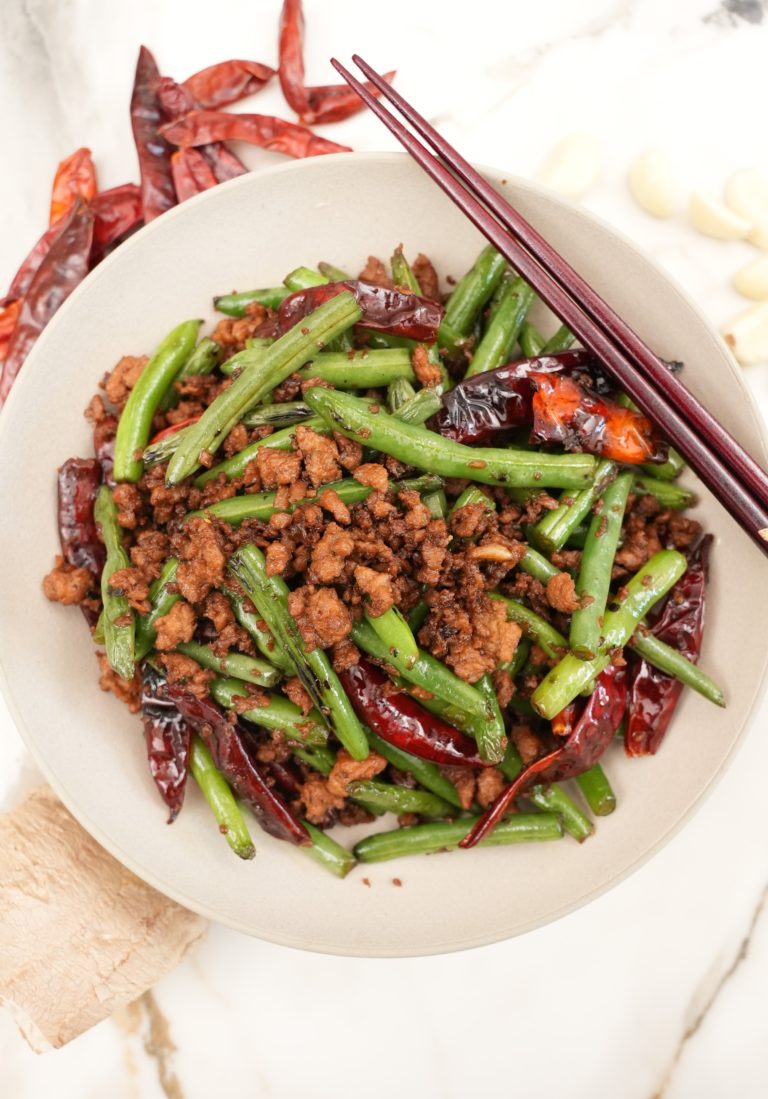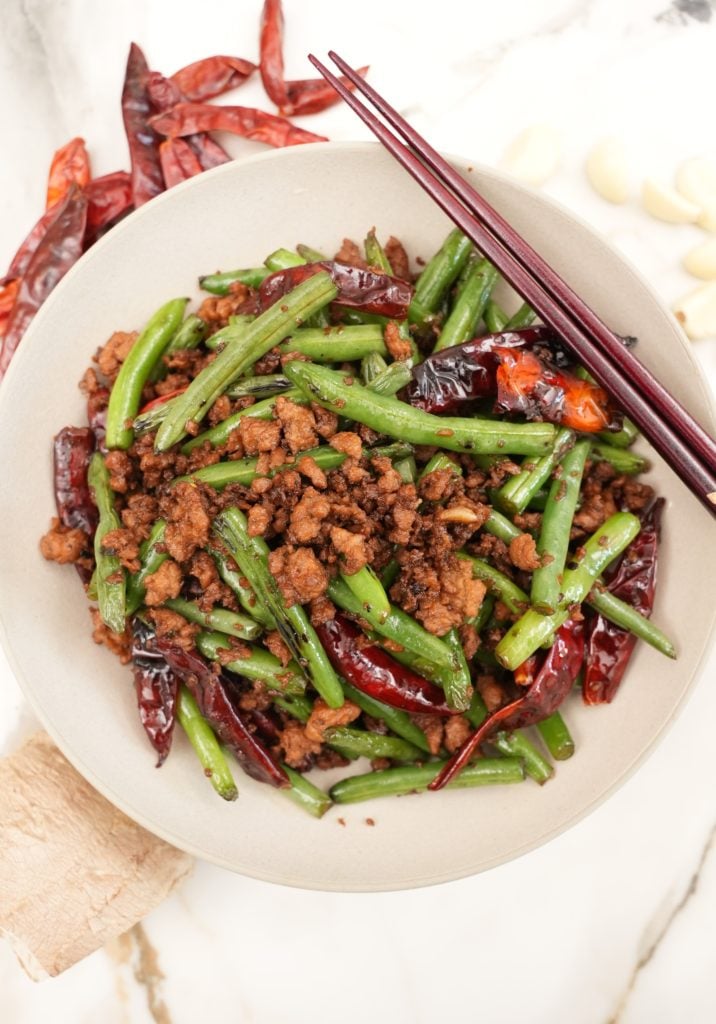 Ingredients for Chinese Green Beans with Pork
This quick and delicious stir fry is pretty simple to make and only requires a few ingredients, but the flavors are incredible! Here is the list of ingredients you'll need:
Ground Pork
Fresh Green Beans
Light Soy Sauce
Dark Soy Sauce
Shaoxing Wine
MSG (optional)
Dried Red Chilis
Garlic
Ginger
Oil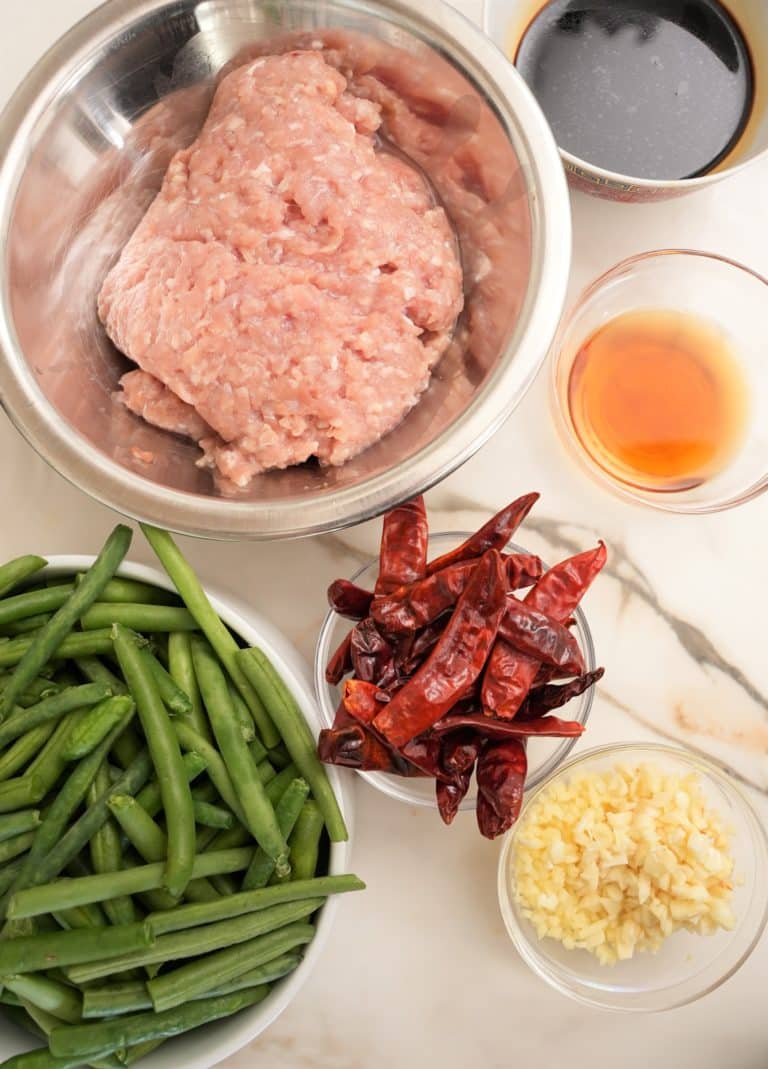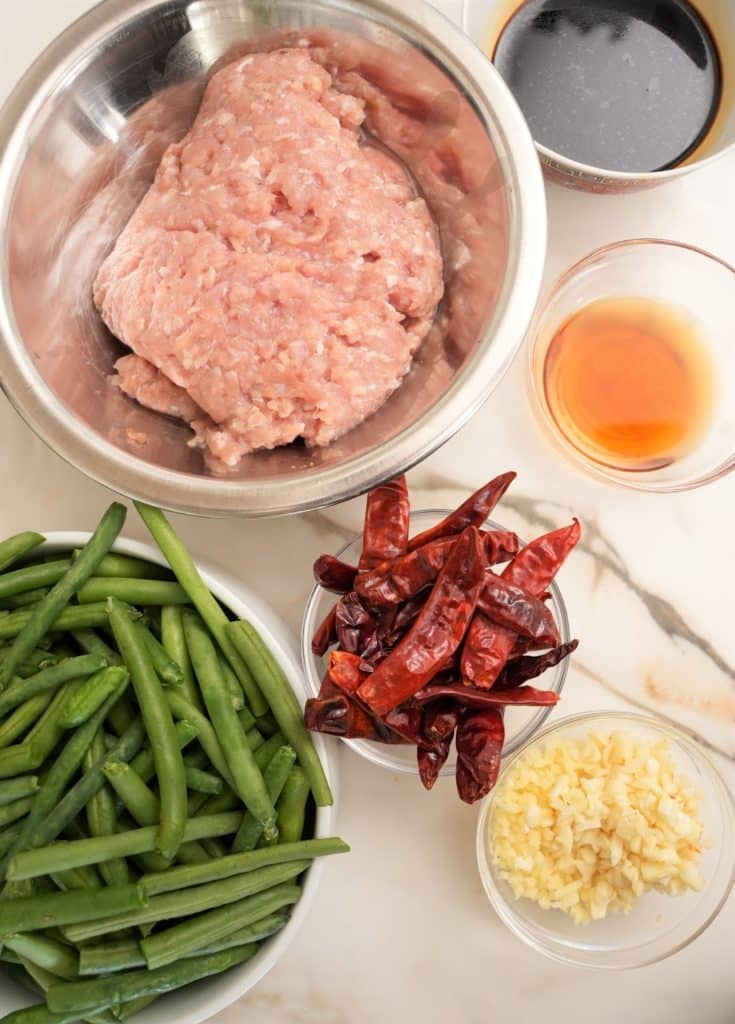 INGREDIENTS TIPS
GREEN BEANS
After washing and drying your green beans, I recommend trimming the ends and cutting them to 2″ pieces. If you prefer your green beans on the longer or shorter side, feel free to adjust to your preference! (Just make sure to adjust the cooking time accordingly – if you cut them on the shorter end, they'll cook faster vs. if you keep the green beans longer, you'll need to add 1-2 min to your cooking time.) The most important thing is that they're similar in size so they cook evenly in your wok.
LIGHT vs. DARK SOY SAUCE
Yes, they're different! Dark soy sauce is thicker, darker, and sweeter (as well as has a higher sodium content) than regular soy sauce. If you don't have dark soy sauce on hand, you can sub with oyster sauce!
SHAOXING WINE
If you cannot or do not want to use wine, you can sub with sherry, mirin, or chicken stock!
MSG
As always, this is optional 🙂
NEUTRAL OIL
My favorite neutral oil is avocado oil, but you can also use canola or vegetable oil! I don't use olive oil when cooking Chinese food for two reasons: 1. It has a low burning point and 2. I find that the flavor profile does not usually go with the dish.
Cooking Chinese Green Beans with Pork: Recipe Instructions
These Chinese Green Beans with Pork cooks in less than 15 minutes, so much like many stir fry dishes, the work is in the prep! This is a picture of how I like to set up my cooking station when I'm ready to start cooking. Each ingredient and sauce is easily at my disposal so I can access it quickly when cooking in the wok!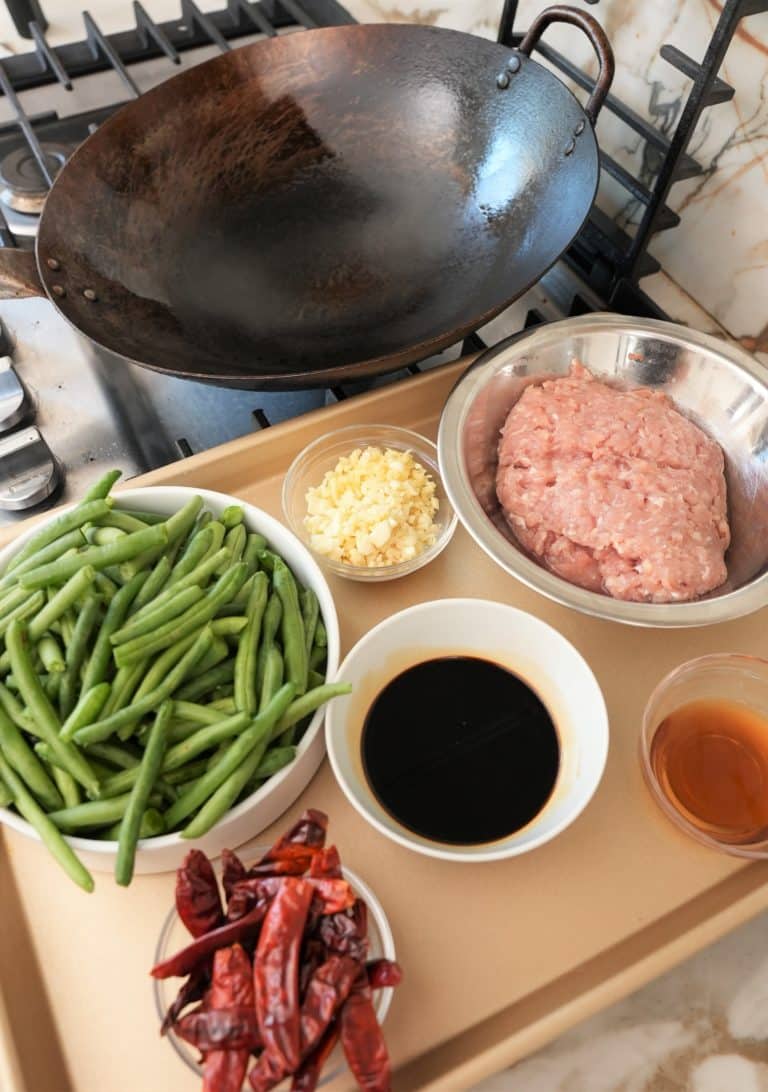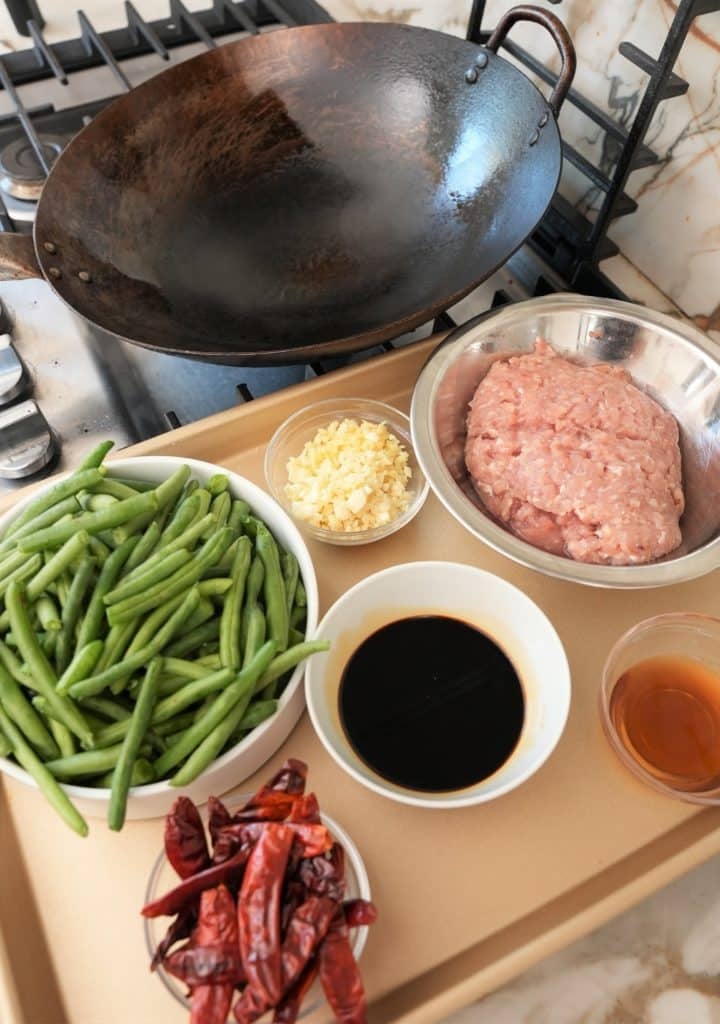 Fry The Green Beans
The first step in this recipe is to "dry fry" your green beans. I say dry fry because typically in a Chinese restaurant, the green beans will be deep fried for a few minutes. Here, we're only using a tablespoon of oil over medium high heat to fry the green beans and give them some nice blistering in the pan. Cook them for 4-5 minutes until you start to see them smoke and blisters are on the green beans.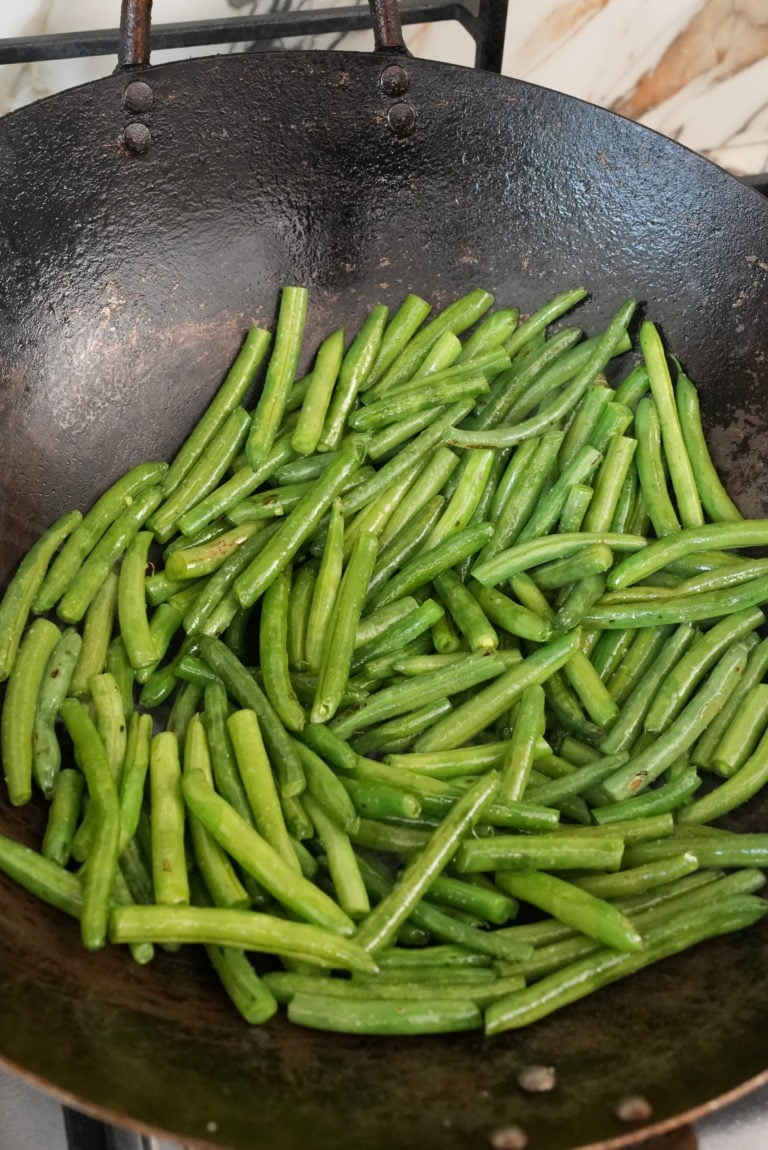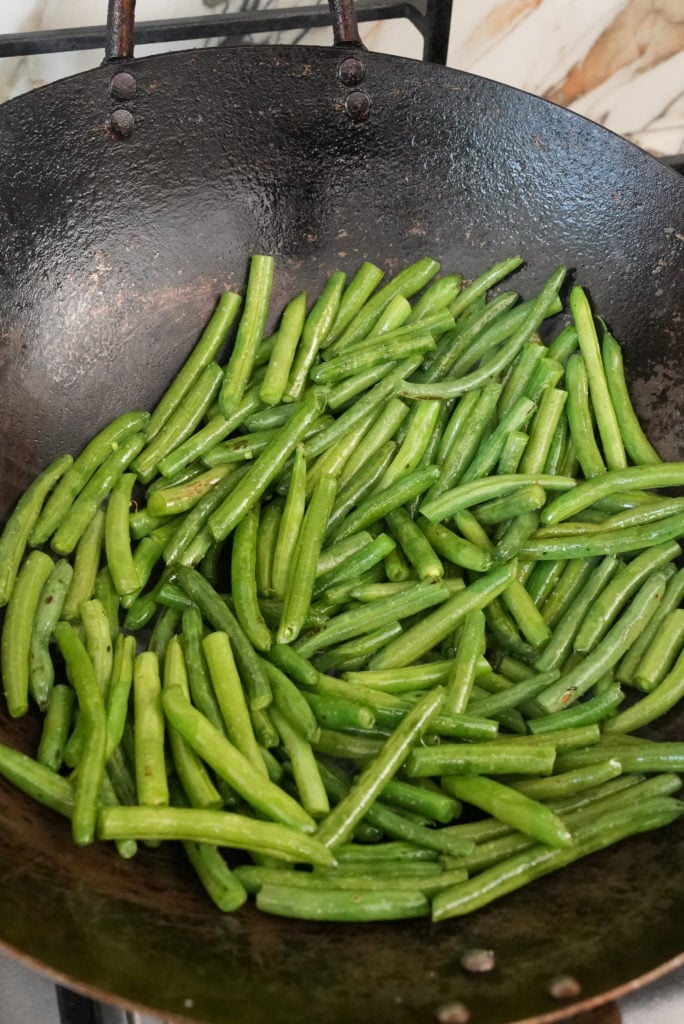 Sauté Aromatics and Chilis
Once the green beans are crisp and blistered, remove them from the pan. Next, add another 3 tbsp of oil to the pan over medium high heat, and sauté the garlic, ginger, and chilis for 30 seconds until they are fragrant and the red chilis have turned a bright red color.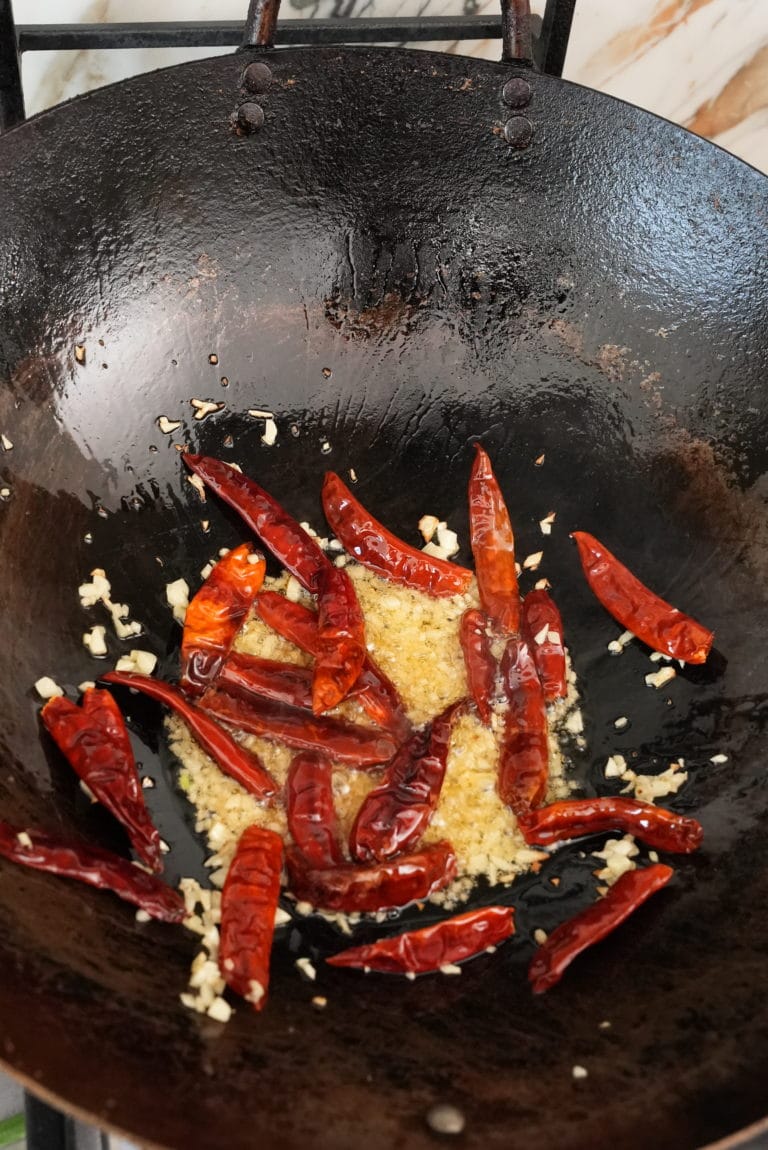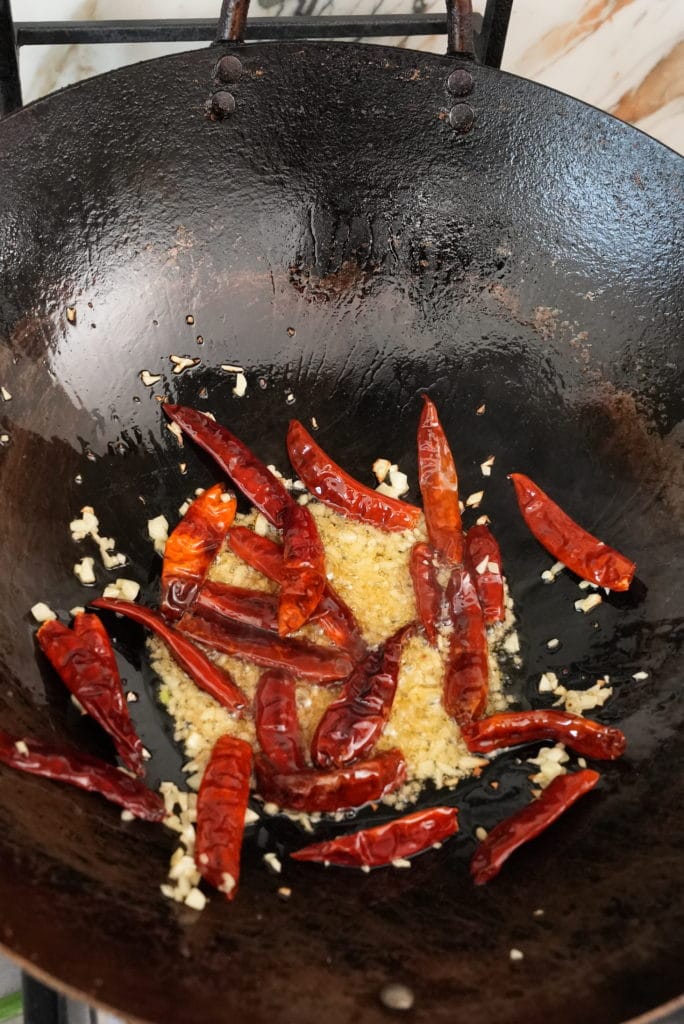 Fry Ground Pork Until Crisp
Once, the aromatics and chilis are fragrant, add in the ground pork and break the pork up into fine pieces using a spatula or wok ladle. Continue cooking the pork for 4-5 minutes until the water has been cooked out and the fat has rendered from the pork. At this point, the pork should be frying in its own fat, resulting in crispy, delicious pork!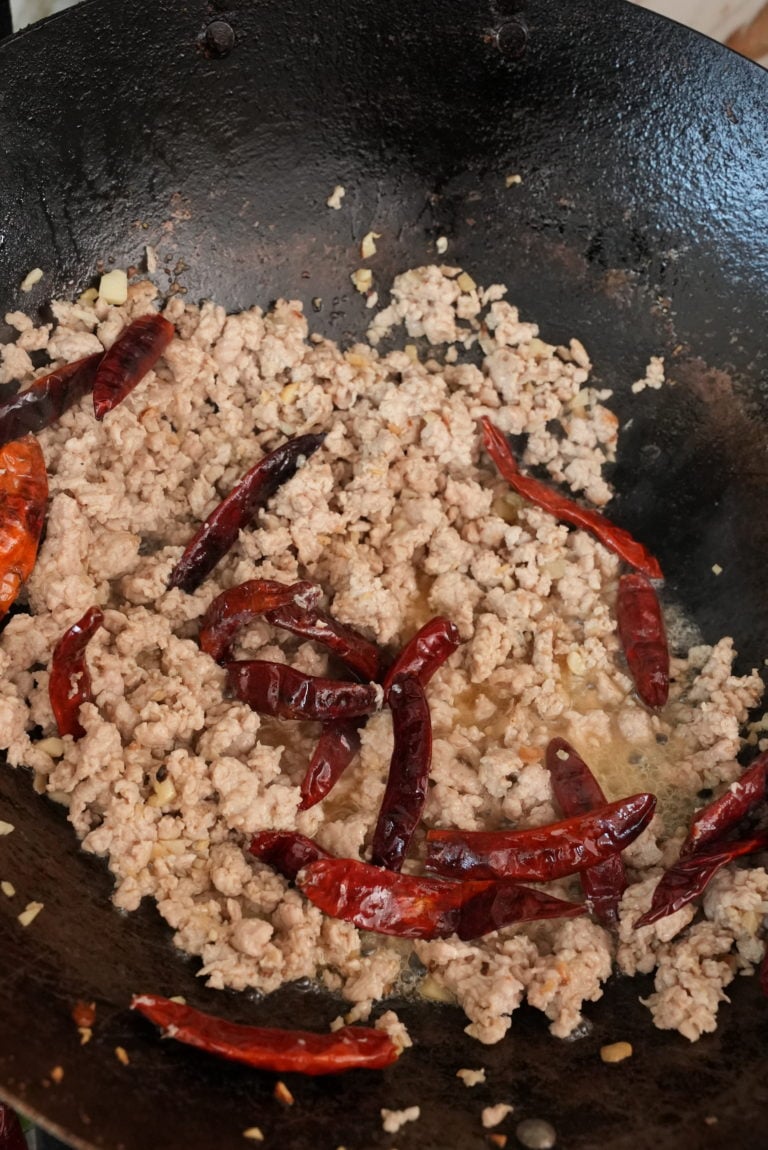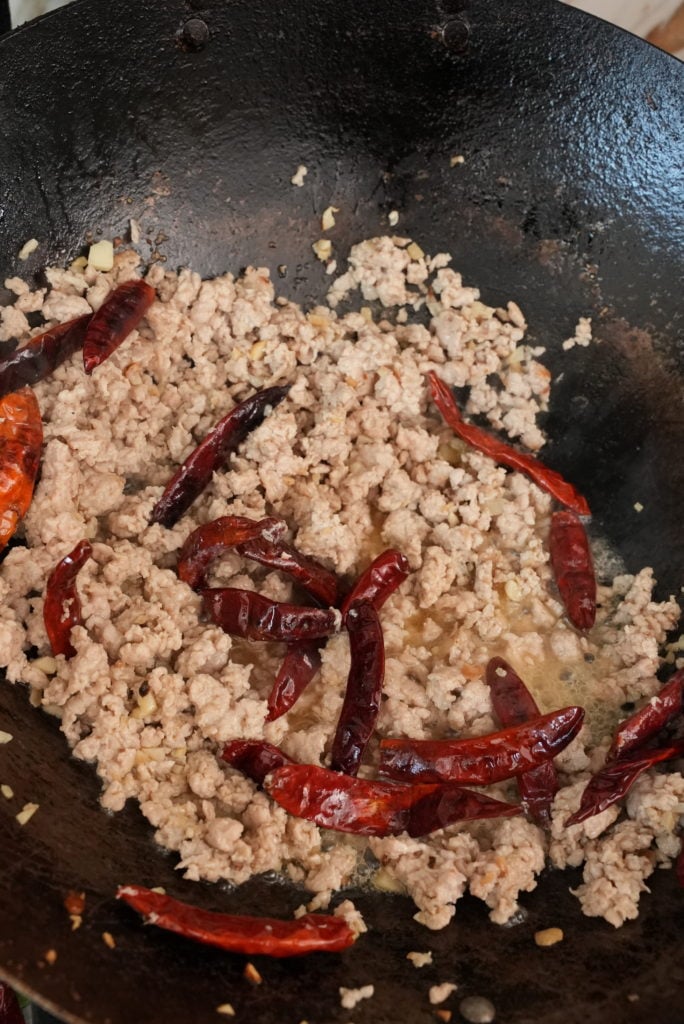 Add back Green Beans and Sauce
After the pork is crisp, deglaze with 2 tbsp of Shaoxing wine and use a ladle or spatula to scrape up any bits of fond that have stuck to the pan. Add back the green beans and the premixed sauce, then mix for the pork, green beans, aromatics, and chilis for another 2-3 minutes until the sauce has been absorbed.
Serve immediately with freshly steamed rice and enjoy!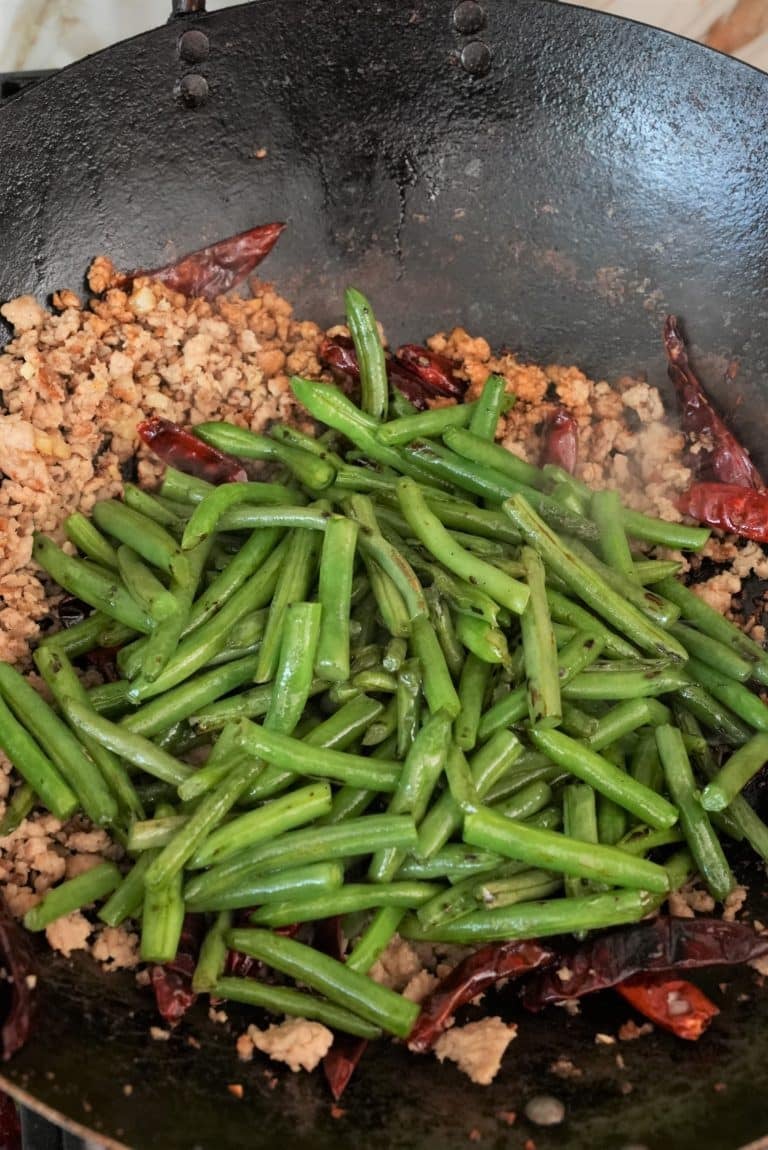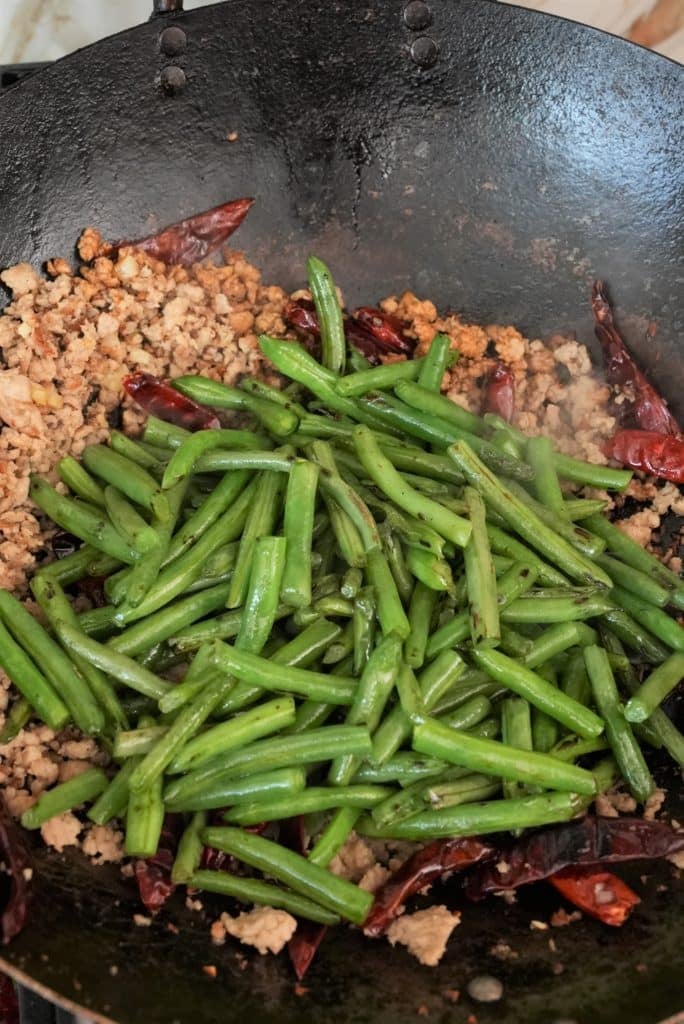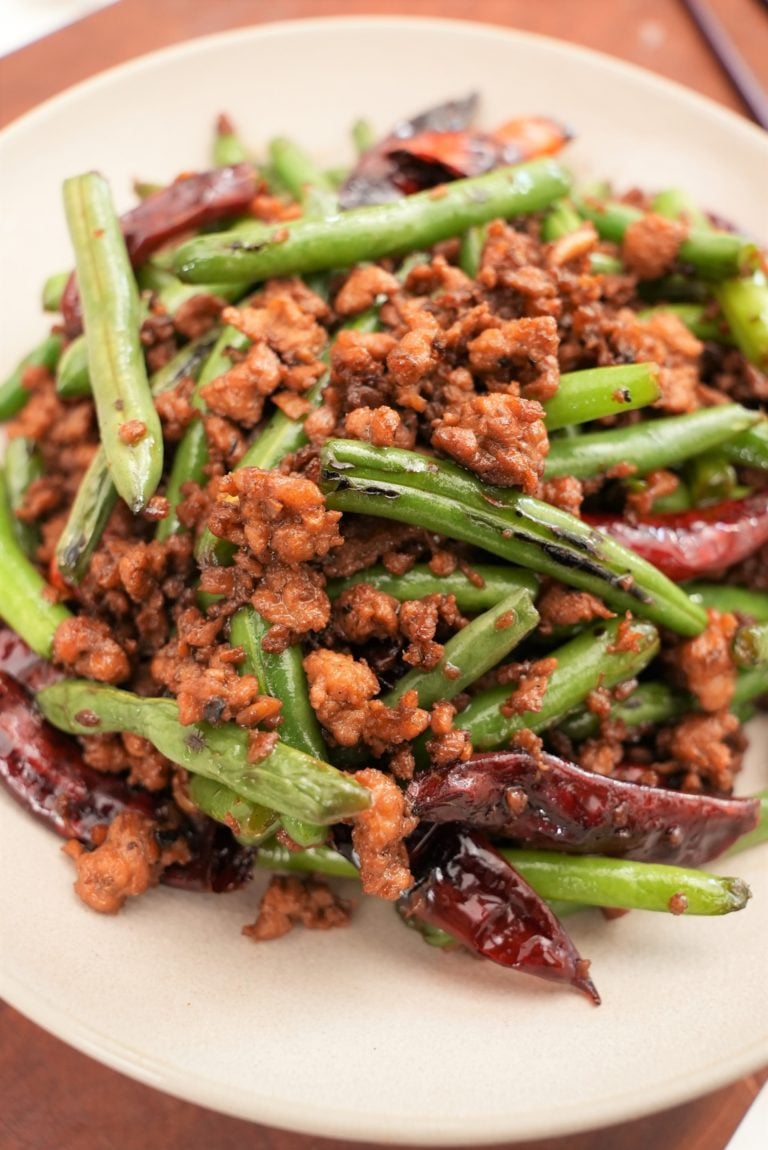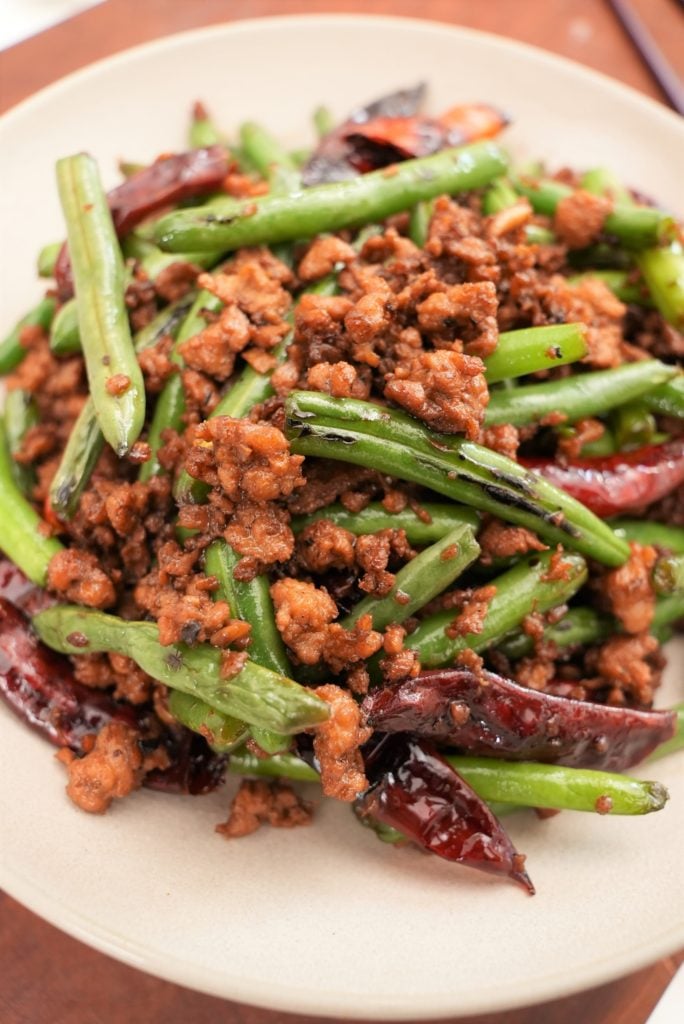 RECIPE TIPS
SUCCESS IS IN THE PREP!
For a recipe that comes together extremely quickly, the key to pulling this recipe off successfully is having your ingredients prepped and in bowls right next to your wok or pan! Have your washed and trimmed green beans, sauce, and aromatics ready and easily accessible during the cooking process.
ADJUST THE PROTEIN TO YOUR LIKING!
While this dish traditionally uses ground pork, you can also sub with a different ground protein of your choice (chicken or turkey are great options) or omit altogether to make it a great vegetarian dish!
DRIED RED CHILIS
If you are sensitive to heat, you can use less chilis OR remove the seeds. (To be clear, the seeds don't contain the chemical that make the peppers hot BUT they are oftentimes coated with the oils that make peppers hot.)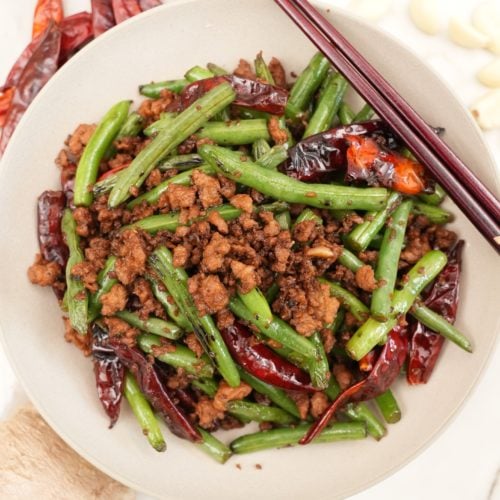 Chinese Green Beans with Pork
These Chinese Green Beans with Pork are stir fried to perfection! The crisp green beans and savory pork are tossed with aromatics and chilis for a wonderful dish served with rice.
Ingredients
1

lb

green beans

washed and trimmed

1

lb

ground pork

3

tbsp

light soy sauce

1

tsp

dark soy sauce

1/2

tbsp

sugar

2

tbsp

shaoxing wine

1/4

tsp

msg

optional

1/2

cup

dried red chilis

15-20 pcs; deseed if you want less spice

1

tbsp

garlic

minced

1

tbsp

ginger

minced

salt

to taste

4

tbsp

neutral oil

I prefer avocado oil
Instructions
Wash and cut your green beans to equal 2" pieces.

Mix together light soy, dark soy, sugar, and msg in a small bowl and set aside.

Heat 1 tbsp of neutral oil to a pan, add your green beans and season with salt. Sauté your green beans over medium high heat for 4-5 minutes or until nicely blistered. Remove and set aside.

In the same pan, heat 3 tbsp of neutral oil over medium high heat and fry your garlic, ginger, and chilis for 30 seconds or until fragrant. Move them aside in the pan and fry your pork until browned and slightly crisp.

Deglaze with 2 tbsp Shaoxing wine, then add back your green beans and premixed sauce and continue cooking for 2-3 minutes until the sauce as absorbed into the pork and green beans. Serve with rice and enjoy!