Chinese Eggplant with Garlic Sauce
---
September 28, 2022
---
This Chinese Eggplant with Garlic Sauce is gently steamed, then lightly sauteed and tossed with a flavorful and umami-rich garlic sauce! It's one of my favorite ways to eat eggplant, and this vegetarian dish is perfect as a side or served with rice for a more filling main course.
Chinese Eggplant is dense, meaty, and perfect for incorporating more vegetables into the weeknight rotation. To be honest, eggplant isn't the first thing I gravitate toward at the supermarket, but after I made it this way, it's become a vegetable we keep stocked in the fridge because it's so easy to make!
Watch the Chinese Eggplant with Garlic Sauce Recipe Video Below!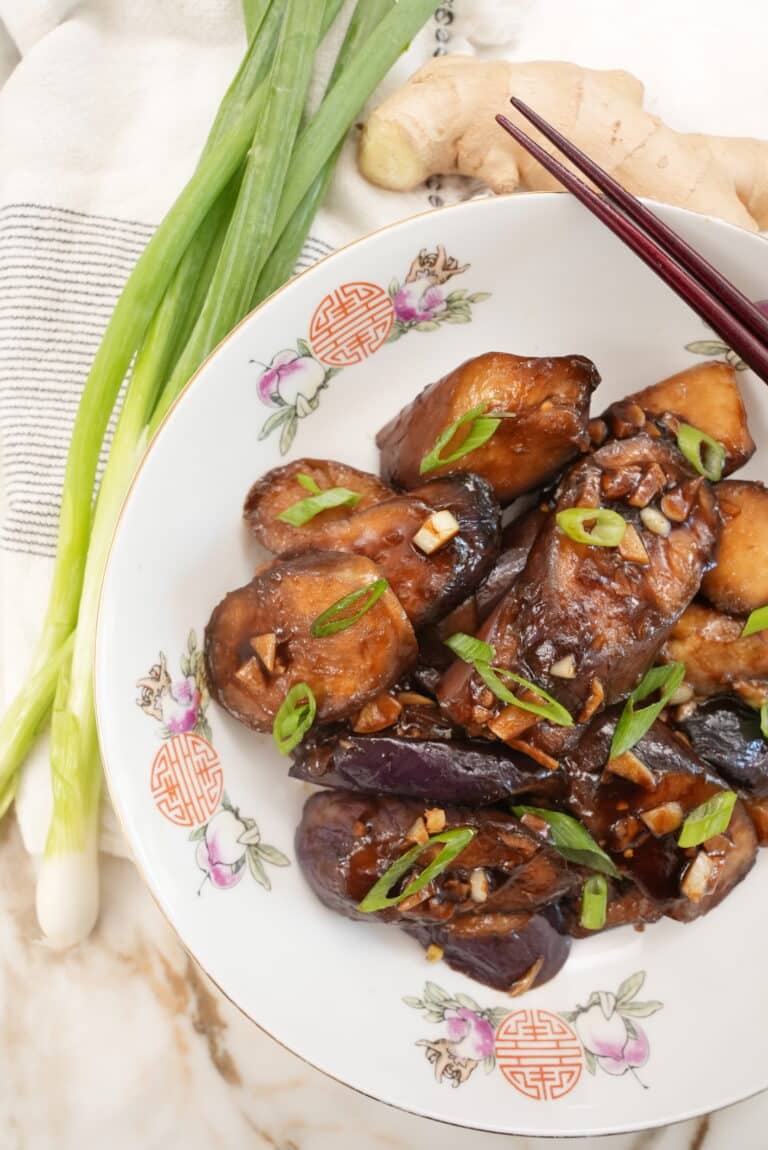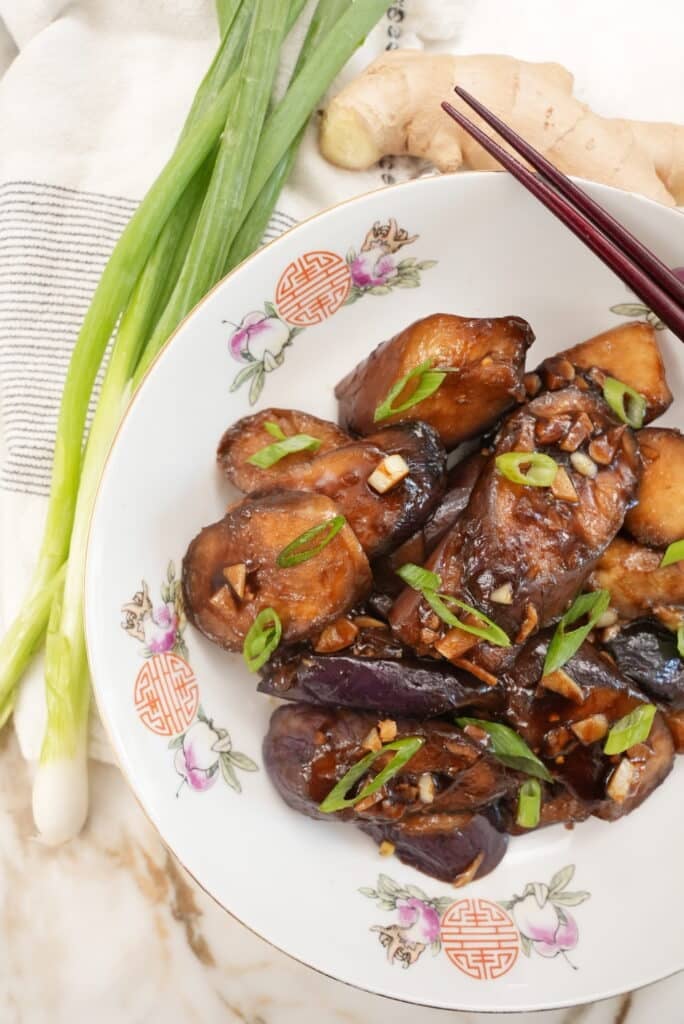 Ingredients for Chinese Eggplant with Garlic Sauce
This Chinese Eggplant with Garlic Sauce recipe is an amazing and flavorful way to enjoy this classic Chinese vegetarian dish! Here is what you'll need for the recipe:
Chinese Eggplant
Garlic
Ginger
Light Soy Sauce
Dark Soy Sauce
Sugar
White Pepper
MSG
Chicken Stock – I

always

recommend Kettle & Fire – use code CJPINS for 20% off your order here!
Cornstarch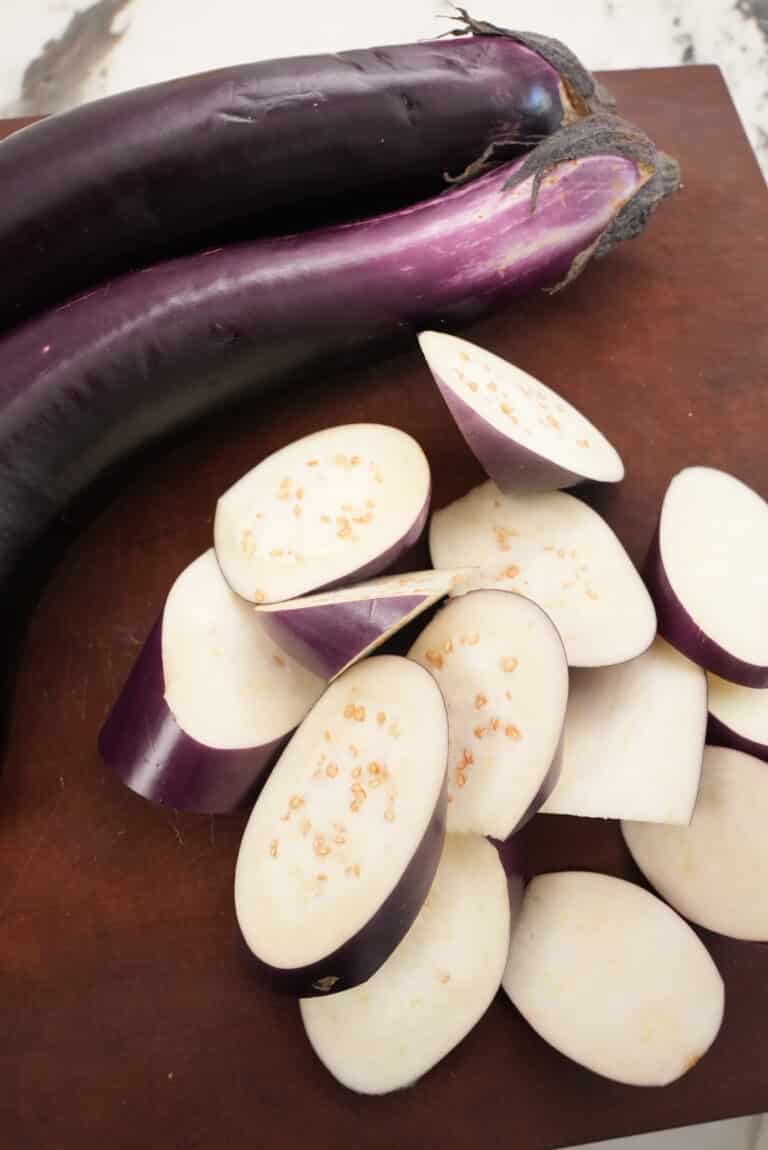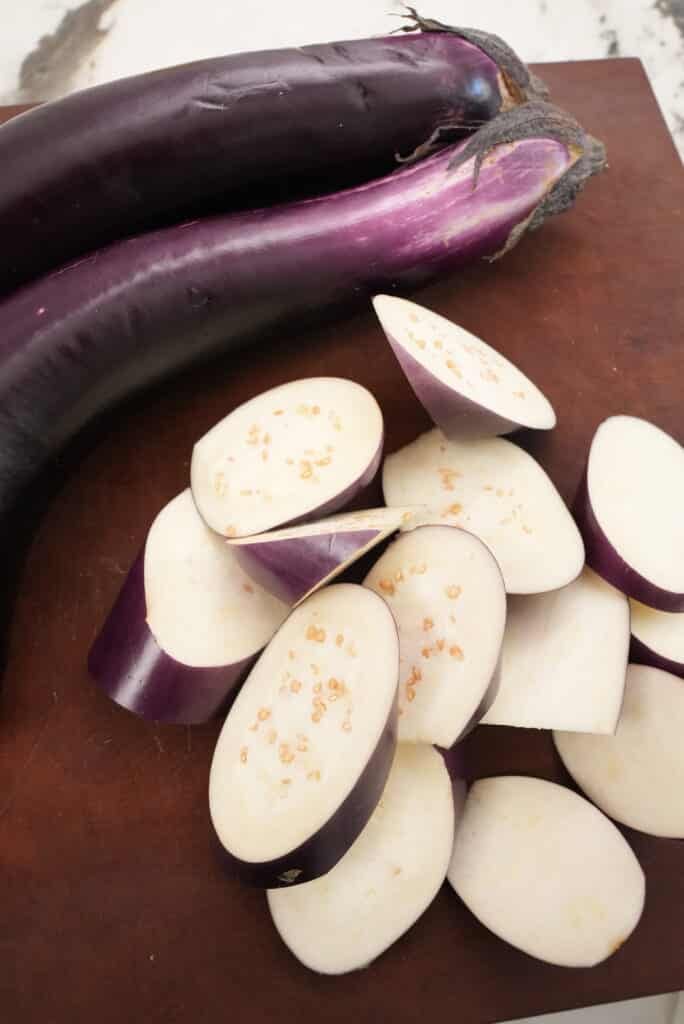 INGREDIENTS TIPS
EGGPLANT
I recommend buying Chinese eggplant for this dish, but in a pinch, regular eggplant works well too. Chinese eggplant is longer and slightly sweeter than regular eggplant due to it containing less seeds than its more common counterpart.
NEUTRAL OIL
My favorite neutral oil is avocado oil, but you can also use canola or vegetable oil! I don't use olive oil when cooking Chinese food for two reasons: 1. It has a low burning point and 2. I find that the flavor profile does not usually go with the dish.
Chinese Eggplant with Garlic Sauce: Recipe Instructions
Cut the Eggplant
The first step in making this recipe is cutting the eggplant into 1/2″ thick pieces about 3-4 inches long. The goal here is to cut the eggplant thick enough to withhold the steaming process and still be firm and meaty. Cut the eggplant into uniform pieces so they cook evenly.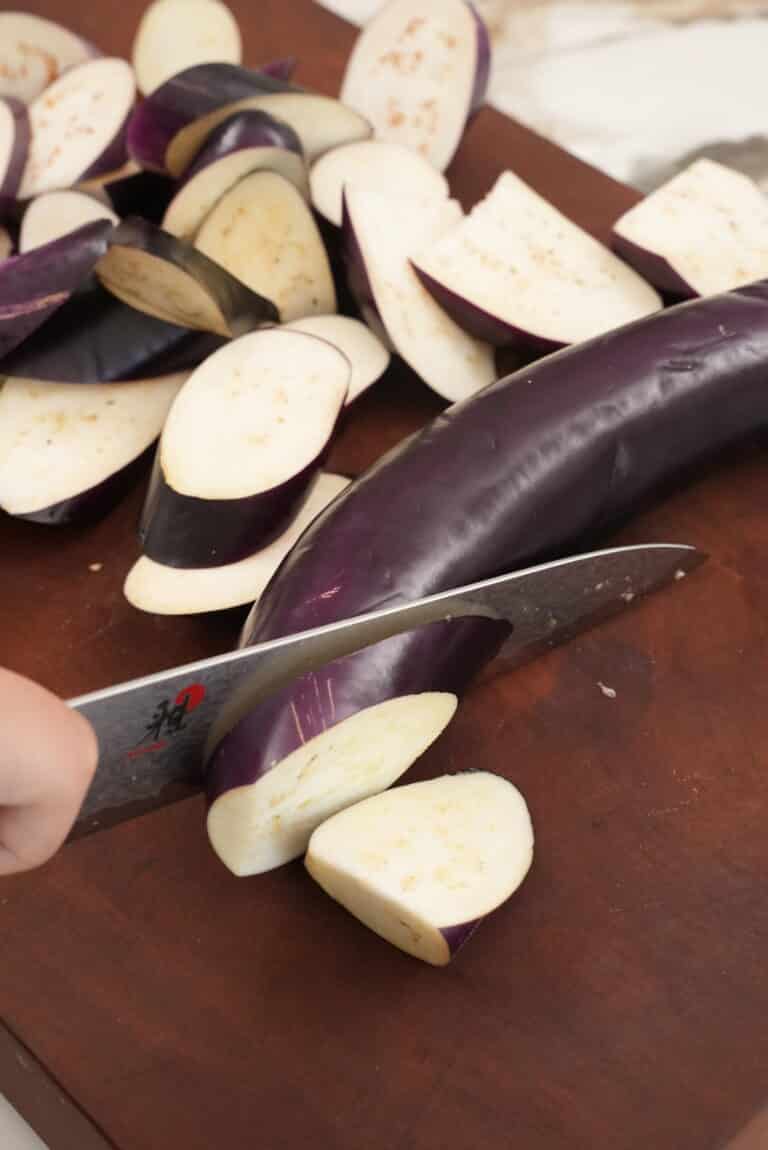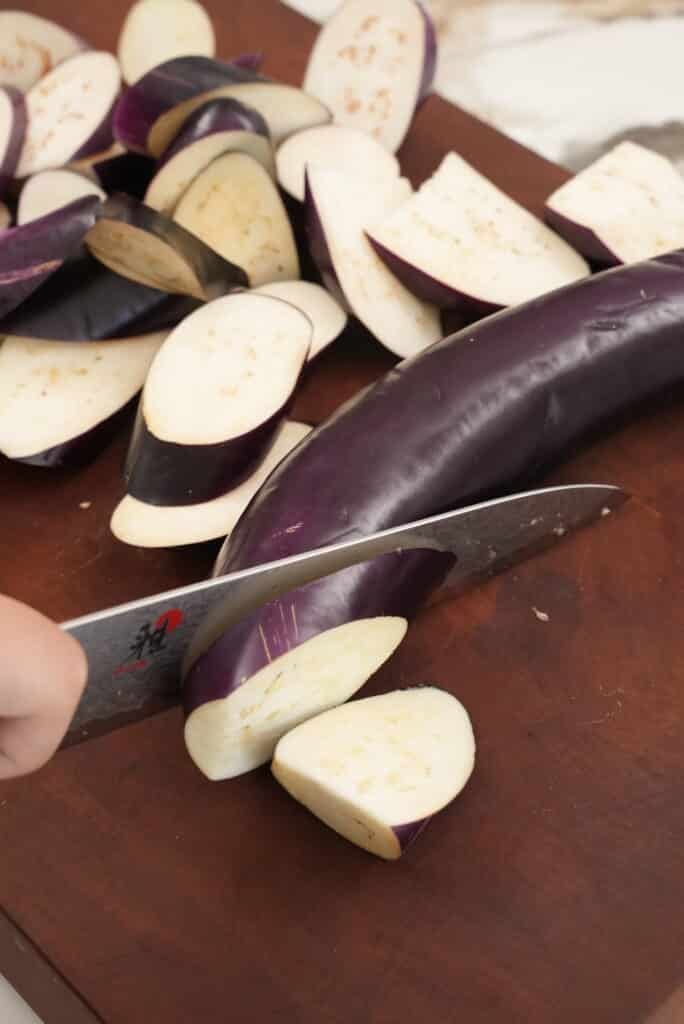 Next, place the eggplant into a steamer basket and cover. Steam for 10-12 minutes until the eggplant is soft but still pliable. It should hold up and not break apart when you hold a piece. Remove from the steamer and dry with a paper towel to remove the excess moisture.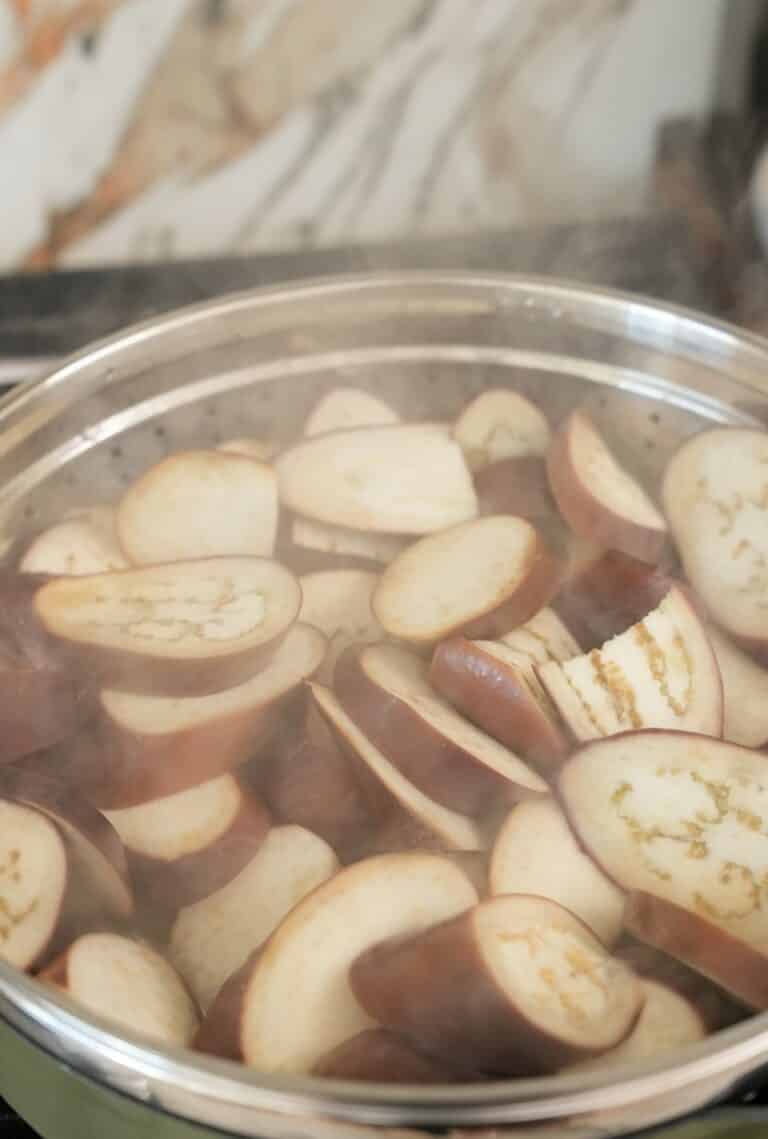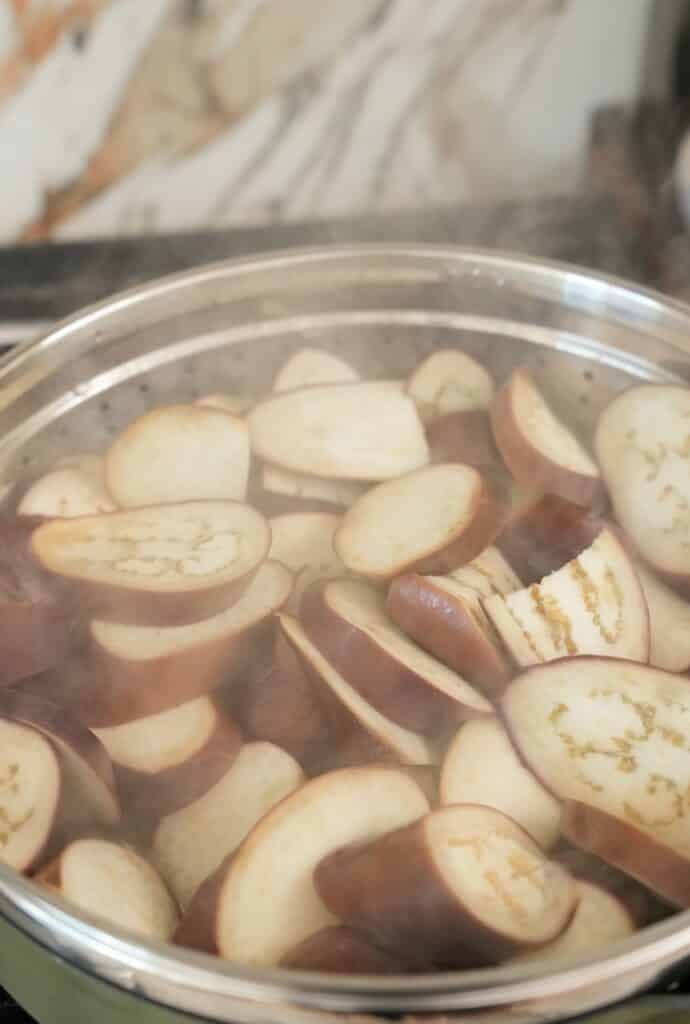 Next, mix the sauce by combining chicken stock (I always use Kettle & Fire – get 20% off your order when you use code CJPINS!), light soy sauce, dark soy sauce, sugar, white pepper, msg, and cornstarch. I always like to premix my sauce to have it ready to go during the fast cooking process.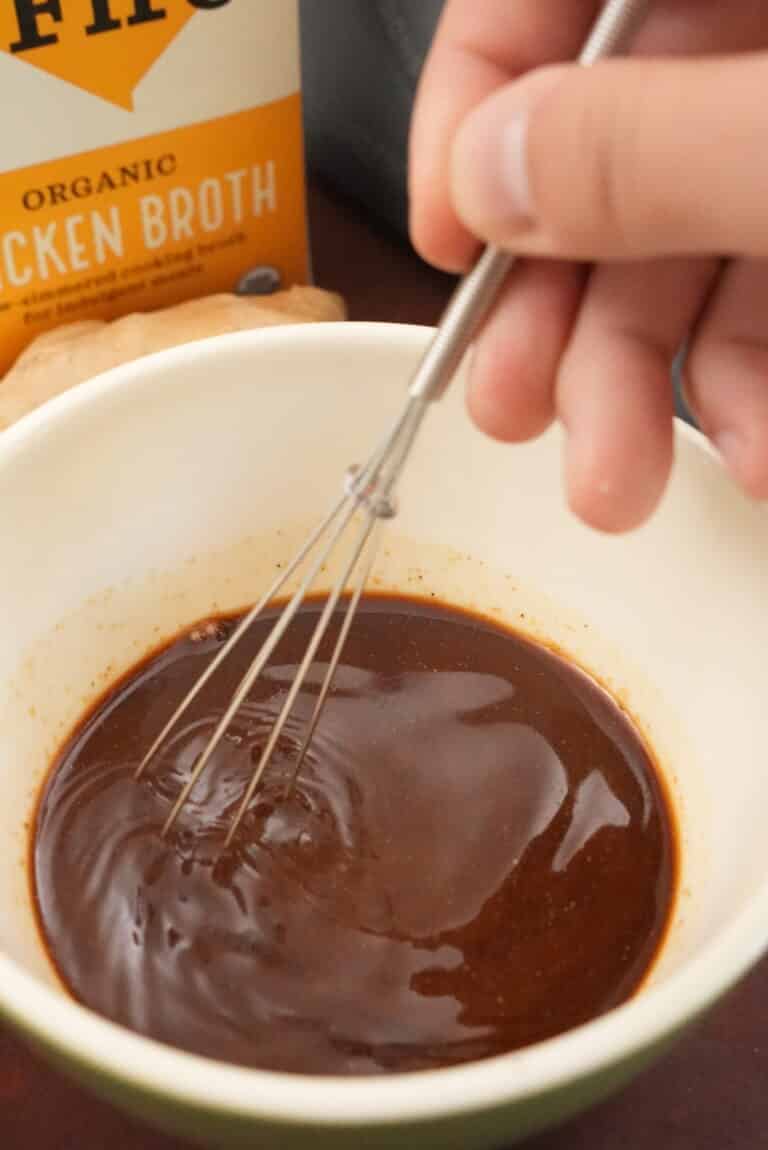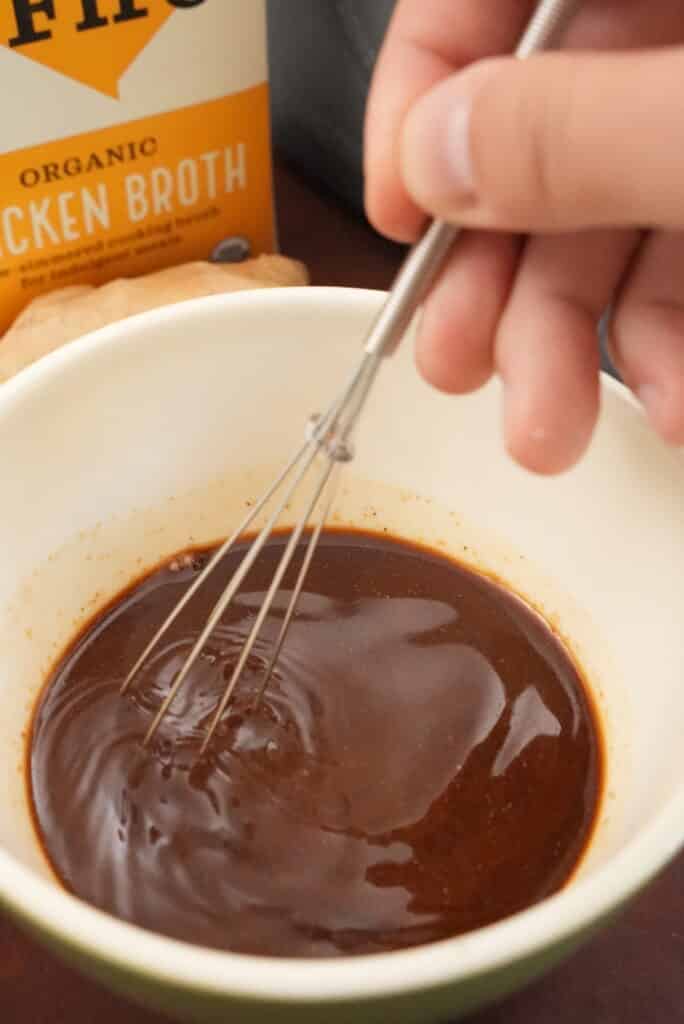 Prepare the ingredients
Now that your eggplant is steamed and patted dry to remove excess moisture and your sauce is mixed, chop garlic and ginger and set them together next to your pan. I like to have my ingredients ready to go because the cooking process can be quick here!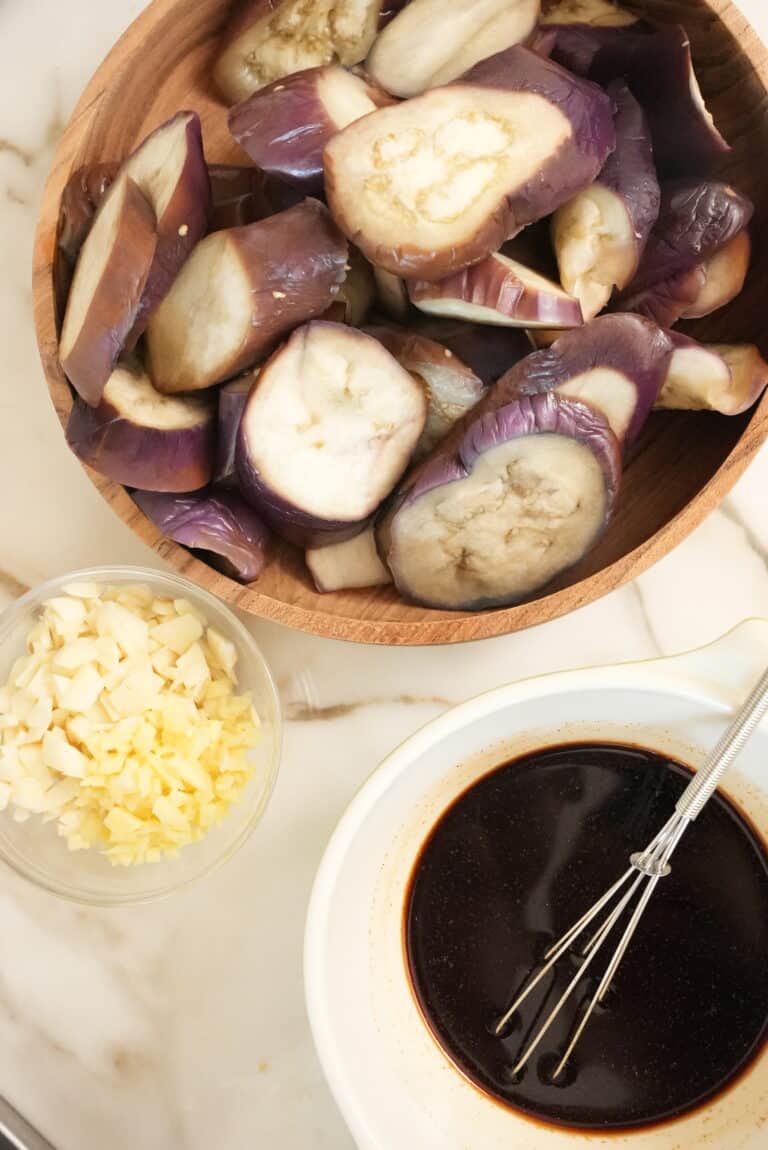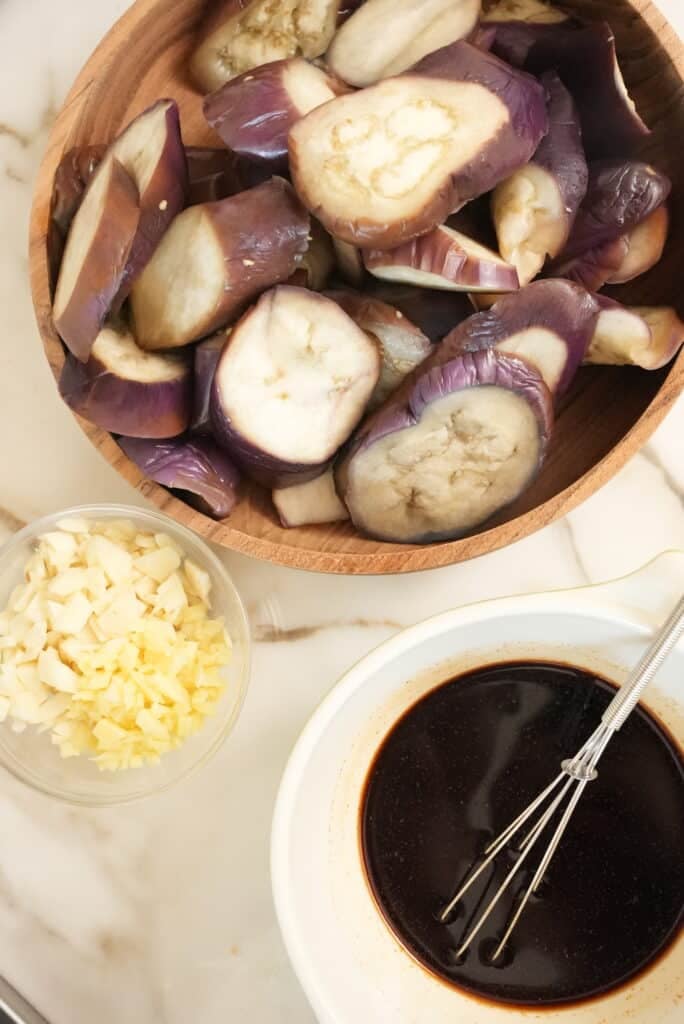 In 2 tablespoons of neutral oil over medium high heat, sauté your garlic and ginger for 30 seconds followed by the eggplant. Sauté for 2 minutes to give them color, flipping them halfway to evenly brown.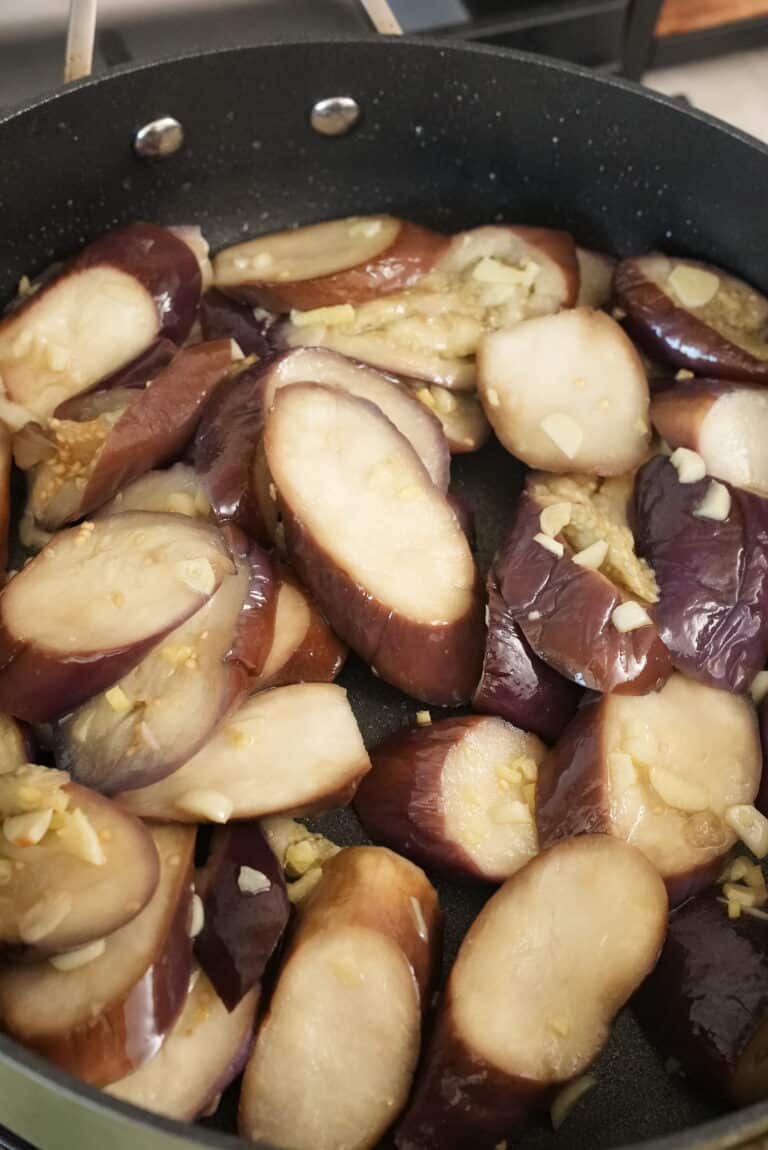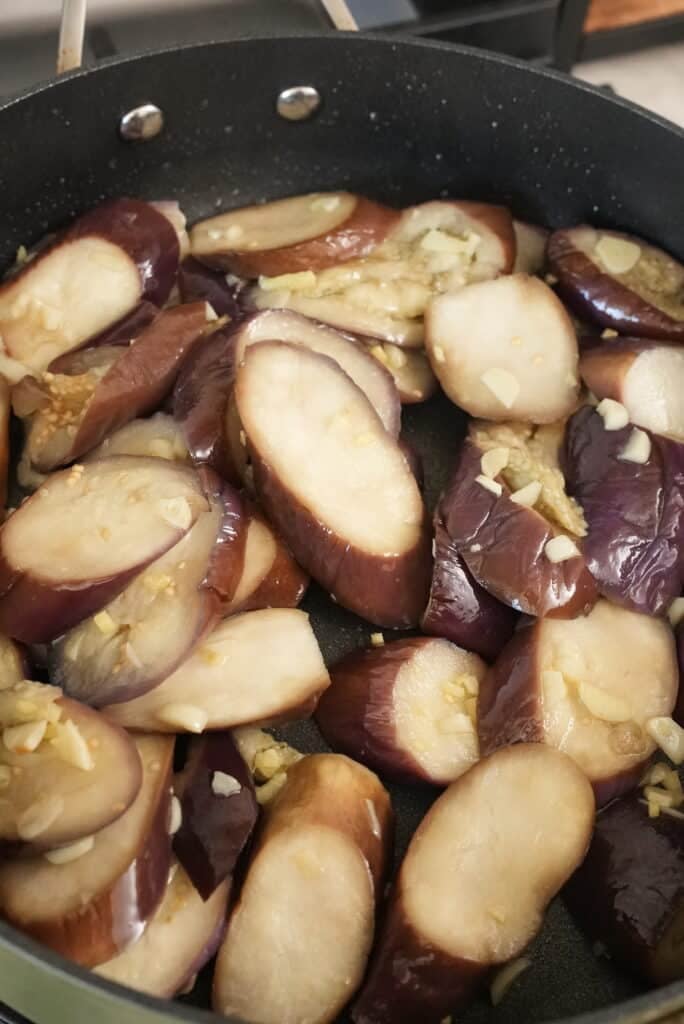 Add the sauce
Once the eggplant is sautéed, immediately add your sauce and stir to combine. The cornstarch in the sauce will help it thicken up and turn into a beautiful garlicky glaze. Continue cooking over medium high heat until the sauce has reduce and the eggplant is ready to serve!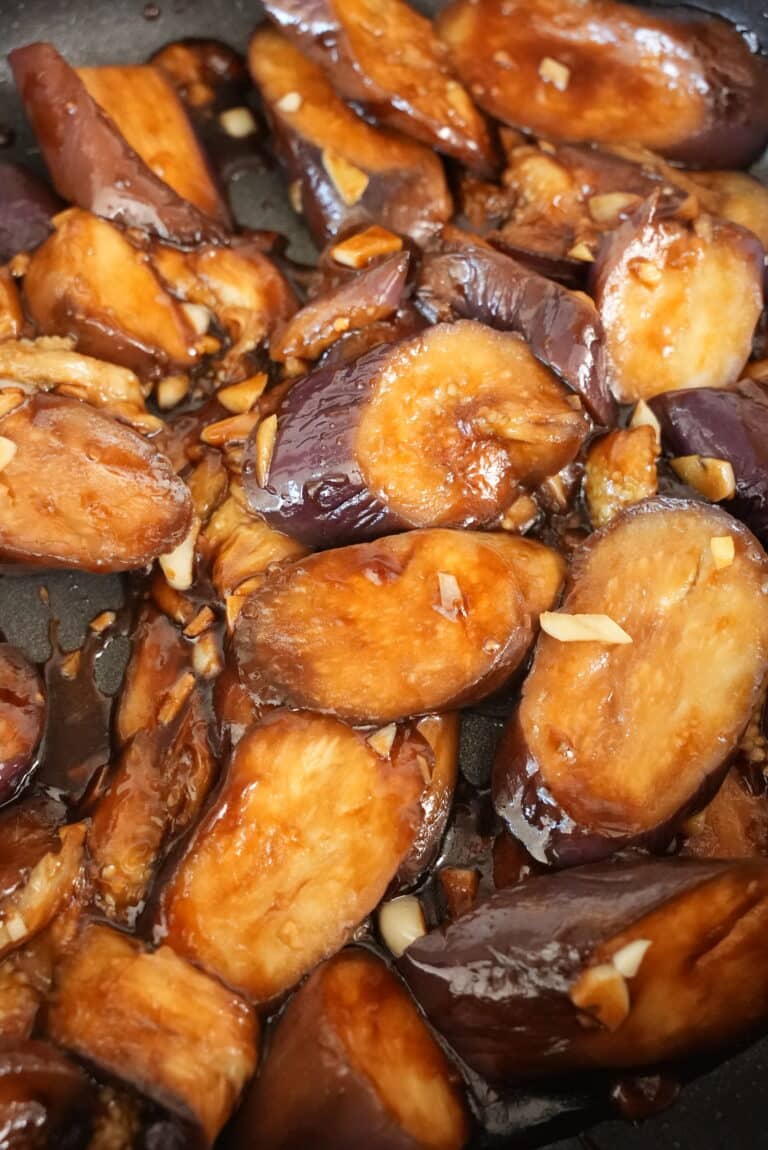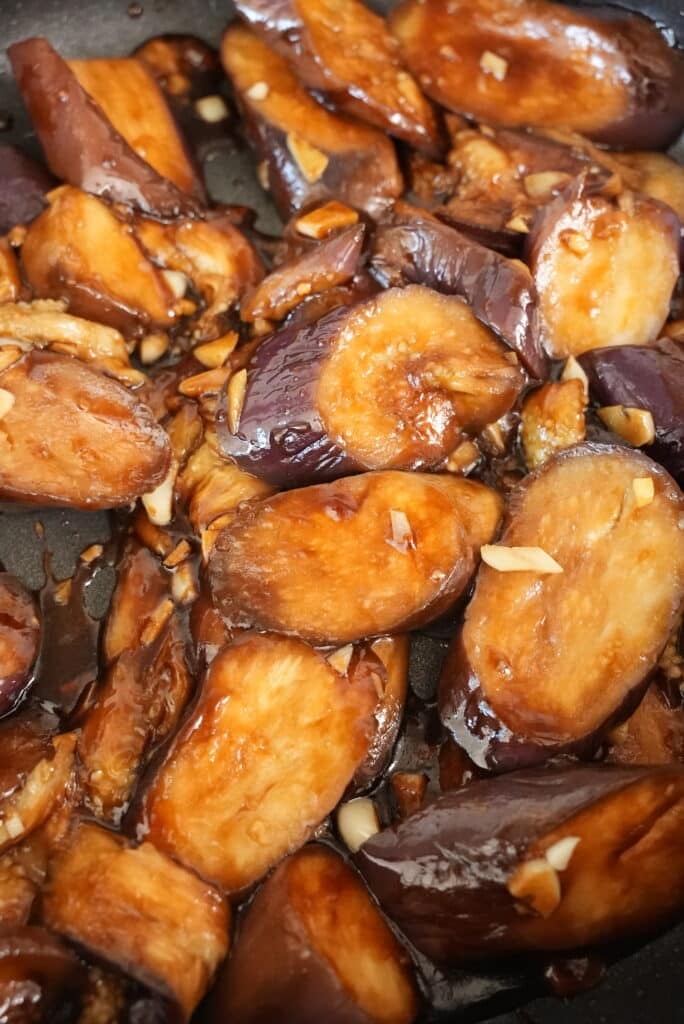 Serve with a freshly steamed bowl of rice for a hearty vegetarian meal or as a delicious side dish! The eggplant is firm but meaty and so delicious. The rich garlic sauce absorbs into each piece of eggplant so well and gives it so much flavor!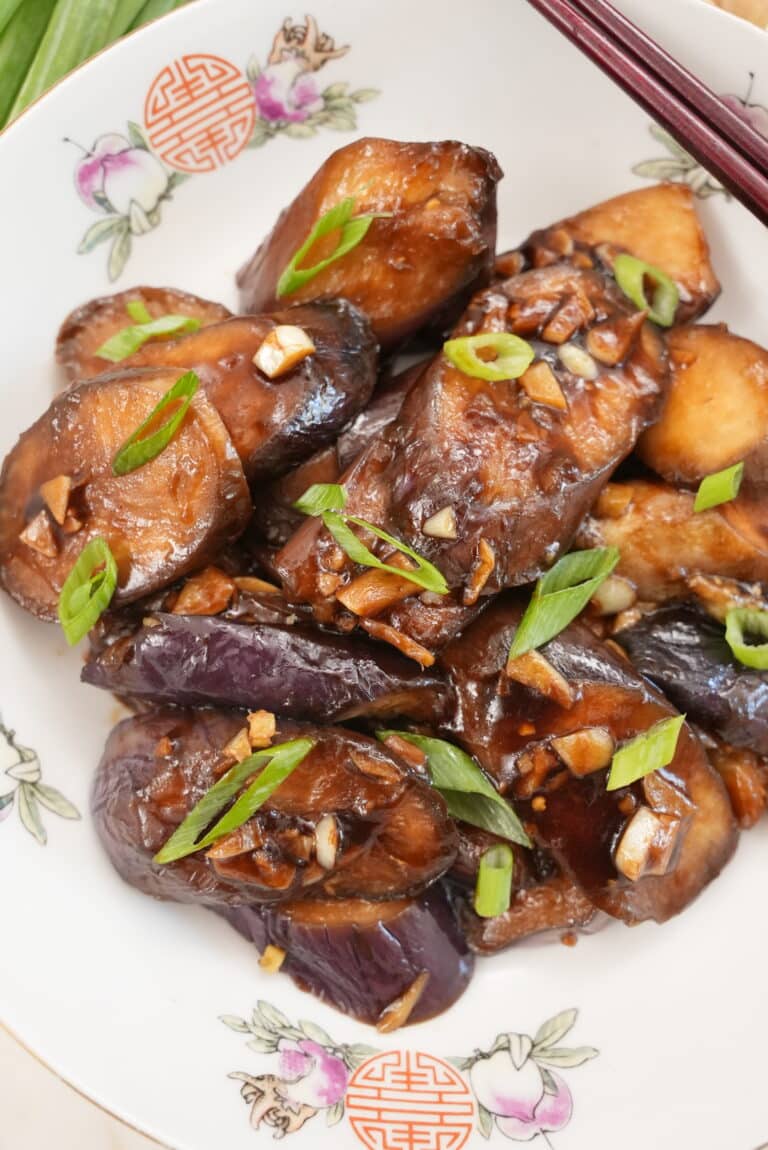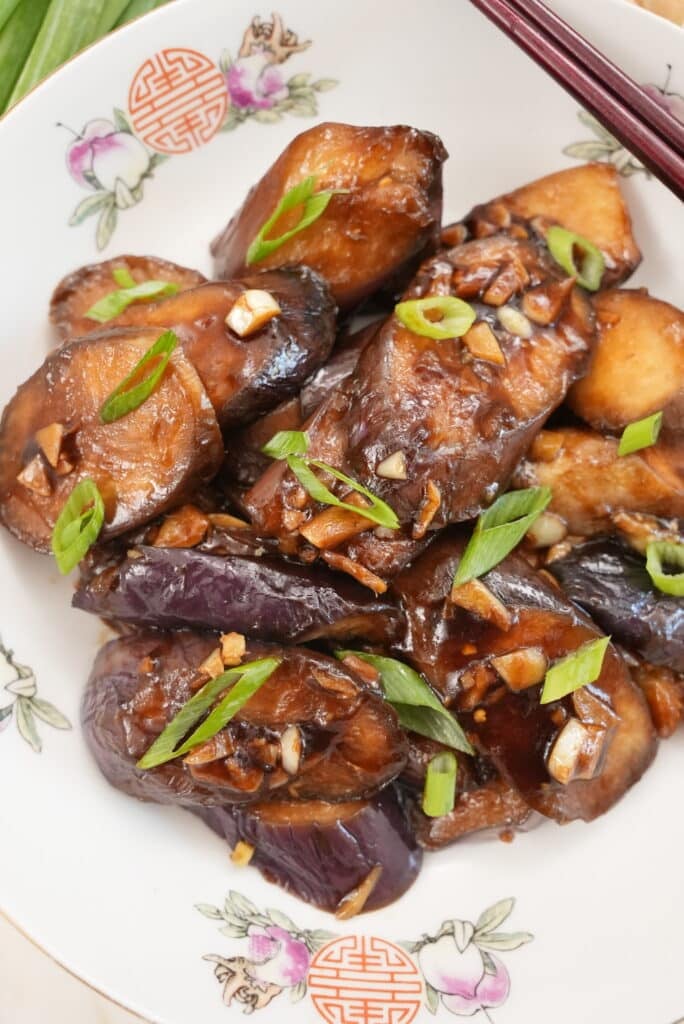 If you liked this Chinese Eggplant with Garlic Sauce recipe, check out some of the most vegetable recipes on the blog!
RECIPE TIPS
PREMIX YOUR SAUCE
The cooking process for the sauce is FAST so it's a great idea to premix your sauce together, then add it straight into the pan! The corn starch will help thicken the sauce into that velvety texture that Chinese restaurants made so famous.
SUCCESS IS IN THE PREP
For a recipe that comes together extremely quickly, the key to pulling this recipe off successfully is having your ingredients prepped and in bowls right next to your wok or pan! Have your premixed sauce, chicken, and vegetables ready and easily accessible during the cooking process.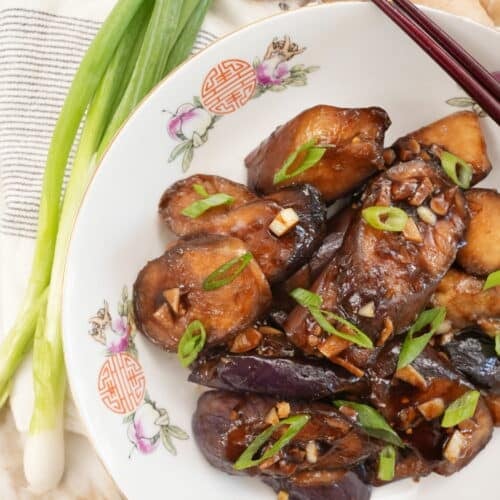 Chinese Eggplant with Garlic Sauce
This Chinese Eggplant with garlic sauce is super flavorful and comes together in minutes! It's an amazing way to enjoy this versatile vegetable as a side dish or main dish!
Ingredients
1.5

lb

Chinese Eggplant

about 3 eggplant

2

tbsp

neutral oil

avocado, vegetable, or canola oil

3

tbsp

light soy sauce

1

tsp

dark soy sauce

2

tsp

sugar

1/4

tsp

white pepper

1/4

tsp

MSG

optional

1/4

cup

high quality chicken stock

1/2

tbsp

cornstarch

6

cloves

garlic

chopped

1/2

tbsp

ginger

minced
Instructions
Cut eggplant at an angle into 1/2" thick pieces about 3-4 inches long.

Place the eggplant in a steamer basket and steam for 10-12 minutes until under.

In a small bowl, mix together chicken stock, light soy sauce, dark soy sauce, sugar, white pepper, msg, chicken stock, and corn starch. Chop garlic and mince ginger and set aside.

Once the eggplant is steamed, place them on a paper towel and pat them dry to remove excess moisture.

Over medium high heat, add 2 tbsp of netural oil and saute garlic and ginger. Add in eggplant and stir fry for 2 minutes until they take on a golden brown color.

Add the premixed sauce, then stir to coat the eggplant for about 2 minutes until the sauce thickens to a glaze. Serve and enjoy!