Gai Lan with Oyster Sauce
---
August 23, 2022
---
Gai Lan with Oyster Sauce is the quintessential classic Chinese dish. If you are a dim sum lover like I am, you're familiar seeing this on the carts, bustling around the tables. I love this recipe because the sauce is an umami bomb of flavor – salty, savory, and sweet, with hints of garlic & ginger. It's perfect over freshly steamed gai lan (or Chinese broccoli).
Watch the Gai Lan with Oyster Sauce Video Below!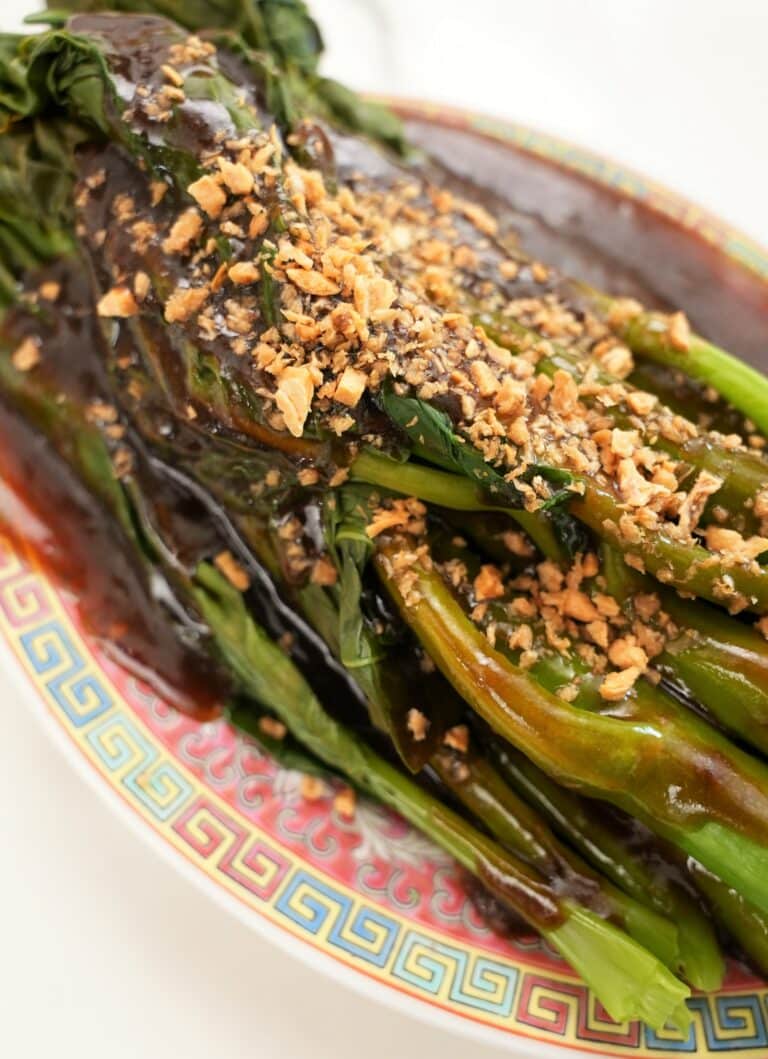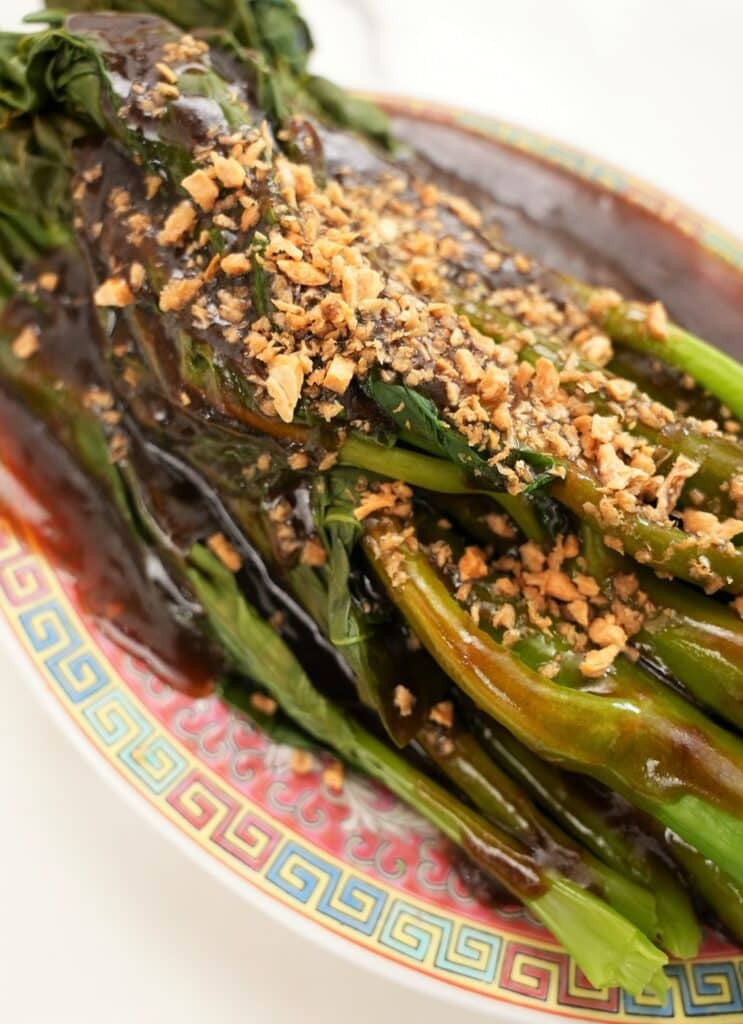 Ingredients for Gai Lan with Oyster Sauce
I love this Gai Lan with Oyster Sauce recipe because only a few ingredients will make crisp, flavorful gai lan, just like at Dim Sum!. Firstly, here are the ingredients you will need!
Gai Lan
Chicken Stock – I

always

recommend Kettle & Fire – use code CJPINS for 20% off your order here!
Oyster Sauce
Light Soy Sauce (reduced sodium)
Dark Soy Sauce
Shaoxing wine
Sugar
MSG
Garlic
Ginger
Cornstarch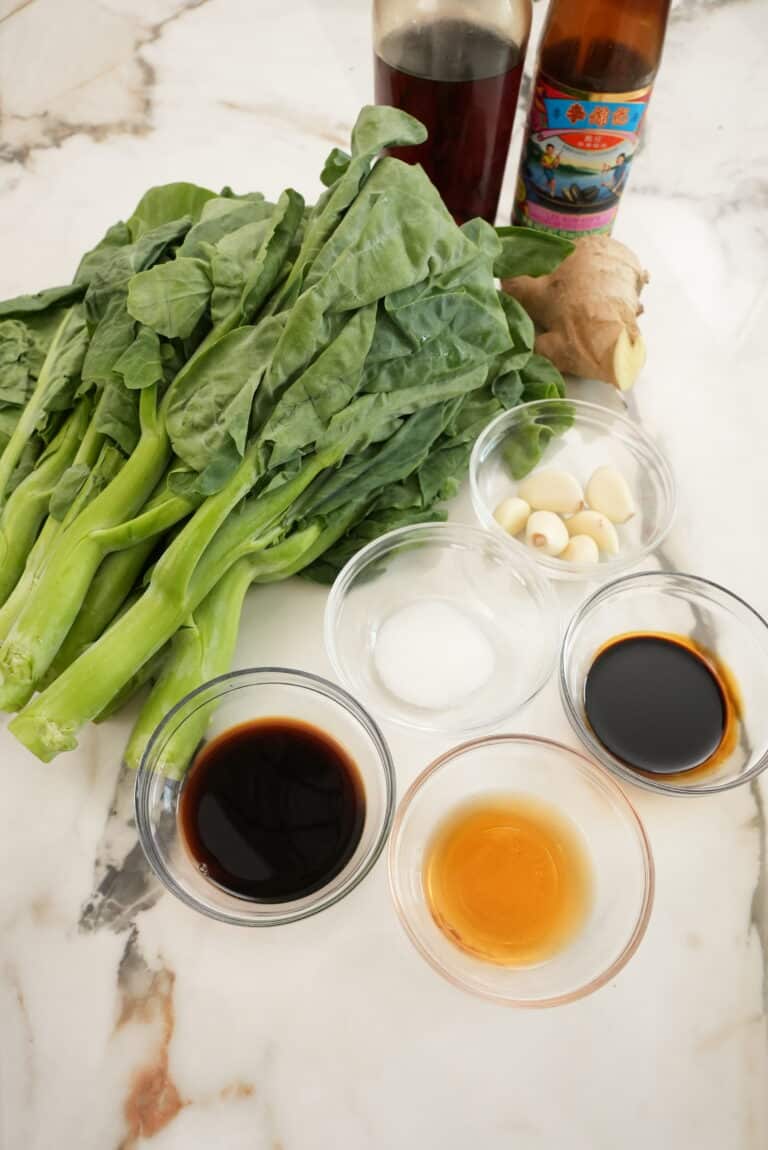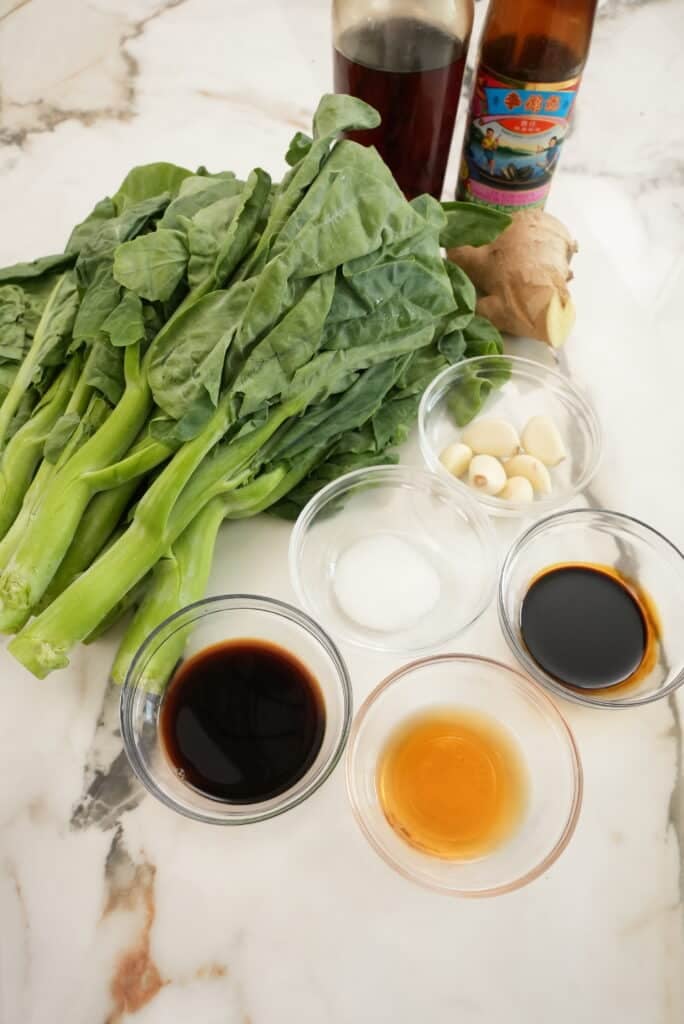 INGREDIENTS TIPS
GAI LAN
Gai lan is oftentimes referred to as "Chinese broccoli". I purchase mine from my local 99 Ranch (a Chinese grocery chain) – I have not seen it anywhere else. Unfortunately, there is no sub, as this is the focal point of the dish 🙁
LIGHT vs. DARK SOY SAUCE
Yes, they're different! Dark soy sauce is thicker, darker, and sweeter (as well as has a higher sodium content) than regular soy sauce. Because there are so few ingredients in the sauce, there is not a substitute I can recommend 🙁
SHAOXING WINE
If you cannot or do not want to use wine, you can sub with sherry, mirin, or chicken stock!
MSG
As always, this is optional 🙂
Gai Lan with Oyster Sauce: Recipe Instructions
Cut the Gai Lan
The first step in making this recipe is trimming the Gai Lan stems. Trim off about 1″ of the woody, tough stem prior to steaming.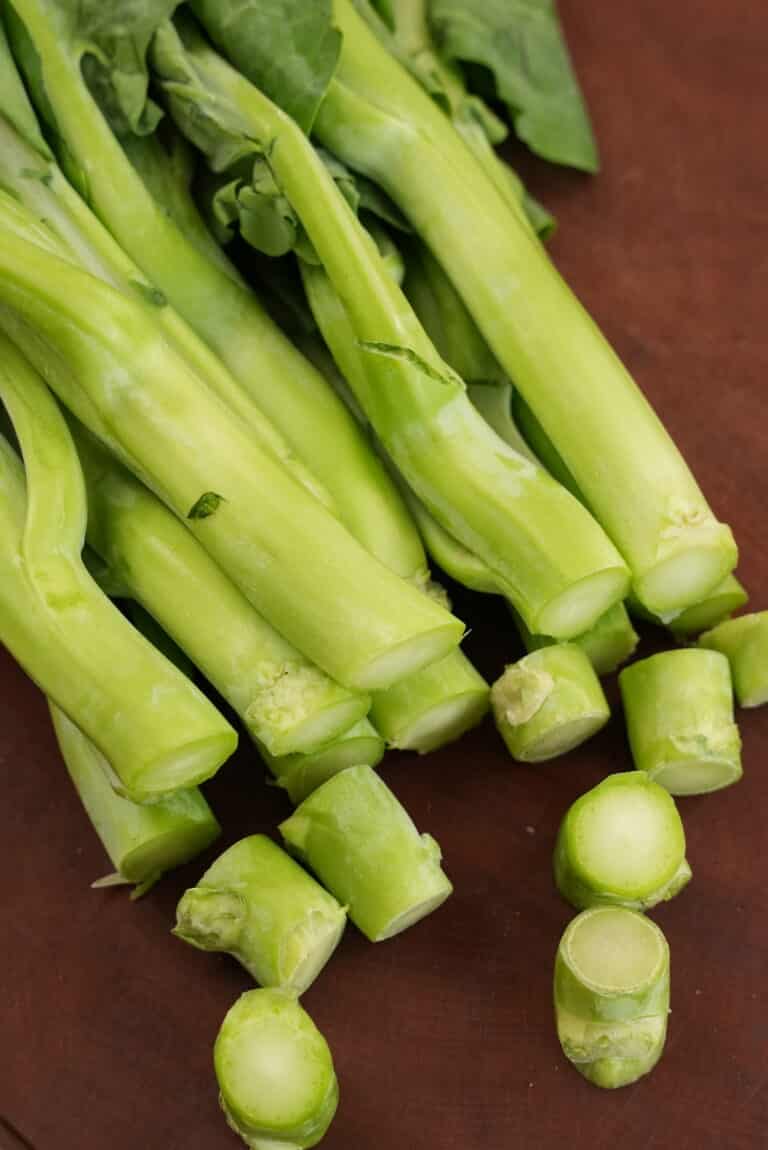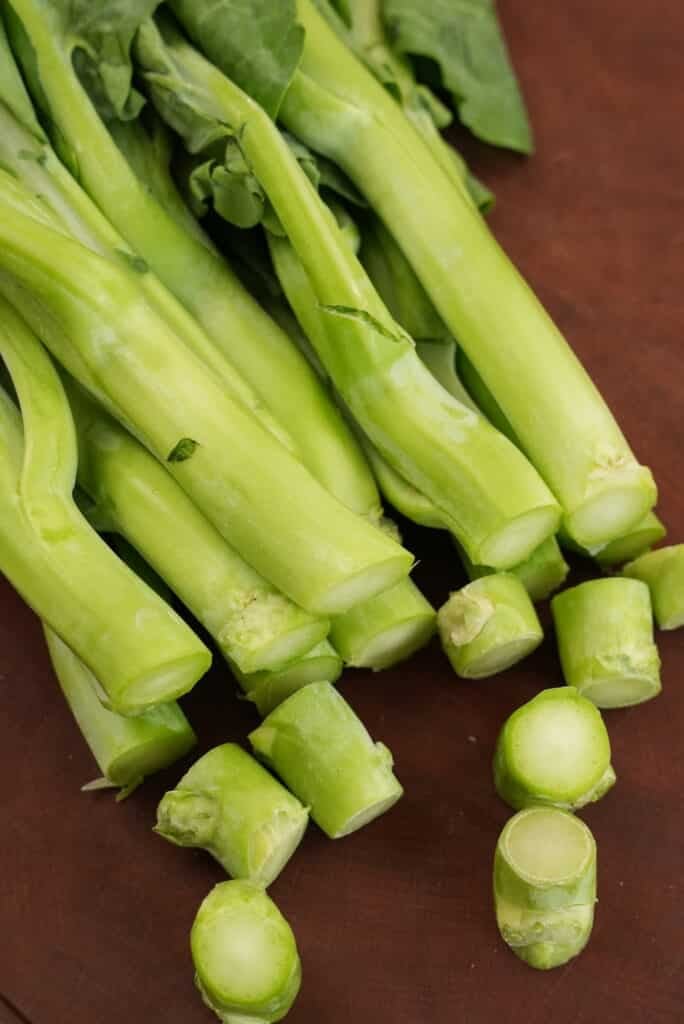 Next, in a bamboo steamer or metal steamer, steam the Gai Lan over high heat for 4-5 minutes until tender and bright green.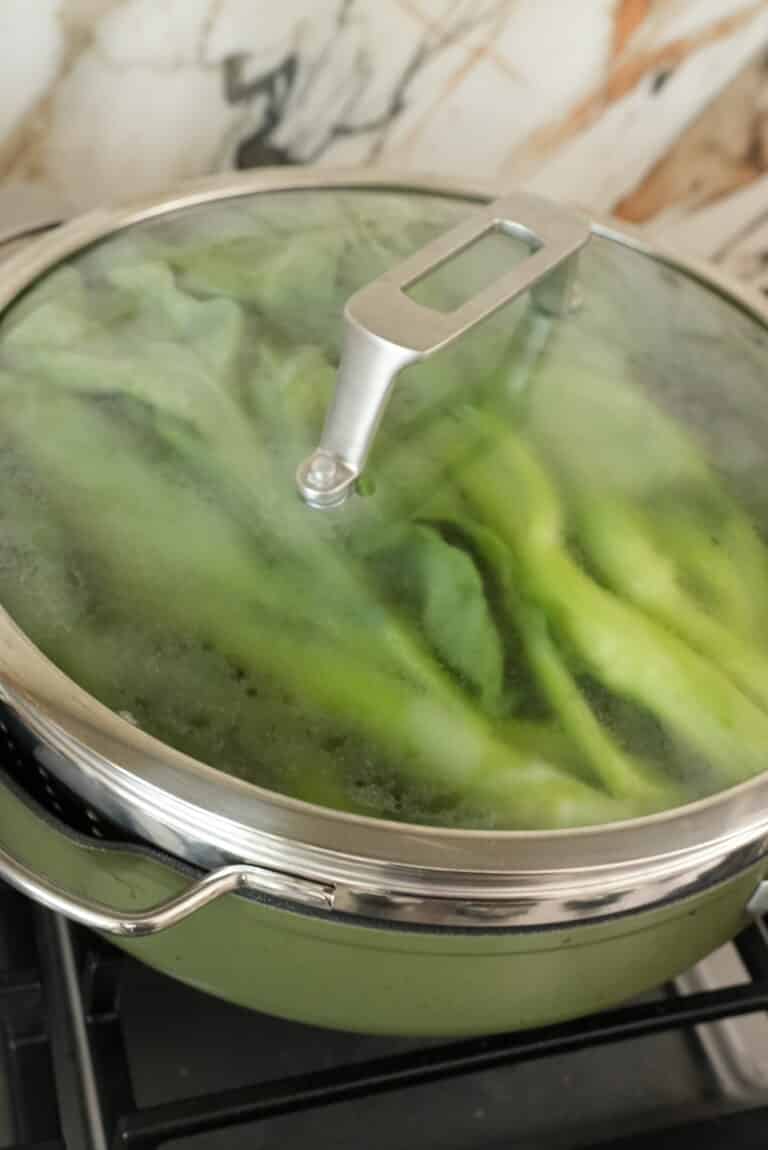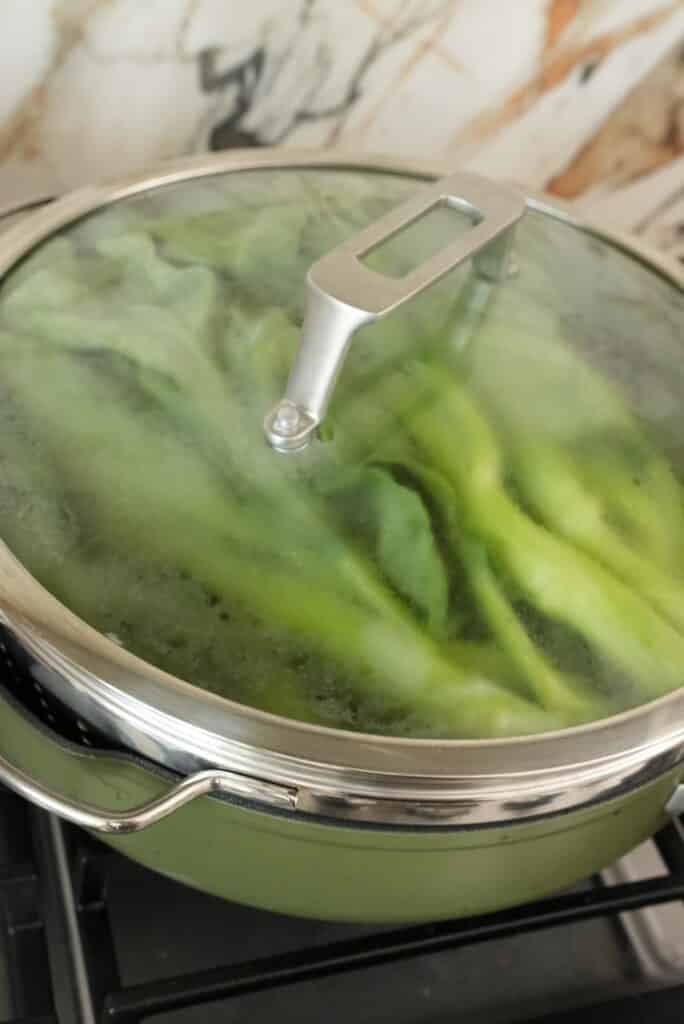 The stems should be bright green and tender at this point. Turn off the heat while we make the savory oyster sauce.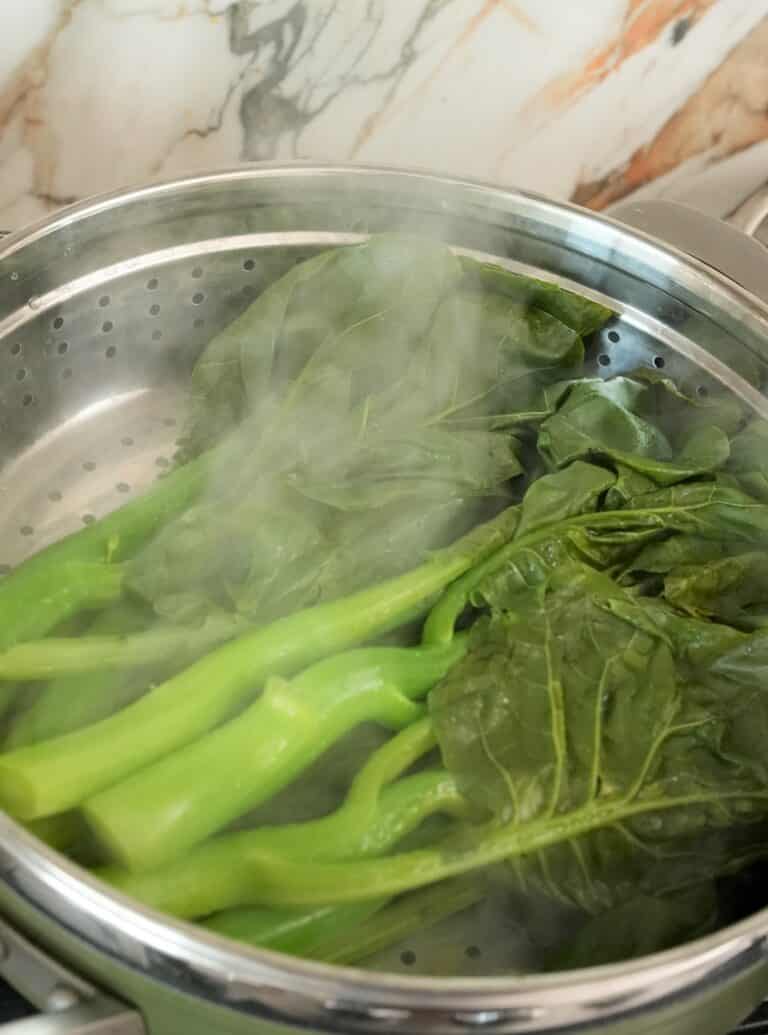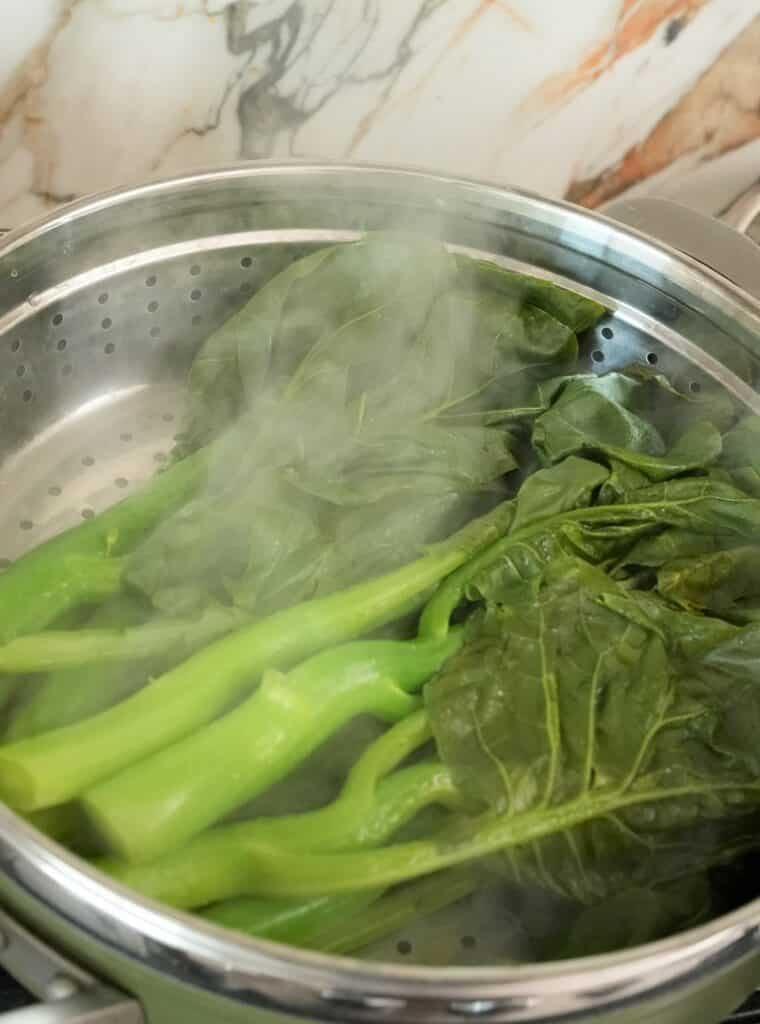 Mix the Sauce
After the gai lan is steamed, mix the sauce by combining chicken stock (I always use Kettle & Fire – get 20% off your order when you use code CJPINS!), oyster sauce, light soy sauce, dark soy sauce, shaoxing wine, sesame oil, sugar, msg, grated garlic & ginger, and cornstarch.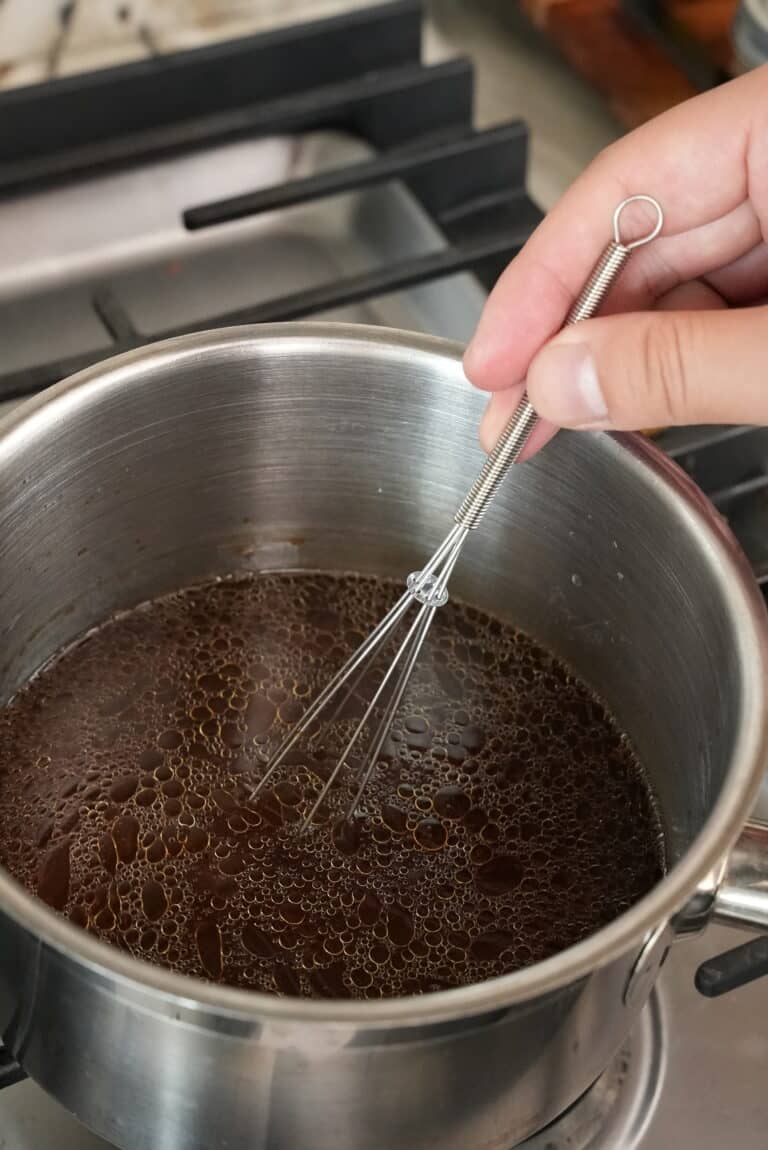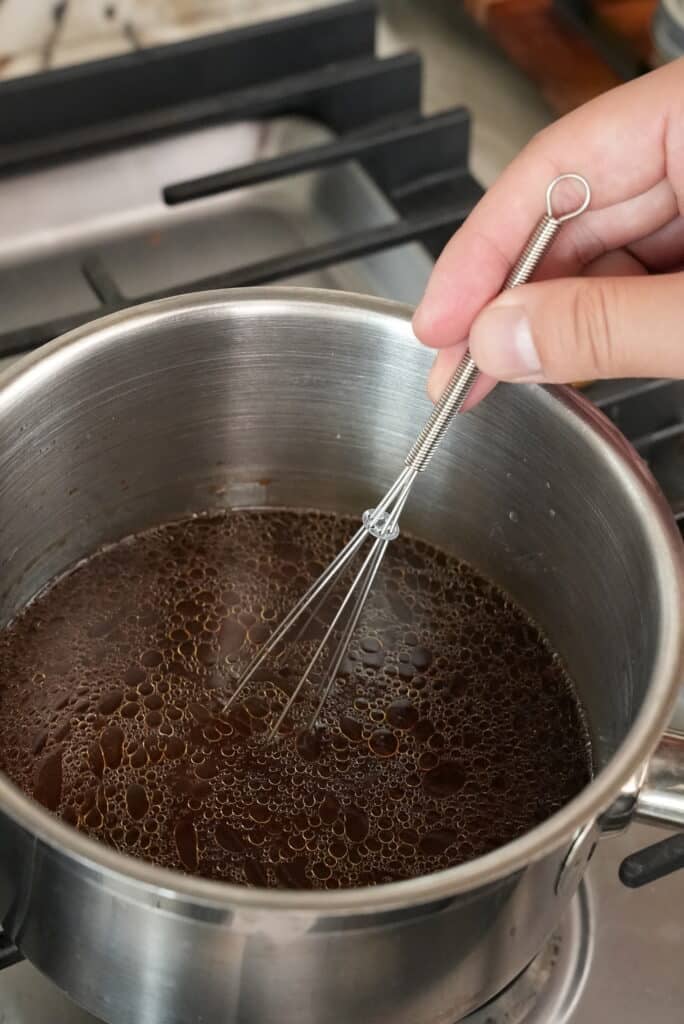 Cook and thicken the sauce
Next, whisk until the ingredients are combined and turn the heat to high. Cook for a few minutes until the sauce has thickened slightly. This will be in large part due to the cornstarch that is added. Pour it over the Gai Lan and top with fried garlic as garnish and enjoy!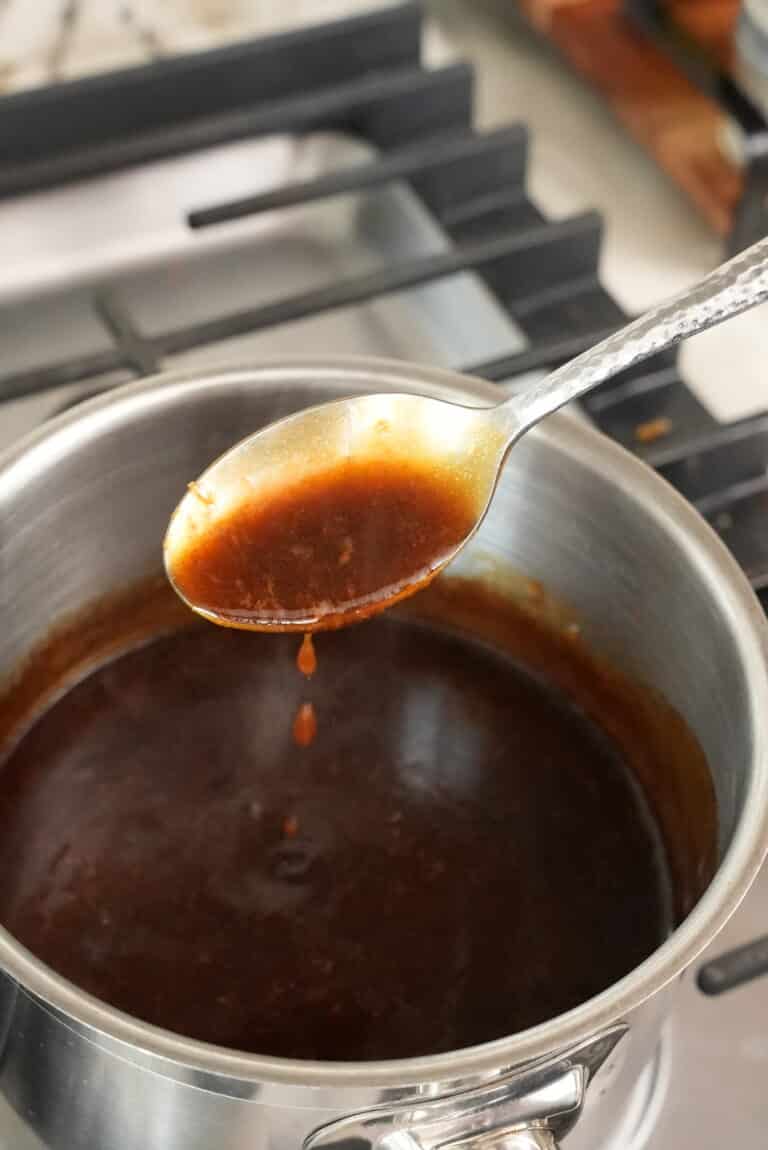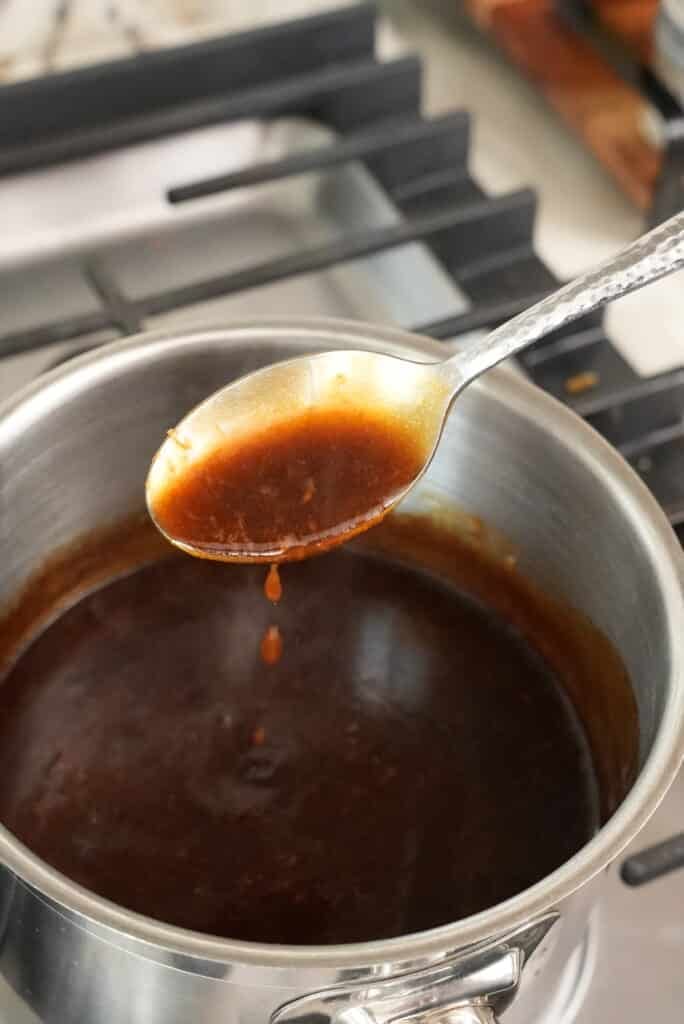 If you liked this Gai Lan with Oyster sauce recipe, check out some of the most popular vegetable recipes on the blog!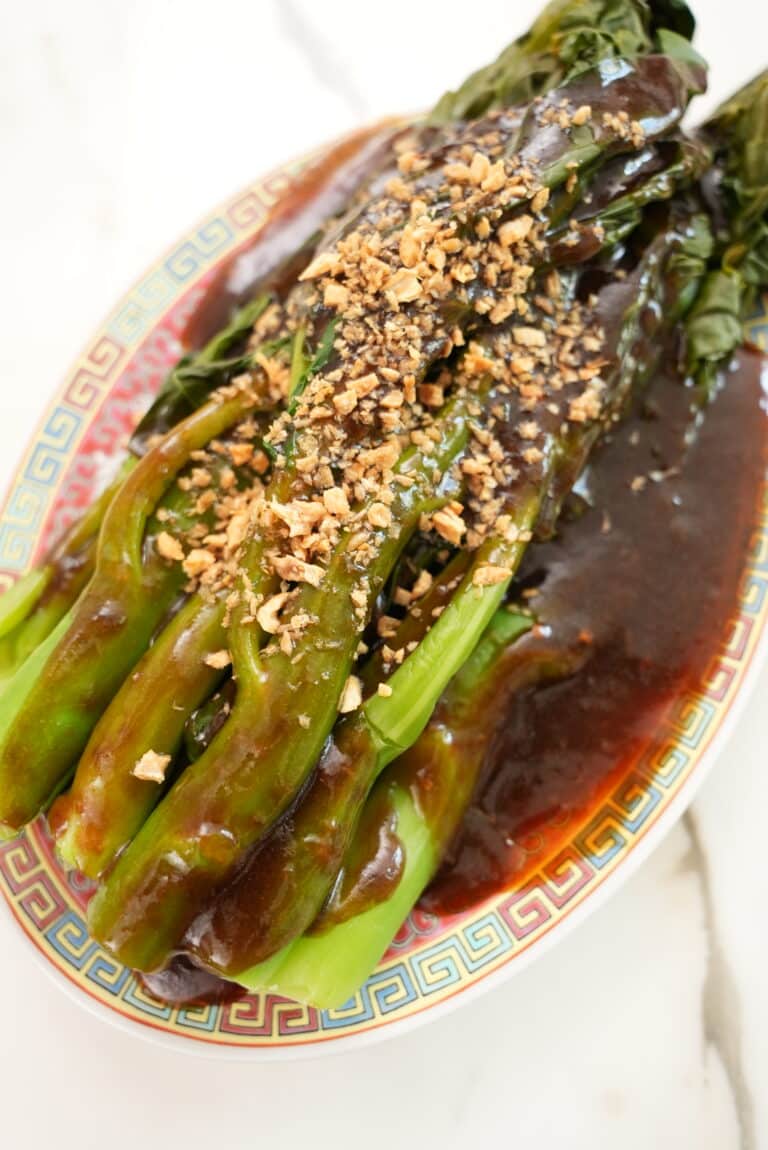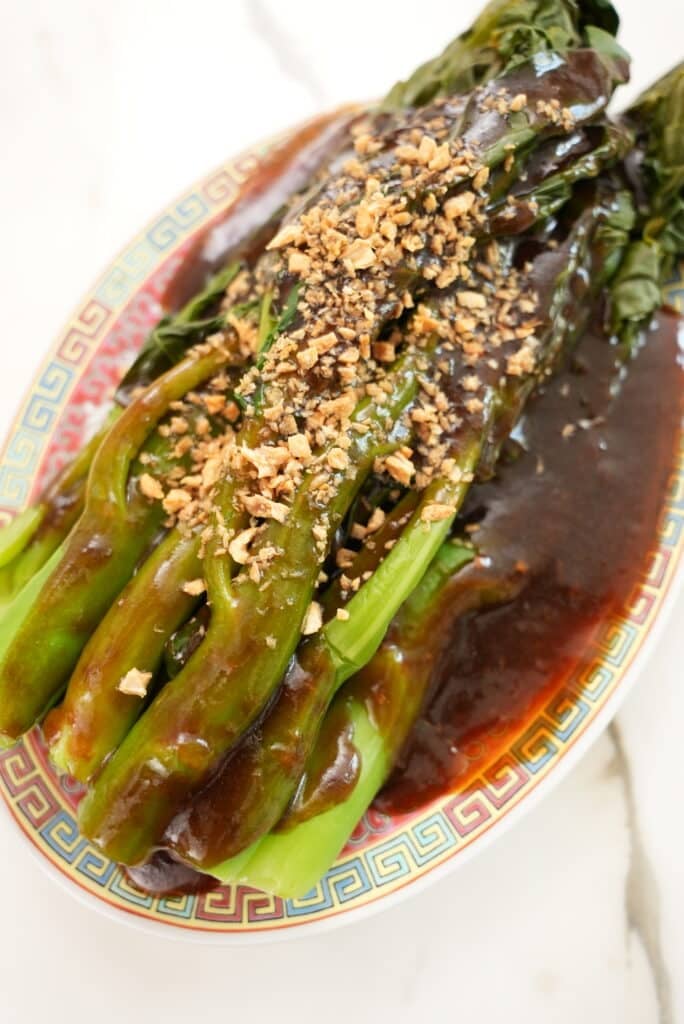 RECIPE TIPS
WASH AND TRIM YOUR GAI LAN
After washing your gai lan, you should trim them so they look uniform. Trim at least 1/2″ off the bottom of the stems, and trim any leaves that are sticking out.
CORNSTARCH SLURRY
A cornstarch slurry is a mixture of cornstarch and water that is used in cooking to thicken WITHOUT powdery lumps or additional flavors/colors! This is the secret to so many of your favorite Chinese dishes. My #1 tip is make sure your cornstarch slurry has not separated before adding it in – I always try to re-stir right before!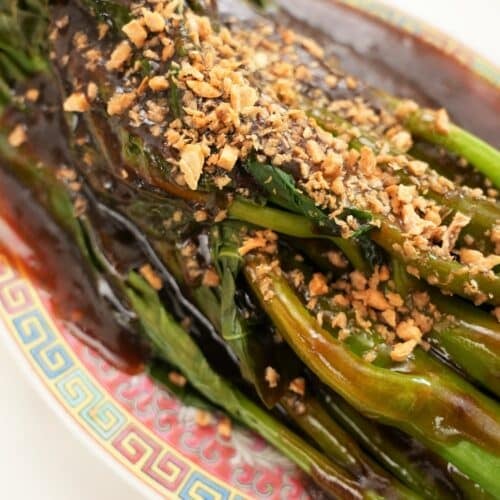 Gai Lan With Oyster Sauce
This delicious Gai Lan with oyster sauce is tender and savory, just like they serve it at Dim Sum!
Ingredients
1/2

lb

gai lan (Chinese broccoli)

stems and leaves trimmed

1/2

cup

chicken stock

2

tbsp

oyster sauce

1

tbsp

light soy sauce

1/2

tsp

dark soy sauce

1

tbsp

shaoxing wine

1

tsp

sesame oil

1/2

tsp

sugar

1/4

tsp

msg

optional

2

cloves

garlic

grated

1/2

tbsp

ginger

grated

1/2

tbsp

cornstarch
Instructions
Wash your Gai Lan and trim 1 inch off the stems and trim leaves to create uniform pieces.

In a small saucepan, mix together chicken stock, oyster sauce, light & dark soy sauce, shaoxing wine, sesame oil, sugar, MSG, grated garlic and ginger, and cornstarch and stir to combine. Bring to a boil over medium heat for 30 seconds and let cool.

Steam your Gai Lan for 4 minutes and pour sauce directly over the vegetables and enjoy!