Billionaire Fried Rice
---
October 19, 2021
---
Billionaire Fried Rice was always on the menu when my family & I ate at Chinese restaurants. Some people may not be familiar with this version of fried rice, which uses dried scallops, egg whites, and gai lan (Chinese broccoli).
The legend goes that a Hong Kong billionaire (hence the name) wanted a healthier version of fried rice, so his personal chef decided to put his own spin on it! It's supposed to have less fat and salt, and reportedly started a trend of 'healthier' eating in Hong Kong! It's actually my favorite fried rice dish, so I hope you try it out!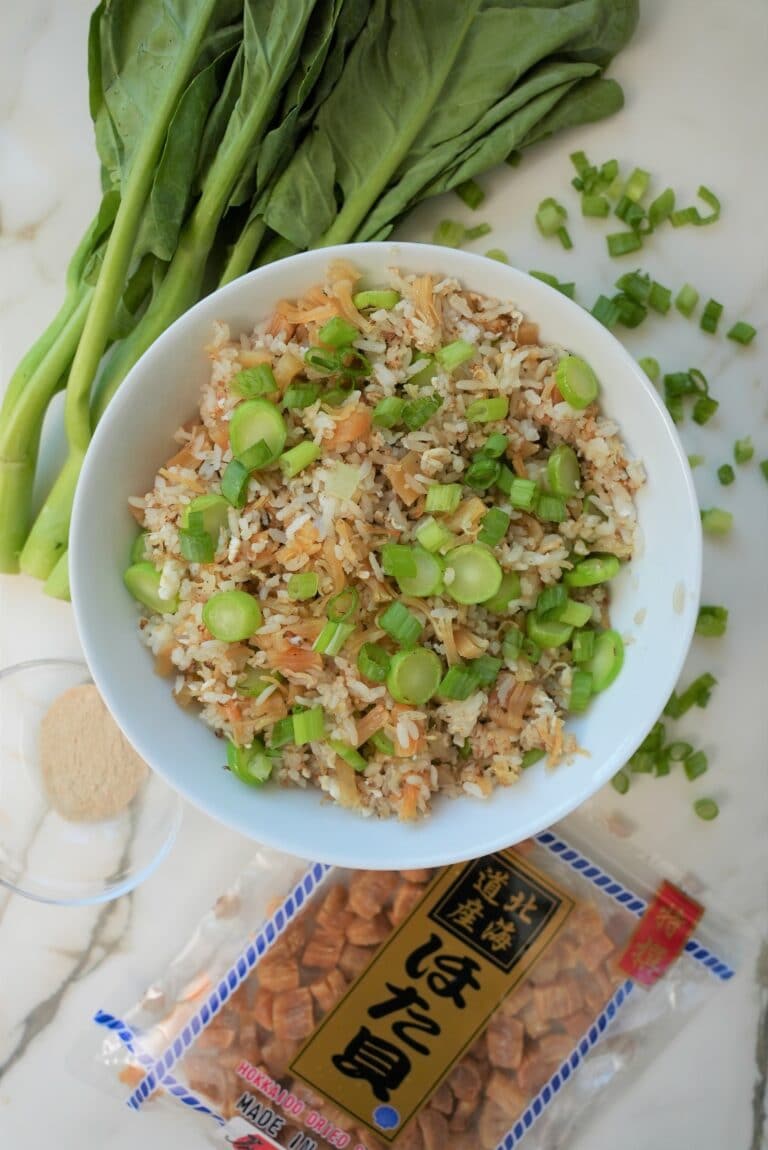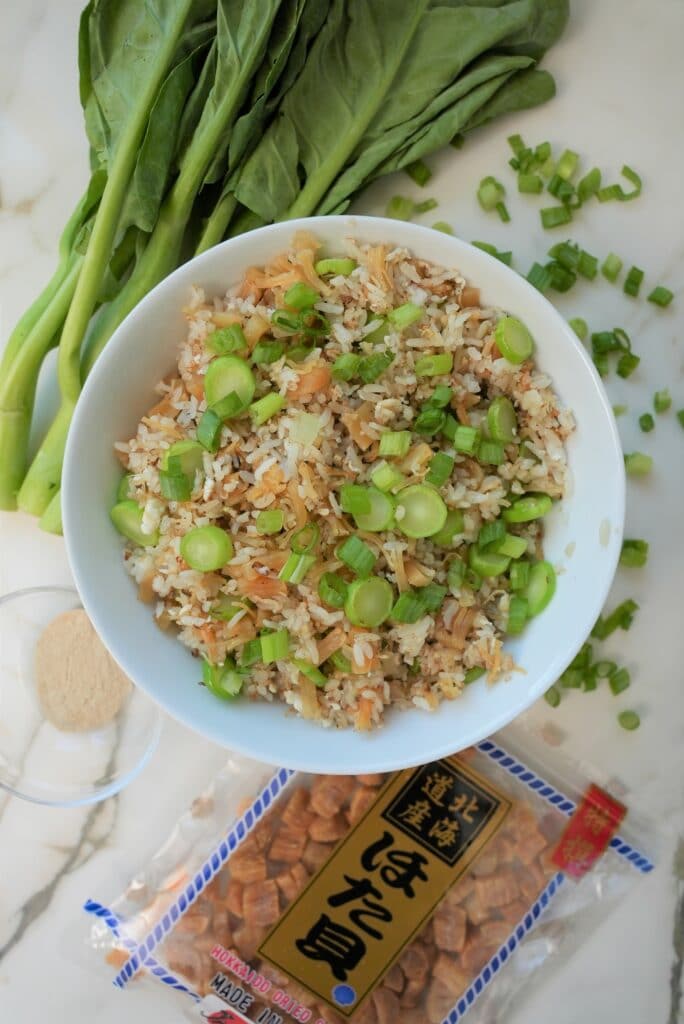 INGREDIENTS TIPS
EGGS
Instead of the traditional method of using whole eggs, this recipe only uses egg whites!
DRIED SCALLOPS
The recipe calls for the use of dried scallops, which are then rehydrated until they're soft and pliable. You'll see the packaging included in the photo above. This is the main protein in the dish, so I can't suggest a sub 🙁
GAI LAN (or CHINESE BROCCOLI)
This dish utilizes only the stems of gai lan, which are cut into discs. I buy mine from 99 Ranch (a Chinese grocery chain) – if you are not able to find gai lan in stores, you can use the stems of broccoli instead (do not use the heads)!
WHITE PEPPER
I get asked all the time if you can sub black pepper for white pepper – and my answer is, it depends BUT you need to watch the ratio. White pepper has a milder flavor profile than black pepper, so it's a 1-1 substitute. I would start with less black pepper and add as you go. (But really, you should have white pepper in your pantry! It's a staple in mine!)
MSG
As always, this is optional 🙂
RECIPE TIPS
REHYDRATE YOUR SCALLOPS
You'll need to rehydrate the dried scallops, as they'll feel almost rock hard straight out of the packaging. Place them in a bowl of water and let them rehydrate overnight. You'll know they're ready when they are soft and pliable, to the point that you can tear them by hand. Drain the water and pat the scallops dry to get rid of excess moisture before shredding into thin strands.
RICE
Do not use freshly steamed rice! The rice should be at least one day old to avoid having too much moisture; too much moisture in the rice will make your fried rice soggy and mushy.
CRUMBLE YOUR OLD RICE
I like to crumble my rice (I've found that dried out rice gets clumpy) – this helps each rice grain get cooked and coated in all of the delicious flavors!
Billionaire Fried Rice
Ingredients
2

cups

white rice

at least one day old

4

oz

dried scallops

rehydrated overnight and shredded

5

gai lan (or Chinese broccoli) stems

sliced into 1/4" discs (approx 3.5 oz)

3

egg whites

1/2

tsp

sugar

1/4

tsp

white pepper

1/4

tsp

msg

optional

1/2

tsp

salt

or to taste

scallions

chopped, optional garnish
Instructions
Rehydrate your dried scallops until they are soft and easily pliable. Pat dry excess moisture and shred into thin strands. Set aside.

Slice gai lan stems into 1/4" discs and set those aside.

Crack 3 egg whites into a bowl and set aside.

Add 1 tbsp of neutral oil to a pan over medium high heat and saute your scallops for 1 minute. Add your gai lan stems and cook until they are soft, about another 1-2 minutes. Set aside in a bowl.

Over medium high heat, add 1 tbsp of oil and cook your egg whites and set to the side of the pan, then add 2 cups of day old rice. Add another 1 tbsp of oil and fry 2-3 minutes.

Add back your scallops and gai lan stems, then season with sugar, msg, and salt to taste. Garnish with fresh scallions and enjoy!