The BEST Garlic Noodles
---
January 29, 2023
---
These incredibly flavorful Garlic Noodles are a super aromatic noodle dish that you can make in about 15 minutes! You can pair them with any protein or enjoy them by themselves! Not only are they extremely delicious, but they're very inexpensive to make, only requiring a few ingredients.
I'm a HUGE garlic lover and I had the best garlic noodles when I went to Maui and tried this restaurant called Da Kitchen (if you're ever in the area be sure to check them out!). It's a classic Hawaiian plate lunch restaurant and all of their food was incredible, but their garlic noodles really stood out to me. It was so good we ended going multiple times during our trip! The noodles were chewy and aromatic, perfectly coated in a flavorful garlic butter with tons of fresh garlic.
Watch the Garlic Noodles Recipe Video Below!
Ever since I had those aromatic noodles, I wanted to recreate a version I could make and home and these turned out incredible! I hope you give them a try and enjoy!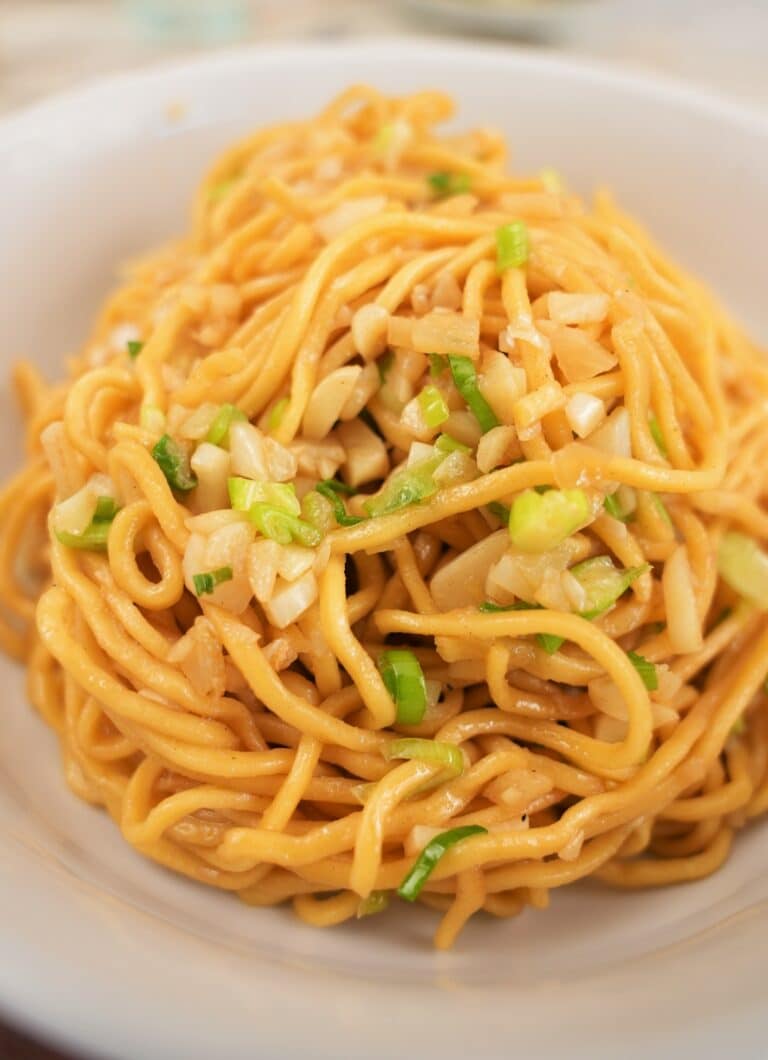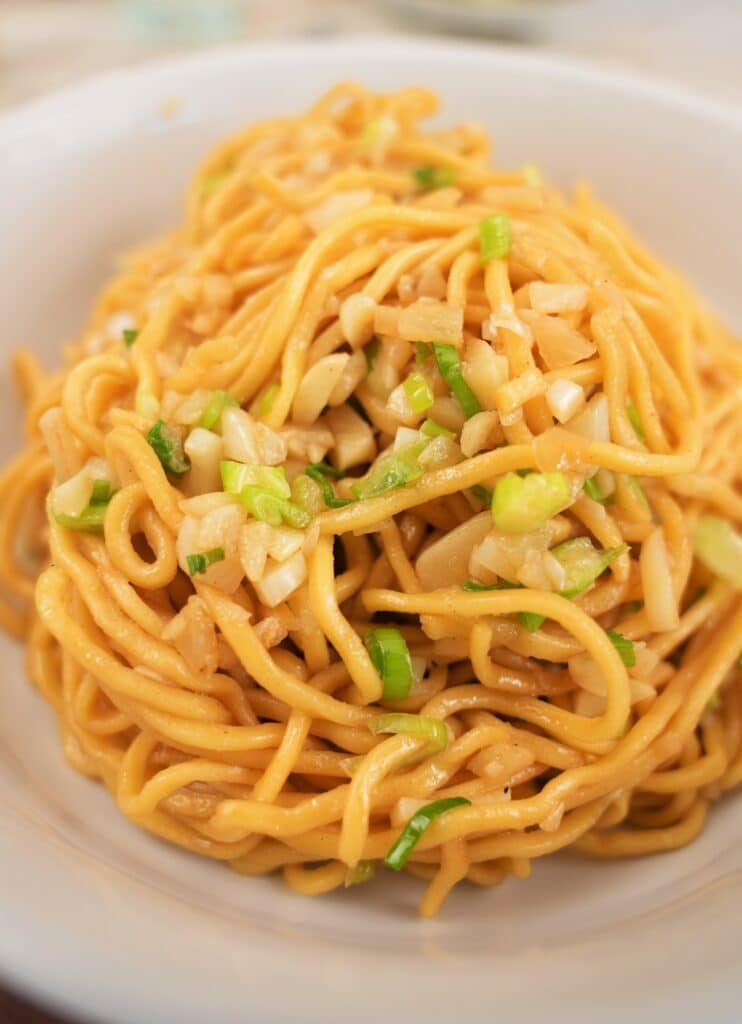 Ingredients for Garlic Noodles
Making these garlic noodles are extremely simple. Here is what you'll need to make them!
Egg Noodles (I used fresh Pancit egg noodles but you can use your favorite fresh or dried long noodle for this recipe)
Unsalted Butter
Garlic
Oyster Sauce
Fish Sauce
Light Soy Sauce
MSG
Sugar
Parmesan Cheese
Scallions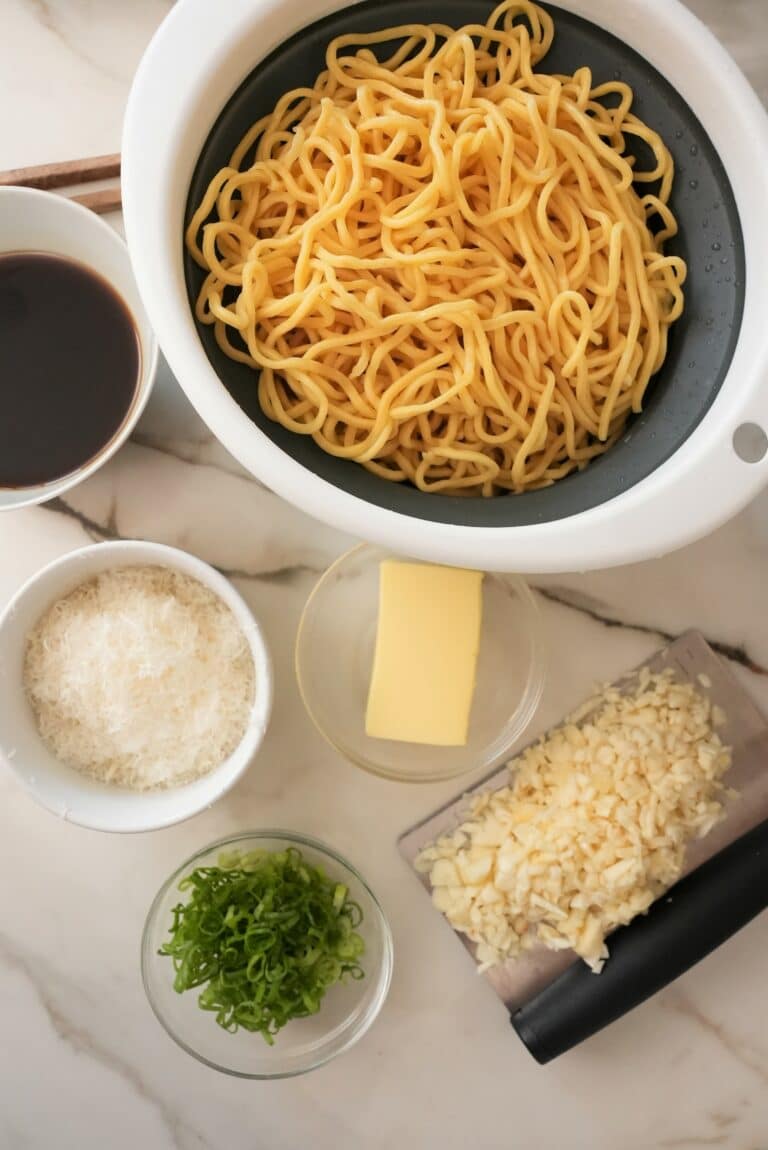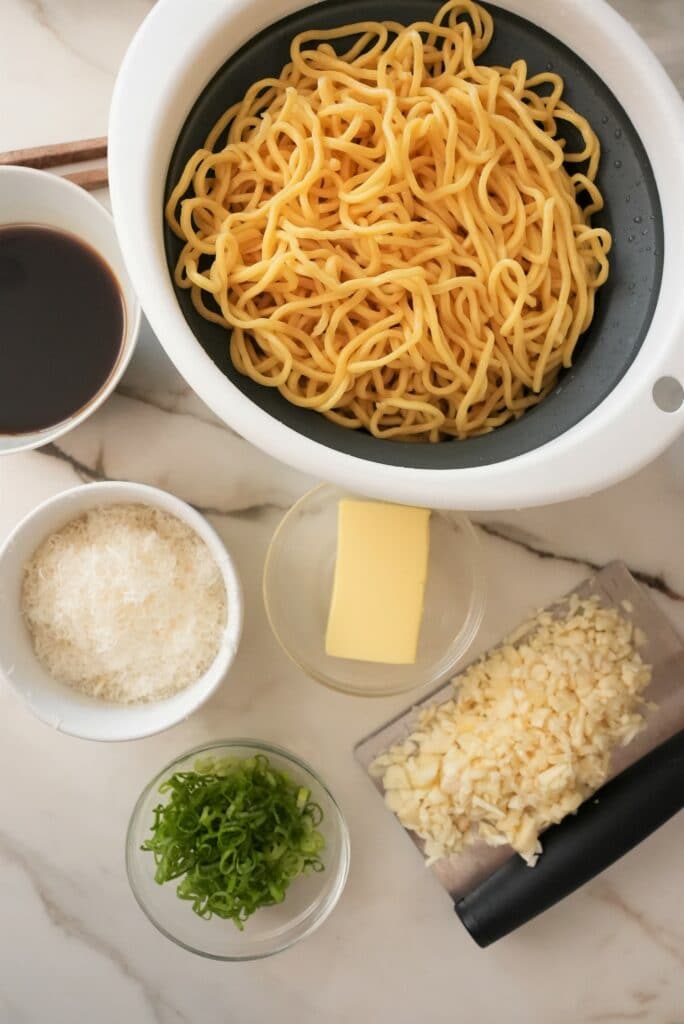 INGREDIENTS TIPS
NOODLES
For this dish, I love using fresh noodles, such as the pancit egg noodles pictured below, but you can you both fresh or dried noodles for this recipe. Use your favorite noodles or whatever you have on hand!
MSG
As always, this is optional 🙂
GARLIC
20 cloves of garlic might seem like a lot, and that's because it is! This dish is extremely garlicky and flavorful, and with 16 oz of noodles, it was enough to really incorporate that garlic flavor throughout the dish.
BUTTER & CHEESE
There aren't a lot of ingredients in this recipe, so if you can, try to use high quality butter and cheese to really elevate the dish. My personal choice when comes to butter is Kerrygold unsalted butter. When it comes to parmesan cheese, I love always having a block of Costco Parmigiano Reggiano in the fridge, ready to freshly grate.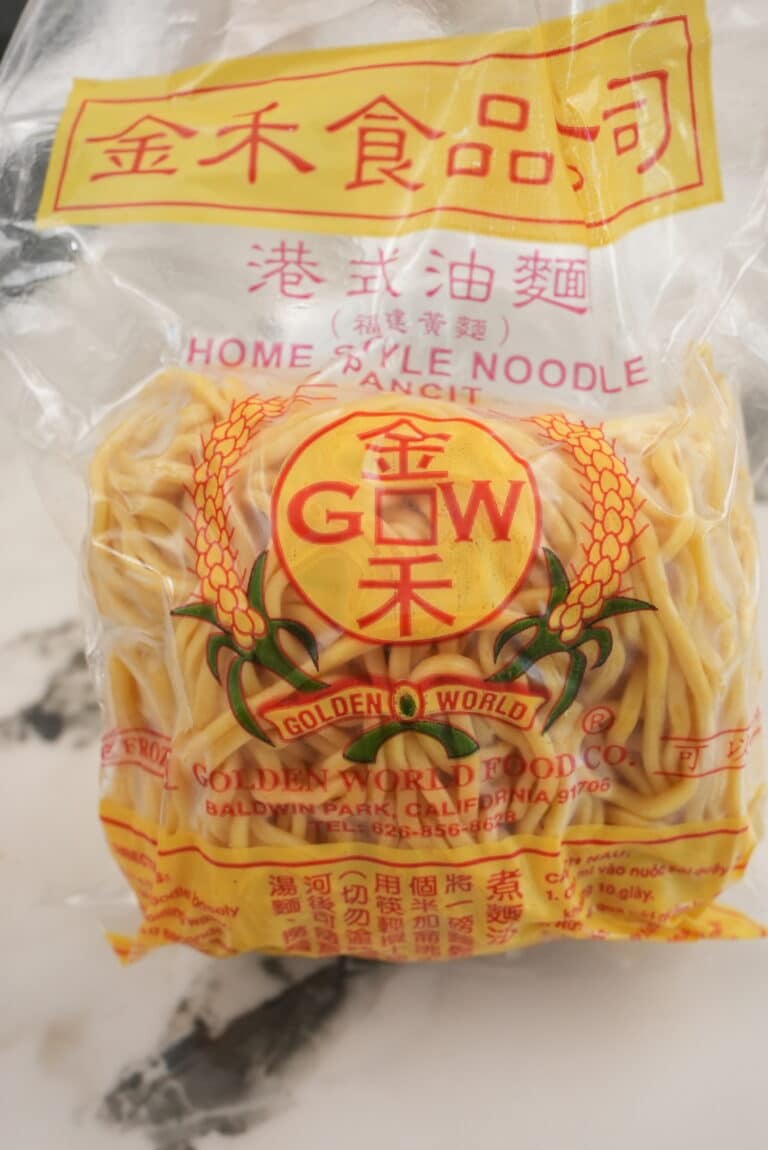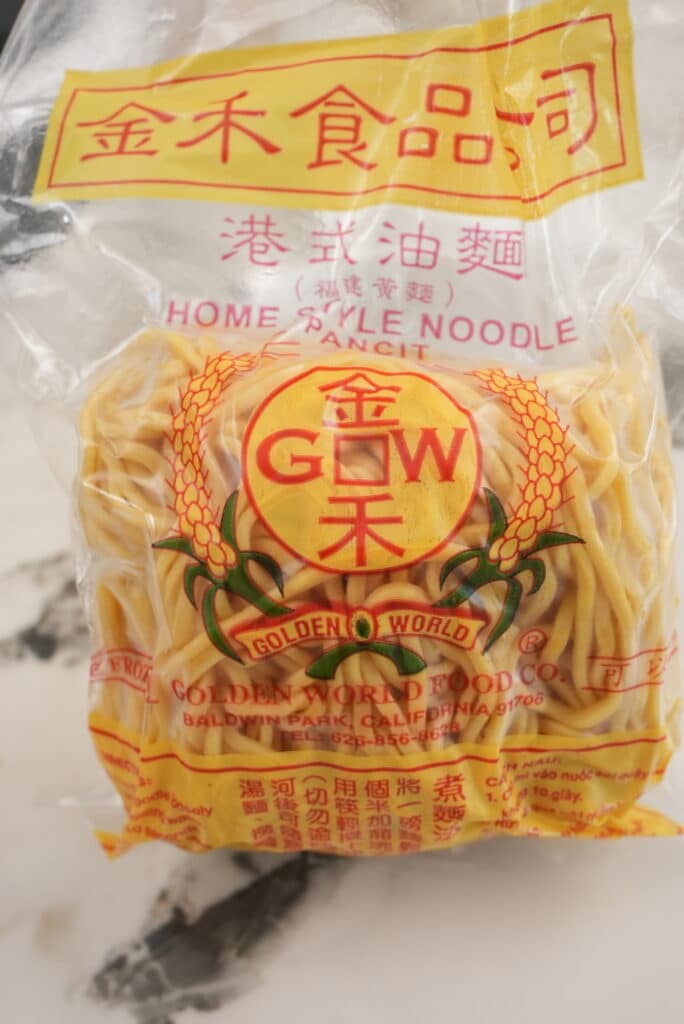 Cooking Garlic Noodles: Recipe Instructions
Prep Your Ingredients
Once you've gathered all the ingredients for your garlic noodles – let's start prepping! You'll want to finely mince your garlic and set them all aside. Next, take your Oyster sauce, Fish sauce, light soy sauce msg, and sugar and whisk that in a small bowl until combined.
Chop your scallions, then in another small bowl, grate parmesan cheese and set those aside next to your pan for easy access. This recipe will come together quickly so it's important to have all your ingredients easily accessible!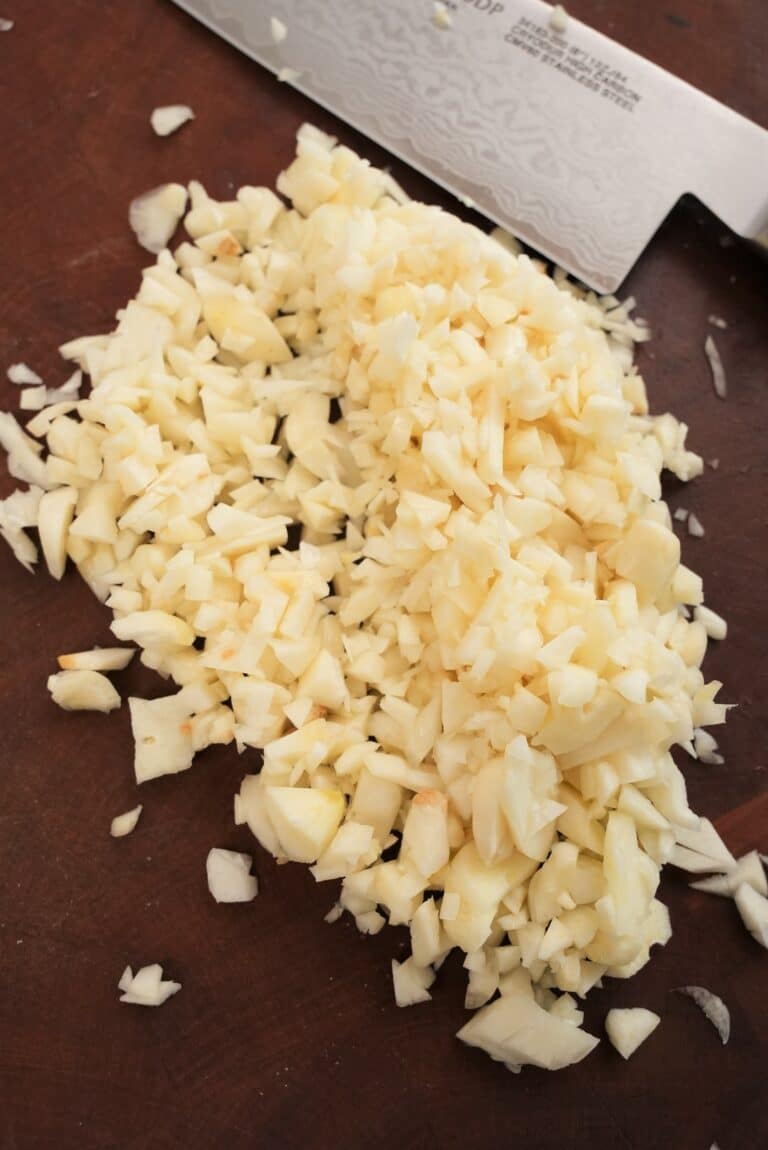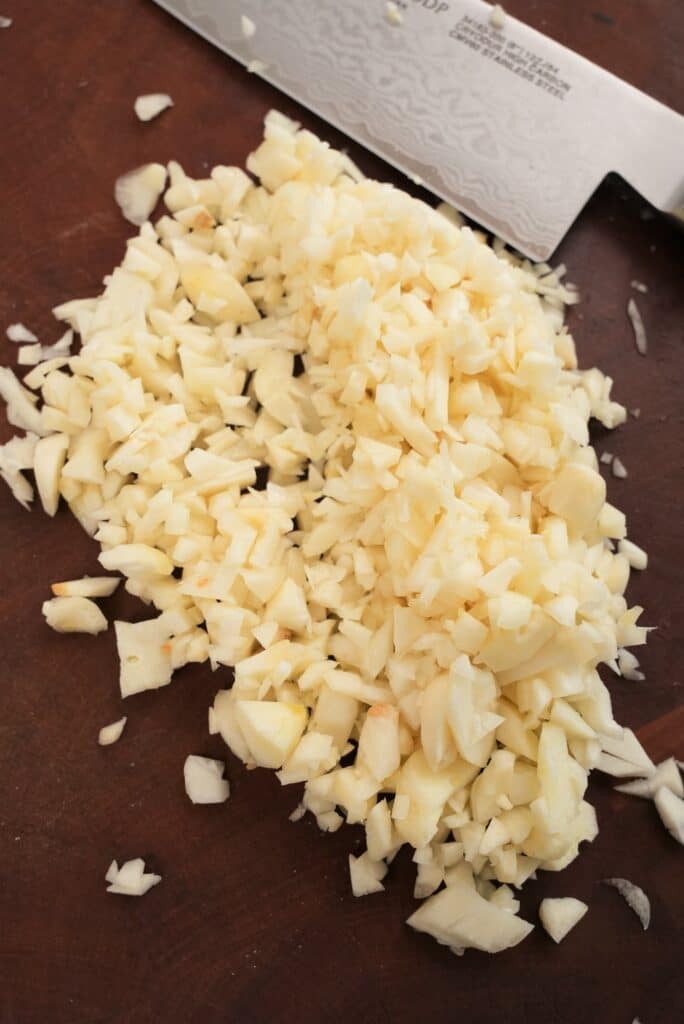 Melt Butter
Once your ingredients are prepped, heat a pan over medium to medium-low heat and melt butter until sizzling and you can hear it "singing".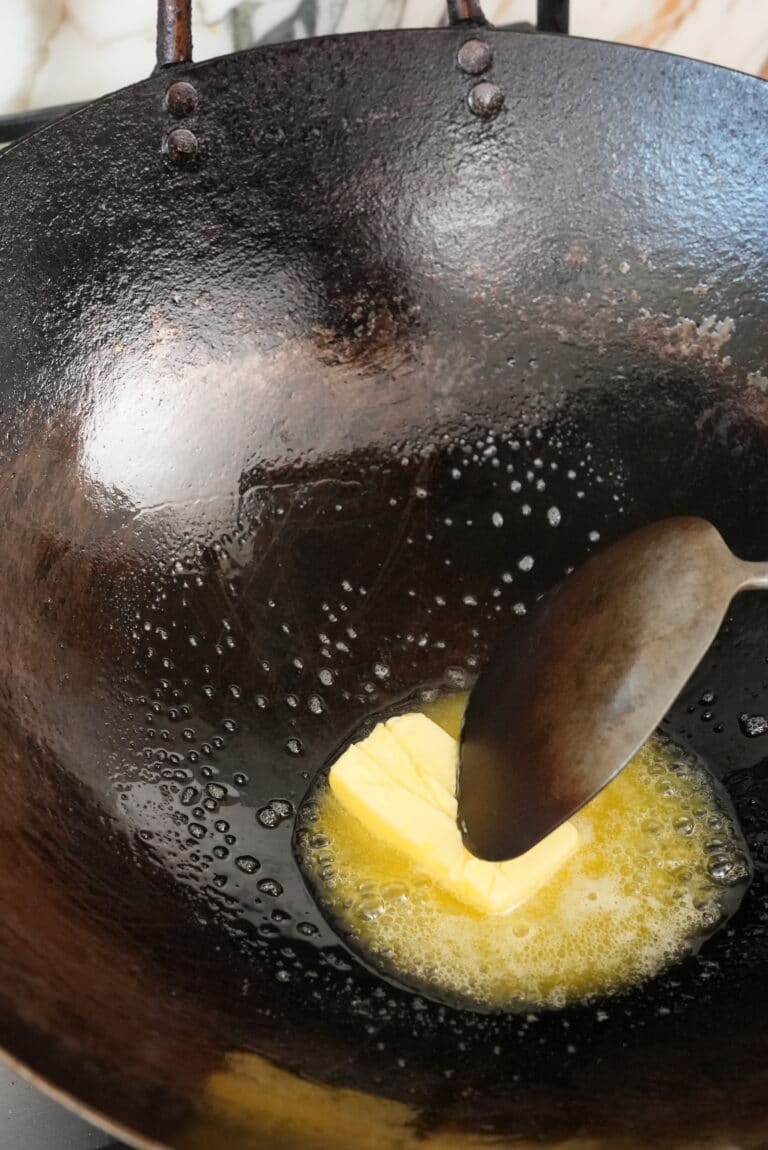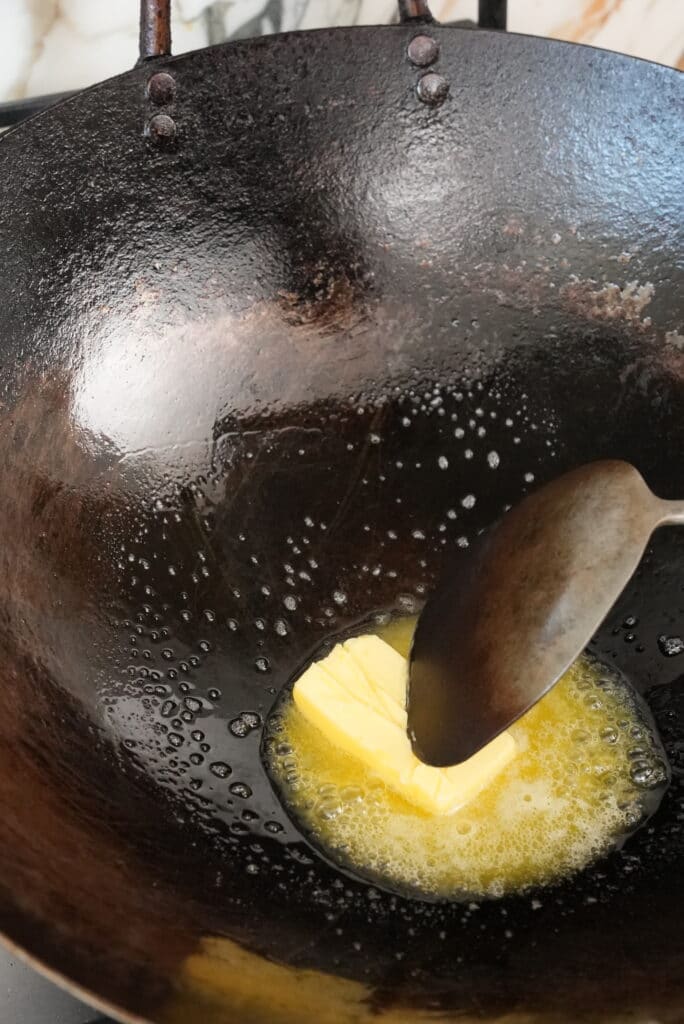 Sauté Garlic Until Fragrant
Once the butter is nicely melted, it's time to add your garlic! Ensure that the heat is still on medium low. You don't want to brown your garlic here, but we do want to extract all that flavor into the butter and soften the garlic, so a high heat isn't necessary at this point. This should take about 2 minutes.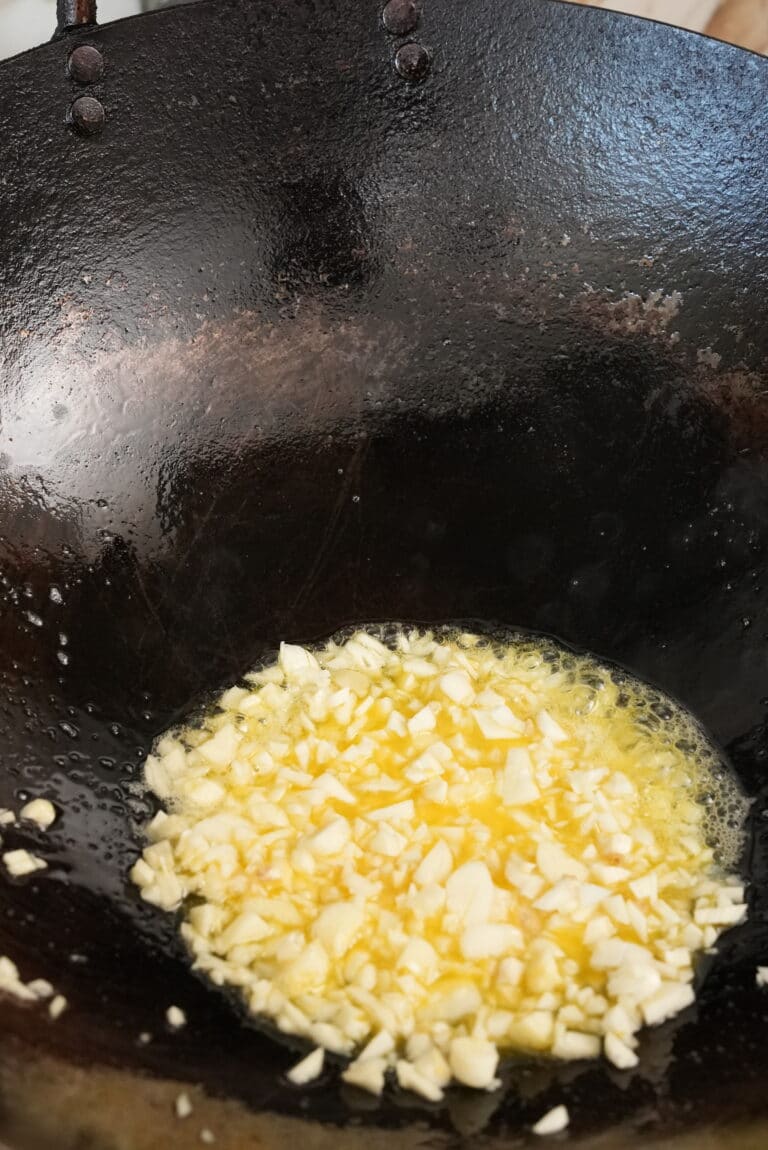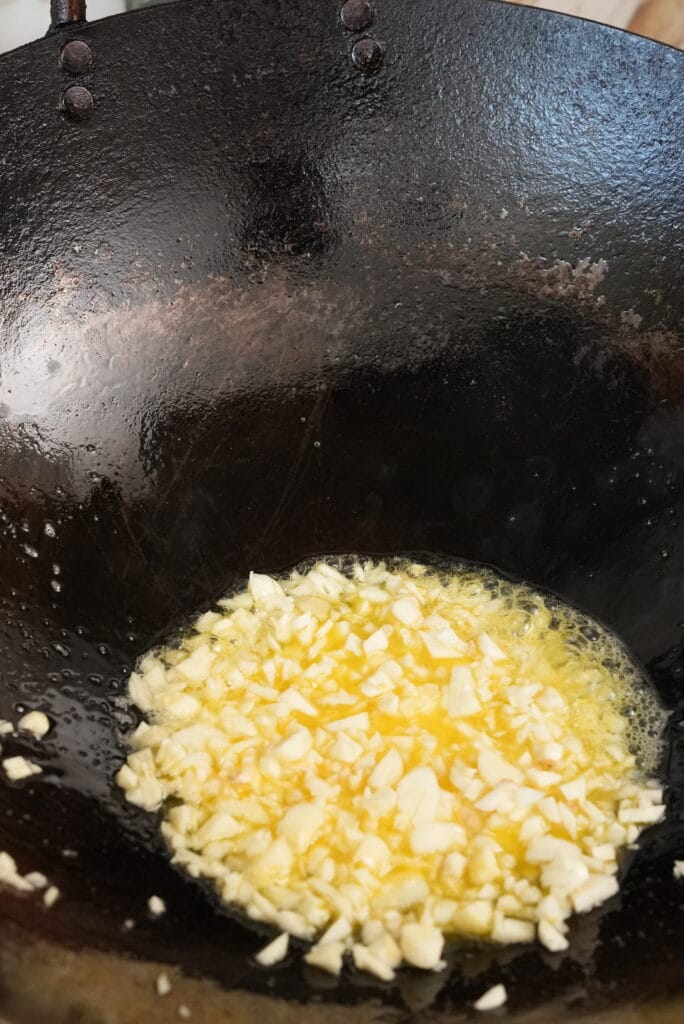 Cook Your Noodles
Meanwhile, cook your noodles until al dente or according to package directions. Keep in mind that the noodles will continue to cook in the pan, so I always like to undercook them by a minute or so to account for this. By the time the noodles are done in the pan, they should be perfectly al dente to my liking!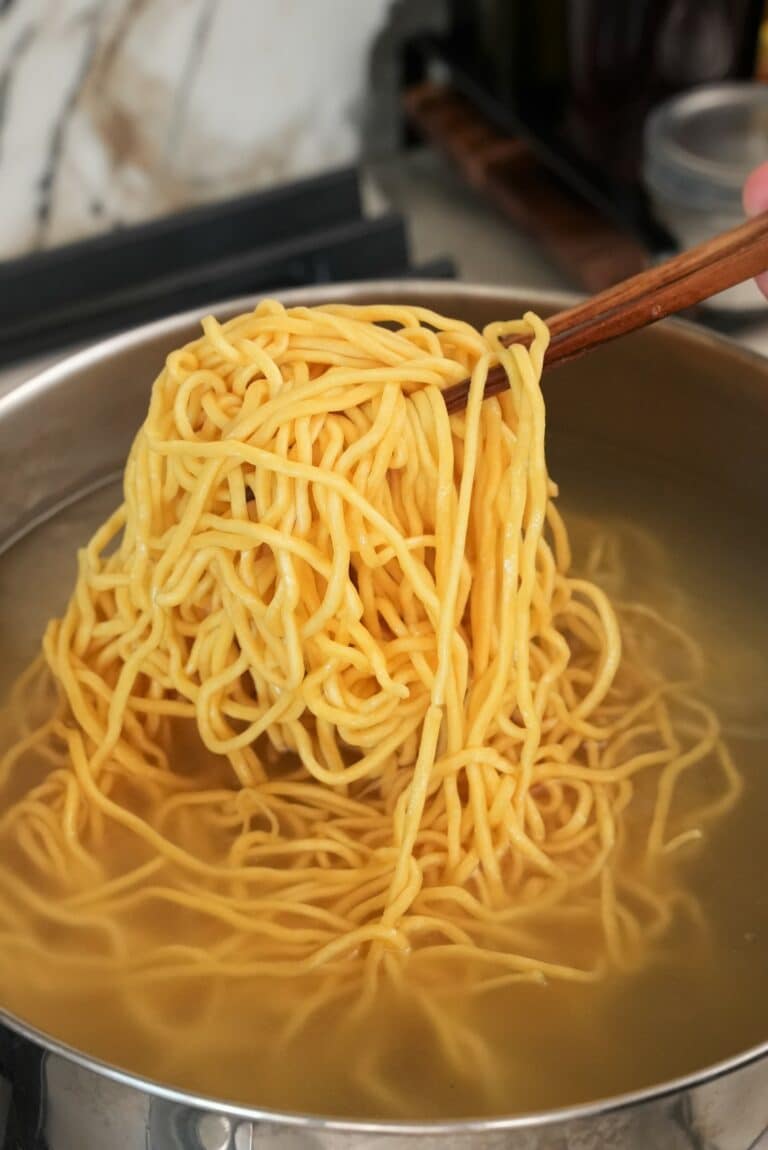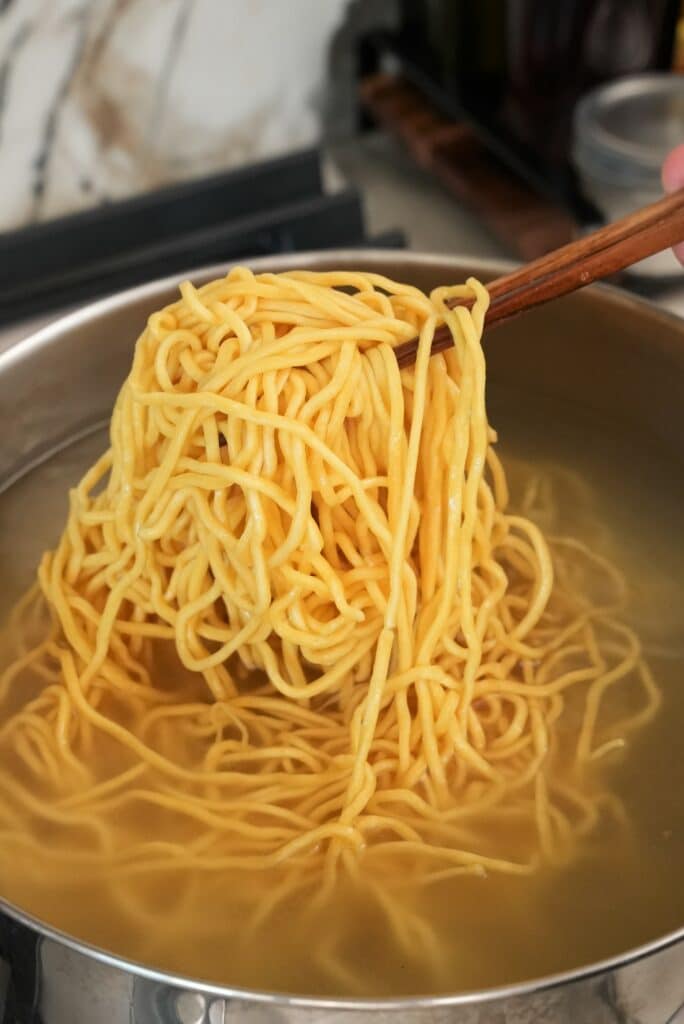 Combine Noodles with Garlic, Butter, and Sauce
Once the noodles are cooked and drained well, add them directly to the garlic and butter. Turn the heat to high, then add your premixed sauce and mix the noodles well to combine.
Finally, top with that freshly grated parmesan cheese and give that a final mix and toss to incorporate it all together.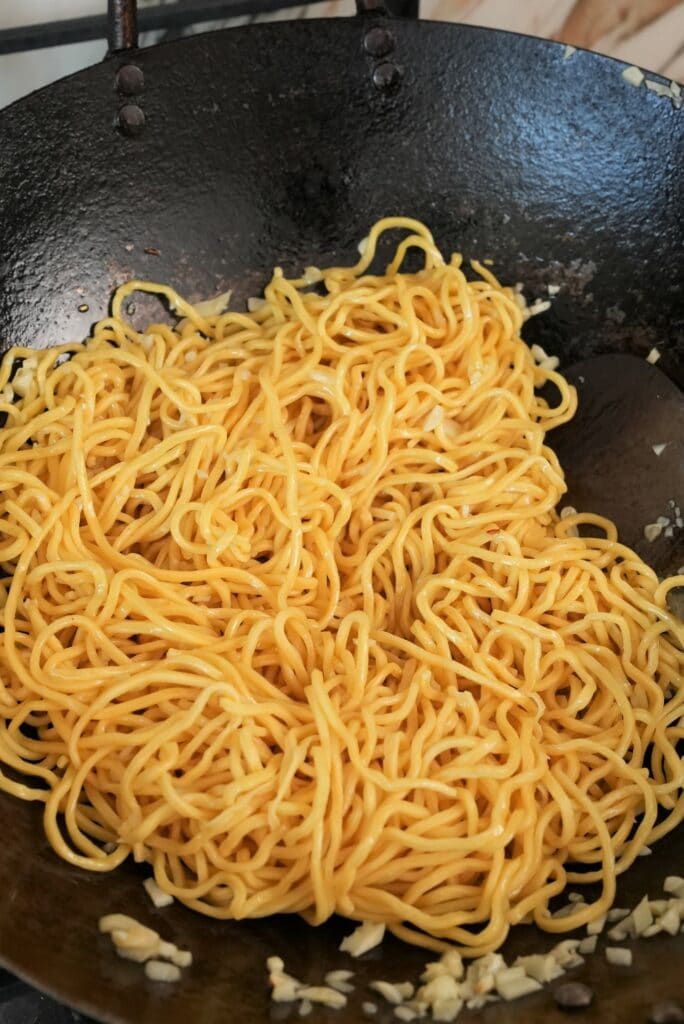 Add freshly chopped scallions and give the noodles a final mix in the pan. Your garlic noodles are ready to enjoy! You can eat them as is or serve them with any protein for a main course!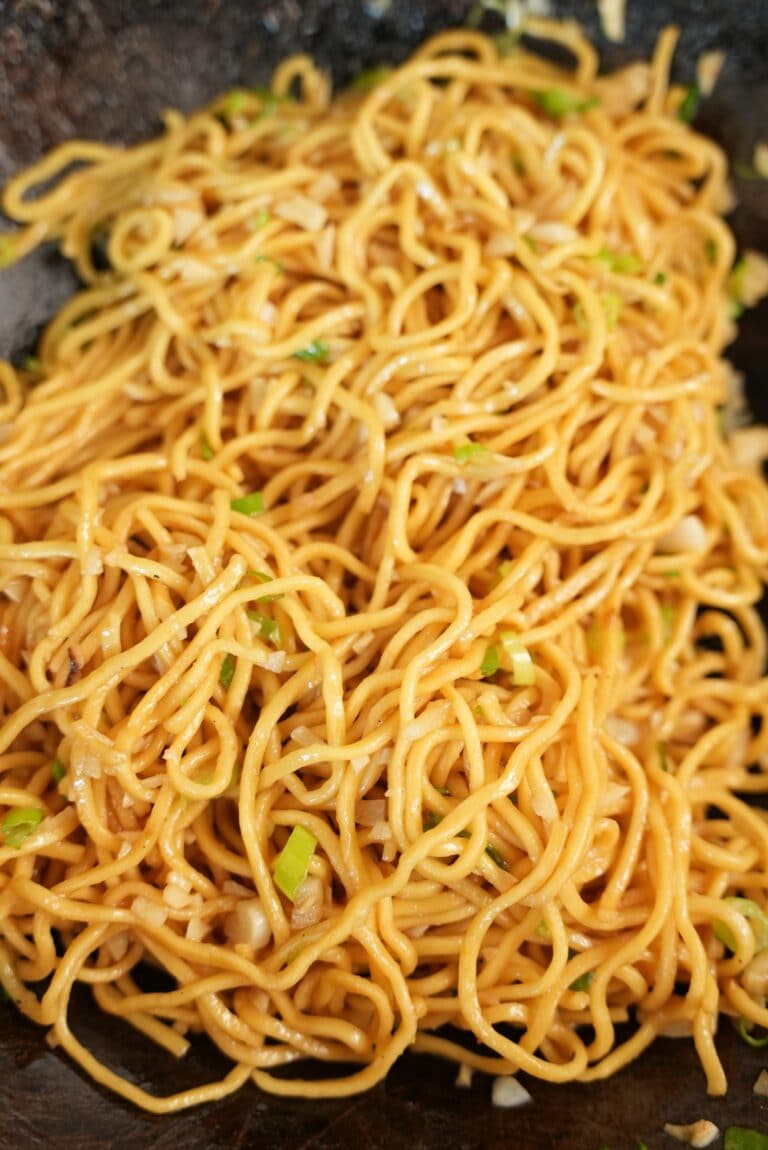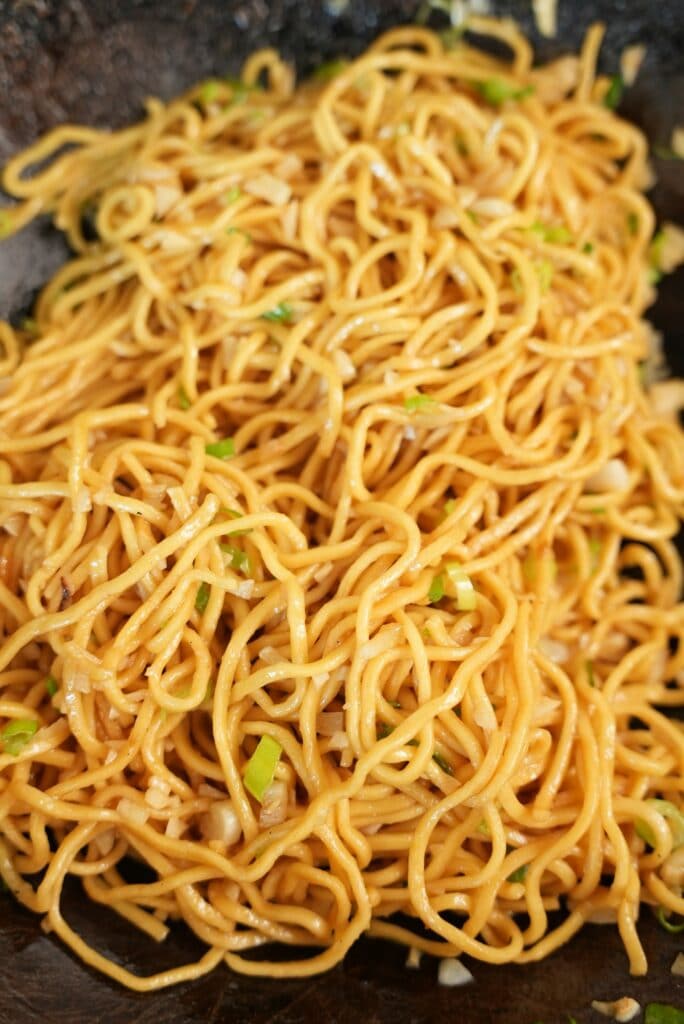 RECIPE TIPS
SUCCESS IS IN THE PREP!
For a recipe that comes together extremely quickly, the key to pulling this recipe off successfully is having your ingredients prepped and in bowls right next to your wok or pan!
ADJUST THE PROTEIN TO YOUR LIKING!
While I made these Garlic Noodles vegetarian, you can add any protein like shrimp, chicken, or steak for a heartier meal!
If you liked these Garlic Noodles, check out some of my other popular noodles recipes!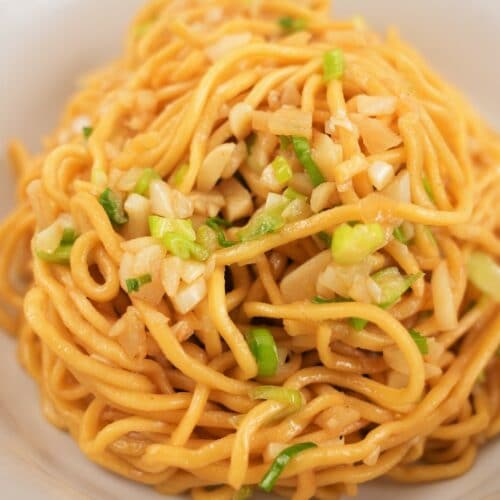 Garlic Noodles
These aromatic and flavorful Garlic Noodles are a quick and delicious way to get an inexpensive meal on the table in about 15 mintues!
Ingredients
16

oz

Noodles

I used Pancit egg noodles

4

tbsp

Unsalted Butter

20

cloves

Garlic

minced

2

tbsp

Oyster Sauce

2

tbsp

Fish Sauce

1

tbsp

Light Soy Sauce

1/4

tsp

MSG

1/2

tbsp

Sugar

1/2

cup

Parmesan Cheese

freshly grated
Instructions
In a small bowl, combine Oyster sauce, Fish sauce, light soy sauce, msg, and sugar. Mix to combine and sugar is dissolved and set aside.

Cook noodles 1 minute under package directions and drain well and set aside.

In a large pan over medium low heat, melt butter, then add minced garlic and sauté for 2 minutes until fragrant but not browned.

Turn the heat up to high, then add cooked noodles and sauce. Mix well until the noodles are combined with the butter, garlic, and sauce and continue cooking for another 1-2 minutes and the noodles are fragrant.

Turn the heat to low, then add parmesan cheese and freshly chopped scallions. Mix well to combine and serve immediately!