Spicy Gochujang Noodles
---
November 6, 2022
---
These Spicy Gochujang Noodles are a staple when I need something spicy and delicious in less than 10 minutes! They're creamy, spicy, and so delicious with a perfect balance of spice, a touch of rice vinegar for acidity, and some sweetness to balance it all out.
You can eat these delicious noodles anytime of the day! They're incredibly delicious and come together in about 10 minutes!
Watch the Spicy Gochujang Noodles Recipe Video Below!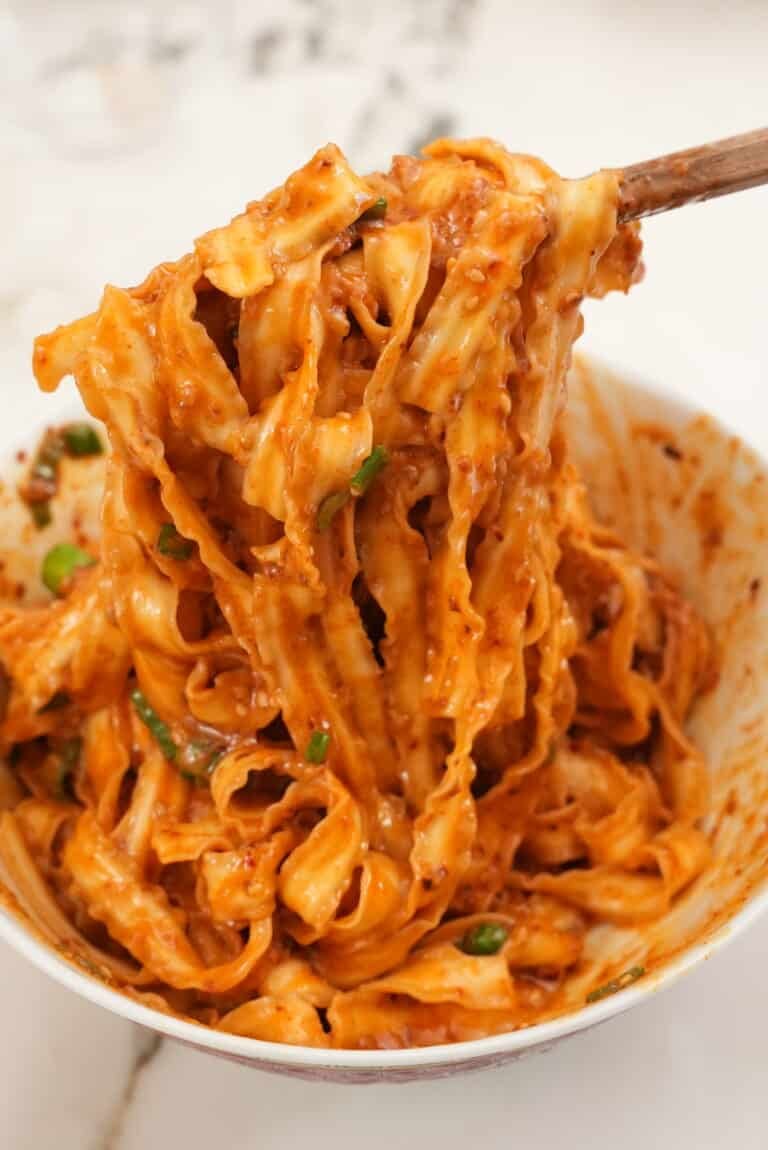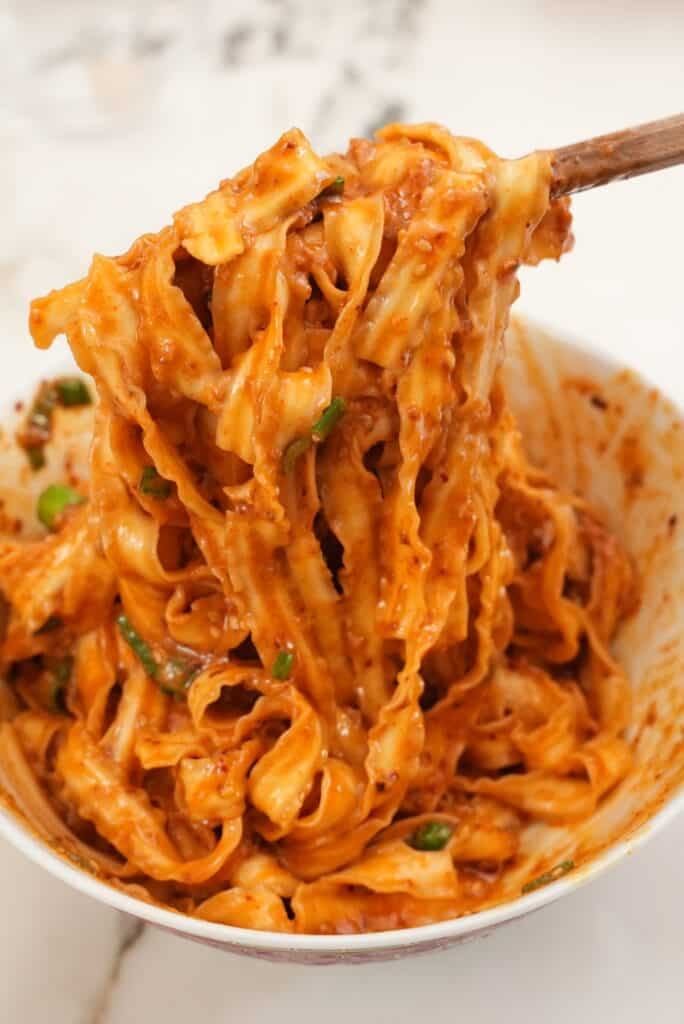 Ingredients for Spicy Gochujang Noodles
This recipe only calls for a few ingredients to make these delicious spicy gochujang noodles! Here is what you'll need:
Dried noodles
Gochugaru
Gochujang
Scallions
Garlic
Sesame Seeds
Neutral Oil
Sesame Paste
Mirin
Light Soy Sauce (low sodium)
Rice Vinegar
Sesame Oil
MSG (optional)
Reserved noodle cooking water
I always like to garnish mine with freshly chopped scallions and extra chili oil!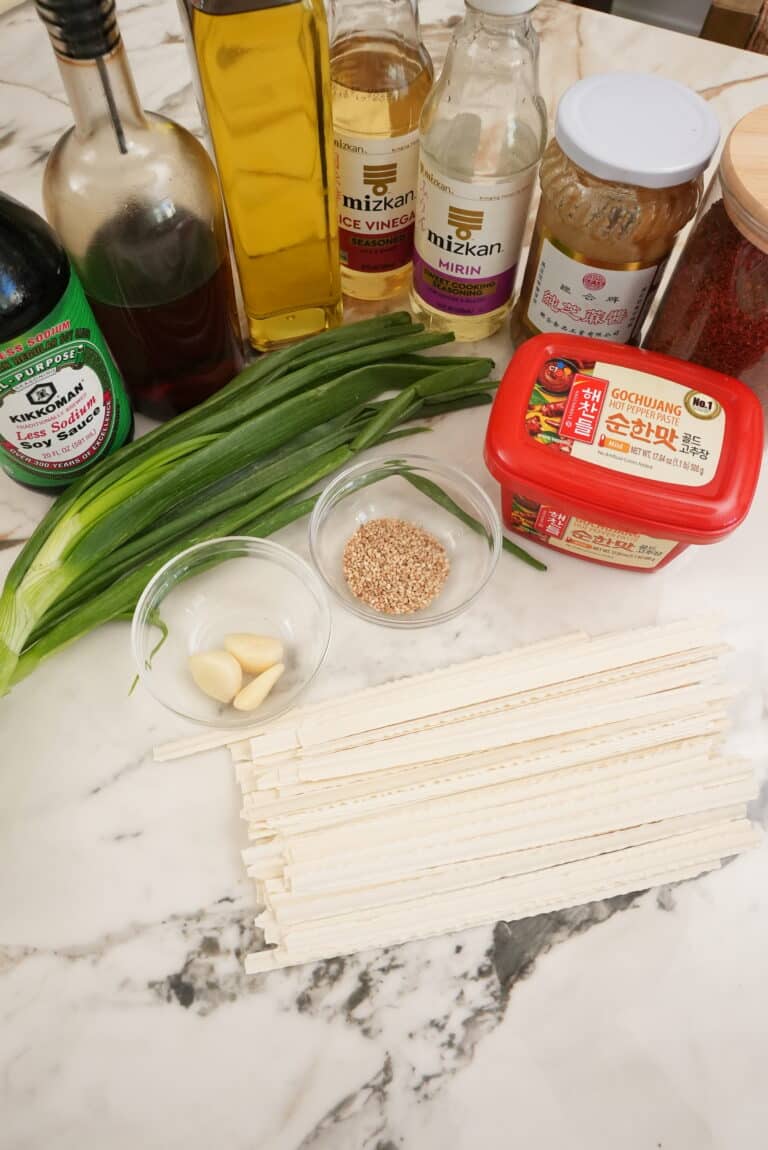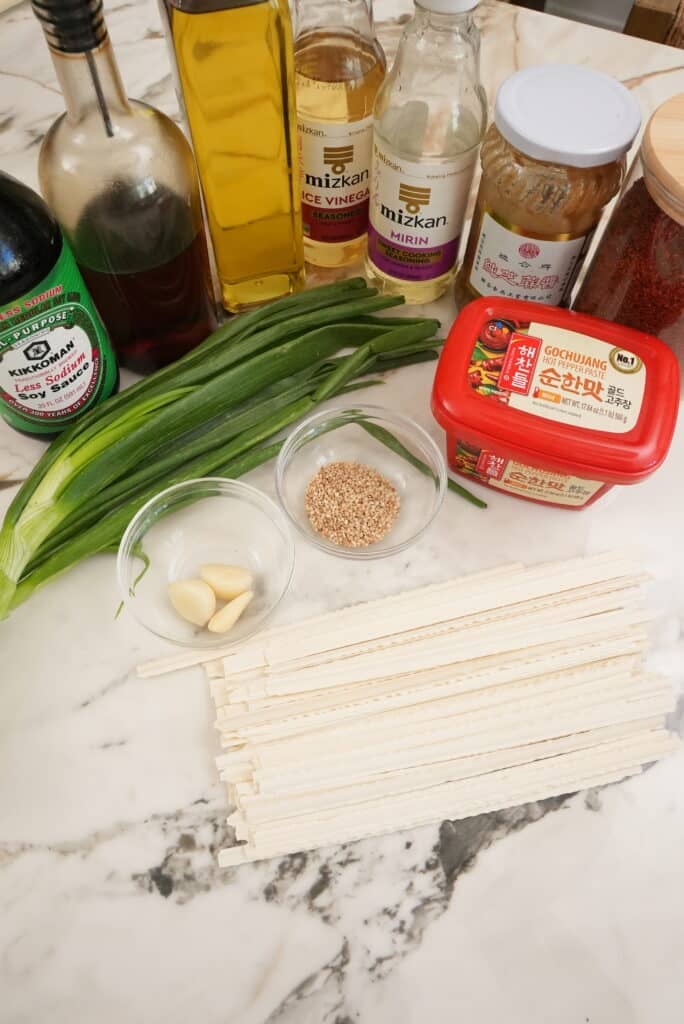 These are the wheat noodles I used – the brand is Wu-Mu and they are thin noodles that are perfect for soaking up this sauce. I found them at my local 99 ranch.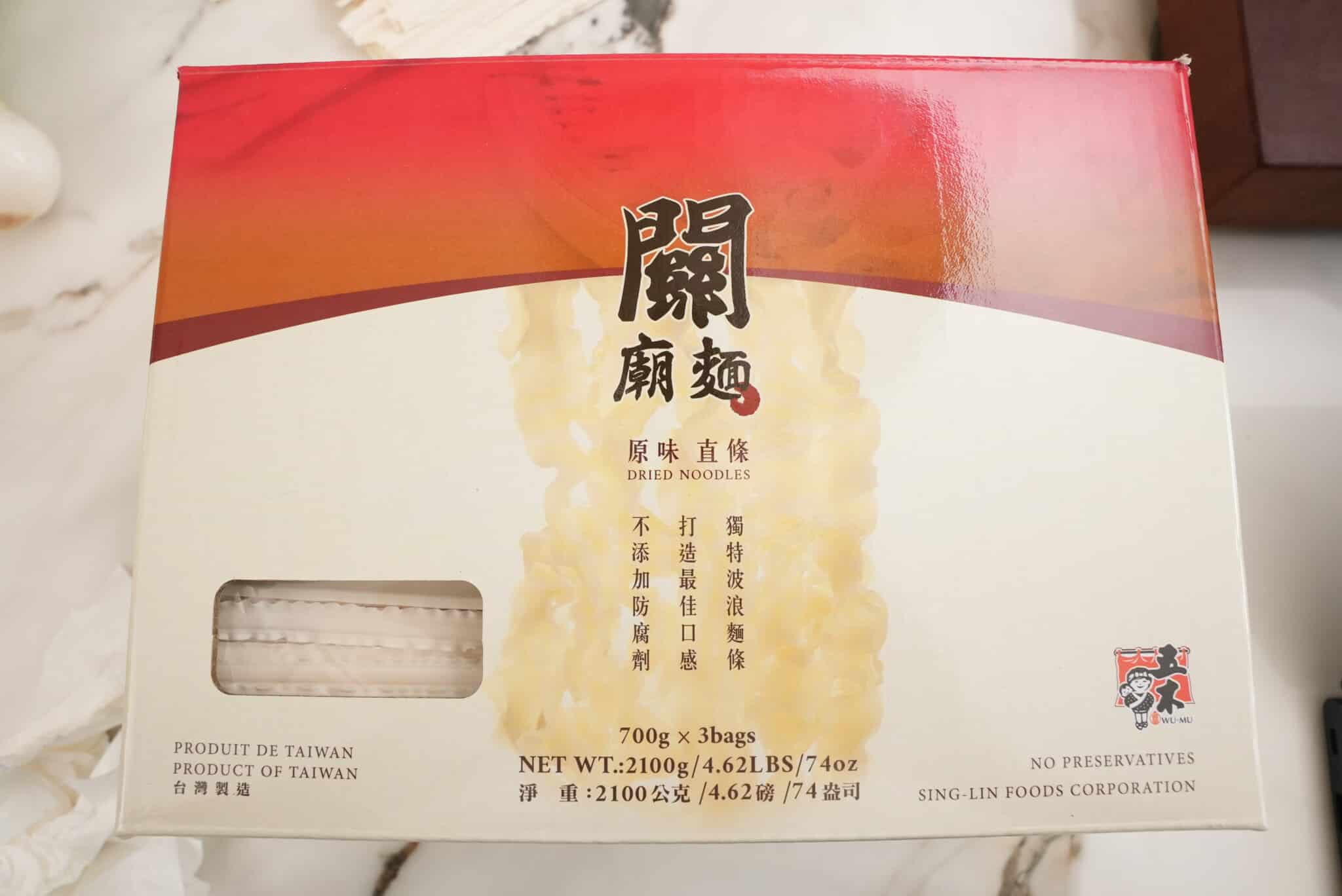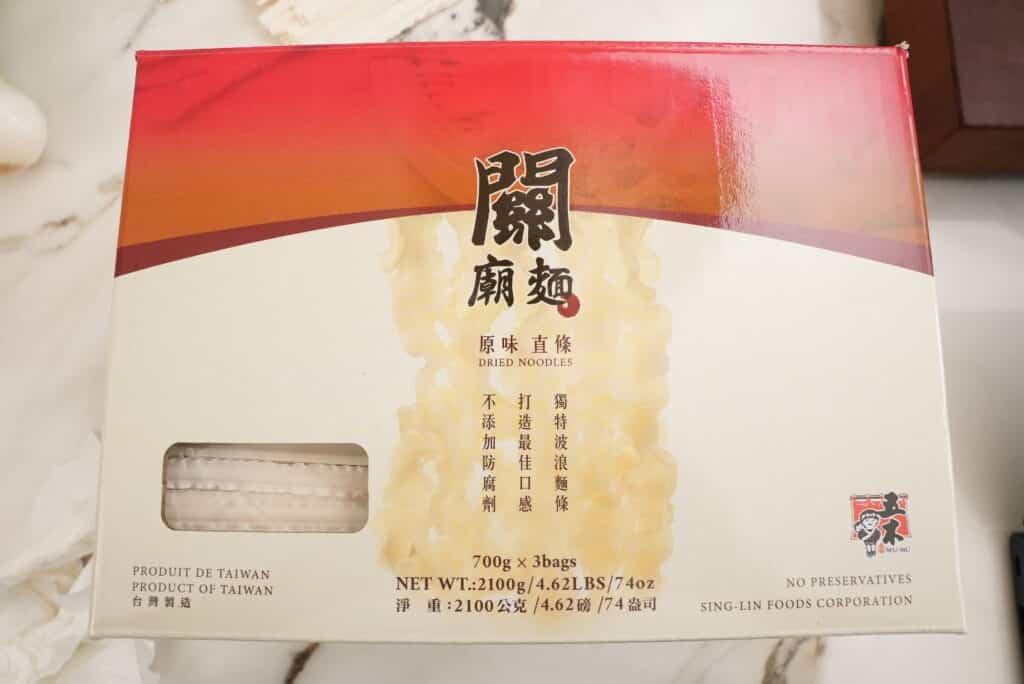 Ingredient Tips
INGREDIENTS TIPS
DRIED WHEAT NOODLES
The photo above shows the exact type of wheat noodles I'm using. They are a taiwanese brand called Wu-Mu and they make these thin noodles that are perfect for this recipe. I found these at my local 99 ranch.
MIRIN
Feel free to substitute 1:1 with sugar if you do not have mirin.
SESAME PASTE
I used Chinese Sesame Paste for this recipe but you can substitute with equal parts creamy peanut butter. The brand I used is below!
LIGHT vs. DARK SOY SAUCE
Yes, they're different! Dark soy sauce is thicker, darker, and sweeter (as well as has a higher sodium content) than regular soy sauce. If you do not have dark soy sauce on hand, you can substitute with oyster sauce.
Spicy Gochujang Noodles: Recipe Instructions
To begin, take a heatproof bowl and add grated garlic, gochujang, gochugaru, scallions, and sesame seeds.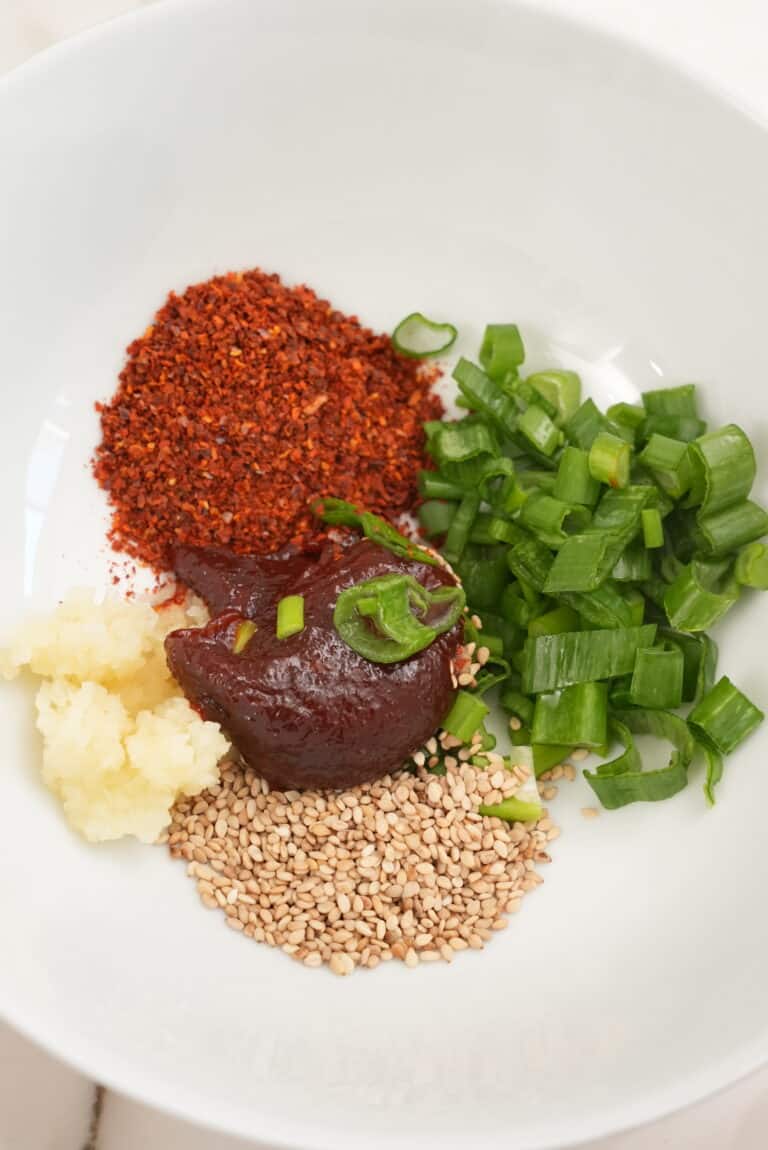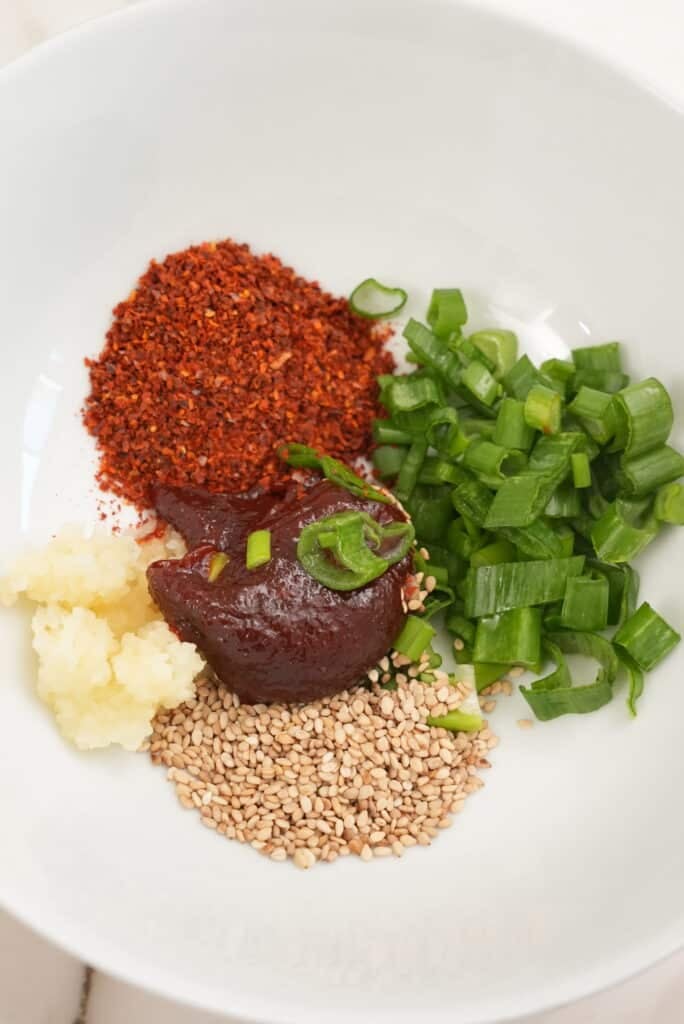 In a small saucepan, heat 3 tablespoons of neutral oil until it reaches 350-375F then carefully pour the hot oil into the bowl with your ingredients. Give it a good stir with the hot oil to mix together. Once the sauce it mixed, add sesame paste, mirin, light soy sauce, rice vinegar and sesame oil to and mix to combine your sauce.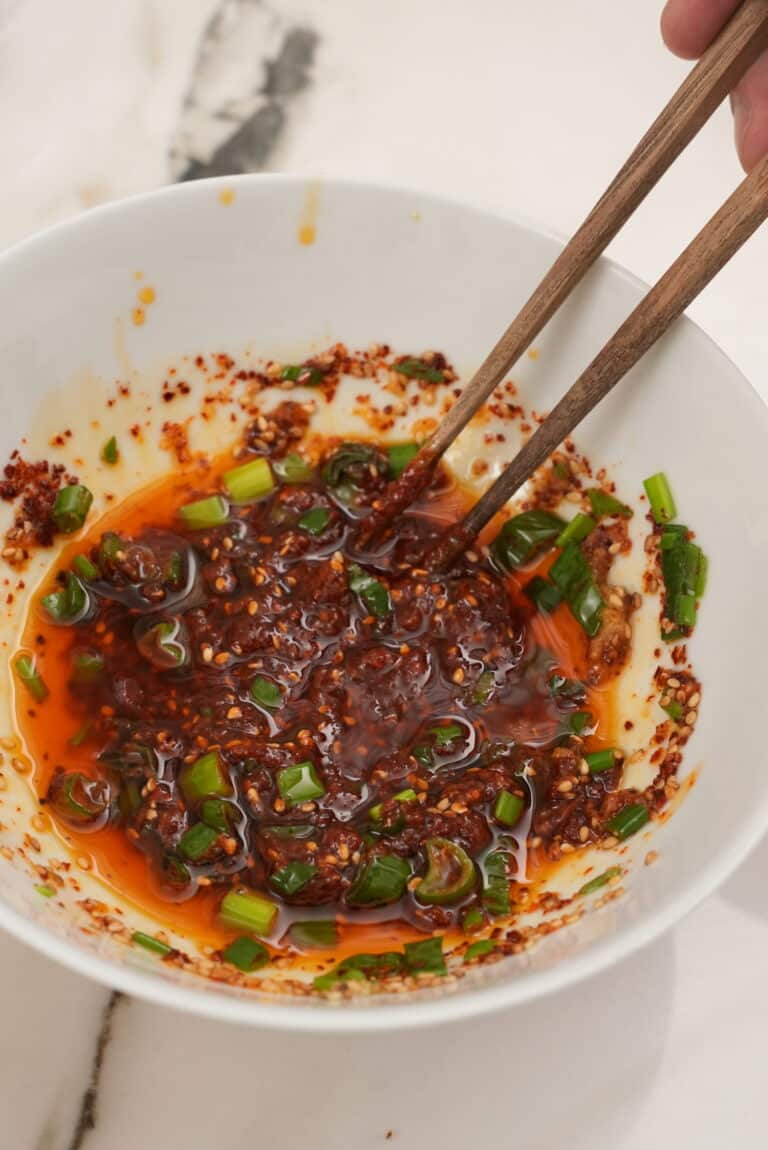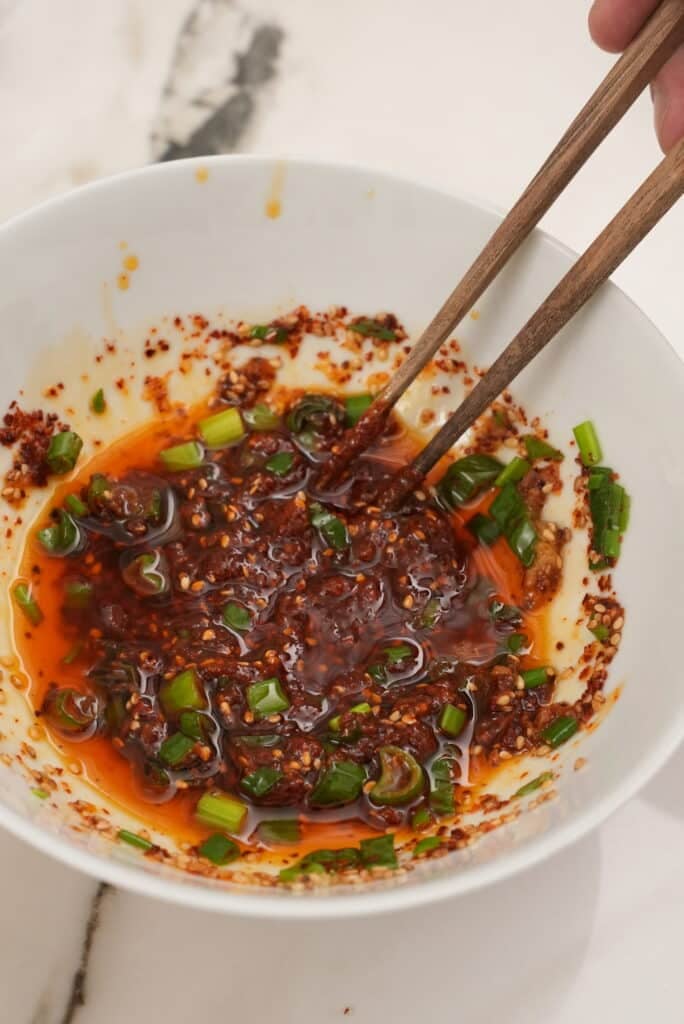 Finally, boil your noodles according to package directions. Drain them then add them directly to the sauce. If you want to eat this dish cold, drain the noodles and rinse them under cold water before adding to the sauce. In either case, reserve some of the noodle cooking water to loosen the sauce as needed.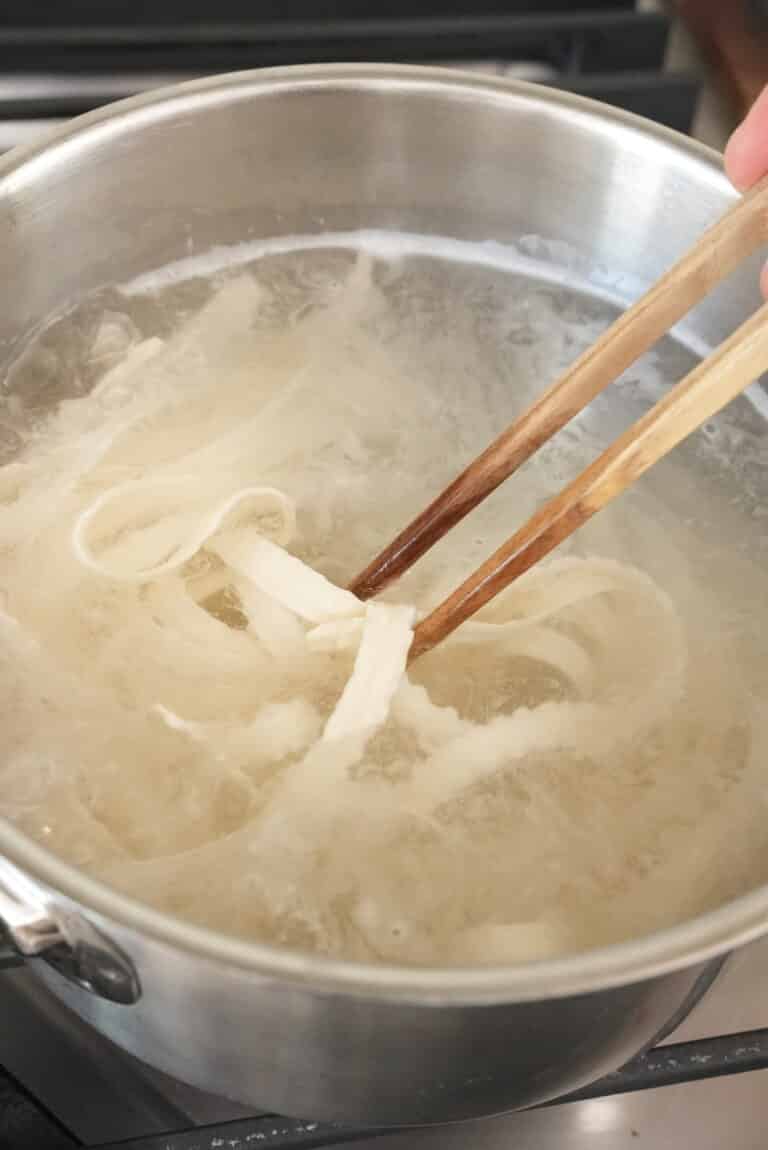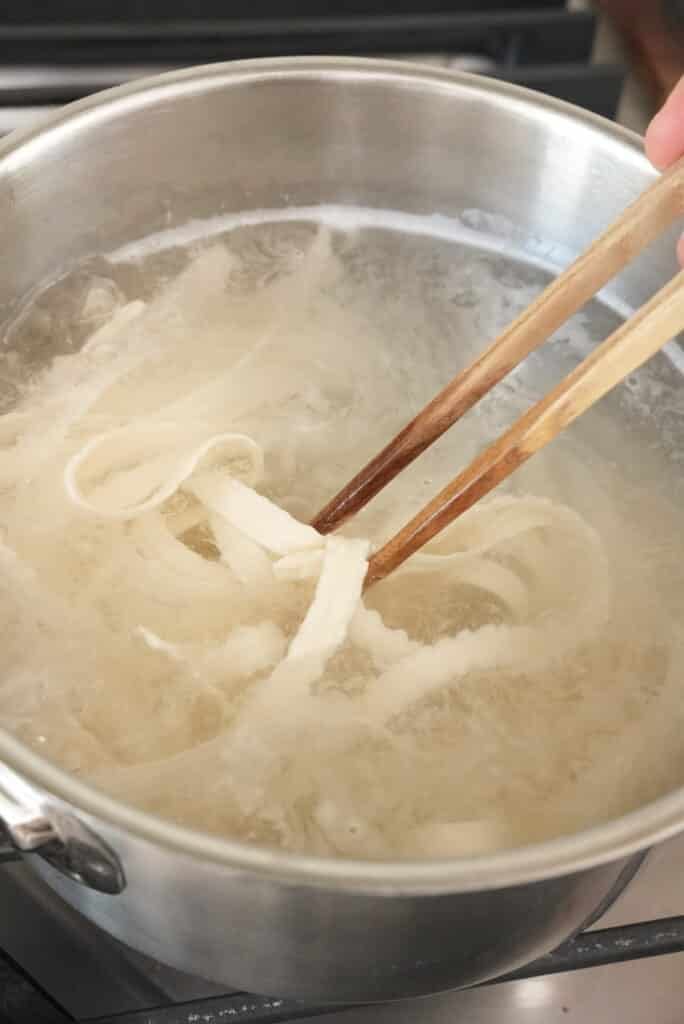 RECIPE TIPS
SHOCK NOODLES IN COLD WATER
If you are eating Cold Sesame Noodles, it is imperative to stop the noodles from cooking once boiled, so run them under cold water or shock them in an ice bath to stop the cooking process! Otherwise, your noodles will continue to cook and then become mushy. If enjoying the noodles hot, simply mix them into the sauce
GARNISH
You can garnish your noodles with freshly chopped scallions, crushed peanuts and sliced cucumber!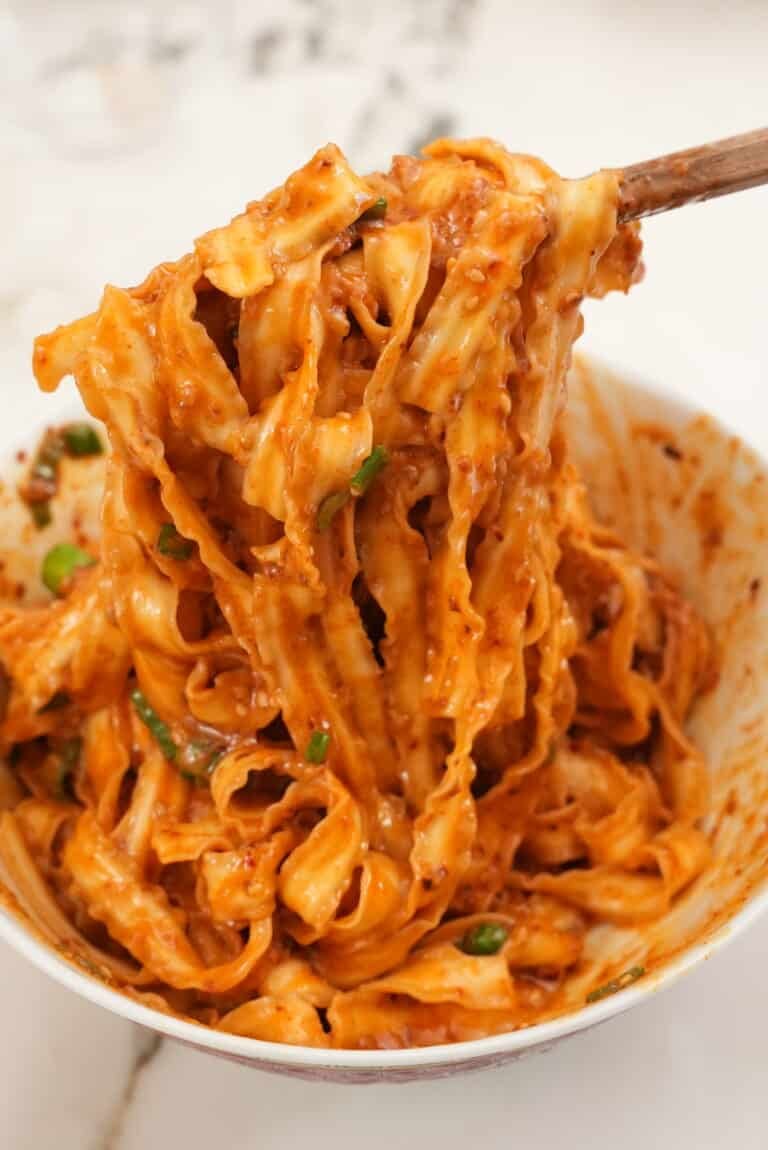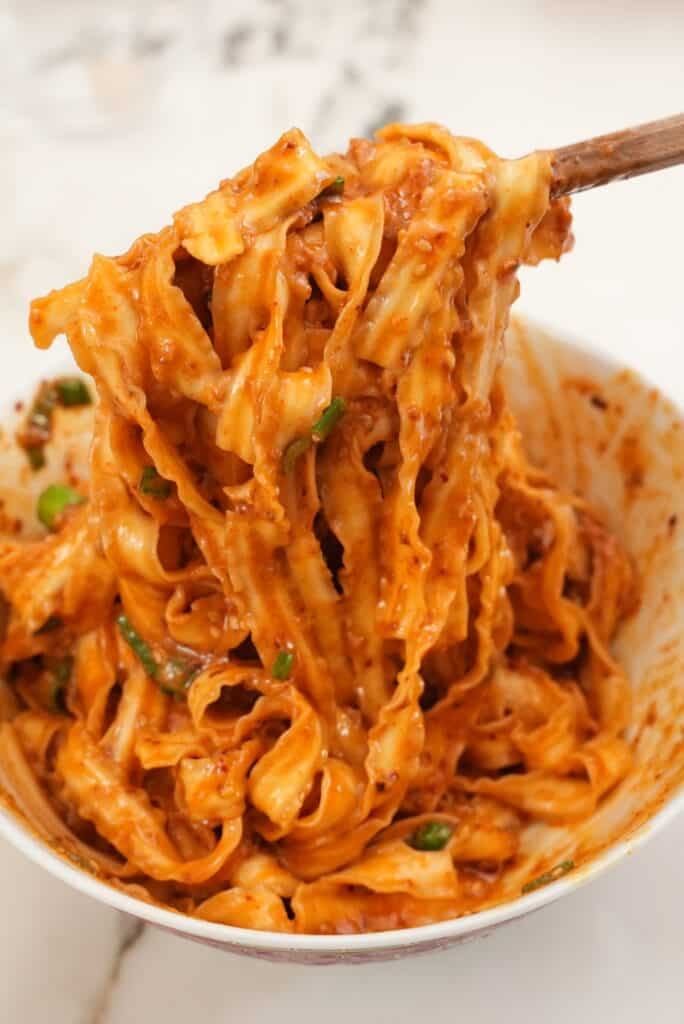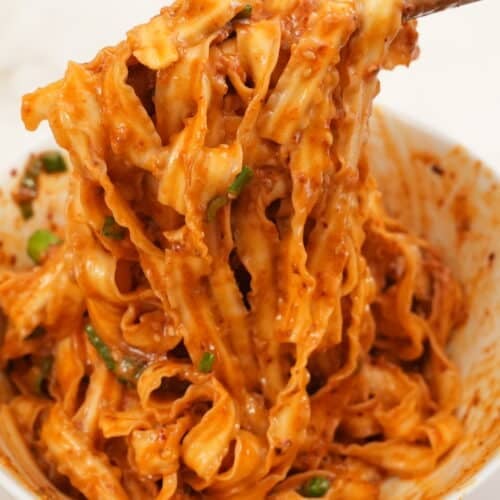 Spicy Gochujang Noodles
These 10 minute Spicy Gochujang Noodles are perfect for a quick meal when you don't have a lot of time! The sauce comes together in minutes and the noodles are spicy, creamy, and delicious!
Ingredients
6

oz

dried noodles

2

tsp

gochugaru

1

tbsp

gochujang

2

scallions

chopped

3

cloves

garlic

minced

1

tsp

sesame seeds

3

tbsp

neutral oil

2

tbsp

sesame paste

1

tbsp

mirin

or sugar

2

tbsp

light soy sauce

low sodium

1

tbsp

rice vinegar

1

tsp

sesame oil

1/4

tsp

msg

optional

1/2

cup

reserved noodle cooking water
Instructions
In a heatproof bowl, combine scallions, garlic, sesame seeds, gochugaru, and gochujang. Heat 3 tbsp of neutral oil in a pot to 350F-375F and add to the bowl. Stir to combine.

In the same bowl, add sesame paste, mirin, light soy sauce, rice vinegar, sesame oil and mix to combine to form the sauce.

Cook dried noodles according to package directions. Drain, reserving 1/2 cup of noodle cooking water, then add the noodles directly to the sauce.

Mix the noodles well, using reserved cooking water to loose the sauce as needed.

Garnish with scallions and sesame seeds and enjoy!