Spicy Peanut Noodles
---
March 24, 2022
---
If you like spice and enjoyed my Sesame Peanut Noodles, you're going to love this spicer version! I amped up the chili oil and added Szechuan chili flakes to give it a warming spice. The sauce comes together in about 10 minutes and is super creamy and delicious with my favorite noodles!
Watch the Spicy Peanut Noodles Recipe Video Below!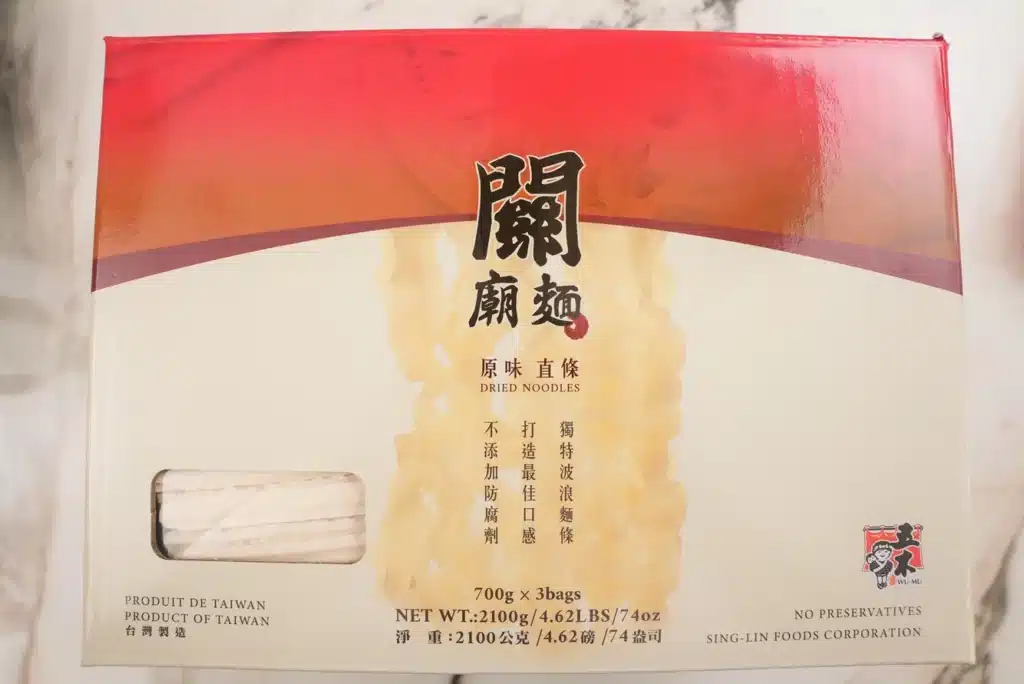 INGREDIENTS TIPS
NOODLES
Pictured above are the EXACT noodles I used for this recipe! The wavy, bouncy texture is perfect for picking up the creamy sauce. I got these from 99 Ranch – hopefully you can find them at your local Asian grocery!
SESAME PASTE
I used sesame paste in this recipe but you can sub with creamy peanut butter (not chunky!) Chinese sesame paste is made from toasted sesame seeds, so it has a deeper flavor than tahini. A natural peanut butter is more similar to what is called for in this recipe than tahini BUT in a pinch, you can also sub with tahini (and add a little bit of sesame oil).
CHILI OIL
I always get asked which brand of chili oil I use at home and my answer is – my own! I love making my own chili oil – check out my Sichuan Chili Oil recipe here!
CHINESE BLACK VINEGAR
I love Chinese black vinegar because it has a strong, smoky flavor that goes well with soy sauce and spice. If you don't have any on hand, you can try subbing with rice vinegar 1-1. However, I do recommend you pick up a bottle of Chinese black vinegar if you cook Chinese food at home.
MSG
As always, this is optional 🙂
RECIPE TIPS
NOODLE COOKING WATER
The water you cooked your noodles in are key to this dish! You will need to reserve some of them to help loosen up your sauce when putting the dish together. This will help create a beautiful, creamy texture.
SERVE IMMEDIATELY!
This sauce will thick as it sits after being mixed with the noodles, so I highly recommend you serve & enjoy these immediately after cooking. (Definitely not a potluck meal!) If you must pre-make them, I would reserve some extra water from cooking your noodles and add them HOT to loosen up the noodles before serving.
Spicy Peanut Noodles
Ingredients
6

oz

noodles

2

tbsp

creamy peanut butter or sesame paste

2

tbsp

chili oil

1/2

tsp

szechuan chili flakes

1

tbsp

sesame seeds

1

tbsp

Chinese black vinegar

2

tbsp

light soy sauce

1/2

tbsp

sugar

2

cloves

garlic

grated

1/4

tsp

MSG

optional

1/4

cup

noodle cooking water

use as needed to loosen sauce
Garnish
2

scallions

chopped

2

tbsp

crushed peanuts

garnish as desired

chili oil

garnish as desired
Instructions
In a bowl, combine peanut butter or sesame paste along with sesame seeds, chili oil, Chinese black vinegar, light soy sauce, sugar, grated garlic, and msg. Mix until combined and the sauce is smooth.

Cook noodles according to package directions or desired doneness. Mix in 1/4 cup of the cooking water to the sauce mixture to create your sauce, then add the drained noodles and mix.

Top with crushed peanuts, scallions, and chili oil and enjoy!