Spicy Garlic Ramen
---
August 4, 2023
---
These Spicy Garlic Ramen are perfect way to warm you up with this cooler weather and can be made in less than 10 minutes! They're spicy, aromatic, and so delicious. If you're looking for an incredible spicy noodle dish that won't break the bank, give this recipe a try!
I used the ramen bricks from a couple packages of Shin ramen that I had in my pantry, but any dried noodle will work for this recipe!
Watch the Spicy Garlic Ramen Recipe Video Below!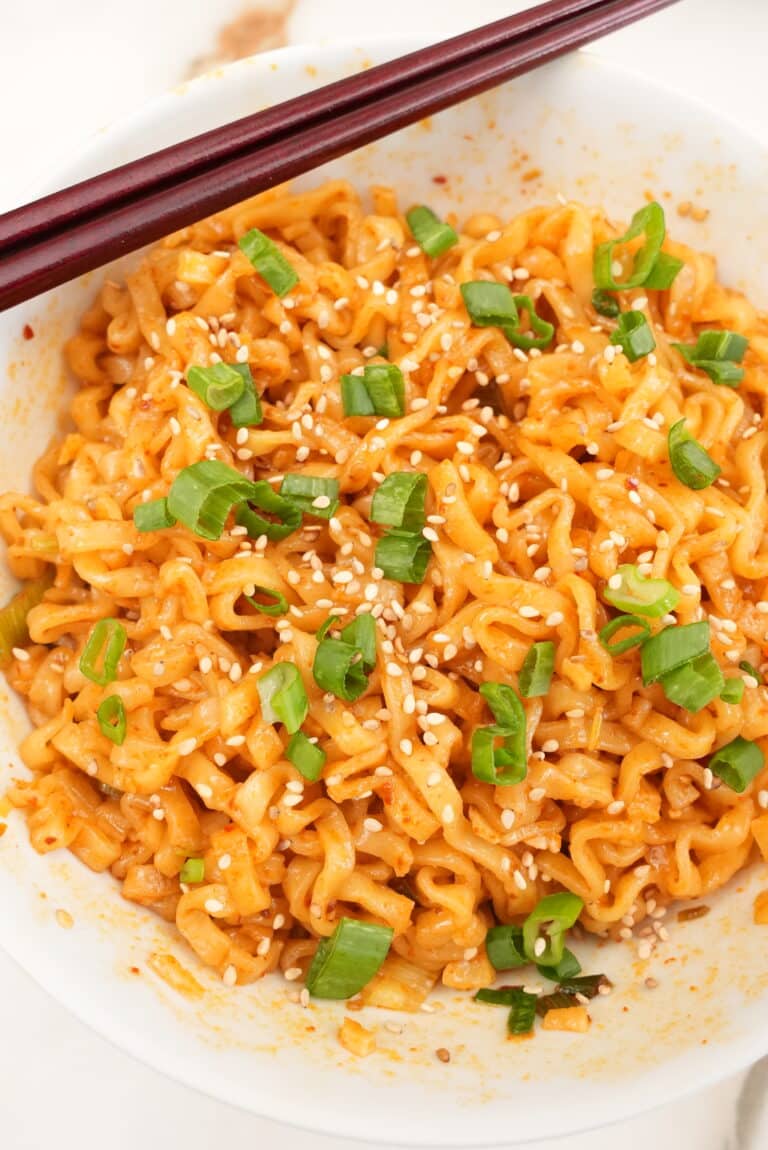 Ingredients for Spicy Garlic Ramen
This recipe only calls for a few ingredients to make delicious these delicious Spicy Garlic Ramen noodles! Here is what you'll need:
Dried ramen noodles (2 portions)
Garlic
Scallions
Gochugaru (or dried red chili flake)
Neutral oil
Light Soy Sauce (low sodium)
Oyster Sauce
Sriracha
Brown Sugar
White Pepper
Water
Reserved cooking water
I always like to garnish mine with freshly chopped scallion, crushed peanuts and extra chili oil!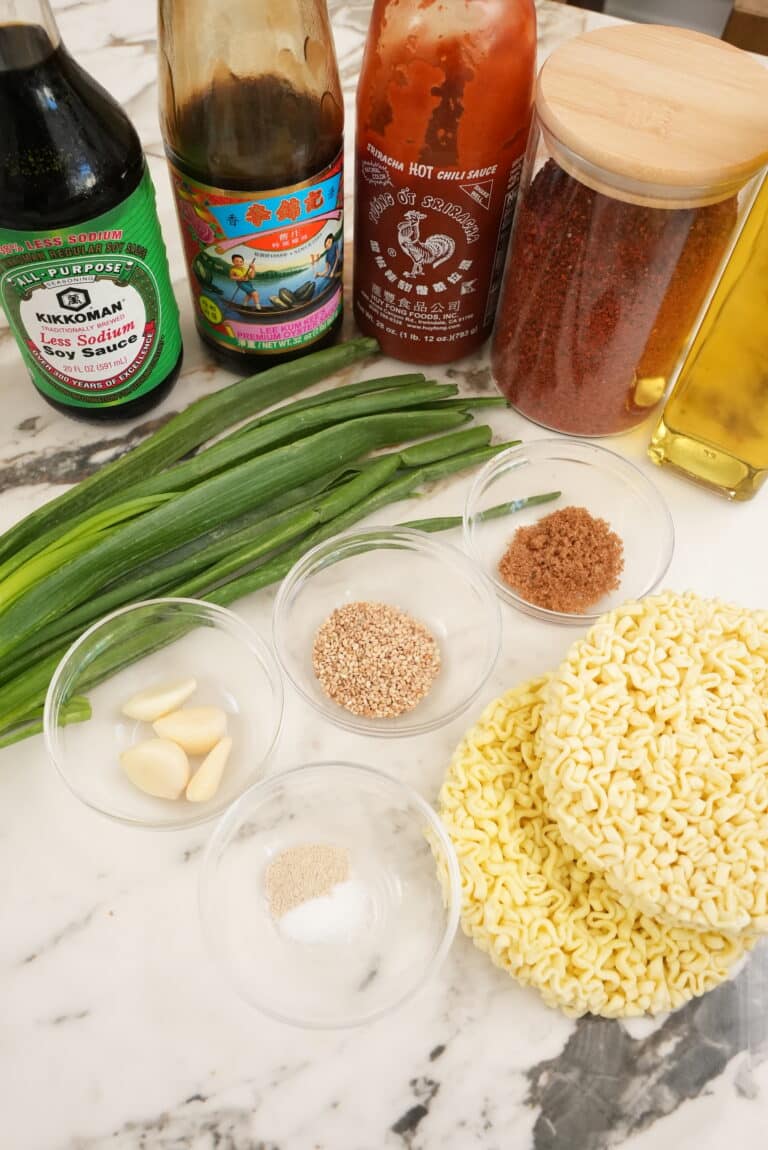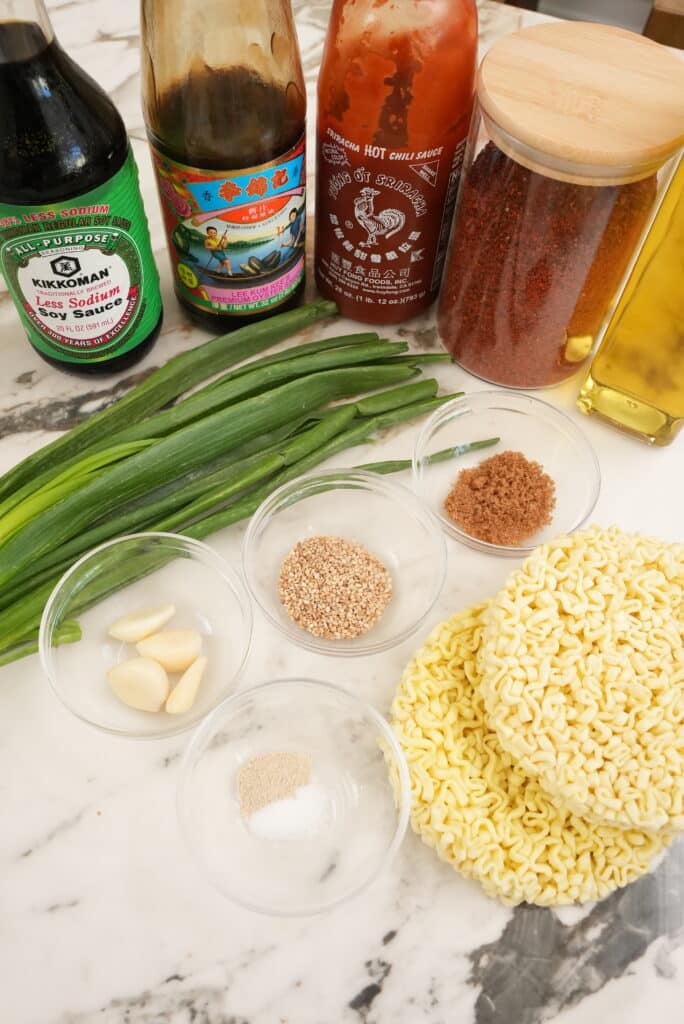 Ingredient Tips
INGREDIENTS TIPS
DRIED WHEAT NOODLES
The photo above shows the exact type of ramen noodles I'm using. These were taken from a Shin ramen package and they make ramen noodles that are perfect for this recipe. I found these at my local 99 ranch.
SRIRACHA
You can add as much or as little as you like here or use chili oil instead! I have a homemade version that I make all the time. You can find the recipe here.
LIGHT vs. DARK SOY SAUCE
Yes, they're different! Dark soy sauce is thicker, darker, and sweeter (as well as has a higher sodium content) than regular soy sauce. If you do not have dark soy sauce on hand, you can substitute with oyster sauce.
Spicy Garlic Ramen: Recipe Instructions
Combine the Sauce
To begin, take a bowl or jar and combine light soy sauce, oyster sauce, sriracha, brown sugar, white pepper, and water. Stir with a fork or whisk until the sauce is combined and smooth!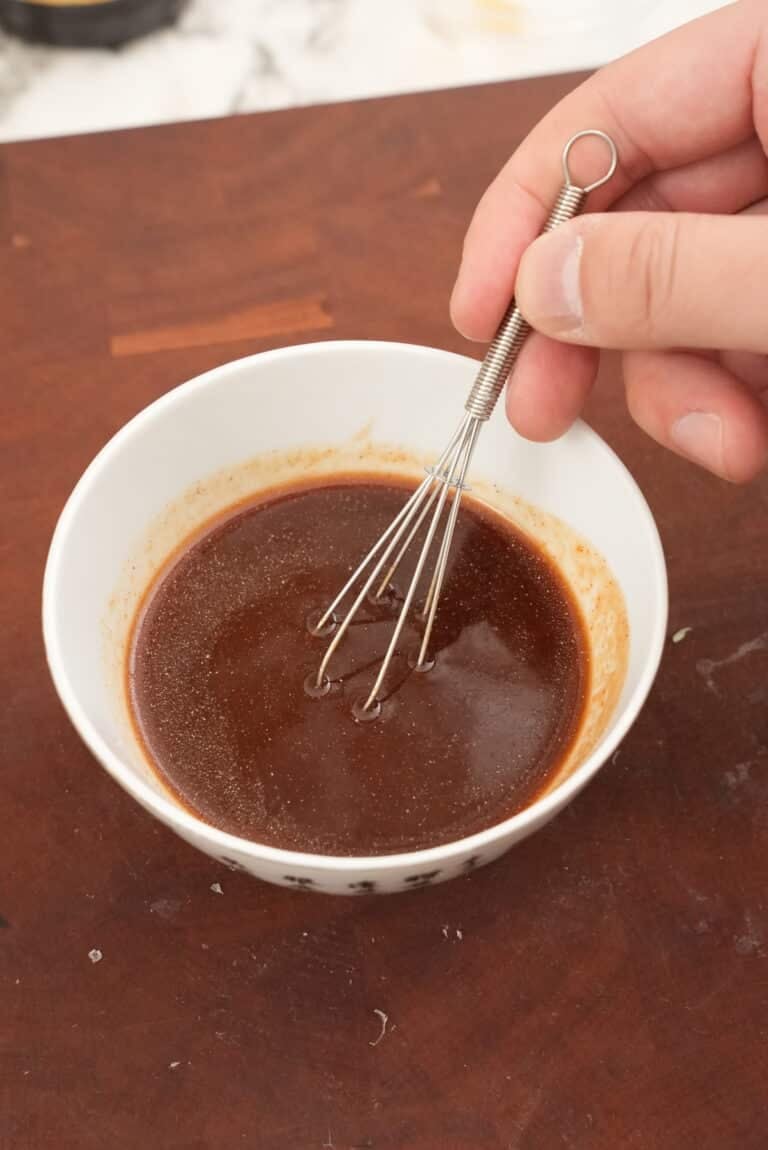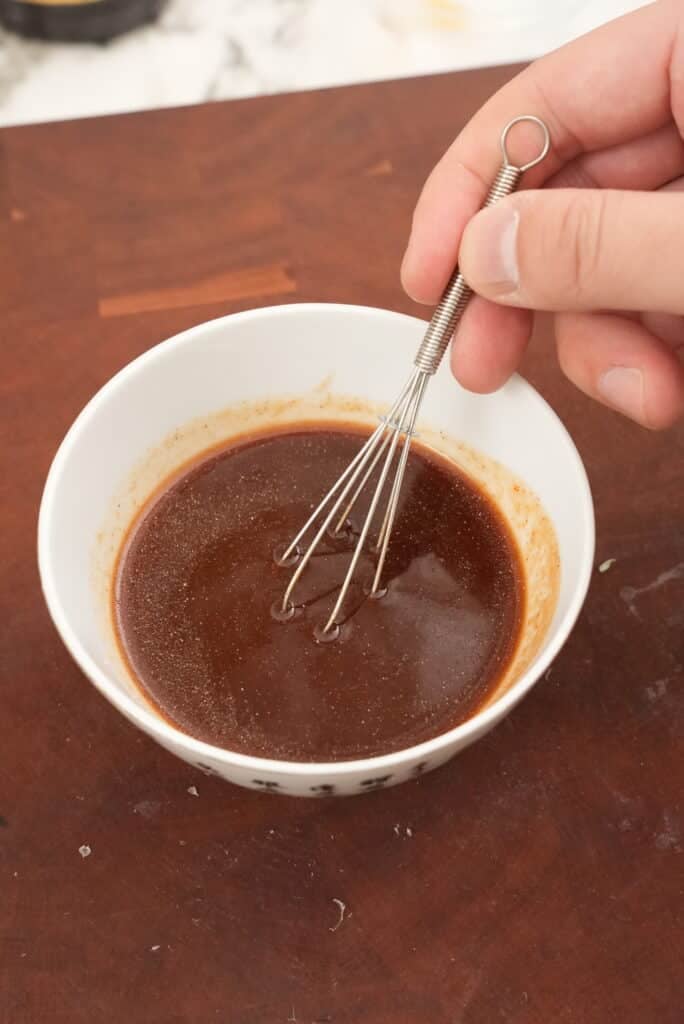 Sauté the aromatics
Once the sauce is combined, the next step is to sauté the aromatics. Over medium high heat, add 2 tsp of neutral oil and sauté garlic, scallion, and gochugaru until fragrant (about 30 seconds).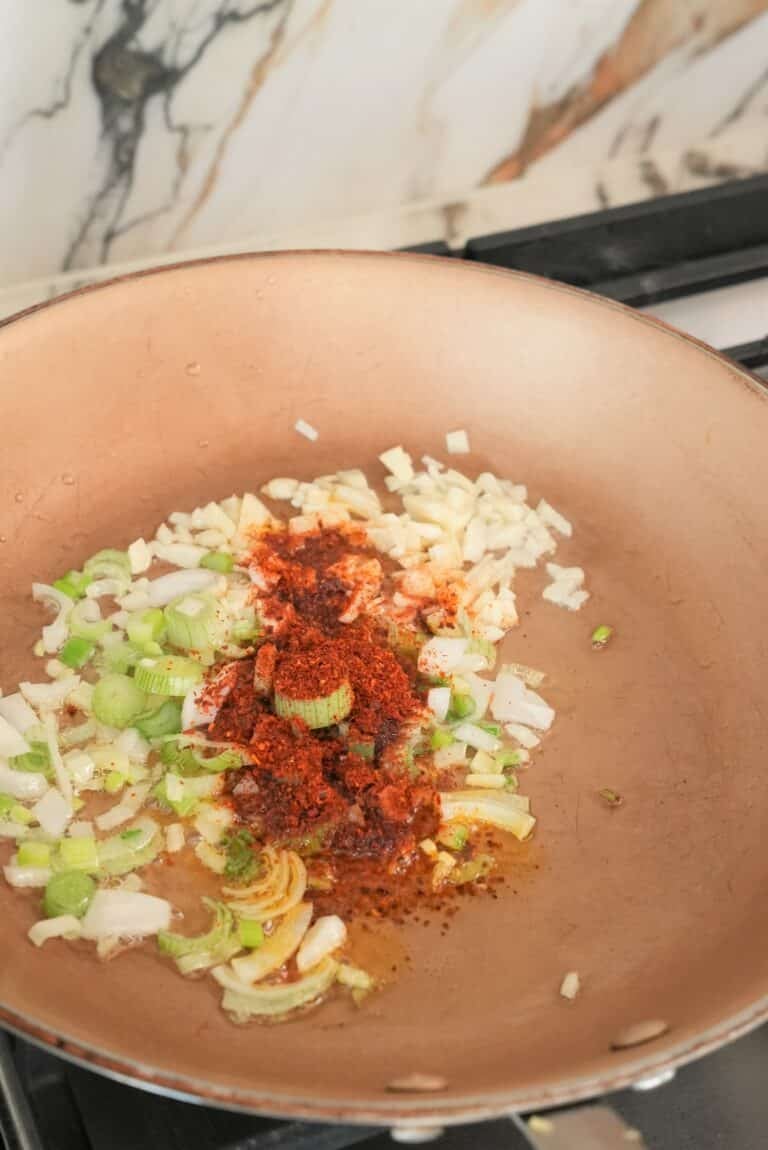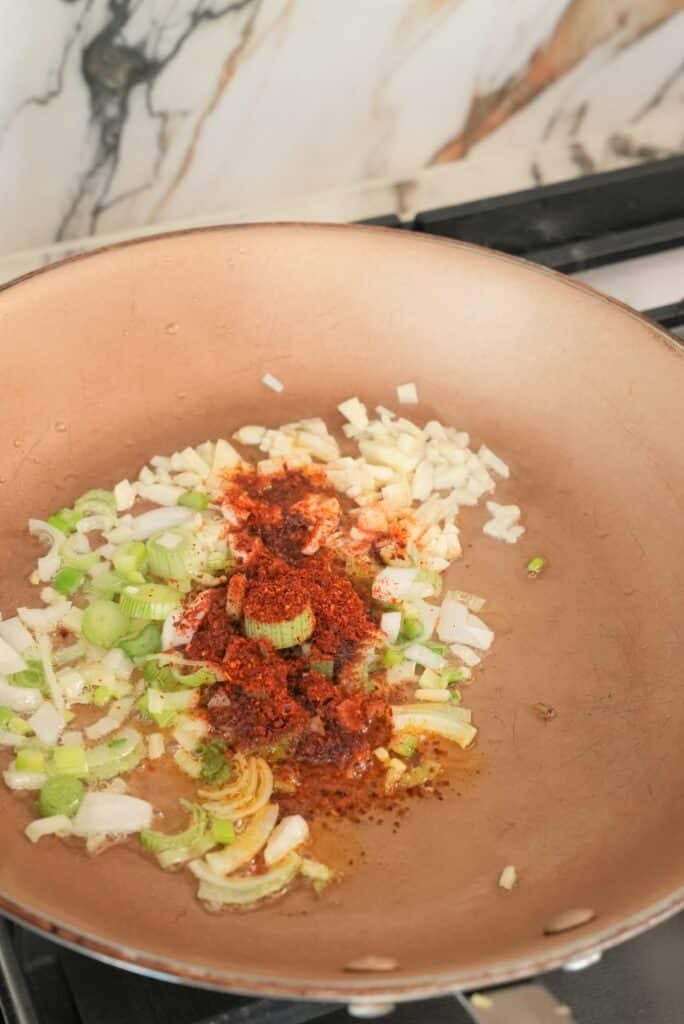 Next, boil your noodles according to package directions. Drain them, making sure to reserve about 1/2 cup of noodle cooking water, then immediately add the noodles into the aromatics.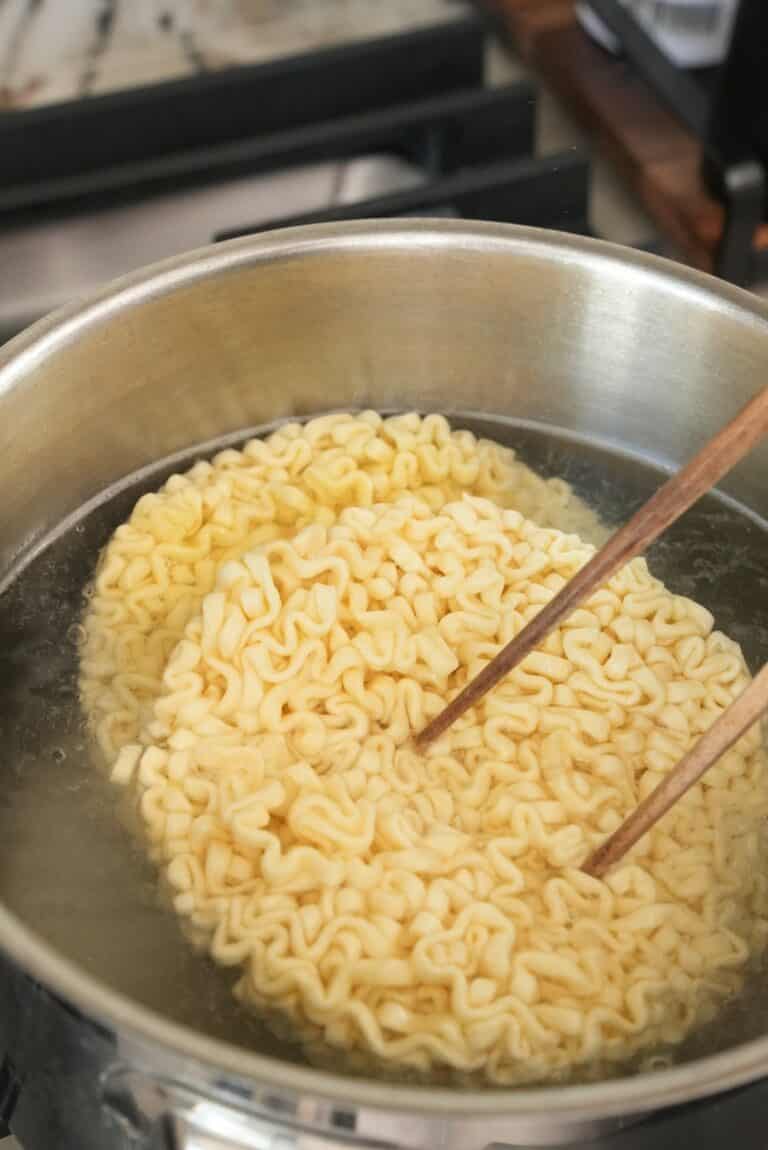 RECIPE TIPS
NOODLE COOKING WATER
Be sure to reserve at least a 1/2 cup of noodle cooking water in order to help loosen up the sauce with the ramen noodles.
GARNISH
You can garnish your noodles with freshly chopped scallions, crushed peanuts and sliced cucumber!
Finally, add the sauce and mix well until the ramen noodles are thoroughly combined with the sauce. If the noodles are too dry, add a bit of the reserved cooking water to loosen them up and get the sauce to a thinner consistency.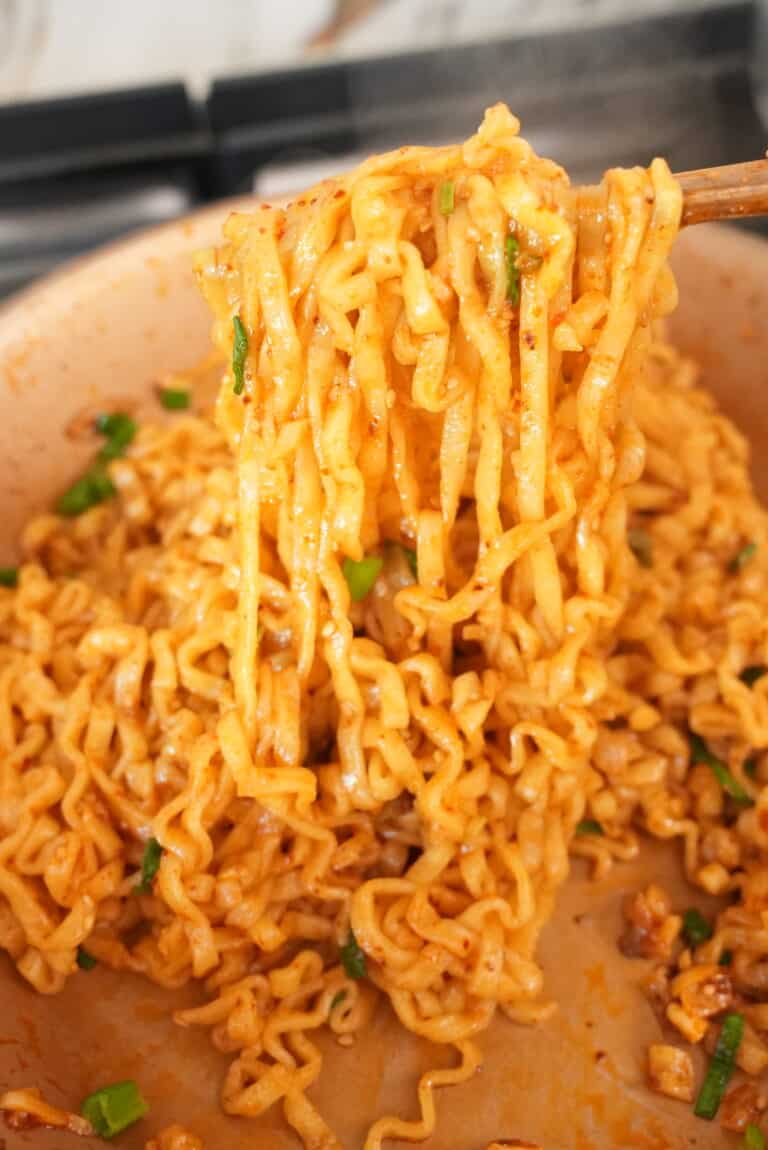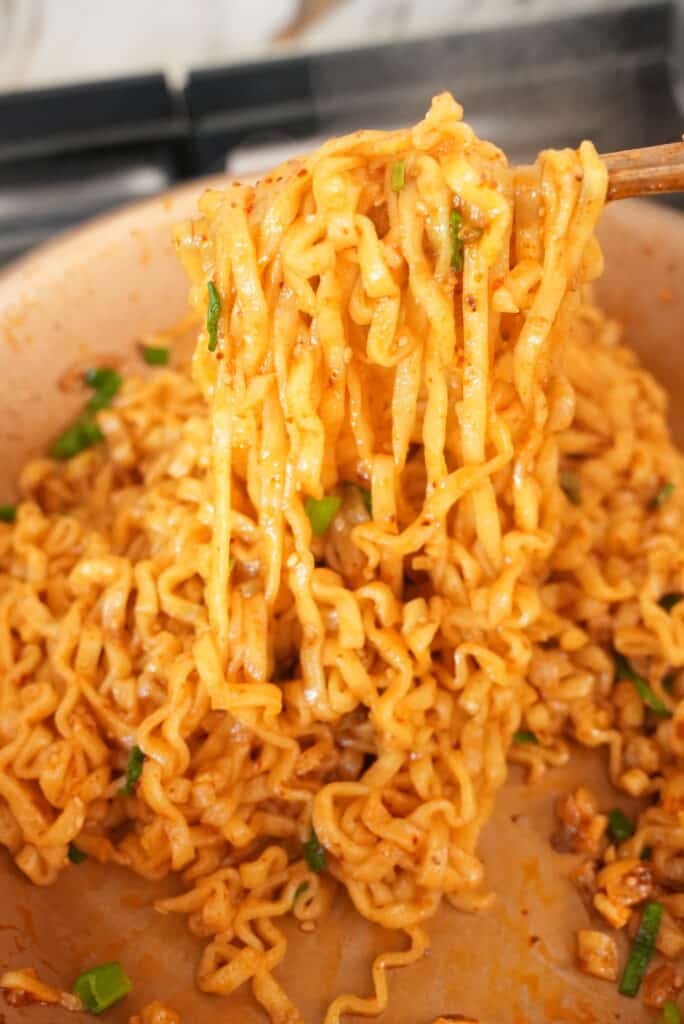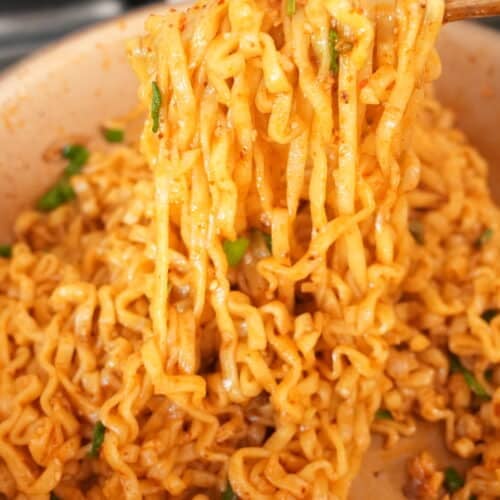 Spicy Garlic Ramen
This spicy garlic ramen is a 10 minute ramen hack that elevates simple ramen noodles to the next level! It's perfect for a quick meal or snack
Ingredients
2

ramen noodle portions

4

cloves

garlic

minced

2

scallions

chopped

1/2

tbsp

gochugaru

can sub red chili flakes

2

tsp

neutral oil

2

tbsp

light soy sauce

low sodium

1

tbsp

oyster sauce

1

tbsp

sriracha

1/2

tbsp

brown sugar

1/4

tsp

white pepper

1

tbsp

water

1/2

cup

reserved cooking water

if needed to loosen sauce
Instructions
Add 2 tsp of oil in a pan over medium high heat. Saute garlic, scallion and gochugaru until fragrant (about 30 seconds).

Cook ramen noodles in boiling water until al dente. Reserve 1/2 cup of noodle cooking water.

In a small bowl, mix together light soy sauce, oyster sauce, sriracha, brown sugar, white pepper, and water.

Add noodles to sautéed aromatics and gochugaru, then add the premixed sauce. Add noodle water as necessary to loosen the sauce and cook over high heat until the sauce has absorbed into the noodles.

Garnish with scallions and sesame seeds and enjoy!