Sichuan Chili Oil
---
September 25, 2021
---
Sichuan Chili Oil is my favorite condiment – I love to drizzle it on everything and anything. Everyone always asks me what my favorite brand is and my answer is – my own! I love making homemade Chili Oil (and it's also my favorite gift to give others). Try this one out – the oil is super aromatic and the chili adds an amazing texture to any dish!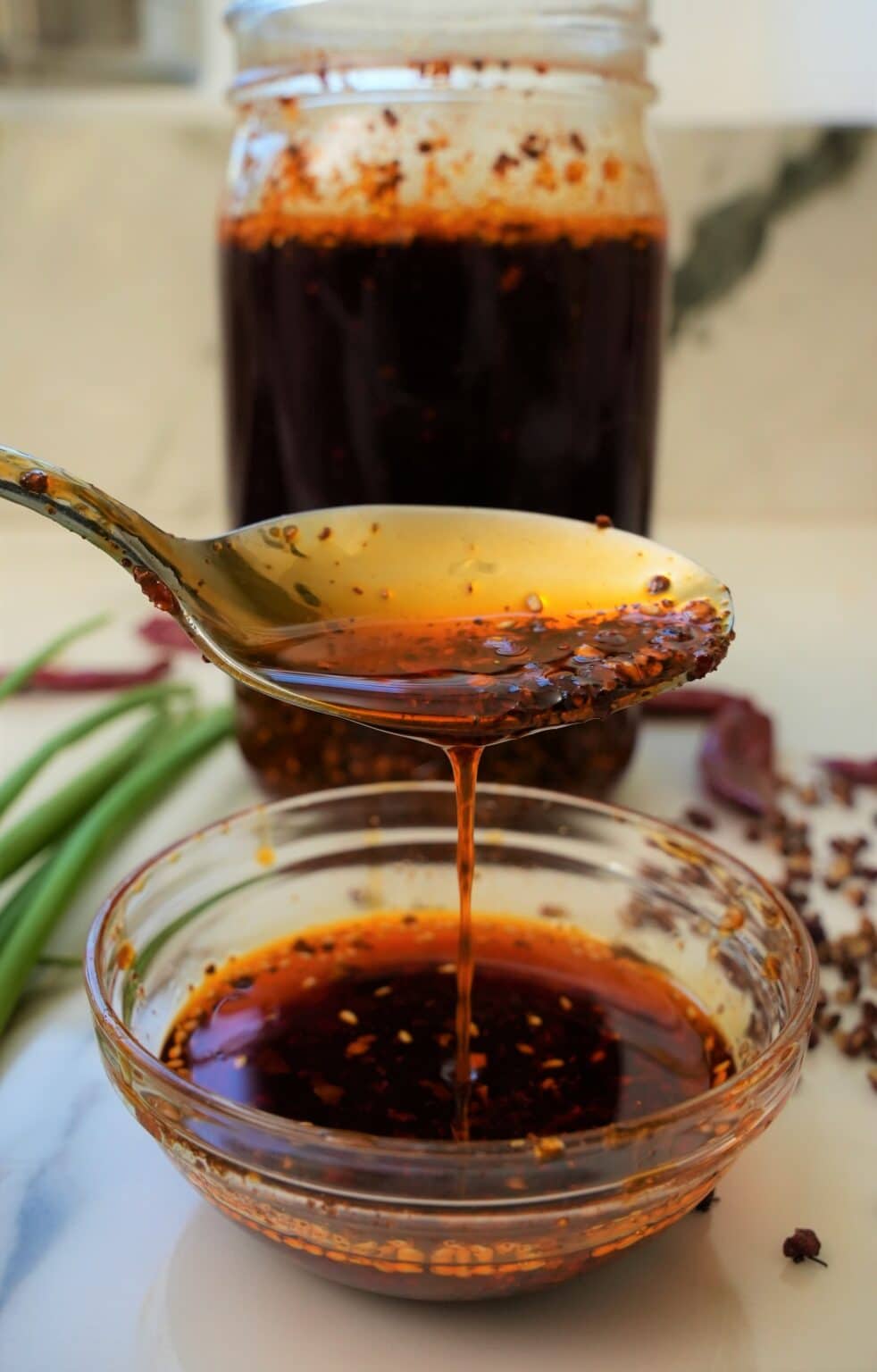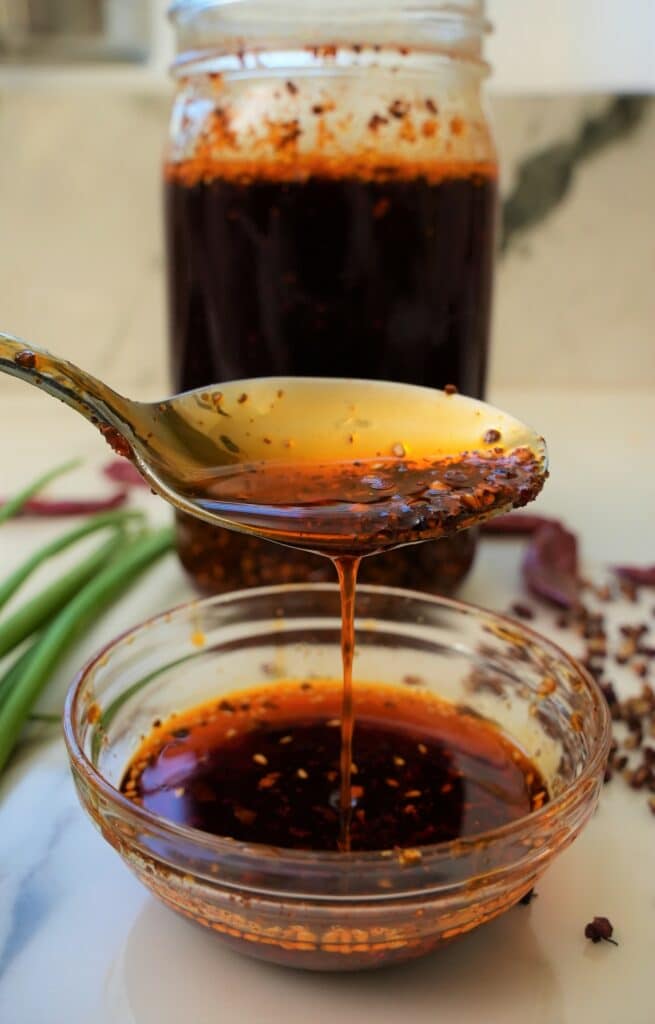 My Key Ingredient Tips for Sichuan Chili Oil
INGREDIENTS TIPS
NEUTRAL OIL
My favorite neutral oil is avocado oil, but you can also use canola or vegetable oil! I don't use olive oil when cooking Chinese food for two reasons: 1. It has a low burning point and 2. I find that the flavor profile does not usually go with the dish.
SICHUAN CHILI FLAKES
This is a KEY ingredient for this recipe. I purchase mine from 99 Ranch (Chinese grocery chain) but you can also find these on Amazon.
INGREDIENT SUBS
While I am usually happy to recommend ingredient subs, for this recipe, I highly recommend you follow it exactly as it is. I have perfected this recipe over the years and each ingredient is included for a specific reason.
My Top Recipe Tips for Sichuan Chili Oil
RECIPE TIPS
SAFETY FIRST
You are handling boiling hot oil in this recipe, so please be safe! Use a small sauce pan you can handle comfortably when heating up the oil and be careful when pouring (go slowly).
DO NOT USE A GLASS BOWL
Please use a ceramic or oven safe bowl – DO NOT USE A GLASS BOWL! I have never had a glass bowl explode on me but I know this is possible, so please do not use them when handling hot oil!
USE A THERMOMETER
I highly recommend you use a thermometer and monitor the temperature of the oil. We are intentionally infusing the spices at a low temperature before pouring over the Sichuan chili flakes at a higher temperature. You will want to measure the temperature as accurately as possible!
STORAGE
You can store these in an airtight container in your refrigerator for up to 3 months!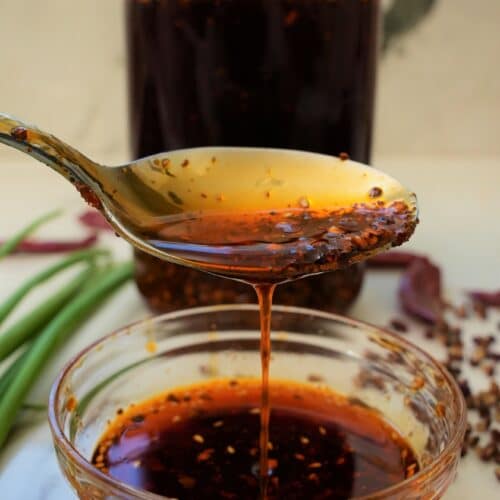 Sichuan Chili Oil
This is my go to recipe for Sichuan chili oil! It's a super flavorful, spicy chili oil that you can put on noodles, vegetables, dumplings, or just about anything!
Ingredients
3

cups

neutral oil

I used avocado oil

1.5

cups

szechuan chili flakes

2

tbsp

whole szechuan peppercorns

4

cloves

garlic

smashed

1

shallot

halved

1

cinnamon stick

2

bay leaves

8

star anise

1

tbsp

cloves

1

tbsp

sesame seeds

1

tbsp

salt

to taste
Instructions
Pour 3 cups of neutral oil into a heavy bottomed saucepan and add your spices (except sesame seeds, Szechuan chili flake, and salt).

Over medium low heat, bring oil temp up to 225-250F and infuse your spices for 30 minutes (or up to 1 hour for maximum flavor). Monitor the temperature of oil so it stays in this temperature range. I highly recommend using a thermometer to measure the heat accurately.

In a heat proof container (ceramic or heavy metal mixing bowl), add 1 1/2 cups of Szechuan chili flake.

Strain all spices from the oil with a mesh strainer, then heat oil to 350F and carefully pour oil directly over chili flakes through your mesh strainer. It should smell like popcorn!

Let cool for a few minutes, then add sesame seeds and salt to taste. Let cool completely and store in an airtight container for up to 3 months.