Chili Garlic Cucumber Salad
---
April 10, 2022
---
This cucumber salad has been all over social media and the verdict is in – it's just as fun to make as it is to eat! With some simple knife work and a pair of chopsticks, you can create these eye-catching "slinky" cucumbers that are almost too beautiful to eat.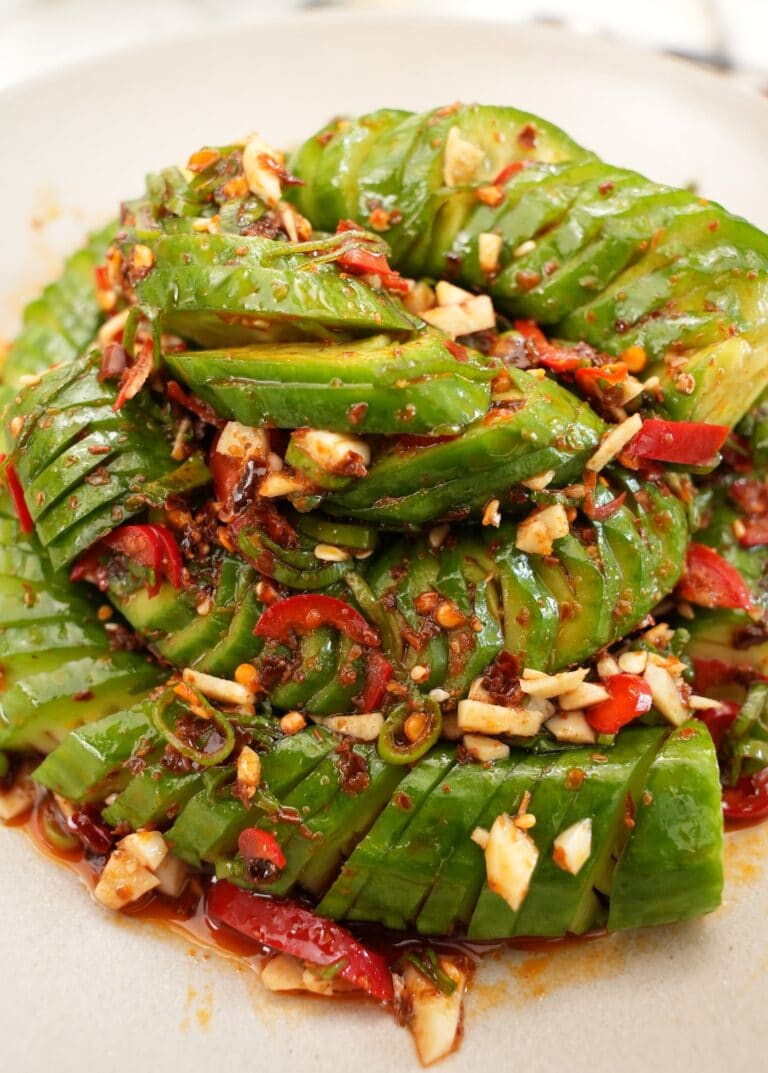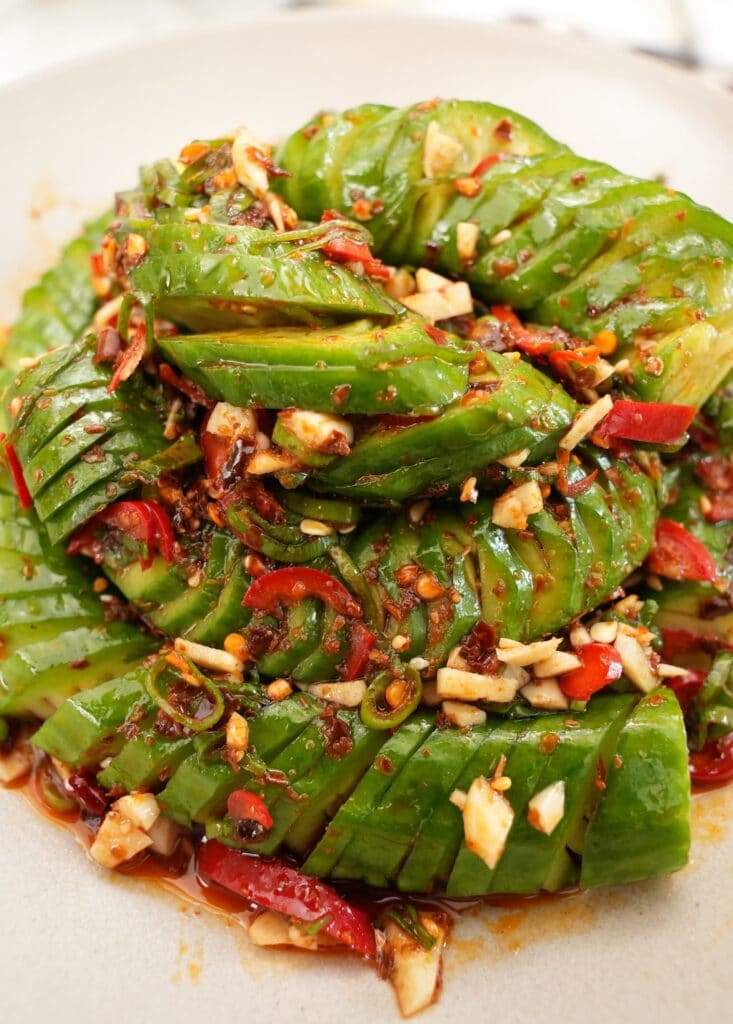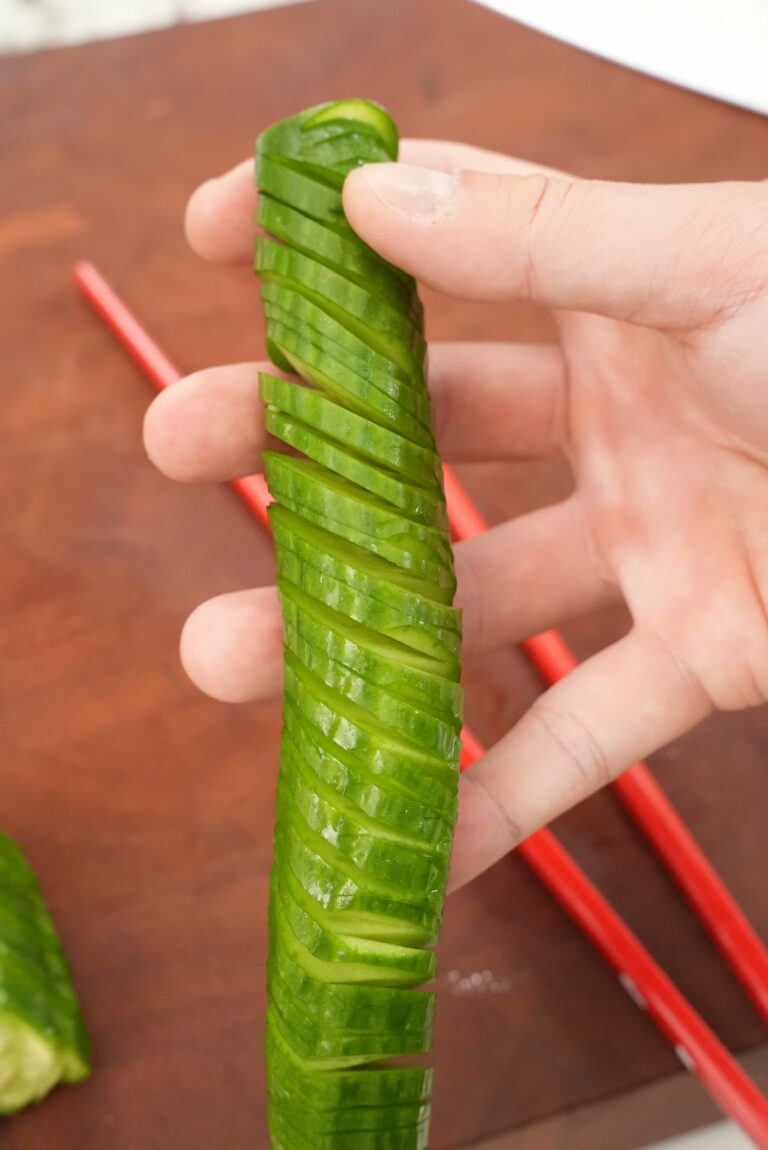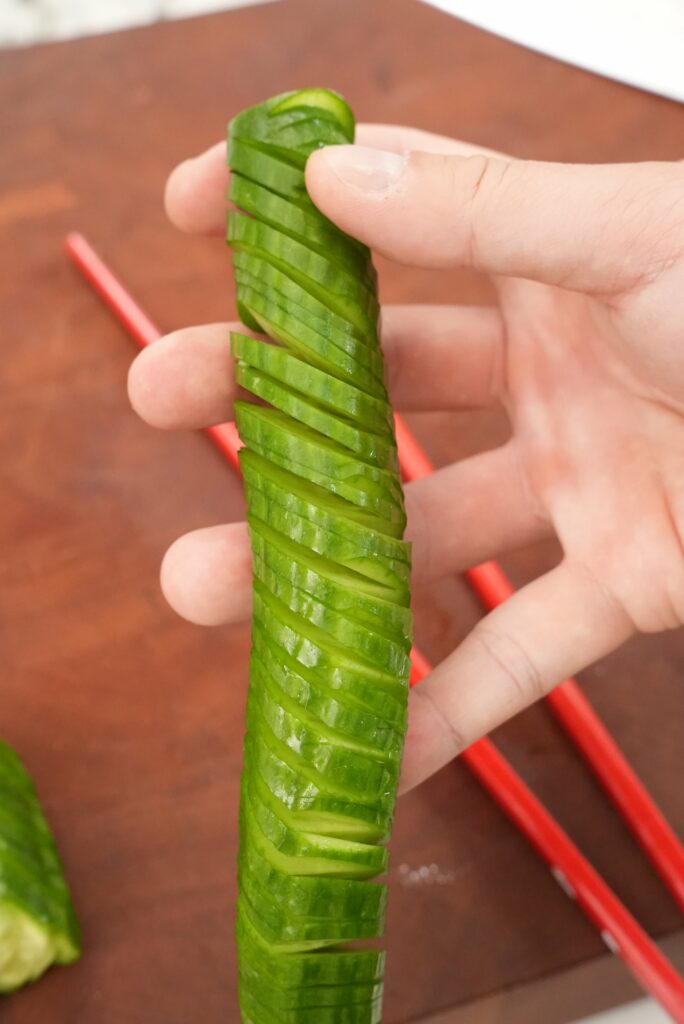 INGREDIENTS TIPS
CUCUMBER
I used Persian cucumbers in this recipe but you can also use English cucumbers! I typically use them interchangeably in recipes because they are both thin skinned (so no need to peel) and have very few seeds.
CHILI OIL
I always get asked which brand of chili oil I use at home and my answer is – my own! I love making my own chili oil – check out my Sichuan Chili Oil recipe here!
CHOPPED RED CHILIS (FRESNO)
You know I love spice in my food, so I added chopped red chilis for an extra kick! But these are OPTIONAL – feel free to omit or adjust based on your own spice preference!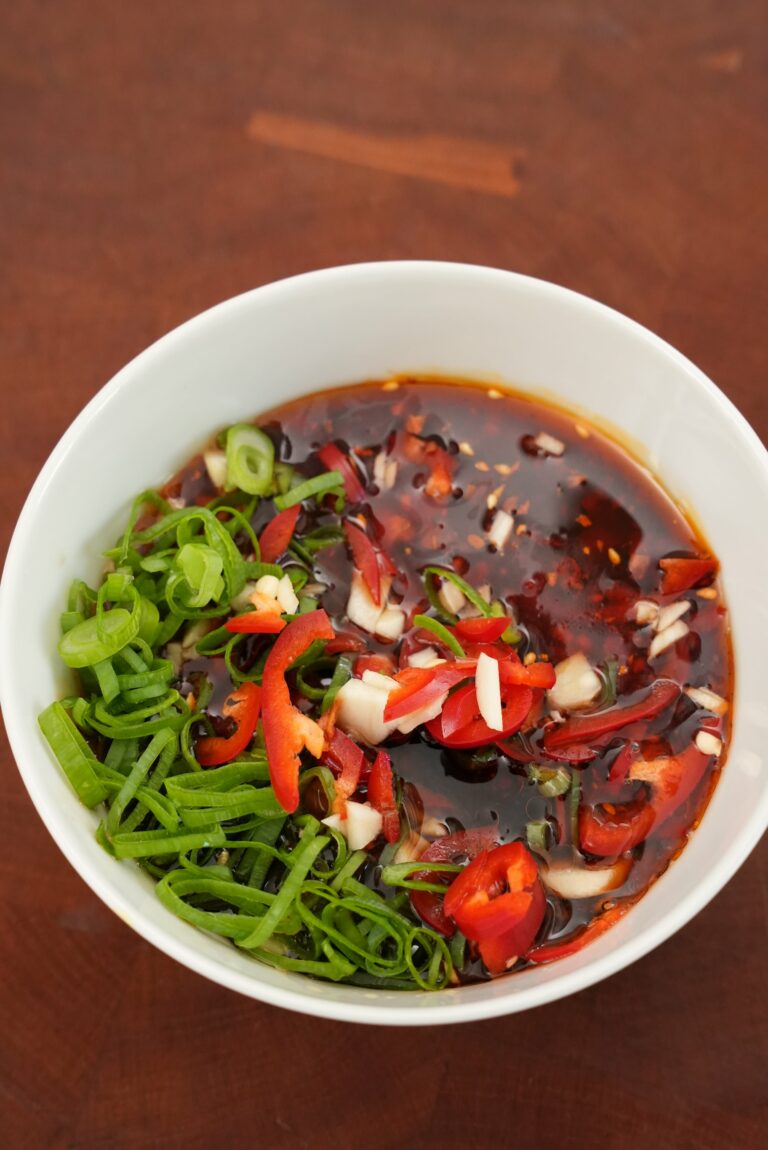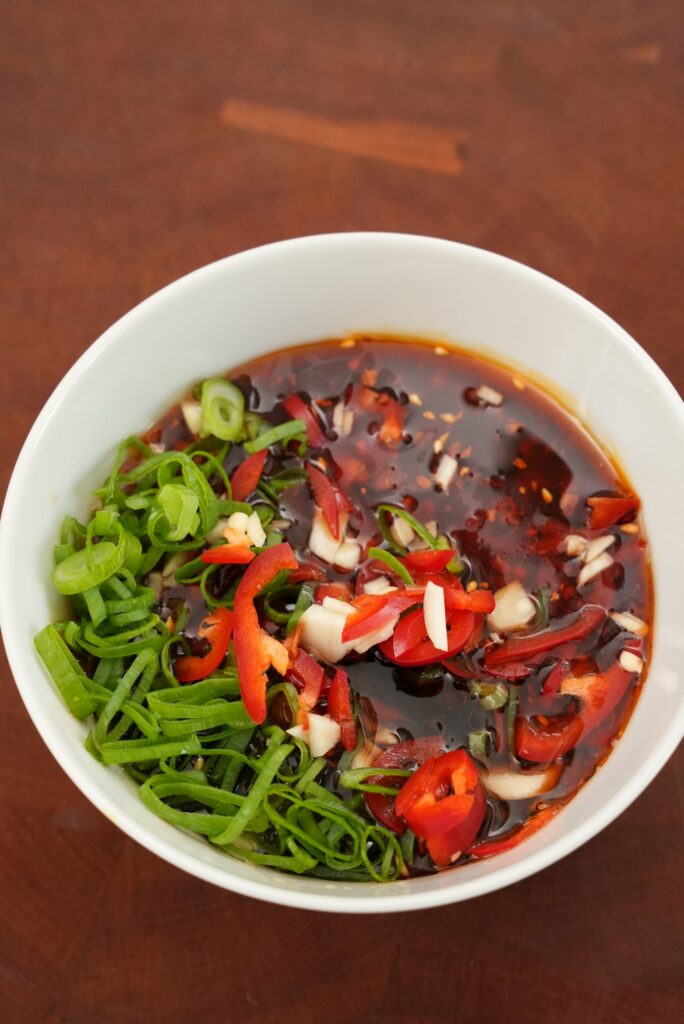 The dressing for this cucumber salad is incredibly simple to make! Here are the ingredients you'll need:
Soy Sauce
Rice Vinegar
Chili Oil
Sesame Oil
Scallions
Garlic
Sugar
Fresno Chilis (for optional extra spice)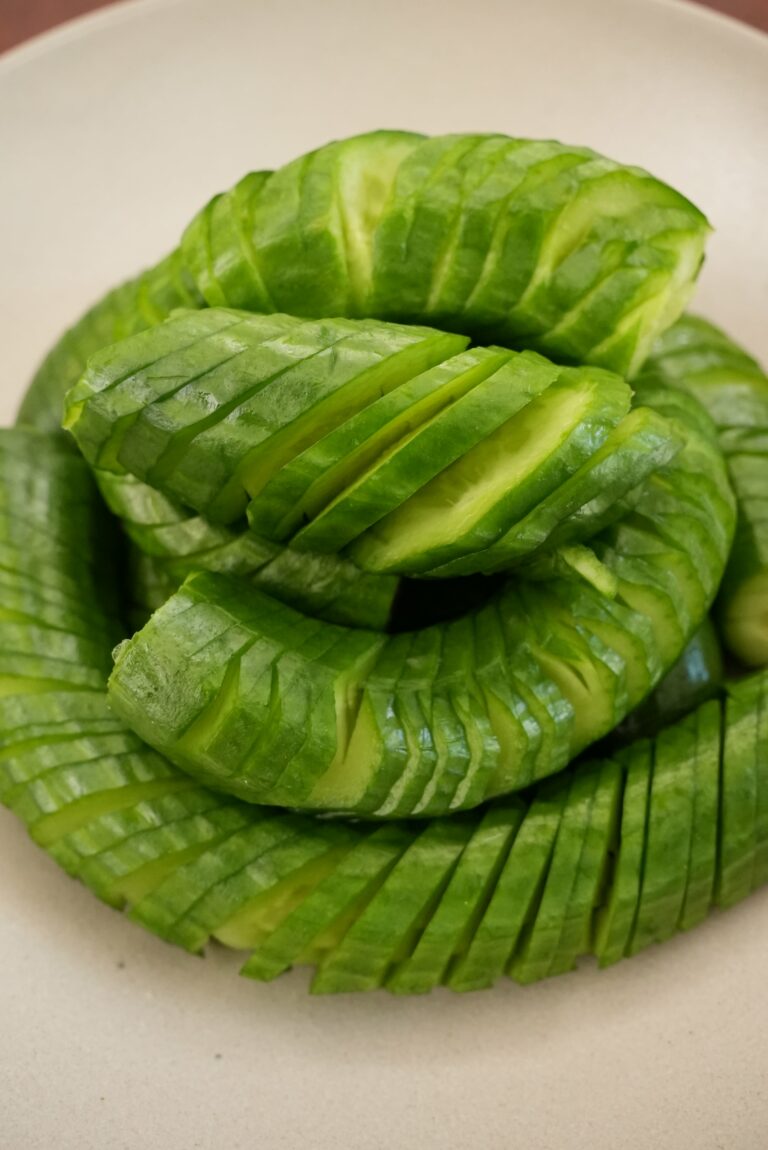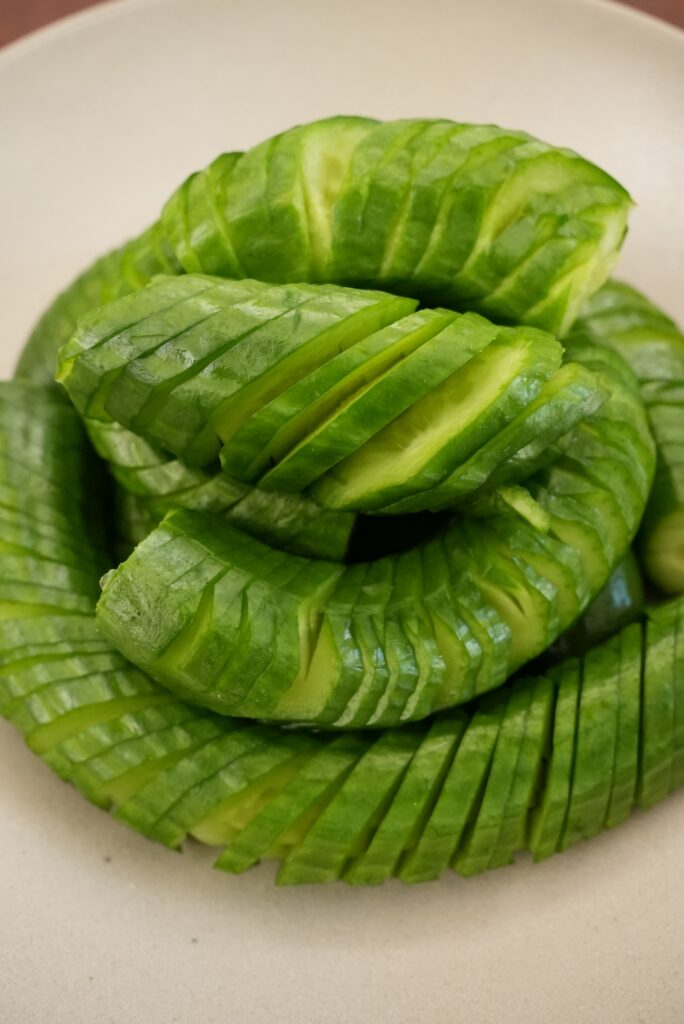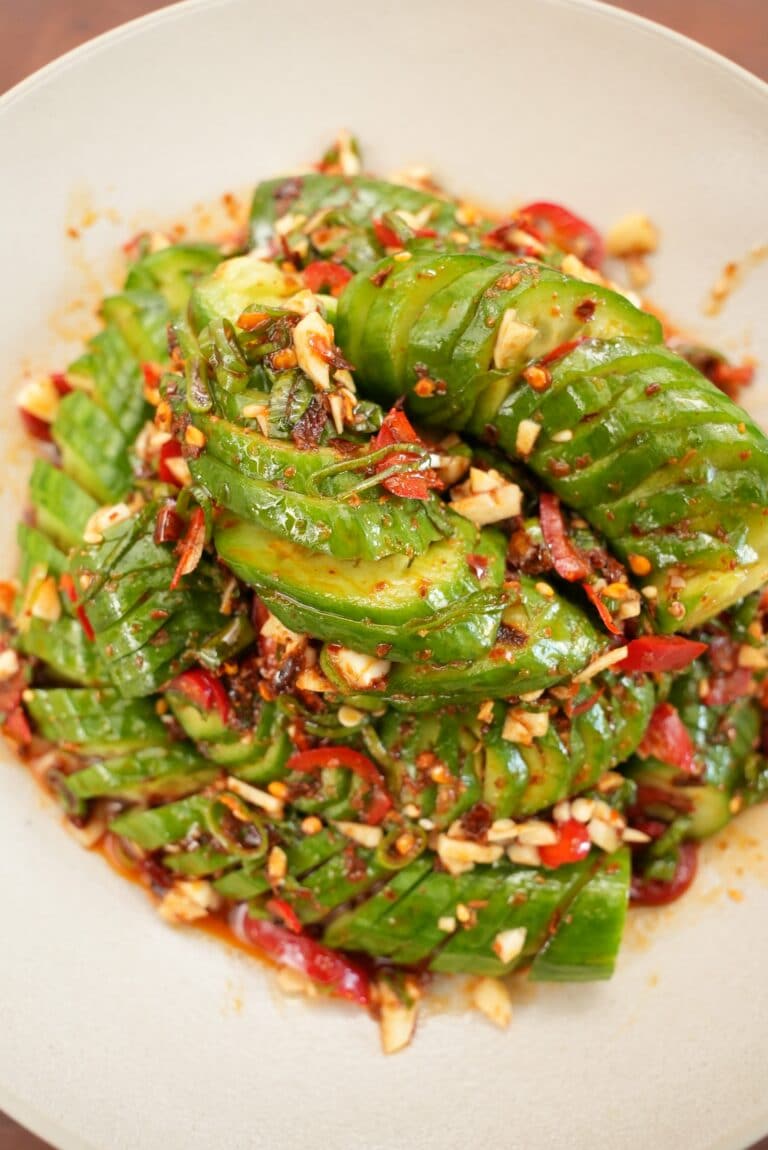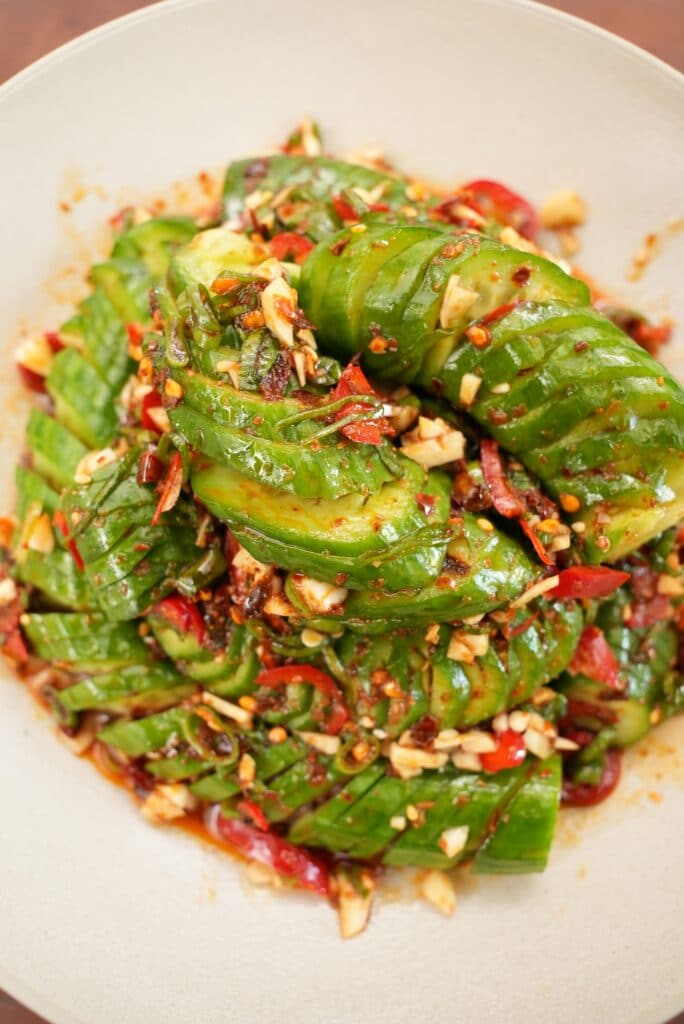 RECIPE TIPS
SALT YOUR CUCUMBERS
Be sure to salt your cucumbers to draw out excess moisture – and don't forget to DRAIN the liquid! This will help keep the cucumbers crisp and not get too soggy.
STORAGE
You can store these in an airtight container for up to one week in the refrigerator!
Chili Garlic Cucumber Salad
Ingredients
1

lb

cucumber

Persian or English

1

tbsp

salt

3

tbsp

rice vinegar

1/2

tbsp

sugar

4

cloves

garlic

1

tbsp

chili oil

2

tbsp

soy sauce

2

scallions

1/2

tbsp

sesame oil

1

tbsp

chopped red chili

optional
Instructions
Wash your cucumbers and cut the ends off.

Using a pair of chopsticks or two even sticks to hold the cucumber into place, use a sharp knife and make small cuts at a 45 degree angle over chopsticks, making sure to not cut all the way through.  Flip and make slices perpendicular to the first set of cuts. Try to make as many as possible along the cucumber!

Mix with salt and let rest for 5-10 minutes. Remove excess water and rinse off the salt and drain. Pat dry with a paper towel to remove excess moisture.

To make the dressing, mix rice vinegar, sugar, minced garlic, chili oil, soy sauce, scallions, and sesame oil in a bowl. (Chopped red chilis are optional.)

Place sliced cucumbers in a bowl in circular fashion and pour the dressing – make sure it gets within the cuts. Enjoy!