Mapo Tofu
---
September 25, 2021
---
Mapo Tofu is my go-to meal when I'm craving something spicy, savory, and comforting. With a bowl of rice, it never disappoints!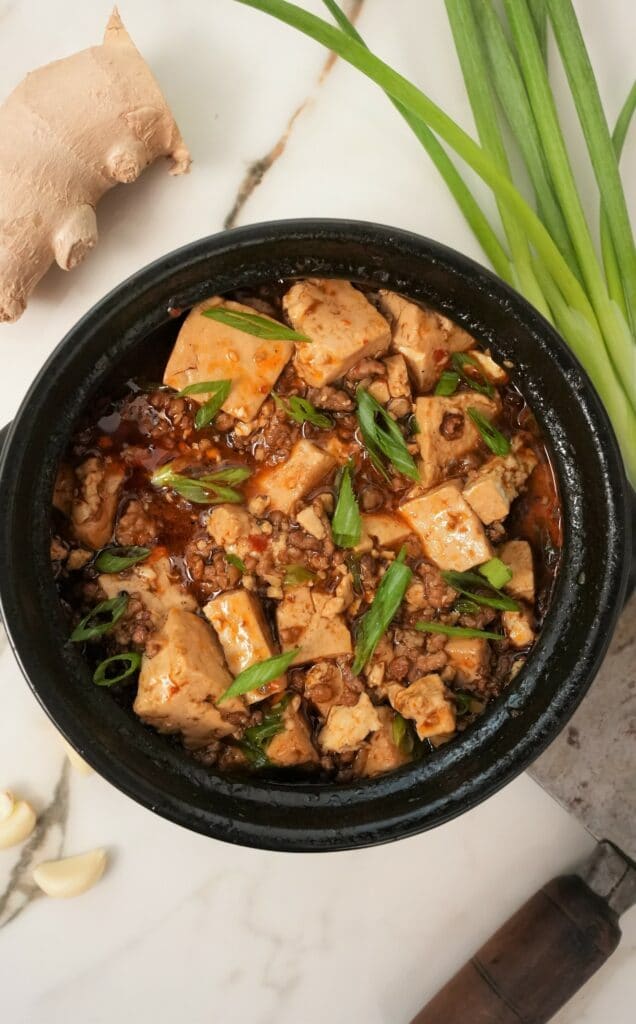 INGREDIENTS TIPS
TOFU
FIRMNESS: There are differing opinions on what firmness tofu you should use for this dish. I personally like to use firm or extra firm, as I like the tofu to maintain its shape and not crumble into the dish. You can use any level of firmness and it will still taste delicious!
SIZE: I like to cut them into 1″ or even 1/2″ cubes. Other recipes may recommend cutting them into larger or smaller cubes, or even rectangular shapes. This is up to you! I like smaller cubes because it allows for a more even ratio of tofu to sauce but you can cut them to the size & shape you prefer!
PROTEIN
If you cannot eat or prefer not to eat ground pork, you can substitute with a different ground meat of your choice (chicken or turkey come to mind). You can also skip it altogether to make it a vegetarian option.
CHILI OIL
I always get asked which brand of chili oil I use at home and my answer is – my own! I love making my own chili oil – check out my Sichuan Chili Oil recipe here!
DOUBANJIANG
Doubanjiang is a spicy Chinese bean paste that is one of the main components to this dish. Unfortunately, I cannot recommend a substitution. I get mine from any of the local Asian grocery stores I visit (99 Ranch, H Mart, or even Mitsuwa). You can also purchase this from Amazon.
TOASTED GROUND SICHUAN PEPPERCORN
I like to toast the Sichuan peppercorns, as it releases some of the oils and makes them more fragrant. I use a mortar and pestle to grind them myself (but you can also use a spice grinder). My wife prefers the ground peppercorn sifted to remove any shells – I don't personally mind them!
MSG
As always, this is optional 🙂
DARK SOY SAUCE
Dark soy sauce is thicker, darker, and sweeter (as well as has a higher sodium content) than regular soy sauce. If you don't have this on hand, you can substitute with oyster sauce or even regular soy sauce.
SHAOXING WINE
If you cannot or do not want to use wine, you can sub with sherry, mirin, or chicken stock!
RECIPE TIPS
CORNSTARCH SLURRY
A cornstarch slurry is a mixture of cornstarch and water that is used in cooking to thicken WITHOUT powdery lumps or additional flavors/colors! This is the secret to so many of your favorite Chinese dishes. My #1 tip is make sure your cornstarch slurry has not separated before adding it in – I always try to re-stir right before!
BLANCH YOUR TOFU
I like to blanch the tofu in salted water as it 1. seasons the tofu and 2. firms it up for cooking.
Mapo Tofu
Ingredients
1

lb

firm or extra firm block tofu

cut into 1" – 1.5" cubes, depending on your preference

8

oz

ground pork

2

tbsp

doubanjiang (chili bean paste)

4

cloves

garlic

minced

1

tbsp

ginger

minced
Sauce
1/3

cup

chili oil

adjust to your spice preference

1

tbsp

toasted ground sichuan peppercorn

1

tbsp

sugar

1/4

tsp

msg

1

tsp

dark soy sauce

1

tbsp

shaoxing wine

1

cup

chicken stock

salt to taste
Cornstarch Slurry
1

tbsp

cornstarch

1/4

cup

water
Instructions
Cut the tofu block into desired width. I prefer bigger pieces so I slice the block in half width-wise then into cubes.

To a pot of water, add 1 tbsp kosher salt and heat over medium high until water is steaming but not boiling. Add tofu and blanch until just before the water begins to boil (2-3 min). Drain and set aside.

Over high heat, fry ground pork in 2 tbsp neutral oil, or until fat is rendered and slightly crispy, about 3-4 minutes. Add in doubanjiang, garlic, and ginger – continue cooking until aromatics have softened, chili bean paste has cooked through, and oils have been extracted, about 2-3 minutes.

To your pork, add chili oil, chicken stock, toasted sichuan peppercorn, dark soy, shaoxing wine, sugar, and msg. Stir to combine.

Add back your tofu and simmer for 5 minutes over medium heat.

Add your cornstarch slurry to thicken and stir until it reaches your desired consistency. Salt to taste. Garnish with fresh scallions and serve with rice – enjoy!