Chicken Ramen
---
April 1, 2022
---
The easiest homemade Chicken Ramen!
This Chicken Ramen was so delicious and comforting – you won't believe how QUICK & EASY it is to make at home! I like mine topped with Soy Sauce Chicken (recipe included!) – in this aromatic broth, you are going to LOVE this recipe!
Watch the Chicken Ramen Recipe Video Below!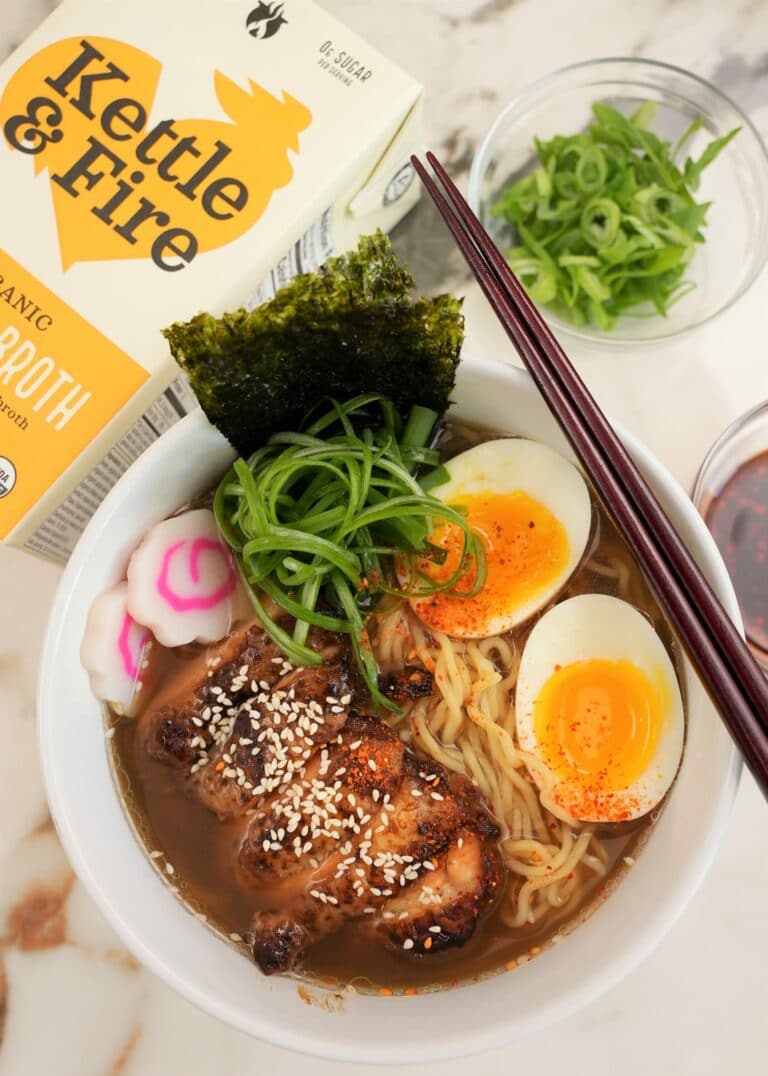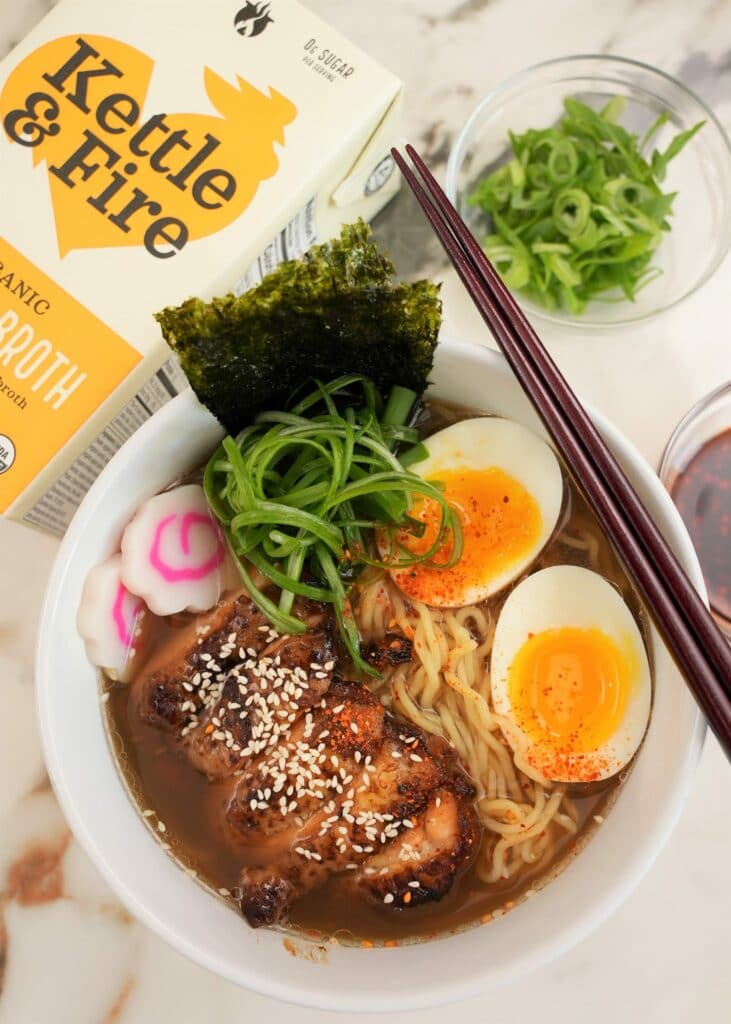 INGREDIENTS TIPS
BROTH
The key to a GREAT homemade ramen is a delicious broth – so many of you ask me what my go to broth is, and I always use Kettle & Fire. They use pasture raised chicken bones, 100% grass fed and finished beef bones, and high quality ingredients that make their cooking broths and bone broths so delicious!
I've been a longtime user of Kettle & Fire broths and I'm beyond excited to partner with them to bring you 20% your entire order using code "CJEATS"!
NOODLES
In this recipe, I am using fresh ramen noodles from Sun Noodle. I got them from 99 Ranch. If you cannot find fresh ramen noodles, you can always substitute with dried noodles instead.
SOY SAUCE CHICKEN
I topped my ramen off with a simple Soy Sauce Chicken recipe – this is completely optional. You can top with a different protein of your choice or leave it out completely!
TOPPINGS
I topped mine with the following but you can add whatever your favorite toppings are!
Marinated Soy Sauce Chicken
Soft boiled egg
Sliced fish cake
Scallions (to get the restaurant style curly scallions, cut them to thin strips and soak in ice water until they curl)
Nori
Sesame seeds
Togarashi seasoning
MSG
As always, MSG is optional!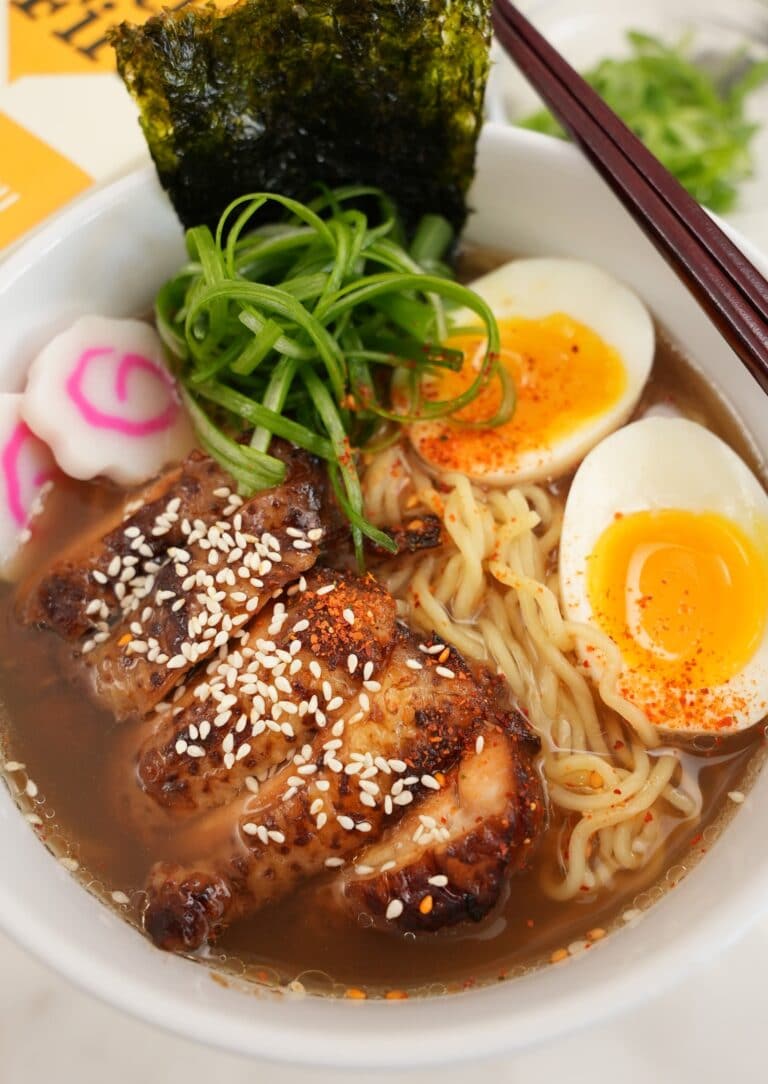 RECIPE TIPS
COOK THE RAMEN IN WATER FIRST!
I highly recommend you cook the ramen noodles in WATER before you place them in the broth. I don't like to cook the noodles directly in the broth because I want to avoid any starches from the noodles being released and impacting the taste of the broth.
DRAIN NOODLES WELL
After cooking the ramen noodles, make sure to thoroughly drain the noodles – you want to avoid any excess water, otherwise this will dilute the broth flavor.
SOY SAUCE CHICKEN
During the last 5 minutes of cooking, baste some of the excess marinade over the skin to get that beautiful, glossy color!
Chicken Ramen
Ingredients
Ramen Broth
6

cups

Kettle & Fire Chicken Broth

1

inch

ginger

smashed

3

cloves

garlic

smashed

1

scallion

1/4

tsp

white pepper
Optional Toppings
marinated soy sauce chicken

soft boiled egg

sliced fish cake

scallions

nori

sesame seeds

togarashi seasoning
Instructions
In a bowl, combine chicken thighs with mirin, dark soy sauce, light soy sauce, and white pepper. Mix and let marinate for at least 1 hour; bake for 15 minutes at 400F or until the chicken reaches 165F internal. Slice and set aside.

In a pot, add 6 cups of Kettle & Fire Chicken Broth along with garlic, ginger, scallion and white pepper. Simmer on medium heat for 20 minutes.

In a noodle bowl, add light soy sauce, vegetable oil, sugar, msg, and salt to taste. Pour hot broth directly into the bowl.

Cook your ramen noodles in water according to desired doneness. Once cooked, drain well and add to your noodle bowl with broth. Top with your marinated chicken, soft boiled egg, fish cake, scallions, nori, sesame seeds and togarashi seasoning. Enjoy!