Air Fryer Chicken Katsu
---
January 25, 2023
---
Crispy on the outside, juicy on the inside – and the best part is that this AIR FRYER CHICKEN KATSU is just as good as the deep-fried version! Chicken Katsu is one of my most popular recipes, so I knew I had to get the air fryer version perfect! After testing multiple versions, this is the one I know you'll love making at home!
Watch the Air Fryer Chicken Katsu Recipe Video Below!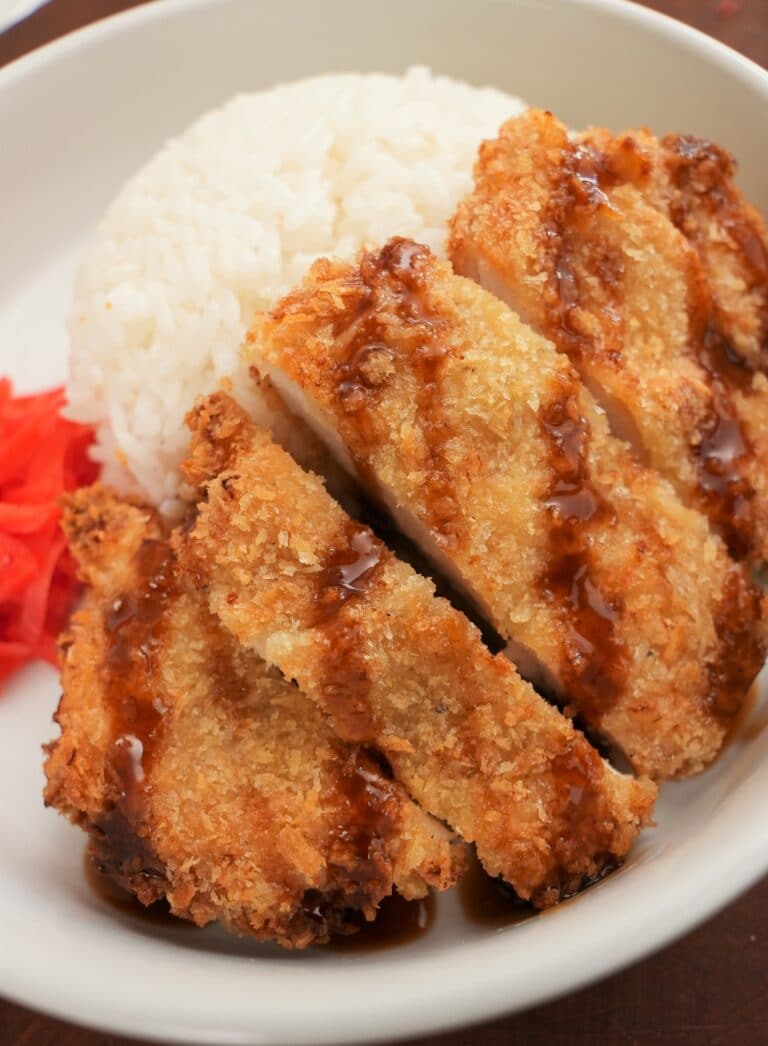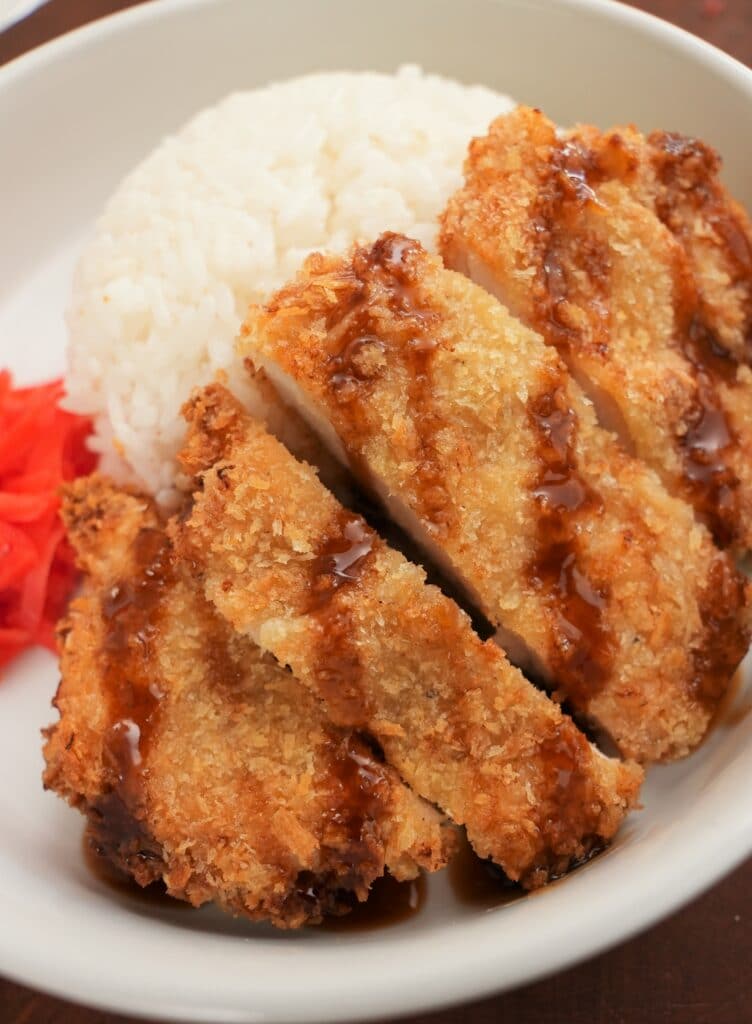 Ingredients for Air Fryer Chicken Katsu
I love this chicken katsu recipe because only a few ingredients will make crispy, juicy chicken. Firstly, here are the ingredients you will need!
4 pieces chicken breast 1/2 lb each, seasoned with salt & pepper to taste
1/2 cup flour
1/4 cup water as needed to loosen wet batter
2 large eggs
1/2 tsp kosher salt
1/2 tsp pepper
1 tsp garlic powder
2 cups panko breadcrumbs
neutral cooking oil spray
INGREDIENTS TIPS
CHICKEN
It is CRUCIAL that your chicken is flattened to ½" EVENLY – you want the chicken to cook evenly across and allow the panko to crisp up without burning. If you don't have a meat mallet or tenderizer, use a heavy bottomed pan to flatten it!
PANKO BREADCRUMBS
Panko breadcrumbs are drier and flakier than regular breadcrumbs, so they absorb less oil and creates a light & crunchier crust. I do not recommend subbing these, as this is a key ingredient in this dish 🙁
NEUTRAL OIL COOKING SPRAY
I used avocado oil cooking spray (avocado oil is my go-to neutral cooking oil)! You can use another cooking oil spray, as long as it is NOT olive oil. I don't recommend using olive oil spray for this dish, due to the flavor profile and low burning point.
Air Fryer Chicken Katsu: Recipe Instructions
Season the chicken
The first step in making this recipe is pounding the chicken breast fillets into 1/2″ thick pieces. You want to ensure a thin cutlet so that the chicken will be cooked through in the air fryer in the same time the panko breadcrumbs become crispy! Next, season with kosher salt and black pepper and let rest while you make the wet batter. Make sure all the pieces are cut to similar sizes so they cook evenly.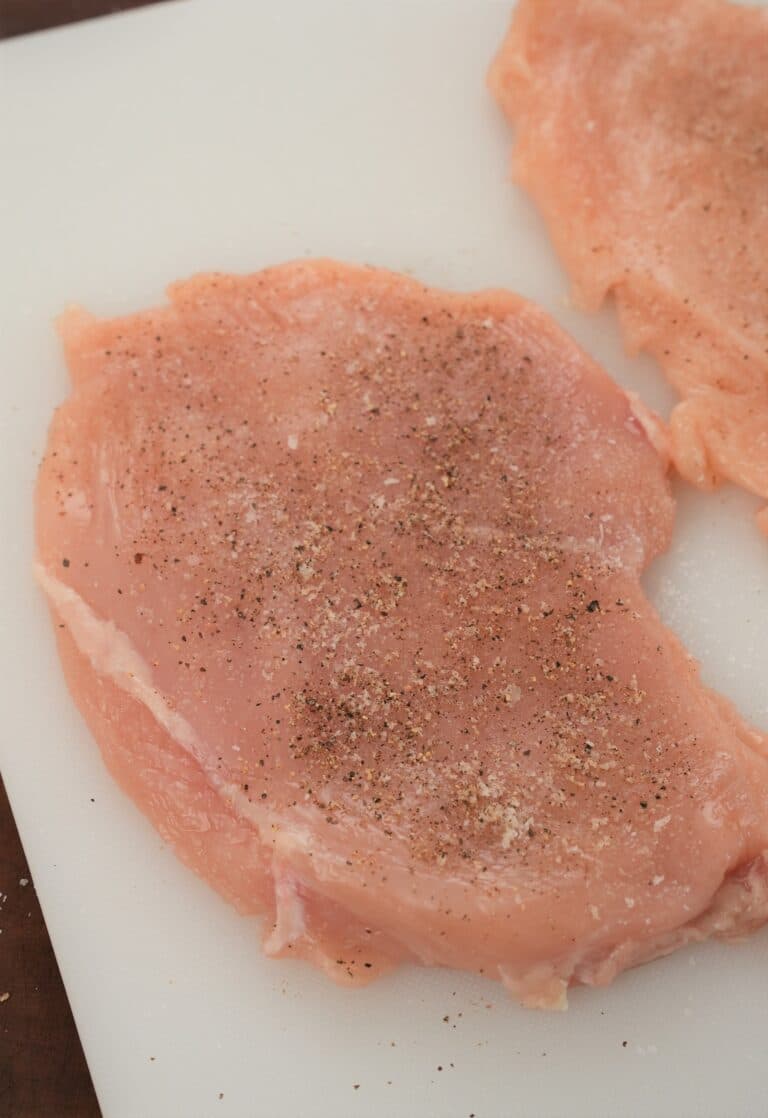 Make the wet batter dredge
Next, mix together eggs, flour, salt, pepper, and garlic powder to form a wet batter. Add 1-2 tbsp of water at a time until you get a consistency slightly looser than pancake batter. Dredge your chicken then immediately coat in panko breadcrumbs.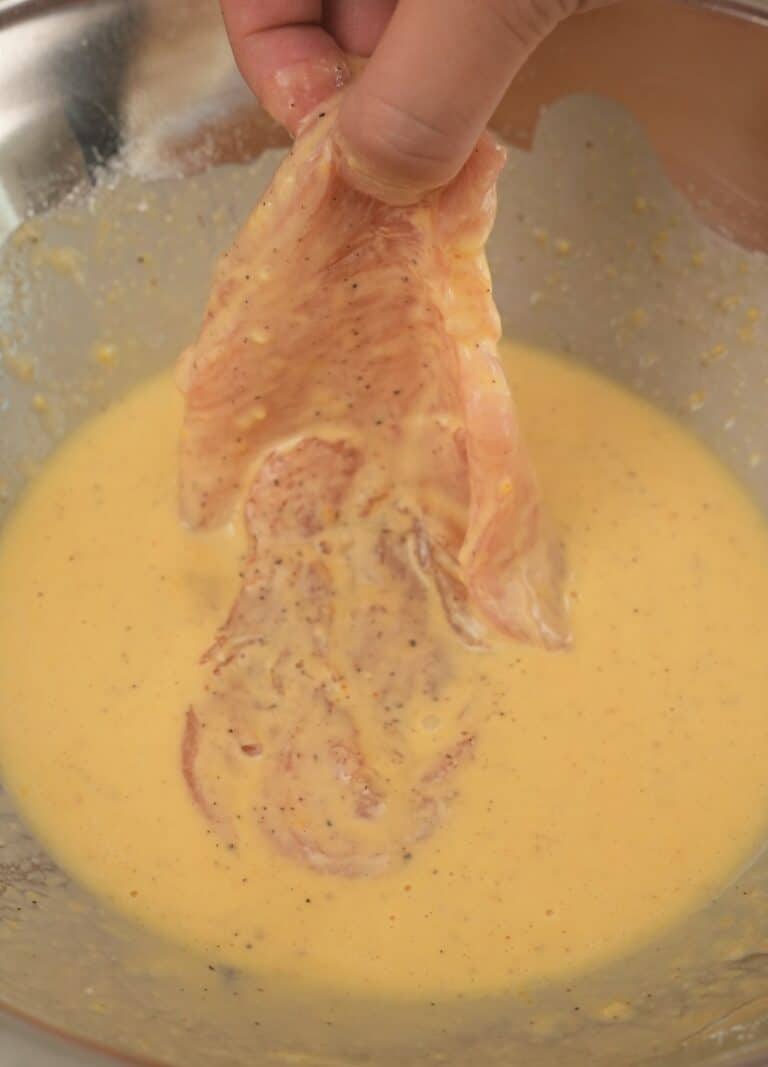 Coat chicken in Panko Breadcrumbs
Transfer the dredged chicken to a tray lined with 2 cups of panko breadcrumbs. Evenly coat the chicken and use your hands to pack in the panko breadcrumbs so they stick to the chicken well.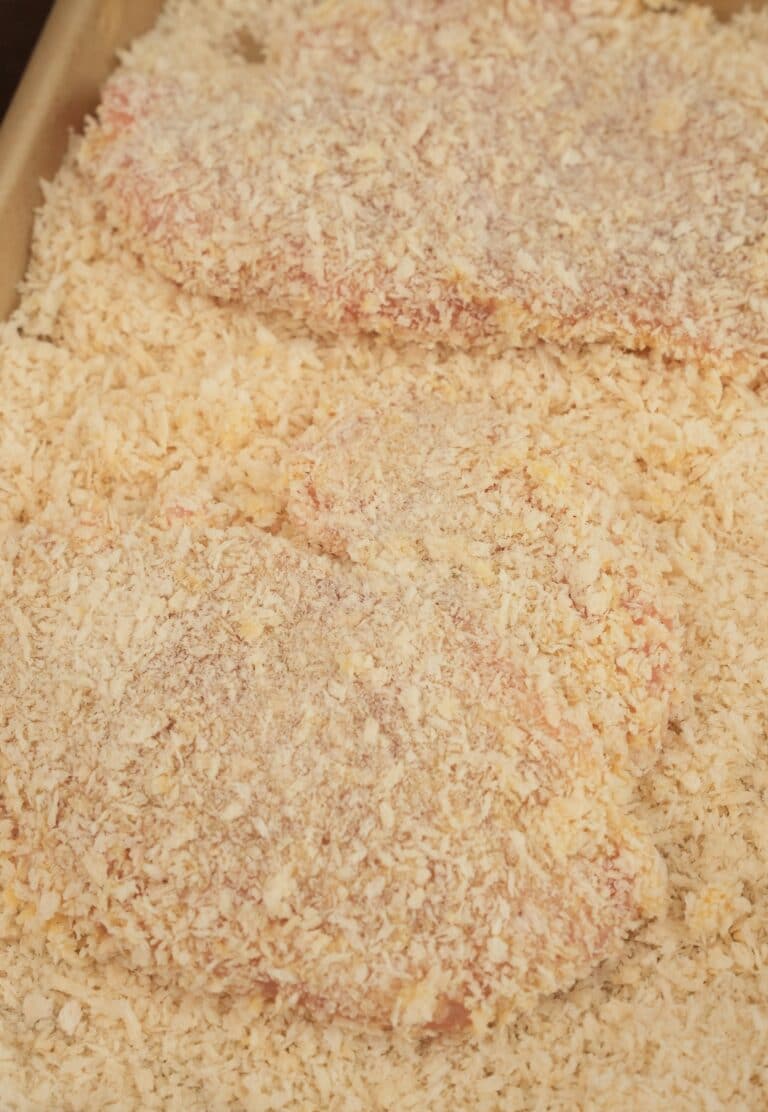 Air Fry the chicken
Lay the chicken into the air fryer basket and give the top side a spray of neutral oil spray (enough to cover any dry spots from the panko breadcrumbs). Then air fry at 350F for 10 minutes. Give the chicken a flip, and spray the other side well, and air fry again at 350F for 4-6 minutes until the chicken is crispy!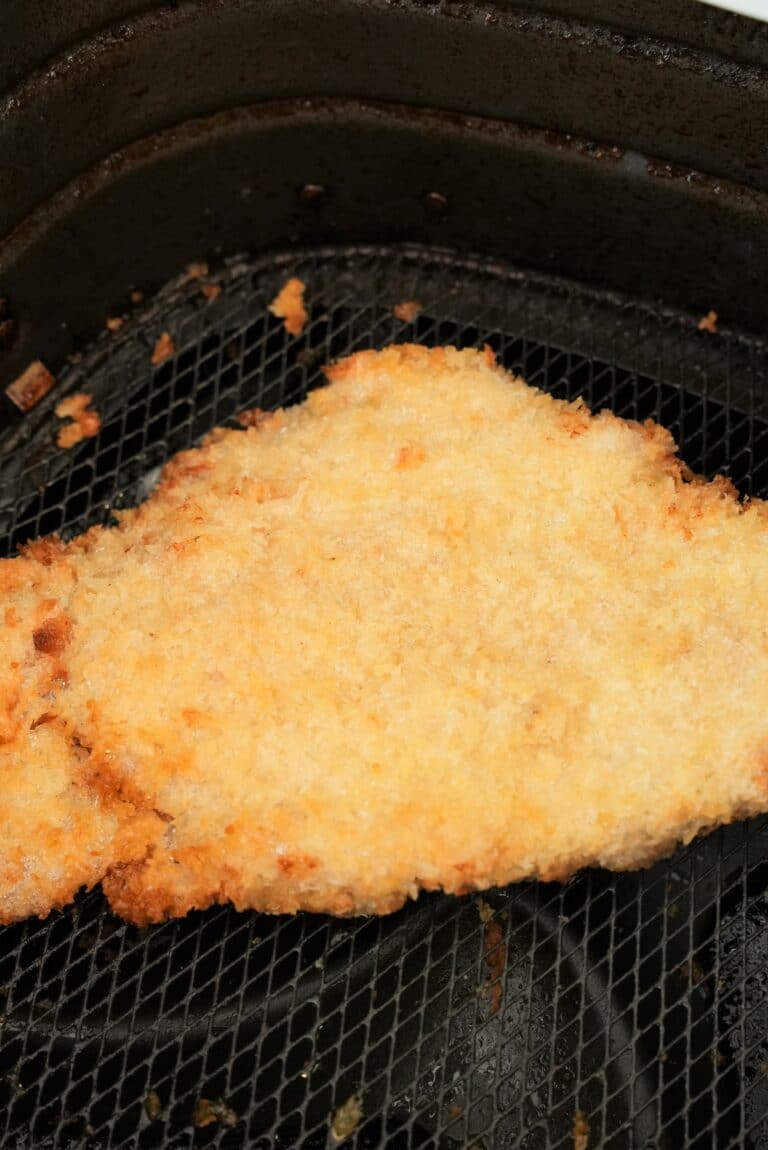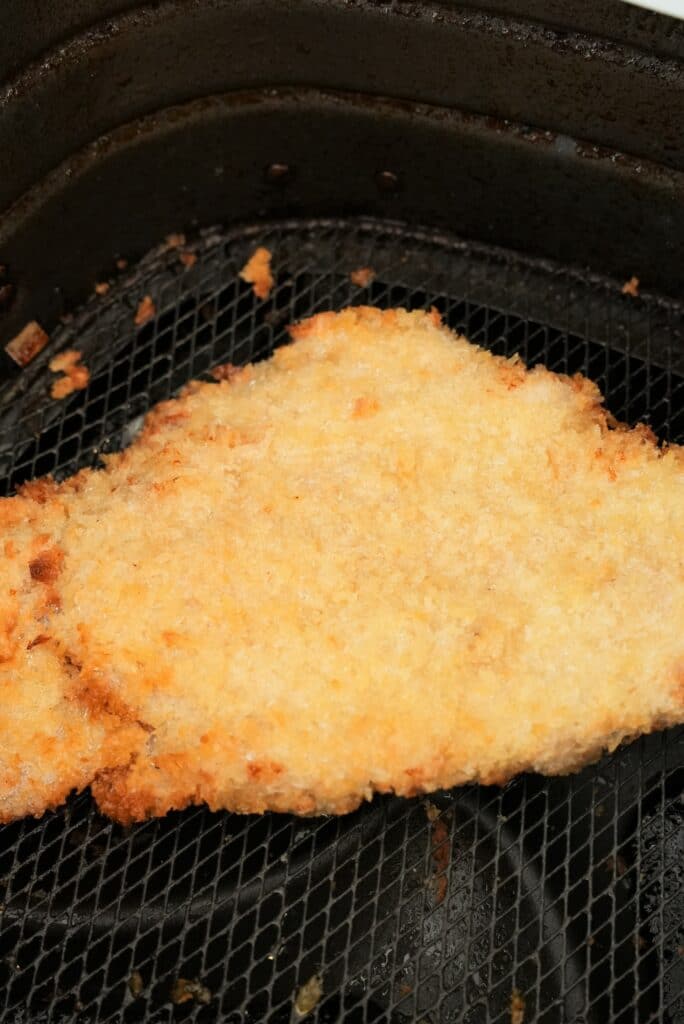 Serve immediately with rice and picked vegetables and katsu sauce – it's a perfect quick weeknight meal that is so satisfying!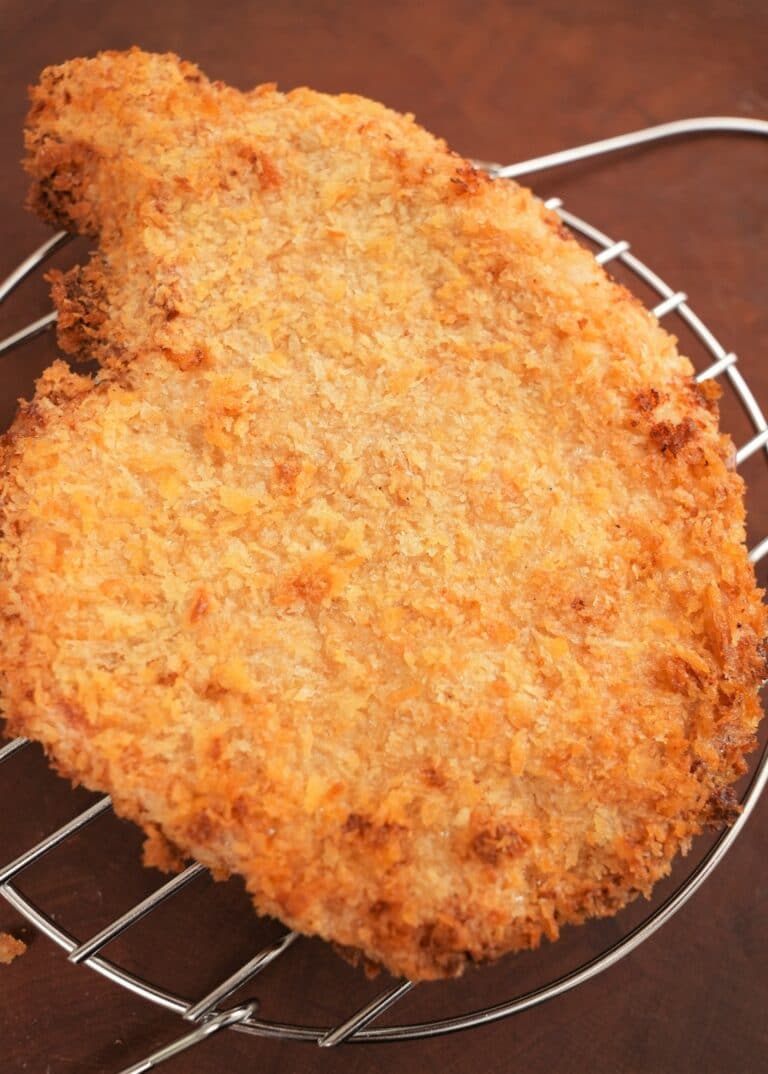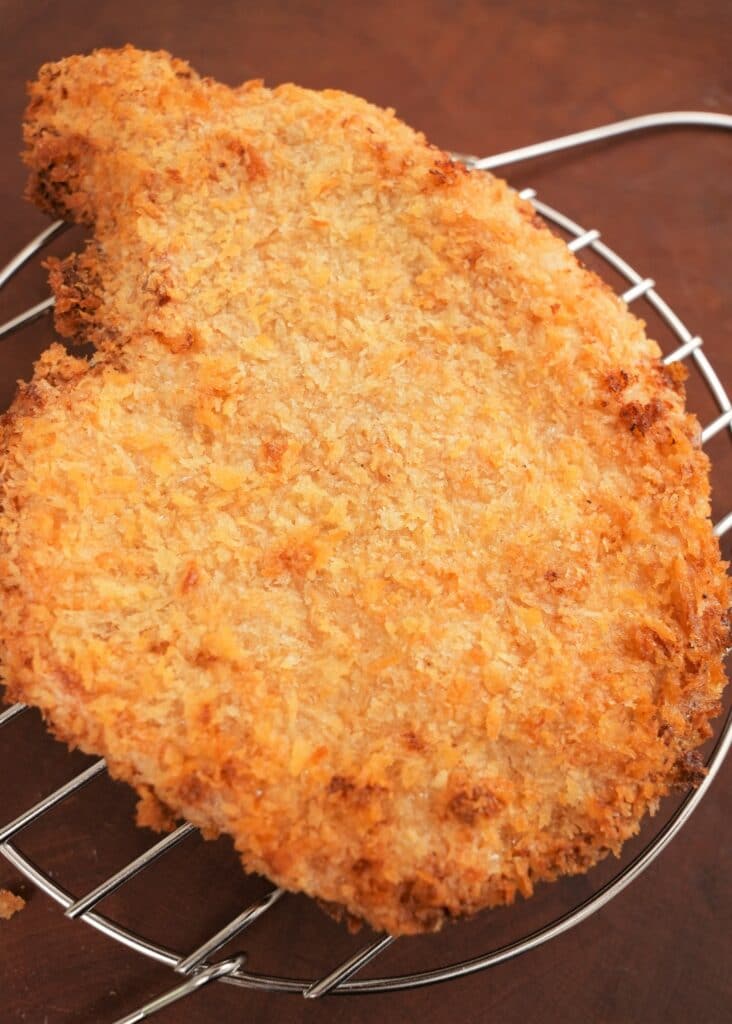 RECIPE TIPS
DRY BRINING
This is the KEY tip for quick but JUICY chicken! Season the chicken with salt & pepper for 15 minutes before cooking to allow the salt absorb into the meat. This "dry brine" will result in crispy skin and juicy meat.
WET BATTER
This recipe is enough wet batter to coat 4 pieces of ½lb chicken breast fillets – you don't want to skimp on the wet batter, so adjust your measurements if you are cooking more than 4 pieces of ½lb chicken breast fillets!
PANKO BREADCRUMBS
You want the panko breadcrumbs to really stick, as this is the crunchy texture you want! You need to really pack in the breadcrumbs when coating the chicken. After coating the chicken, let it REST for 10-15 minutes before cooking.
If you liked this Air Fryer Chicken Katsu recipe, check out some of the most popular Air Fryer recipes on the blog!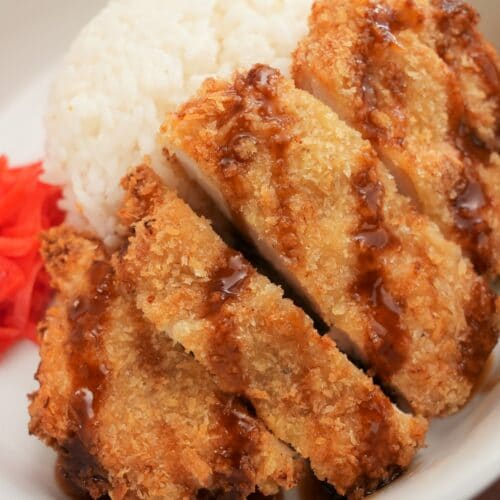 Air Fryer Chicken Katsu
This easy 30 minute Air Fryer Chicken Katsu is super crispy and a lot less messy than deep frying! The chicken is super crispy and delicious!
Ingredients
4

pieces

chicken breast

1/2 lb each, seasoned with salt & pepper to taste

1/2

cup

flour

1/4

cup

water

as needed to loosen wet batter

2

large eggs

1/2

tsp

kosher salt

1/2

tsp

pepper

1

tsp

garlic powder

2

cups

panko breadcrumbs

neutral cooking oil spray
Instructions
Pound chicken breast to 1/2" thick filets and season both sides with salt and pepper. Set aside to dry brine while you prepare the rest of your ingredients.

In a large wide bowl, mix together eggs, flour, salt, pepper, and garlic powder until the consistency is slightly thinner than pancake batter (add 1-2 tbsp of water at a time until consistency is achieved).

In a separate tray, add panko breadcrumbs and set next to the wet batter.

Dip chicken breast in the egg mixture and let excess drip off. Immediately coat with panko and press the panko breadcrumbs into the filet to stick making sure to leave no dry spots.

Place into air fryer basket and lightly spray the top with a neutral oil spray (canola or avocado oil). Air fry at 350F for 10 minutes or until golden. Lightly spray the top again, flip, and spray the bottom side and continue cooking at 350F for 4-6 minutes or until the crust is golden and internal temp reads 165F.

Serve with rice, katsu sauce, pickled ginger and enjoy!