Chicken Katsu Curry
---
September 7, 2021
---
This is my most popular recipe on Tiktok and I'm not surprised! Chicken Katsu Curry is the ultimate comfort dish – the fried chicken with the savory curry is amazing with a bowl of steamed rice!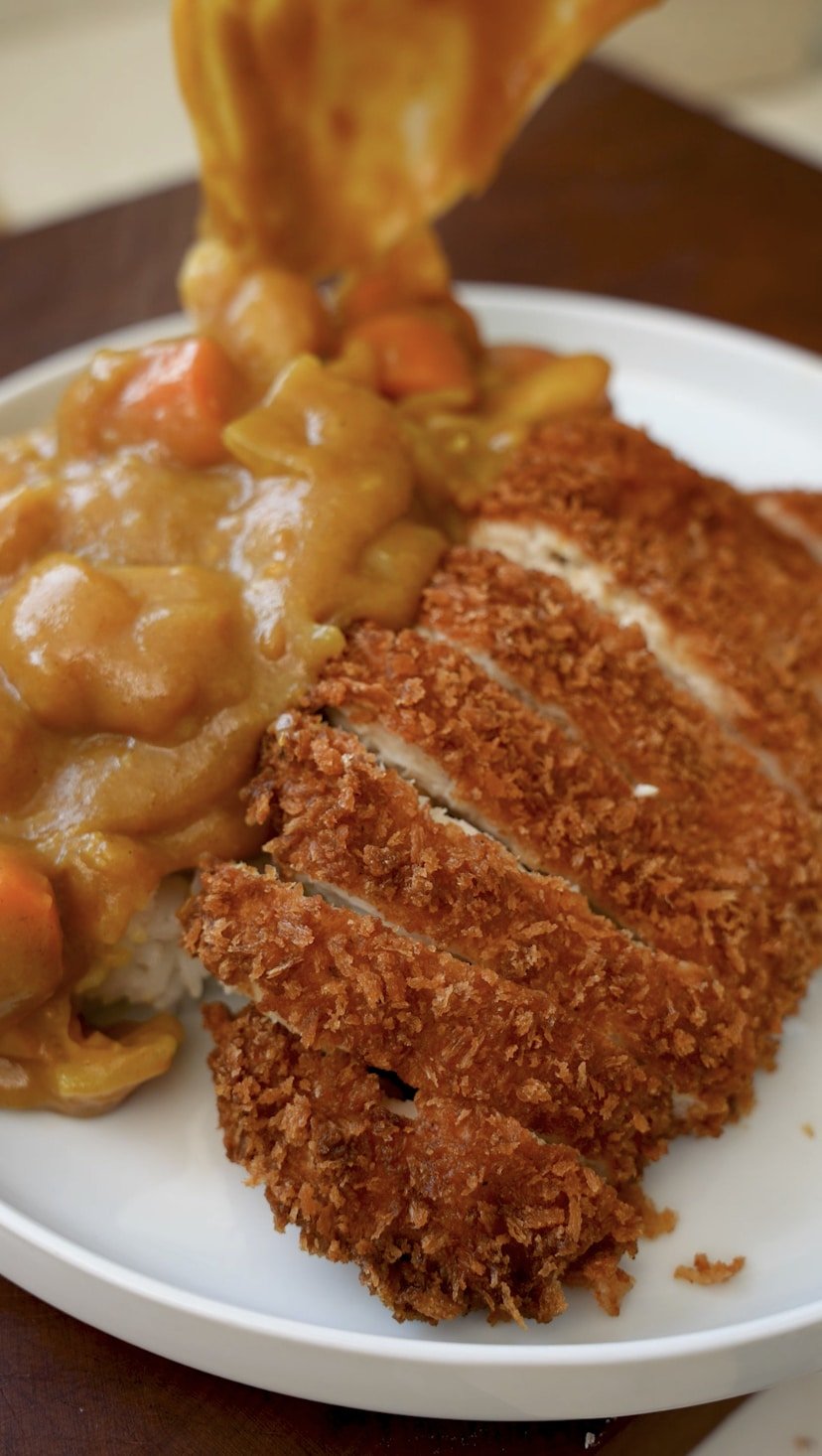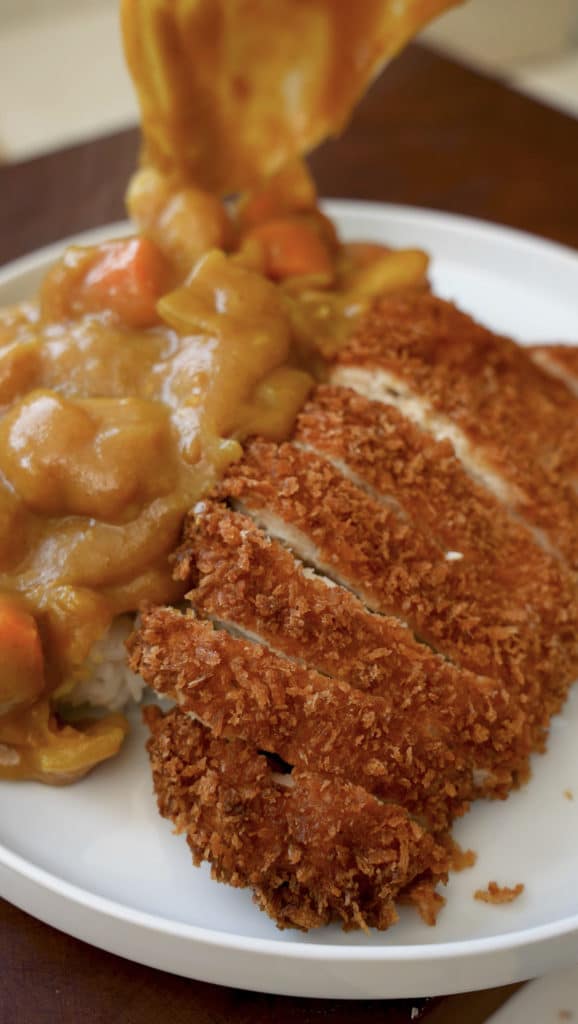 INGREDIENTS TIPS
CHICKEN
I recommend you use chicken breast filets, which will need to be pounded to 1/2″ thickness.
PANKO BREADCRUMBS
Panko breadcrumbs are drier and flakier than regular breadcrumbs, so they absorb less oil and creates a light & crunchier crust. I do not recommend subbing these, as this is a key ingredient in this dish 🙁
NEUTRAL OIL
My favorite neutral oil is avocado oil, but you can also use canola or vegetable oil! I don't use olive oil when cooking Chinese food for two reasons: 1. It has a low burning point and 2. I find that the flavor profile does not usually go with the dish.
CURRY CUBES
I have always preferred using curry cubes – my favorite brand is Golden World and I like the HOT flavor! I have seen these are all of my local grocery stores (Ralphs, 99 Ranch, H Mart, Mitsuwa), as well as Amazon. In this recipe, I used half of the box. One note is that these curry cubes are oftentimes high in sodium, so I recommend using less if you are concerned about that. (This will result in a less flavorful curry.)
RECIPE TIPS
WET BATTER
This is the KEY tip for this recipe – using a wet batter (egg, flour, salt, pepper, and garlic power) before coating the chicken in panko breadcrumbs will result in the crispiest, juiciest chicken. The consistency of the wet batter should be comparable to pancake batter. If you find it is too thick, add a little bit of water to loosen it up.
CUT YOUR VEGETABLES!
I always recommend cutting your vegetables into similar sized pieces so they cook evenly – this little step makes a huge difference! I cut the carrots, onions, and potatoes into 1″ chunks for this recipe.
OIL TEMPERATURE
Do not let your frying oil drop below 325-350F when frying! I highly recommend you use a thermometer to keep an eye on the temperature. If you see it dropping below 325F, wait for the oil temperature to come back up and fry in batches. Frying at a low temperature will result in too much moisture (AKA SOGGY!)
INTERNAL TEMPERATURE
If you are not a seasoned pro at cooking (and honestly, even if you are!) I would highly recommend you use a meat thermometer to check your chicken – you want the internal temp to be at 165F. Undercooked chicken can lead to food poisoning, so always err on the side of caution!
Chicken Katsu Curry
Ingredients
Chicken
2

chicken breast fillets

pounded to 1/2" thick

2

eggs

large

3

tbsp

all-purpose flour

1/2

tsp

salt

1/2

tsp

pepper

1

tsp

garlic powder

2

cups

panko breadcrumbs

neutral oil

for frying; I used avocado oil
Curry
2

carrots

medium, cut into 1" chunks

1

yellow onion

medium, cut into 1" chunks

2

potatoes

small, cut into 1" chunks

2

cloves

garlic

chopped

2

cups

water

Japanese curry cubes

1/2 package
Instructions
Pound chicken breast to 1/2" thick and season both sides with salt and pepper.

Mix together egg, flour, salt, pepper, and garlic powder to form a wet batter. The consistency should be slightly looser than pancake batter (add water if needed).

Dredge chicken completely and let any excess drip off. Transfer chicken into panko breadcrumbs and coat well, making sure there are no bald spots.

Fry at 350°F for 5-6 minutes or until the chicken reaches 165°F. Set aside on a wire rack to cool.

For the curry, chop garlic and cut carrot, onion, and potatoes into similar sized chunks.

In a heavy bottomed pot or dutch oven, heat 2 tbsp of oil over medium high heat. Sauté garlic for 30 seconds and add carrots, onions, and potatoes for 5 minutes. Cover with water and bring to a boil, then cover and simmer on low for 10 minutes or until the vegetables are soft.

Turn off the heat and add in your curry cube mix and mix through. Continue stirring and cooking over low heat until desired consistency is achieved. Serve with chicken over some freshly steamed rice and enjoy!