Chicken and Broccoli (Video)
---
January 4, 2022
---
Chicken and Broccoli has been one of my MOST requested recipes! It's perfect for all of us trying to eat healthier in the new year (myself included) without compromising on taste!
Learn how to make the most tender, juicy chicken with crispy broccoli in a savory, delicious sauce!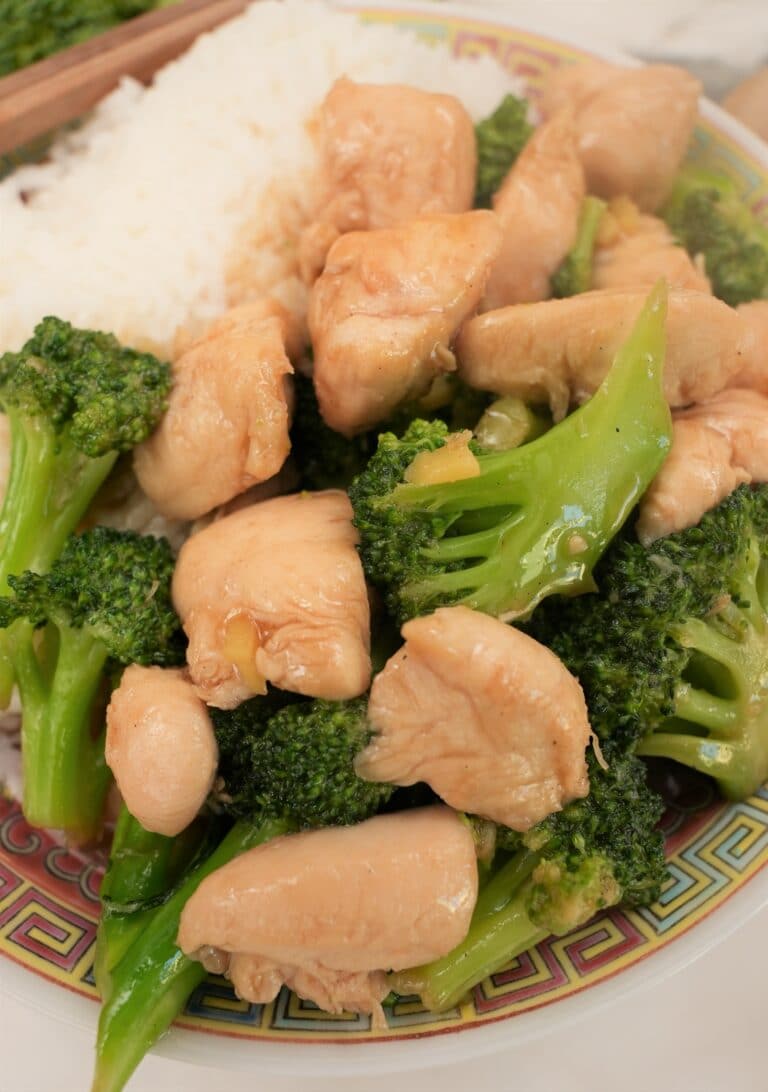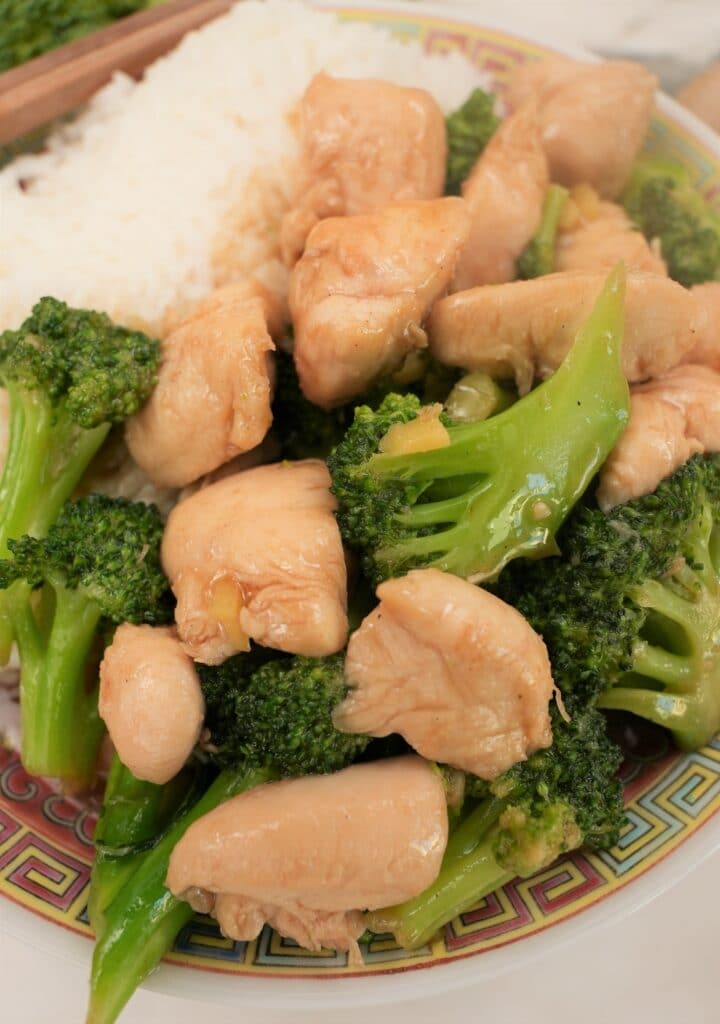 Watch the Chicken and Broccoli Recipe Video Below!
What I love most about this recipe is that is comes together so quickly! The chicken breast, which is notorious for being dry, is marinated, velveted, and cooked quickly in the wok to ensure the white meat is tender and juicy. It comes together in about 10 minutes, which is no time at all for a quick dinner!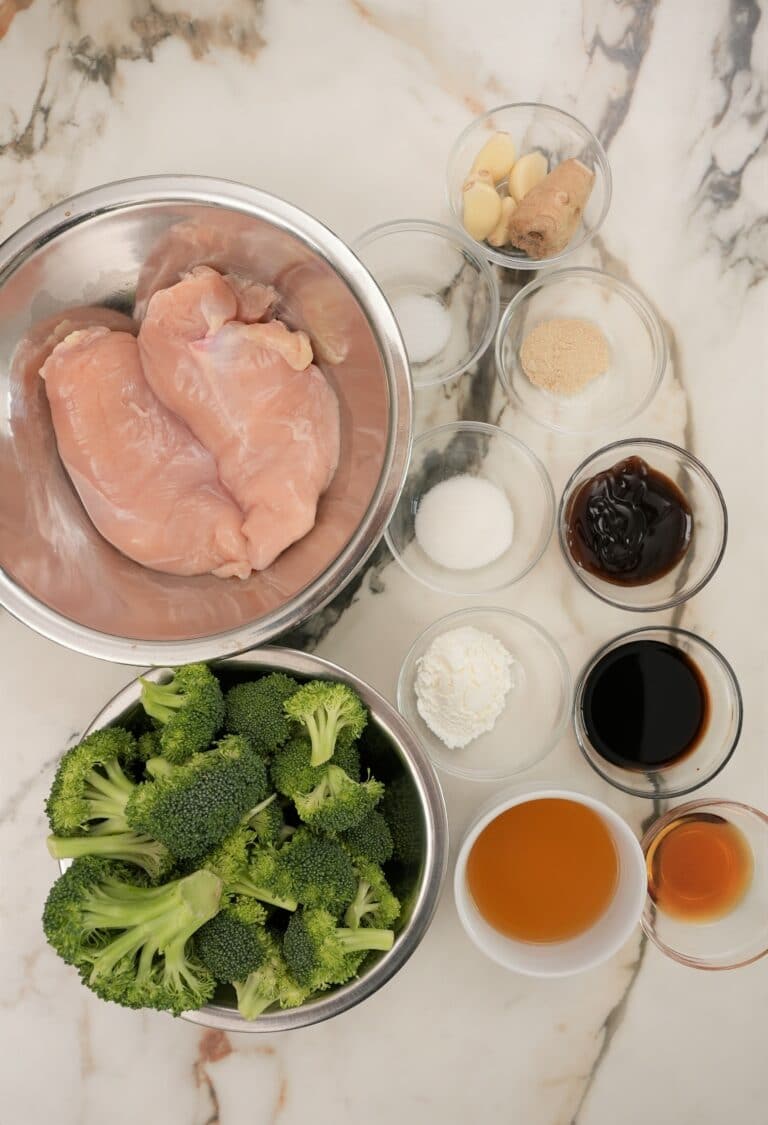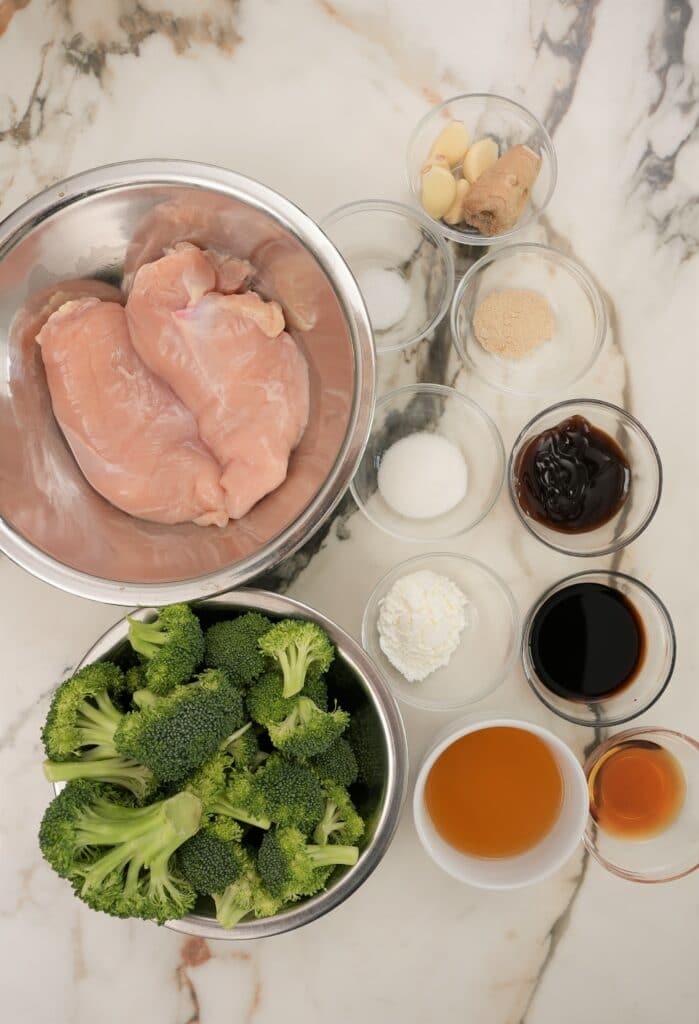 INGREDIENTS TIPS
CHICKEN
I used chicken breast in this recipe but if you prefer chicken thigh, feel free to sub with that instead! Just make sure to cut the chicken into 1″ pieces.
BROCCOLI
Ensure the broccoli is cut to similar shape/size as the chicken – this allows for the dish to cook evenly, look more cohesive, and allow for an overall more enjoyable eating experience!
SHAOXING WINE
If you cannot or do not want to use wine, you can sub with sherry, mirin, or chicken stock!
WHITE PEPPER
I get asked all the time if you can sub black pepper for white pepper – and my answer is, it depends BUT you need to watch the ratio. White pepper has a milder flavor profile than black pepper, so it's a 1-1 substitute. I would start with less black pepper and add as you go. (But really, you should have white pepper in your pantry! It's a staple in mine!)
NEUTRAL OIL
My favorite neutral oil is avocado oil, but you can also use canola or vegetable oil! I don't use olive oil when cooking Chinese food for two reasons: 1. It has a low burning point and 2. I find that the flavor profile does not usually go with the dish.
MSG
As always, this is optional 🙂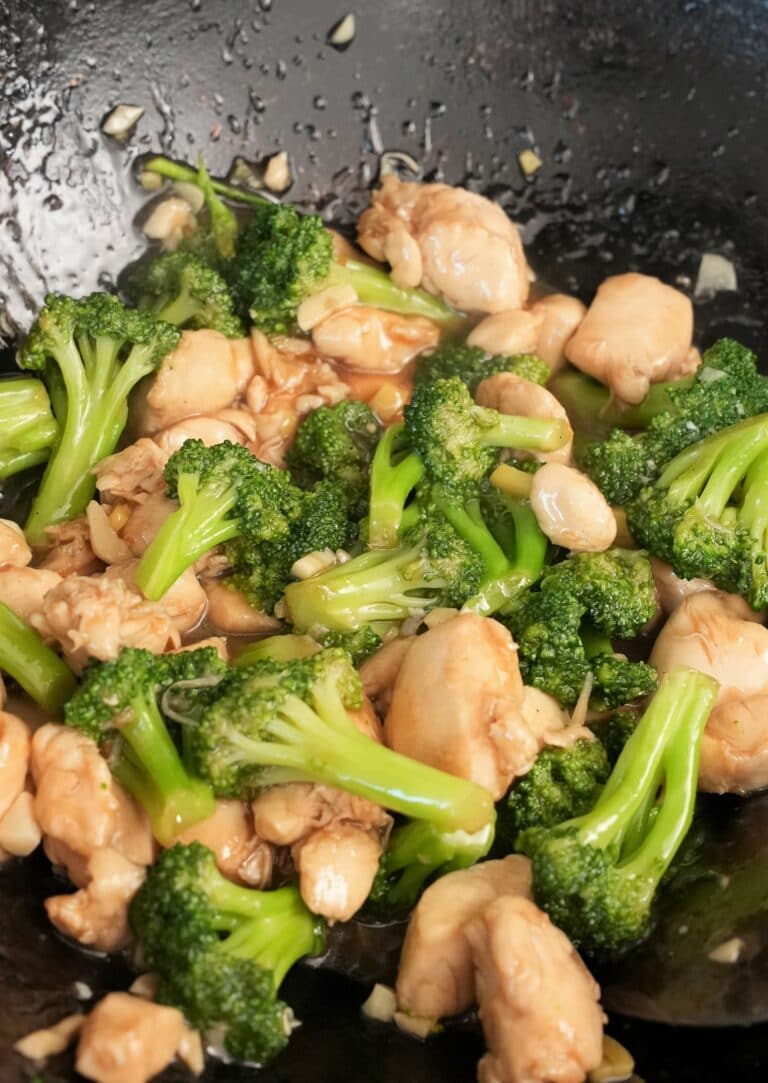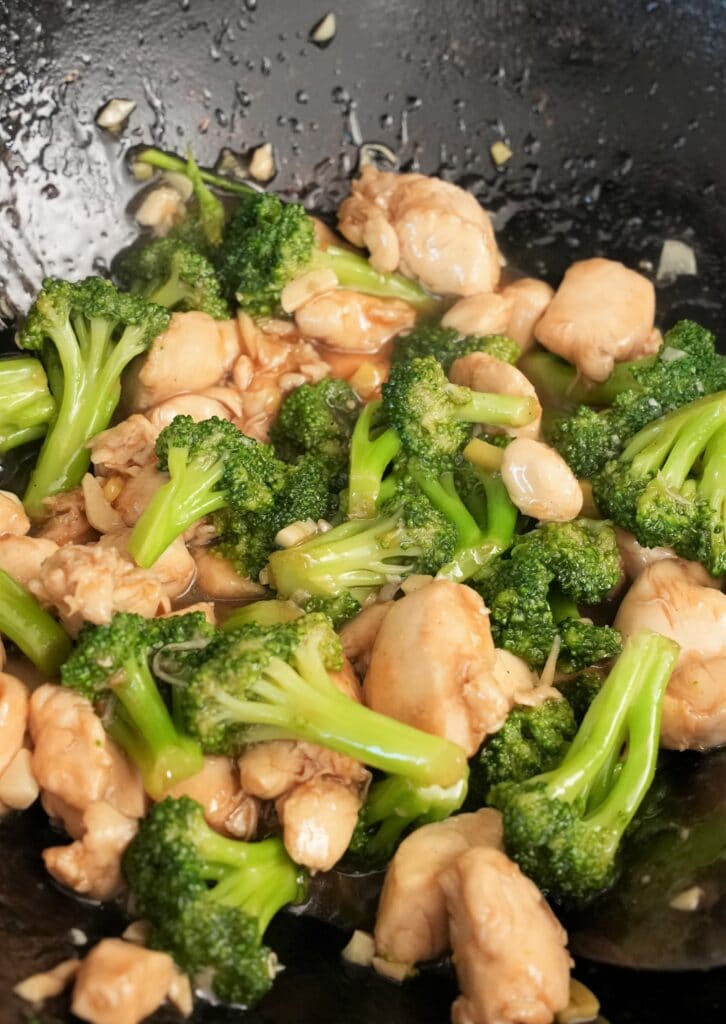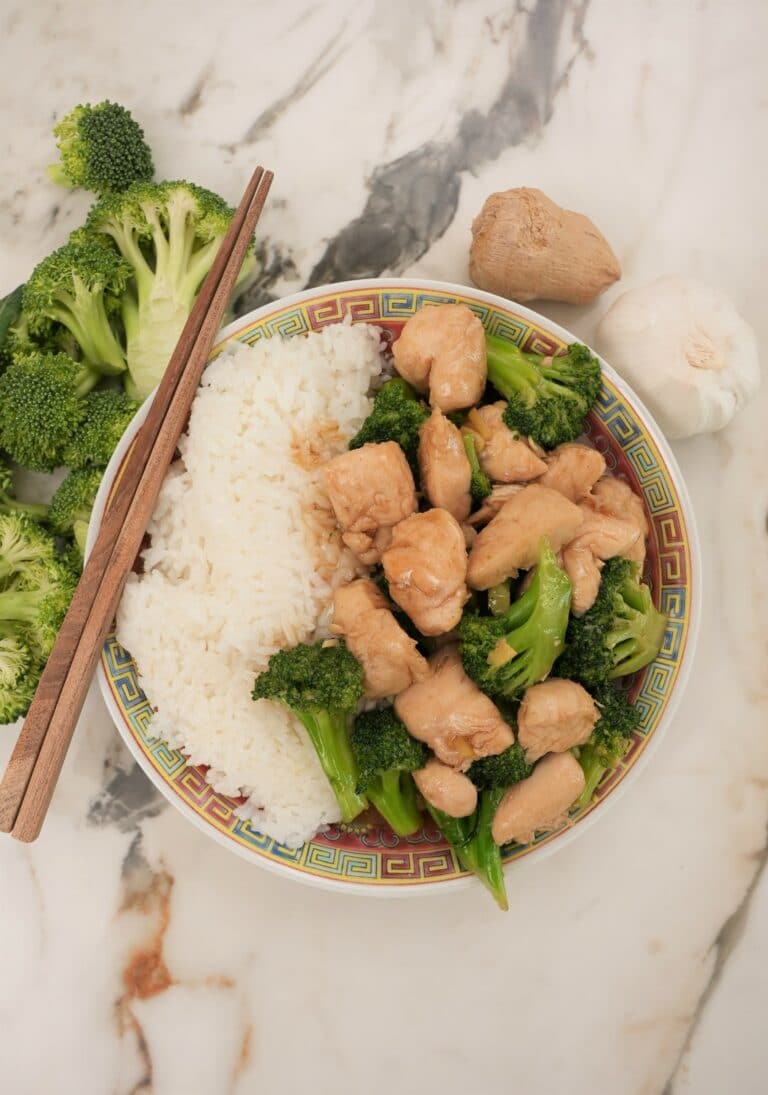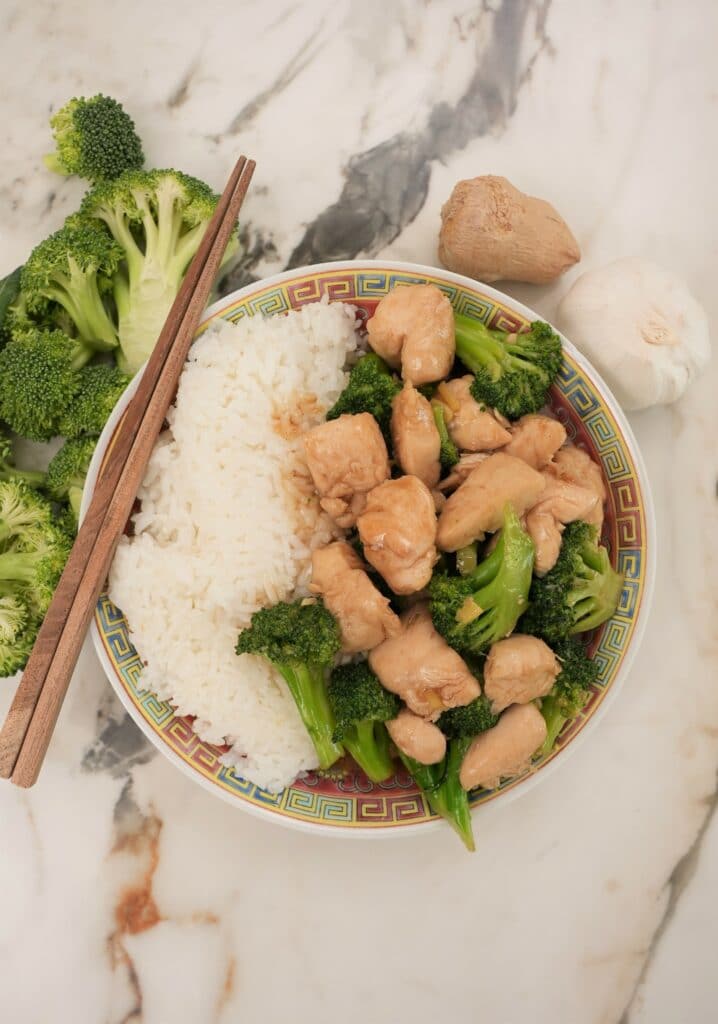 RECIPE TIPS
VELVETING
Velveting is a key Chinese cooking technique that involves marinating the protein in cornstarch and various seasonings (such as white pepper, salt, shaoxing wine, and oils) before quickly passing it through hot oil. It's one of my favorite ways to guarantee moist and tender meat, and it's a trick that I don't hear home chefs talk about often. I love incorporating it into my recipes because it's one of the best ways to make restaurant quality Chinese food at home!
BLANCH YOUR BROCCOLI
Blanching your broccoli is a quick and simple way to keep them crisp and delicious! It tenderizes without making it mushy, and eliminates any bitterness. It also helps prevent loss of color.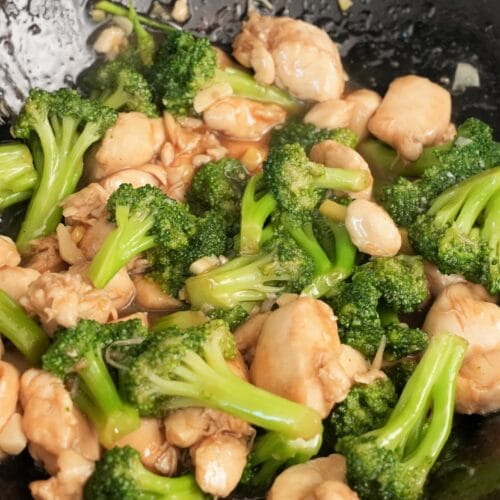 Chicken and Broccoli
Chicken and Broccoli has been one of my MOST requested recipes! It's perfect for all of us trying to eat healthier in the new year (myself included) without compromising on taste!
Ingredients
Vegetables & Aromatics
2

cups

broccoli florets

5

cloves

garlic

chopped

1

inch

ginger

chopped
Oils
1

tsp

sesame oil

1.5

cup

neutral oil

for frying chicken and aromatics
Instructions
Cut chicken breast into 1" pieces and marinate with white pepper, salt, shaoxing wine, avocado oil, sesame oil, and cornstarch for 30 minutes.

Premix your sauce by combining soy sauce, oyster sauce, white pepper, sugar, msg, chicken stock, and cornstarch. Mix until combined and set aside.

Chop garlic and ginger and set aside, then cut broccoli to similar size pieces as the chicken.

In a pot of boiling water, blanch broccoli for 45 seconds and remove and drain thoroughly.

In a hot pan over high heat, heat 1 cup of avocado oil until smoking (about 450F), then carefully drop the chicken in the oil and velvet for 1-2 minutes until pieces are cooked through. Remove and set aside in a bowl.

Reserve 2 tbsp of frying oil, and sauté garlic and ginger for 15 seconds.

Add the premixed sauce and combine. The sauce will thicken after just a few seconds (refer to video for sauce consistency).

Add back chicken and broccoli and toss to combine. Finish with a tsp of sesame oil, give it a final mix and serve with freshly steamed rice. Enjoy!
Nutrition
Calories:
220
kcal
Carbohydrates:
14
g
Protein:
27
g
Fat:
6
g
Saturated Fat:
1
g
Polyunsaturated Fat:
1
g
Monounsaturated Fat:
2
g
Trans Fat:
0.01
g
Cholesterol:
73
mg
Sodium:
1107
mg
Potassium:
640
mg
Fiber:
1
g
Sugar:
4
g
Vitamin A:
319
IU
Vitamin C:
43
mg
Calcium:
39
mg
Iron:
1
mg