Mushroom Chicken
---
January 12, 2022
---
Mushroom Chicken has been one of my highly requested "Chinese takeout" recipes – and I knew I had to share the recipe so everyone could see how easy it is to replicate at home! With only a couple simple ingredients, you'll be able to have a delicious dinner on the table in LESS THAN 30 minutes!
Watch the Mushroom Chicken Recipe Video Below!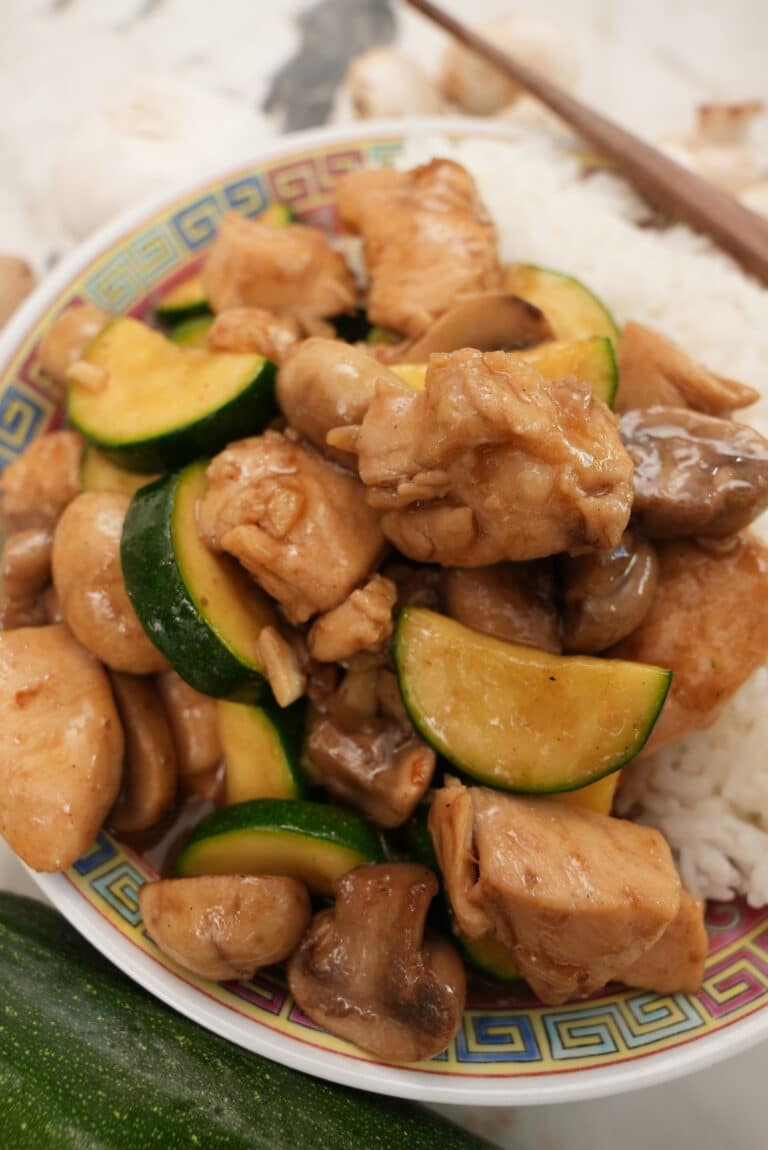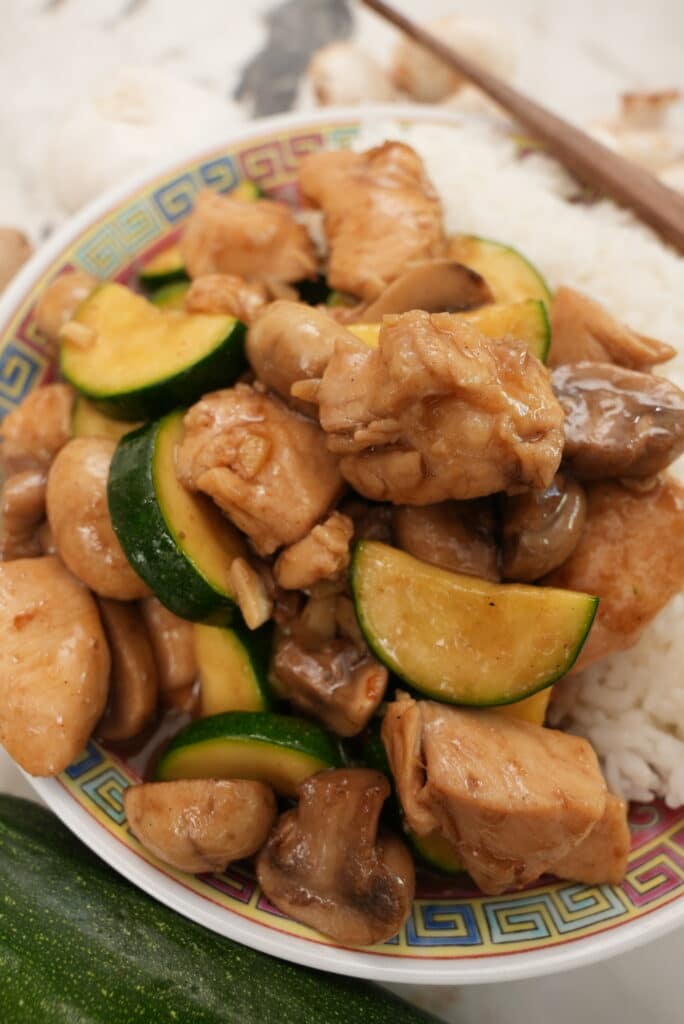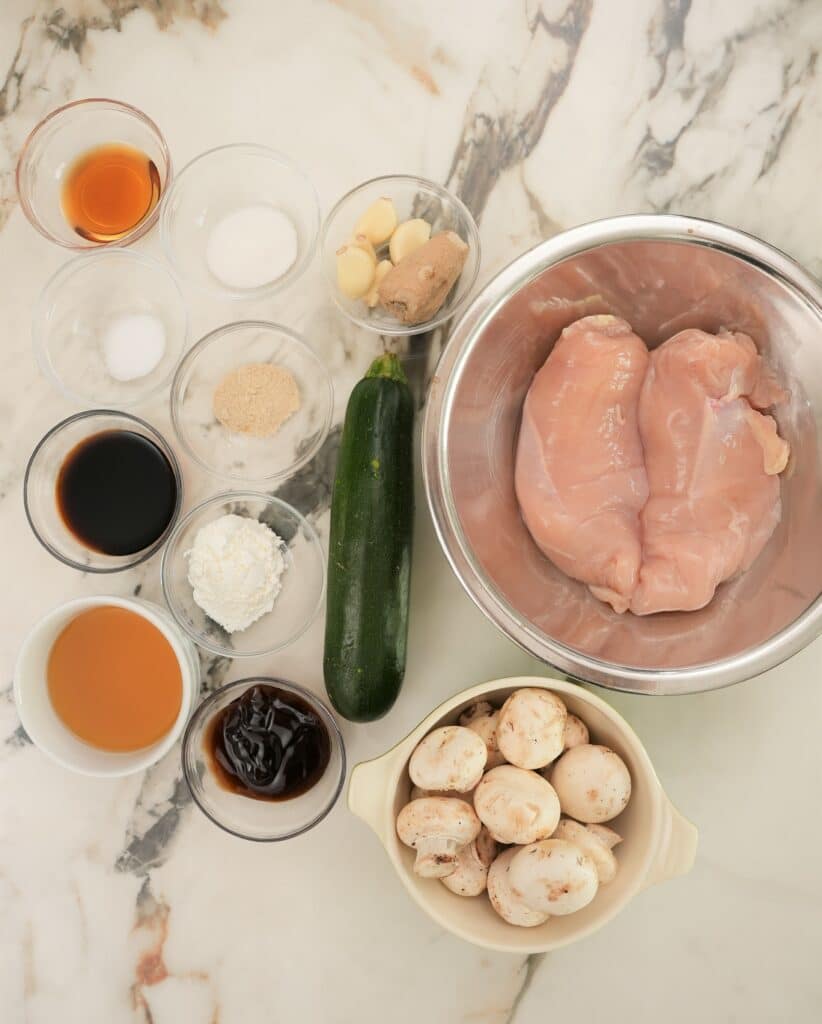 INGREDIENTS TIPS
CHICKEN
I used chicken breast but you can also use chicken thigh – regardless of which you use, what is important is that you cut these to 1/2″ pieces!
MUSHROOMS
I like to use white button mushrooms, as they are mild in flavor and pairs well with the sauce. They're also the type of mushroom you most commonly see in this dish. However, you can sub with any other mushroom varietal you prefer, as long as you keep in mind that the flavor profile may change slightly.
CORNSTARCH
Cornstarch is a key ingredient in Chinese cooking because it is used for velveting the meat. Velveting is a Chinese technique where protein is marinated in cornstarch and cooked quickly in hot oil, resulting in the meat becoming tender and silky. You'll see this technique in a lot of my recipes because it's one of my favorite ways to guarantee moist, tender protein!
SHAOXING WINE
If you cannot or do not want to use wine, you can sub with sherry, mirin, or chicken stock!
MSG
As always, this is optional 🙂
NEUTRAL OIL
My favorite neutral oil is avocado oil, but you can also use canola or vegetable oil! I don't use olive oil when cooking Chinese food for two reasons: 1. It has a low burning point and 2. I find that the flavor profile does not usually go with the dish.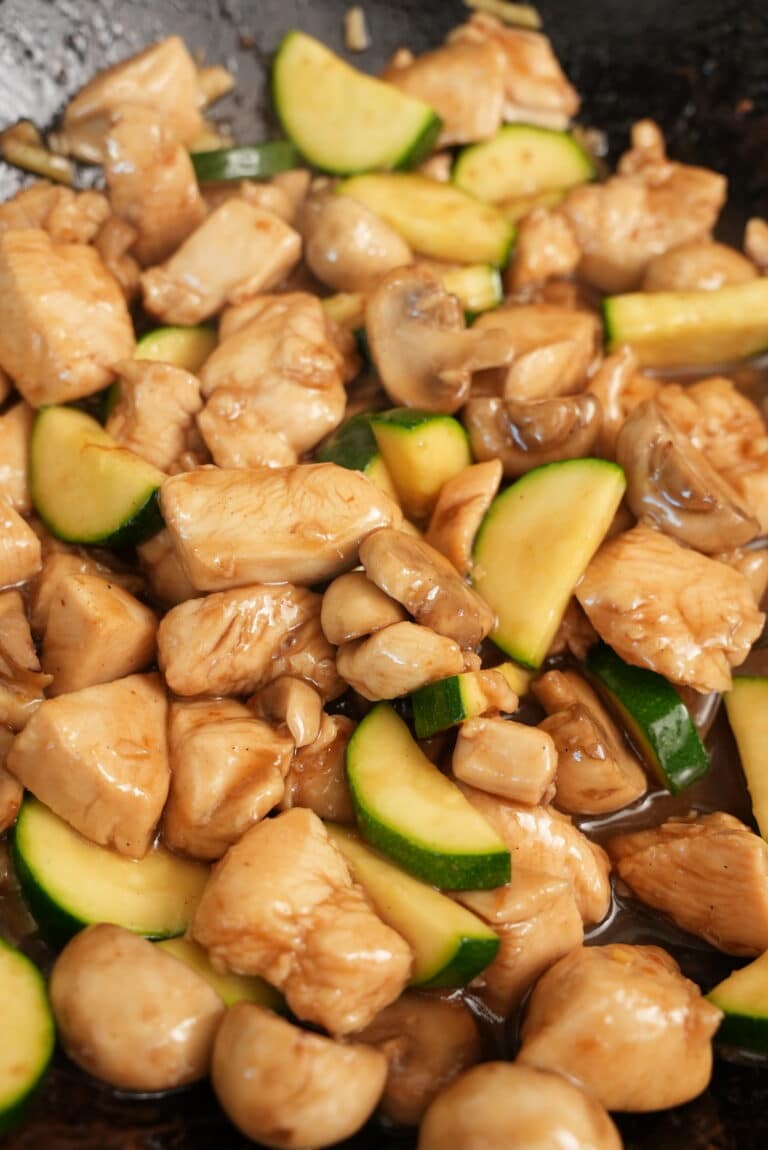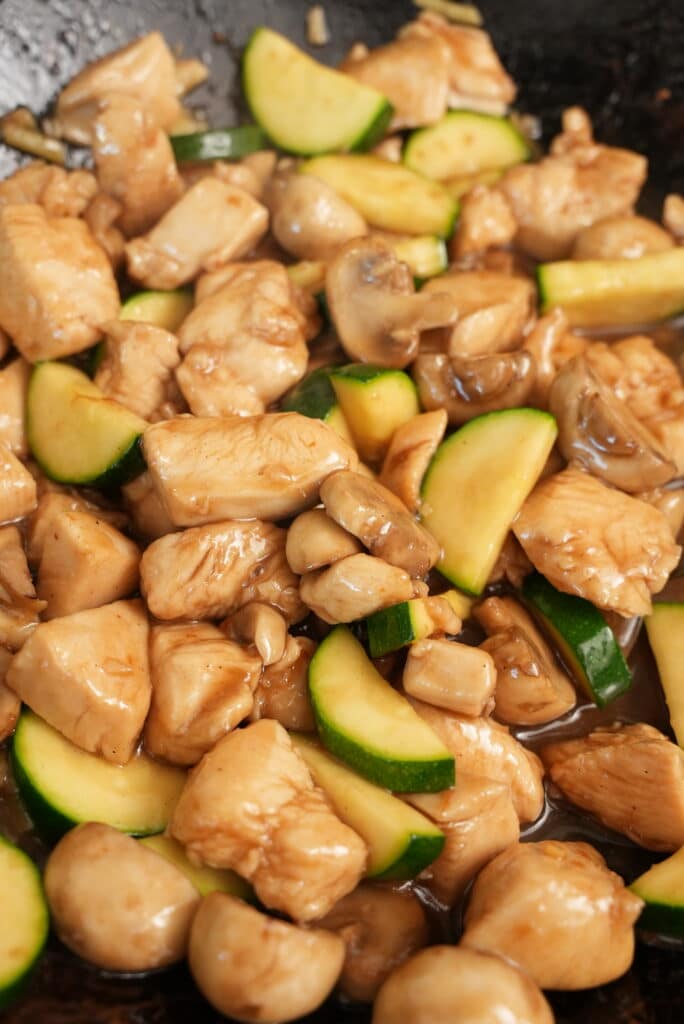 RECIPE TIPS
VELVETING
Velveting is a key Chinese cooking technique that involves marinating the protein in cornstarch and various seasonings (such as white pepper, salt, shaoxing wine, and oils) before quickly passing it through hot oil. It's one of my favorite ways to guarantee moist and tender meat, and it's a trick that I don't hear home chefs talk about often. I love incorporating it into my recipes because it's one of the best ways to make restaurant quality Chinese food at home!
CUT YOUR VEGETABLES!
I always recommend cutting your vegetables into similar sized pieces so they cook evenly – this little step makes a huge difference!
Mushroom Chicken
Ingredients
Chicken
1

lb

chicken breast

cut into 1" pieces

1/4

tsp

white pepper

1/2

tsp

salt

1

tbsp

shaoxing wine

1

tbsp

neutral oil

I used avocado oil

1

tsp

sesame oil

1

tbsp

cornstarch
Vegetables & Aromatics
1

zucchini

medium, cut lengthwise and then into 1/2" half circles

8

oz

white mushrooms

halved

1

inch

ginger

chopped

4

cloves

garlic

chopped
Sauce
2

tbsp

soy sauce

1

tbsp

oyster sauce

1/4

tsp

white pepper

1

tbsp

sugar

1/4

tsp

msg

1/2

cup

chicken stock

1/2

tbsp

cornstarch
Oils
1

tsp

sesame oil

1

cup

neutral oil

for frying chicken; I used avocado oil

2

tbsp

neutral oil

for frying vegetables & aromatics; I used avocado oil
Instructions
Cut chicken breast into 1" pieces and marinate with white pepper, salt, Shaoxing wine, avocado oil, sesame oil, and cornstarch for 30 minutes.

Premix your sauce by combining soy sauce, oyster sauce, white pepper, sugar, msg, chicken stock, and cornstarch. Mix until combined and set aside.

Chop garlic and ginger and set aside, then cut zucchini and mushroom to similar size pieces as the chicken.

In a pot of boiling water, blanch zucchini for 10 seconds and remove and drain thoroughly.

In a hot pan or wok over high heat, heat 1 cup of avocado oil until smoking (about 450F), then carefully drop the chicken in the oil and velvet for 1-2 minutes until pieces are cooked through. Remove and set aside in a bowl.

Reserve 2 tbsp of frying oil, and sauté garlic and ginger for 15 seconds.

Add the mushrooms, then stir fry for 1-2 minutes or until the mushrooms begin to brown, then add back the chicken.

Add the premixed sauce and combine. The sauce will thicken after just a few seconds (refer to video for sauce consistency).

Finally, add back your blanched zucchini and give it a final toss. Finish with a tsp of sesame oil, give it a final mix and serve with freshly steamed rice. Enjoy!