Kung Pao Chicken
---
August 13, 2022
---
Kung Pao Chicken is one of the top Chinese takeout dishes in America but did you know this is also a classic Sichuan dish? The stir fried chicken and vegetables are lightly sauced in a sweet and savory glaze that has the signature mouth-numbing heat from the Szechuan peppercorns. This is another one of my family's favorites and you're going to love making it at home!
Watch the Kung Pao Chicken Recipe Video Below!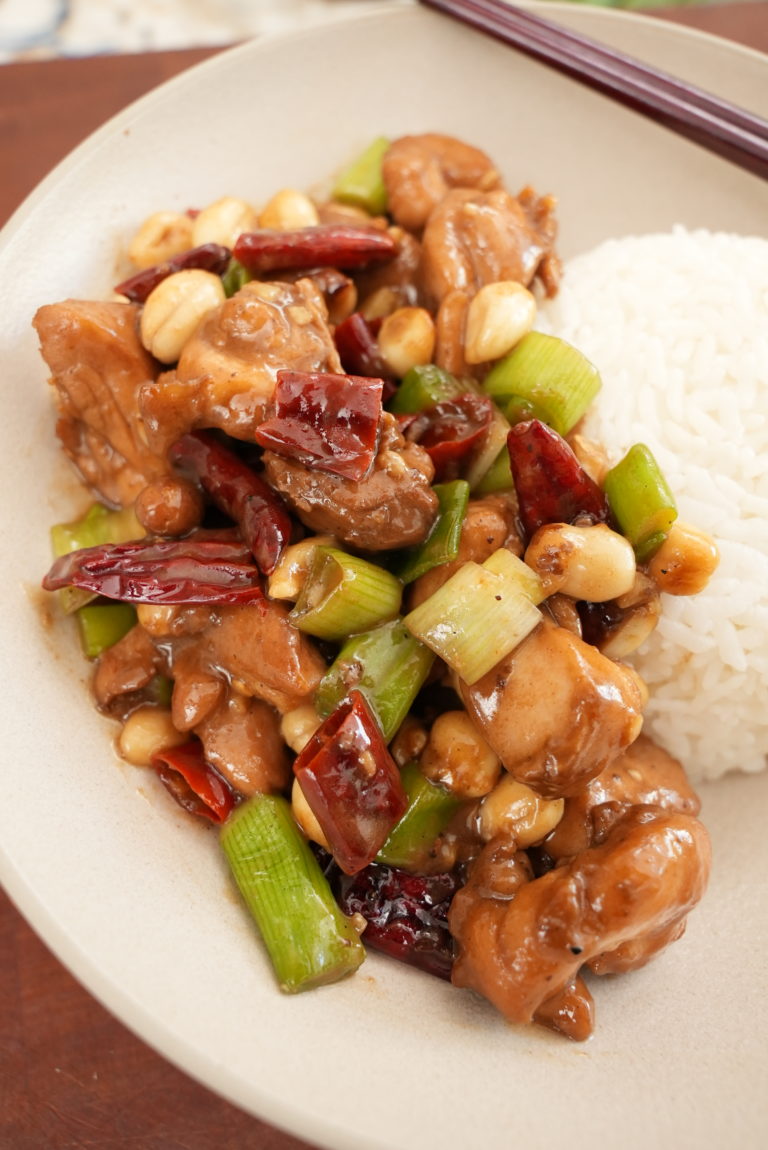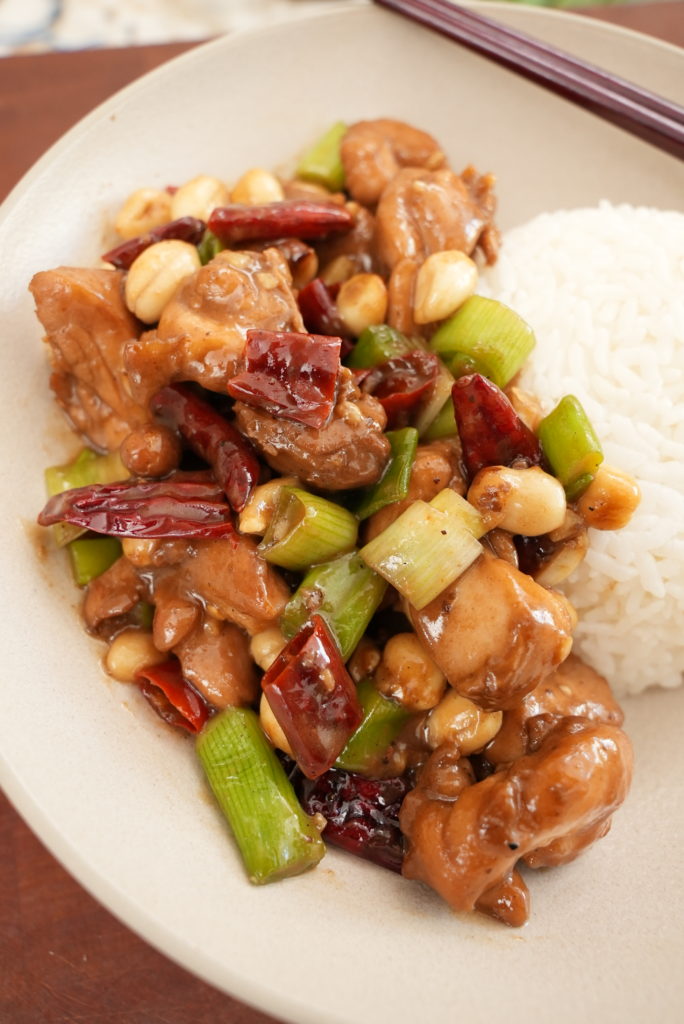 Ingredients for Kung Pao Chicken
I love this Kung Pao Chicken recipe because only a few ingredients are needed to make that spicy, savory chicken. Firstly, here are the ingredients you will need!
Chicken Thigh (You can also use chicken breast for this recipe)
Light Soy Sauce
Dark Soy Sauce
White Pepper
Kosher Salt
Shaoxing wine
Corn Starch
Rice Vinegar

Chicken Stock – I

always

recommend Kettle & Fire – use code CJPINS for 20% off your order

here

!

Sugar
MSG
Garlic
Scallions
Ground Sichuan Peppercorn
Dried Red Chilis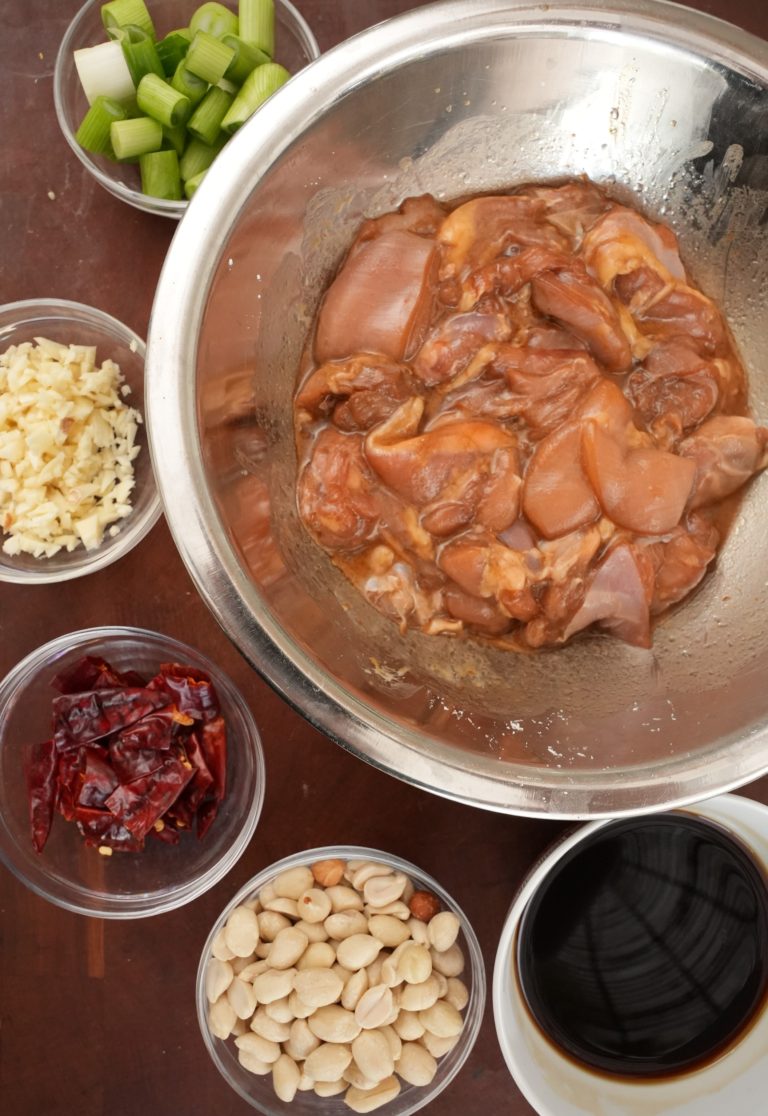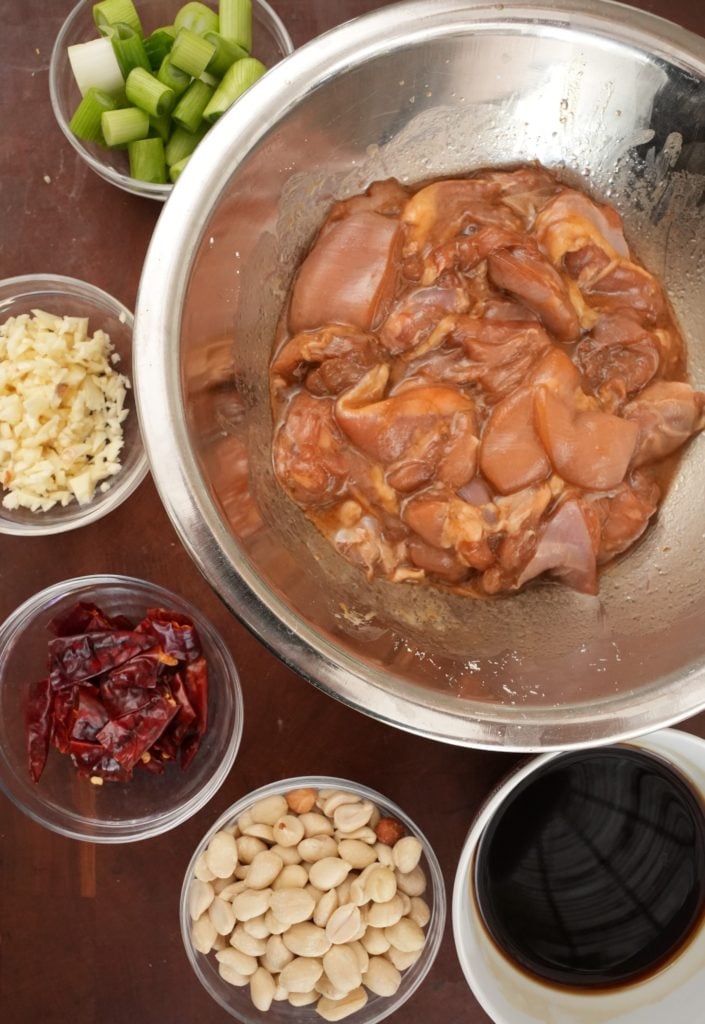 INGREDIENTS TIPS
CHICKEN
I like to use chicken thigh in this recipe but if you prefer chicken breast, feel free to substitute here!
LIGHT vs. DARK SOY SAUCE
Yes, they're different! Dark soy sauce is thicker, darker, and sweeter (as well as has a higher sodium content) than regular soy sauce. Because I use these two ingredients at 1:1 ratio and there are so few ingredients in the sauce, there is not a substitute I can recommend 🙁
MSG
As always, this is optional 🙂
NEUTRAL OIL
My favorite neutral oil is avocado oil, but you can also use canola or vegetable oil! I don't use olive oil when cooking Chinese food for two reasons: 1. It has a low burning point and 2. I find that the flavor profile does not usually go with the dish.
SHAOXING WINE
If you cannot or do not want to use wine, you can sub with sherry, mirin, or chicken stock!
Kung Pao Chicken: Recipe Instructions
Cut the Chicken
The first step in making this recipe is cutting the chicken into 1″ pieces. Cut the chicken into uniform pieces so they cook evenly in the pan or wok.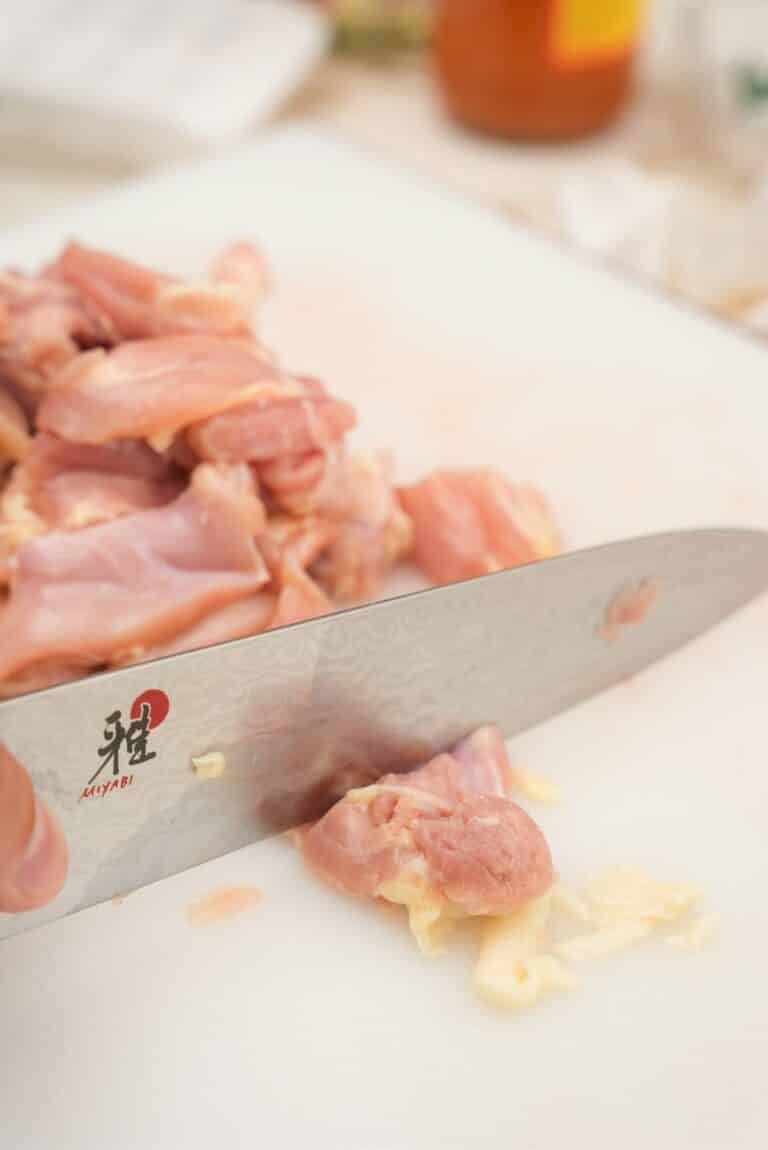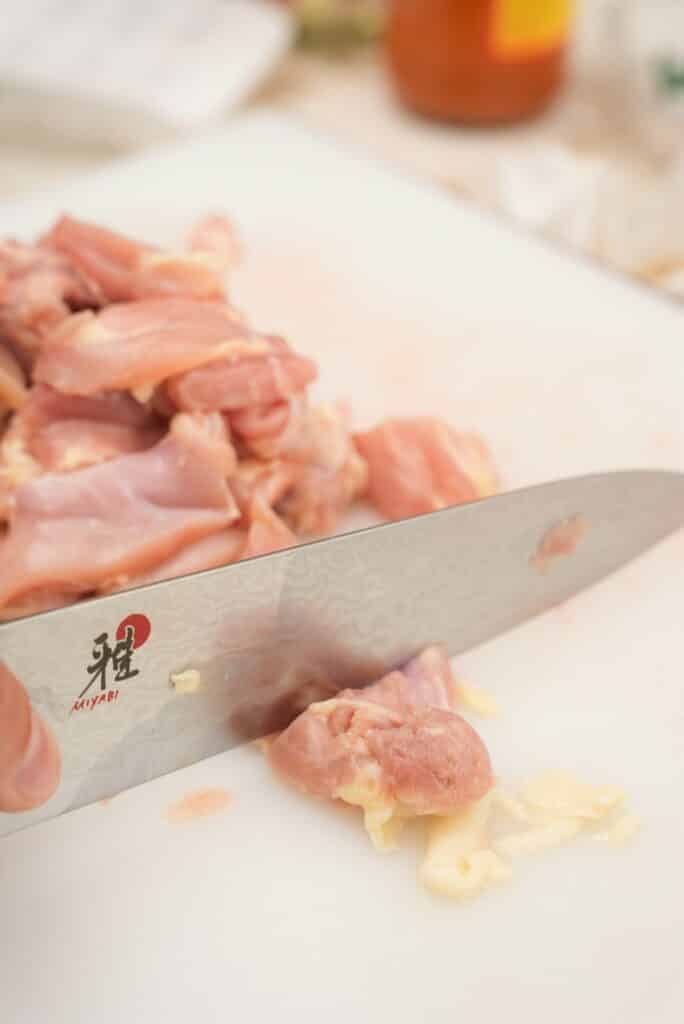 Next, place the sliced chicken into a bowl with light & dark soy sauce, white pepper, salt, shaoxing wine, neutral oil and cornstarch. Mix well with your hands and let marinate for at least 20 minutes.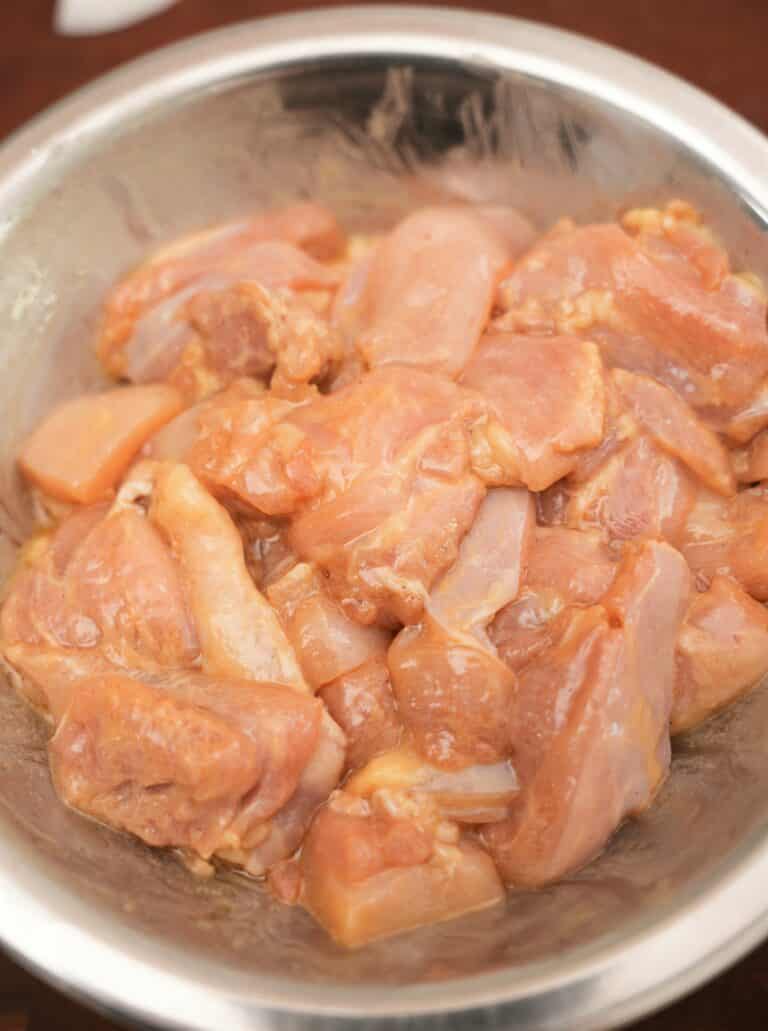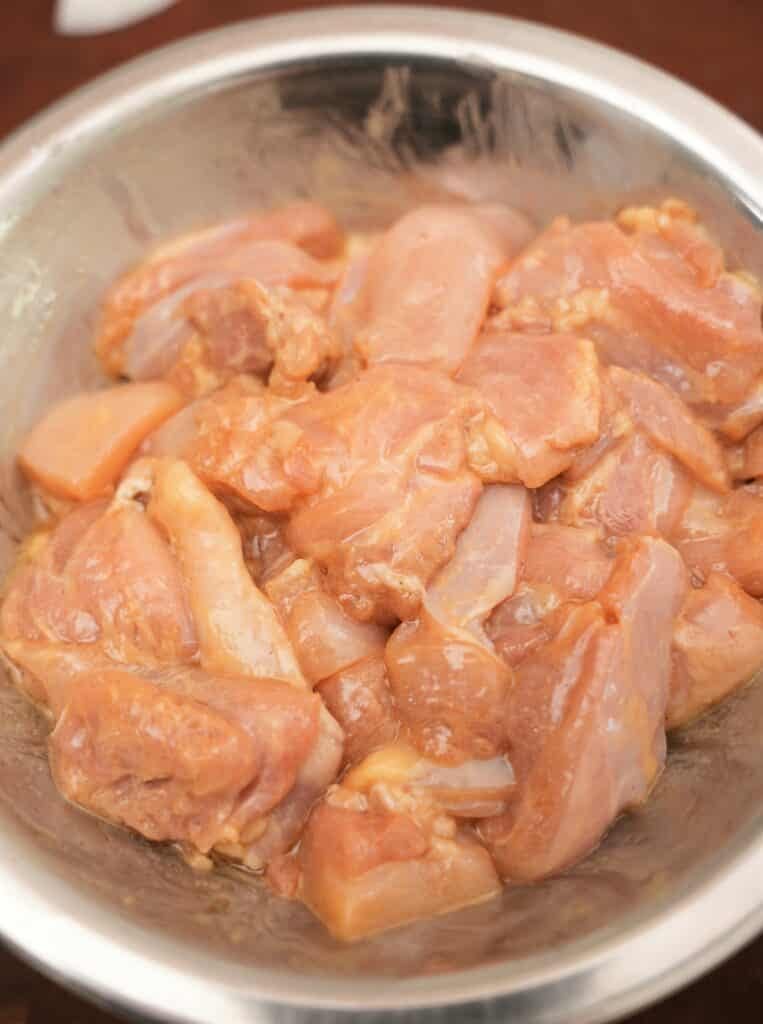 Next, mix the sauce by combining chicken broth (I always use Kettle & Fire – get 20% off your order when you use code CJPINS!), light & dark soy sauce, rice vinegar, shaoxing wine, sugar, cornstarch, and msg. I always like to premix my sauce to have it ready to go during the fast cooking process.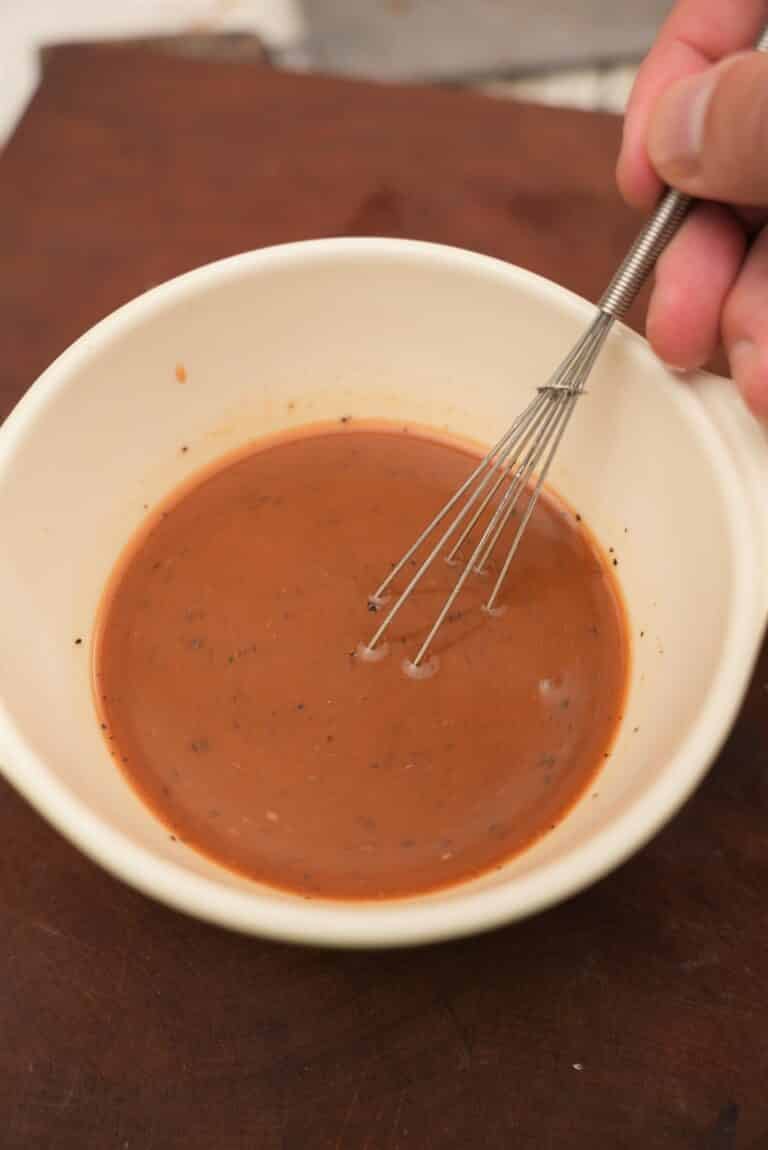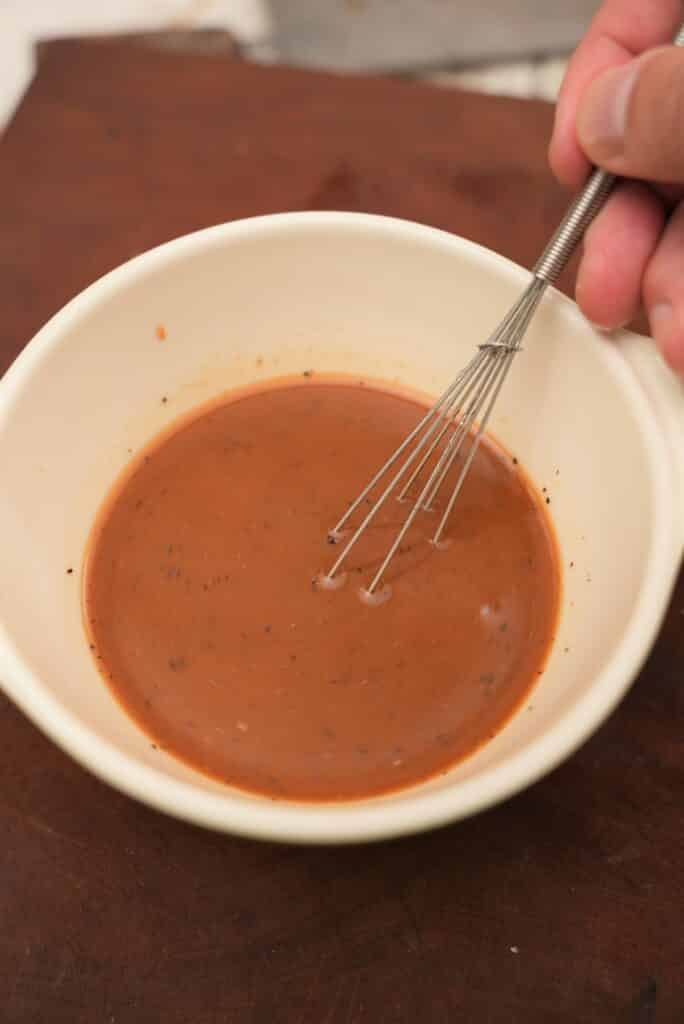 Fry the peanuts
Next, fry the peanuts in a tablespoon of oil over medium heat for about 1-2 minutes or until golden browned. Remove them from the wok and set them aside.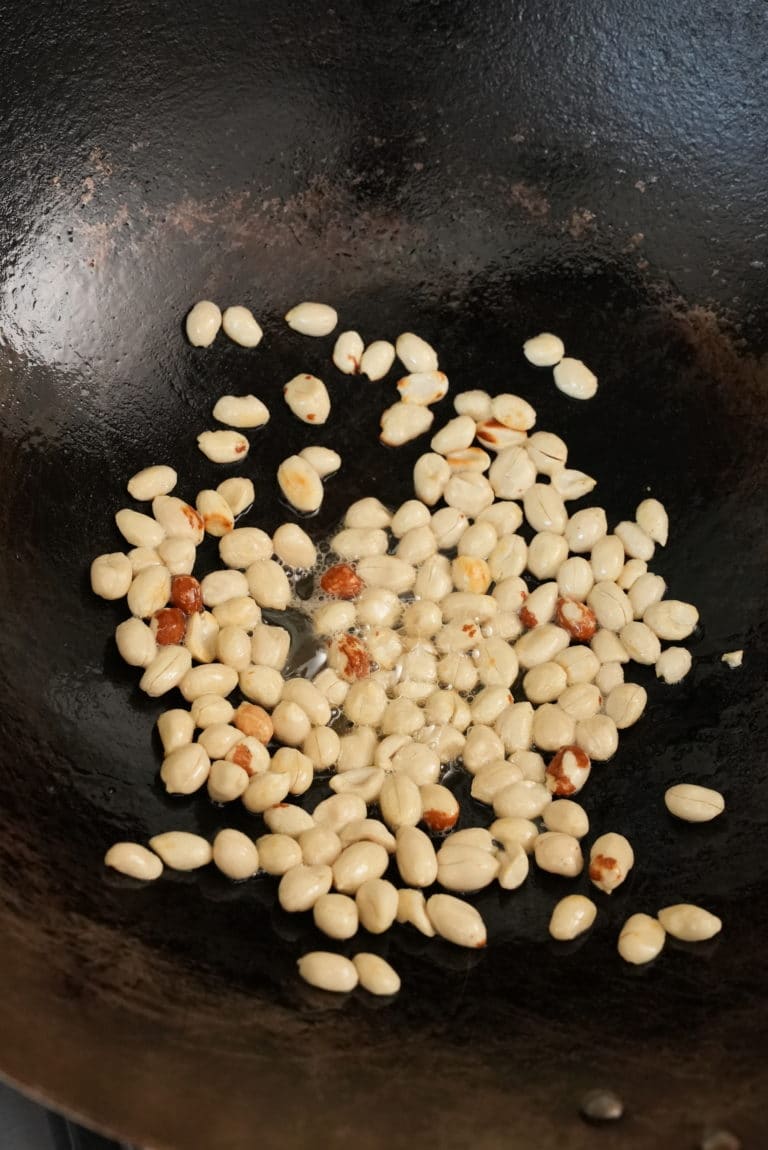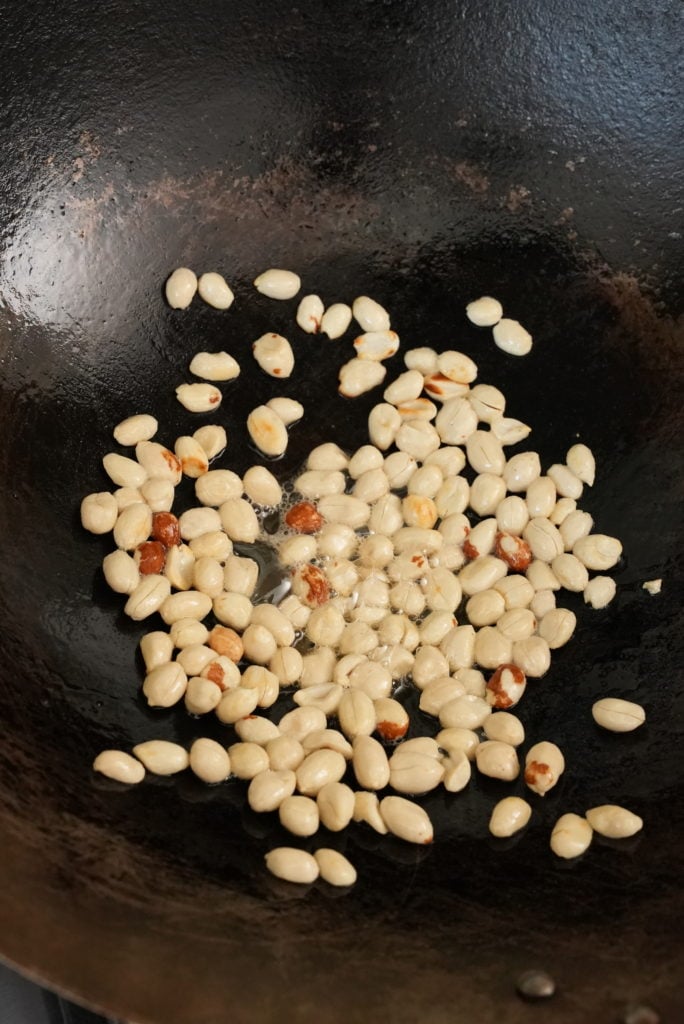 Velvet the Chicken in Neutral Oil
After the chicken is marinated, and the peanuts are removed, heat about 3 tbsp of neutral oil (I always prefer avocado oil) over high heat until smoking. Velvet the chicken pieces for 4-5 minutes until they are cooked through and golden brown. Remove the chicken and leave the excess oil to sauté the garlic and the remainder of the aromatics.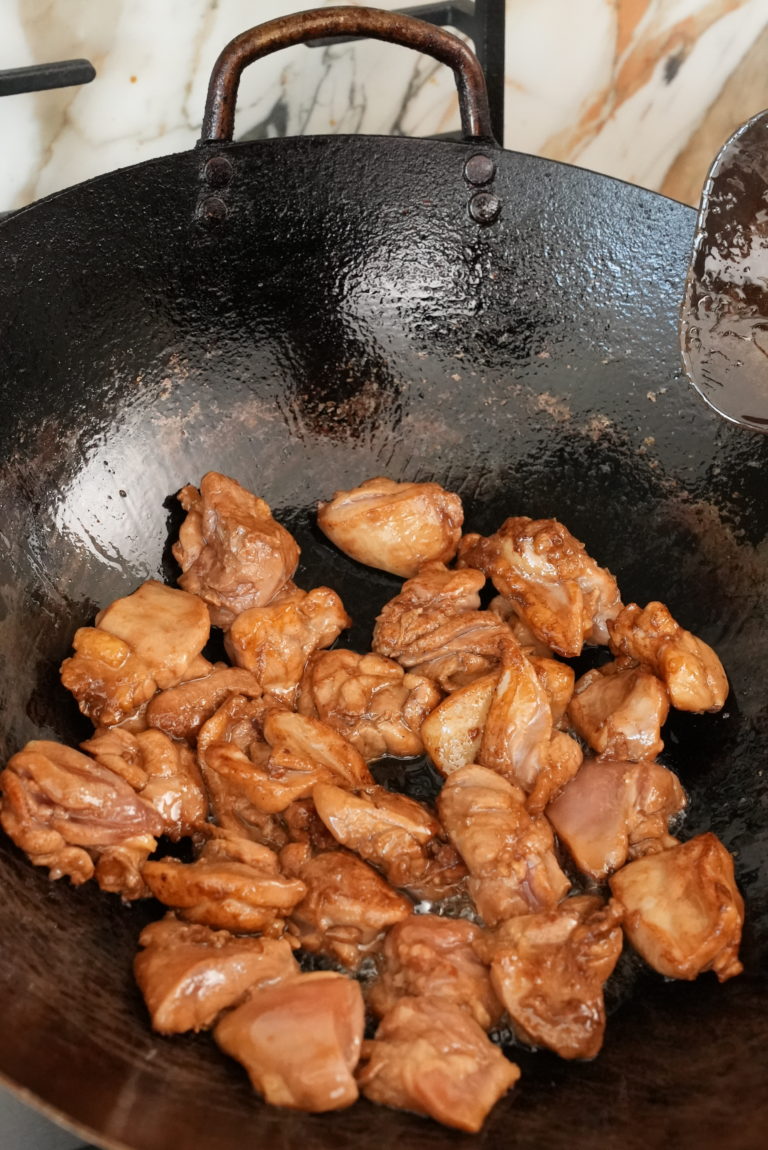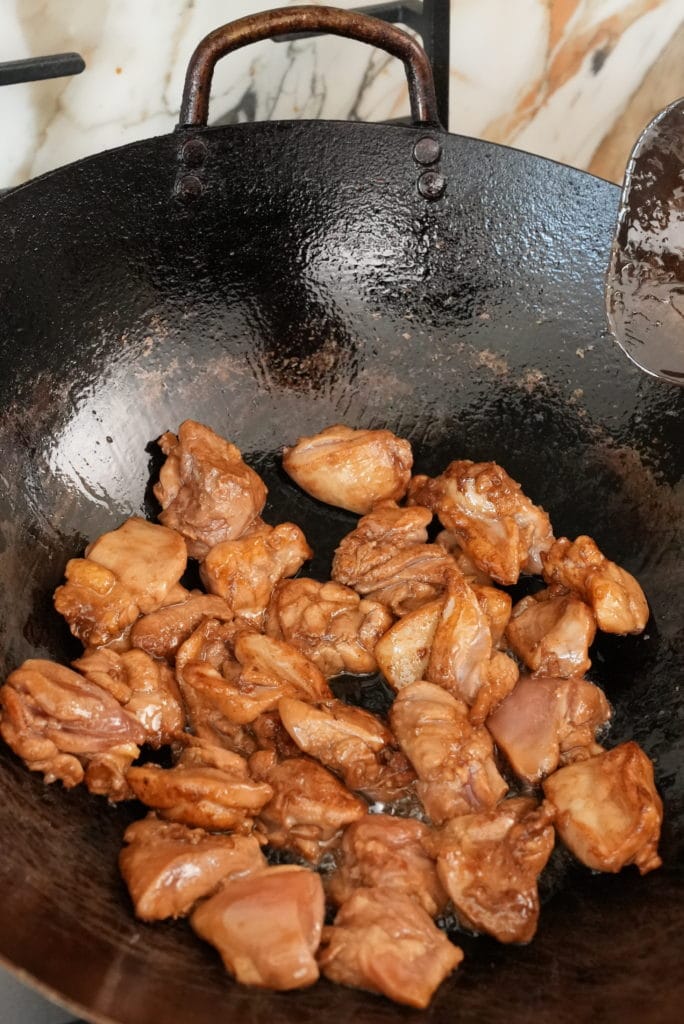 Sauté Aromatics
Next, over medium high heat, saute the garlic, red chilis and ground sichuan peppercorn for a few seconds until fragrant.
Add Chicken and Sauce
Once the aromatics are fragrant, add back the chicken along with the sauce. Work quickly to mix the sauce together to evenly coat all the ingredients in the pan. Add back the peanuts and finally your scallions. Give the ingredients a good mix.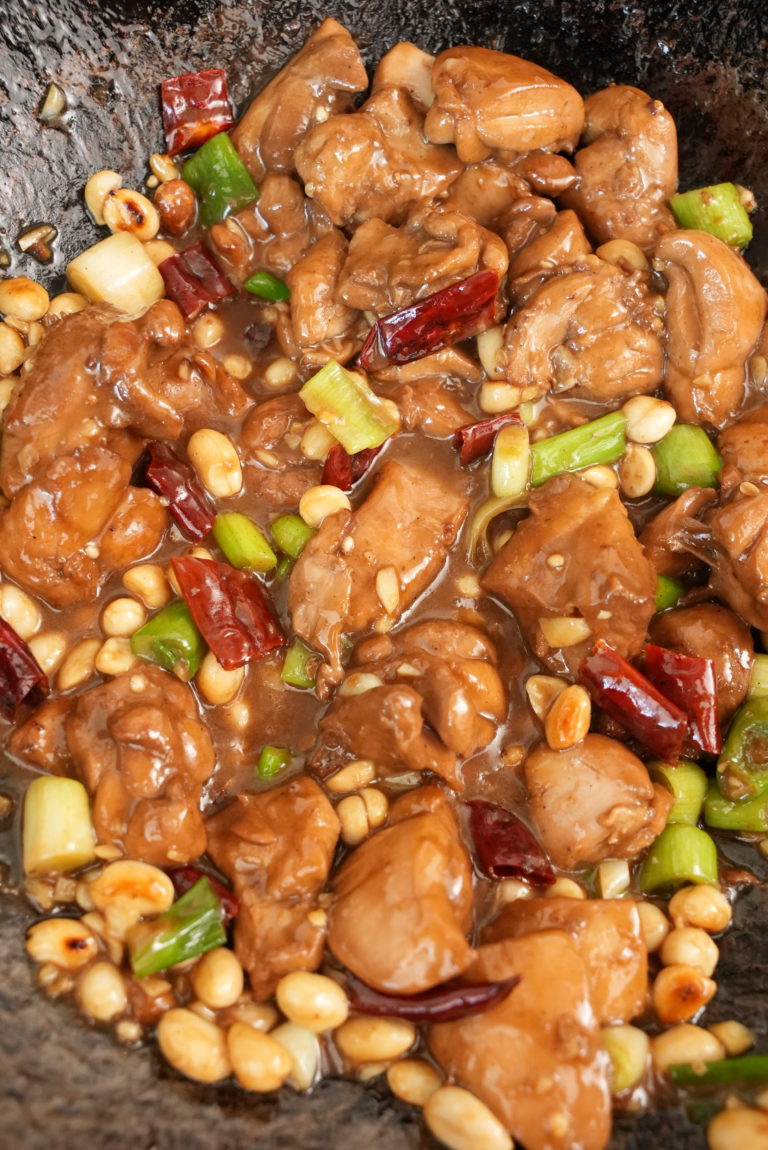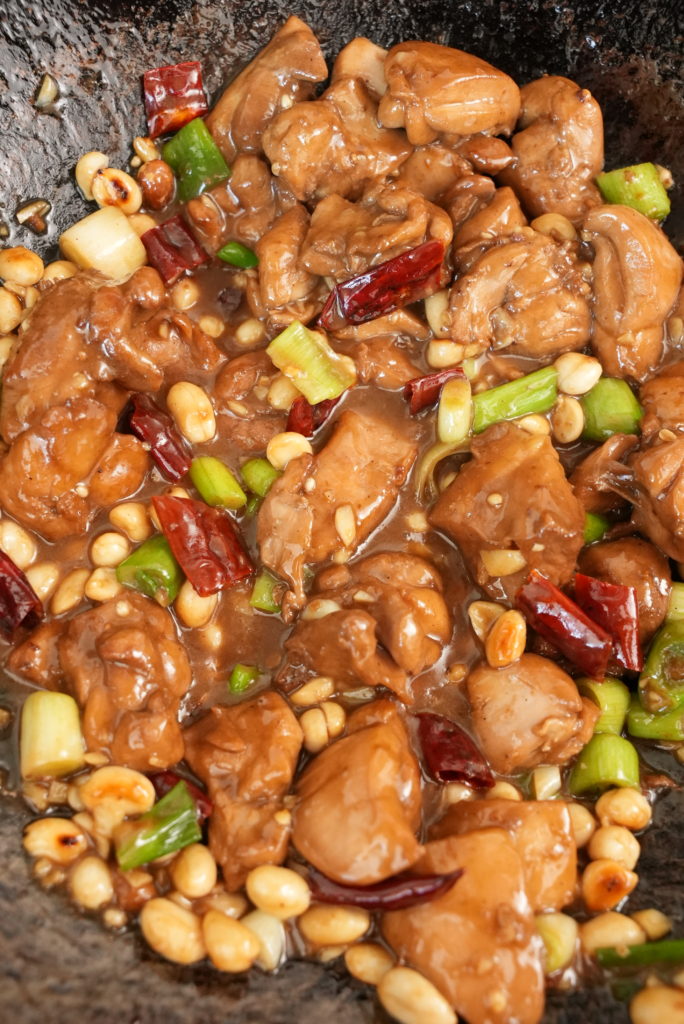 Continue cooking for another 1-2 minutes until the sauce has thickened and your Kung Pao Chicken is done! I love serving this with a freshly steamed bowl of rice.
If you liked this Kung Pao Chicken recipe, check out some of the most popular Chinese Take-Out recipes on the blog!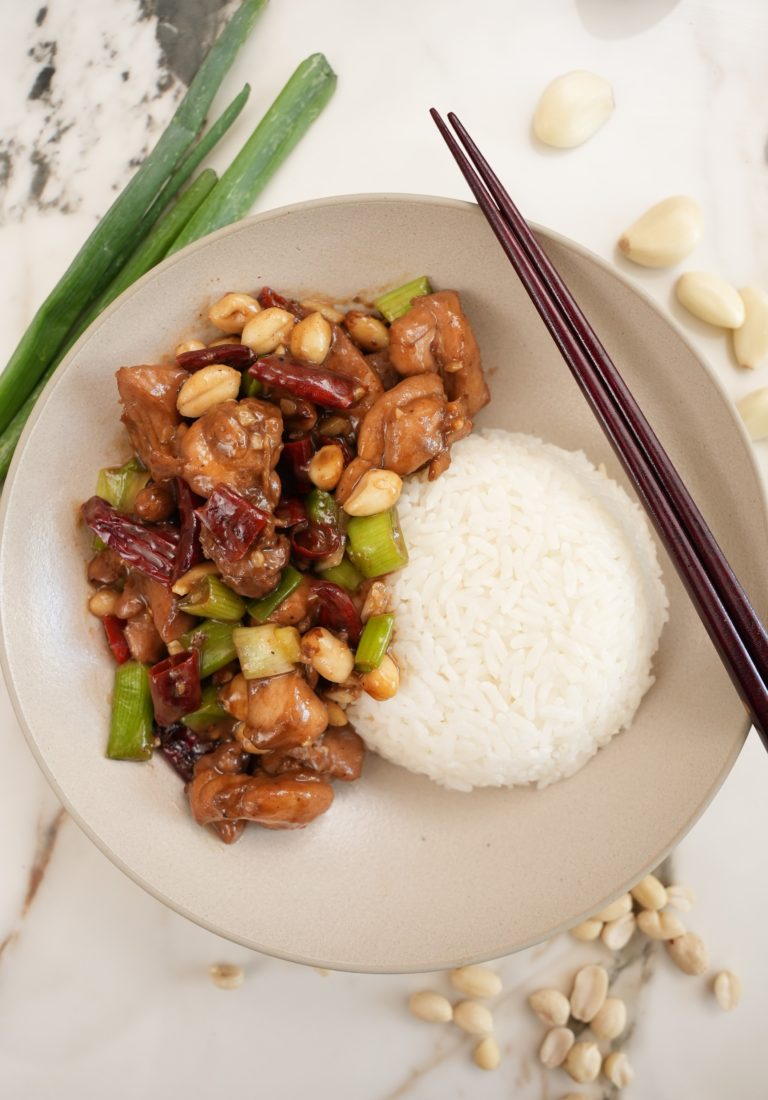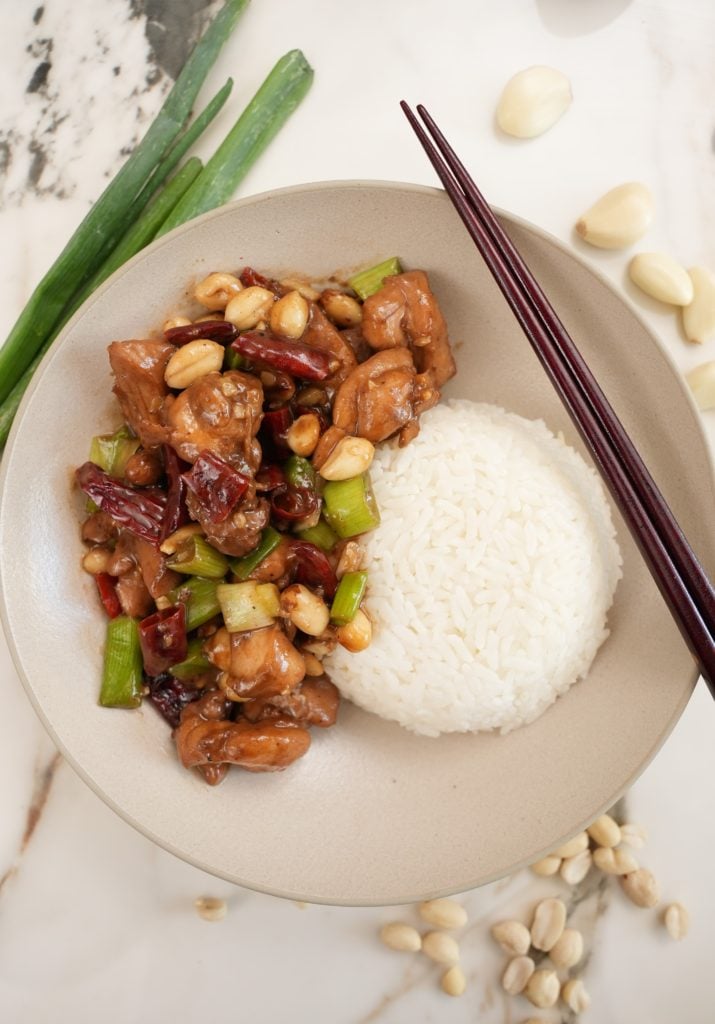 RECIPE TIPS
VELVETING
Velveting is a key Chinese cooking technique that involves marinating the protein in cornstarch and various seasonings (such as white pepper, salt, shaoxing wine, and oils) before quickly passing it through hot oil. It's one of my favorite ways to guarantee moist and tender meat, and it's a trick that I don't hear home chefs talk about often. I love incorporating it into my recipes because it's one of the best ways to make restaurant quality Chinese food at home!
SUCCESS IS IN THE PREP!
For a recipe that comes together extremely quickly, the key to pulling this recipe off successfully is having your ingredients prepped and in bowls right next to your wok or pan! Have your premixed sauce, chicken, and vegetables ready and easily accessible during the cooking process.
ADJUST FOR YOUR HEAT PREFERENCE
DRIED RED CHILIS: If you are sensitive to heat, you can use less chilis OR remove the seeds. (To be clear, the seeds don't contain the chemical that make the peppers hot BUT they are oftentimes coated with the oils that make peppers hot.)
SZECHUAN PEPPERCORNS: You can adjust this to your preference!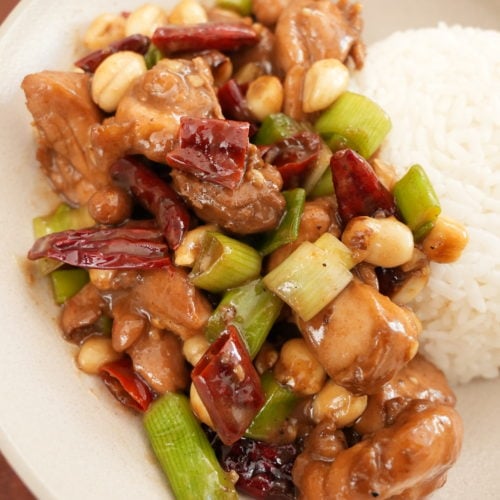 Kung Pao Chicken
This Kung Pao Chicken is so much better than takeout and comes together in about 15 minutes! Serve it with some freshly steamed rice and enjoy.
Ingredients
Vegetables & Oil
3

tbsp

neutral oil

I used avocado oil

6

scallion whites

cut into 1/2" pieces

4

dried red chilis

cut into 1/2" pieces

1

tsp

ground Szechuan peppercorns

5

cloves

garlic

minced

1/3

cup

unsalted peanuts
Instructions
Marinate chicken in with light soy sauce, dark soy sauce, white pepper, kosher salt, shaoxing wine, neutral oil and cornstarch for 20 minutes.

Mix sauce in a bowl by combining light soy sauce, dark soy sauce, rice vinegar, sugar, msg, high quality chicken stock and cornstarch.

In a wok or pan, fry peanuts in 1 tbsp oil over medium heat for 2 minutes, remove and cool.

Over high heat, add 3 tbsp neutral oil to a pan and add chicken. Cook until cooked through and set aside (about 4-5 minutes).

In the remaining oil over medium high heat, fry red chilis and szechuan peppercorn powder for 15 seconds, then add garlic for another 15 seconds. Add back chicken and sauce. Cook for another minute until the chicken is cooked through and the sauce has thickened slightly.

Add peanuts and scallion whites and cook for another 30 seconds to combine. Serve with rice and enjoy!