Panda Express Chow Mein (COPYCAT)
---
January 12, 2023
---
These Panda Express Chow Mein come together in under 20 minutes and, in my opinion, are SO much better than the original! The simple vegetables are wok-fried along with the chow mein noodles and lightly coated in a sweet and savory sauce! I hope you enjoy this recipe for my Panda Express Chow Mein.
Watch the Panda Express Chow Mein Recipe Video Below!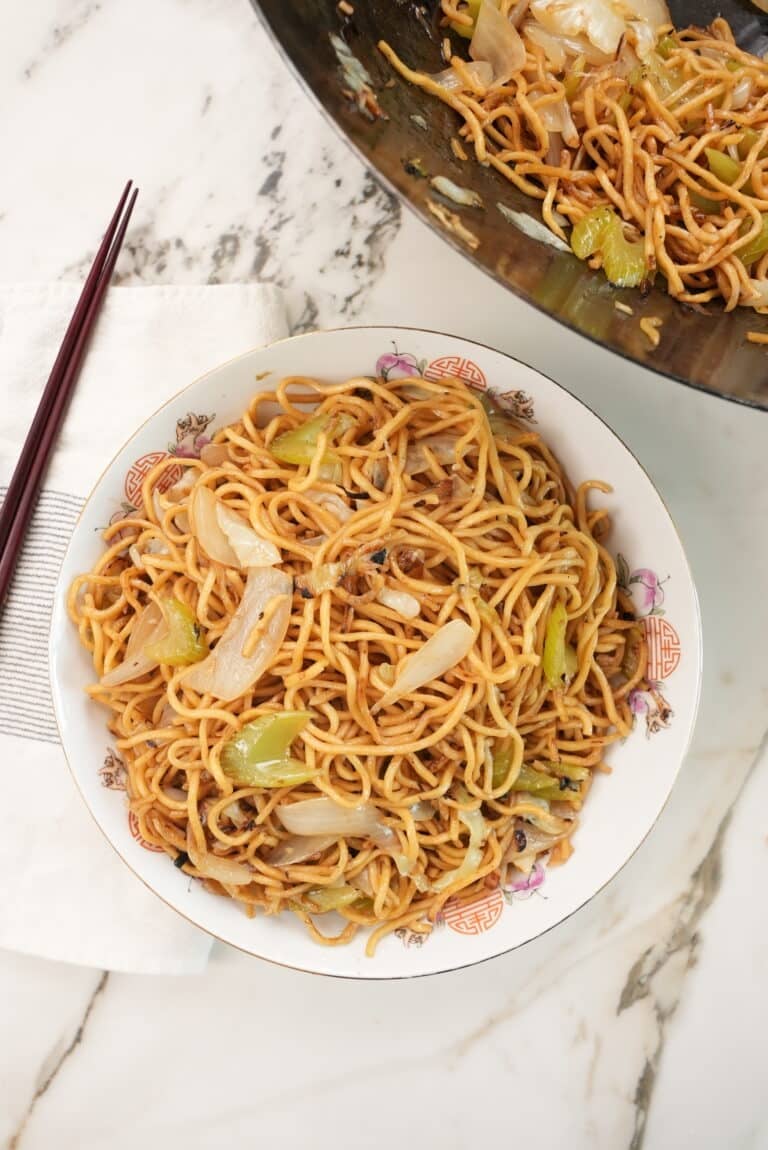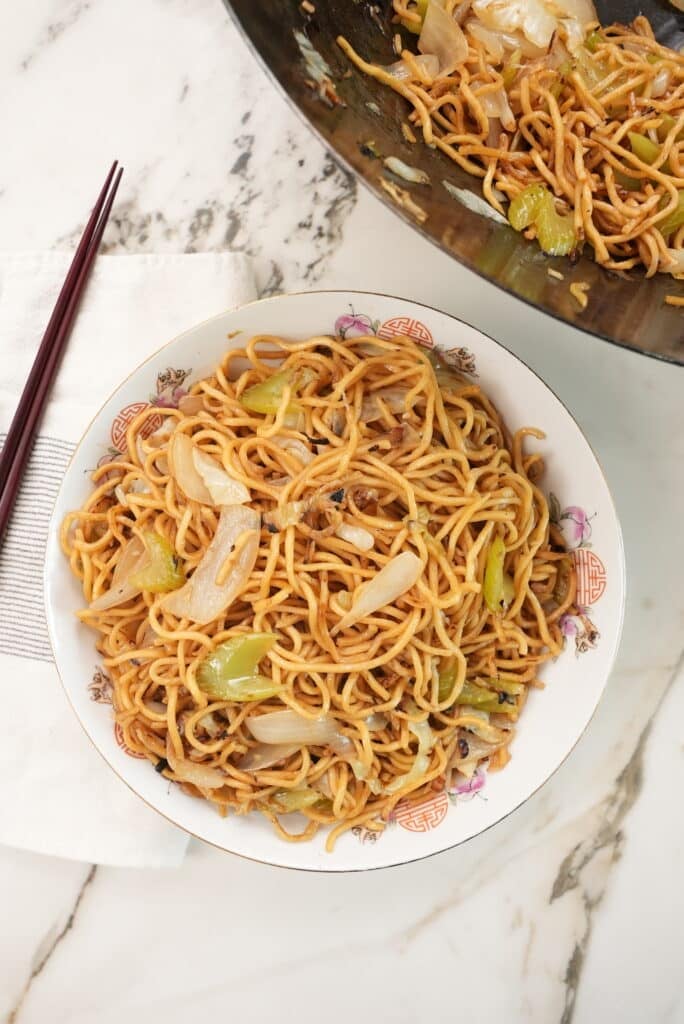 Ingredients for Panda Express Chow Mein
Panda Express Chow Mein is a super easy side or main dish that you can make in about 20 minutes! Here is what you'll need for the recipe:
1 lb Chow Mein or Pancit noodle fresh preferred
4 stalks celery sliced at an angle diagonally into 1/2″ pieces
1 white onion sliced
5 cloves garlic minced
1 tbsp ginger minced
2 cups cabbage sliced into ribbons
Sauce
3 tbsp light soy sauce low sodium
1 tbsp sugar
1 tbsp shaoxing wine
1/4 tsp white pepper
1 tsp sesame oil
1/4 tsp msg optional
1/2 tbsp cornstarch
1/4 cup chicken broth – I always recommend Kettle & Fire – use code CJPINS for 20% off your order here!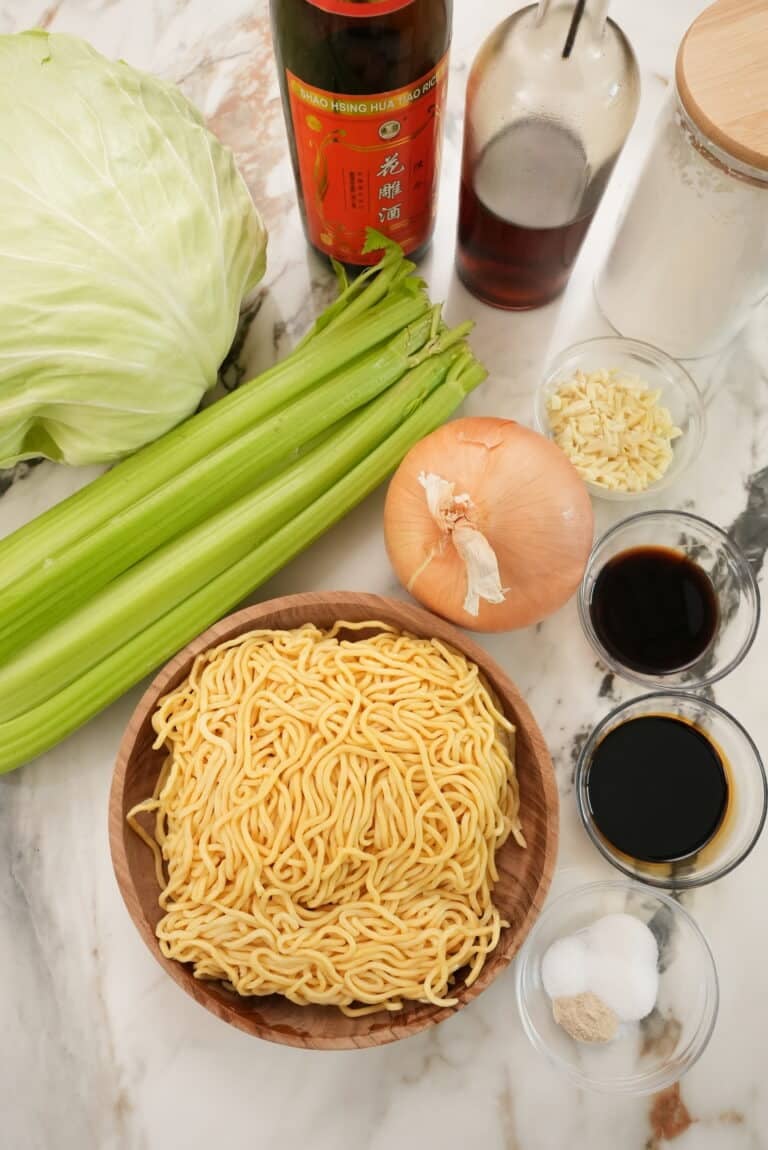 INGREDIENTS TIPS
NOODLES
I used fresh Pancit noodles from my local 99 ranch, but any fresh or dried chow mein egg noodles will work. Panda Express used a thicker noodle that still holds up during wok frying, so try to find a similar consistency.
PROTEIN
To stay true to the classic Panda Express recipe, I did not include protein, but you can add any protein you like for this dish or keep it simple and protein-free!
LIGHT vs. DARK SOY SAUCE
Yes, they're different! Dark soy sauce is thicker, darker, and sweeter (as well as has a higher sodium content) than regular soy sauce. If you don't have dark soy sauce on hand, you can sub with oyster sauce.
SHAOXING WINE
If you cannot or do not want to use wine, you can sub with sherry, mirin, or chicken stock!
WHITE PEPPER
I get asked all the time if you can sub black pepper for white pepper – and my answer is, it depends BUT you need to watch the ratio. White pepper has a milder flavor profile than black pepper, so it's a 1-1 substitute. I would start with less black pepper and add as you go. (But really, you should have white pepper in your pantry! It's a staple in mine!)
Panda Express Chow Mein: Recipe Instructions
Prep your ingredients
This dish does not take long to make, and most of the work is prepping the ingredients. Slice the celery, onions, cabbage, garlic and ginger and mix your sauce!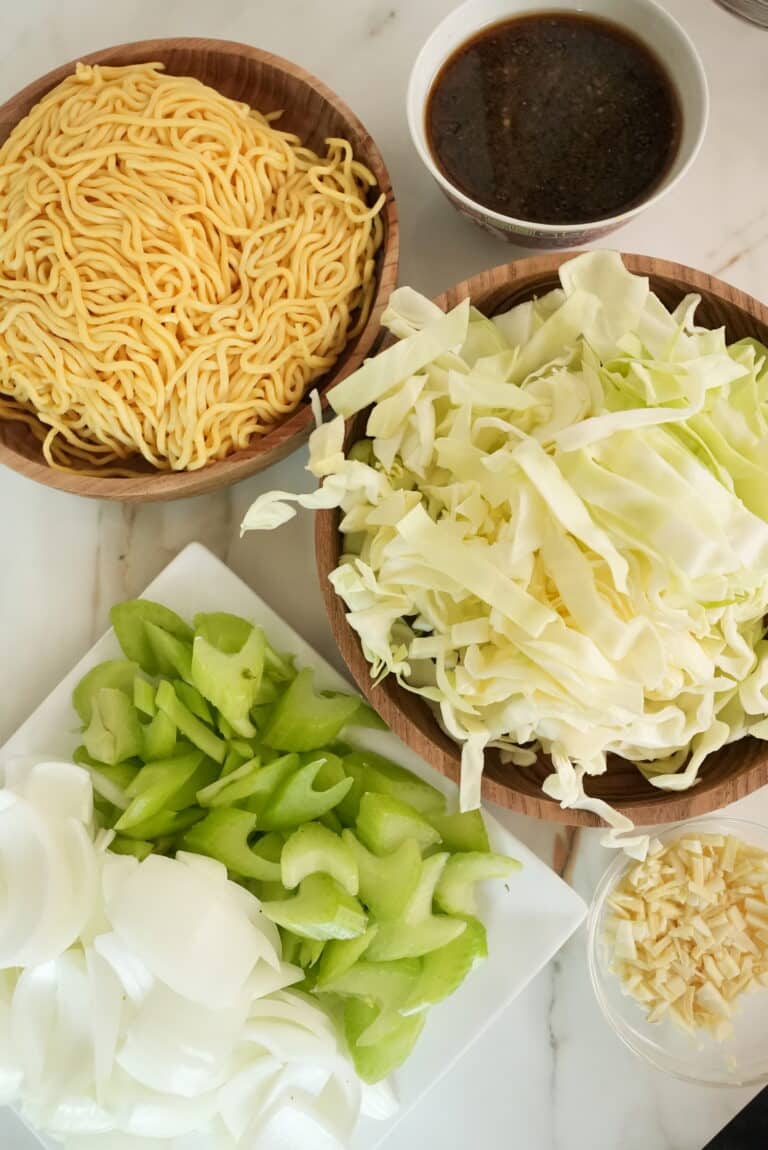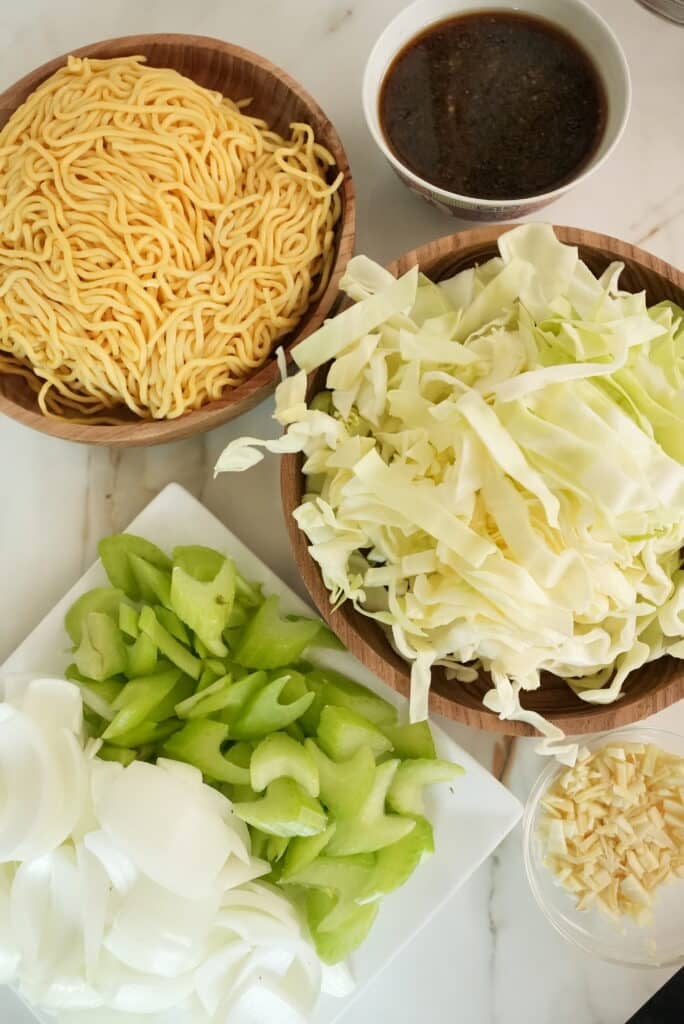 Stir fry the vegetables
Heat your pan or wok on high and add 2 tbsp of neutral oil. Stir fry garlic and ginger for 30 seconds then immediately add your sliced celery, onions and cabbage.
Stir fry the vegetables for 2 minutes over high heat or until you see a slight char on the vegetables.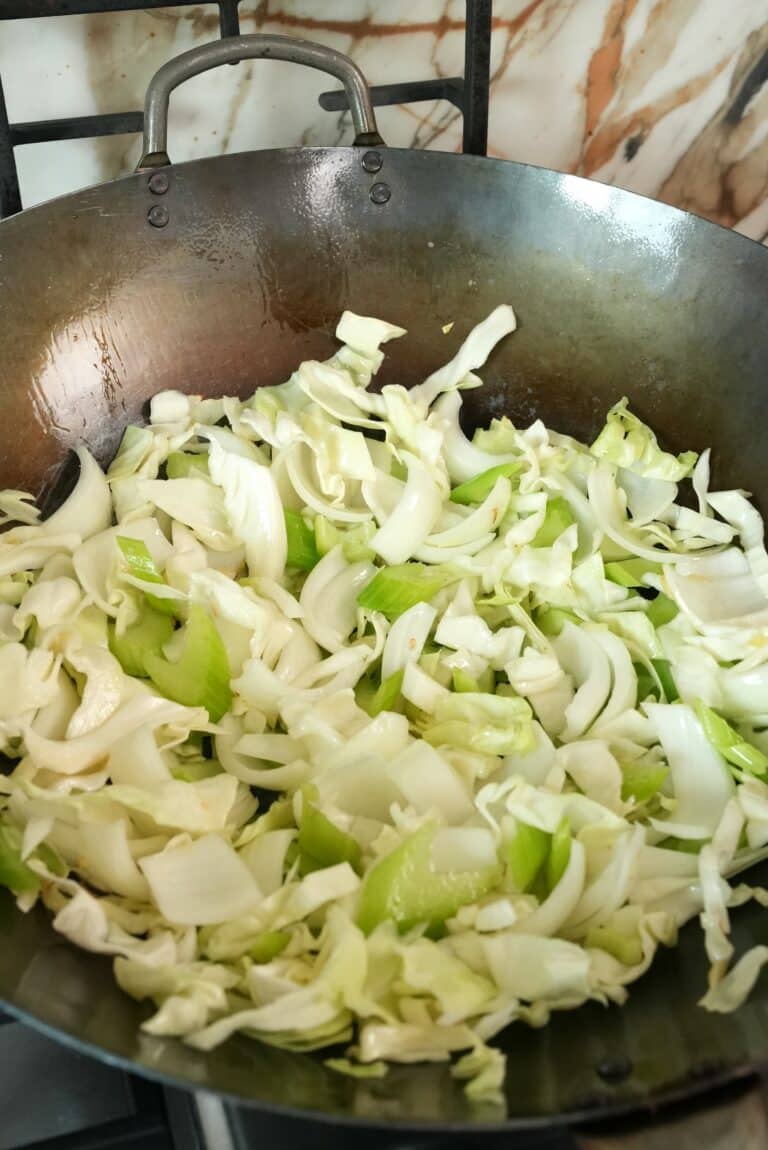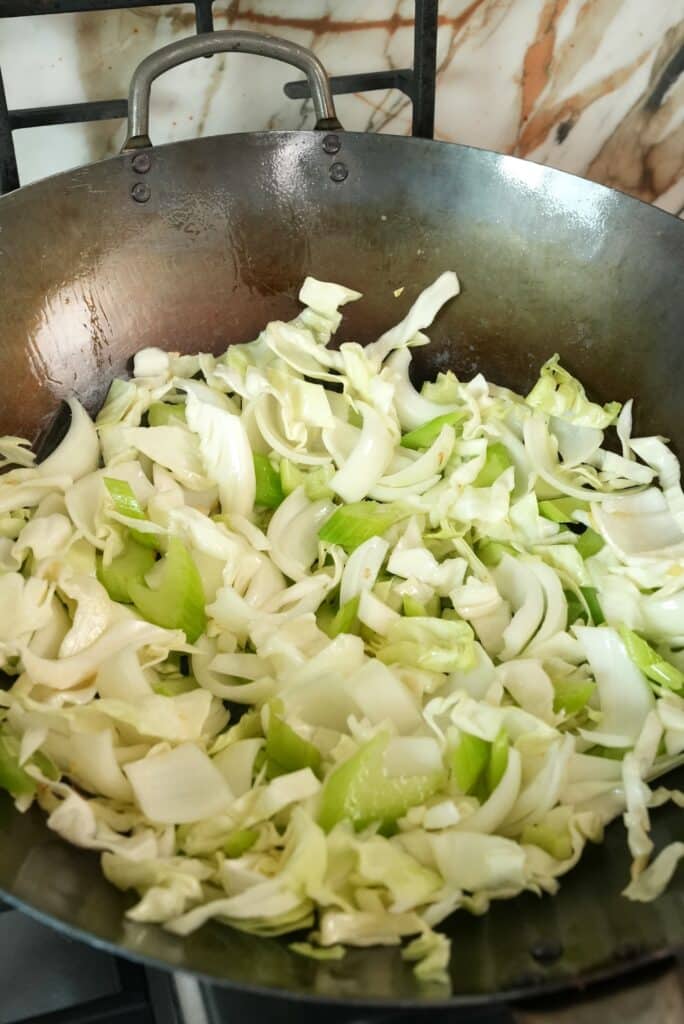 Cook the noodles
If you are using uncooked chow mein noodles, blanch them during this stage and rinse to remove any excess starch and pat dry. I am using fresh pancit noodles here which have a slight coating of oil, so I'm not cooking my noodles and will finish them in the wok.
Add the noodles and sauce
After the vegetables are slightly charred, add the chow mein noodles and continue to stir fry over high heat for 1-2 minutes until the noodles begin to char as well.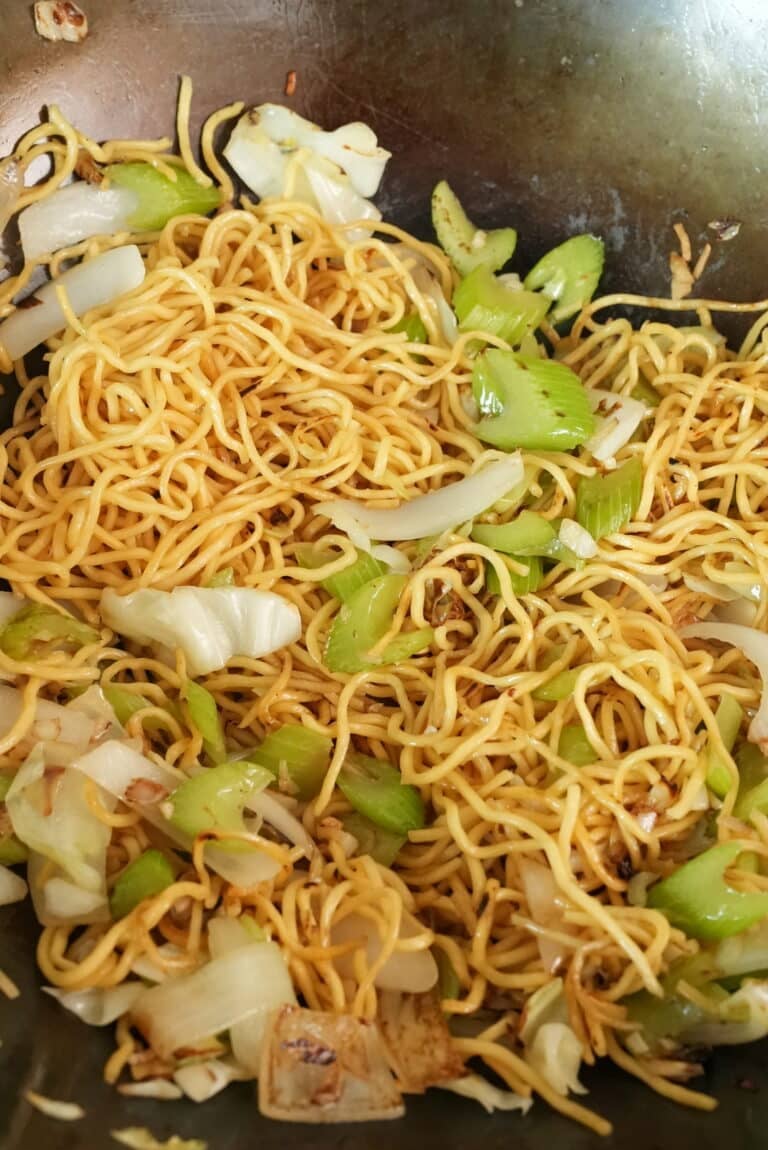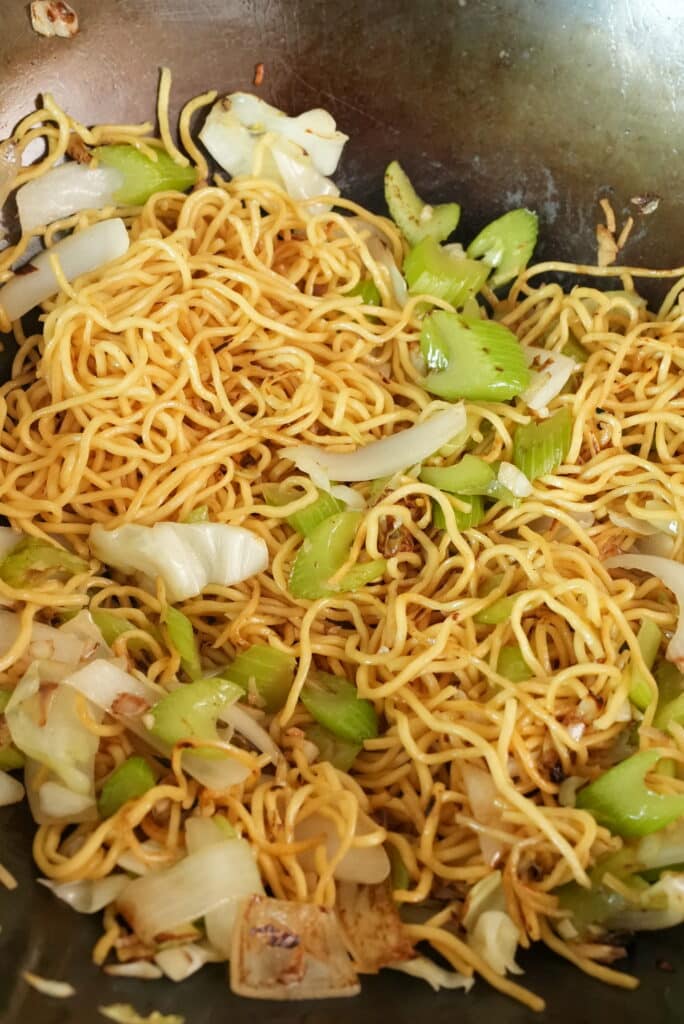 Once the noodles begin to take on some color and show char from the pan, add the sauce around the edge of the pan and immediately mix and toss over high heat. Continue cooking for 3-4 minutes until the noodles have soaked up the sauce and the stir fried noodles are relatively dry.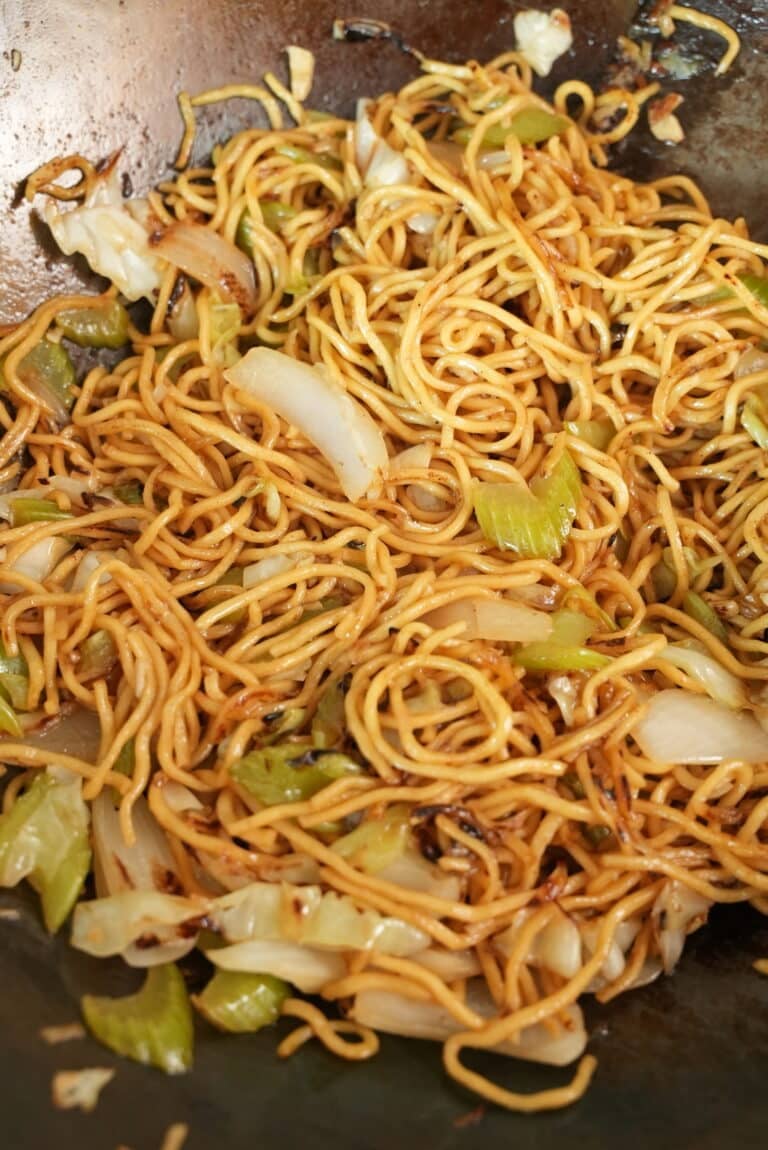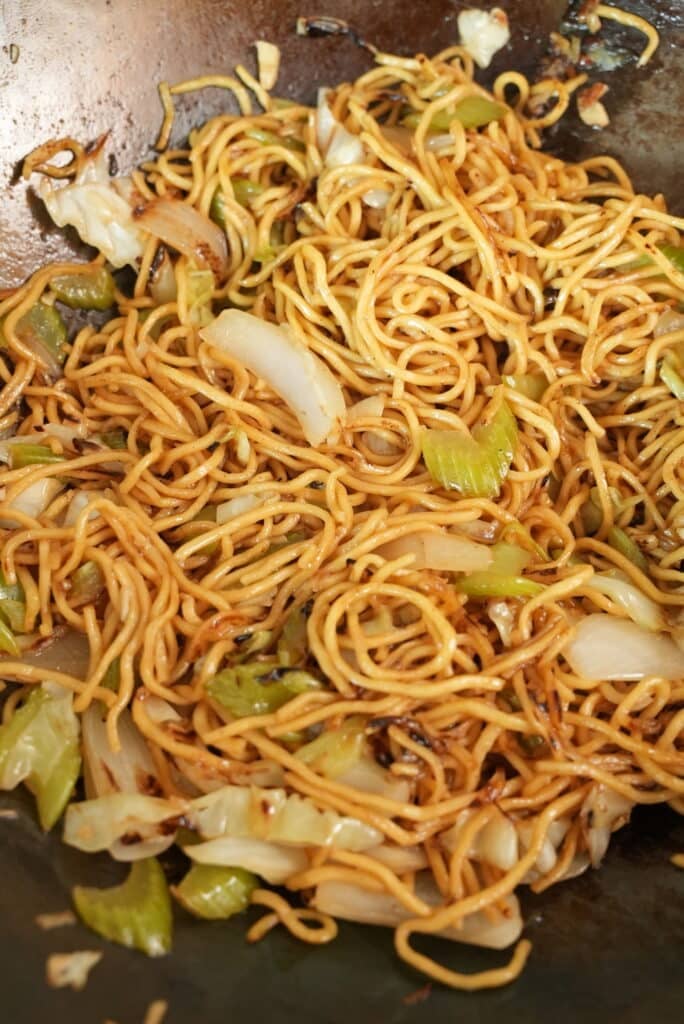 Your Panda Express Chow mein is done! You can enjoy this as a main course or pair with any other protein or dish for a more complete meal!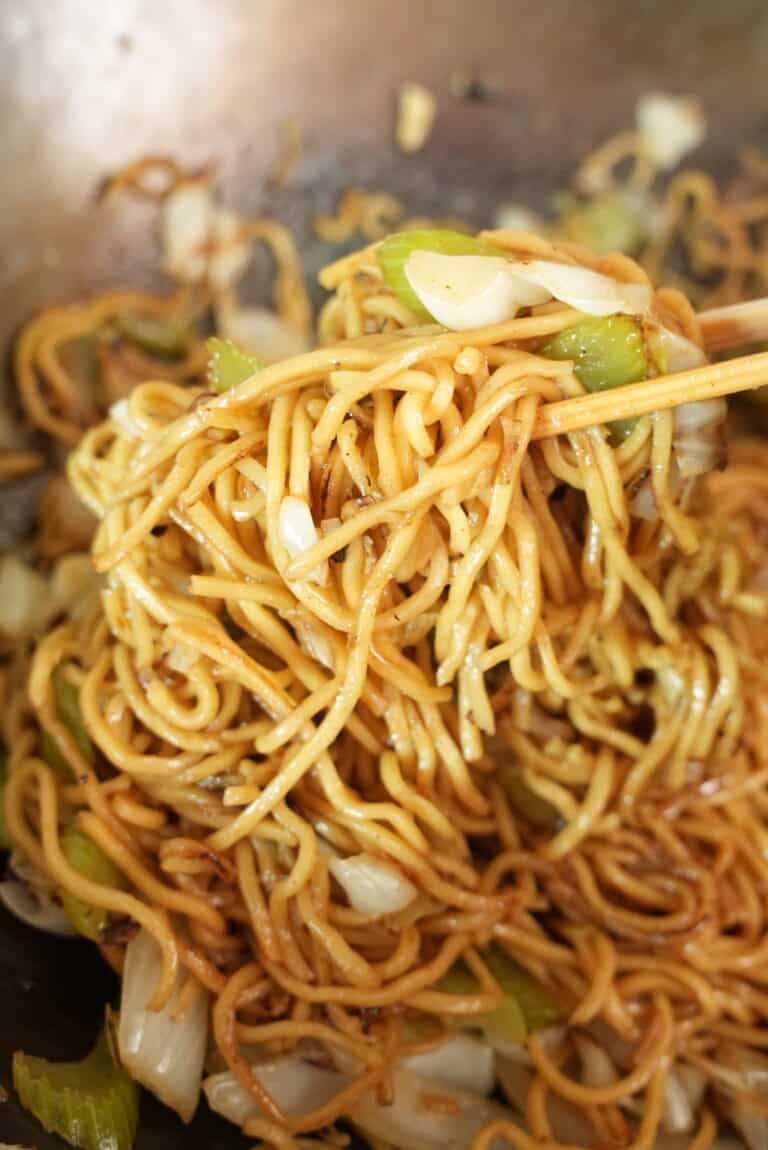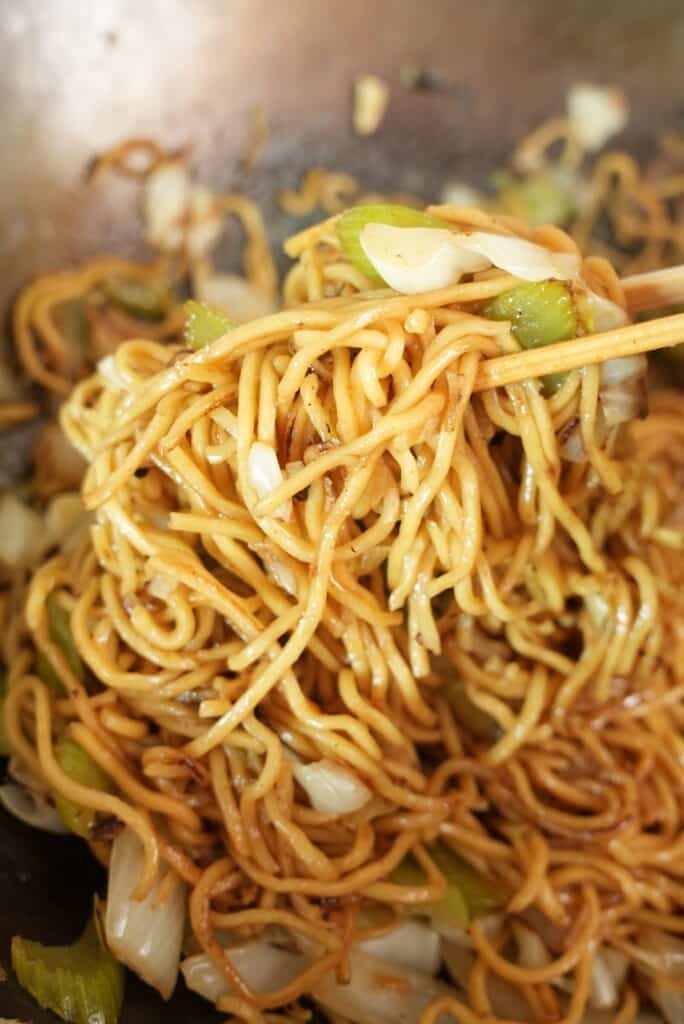 RECIPE TIPS
UNDERCOOK YOUR NOODLES
Don't forget that your noodles will finish cooking in the wok/pan! I always cook my noodles 1-2 min less than the package instructions call for. This way, they come to my preferred doneness by the time the dish is done in the wok/pan!
CUT YOUR VEGETABLES!
I always recommend cutting your vegetables into similar sized pieces so they cook evenly – this little step makes a huge difference!
SUCCESS IS IN THE PREP!
Once you start cooking, this recipe will come together very quickly. The key to pulling this off successfully is having all of your ingredients prepped and in bowls right next to your wok or pan! Have your premixed sauce, noodles, and vegetables ready and easily accessible during the cooking process.
If you liked this Panda Express Chow Mein recipe, check out some of the most popular Chinese Take-Out recipes on the blog!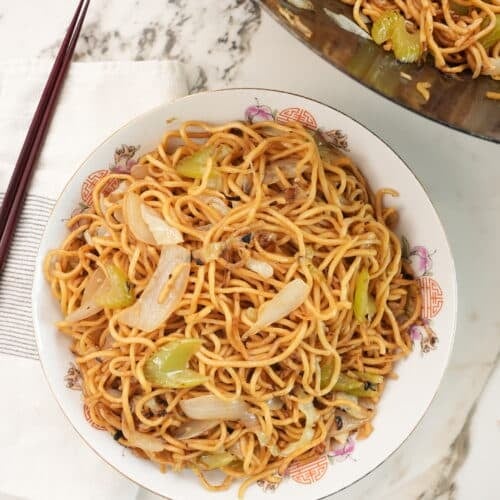 Panda Express Chow Mein (THE BEST COPYCAT)
This is THE best Panda Express Chow Mein copycat recipe you will find that's even BETTER than the original! It's a simple noodle dish that I've upgraded in the flavor category that can be used as a side for any delicious meal!
Ingredients
1

lb

Chow Mein or Pancit noodle

fresh preferred

4

stalks

celery

sliced at an angle diagonally into 1/2" pieces

1

white onion

sliced

5

cloves

garlic

minced

1

tbsp

ginger

minced

2

cups

cabbage

sliced into ribbons
Instructions
Prepare vegetables by mincing garlic and ginger, slicing white onion, cabbage, and celery. Set aside in separate bowls.

Mix sauce in a bowl by combining low sodium light soy sauce, sugar, shaoxing wine, white pepper, sesame oil, msg, cornstarch, and chicken broth.

If using chow mein noodles, blanch for 30 seconds in boiling water then drain and pat dry. If using fresh pancit noodles, separate noodles and set aside.

Add 2 tbsp of neutral oil over high heat to a wok or pan and saute garlic and ginger for 30 seconds. Add vegetables and stir fry for 2 minutes until charred.

Add noodles and stir fry for 1-2 minutes to char noodles. Add the sauce and mix together, stir frying for an additional 2-3 minutes over high heat until the sauce has absorbed and noodles are dry. Enjoy!