Orange Chicken
---
September 25, 2021
---
Is Orange Chicken the most recognizable "American Chinese" dish? I don't know but what I do know is that this homemade version is so much better than the takeout kind!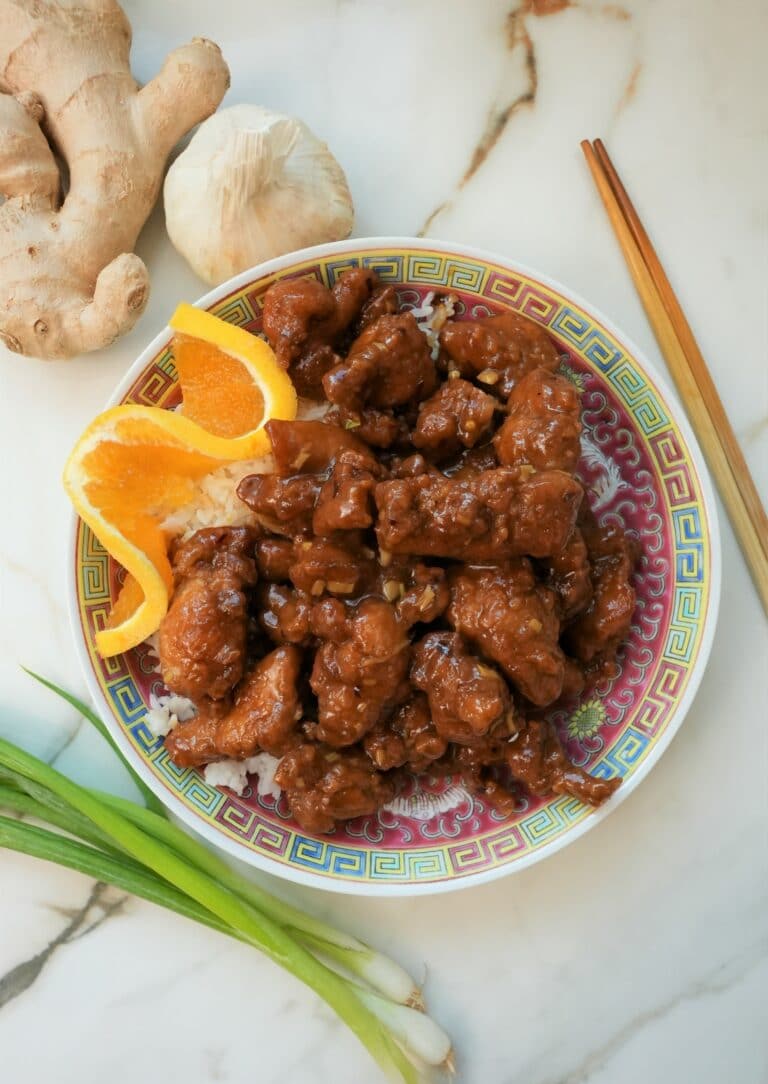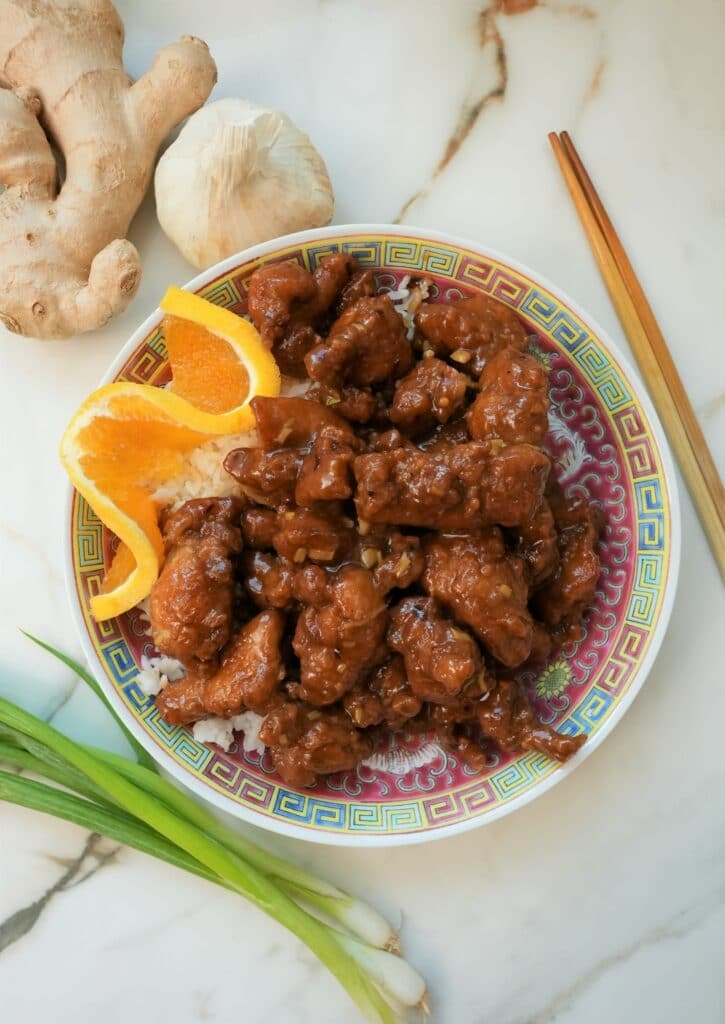 INGREDIENTS TIPS
ORANGE
Using freshly squeezed orange juice and the zest of 1/2 orange is key to taking this sauce to the next level! You can sub with store bought orange juice if you prefer but I highly recommend using freshly squeezed juice + zest!
SHAOXING WINE
If you cannot or do not want to use wine, you can sub with sherry, mirin, or chicken stock!
WHITE PEPPER
I get asked all the time if you can sub black pepper for white pepper – and my answer is, it depends BUT you need to watch the ratio. White pepper has a milder flavor profile than black pepper, so it's a 1-1 substitute. I would start with less black pepper and add as you go. (But really, you should have white pepper in your pantry! It's a staple in mine!)
FLOUR + CORNSTARCH + BAKING POWDER
My not-so-secret tip to the crispiest chicken is a combination of FLOUR, CORNSTARCH, and BAKING POWDER. When mixed with the flour, the cornstarch makes the flour coating crispier and gives it that golden brown color! (It has to do with prevention of gluten development.) The baking powder reacts with the oil and creates tiny air bubbles, which also helps form a crispy coating.
RECIPE TIPS
CRAGGILY BITS
Add any leftover marinade (or 1-2 tbsp of water) to your seasoning mix (flour/cornstarch/baking powder) and rub them together to create the craggily bits we all love!
OIL TEMPERATURE
Do not let your frying oil drop below 325-350F when frying! I highly recommend you use a thermometer to keep an eye on the temperature. If you see it dropping below 325F, fry your chicken in batches. Frying at a low temperature will result in too much moisture (AKA SOGGY!)
OPTIONAL DOUBLE FRY
This is OPTIONAL but if you want your chicken to be extra crispy, you can fry for a second time for 1 minute at 350F!
Orange Chicken
Ingredients
Chicken
1

lb

chicken thigh

cut into 1" pieces

2

cloves

garlic

grated

1

tbsp

ginger

grated

2

tbsp

light soy sauce

1

tbsp

shaoxing wine

1/2

tsp

white pepper

1

tbsp

sesame oil

orange zest

of 1/2 orange

1/2

cup

all-purpose flour

1/2

cup

cornstarch

1/2

tsp

baking powder

1

tsp

kosher salt

1

tsp

white pepper

3

cups

neutral oil

for frying; I used avocado oil
Sauce
1/4

cup

light soy sauce

1/4

cup

orange juice

3

tbsp

brown sugar

1/4

cup

chicken stock

sub water

orange zest

other 1/2 orange

2

cloves

garlic

chopped

1

tbsp

ginger

minced

1/2

tbsp

crushed red pepper

2

tbsp

distilled white vinegar
Cornstarch Slurry
1

tbsp

cornstarch

1/4

cup

water
Instructions
Cut boneless, skinless chicken thigh into 1" pieces and marinate with garlic, ginger, light soy, Shaoxing wine, white pepper, sesame oil, and orange zest for 30 minutes

For your sauce: mix together light soy, orange juice, water or stock, brown sugar, and orange zest until sugar is dissolved.

Whisk together AP flour, cornstarch, baking powder, salt, and pepper. Drizzle in some of the extra chicken marinade and mix to create more craggily bits.

Dredge your chicken and pack the coating in well.

Fry at 350F for 4-5 minutes or until golden brown. Remove from oil and set aside.

OPTIONAL: Fry at 350F for another 1 min for extra crispiness.

Over high heat, sauté garlic, ginger, and crushed red pepper for 15 seconds until fragrant. Immediately add in your sauce, vinegar and mix, then add your cornstarch slurry to thicken.

Toss in your chicken and coat evenly for 30 seconds and serve immediately with rice. Enjoy!