Honey Walnut Shrimp
---
January 19, 2022
---
Honey Walnut Shrimp is my family's FAVORITE! I love this recipe because it has a lighter batter that really lets the shrimp shine. Paired with the sweet sauce and homemade candied walnuts, this one is going to be a winner!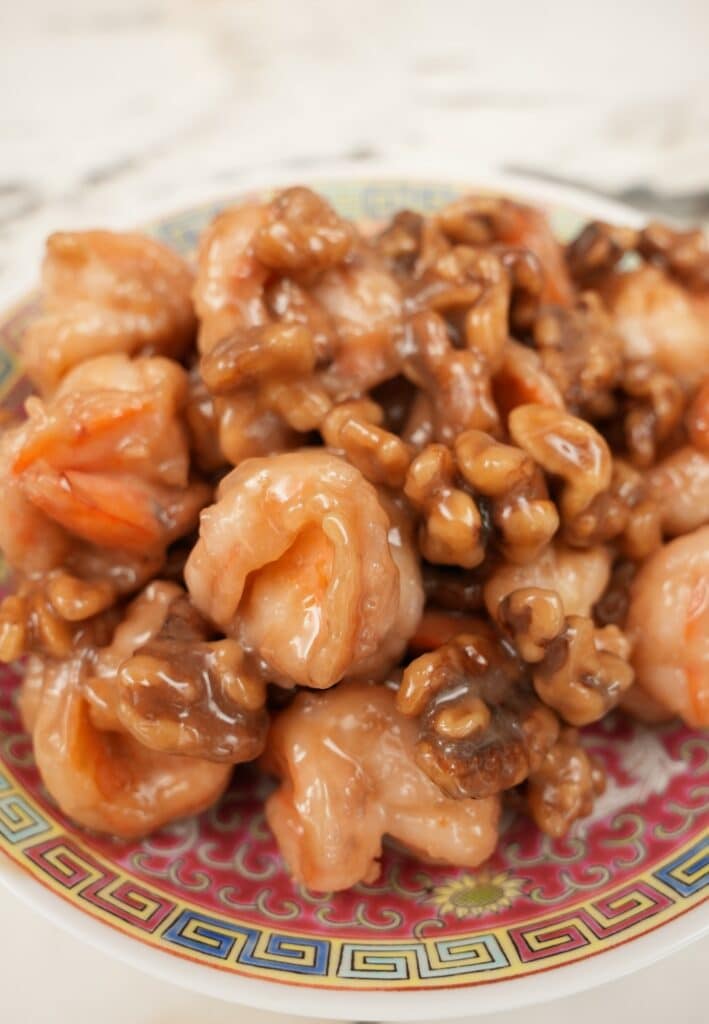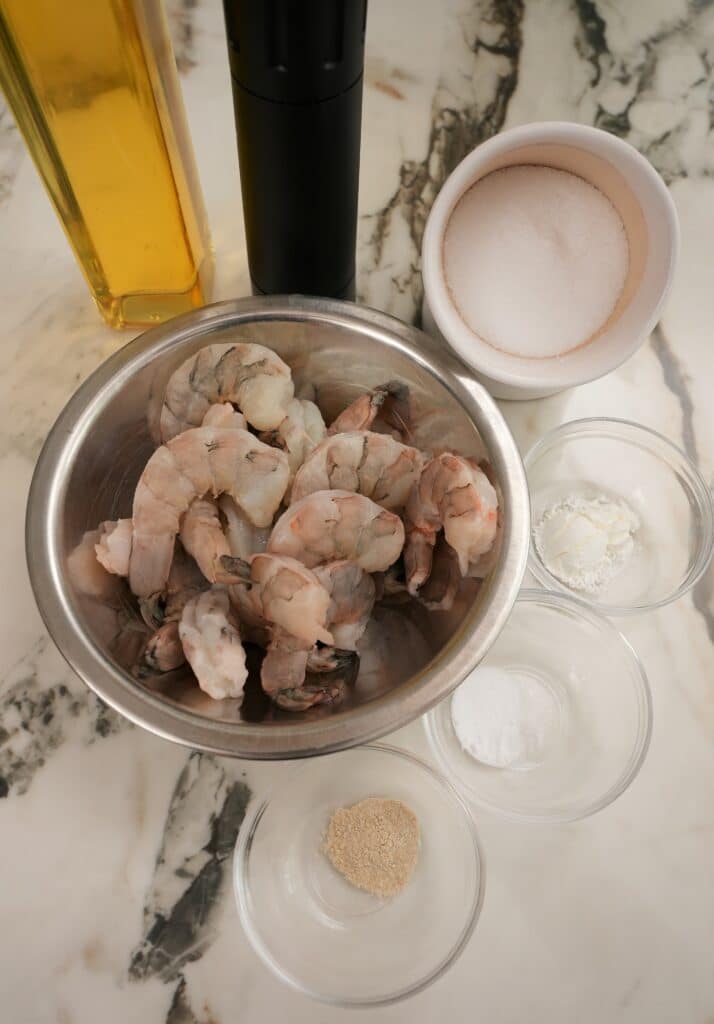 INGREDIENTS TIPS
SHRIMP
Shrimp will need to be raw, peeled, and deveined. It's OK to use frozen, as long as it is completely defrosted before cooking!
CORNSTARCH BATTER
The cornstarch batter is the KEY ingredient to my version of this dish – when testing the recipe, I found that cornstarch made the shrimp lighter and crispier than some versions I've had at restaurants. This helped balance out the richness of the mayo-based sauce.
WHITE PEPPER
I get asked all the time if you can sub black pepper for white pepper – and my answer is, it depends BUT you need to watch the ratio. White pepper has a milder flavor profile than black pepper, so it's a 1-1 substitute. I would start with less black pepper and add as you go. (But really, you should have white pepper in your pantry! It's a staple in mine!)
CANDIED WALNUTS
I like to make my own walnuts, so I included the instructions to do so. If you have the time or energy, I highly recommend making them at home because you can control for how sweet they are (I find that some store bought versions are too sweet for my taste) and I think they just taste better fresh! But if you prefer to purchase them, that's totally fine – just skip step #3 in the recipe.
MAYO
I used Japanese mayo (Kewpie brand) in this recipe because that is my favorite mayo and the only mayo I keep at home. However, you can use any mayo you have on hand!
LEMON JUICE
If you don't have lemon juice on hand, you can sub with rice vinegar!
NEUTRAL OIL
My favorite neutral oil is avocado oil, but you can also use canola or vegetable oil! I don't use olive oil when cooking Chinese food for two reasons: 1. It has a low burning point and 2. I find that the flavor profile does not usually go with the dish.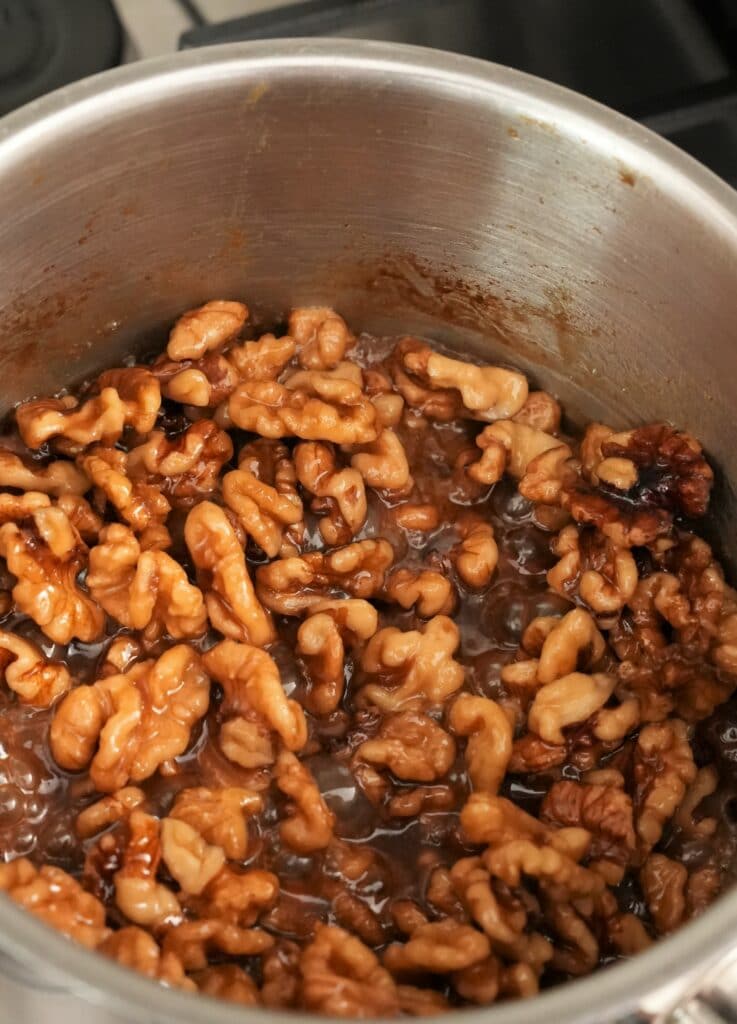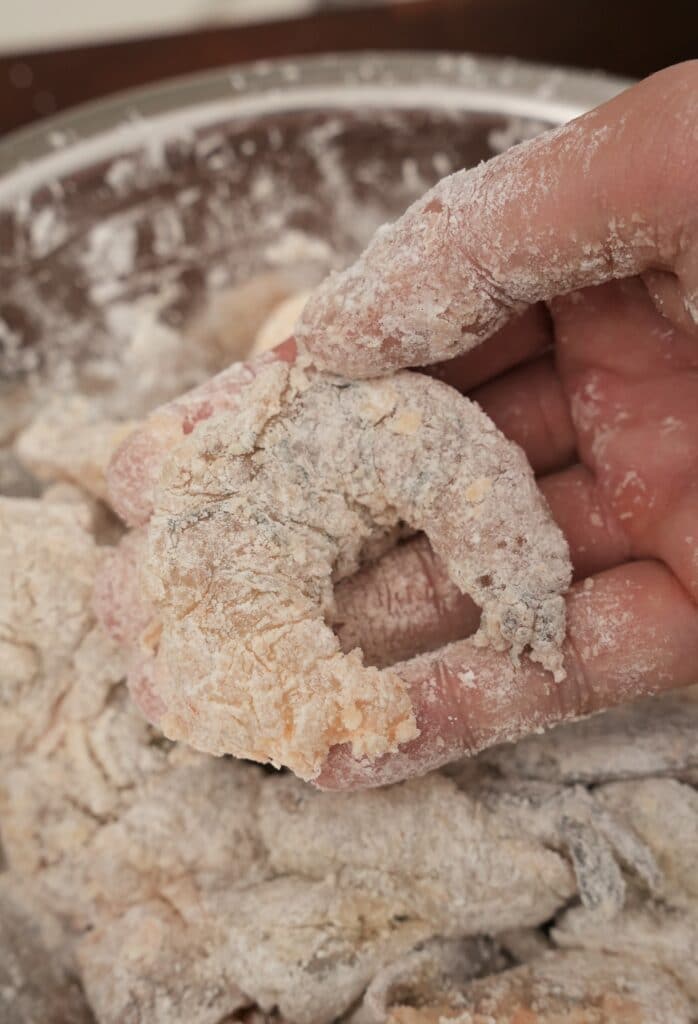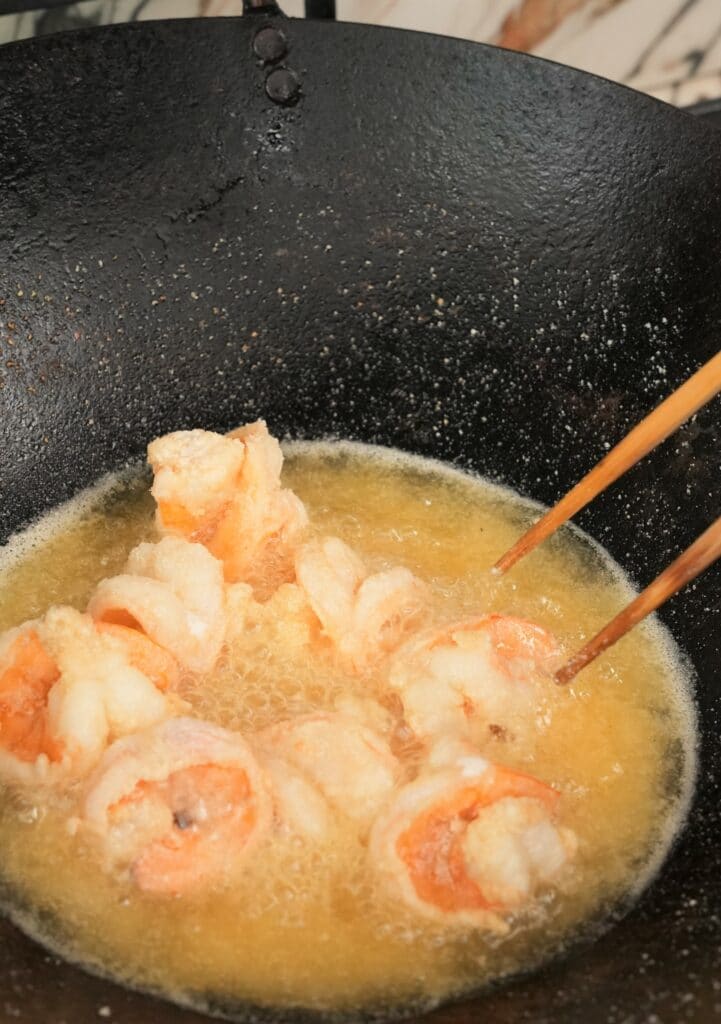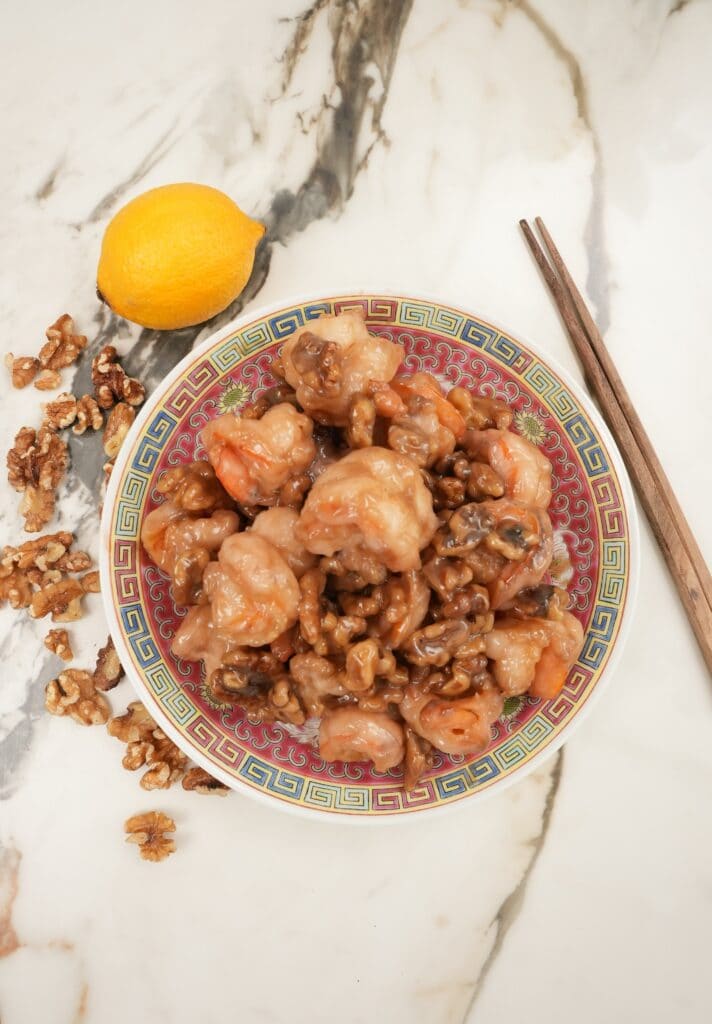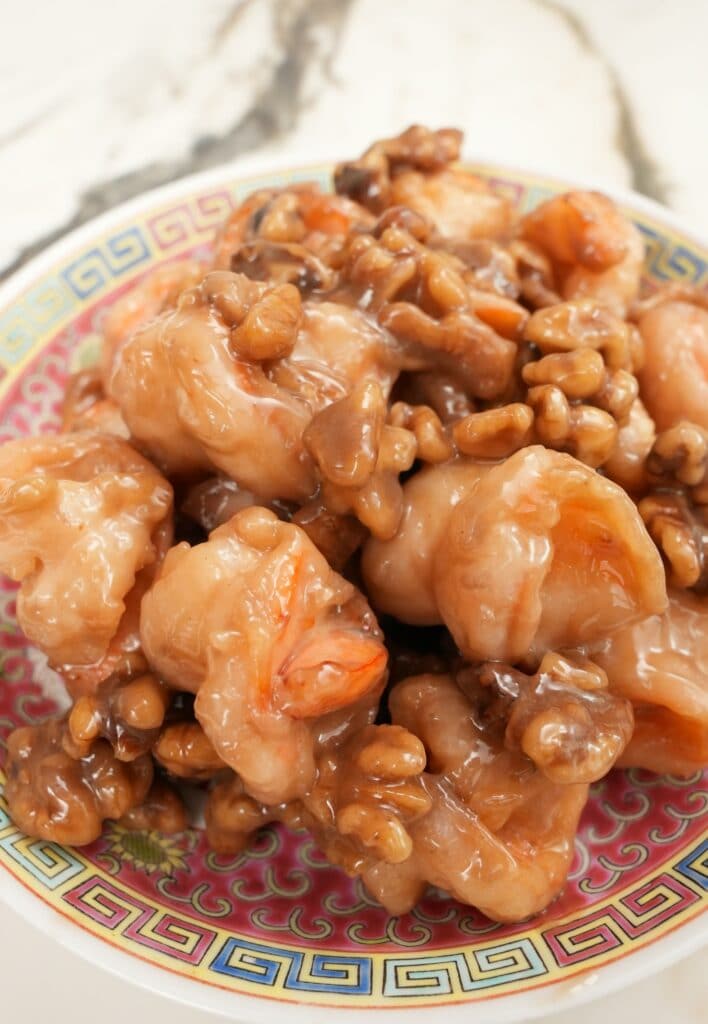 RECIPE TIPS
OIL TEMPERATURE
Do not let your frying oil drop below 300-325F when frying! I highly recommend you use a thermometer to keep an eye on the temperature. If you see it dropping below 300-325F, fry your shrimp in batches. Frying at a low temperature will result in too much moisture (AKA SOGGY!)
Honey Walnut Shrimp
Ingredients
Shrimp
1

lb

shrimp

peeled and deveined

1/4

tsp

baking soda

1/2

tsp

salt

1/4

tsp

white pepper

1/2

tbsp

cornstarch

1

tbsp

oil
Shrimp Coating
1/2

cup

cornstarch

1/4

tsp

salt

1/4

tsp

white pepper
Candied Walnuts
1

cup

whole walnuts

1/3

cup

brown sugar

2

tbsp

butter

1/2

cup

water
Sauce
1/2

cup

mayo

2

tbsp

honey

1

tbsp

condensed milk

1

tbsp

lemon juice

sub rice vinegar

salt

to taste
Instructions
Peel and de-vein shrimp, then make a small cut down the back of the shrimp to butterfly them. This is going to increase their surface area when frying.

In a small bowl, marinate shrimp with salt, white pepper, baking soda, cornstarch and neutral oil (I prefer avocado oil).

In a small saucepan over medium heat, melt butter then add brown sugar and stir until the sugar is dissolved. Add water and bring to a simmer, then stir in your walnuts and cook for 5-6 minutes until the mixture has thickened. Immediately transfer the candied walnuts to a plate to cool.

In a large mixing bowl, season 1/2 cup of cornstarch with salt and white pepper, then lightly coat your marinated shrimp.

Heat oil to 325F and fry your shrimp in batches for 2-3 minutes.

In a large bowl, combine mayo, honey, condensed milk, lemon juice, and salt to taste. Immediately stir in your fried shrimp and walnuts and enjoy!