Coconut Shrimp
---
March 25, 2023
---
I love making Coconut Shrimp at home and it's surprisingly very easy! The sweetness of the coconut and crispy coating of the panko breadcrumbs pairs so well with the sweetness of the shrimp. I always get this when I travel to Hawaii and was inspired to make this after my wife and I had the best coconut shrimp of our lives at Coconut's Fish Cafe in Maui!
Watch the Coconut Shrimp Recipe Video Below!
Ingredients You'll Need For Coconut Shrimp
This Coconut Shrimp is so easy to make at home! They come out super crispy and sweet from the panko-coconut coating and you only need a few ingredients to make! Here is what you'll need:
Shrimp (I like using the largest shrimp I can buy – U12-U16 are perfect for this recipe)
Kosher Salt
Black Pepper
2 Large Eggs
All-Purpose Flour
Water
Garlic Powder
Panko Breadcrumbs
Shredded Coconut
INGREDIENTS TIPS
SHREDDED COCONUT
You can find shredded coconut in the baking section of most supermarkets. They usually have two options: sweetened or unsweetened. Either type works for this recipe, but since I prefer my coconut shrimp on the sweeter side, I usually purchase the sweetened version OR add 1/2 tsp of sugar to the breading mixture (when using the unsweetened kind).
SHRIMP
I recommend buying the largest shrimp you can find for this recipe. The shrimp I used in the photos were U12. If you cannot find U12 at a reasonable price, I recommend buying at least U16 shrimp for best results for this recipe!
NEUTRAL OIL
My favorite neutral oil is avocado oil, but you can also use canola or vegetable oil! I don't use olive oil when frying for two reasons: 1. It has a low burning point and 2. The flavor profile does not go well with the food.
Coconut Shrimp: Recipe Instructions
Mix your wet batter until the consistency is smooth and slightly looser than pancake batter (refer to the video for reference). Let any excess drip off, then firmly dredge the shrimp in the panko breadcrumb & coconut mixture. Ensure there are no wet spots on the shrimp and place them on a tray to rest.
Once your shrimp is dredged in the panko breadcrumb & coconut mixture, let them rest on a tray for 10-15 minutes while you heat up your oil. This will ensure the coating sticks to the wet batter.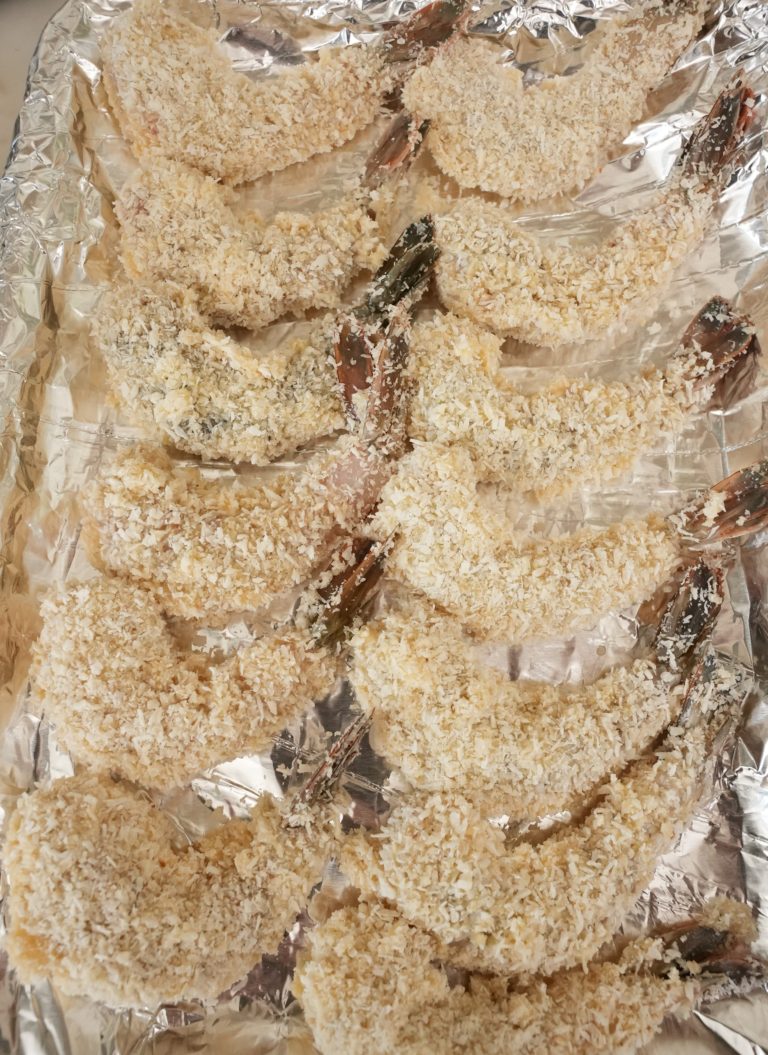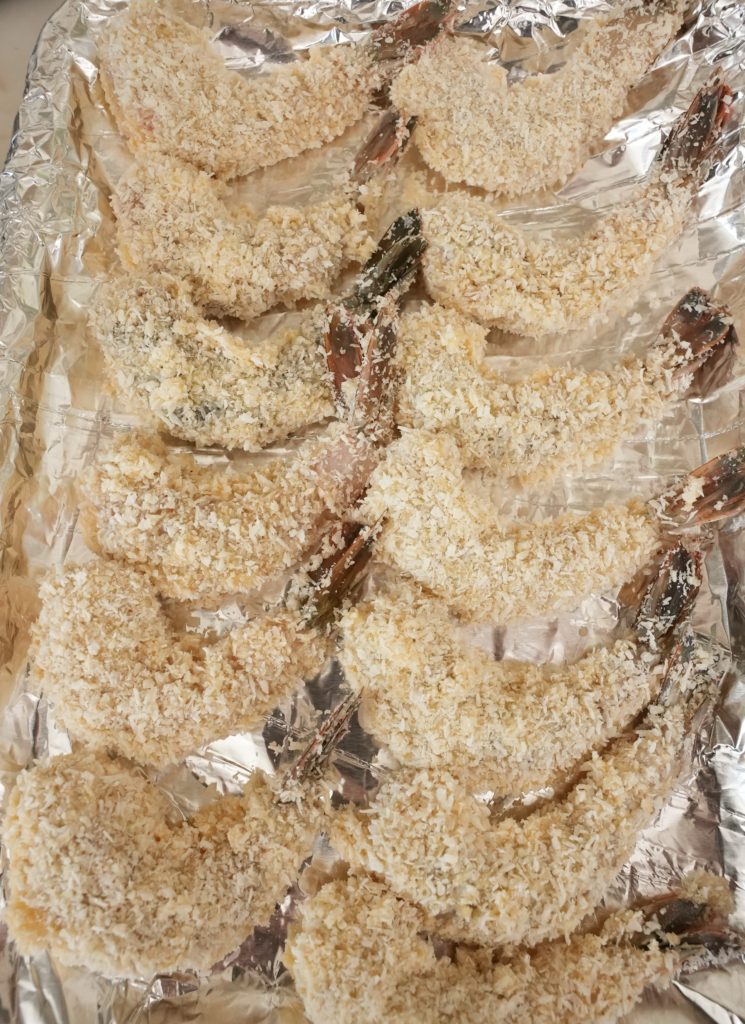 Fry the shrimp for 2-3 minutes in a neutral oil at 350F until the breading is golden, brown and delicious! Plate them up and you're ready to eat!
Look how delicious and crispy these shrimp are! I love to serve mine with a sweet thai chili sauce that perfectly compliments the crispy Coconut Shrimp.
RECIPE TIPS
PAT YOUR SHRIMP DRY
After your shrimp are peeled and deveined, make sure to pat your shrimp dry with a towel prior to seasoning with salt and pepper. You want to make the shrimp as dry as possible and remove any excess moisture prior to seasoning and frying.
REST AFTER DREDGING
Once the shrimp are dredged in the seasoning mix, let them rest for 10-15 minutes. This helps the batter stick to the shrimp when frying!
OIL TEMPERATURE
Do not let your frying oil drop below 325F when frying! I highly recommend you use a thermometer to keep an eye on the temperature. If you see it dropping below 325F, fry your wings in batches. Frying at a low temperature will result in too much moisture (AKA SOGGY!)
If you liked this Coconut Shrimp recipe, check out some of the most popular shrimp recipes on the blog!
Coconut Shrimp
This Coconut Shrimp is sweet, crispy and delicious! I was inspired to make this recipe after my recent trip to Hawaii where we had the best Coconut Shrimp at Coconut's Fish Cafe in Maui!.
Ingredients
Shrimp
1

lb

shrimp

use the biggest shrimp you can (I prefer U12-16)

1/2

tsp

kosher salt

1/4

tsp

black pepper
Wet Batter
2

large eggs

1/2

cup

all-purpose flour

1/4

cup

water

1/2

tsp

kosher salt

1/2

tsp

black pepper

1

tsp

garlic powder
Dredge
3/4

cup

panko breadcrumbs

1

cup

shredded coconut

if using unsweetened shredded coconut, add 1/2 tsp sugar

neutral oil for frying

I prefer avocado oil
Instructions
Shell and devein the shrimp, leaving the tail on if desired. Pat dry and season with salt and pepper.

In a separate bowl or plate, combine panko breadcrumbs and shredded coconut.  

In a bowl, combine eggs, flour, water, kosher salt, pepper, and garlic powder. Mix until the batter becomes a consistency slightly looser than pancake batter (add more water if necessary).

Dip each shrimp in the wet batter, letting any excess drip off. Then dredge in the panko/coconut mixture and coat the shrimp thoroughly using your hands to stick the dredge into the shrimp. Let the shrimp rest on a tray for 10-15 minutes while you heat up your oil.

In a large dutch oven or heavy bottomed pan, heat neutral oil to 350F and fry your shrimp for 2-3 minutes until golden brown. Serve with your favorite sauce and enjoy!