Air Fryer Orange Chicken
---
February 1, 2022
---
This Air Fryer Orange Chicken recipe is for those who love the taste of the crunchy chicken coated in that sweet, savory sauce but don't want to fry in oil! You're going to love this super simple method using the air fryer!
I've tested so many air fryer chicken recipes and this method is the best I've ever made! I use potato starch to coat the chicken and spray with avocado oil spray, then "double fry" them in the air fryer for maximum crispiness! I hope you enjoy it!
Watch the Air Fryer Orange Chicken Recipe Video Below!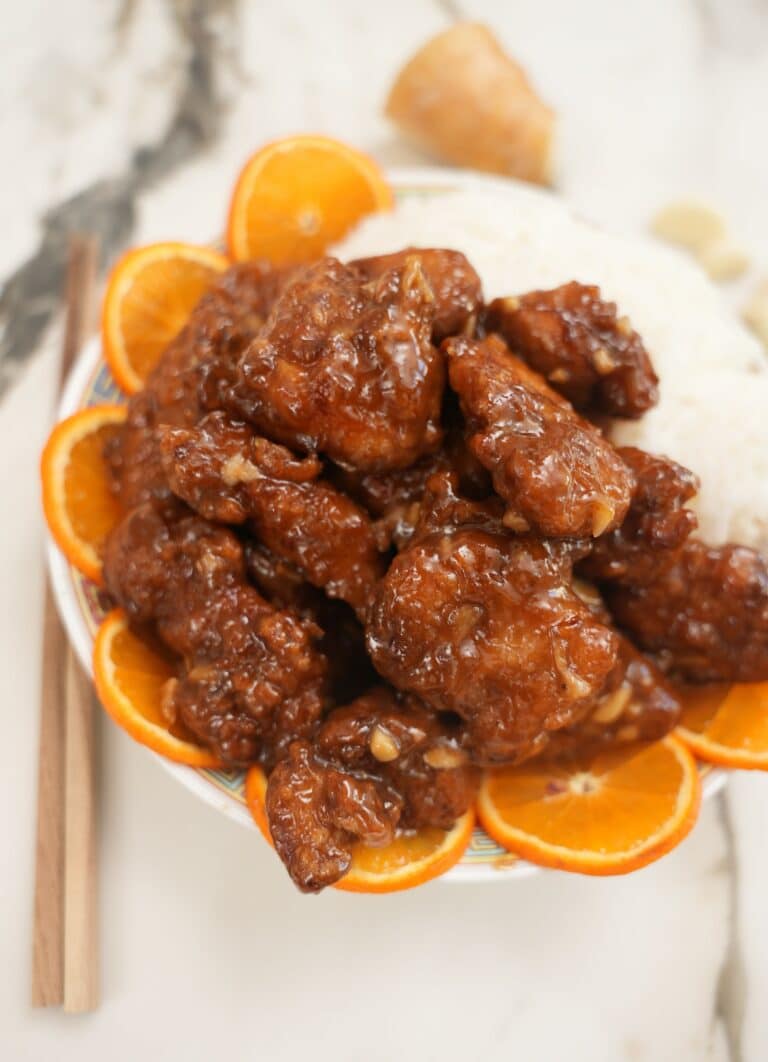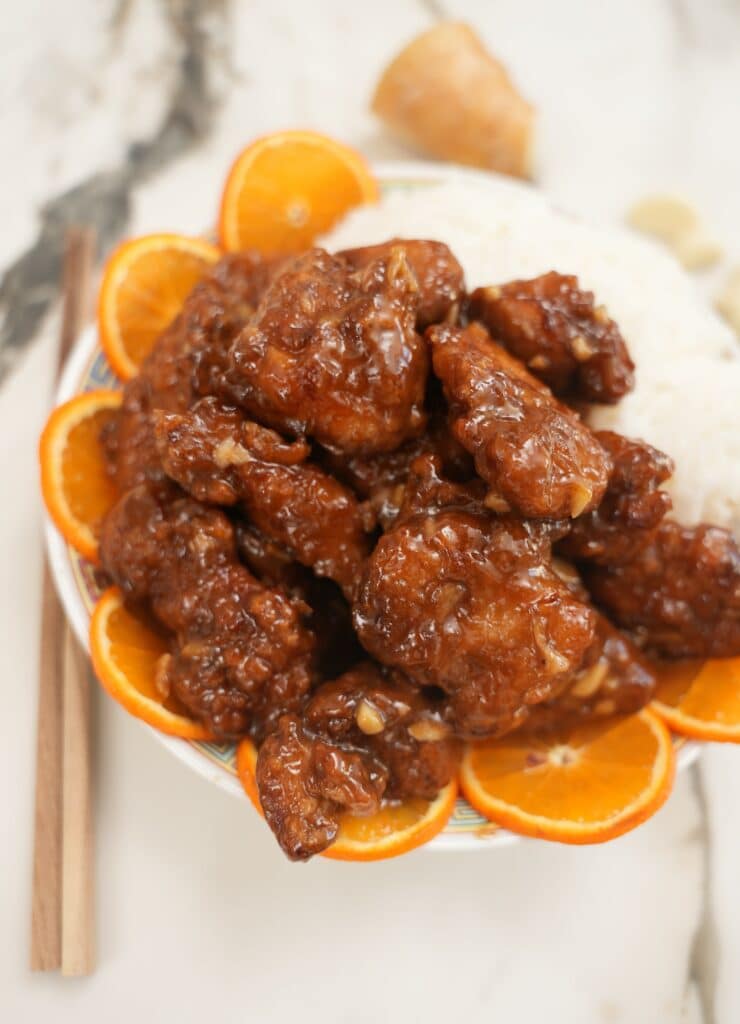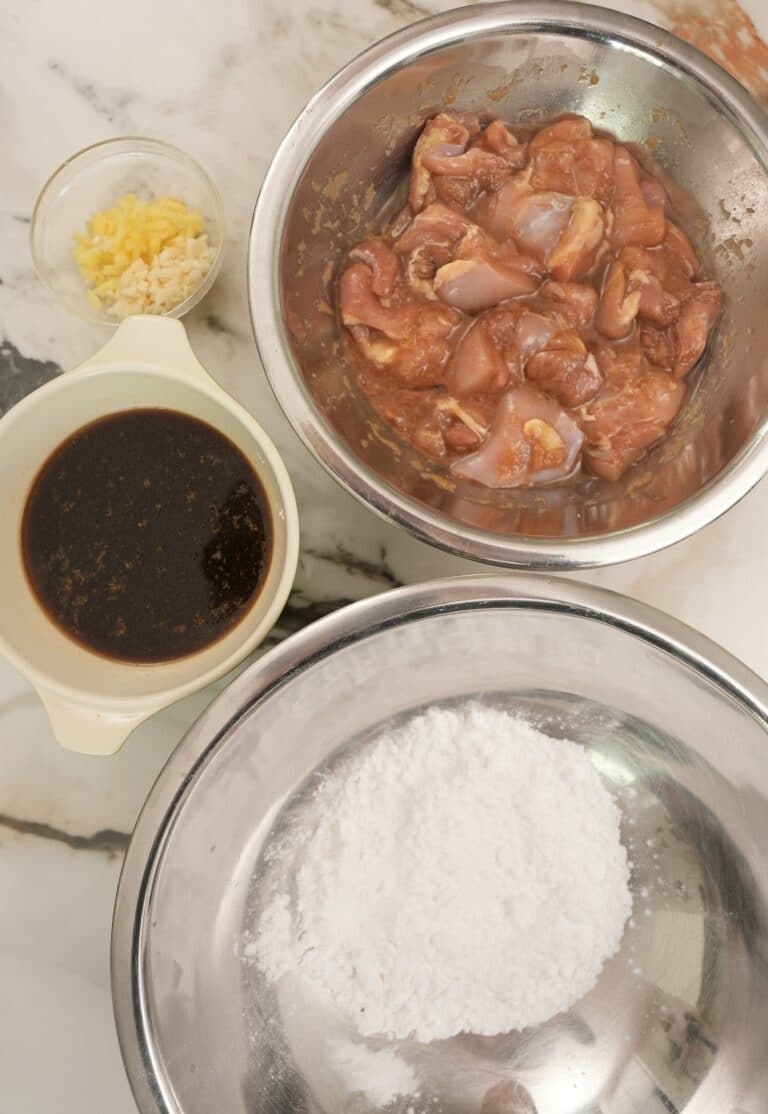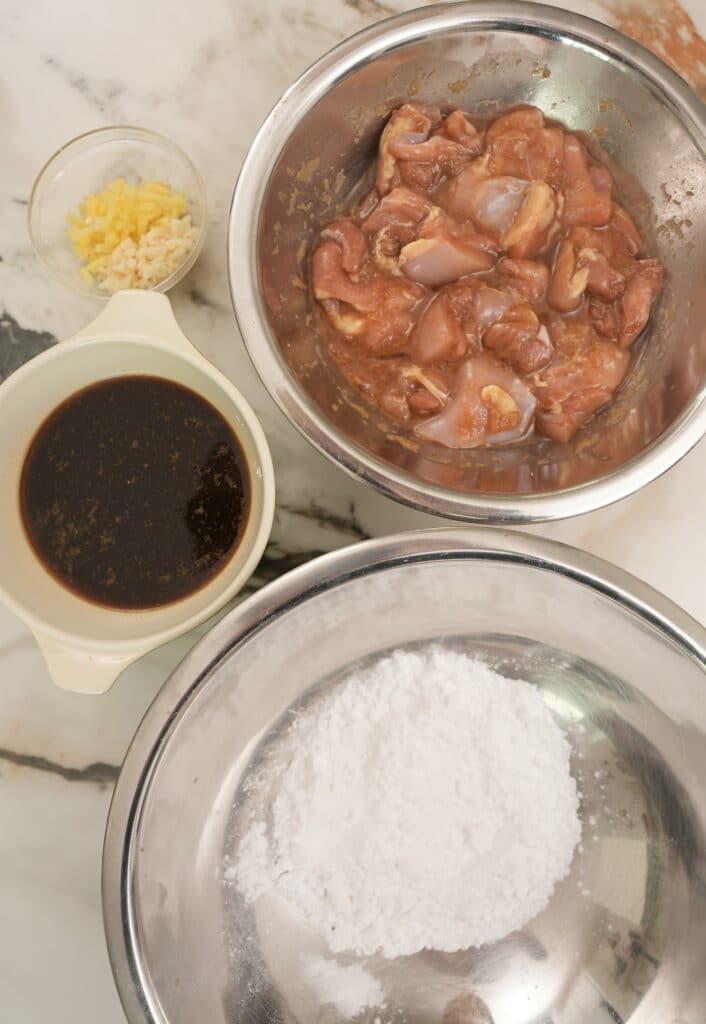 Potato starch is the key to achieving that crispy batter in the air fryer WITHOUT having to deep fry!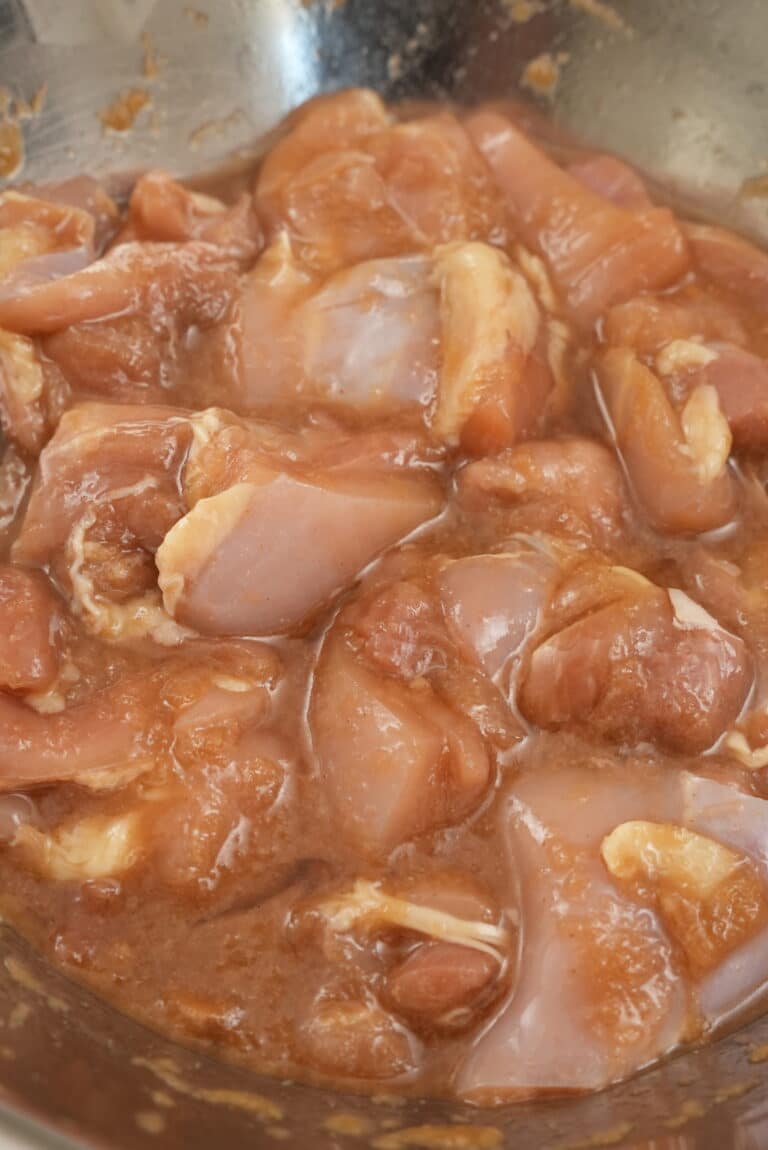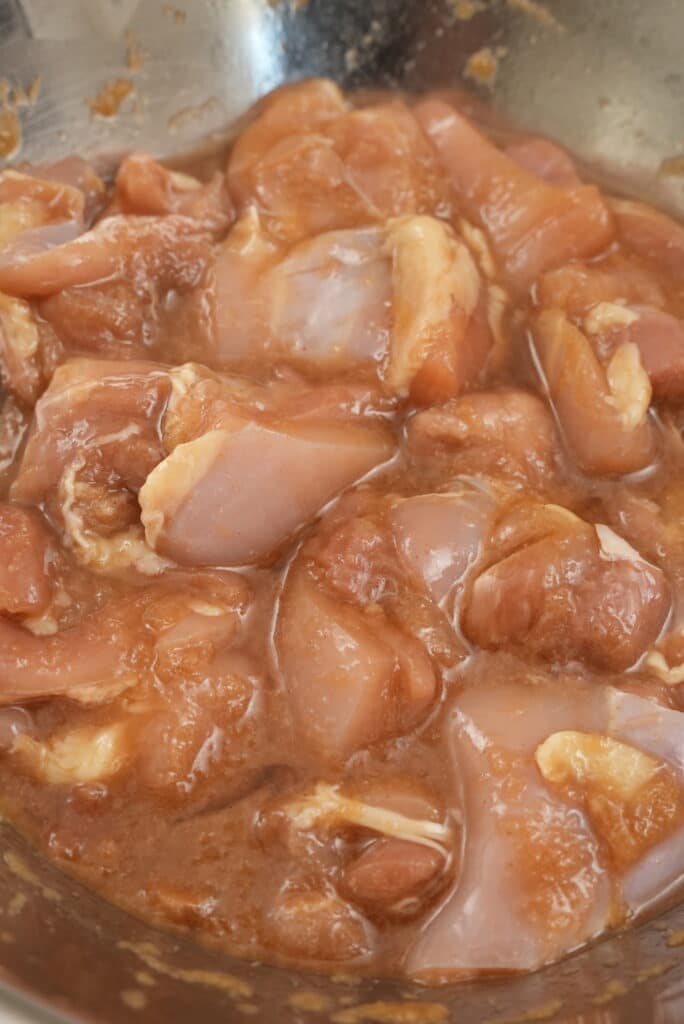 INGREDIENTS TIPS
CHICKEN
I used chicken THIGHS in this recipe because it does not dry out as quickly as chicken breast and is more forgiving in the air fryer. Unless you strongly dislike thighs, I would not recommend sub-ing with chicken breast.
POTATO STARCH
Potato starch might be hard to find depending where you live (I usually get the Bob's Red Mill kind from Whole Foods) but this is the KEY ingredient for this recipe. I tested this recipe with different flours and starches, and potato starch was the absolute winner. You get the lightest, crunchiest results every time!
SHAOXING WINE
If you cannot or do not want to use wine, you can sub with sherry, mirin, or chicken stock!
WHITE PEPPER
I get asked all the time if you can sub black pepper for white pepper – and my answer is, it depends BUT you need to watch the ratio. White pepper has a milder flavor profile than black pepper, so it's a 1-1 substitute. I would start with less black pepper and add as you go. (But really, you should have white pepper in your pantry! It's a staple in mine!)
NEUTRAL OIL COOKING SPRAY
I used avocado oil cooking spray (avocado oil is my go-to neutral cooking oil)! You can use another cooking oil spray, as long as it is NOT olive oil. I don't recommend using olive oil spray for this dish, due to the flavor profile and low burning point.
CORNSTARCH SLURRY
A cornstarch slurry is a mixture of cornstarch and water that is used in cooking to thicken WITHOUT powdery lumps or additional flavors/colors! This is the secret to so many of your favorite Chinese dishes. My #1 tip is make sure your cornstarch slurry has not separated before adding it in – I always try to re-stir right before!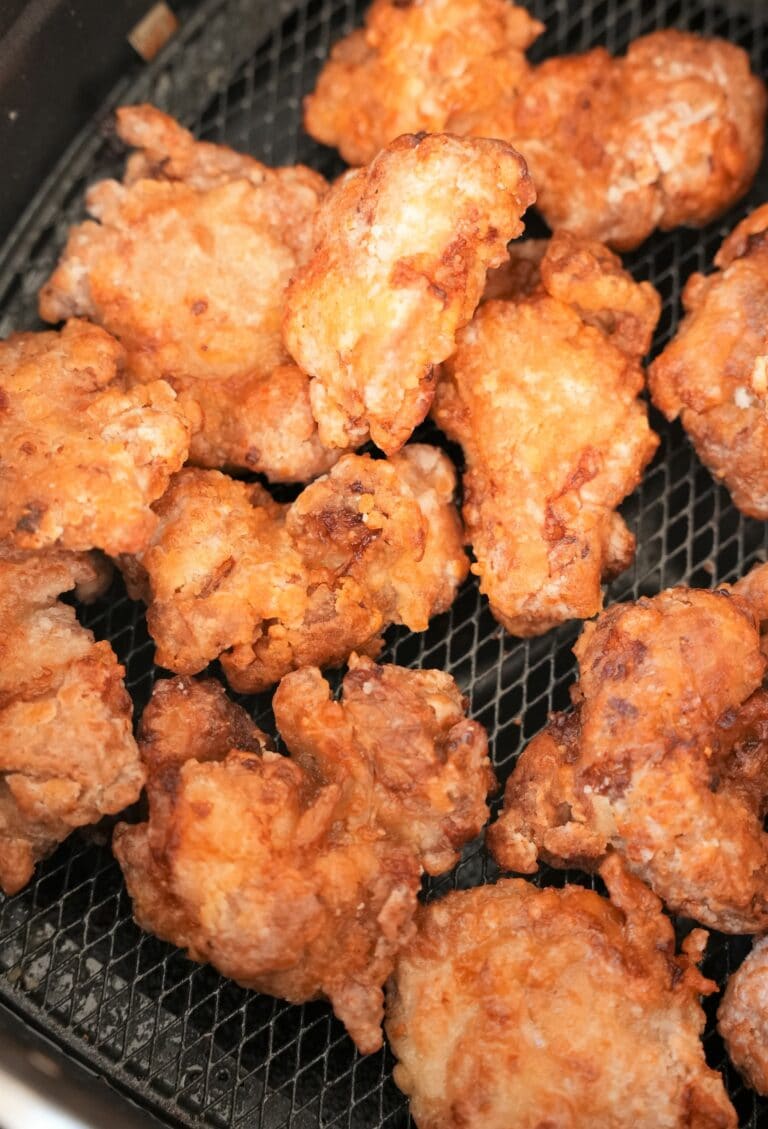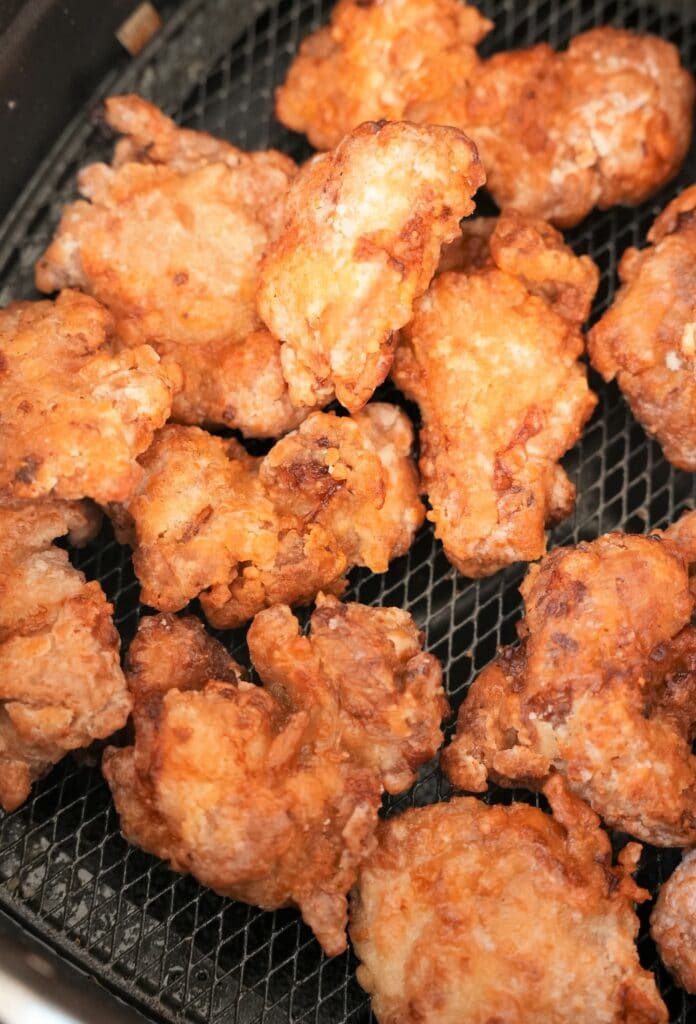 RECIPE TIPS
DOUBLE (AIR) FRYING
The method that came out the best for me was "DOUBLE FRYING" in the air fryer – once at a lower temperature for a longer period of time, then at a higher temperature for a shorter period of time.
You want to cook the chicken to about 90% done at a lower temperature, to avoid burning the coating. Once almost done, you cook at a higher temperature (with another coat of cooking spray) to get the batter nice and crispy at the very end!
BE GENEROUS WITH THE COOKING SPRAY
The cooking spray is the only source of oil in this recipe, so you will need to be generous with it! You'll want to spray the tray thoroughly to avoid the chicken sticking while cooking, and you'll want to spray the chicken thoroughly to allow the coating to cook nicely (otherwise it will look & taste dry). Don't forget to spray again when cooking for the 2nd time!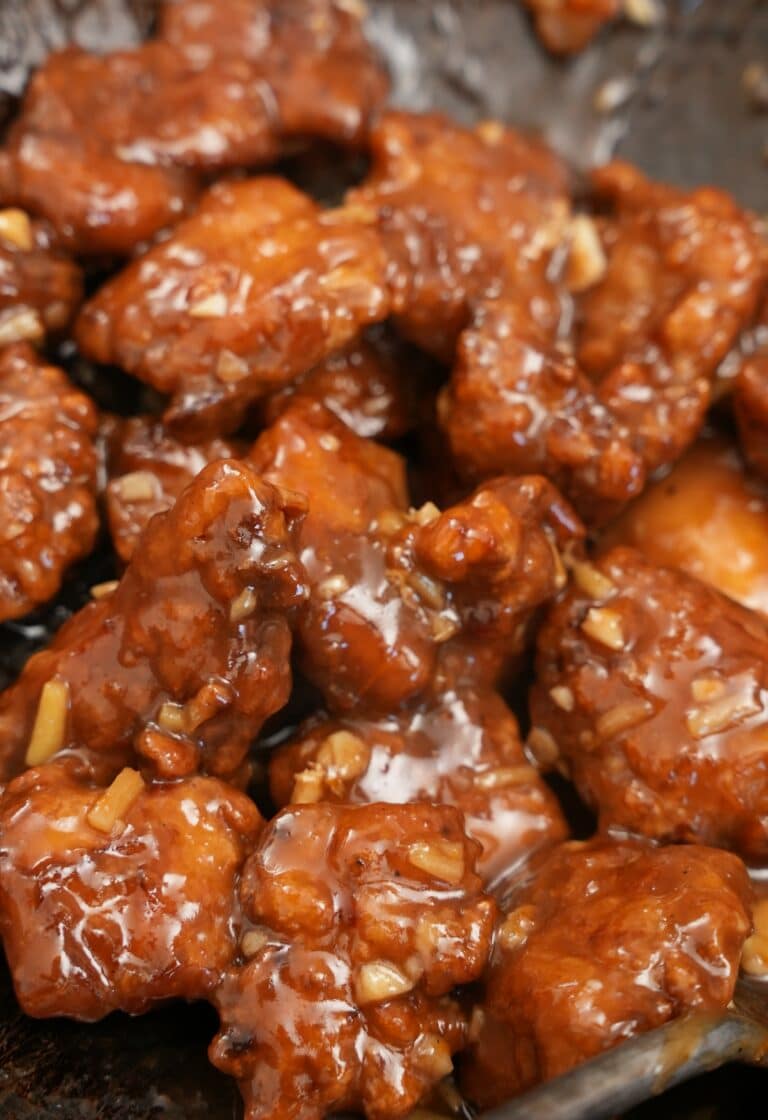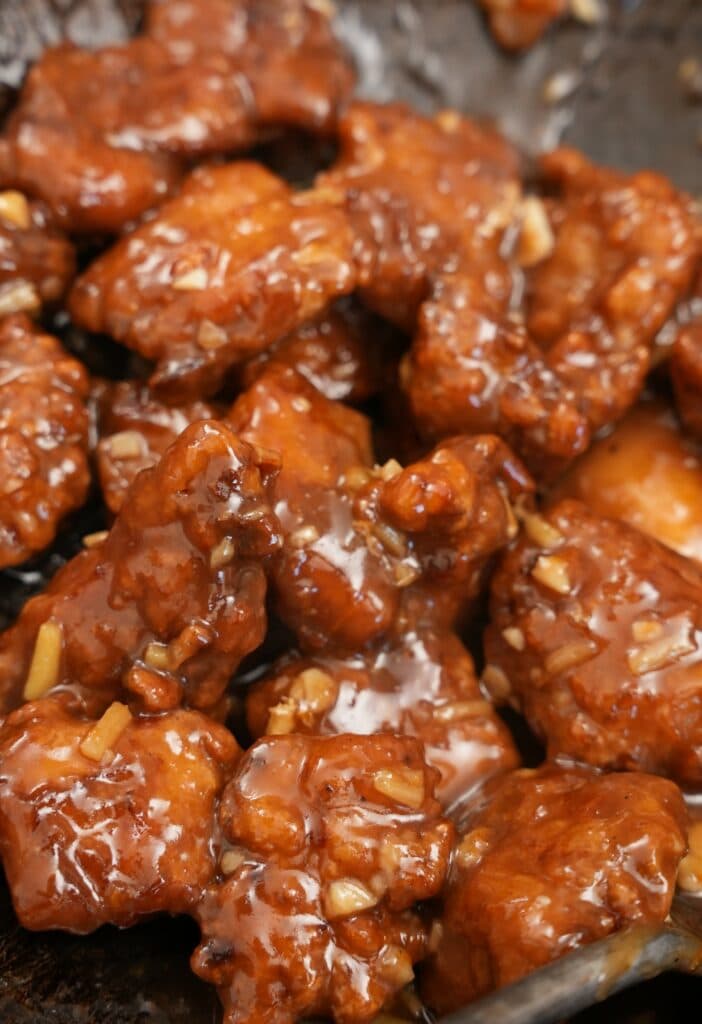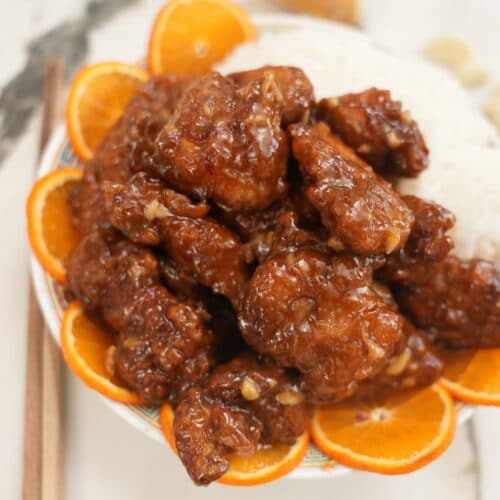 Air Fryer Orange Chicken
This Air Fryer Orange Chicken recipe is the best I've ever made! The air fried chicken stays crispy in the sauce and is so delicious, healthier and better than takeout!
Ingredients
Oils & Aromatics
1

tbsp

vinegar

4

cloves

garlic

minced

1

tbsp

ginger

minced

2

tbsp

neutral oil

I used avocado oil

1

tsp

sesame oil

optional
Instructions
Cut chicken into 2" pieces and add in a bowl with salt, white pepper, soy sauce, shaoxing wine, grated garlic & ginger, sesame oil and egg white. Mix well until the seasonings and egg white are evenly distributed and marinate for at least 30 minutes.

Premix your sauce by combining soy sauce, orange juice, orange zest, chicken stock, brown sugar, and cornstarch in a small bowl and set aside.

Mince garlic and ginger and set aside with your sauce.

Lightly coat the chicken pieces in potato starch. Spray your air fryer tray with cooking spray (I like to use avocado oil spray), then lay the chicken down on a single layer. Spray the top of the chicken and cook at 350F for 10 minutes. Shake the chicken to loosen any pieces that are sticking, then air fry again at 400F for 8 minutes or until the chicken is crispy and reads 165F.

In a large pan or wok over high heat, add 2 tbsp of neutral oil and fry your garlic and ginger for 15 seconds. Immediately add your sauce and stir until thickened, about 1-2 minutes. Then add the vinegar and mix through.

Add back your chicken and toss to combine. Once the chicken is coated, finish with a tsp of sesame oil. Serve with rice and enjoy!