Air Fryer Japanese Fried Chicken (Karaage)
---
March 6, 2023
---
Air Fryer Japanese Fried Chicken (Chicken Karaage) was a highly requested recipe after the Chicken Karaage video! Chicken Karaage (Japanese Fried Chicken) is one of my favorite ways to make fried chicken – the chicken is super juicy and flavorful from the soy-sake marinade, and the potato starch makes for a crispy crust. This highly requested Air Fryer version came out so delicious and crispy!
Each bite is dipped in a spicy garlic mayo sauce – you're going to love this one!
Watch the Air Fryer Chicken Karaage Recipe Video Below!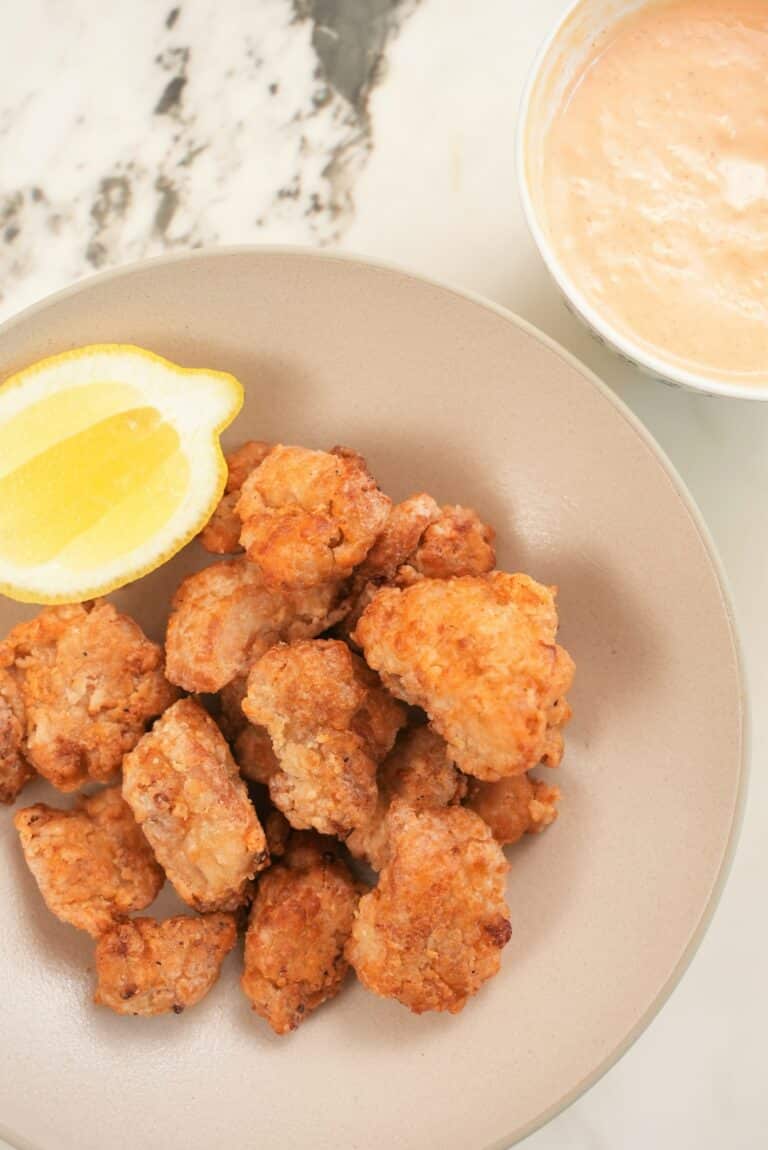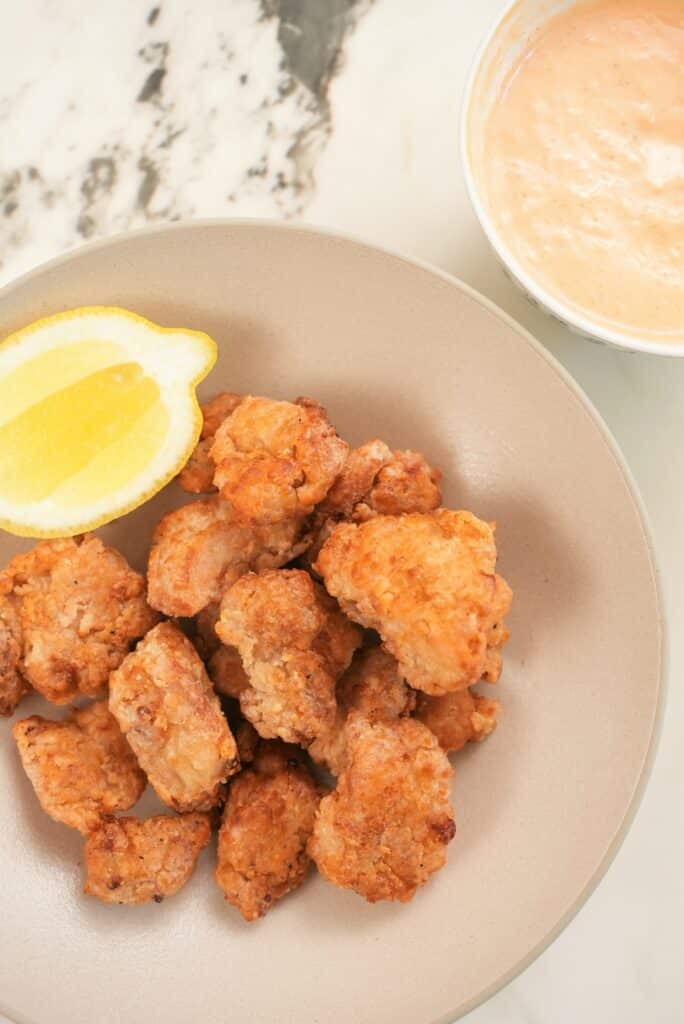 Ingredients for Air Fryer Japanese Fried Chicken (Chicken Karaage)
I love this chicken karaage recipe because only a few ingredients will make crispy, juicy chicken. Firstly, here are the ingredients you will need!
Chicken Thighs (I use skinless but you can keep the skin on as well!)
Light Soy Sauce
Sake
Sesame Oil
White Pepper
Salt
Garlic
Ginger
Neutral Oil

Spray

(I used avocado oil, but canola or vegetable oil will work as well!)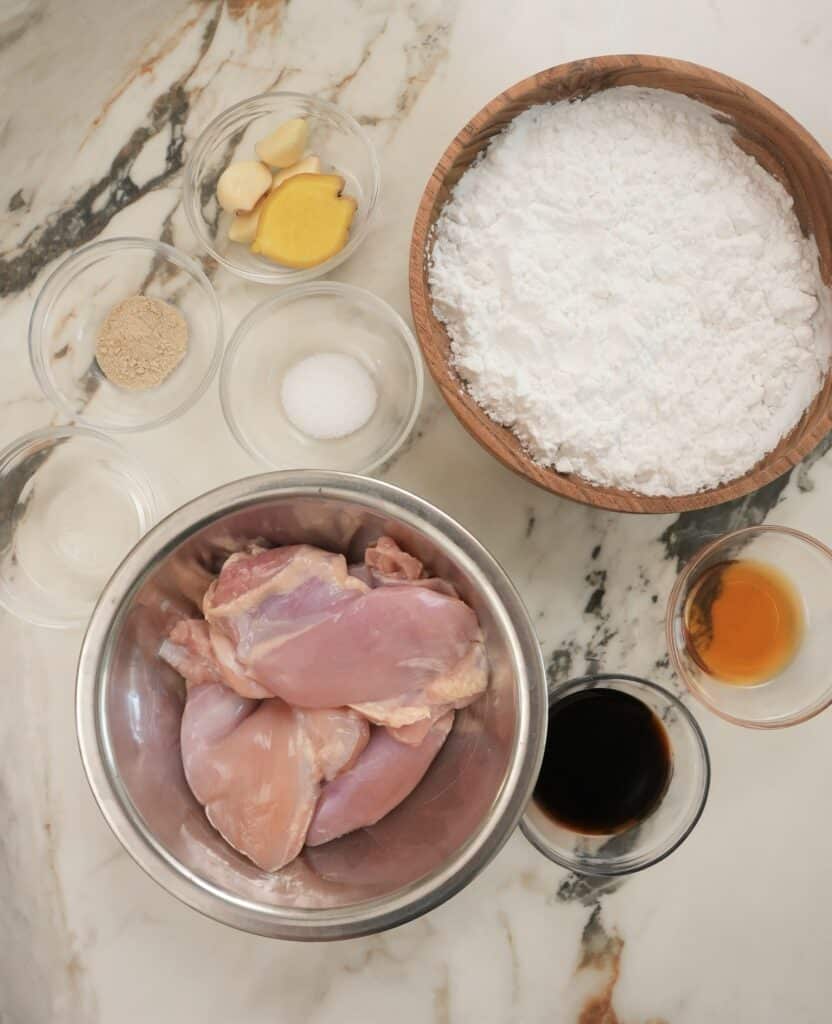 INGREDIENTS TIPS
SAKE
I haven't found a substitute for sake that I love, as I find that it has a distinct flavor profile that is hard to replace in a recipe. You can try sherry, mirin, shaoxing wine, rice vinegar, or even chicken stock, but I would highly encourage you to use sake if you can.
WHITE PEPPER
I get asked all the time if you can sub black pepper for white pepper – and my answer is, it depends BUT you need to watch the ratio. White pepper has a milder flavor profile than black pepper, so it's not a 1-1 substitute. I would start with less black pepper and add as you go. (But really, you should have white pepper in your pantry! It's a staple in mine!)
POTATO STARCH
This is a KEY ingredient in this recipe, as it is what makes for the unique crunch! I get mine from 99 Ranch but I've also seen it sold on Amazon. The bag may be labeled 'potato starch' or 'katakuriko'. If you cannot find this, you can sub with tapioca flour or cornstarch – you can drizzle a little bit of marinade into the flour or starch to create some craggily bits.
JAPANESE MAYO (KEWPIE)
My favorite mayo is Japanese mayo or Kewpie – it's different from 'regular' mayo as it uses only egg yolks (versus the whole egg) and rice vinegar. This means the mayo is richer, thicker, and has a sweet, tanginess to it that is irresistible! I love to have a bottle of this in my pantry at all times. You can sub with regular mayo if you don't have it on hand – this will be used for the optional spicy garlic mayo dipping sauce!
Air Fryer Japanese Fried Chicken: Recipe Instructions
Cut the Chicken
The first step in making this recipe is cutting the chicken into 2″ pieces. The larger pieces will ensure the chicken does not come out dry in the air fryer due to the longer cooking time. Make sure all the pieces are cut to similar sizes so they cook evenly.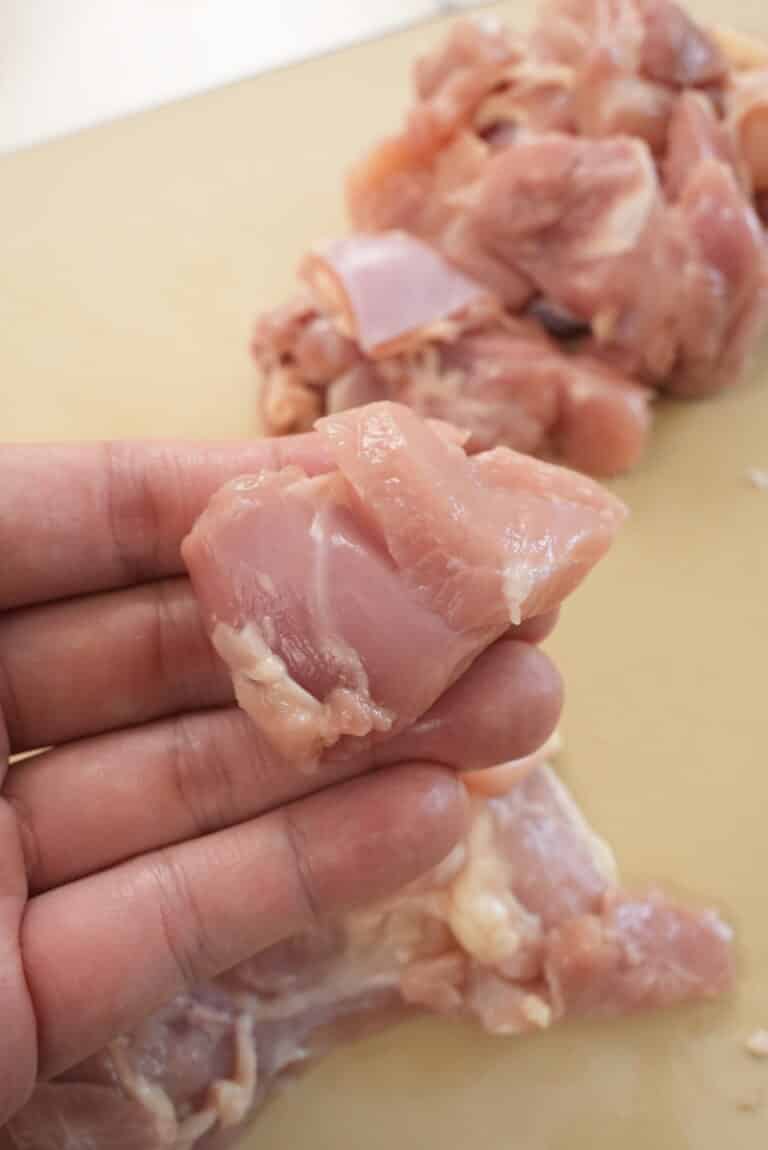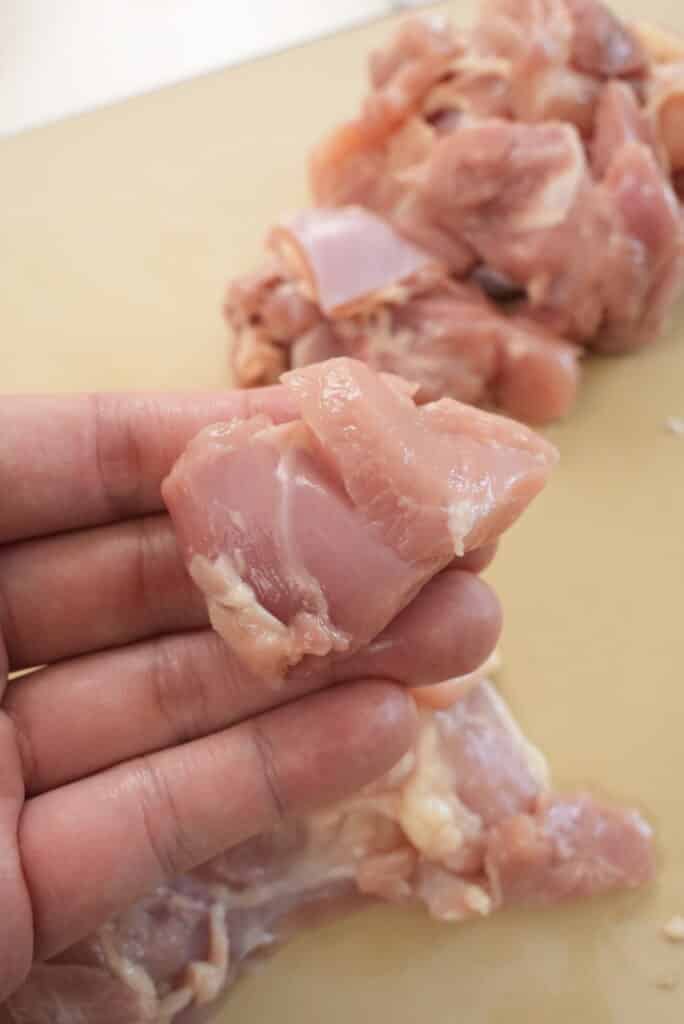 Next, place the cut chicken thigh into a bowl with soy sauce, sake, sesame oil, black pepper, salt, grated garlic and ginger. Mix well with your hands and let marinate for at least an hour in the fridge (overnight for best results and flavor).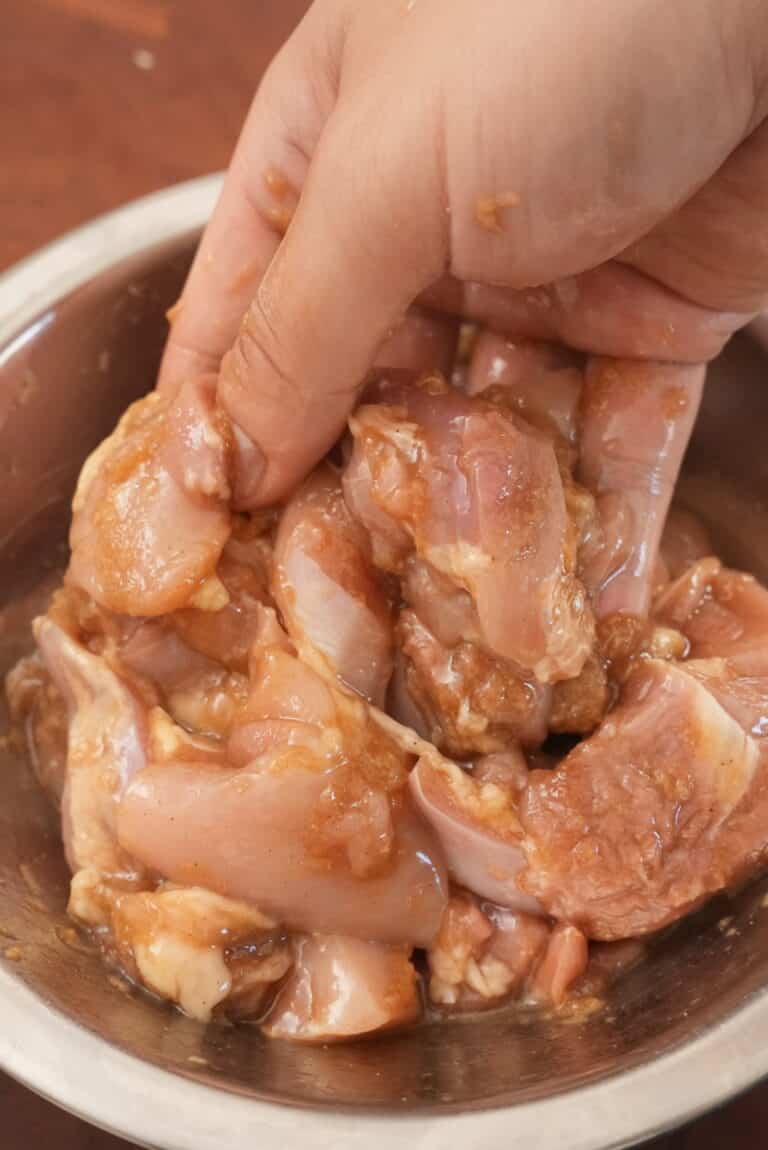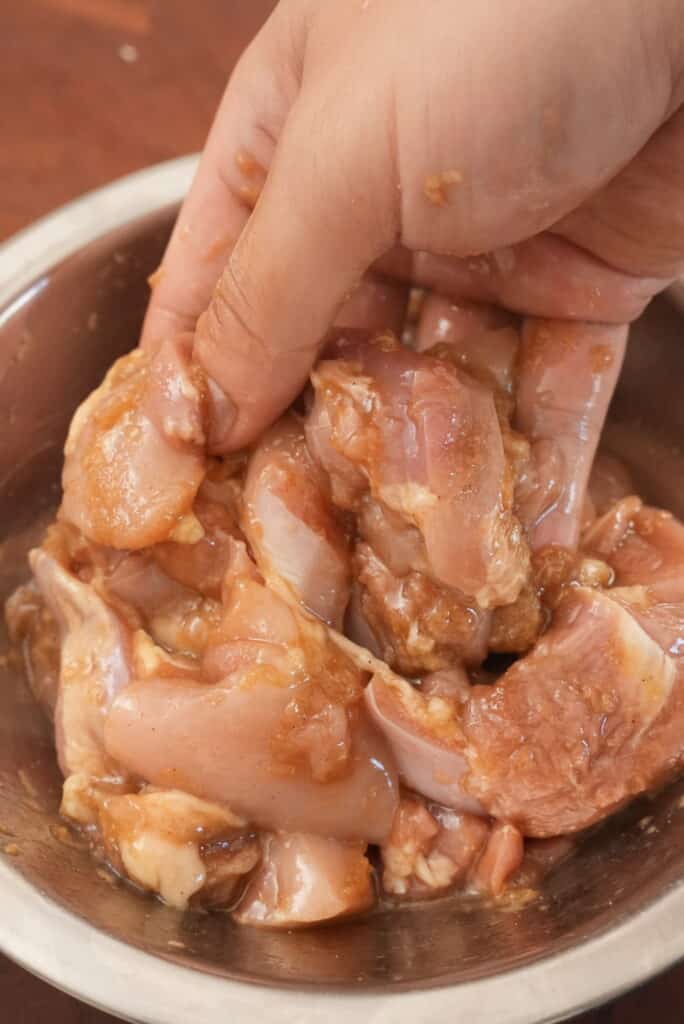 Coat the Chicken In Potato Starch
Potato starch (Katakuriko) is the key to great Japanese Fried Chicken! The potato starch gives the chicken a deliciously light crust vs. cornstarch or flour. Here is a brand that I look for in my Asian market.
After the chicken is marinated, coat the chicken in the potato starch and pack in the dredge so it sticks to the chicken. You don't want to see any bald spots on the chicken!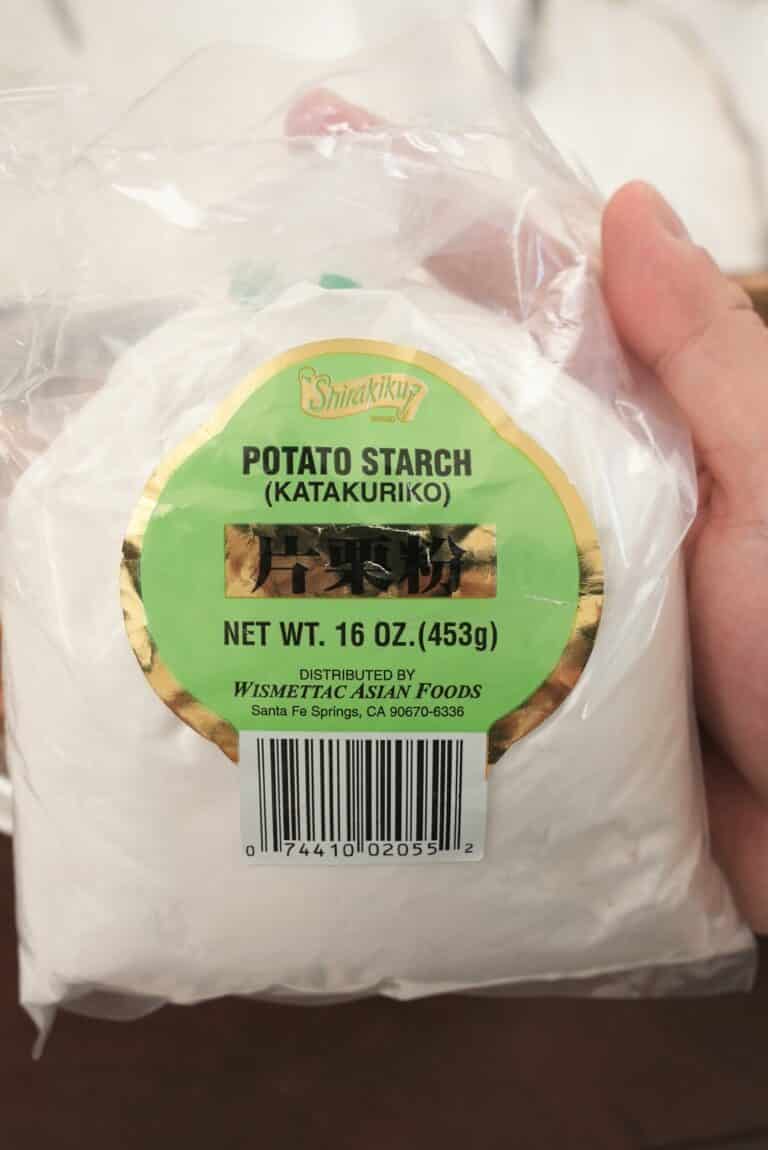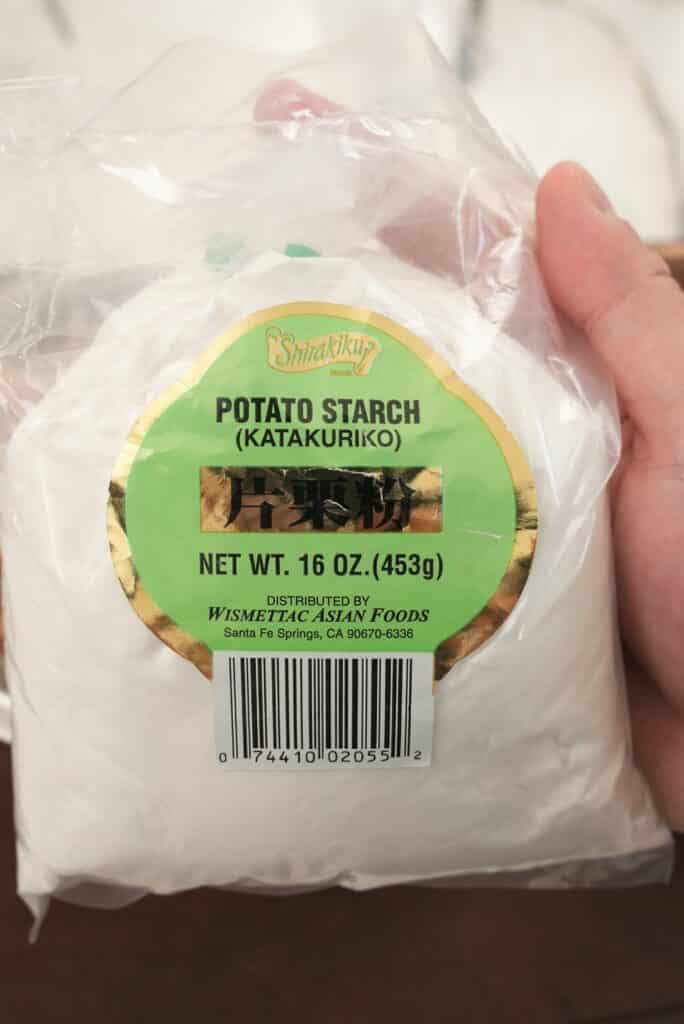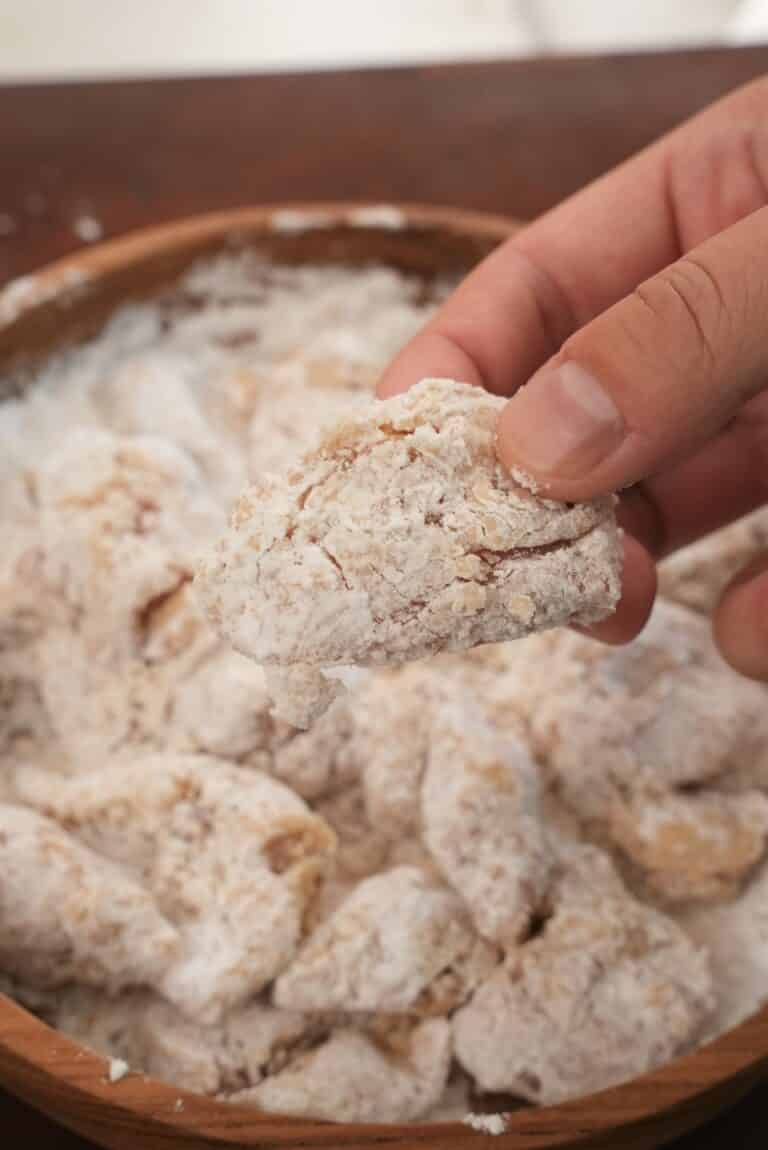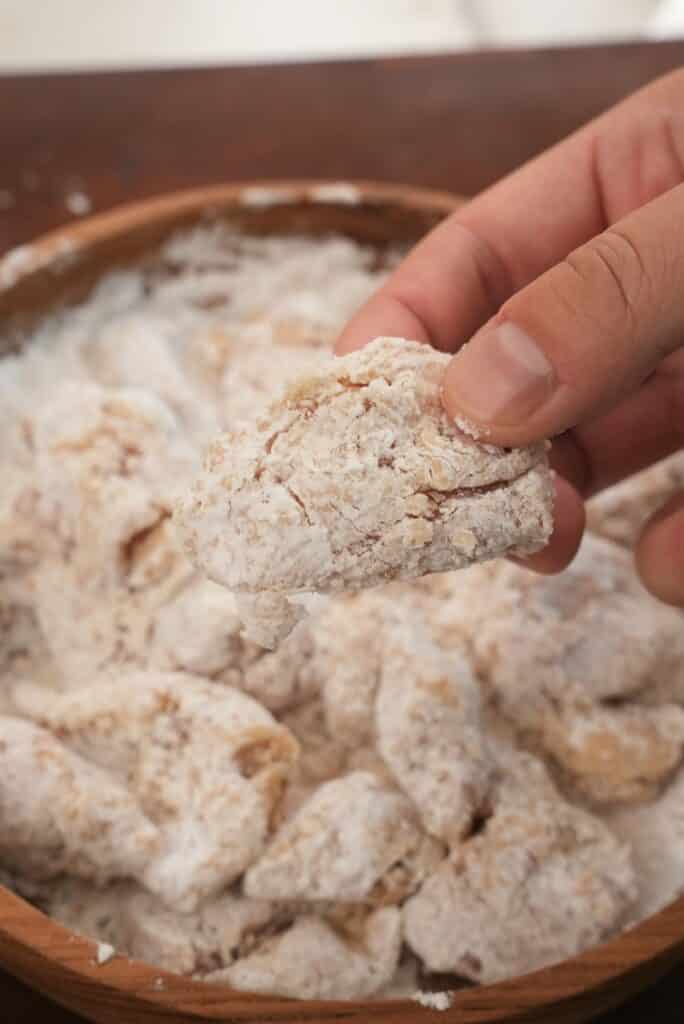 Air Fry the Chicken
When air frying chicken, you still need some oil for the batter to get crispy. A neutral oil spray will be your best friend. I used avocado oil spray, but any neutral oil spray will work such as canola or vegetable oil.
First, spray the air fryer basket tray with a layer of oil to help prevent the chicken from sticking. Carefully lay down the chicken pieces into the basket tray, then give the top of the chicken a generous spray of oil. Cook the chicken at 350F for 10 minutes.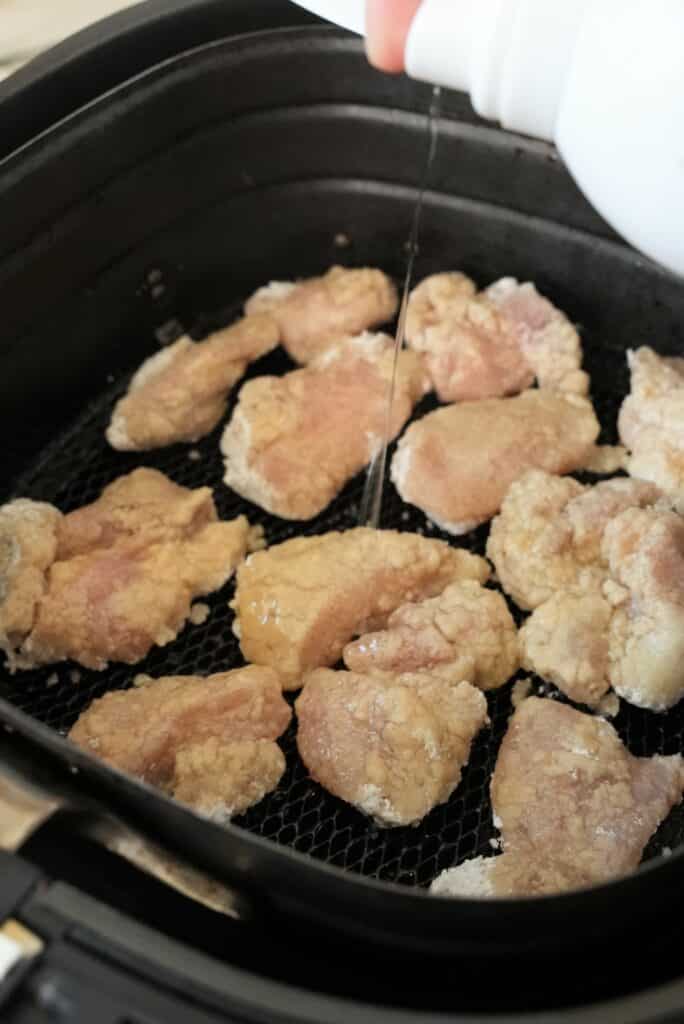 Double Fry the Chicken
After the first "fry" in the air fryer, the chicken pieces should look a little crispy as shown below. Give the chicken pieces a flip then another spray of neutral oil. Then air fryer a second time at 400F for another 8-10 minutes until they are crispy!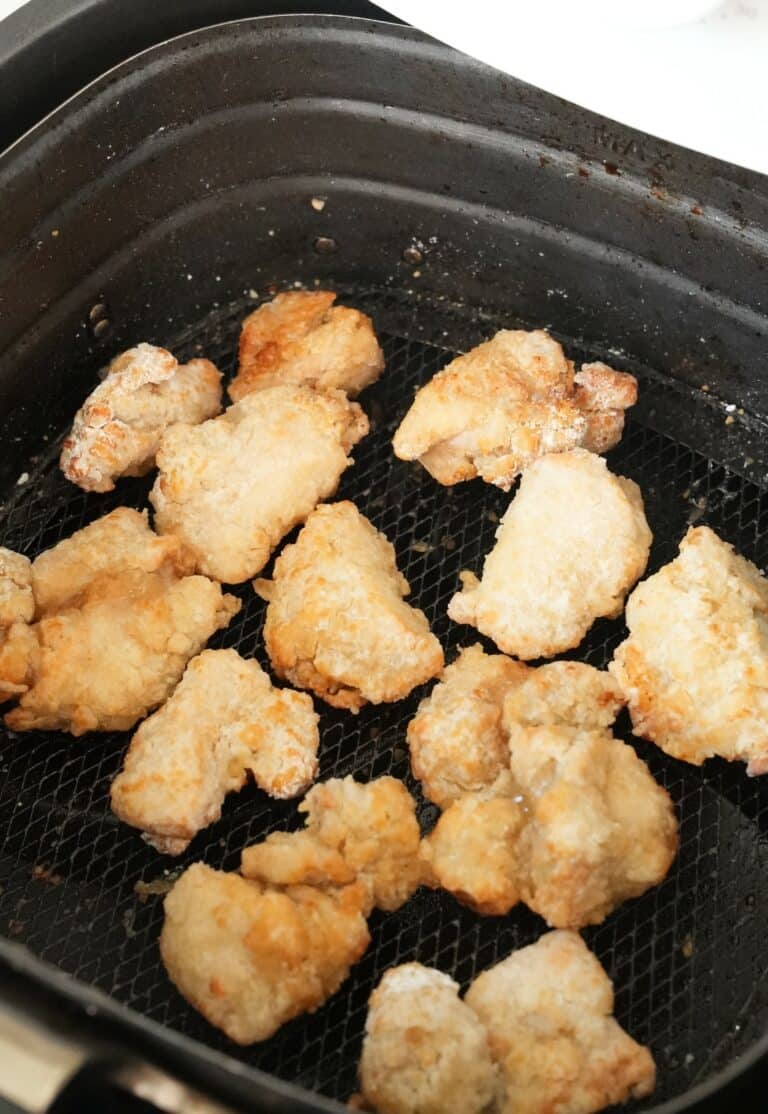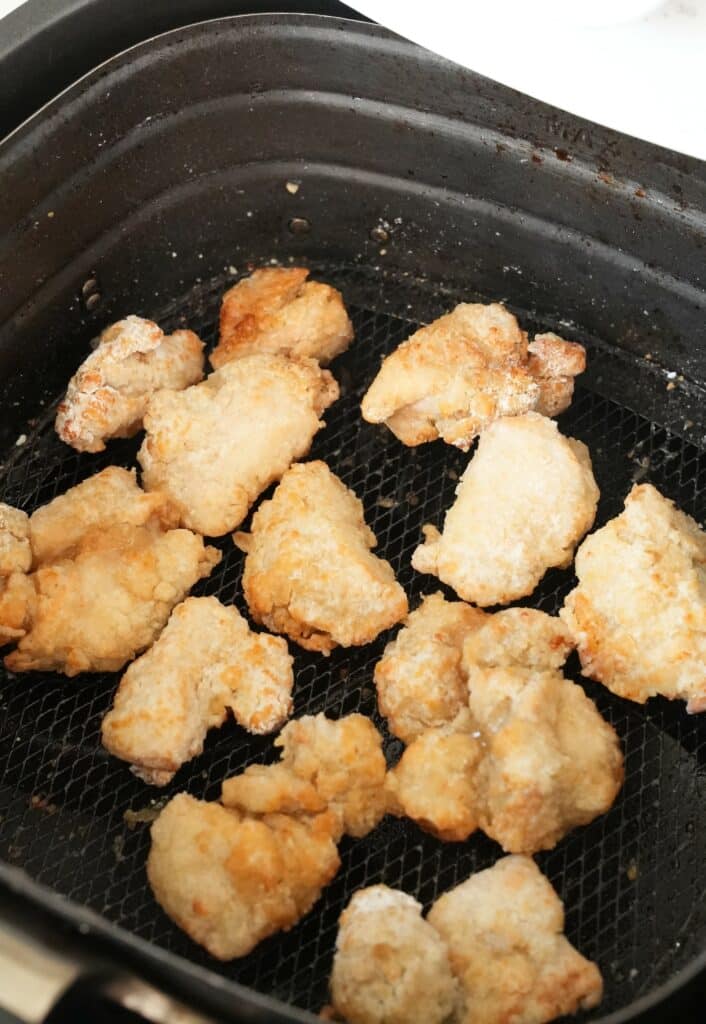 This was the final result – look just how incredibly crispy that chicken is! You can also watch the video for audio evidence as well 🙂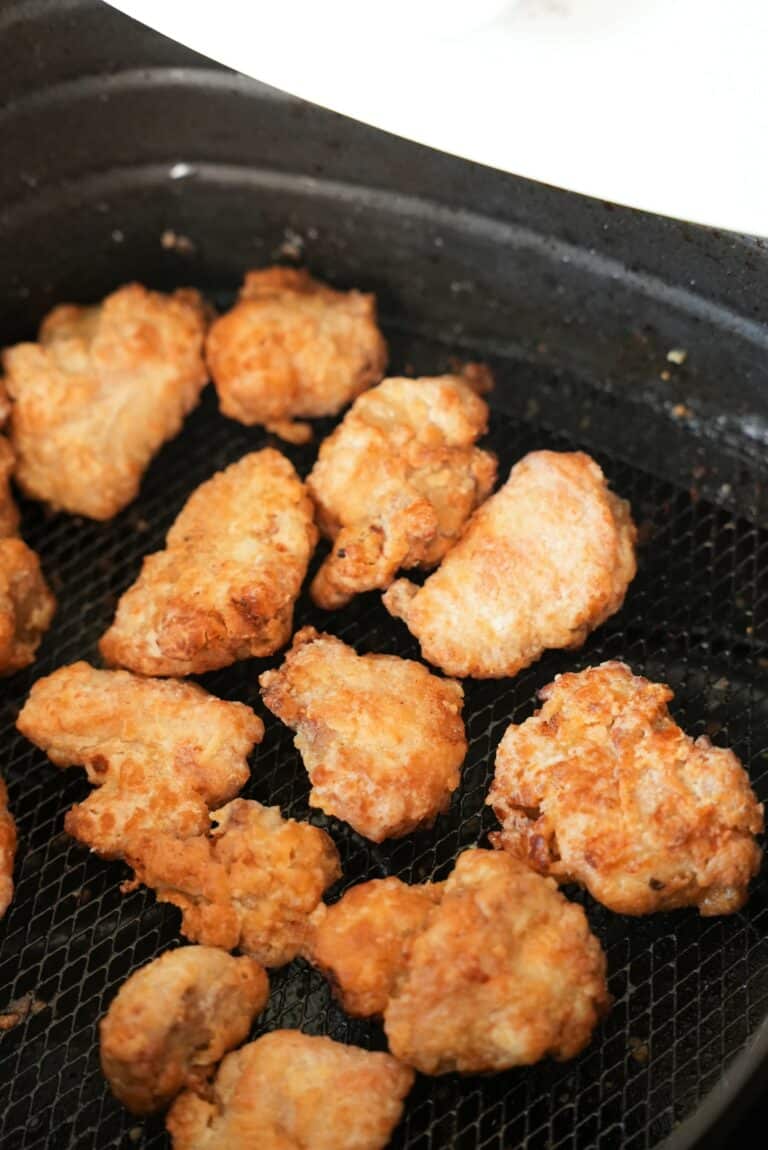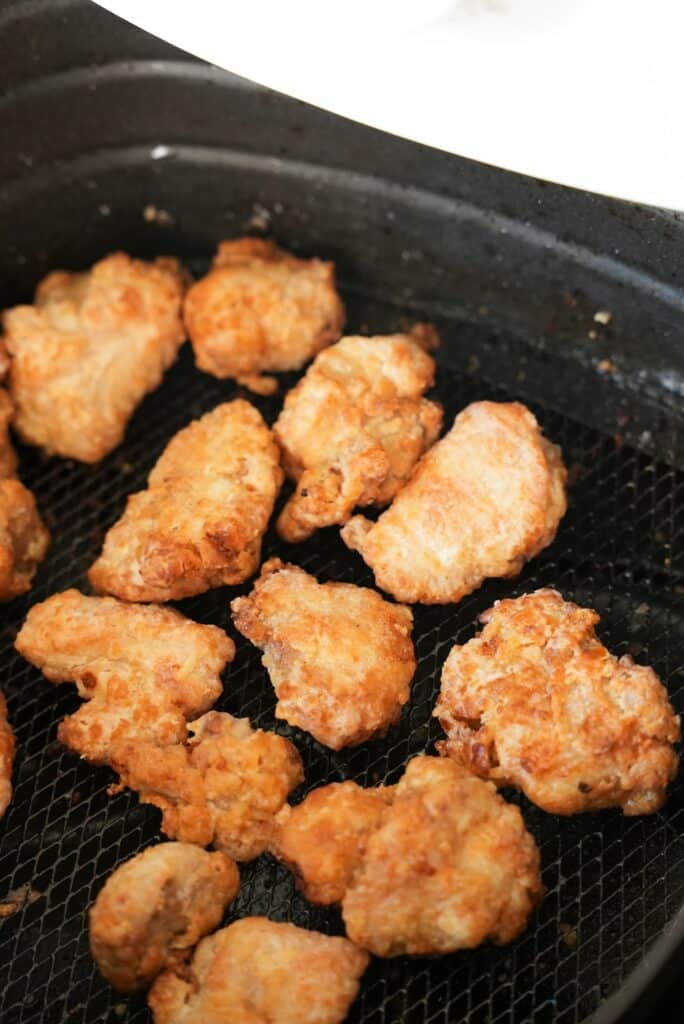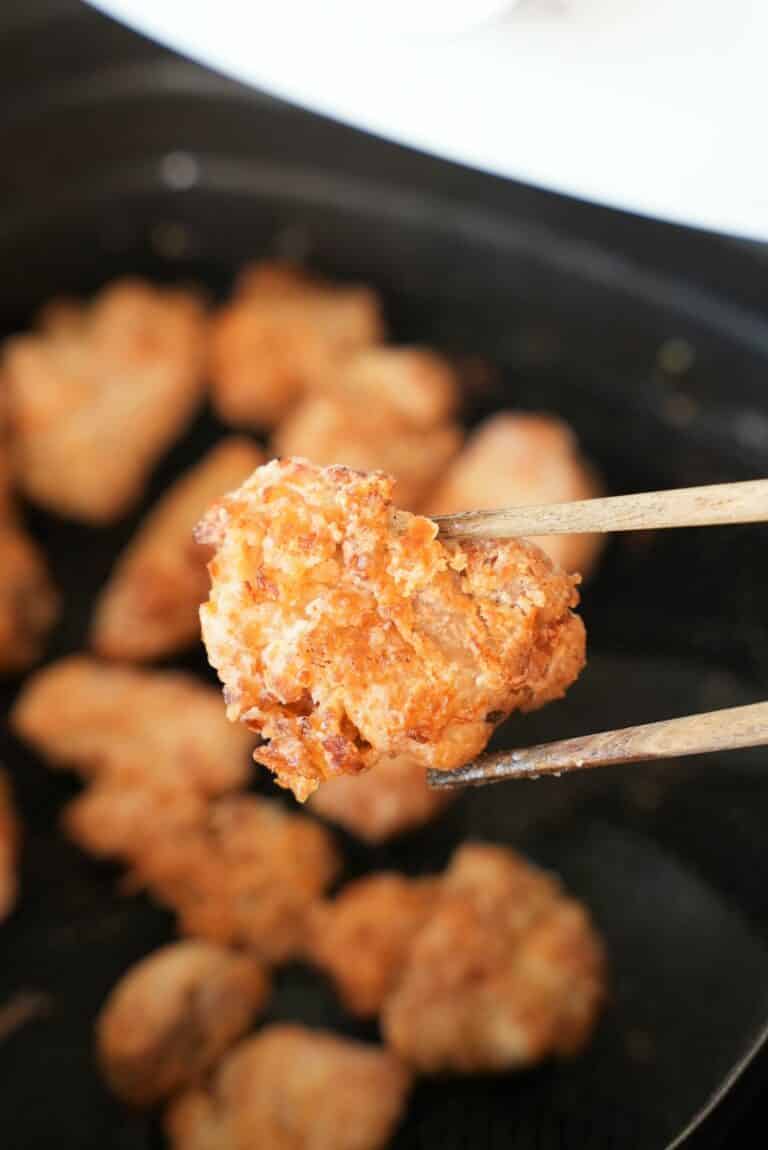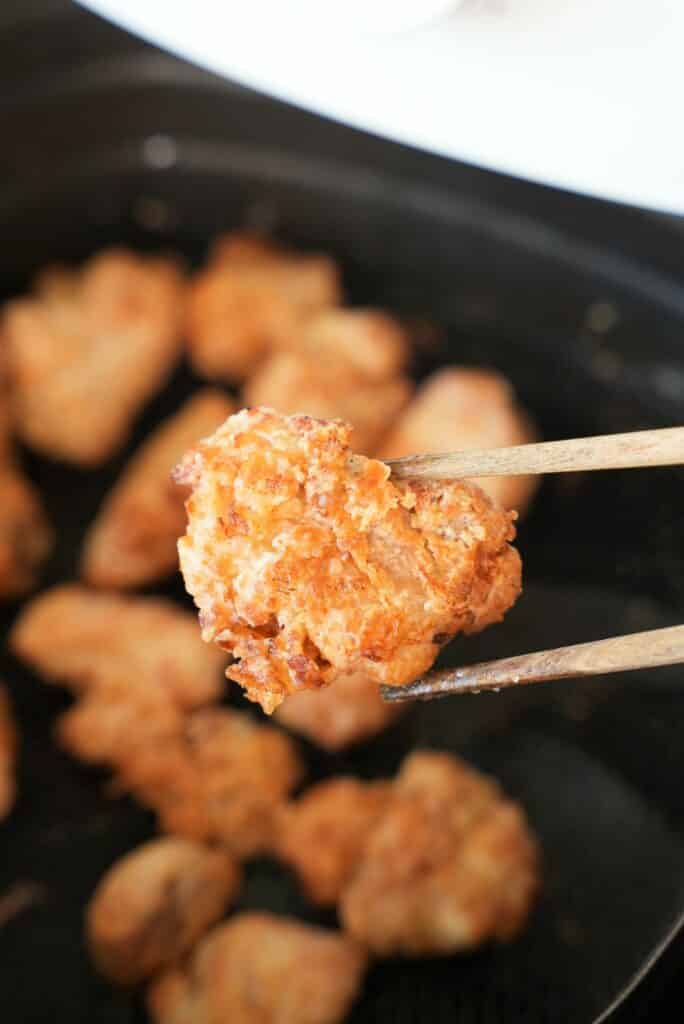 For the dipping sauce, make sure you are using Japanese mayo which is made from only from egg yolks vs. typical American mayonnaise which uses the whole egg. The brightness from the lemon really elevates this dipping sauce to compliment the crispy, savory chicken.
Mix the ingredients well and serve with the freshly "fried" Chicken Karaage!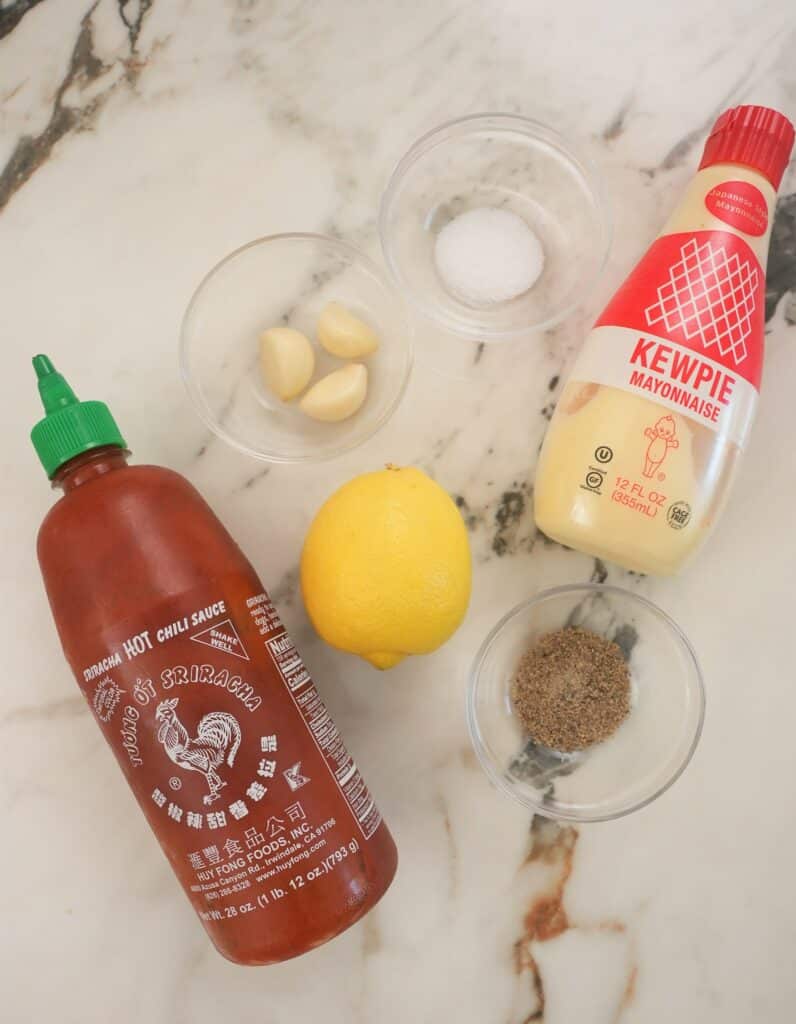 If you liked this Chicken Karaage recipe, check out some of the most popular fried chicken recipes on the blog!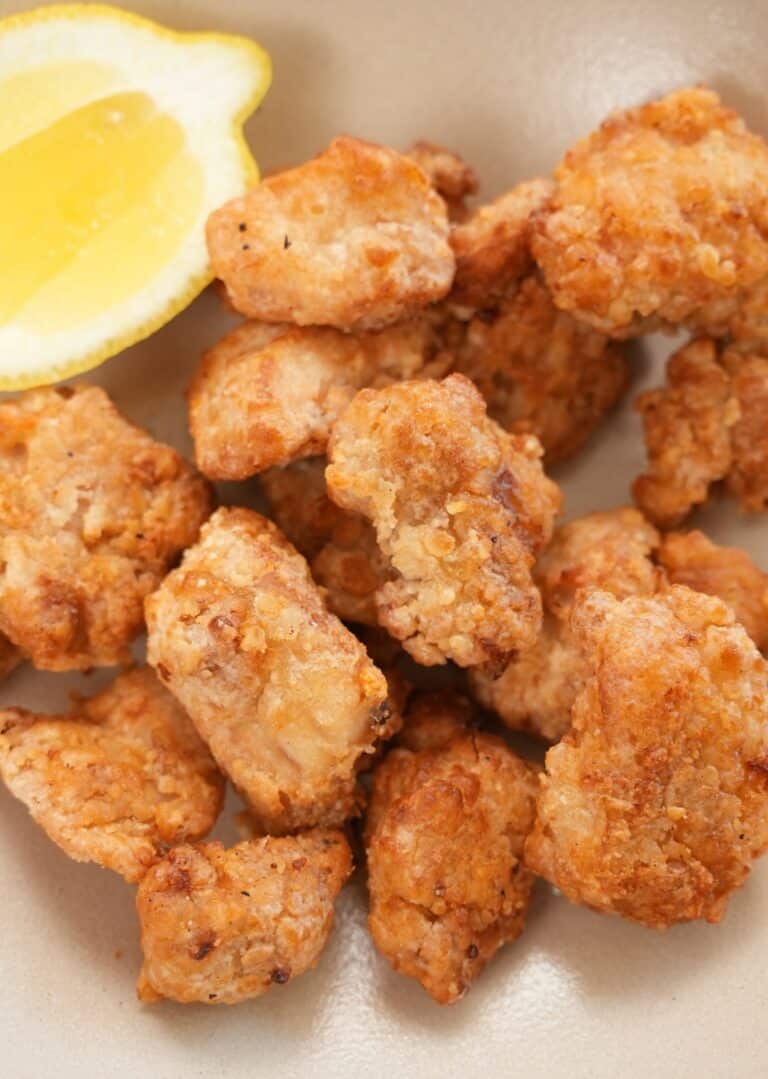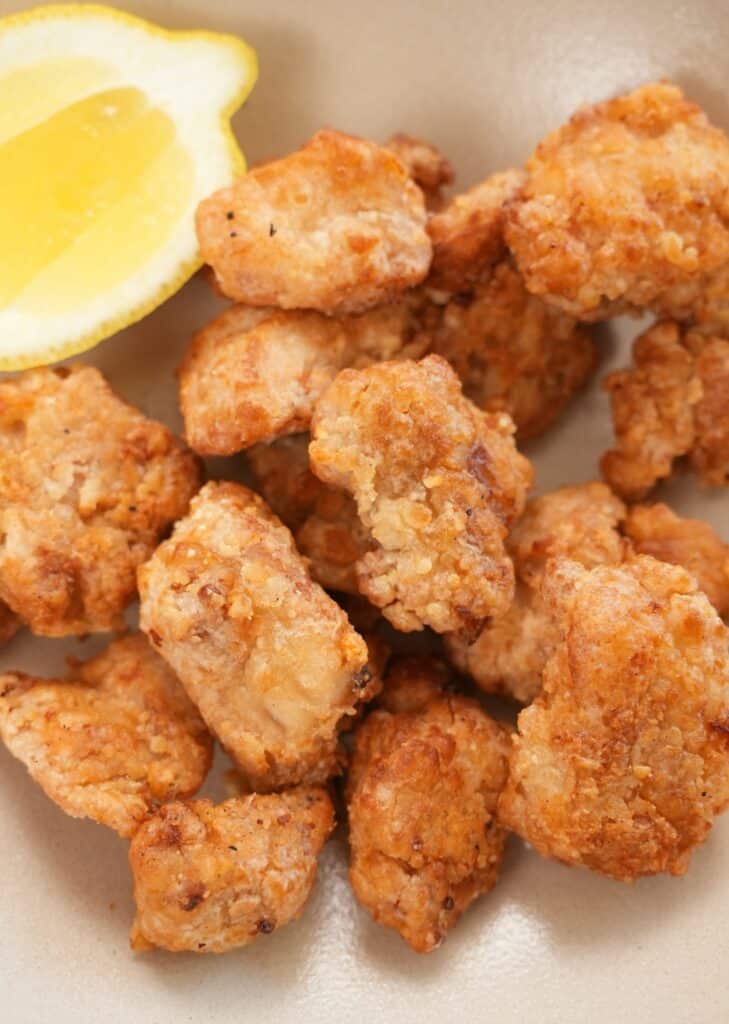 RECIPE TIPS
PACK IN YOUR DREDGE (But not too thick)
Make sure your chicken has no bald spots and is well coated, but there is no need to pack the chicken in like when regular frying. Refer to the dredging picture above (this is what you're going for)! This will be enough to give it that air fryer crunch without all the oil!
NEUTRAL OIL SPRAY
Neutral oil spray is a MUST here. You need a little bit of oil spray to allow the batter to "fry" in the air fryer. When air frying, periodically look for dry spots on the chicken and give them another spray of oil if needed.
LEMON JUICE
This is optional but I like to squeeze a little lemon juice over the karaage before eating. I find that the lemon juice gives a nice brightness and acidity that balances nicely with the fried chicken. Give it a try if you haven't done this before!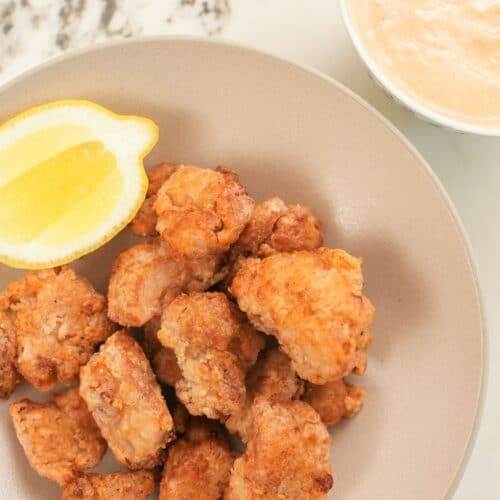 Air Fryer Japanese Fried Chicken (Karaage)
Chicken Karaage, or Japanese Fried Chicken, is coated in potato starch and double air "fried" to perfection! My spicy garlic mayo sauce is a perfect spicy, lemony compliment to the crispy chicken
Ingredients
Chicken
1

lb

chicken thigh

cut into 2" pieces

4

cloves

garlic

grated

1

tbsp

ginger

grated

2

tbsp

light soy sauce

1

tbsp

sake

1

tsp

sesame oil

1/2

tsp

white pepper

1/2

tsp

salt

1

cup

potato starch

neutral oil

for frying; I used avocado oil

lemon wedge

optional
Spicy Mayo Dipping Sauce
4

tbsp

Japanese mayo

2

tbsp

sriracha

2

cloves

garlic

grated

1

tbsp

lemon juice

1/4

tsp

salt

1/4

tsp

pepper
Instructions
Cut boneless chicken thigh into 2" pieces.

Marinate with garlic, ginger, light soy sauce, sake, sesame oil, white pepper, and salt. Cover and place in the fridge for 30 minutes to 1 hour.

Take 1 cup of potato starch (katakuriko) and dredge chicken. Make sure to coat the chicken well ensuring there are no bald spots. Shake off any excess potato starch.

Using a neutral oil spray, spray the tray of your air fryer basket with a layer of oil. Carefully place the chicken down on a single layer of the basket and spray the chicken with the neutral oil spray.

Air Fry the chicken at 350F for 10 minutes. Give the chicken a flip, then spray the other side with more neutral oil spray. Air fry again at 400F for another 8-10 minutes until golden and crisp.

OPTIONAL: Mix together Japanese mayo, sriracha, garlic, lemon juice, salt, and pepper for an amazing spicy mayo dipping sauce.

OPTIONAL: Squeeze fresh lemon juice over chicken before serving.