Korean Fried Chicken Tenders
---
May 1, 2022
---
These Korean Fried Chicken Tenders were some of the best chicken tenders I have ever made! They were perfectly crispy, juicy, and so flavorful with the sweet and spicy gochujang sauce. Make these for a party and they will not last long!
One of the things that make these chicken tenders so crispy is a double-frying method! The tenders are dredged and fried once for a longer period of time, then fried a second time to achieve a super crispy exterior. It's so easy to make restaurant-quality fried chicken at home!
Watch the Korean Fried Chicken Tenders Recipe Video Below!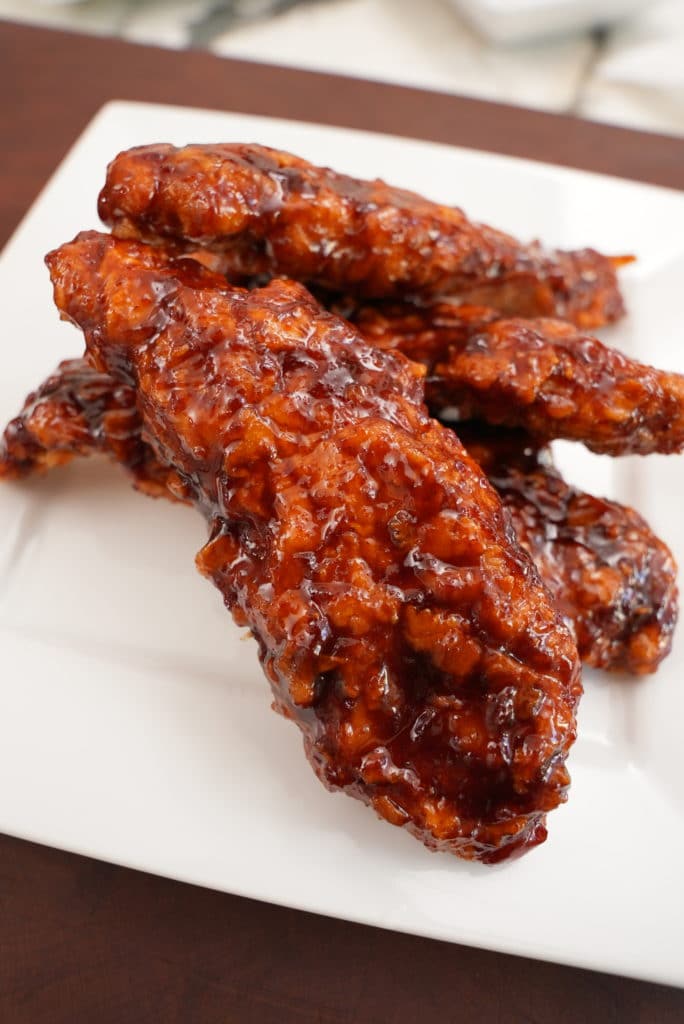 INGREDIENTS TIPS
GOCHUGARU
Gochugaru is Korean red chili pepper flakes (or powder, depending on which version you purchase). It's vibrant in color and smoky in flavor, and while the heat level varies, it's definitely on the spicy side. I love using this ingredient because of the layers of flavor it adds! I recommend you adjust the amount based on your spice tolerance level.
GOCHUJANG
Gochujang is a Korean pepper paste that is spicy, sweet, with a hint of umami. It has a STRONG flavor, so you only need a little to go a long way. I would adjust this to your spice preference – if you are new to the flavor or don't enjoy spice as much, I would even start with 1/2 of what the recipe calls for!
NEUTRAL OIL
My favorite neutral oil is avocado oil, but you can also use canola, vegetable, or peanut oil!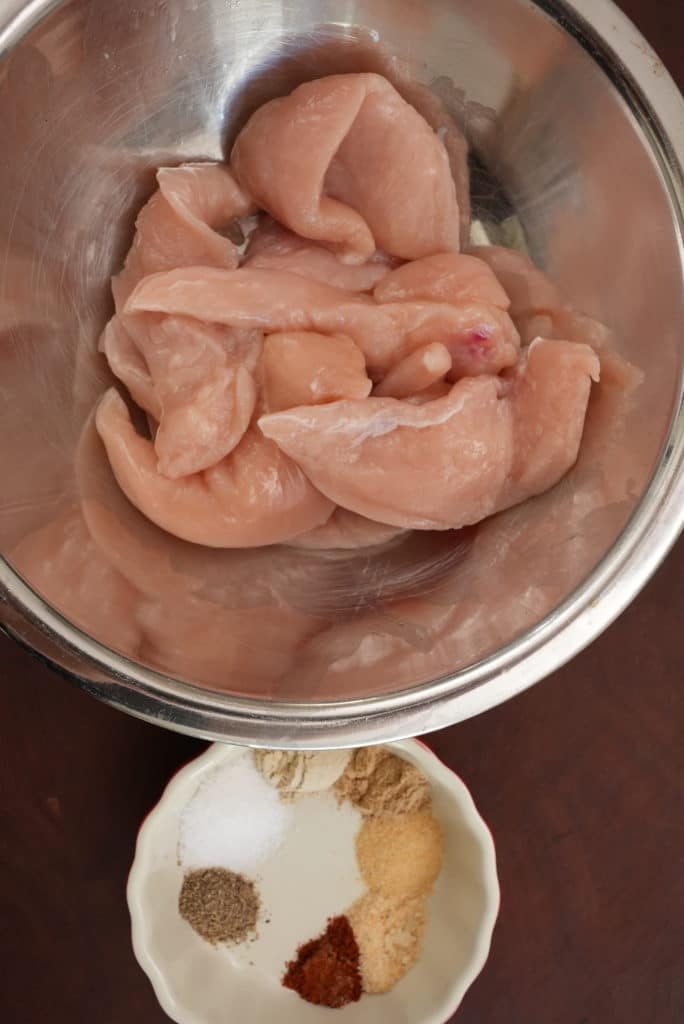 These were some of the crispiest, most flavorful Korean fried chicken tenders I have ever made! The first step to amazing chicken tenders is seasoning a spice marinade. Here is what you'll need:
Kosher Salt
White pepper
Black Pepper
Garlic Powder
Ginger Powder
Cayenne Pepper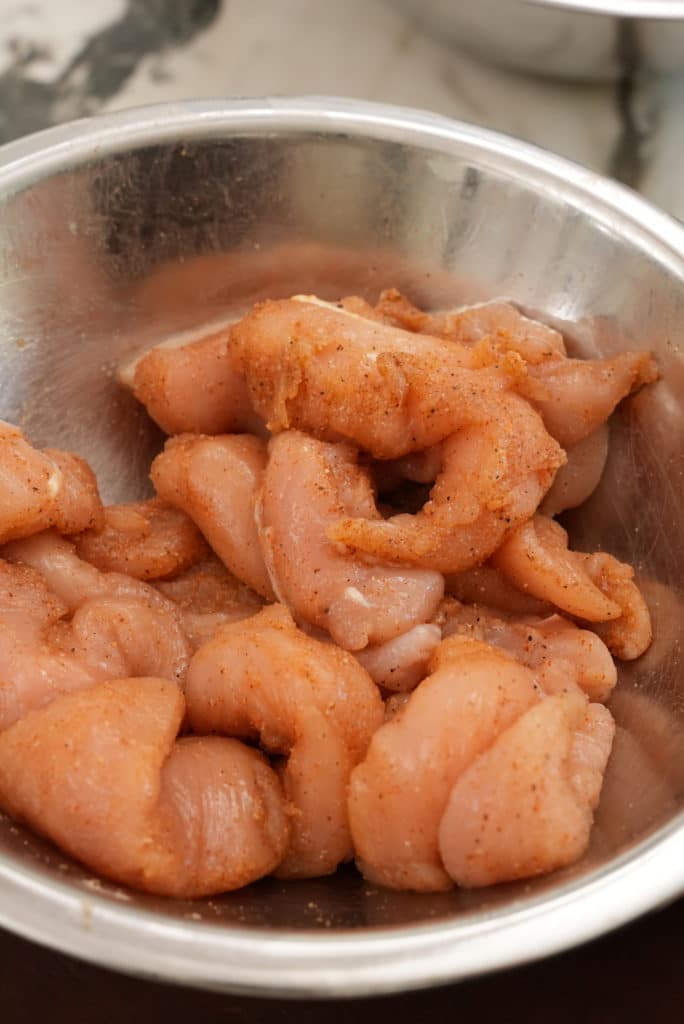 Once the chicken has been seasoned, let the chicken tenders sit for at least 20 minutes to allow the salt to absorb into the meat. This is called "dry brining" which will result in a more juicy chicken tender.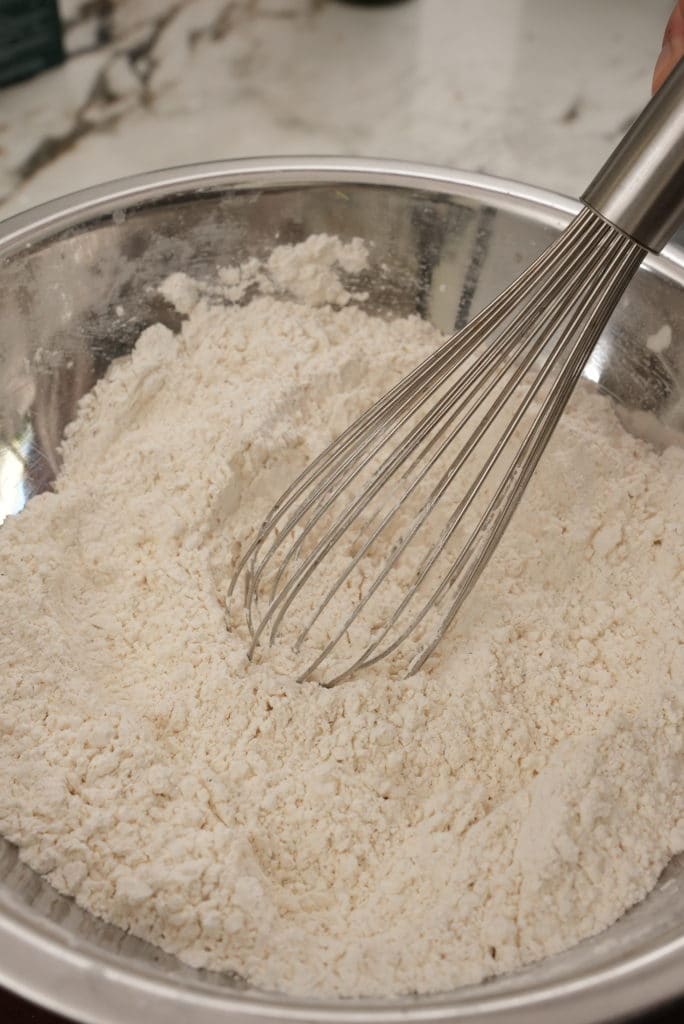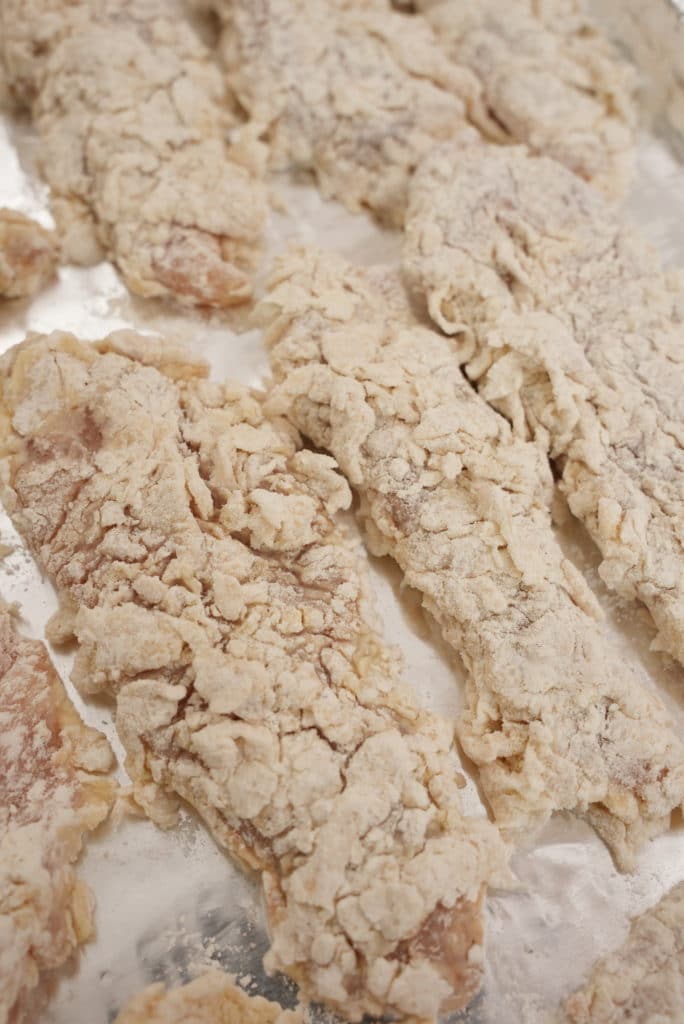 Once the chicken tenders are breaded, let them sit on a tray for at least 15 minutes on a tray. I've found that letting the chicken sit once it is dredged in the season flour allows the breading to stick when frying.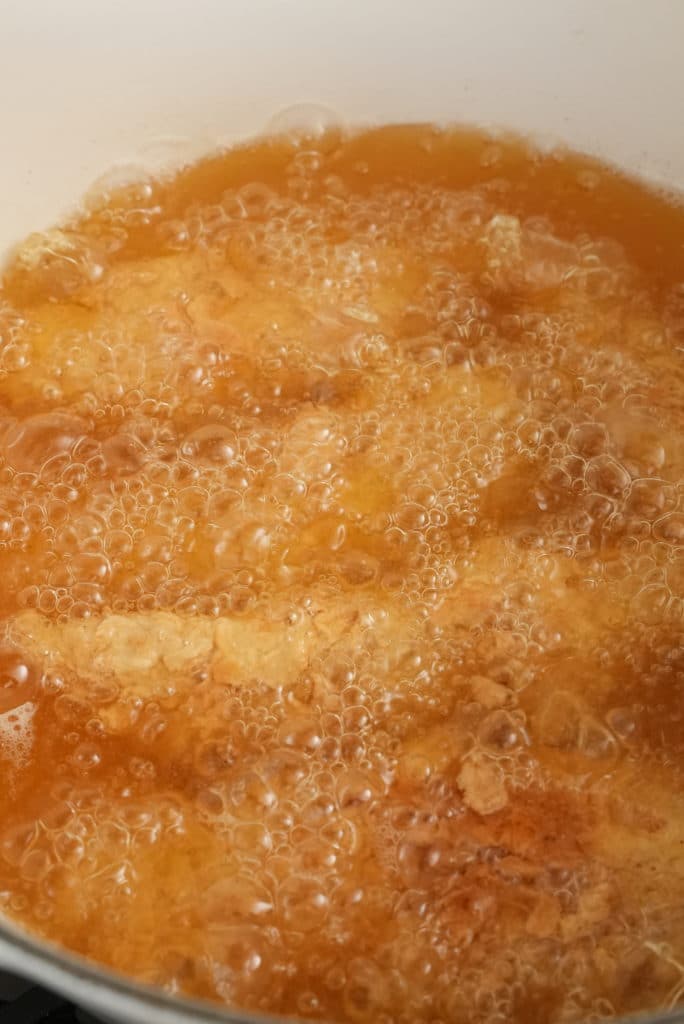 Fry the chicken tenders in batches at 350F in a large Dutch oven or cast iron skillet. It is extremely important that the oil does not drop below 325F when frying – do not overcrowd the pan! Once the first batch is done, let the oil return to temperature then fry a second time for EXTRA crispiness!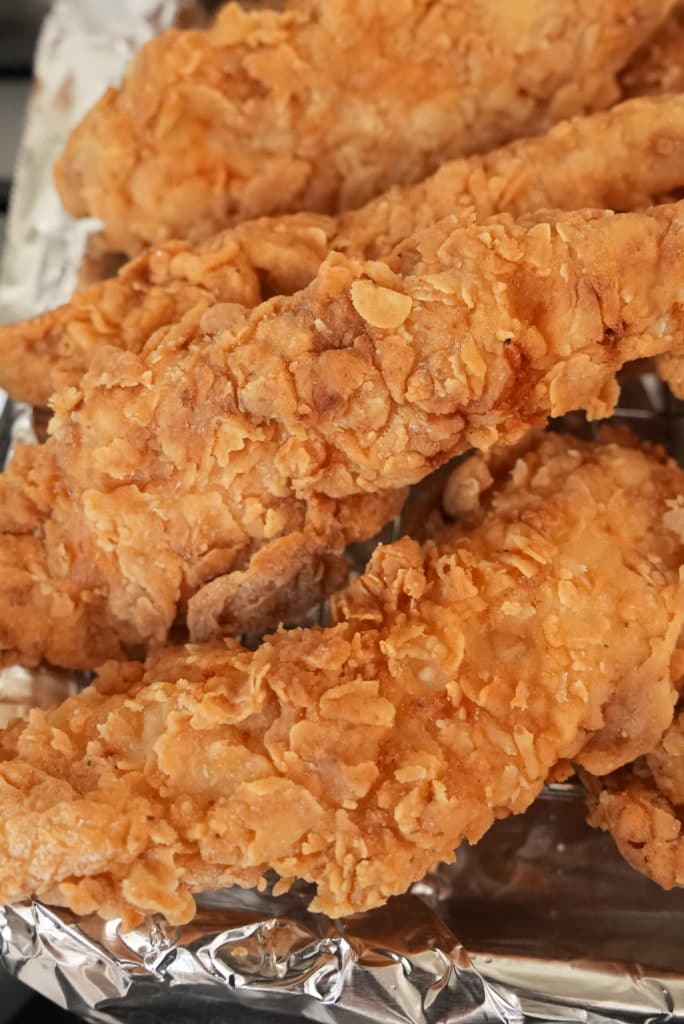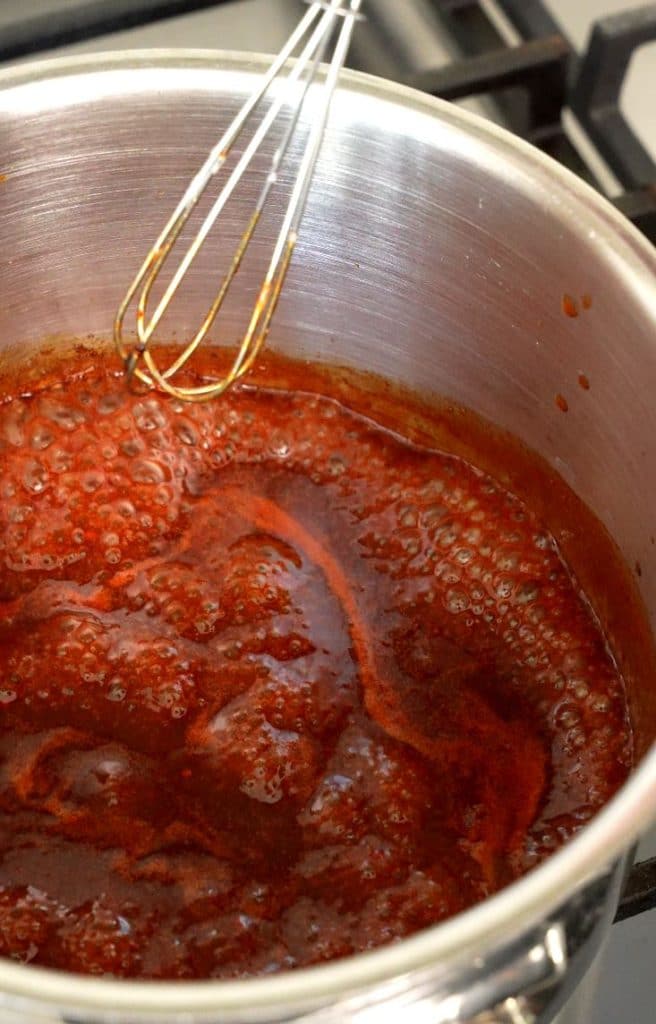 The sauce is extremely simple to make and is so flavorful! I love how it brings a sweet and spicy kick to the already crispy chicken.
In a small to medium sized saucepan, mix together soy sauce, sugar, honey, gochujang, gochugaru, vinegar, and water. Heat over medium high until the sauce bubbles and thickens, simmering for about 4-5 minutes.
RECIPE TIPS
"DRY BRINE"
This is the KEY tip for quick but JUICY chicken! Season the chicken with salt & pepper for 15 minutes before cooking to allow the salt absorb into the meat. This "dry brine" will result in crispy skin and juicy meat. The salt will draw out some moisturize, so make sure to pat the chicken as dry as possible with a paper towel prior to sauteing in the pan. (Otherwise your skin will not get as crispy!)
DOUBLE FRY
I love to double fry my chicken, as this ensures my chicken tenders are both well-crisped AND cooked thoroughly. I know it's a little bit extra work but I guarantee it's worth it! If excess batter pieces are floating in the oil, strain them out with a strainer to prevent them from burning during the 2nd fry.
INTERNAL TEMPERATURE
If you are not a seasoned pro at cooking (and honestly, even if you are!) I would highly recommend you use a meat thermometer to check your chicken – you want the internal temp to be at 165F. Undercooked chicken can lead to food poisoning, so always err on the side of caution!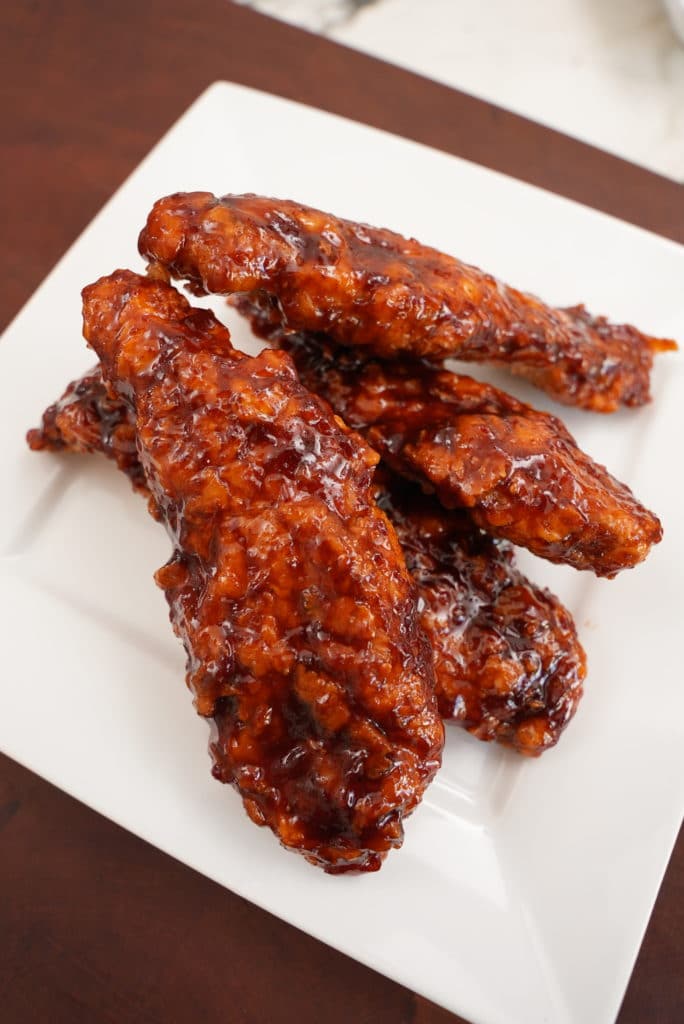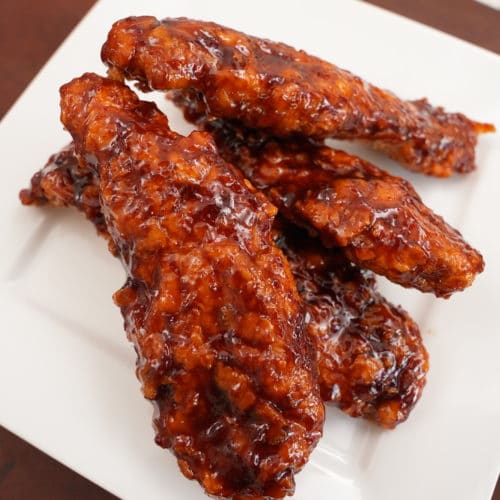 Korean Fried Chicken Tenders
These crispy Korean Fried Chicken Tenders are double fried to golden brown perfection and glazed with a sweet and spicy gochujang sauce!
Ingredients
Chicken
1

lb

chicken tenders

1

tsp

kosher salt

1/2

tsp

white pepper

1/2

tsp

black pepper

1/2

tsp

garlic powder

1/2

tsp

onion powder

1/2

tsp

ginger powder

1/4

tsp

cayenne powder
Sauce
1/2

cup

soy sauce

3

tbsp

sugar

2

tbsp

honey

2

tbsp

gochujang (Korean red pepper paste)

1/2

tbsp

gochugaru (Korean chili flake)

1

tbsp

rice vinegar

1/4

cup

water
Seasoning Flour
2

cups

flour

all-purpose

1

tbsp

kosher salt

1

tbsp

white pepper

1

tsp

black pepper

1

tsp

garlic powder

1

tsp

onion powder
Wet Batter
1/2

cup

flour

all-purpose

1

egg

1

cup

cold soda water
Oil
2

quart

neutral oil

for frying
Instructions
In a bowl, mix together kosher salt, white pepper, black pepper, garlic powder, ginger powder, and cayenne pepper. Season the chicken tenders for at least 20 minutes to allow the salt to absorb into the chicken.

In another bowl, combine your ingredients for the Seasoning Flour and mix well. Add additional sparkling water to the seasoning flour 1-2 tbsp at a time and rub the flour with your hands to create additional craggily bits.

In a separate bowl, mix together your Wet Batter ingredients and whisk to combine. In a third bowl, add 1 cup of plain flour.

Dust the chicken in the plain flour, then dip your chicken in the Wet Batter and let any excess batter drip off. Next, coat the chicken in the Seasoning Flour and use your hands to pack the coating into the chicken. Place on a tray and let the chicken rest for 15 minutes while you heat up the oil.

Fry the chicken in batches at 350F for 4-5 minutes. Remove the chicken and let the oil come back up to 350F, then fry a 2nd time for 1-2 minutes. Remove to a tray and let rest.

In a medium saucepan, mix together the Sauce ingredients and simmer over medium high heat for 3-4 minutes until the sauce has thickened. Coat the chicken in the sauce and enjoy!