Beef Lo Mein
---
May 12, 2022
---
Beef and noodles are such an amazing combination, and this Beef Lo Mein is no exception! In my opinion, Lo Mein is one of the most versatile stir-fry dishes on the planet. You can make it with pretty much any vegetables you'd like, and in this case, super tender beef is paired with a medley of crisp vegetables and a savory sauce that is incredibly delicious!
I absolutely love making this dish when I have friends or family over, and every single one of them had said this is the best Beef Lo Mein they've ever had! The noodles are chewy and paired with the crisp vegetables and tender beef, and I'm so excited to share my recipe with you all!
Watch the Beef Lo Mein Recipe Video Below!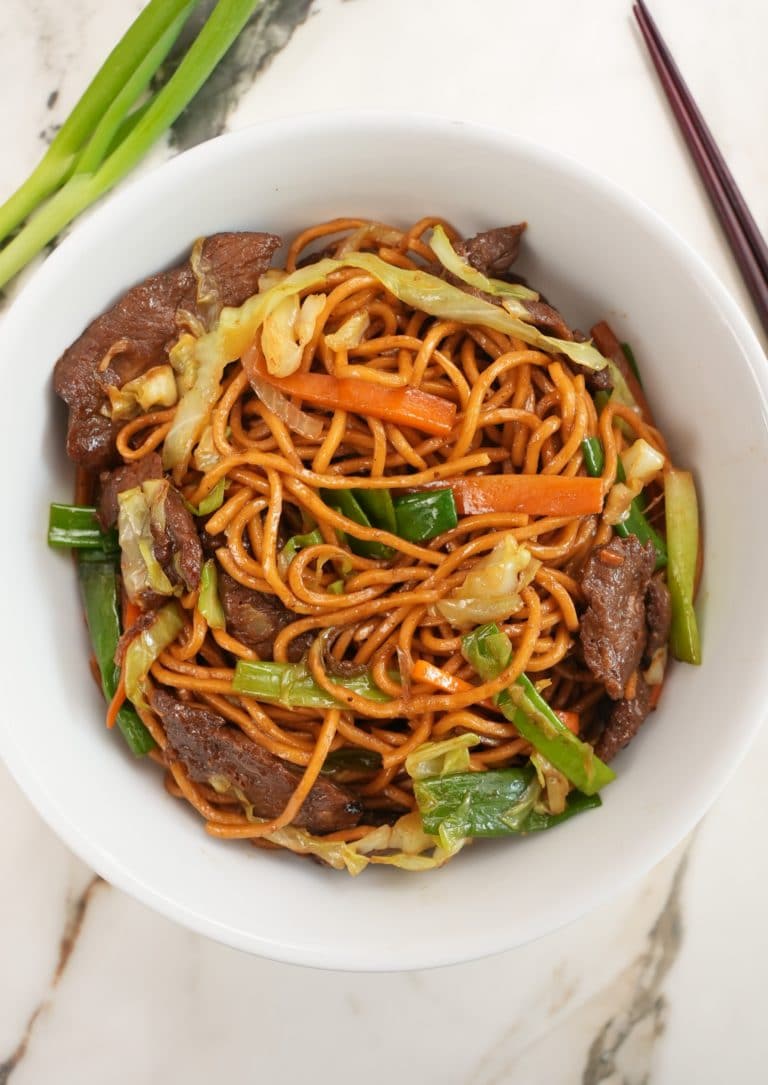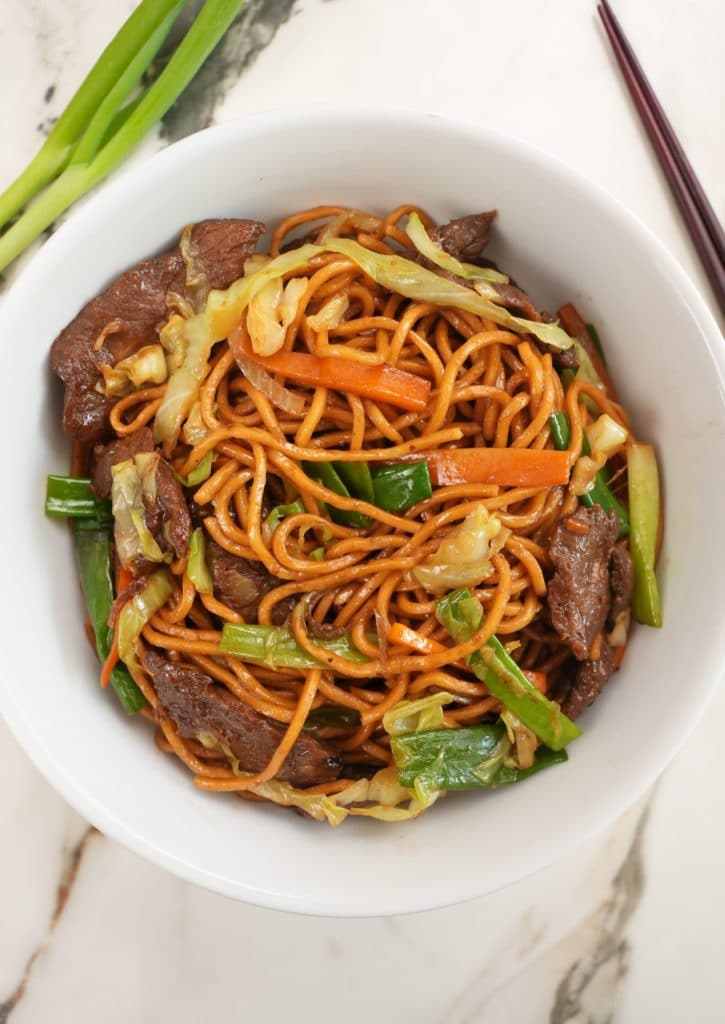 Prepare Your Vegetables
One of my most important tips for a successful Lo Mein is to prepare all your vegetables and ingredients ahead of time! The dish comes together so quickly in the wok or pan, so it's important to have everything beside your stove and at your disposal so they can be added quickly!
Additionally, cutting your vegetables to similar size pieces is also an important note to keep in mind. Similar size pieces will cook evenly, and ultimately result in a dish that is easier to eat! I cut the carrot, onion, scallions, and cabbage into 1-2″ strips below.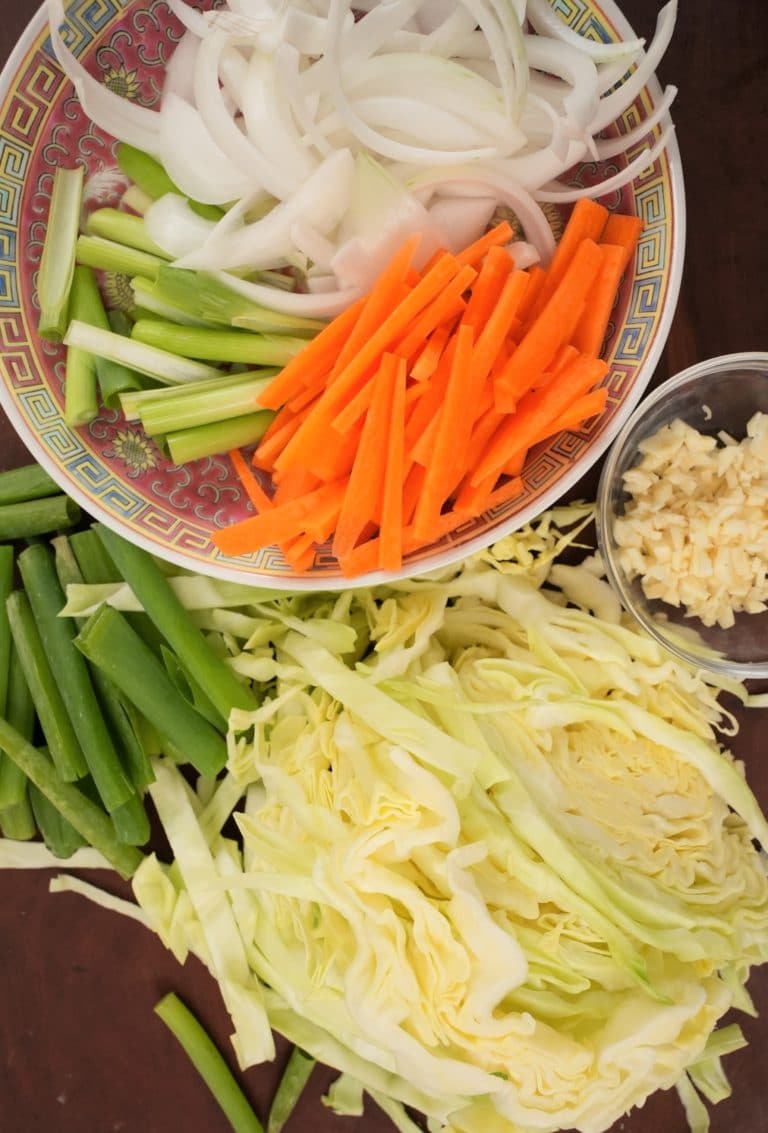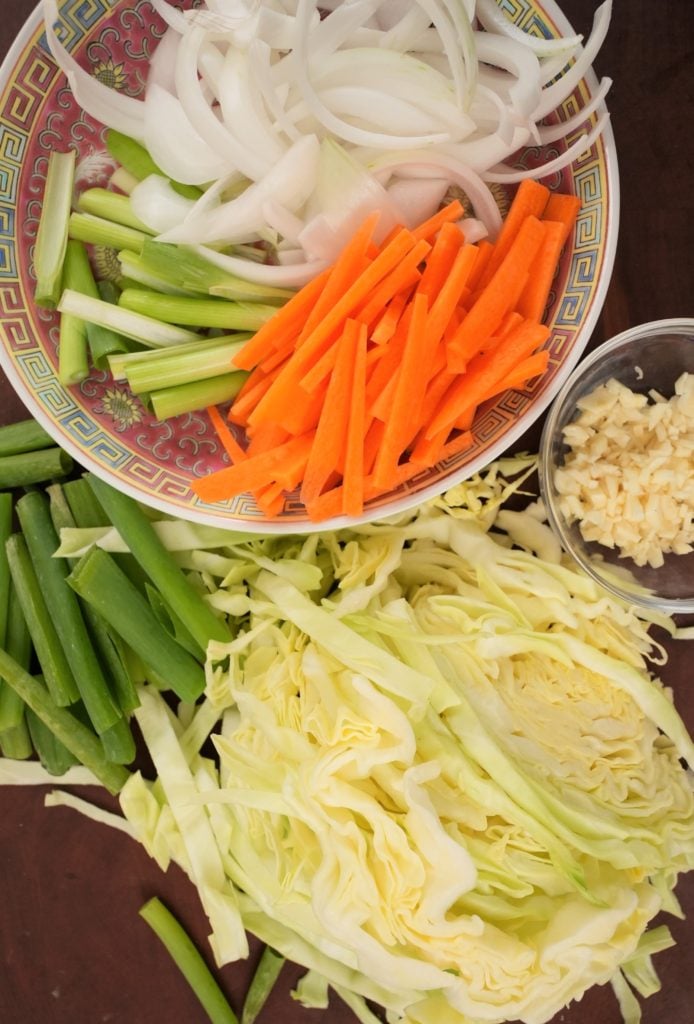 Slice, Marinate, and Cook Your Beef
Slice the flank steak at an angle against the grain to create 1/4″ wide strips. Cutting at about a 45 degree angle will give the beef nice surface area, but keep it thin enough to cook quickly in the wok! Once the beef is sliced, marinate the strips with the following:
Kosher Salt
White Pepper
Baking Soda
Shaoxing Wine
Light Soy Sauce
Cornstarch
Neutral Oil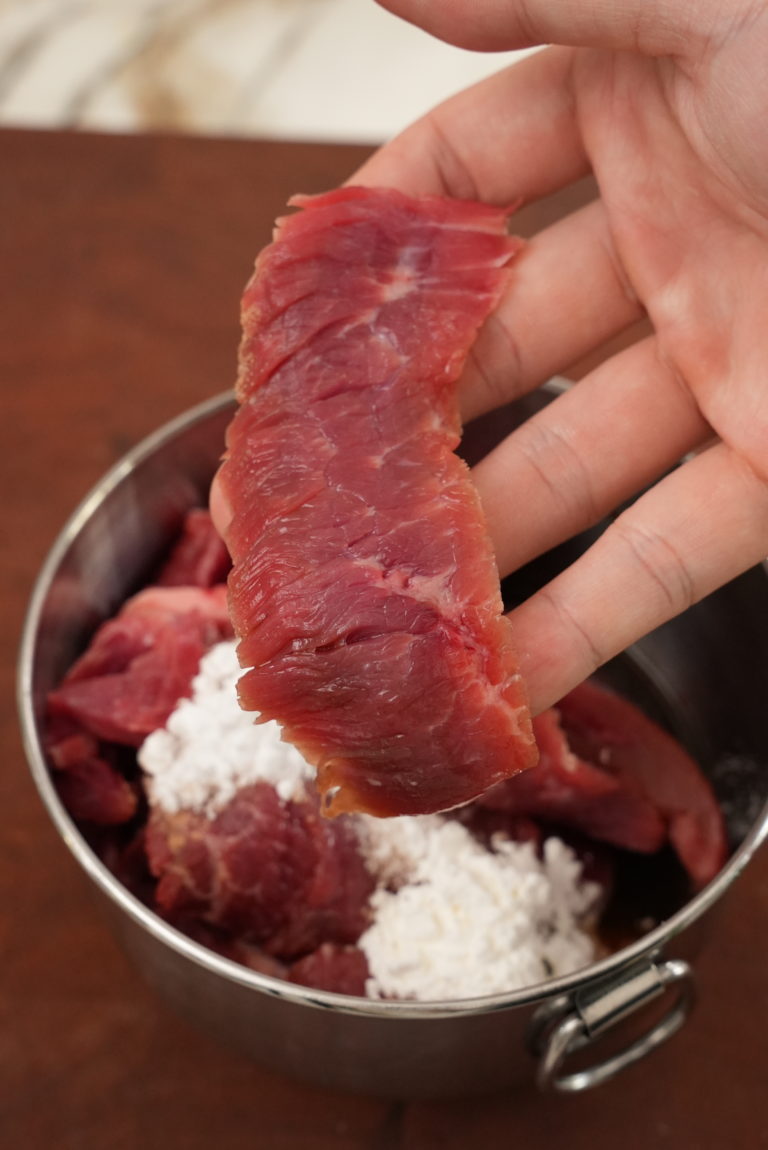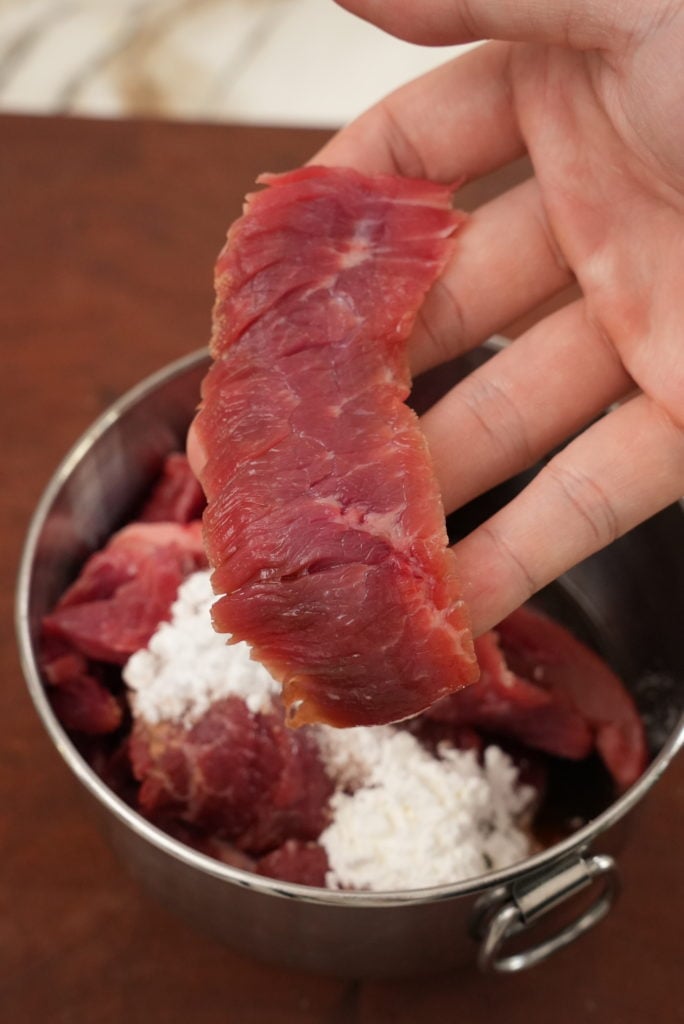 A small amount of baking soda is used here as a tenderizing agent to the beef, while the oil and cornstarch help coat the beef to form a beautiful crust when it is cooked quickly in the pan. This is a process called velveting.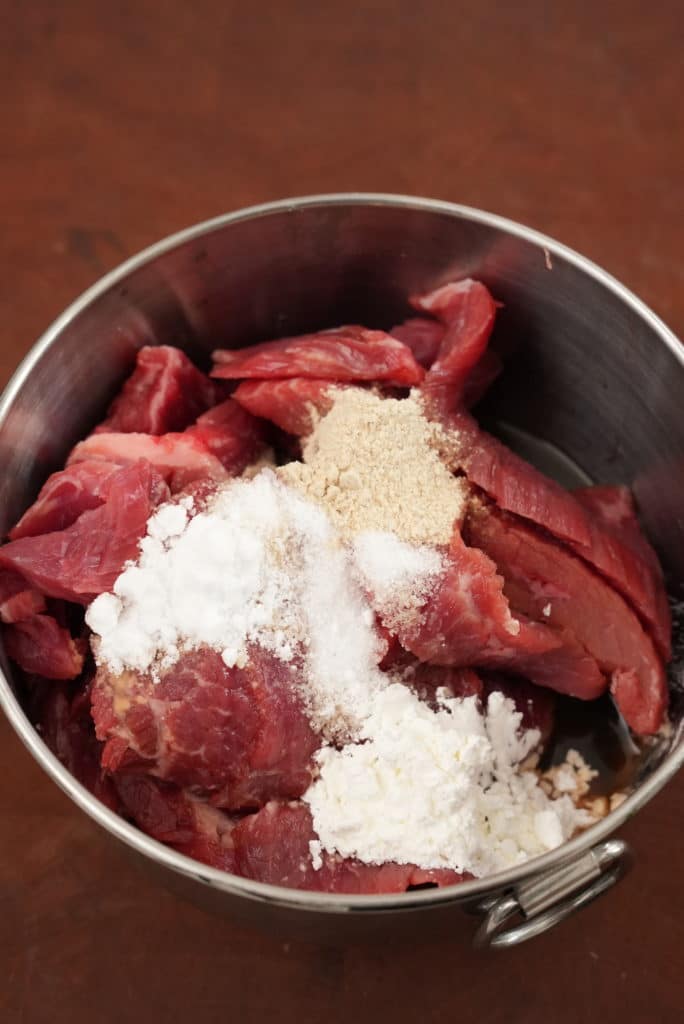 Add the seasonings and mix them well and marinate for 20 minutes, then fry them over high heat for 2-3 minutes until the beef is cooked through and set them aside!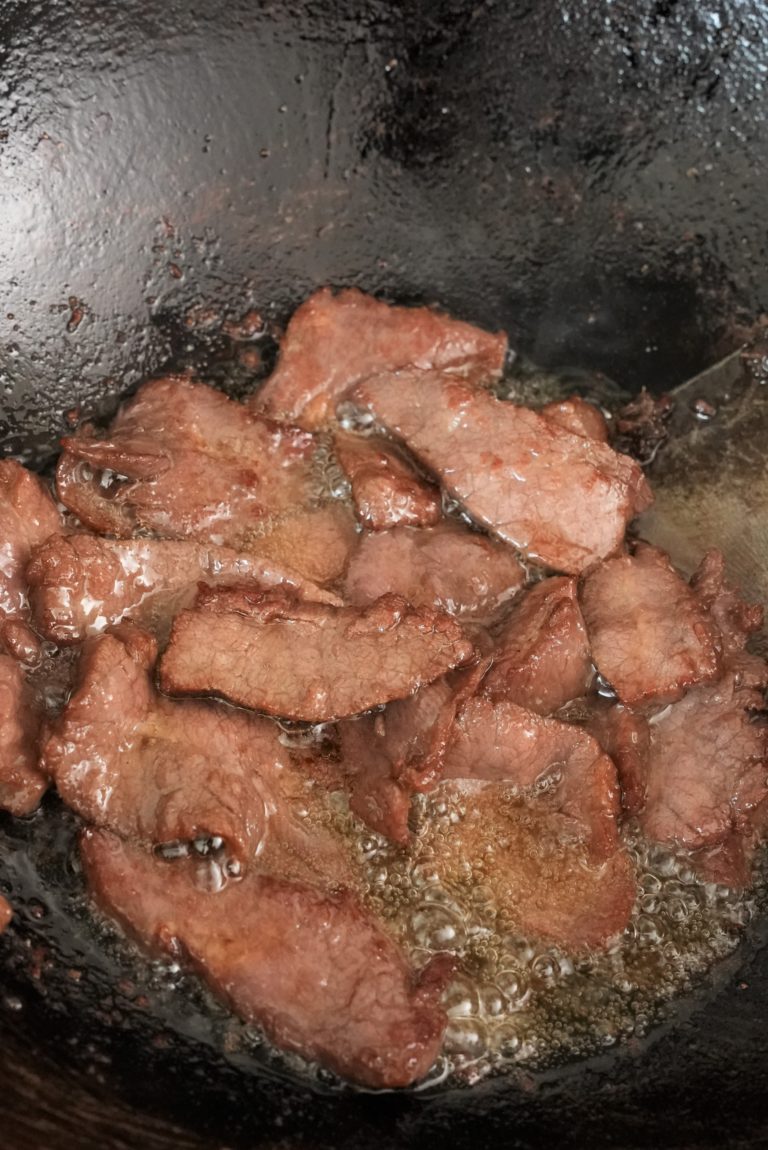 My Key Ingredient Tips for Beef Lo Mein
INGREDIENTS TIPS
NEUTRAL OIL
My favorite neutral oil is avocado oil, but you can also use canola or vegetable oil! I don't use olive oil when cooking Chinese food for two reasons: 1. It has a low burning point and 2. I find that the flavor profile does not usually go with the dish.
NOODLES
The #1 question I always get is which noodles do I use? My favorite brand is Twin Marquis for lo mein noodles – I find them in the refrigerated section at my local 99 Ranch!
VEGETABLES
One of the reasons why I love Lo Mein so much is you can put basically whatever you want in it! Feel free to add other vegetables like mushrooms, celery, and bean sprouts!
MSG
Feel free to leave this out if you prefer!
Bring the Dish Together in the Wok
Once the beef is removed, heat a few tablespoons of neutral oil into the pan and fry the chopped garlic for a few seconds until fragrant. Add your vegetables, season with salt, and cook for another two minutes, followed by the cooked beef, noodles and sauce. Mix together until the sauce has thickened (thanks to the cornstarch we added), then at the last minute, add the scallion greens and finish with sesame oil!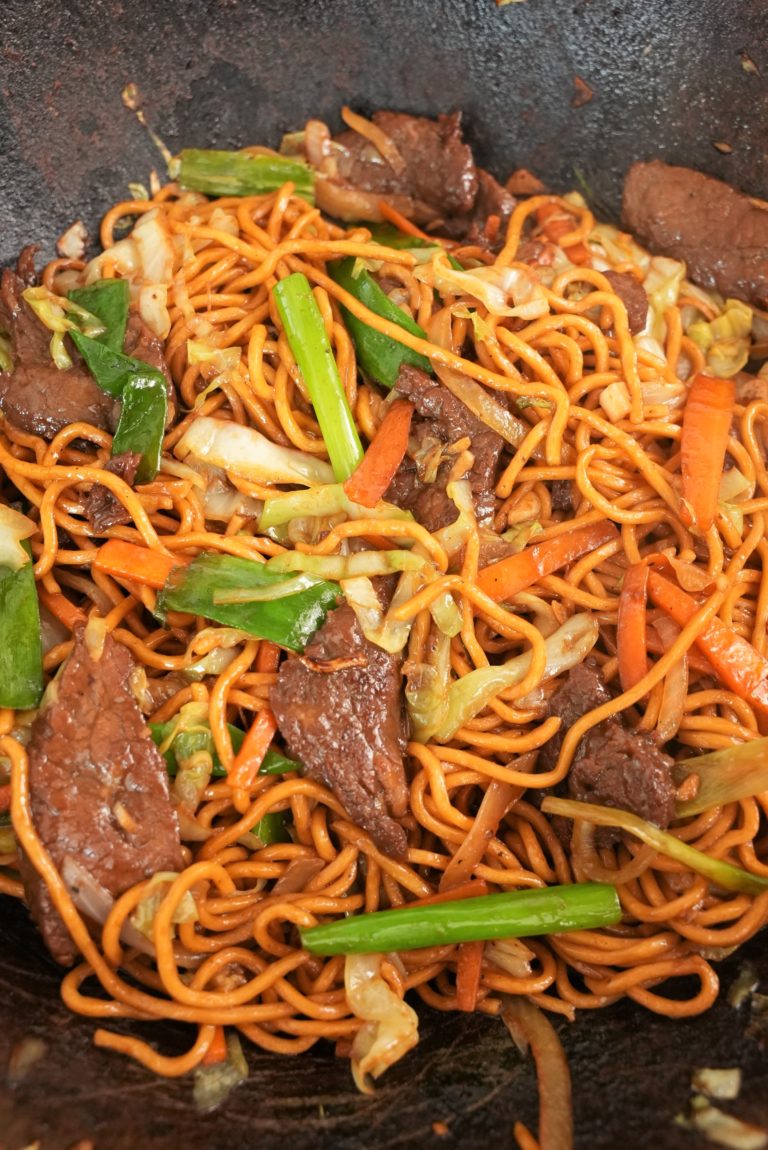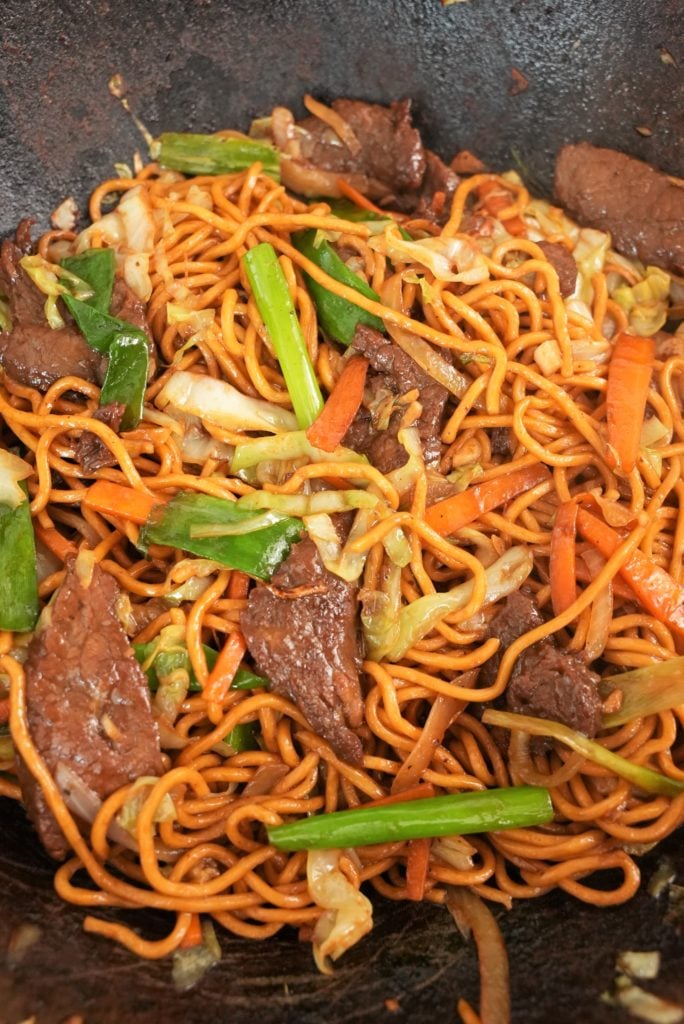 My Top Recipe Tips for Beef Lo Mein
RECIPE TIPS
CORNSTARCH HACK
If you've been following my blog for a while, you know I love to add the cornstarch to the sauce to avoid having to add a cornstarch slurry at the end – this saves you both time AND an extra step!
CUT YOUR VEGETABLES!
I always recommend cutting your vegetables into similar sized pieces so they cook evenly – this little step makes a huge difference!
SUCCESS IS IN THE PREP!
Once you start cooking, this recipe will come together very quickly. The key to pulling this off successfully is having all of your ingredients prepped and in bowls right next to your wok or pan! Have your beef, premixed sauce, noodles, and vegetables ready and easily accessible during the cooking process.
NOODLES
UNDERCOOK YOUR NOODLES: Don't forget that the lo mein noodles will finish cooking in the pan! I always cook my lo mein noodles 1-2 min less than the package instructions call for. This way, they come to my preferred doneness by the time the dish is done in the pan!
RINSE & TOSS IN OIL: After boiling, rinse the noodles immediately with cold water to stop the cooking. Shake them dry and then toss in a tablespoon of sesame oil to prevent the noodles from sticking while you prepare & cook the other ingredients.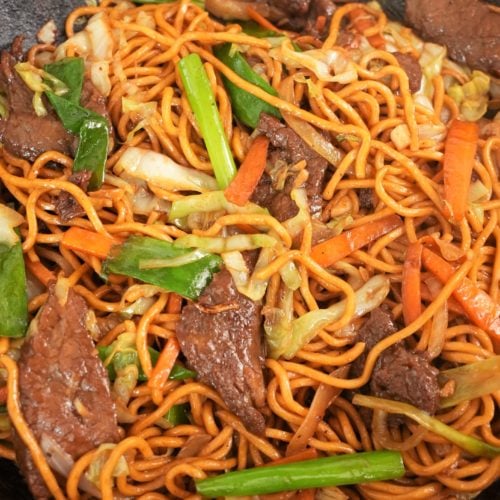 Beef Lo Mein
This Beef Lo Mein is a variation of a classic Chinese takeout dish with tender beef, crisp vegetables, savory sauce, and chewy lo mein noodles!
Ingredients
Beef Marinade
1

lb

flank steak

1/2

tsp

kosher salt

1/4

tsp

white pepper

1/4

tsp

baking soda

1

tbsp

shaoxing wine

1

tbsp

light soy sauce

1/2

tbsp

cornstarch

1/2

tbsp

neutral oil
Vegetables + Aromatics
1

carrot

medium

3

cups

cabbage

sliced

1/2

cup

white onion

sliced

5

scallions

greens and whites separated

5

cloves

garlic

chopped
Sauce
2

tbsp

light soy sauce

1

tbsp

oyster sauce

1

tbsp

dark soy sauce

1

tsp

sesame oil

1/4

tsp

white pepper

1/2

tbsp

white sugar

1/2

tbsp

cornstarch

1

tbsp

water

1/4

tsp

msg
Noodles + Oil
16

oz

lo mein noodles

1/2

tsp

sesame oil

3

tbsp

neutral oil
Instructions
Slice beef at an angle against the grain to ¼" thick strips and marinade for 20 minutes with the Beef Marinade.

Cut the vegetables to ½" pieces and chop garlic. Set aside near the pan.

In a bowl, mix together sauce by combining light soy sauce, oyster sauce, dark soy sauce, sesame oil, white pepper, sugar, cornstarch, water, and msg. Set aside near the pan.

Cook noodles 1 minute under package directions in boiling water, drain and remove.

In a wok or large pan, heat 3 tbsp of neutral oil over high heat, fry beef for 2-3 minutes (in batches) until golden brown and cooked through.

In the remaining oil over high heat, fry garlic for a few seconds until fragrant, then immediately add onions, scallion whites, carrot, cabbage. Stir fry for 2 minutes.

Add back beef, noodles, sauce then mix to combine until the sauce has thickened. Add back the scallion greens, finish with a 1/2 tsp of sesame oil, mix and enjoy!